It's a lazy Saturday afternoon in Greenville, SC. Without any plans or obligations, what could I do to spend the time?
Drink beer of course!!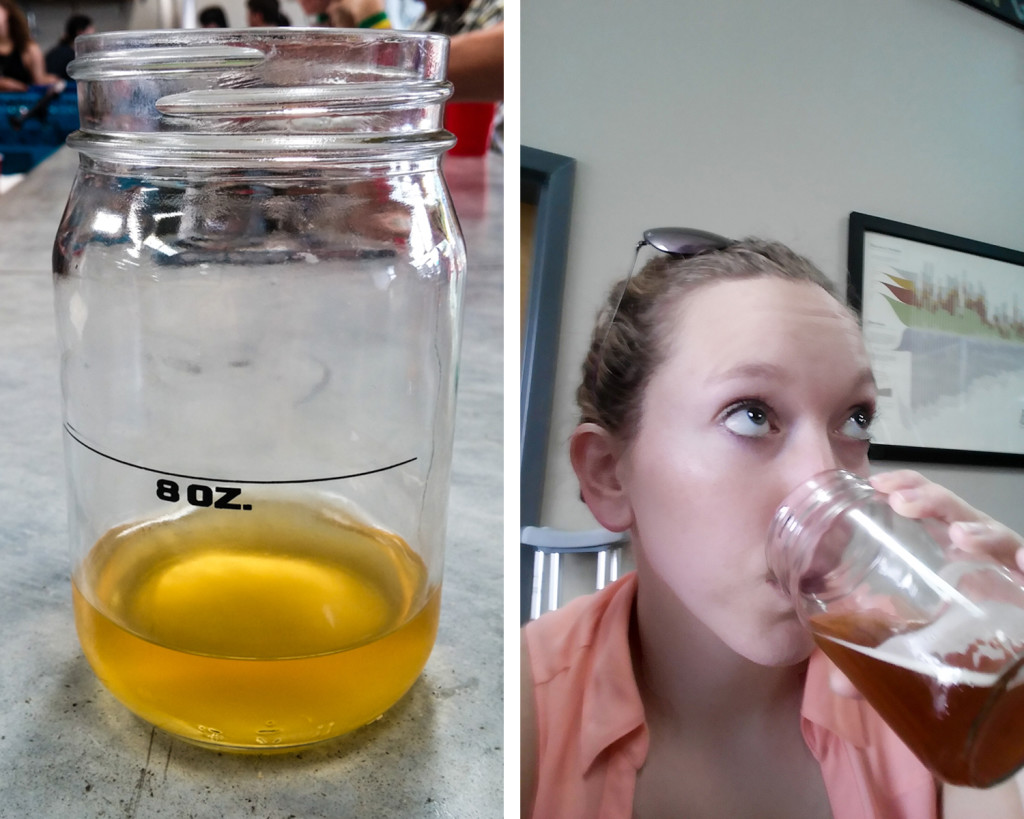 If you are a beer connoisseur living in the upstate of South Carolina, you are in luck. Surprisingly, there are several local breweries in the area (many with their own tasting rooms) where you can go and try some local craft beer. In addition to the breweries themselves, Greenville also hosts several events throughout the year where the breweries come together and you can sample beers from all of the local establishments. (My two favorites are Fall for Greenville and the Craft Beer Festival.)
But say it isn't October or November. Say instead it's the beginning of June. If you want to get your craft beer fix, where can you go?
Follow me as I made the trek to Brewery 85. (And please excuse me for the tipsy photos that follow…)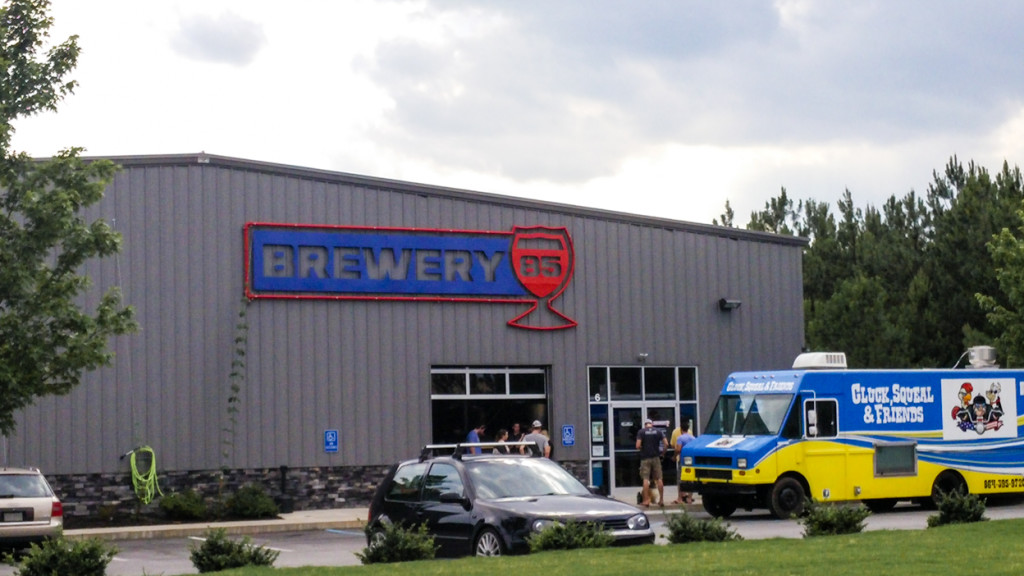 Brewery 85 is (no big surprise) located next to Interstate 85. They are open Wednesday to Friday until 8pm and Saturday until 5pm. As we rolled up at 3:30pm on Saturday we were happily surprised to find out that they were having a fundraiser for the Greenville Humane Society. We soon learned that Brewery 85 has teamed up with the humane society to become a donation drop off point for them. And this past Saturday was their kickoff event.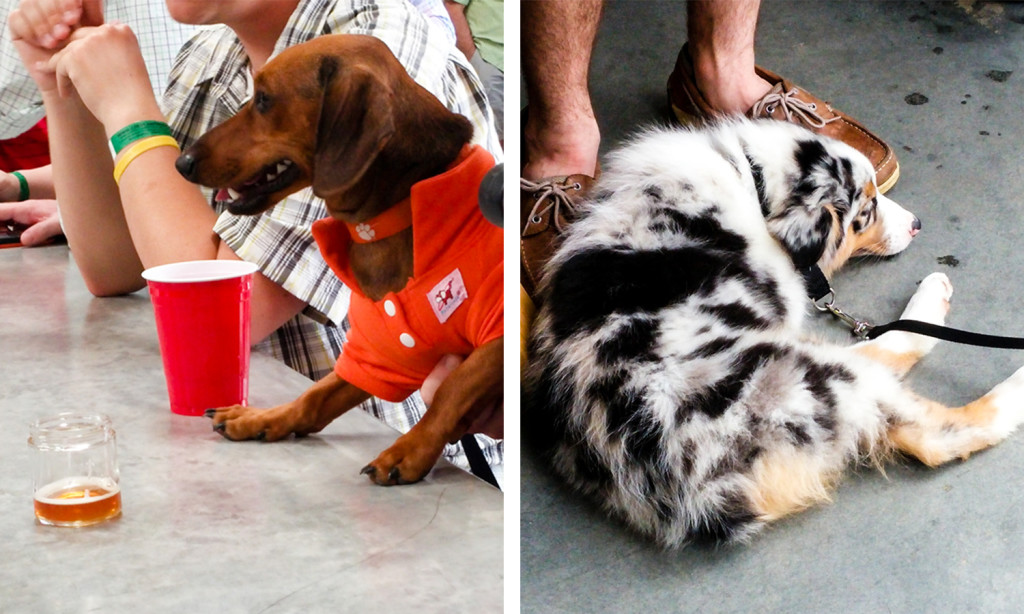 There is no better way to spend a Saturday afternoon than with good beer, great people, cute dogs, and some of the best crab rangoons I have ever had. Because, oh yea, the Cluck, Squeal, & Friends food truck was parked out front for the event.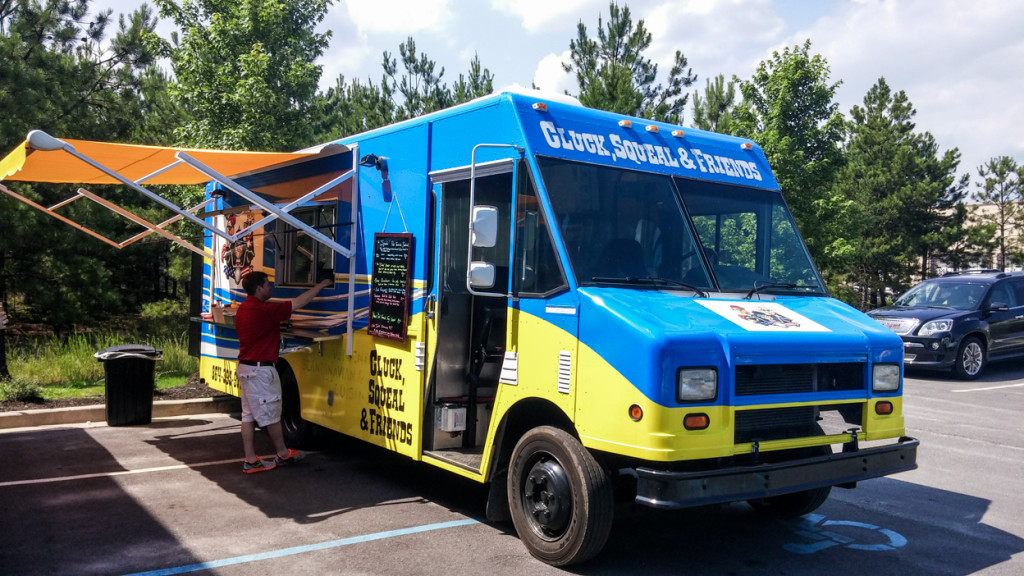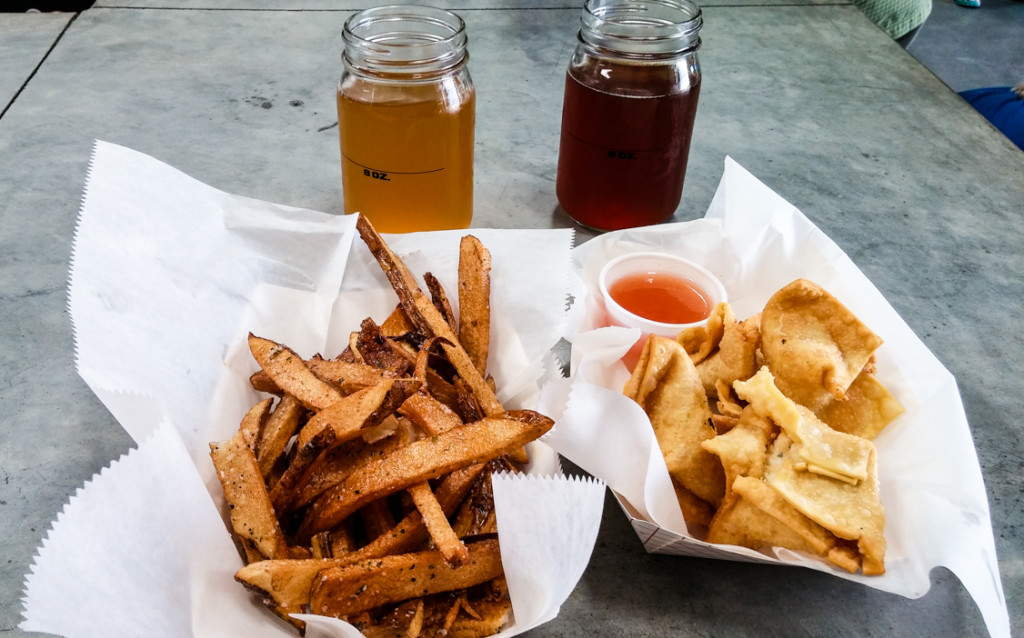 Brewery 85 is a small brewery (though their tasting room is quite spacious) with a great personality. I would later discover that the man sitting next to me, who was seriously considering just how much trouble he would get in if he brought home a third dog, was the president and co-founder of the place. Will was personable, friendly, and funny. When he realized my mason jar was empty (yes, the beer is served out of mason jars), he offered to wave down his man to get me another.
But I know what you are really interested in…the beer. Though samplers were not available that day (because of the event), normally you can get a sampler to try the several different kinds at once. Instead we only made our way through 4 of the beers.
Oh darn. I guess I'll just have to go back.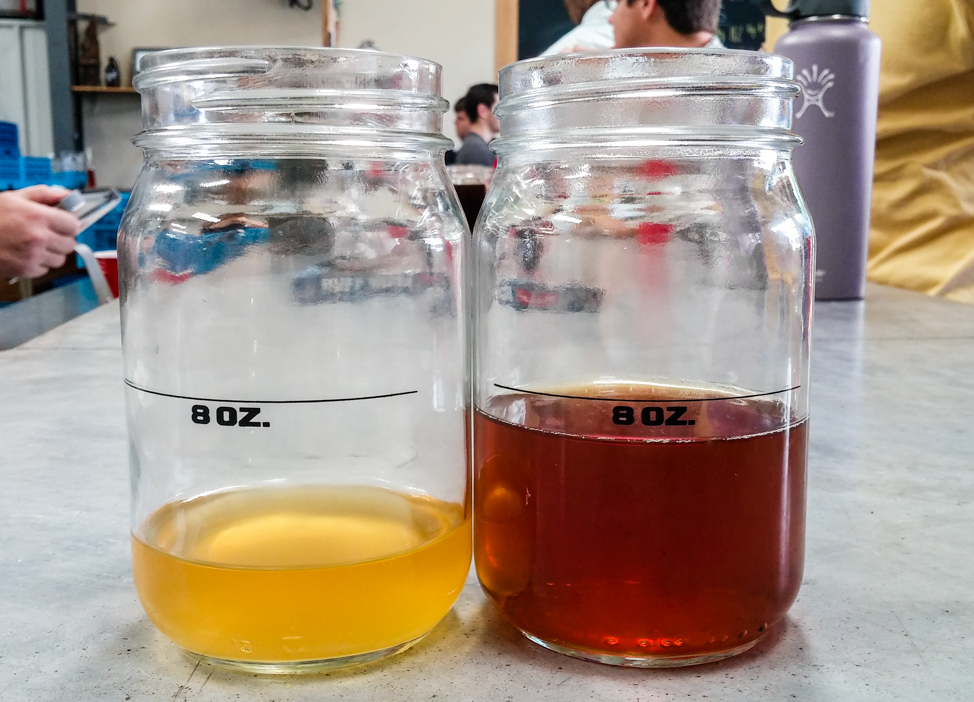 My first drink of choice was the 864 Weizen and Ryan tried the Barrel Aged Great Danish. I'm a wheat and Belgian beer drinker myself, so the 864 Weizen was right up my alley. Though Brewery 85 classifies it as a "starter" beer, I like to just think I have great taste. Because hey, after spending two weeks drinking my way through Belgium, I know what beers I like. And with the 864 Weizen, I could have had several more pints of the stuff.
The B.A. Great Danish was amazing but unless you like whiskey, the finish might be a little off putting. I'm not a huge whiskey drinker so the Barrel Aged part of the Great Danish wasn't for me. I'd be interested though in going back to try the normal Great Danish.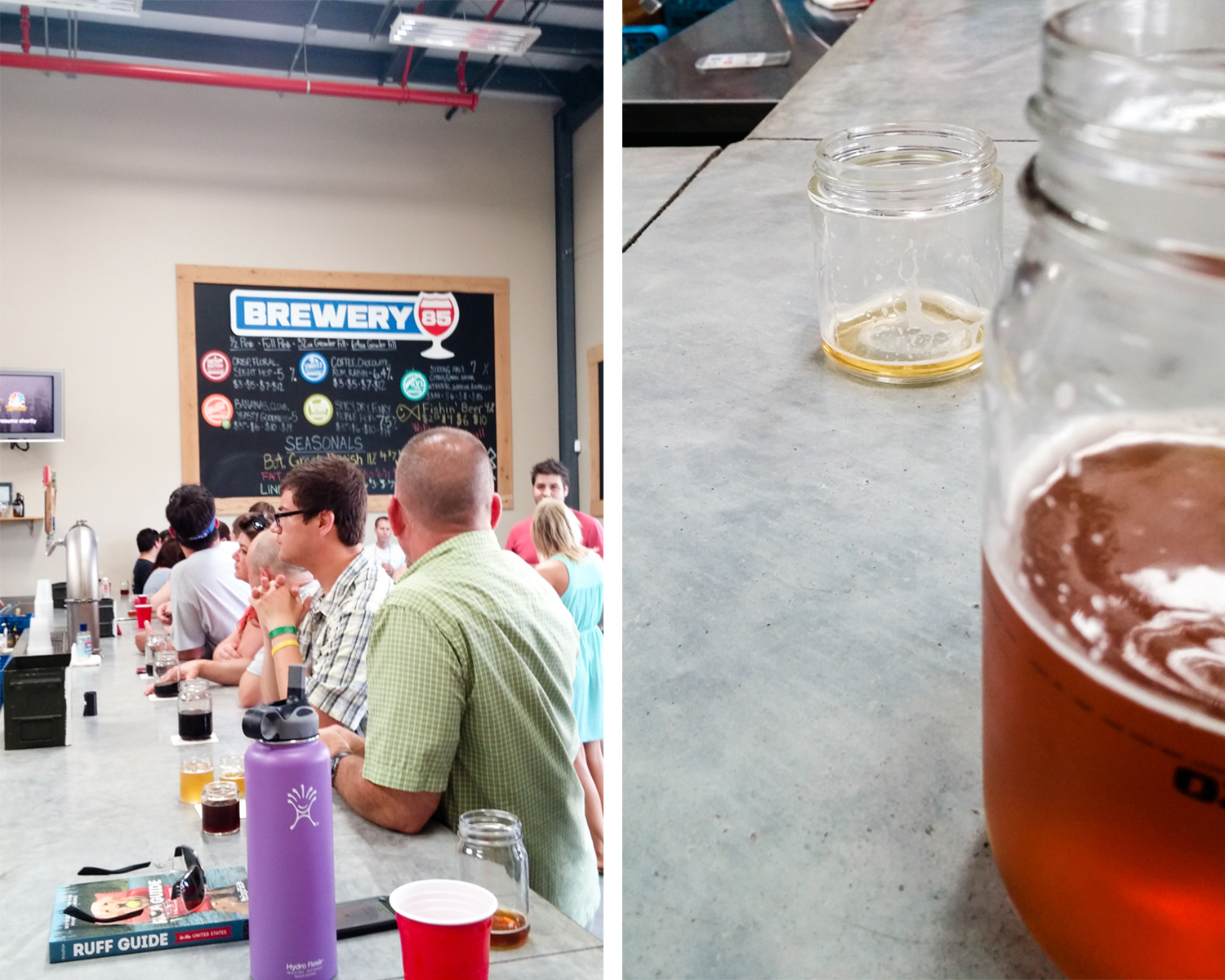 For our second round, I stepped up my game to an American Pale Ale, Brewery 85's Southern Style. I was pleasantly surprised by the slight hoppiness and the absent bitterness that sometimes accompanies pale ales. It was definitely a unique twist to the pale ale, hence the name – Southern Style.
For Ryan's second beer, he went with Quittin' Time. A beer that's anything but quiet and whose hoppiness is out in the forefront from the beginning.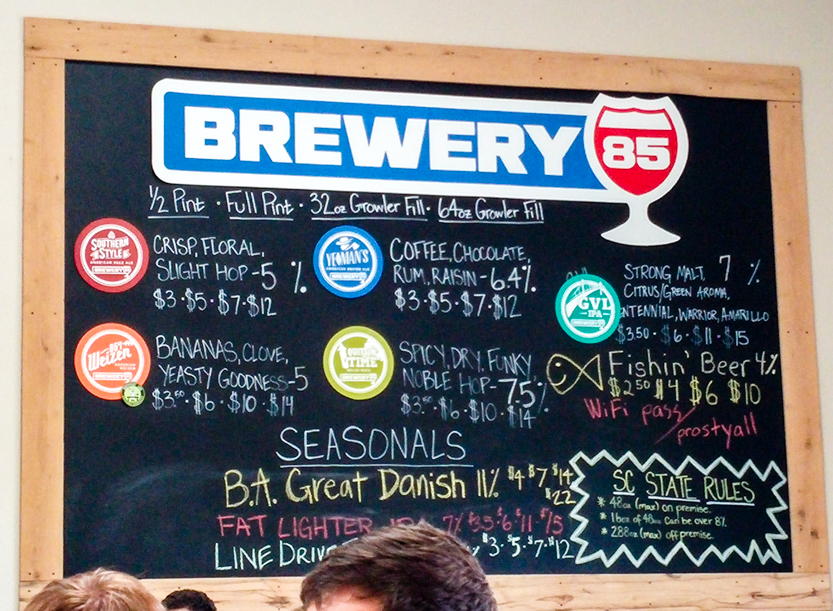 Overall, our visit to Brewery 85 was much more than we thought it would be. I'm not sure what we were expecting but to be surrounded by great beer, great food, passionate people, and dogs could not have been a better way to spend the Saturday.
Are you a craft beer connoisseur? Have you visited any of Greenville's breweries?