Having grown up in WV, whitewater rafting has always been right there, waiting for me. With the New and Gauly Rivers within 2 hours of my home it was always a possibility, a weekend trip away. But some other vacation or adventure had always taken precedent. With the rivers so close, I never thought that I wouldn't go. But as the years wore on and I moved away from my home state, I realized I should have made time.
But this spring I vowed I would get out there. I wouldn't wait for a perfect reason to go. I would find a way to go whitewater rafting in or around South Carolina (my new home).
I had picked up a brochure for the Nantahala Outdoor Center (NOC) along the road somewhere and I was hooked immediately. Offering several trips on 8 different rivers, I only had to pick my level and how far I wanted to travel. Luckily they offered a trip on the Chattooga River (less than an hour and a half from Greenville) that had rapids up to class IV/V. While the NOC also offers float trips and less intense rafting, I wanted an experience that would get my adrenaline pumping. Since I had no plans for the weekend, I signed up for the Section IV Full Day trip down the Chattooga River.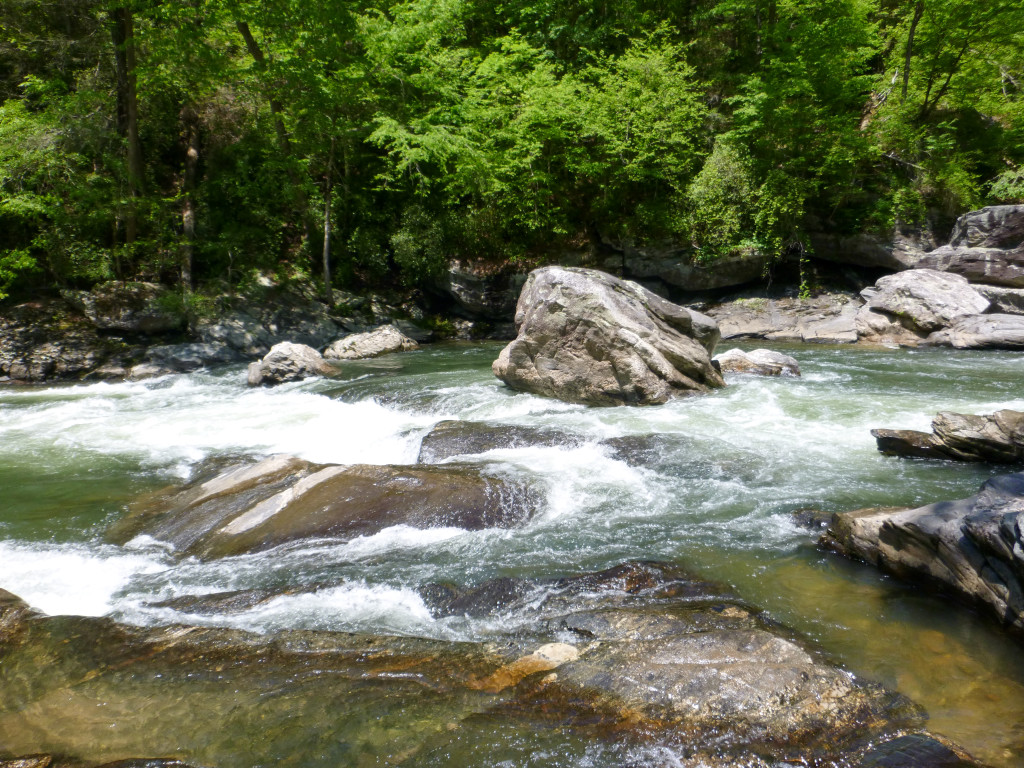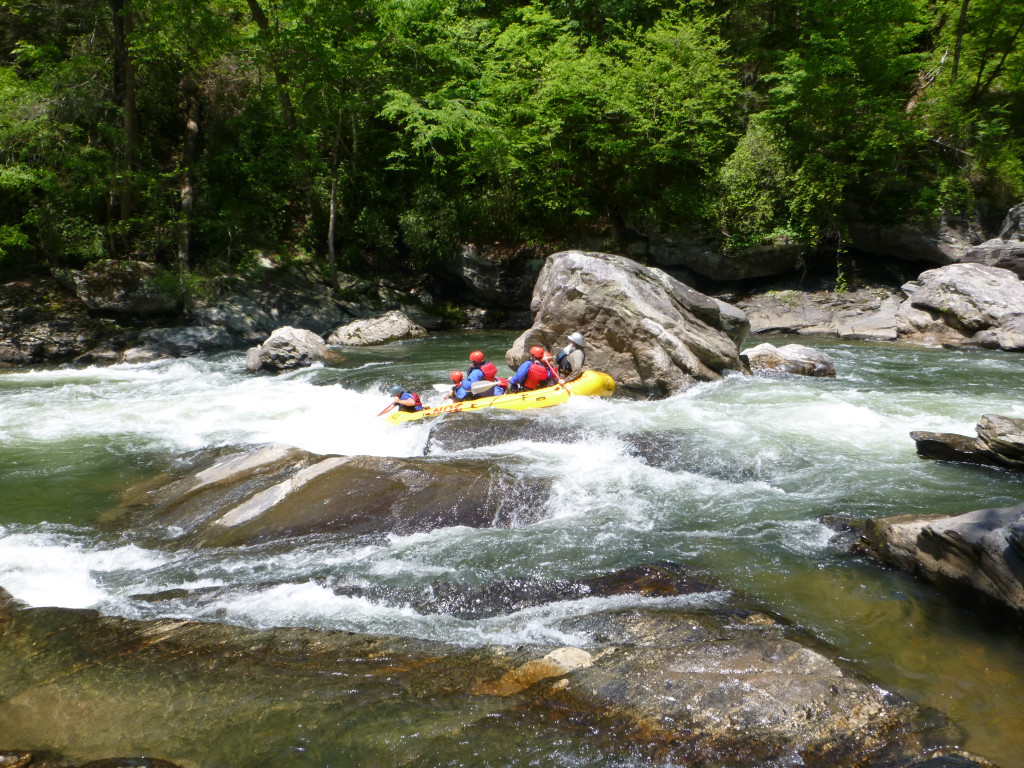 One of the only downsides to the trip was its start time – 8:30am – and we had to get there 30 minutes early. If there is one thing I'll never get used to, it's getting up early. Luckily our campsite was only 2.5 miles away so we could wake up at 7am (or for me a little bit later).
When we arrived, we found out that the only other people who had signed up was a big all-male group from Mississippi. This ended up working in our favor. Their group was split among 4 boats and we ended up getting our own raft and guide.
The biggest decision of the morning though was a simple but tough one. To or to not wetsuit. While by May, SC is already gearing up for summer, the mountains (and more specifically the mountain rivers) are still very, very, cold. Our tour leader, Ryan, told us that if you plan on swimming a lot then wear a wetsuit but if you're not, then a splash jacket would probably be enough (both are provided for guests free of charge). I ended up just going with the jacket since the day was supposed to be sunny and in the upper 70s (if not 80s). In the end, I was happy with my decision.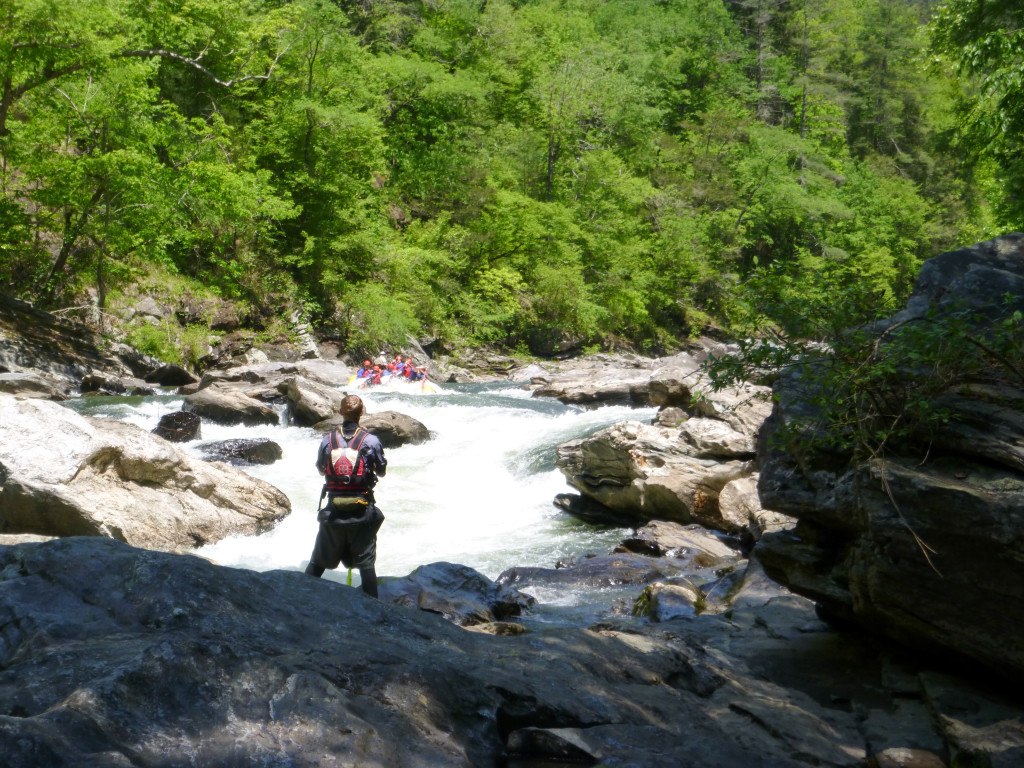 With our gear on (helmet, PFD, and splash jacket), we piled into the bus and headed down to the beach near the HWY 76 bridge. From there we met our guide (Abby) and helped her carry the raft down to the river. Before I go any further, let me first state that Abby was an awesome guide. She was really experienced, confident, and I really enjoyed talking with her about other trips, rafting, and the outdoors in general. I was also jealous of her lifestyle – spending her summers as a raft guide and then working at a ski resort out west in the winter. Hearing her talk about it and then realizing I'd have to go back to my desk job on Monday, made me even more aware of how much I miss being outside on a daily basis.
Plus under her guidance, she was able to keep us in the boat for the entire trip. No small feat.
For the first few rapids, Abby worked with us on our seating position, paddling, and commands. And by the time we got to the first big rapid, I felt like a pro. Though by the time I saw the first rapid, the pro feeling was quickly fleeting. The first big class IV/V rapid that you hit on the trip is the Seven Foot Falls. Our guide Abby was awesome in preparing us for this rapid. You basically have to paddle right up to the falls and then lean to the right really hard. As we tipped over the falls, and the left side collided with the water I'm pretty sure a million thoughts ran through my mind. The two I remember were: OH SHIT and THIS IS AWESOME.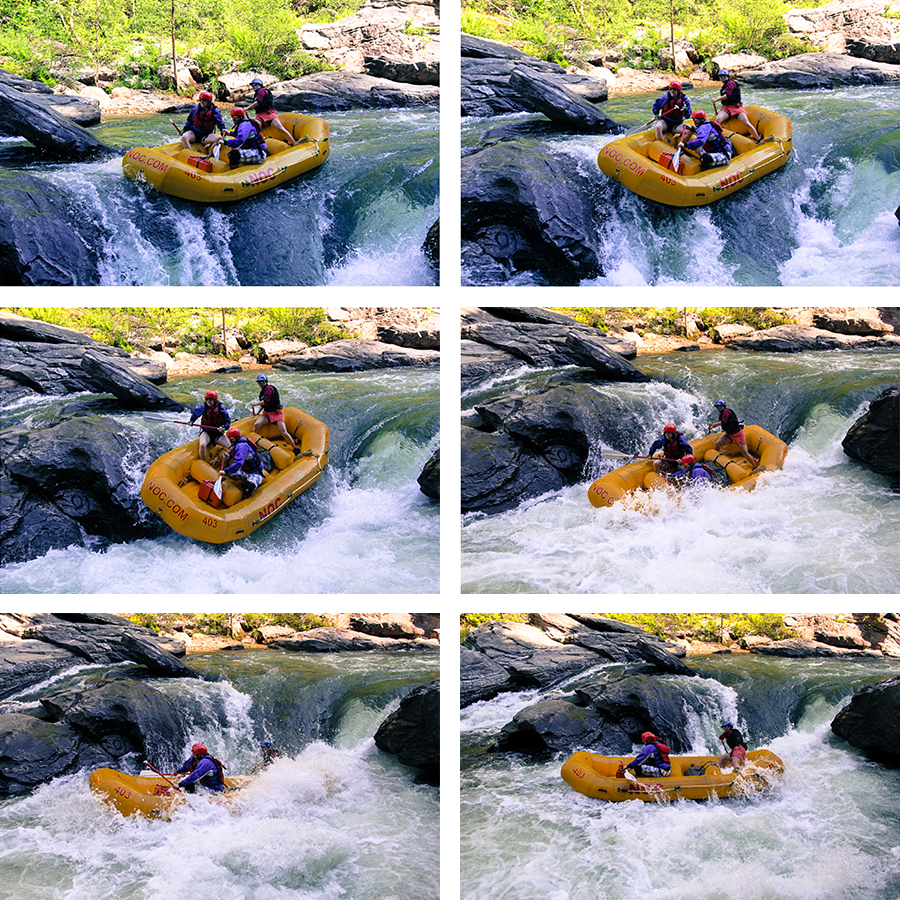 After bouncing hard and recentering ourselves, I realized, with a heart pounding victory, that we had all managed to stay in the boat. Paddle Clap!
Please note my monster face in all of these pictures. What's a "monster face" you ask? Your monster face is the ugly or "oh shit" face you make when you go over rapids. My monster face involves sticking out my top front teeth while holding the face one makes right before a guttural yell of triumph.
You gotta work with what you got.
After that, we bobbed through some more rapids before pulling over to one of the first jump off rocks. Since 1) it was still early in the morning and very cold and 2) the sun was not out yet, I decided to pass on this opportunity. But the idea of staying dry quickly disappeared when we made the stop at Long Creek Falls. From the river, the falls are only 100/200? feet away (I'm total crap when it comes to distance). Here we were told that you could walk up and under the waterfall. But on the way back, you had to slide on your butt in order not fall on your face.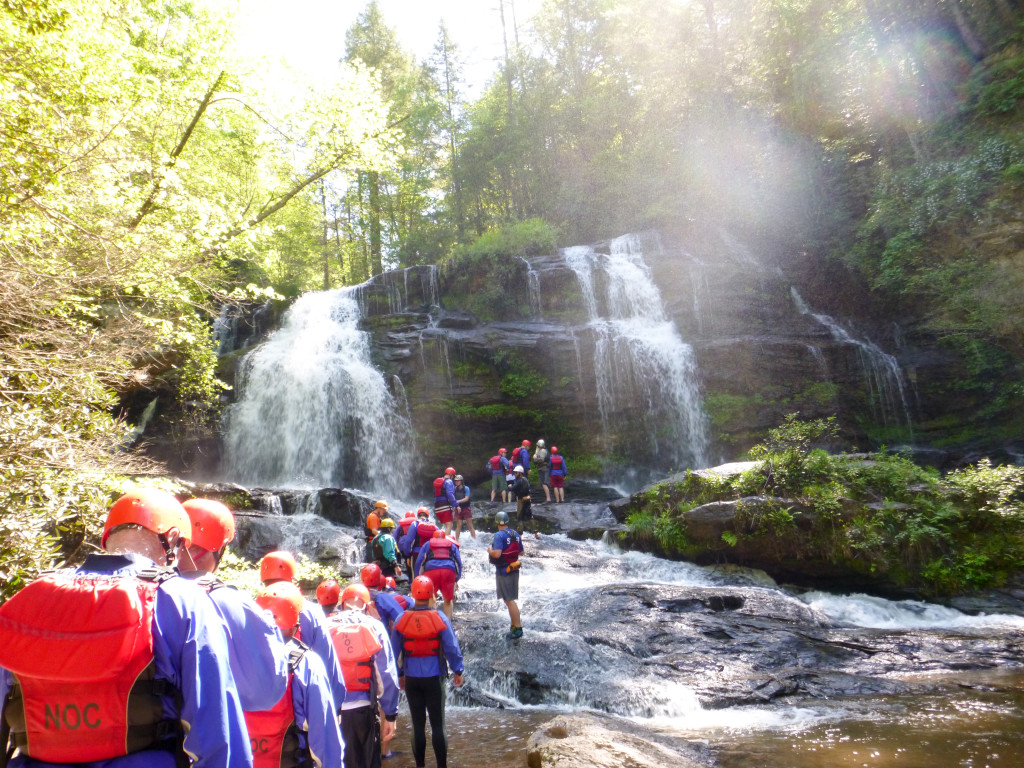 Have the chance to walk under a waterfall? Fuckin' A! After watching the entire group go first, it became quite clear that while you were walking under the waterfall, you were going to get drenched by the waterfall. And let me tell you, that water was COLD! But I'd do it again in a heartbeat. Feeling the water bounce down on my helmet while sliding my feet along the rock wall was exhilarating. Sliding back on my butt was only slightly embarrassing but I'd take that over some broken teeth.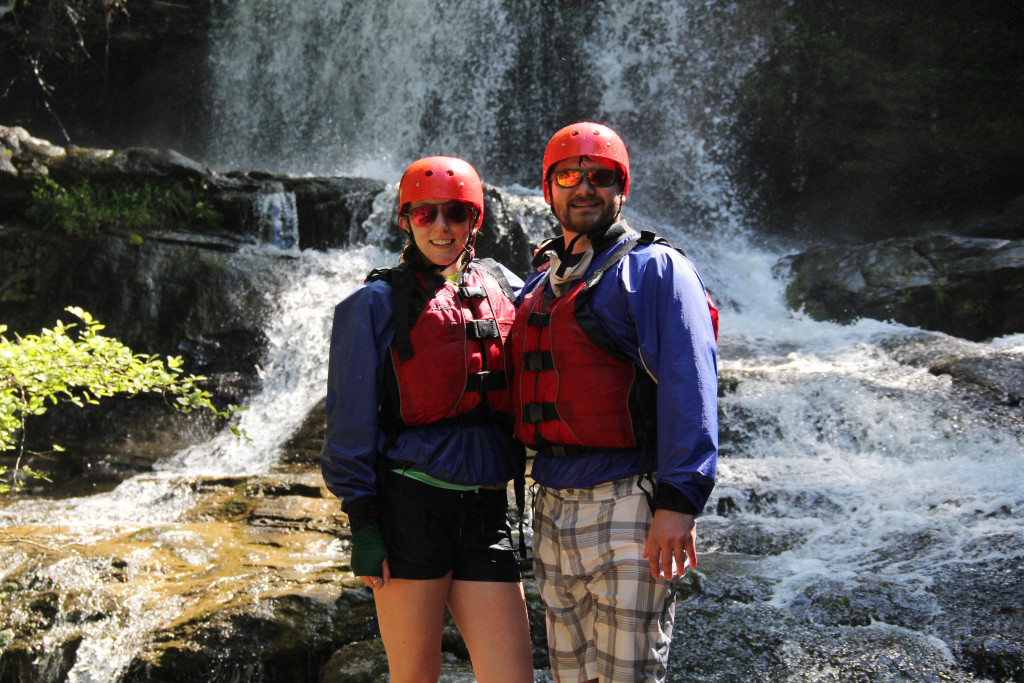 After this experience, we all stopped for lunch. By this point the sun was out and it was starting to get warm. I took off my gear and lounged in the sun. NOC puts on a great lunch. It's build your own sandwich which could be a downer but this sandwich bar (on top of a rock shaped like a table – how cool is that?!) came with hummus, oreos, 3 types of bread, thick cuts of meat, celery/carrot sticks, crackers, salsa, cream cheese, peanut butter, jelly, olives, oranges, pickles, and all the normal sandwich fixings. After making one turkey sandwich and another half sandwich piled high with hummus and some salsa, I was now fueled to take on the next obstacle – the Five Falls.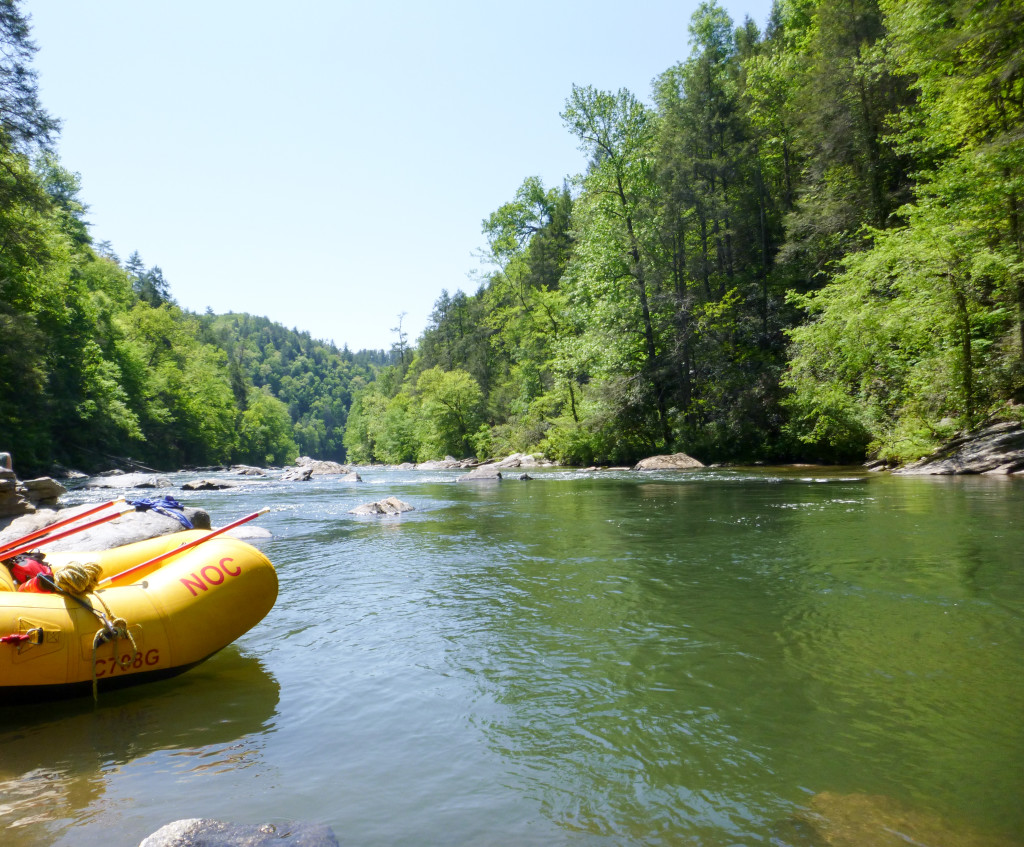 The Five Falls is a series of class IV/V rapids in quick succession: Entrance, Corkscrew, Crack in the Rock, Jawbone, and Sock-em Dog. Due to water levels, we couldn't go through Sock-em Dog, and Crack in the Rock is always too dangerous and narrow for rafts. That being said, the other three rapids were AWESOME. For Entrance we had to get down in the middle of the raft as we went over the final drop.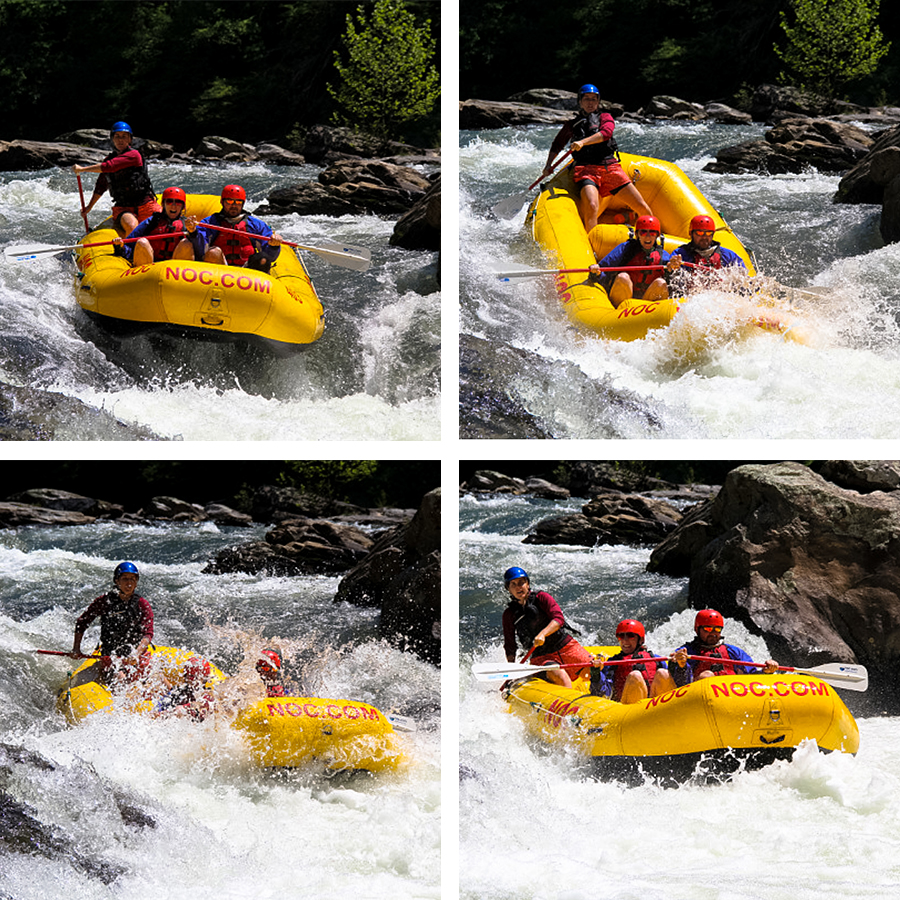 Corkscrew was an intense S-shaped rapid. And as we whipped around the bottom turn of the run, our raft actually lifted into the air. This was quickly punctuated by Abby's yell to "Get Down!" and we fell into the center of the raft in order to keep the raft from flipping over.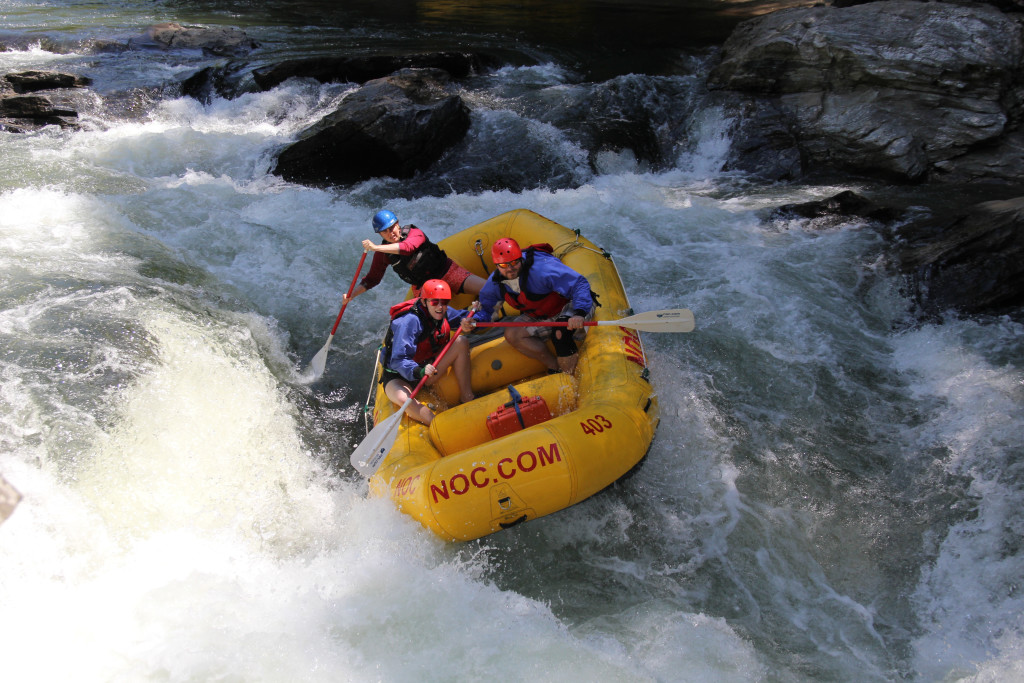 The last rapid we conquered was Jawbone. Here we were joined by a guide in the front – Mickey – who helped guide us through the whitewater, rocks, and turns.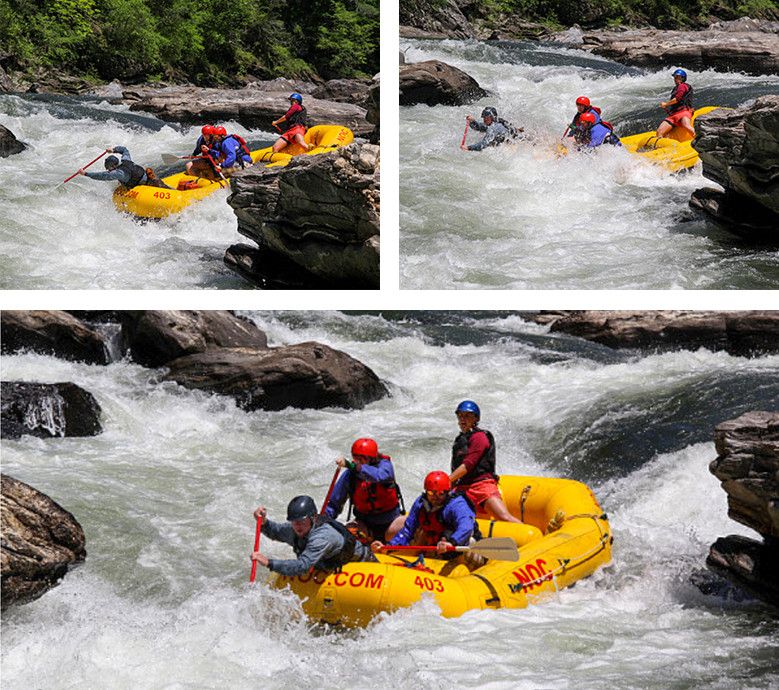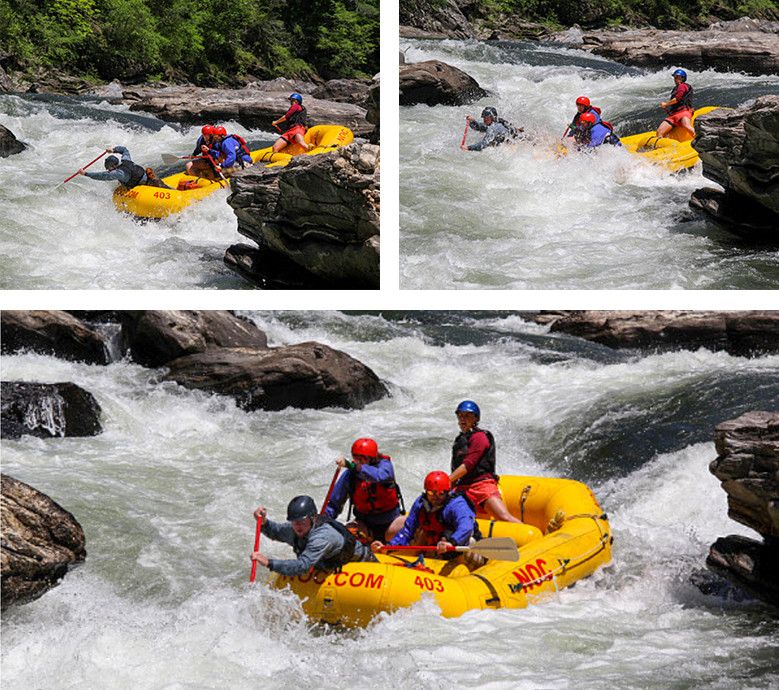 Words like "awesome," "exhilarating," "amazeballs," "thrilling," and "fun" fall hysterically short of describing what it was like. Easily one of the best things I've done in years and I already want to plan my next trip.
For the other two no-go rapids, the guides still had to bring the rafts through while we waiting on the shore. For one of the rapids – Sock-em Dog – the guides took the rafts over the "puppy chute" to the side. This involved scooting the raft up to a 5-6 foot drop, getting stuck, and then leaning forward to tip the raft over. After watching how much skill and concentration this took, I was not upset that I missed out on it (especially since one of the guides fell out while maneuvering the raft through).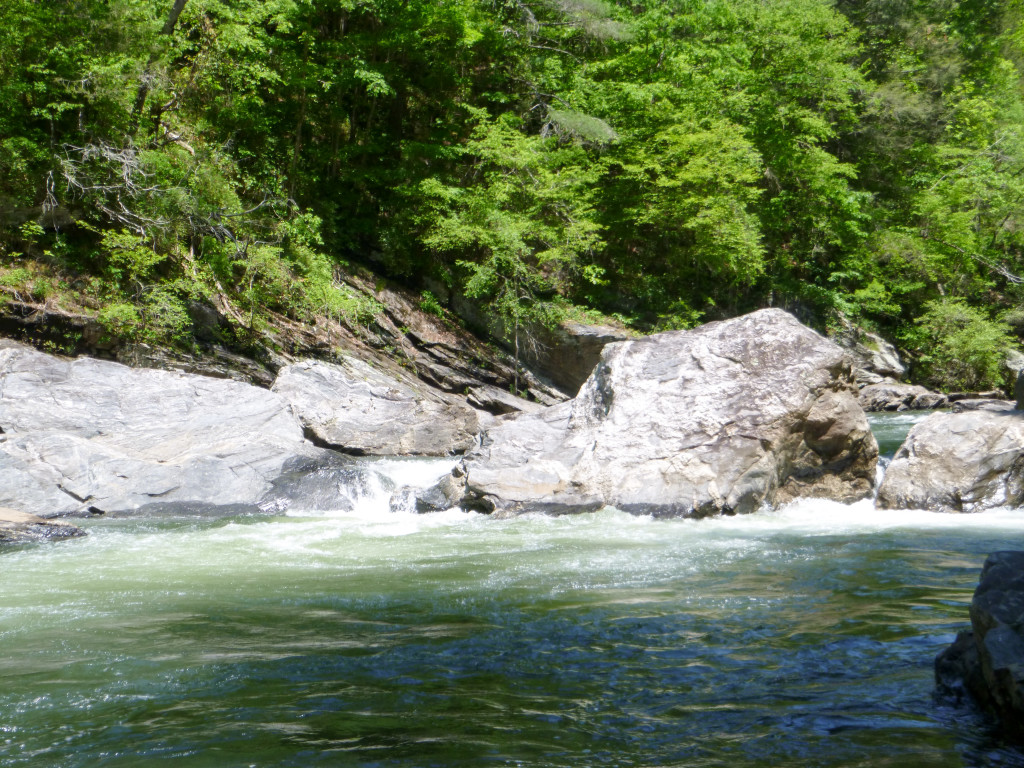 After the Five Falls, we pulled over again to the next jump off point. This time with my confidence up and the sun out, I decided to take the leap. The jump from the overhanging rock was exhilarating and the water was icelandic. Paired with the long swim around the rock back to the raft, I knew one jump was enough.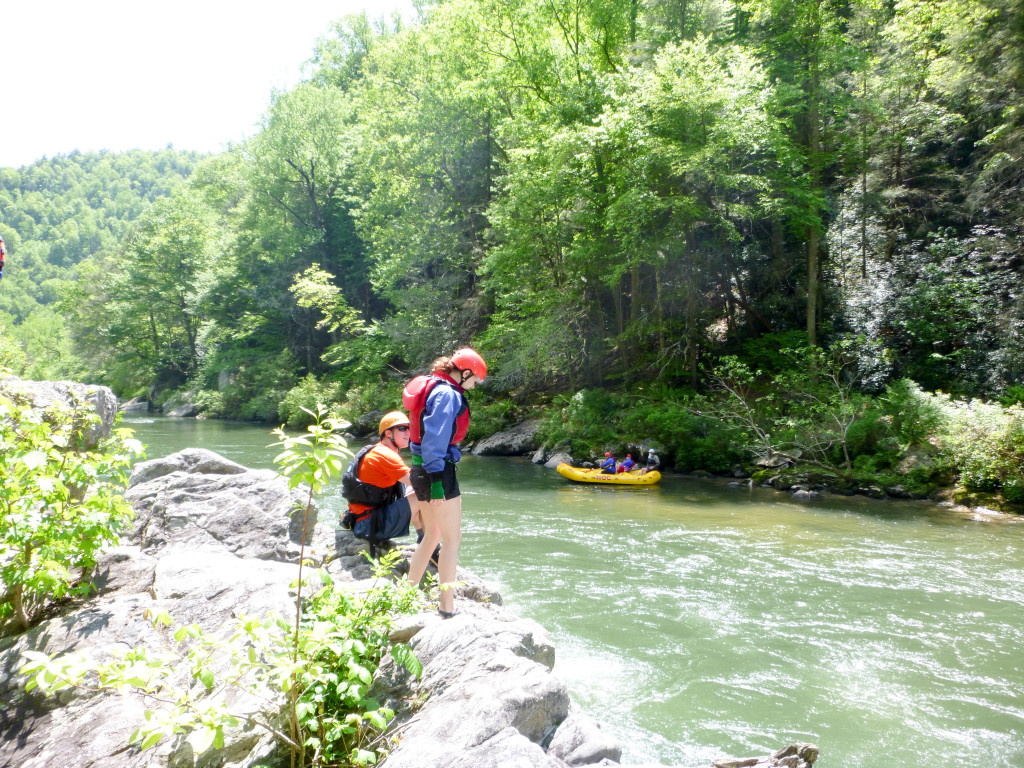 After that we had one more intense rapid to go through – Shoulder Bone. Here I had to dunk under a low hanging rock as we swung around one of the turns. But after this last rapid, the trip ends far too quickly in Lake Tugaloo. After a hard day rafting, a motorboat is waiting to tow you to the nearest beach (2 miles away). Finally being able to peel off the cold, wet layers and dry in the sun was an amazing way to end the trip.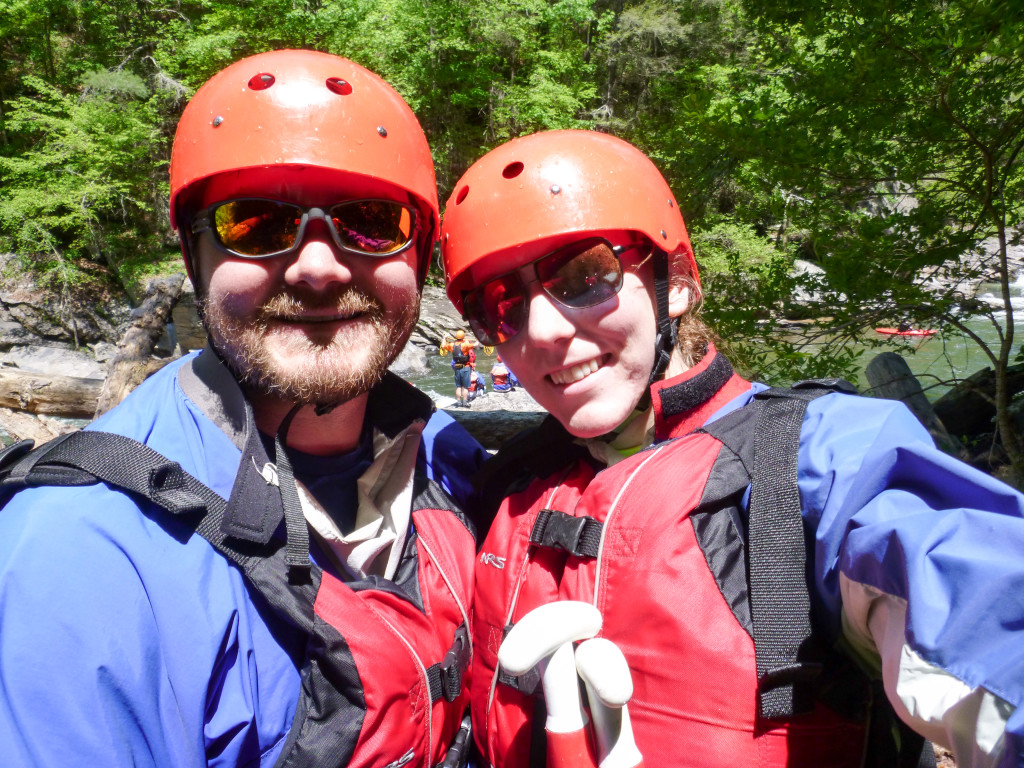 Back at the outpost we watched the photo slideshow of the four main drops and our monster faces. Be aware that the photos are EXPENSIVE. At close to $15 a pop or $60-80 for all of your photos, it's a heavy investment. I had brought along my own waterproof/shockproof adventure camera but since most of the time I was paddling, I wasn't able to get any good action shots. In the end, I decided to fork over the change for the best pictures.
In the end our trip down Section IV of the Chattooga River with NOC was amazing. I think I may just be hooked on whitewater rafting now…
[title type=special-h3 color=#555555 class=lauraquestion]Have you tried the Chattooga? Where's your favorite place to go whitewater rafting?[/title]
---
The Nitty Gritty
Where I stayed: Long Creek Campground
Cost of trip: $120 per person (this can change depending on when you go)
Closest Pizza Place: Humble Pie (so good we ate there twice)