I've recently fallen in love with camping at the beach. There's something extra beautiful about heading out onto the sand and not being surrounded by eyesore high rises, hotels, and condos. I love looking back towards the beach from the water and seeing just the dunes, the swaying grass, and maybe some palm trees (depending on where you are).
This is a bit of what I expected at Frisco Campground after camping at Hunting Island State Park earlier this year and our week on Ocracoke. The truth of the matter though was a little bit less idealistic.
Hatteras Island is a much more crowded island than Ocracoke. And though on Ocracoke we were near other ORV (off-road vehicle) beach goers, there was usually several hundred feet between us.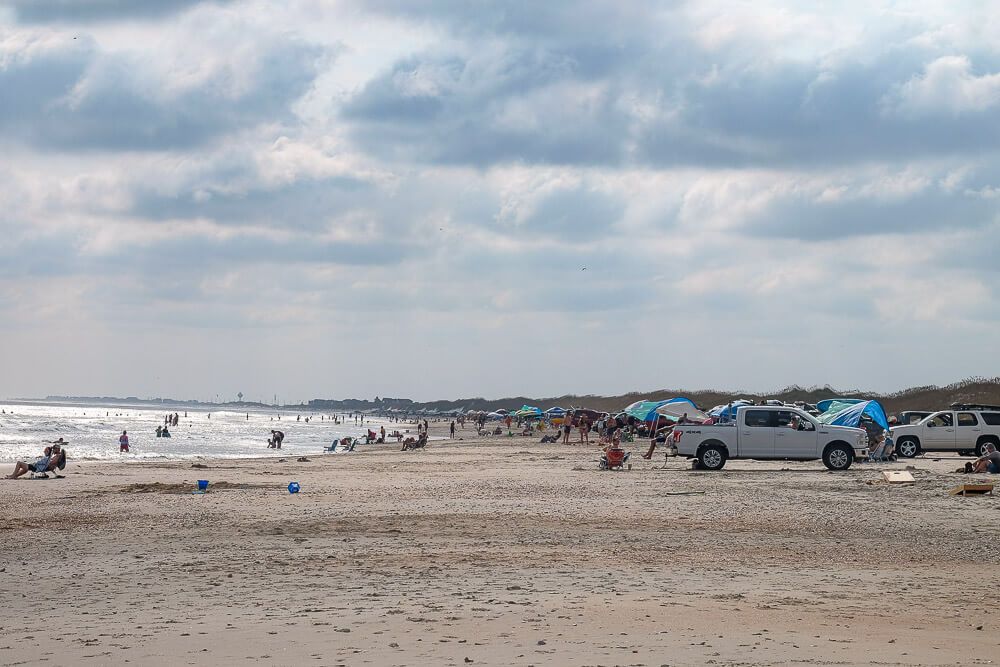 That was not the case for Hatteras Island. The pictures of cars lined up and down on the beach were not an exaggeration. The beach is literally lined with cars during the peak hours of the day. And this is especially true for ramp 49 (the one located at the entrance to the campground).
Not sure what I mean about ORV? Well, the Cape Hatteras National Seashore, which stretches the southern length of the Outer Banks basically, is a protected area under the National Park Service (NPS). There are several beach access points where pedestrians can park and head out on the sand.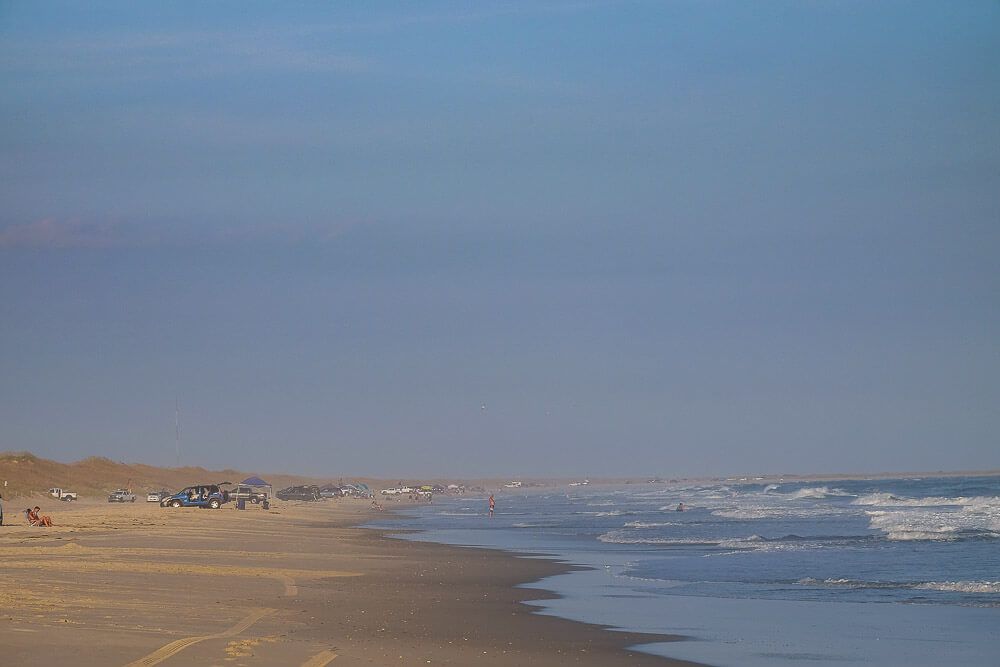 But one of the coolest things you can do is obtain an ORV permit from the NPS to drive on the beach. Hours and locations are restricted at times, but it was my favorite thing about our beach trip to Ocracoke.
Want more information on obtaining an ORV permit and what this means? Check out my post on our trip to Ocracoke and read the "Off-Road on the Beach" section. That has all the details. And the Cape Hatteras National Seashore is on Ocracoke & Hatteras islands, so the information works for both. And remember you'll need a car with 4WD.
However it's a little bit less fun when cars park within 5-10 feet of you and your view of the beach is just car after car after car.
So if you're looking for a camping experience in the summer that's a little bit less crowded, you may not find it at Frisco Campground.
That's not to say I didn't have a good time. It was just a bit of a shock to go from one to other and still be in the same national park basically.
If you'd like to avoid the crowds, I'd suggest heading to the beach early in the morning and then later in the afternoon and evening. This was our strategy and we enjoyed it immensely. When the beach started to get packed, we'd take a break for a few hours.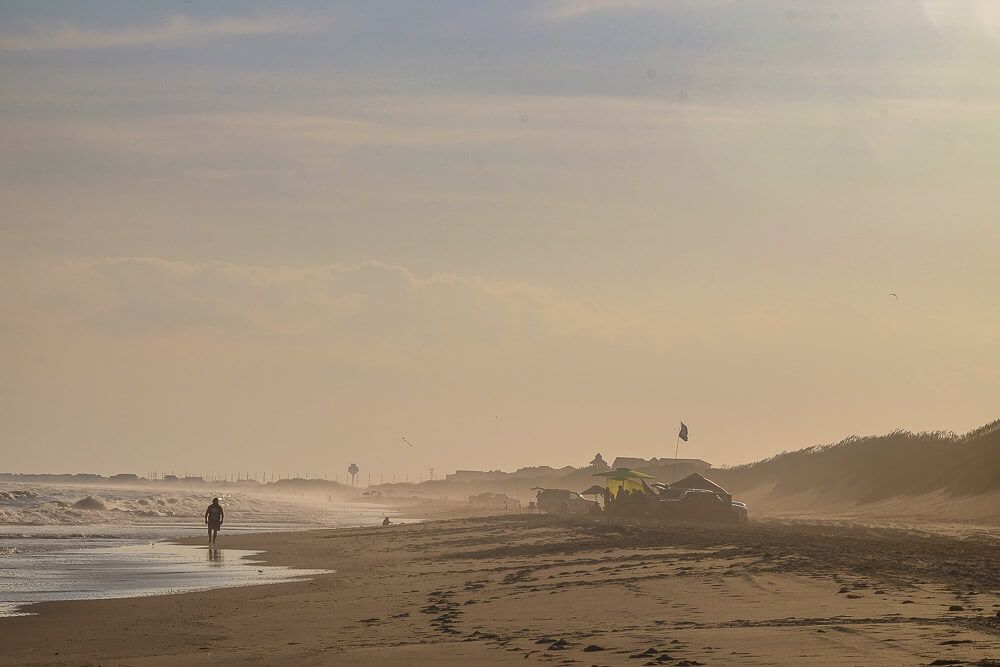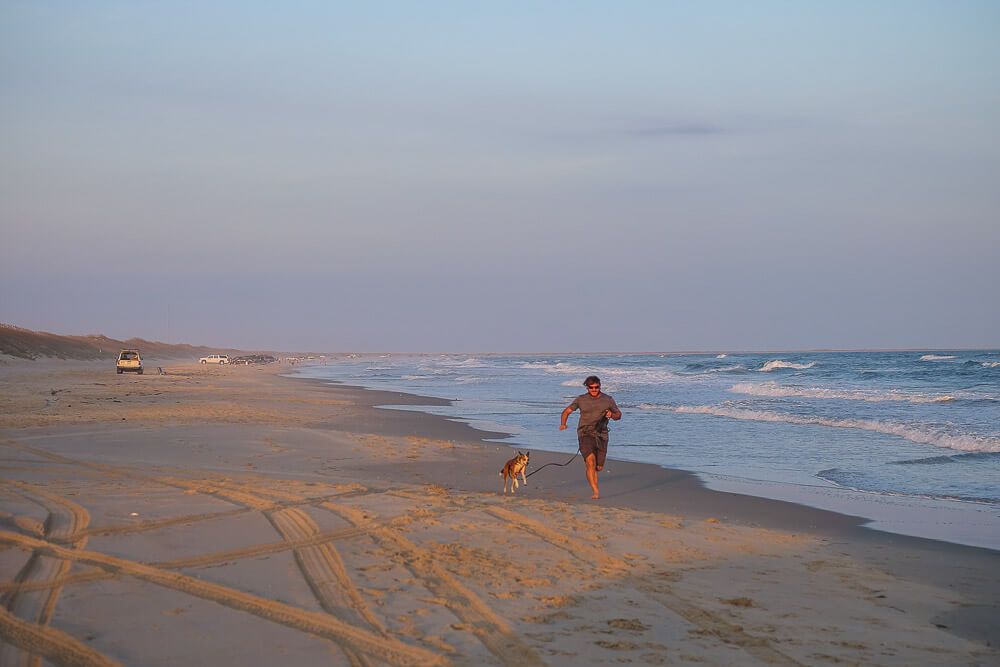 ---
Frisco Campground
Now that the beach details are out of the way, what about the campground itself?
Frisco Campground is a large, popular campground. It can handle RVs, campers, and tents. It does have quiet hours at night when generators must be turned off. So if you have an RV and can't sleep without the A/C on, then you should look for a different campground.
The sites themselves are pretty basic. Parking spot, picnic table, and charcoal grill. No open flames are allowed in the campground so you won't have a campfire here.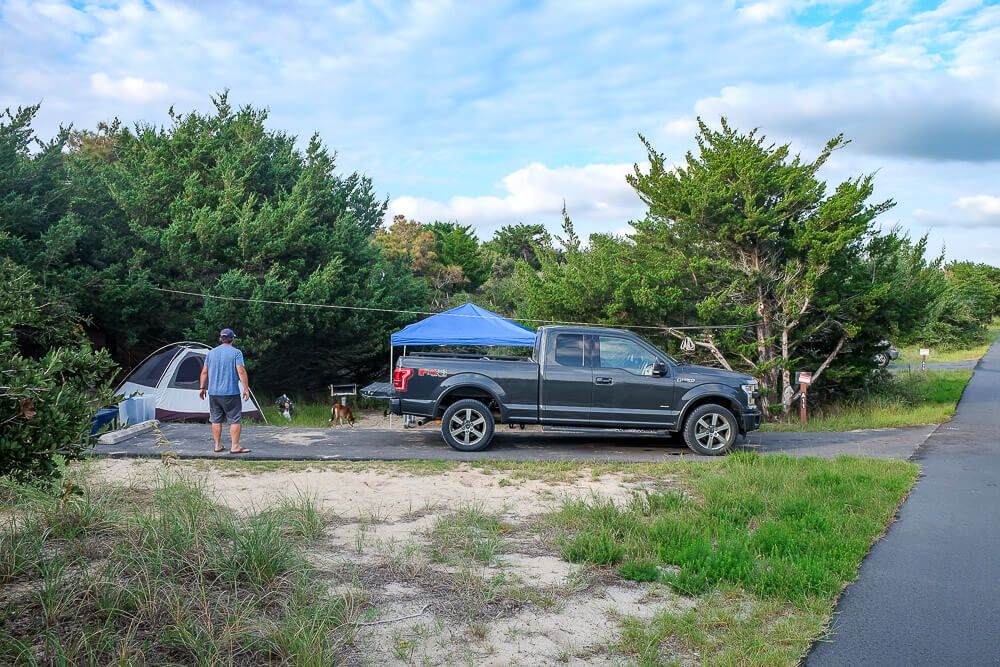 Most of the sites also don't have any shade. Some will have a little patch of shrubs or some vegetation (I'm hesitant to call them trees), where you can set up a tent under their cover. We had an area like this, but it was on a small hill so we weren't able to get all the way into the shade.
The people next to us had no shade. And it at least seemed like the closer your site was to the beach, the more open it was. But, even with that being said, lots of sites farther away also didn't have any shade.
A plus side as well is that several sites further back from the beach are higher up. And some, though not all, had a view of the dunes and beach in the distance. If I were to stay here again, I'd pick one of these sites even though it's further from the beach.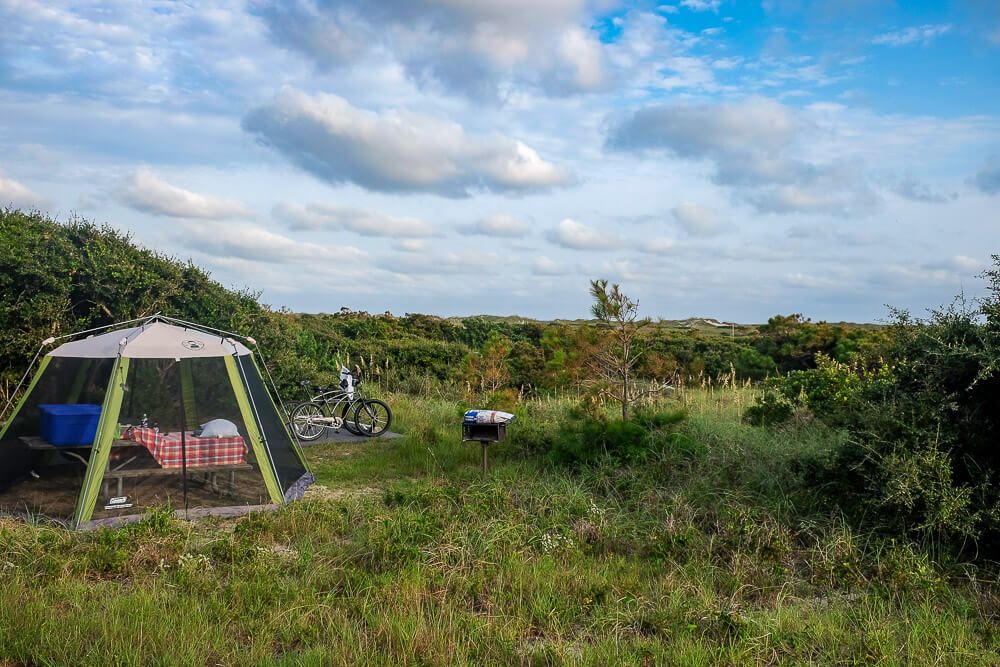 Lastly the vegetation in Frisco Campground, though not always large enough to provide shade, does provide privacy. Something I've read the other campgrounds in the national seashore do not have.
There are bathrooms with toilets, a sink, a pump for water, and a separate building for outdoor showers on each loop. The showers were pretty nice, but there are no lights in the buildings. So be sure to shower when it's still light out or bring a flashlight.
Plus there might be little frogs (tree frogs & spring peepers) around the shower at night. I thought they were super adorable. But if seeing a frog freaks you out, maybe camping here isn't for you.
There are a couple different beach access points from the campground itself. With even a small parking area at the access. So if your site is at the back at the campground, you can drive to the access, park there, and then head across the boardwalk to the beach. The map you get when you arrive will have these two boardwalks indicated.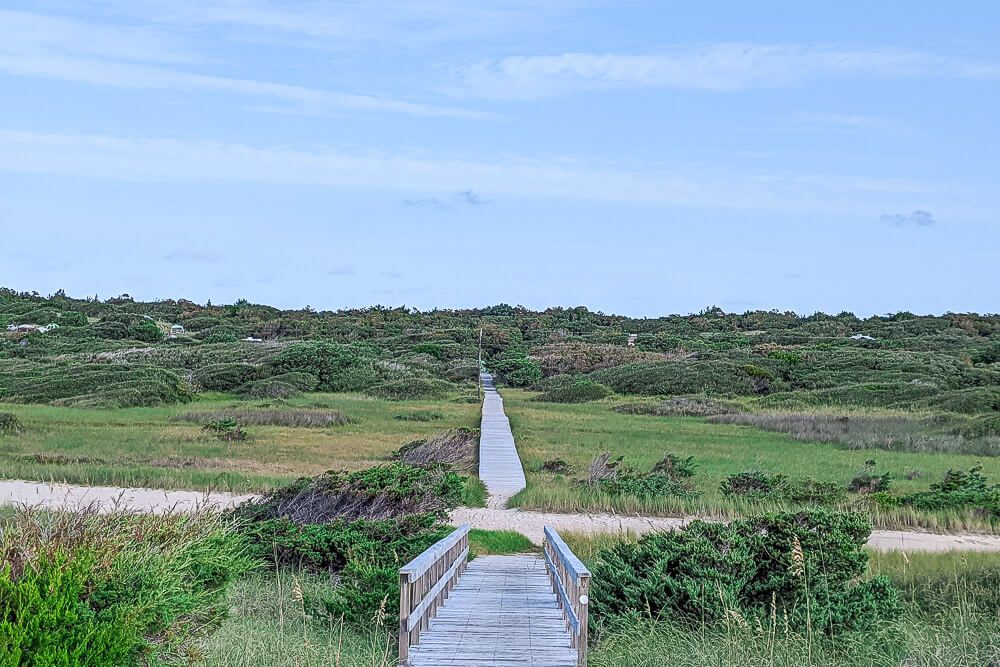 Okay there are also a lot of bugs in the summer. Biting bugs to be specific. So bring the bug spray and use it. I basically never not had some on me.
Last, but not least, the burs. The grass or shrub in the area around the campground have these little burs attached to them. And they are super sharp. Be careful putting anything down on the ground. And do NOT walk around barefoot.
These burs were a bitch to be honest. Ellie, who does her business in the grass, would get them stuck to her feet. She'd go into the grass, pee, and come out limping because she'd have several burs stuck to her feet.
If you have your own dog with you (and yes it's dog friendly!), please keep this in mind and check their feet often!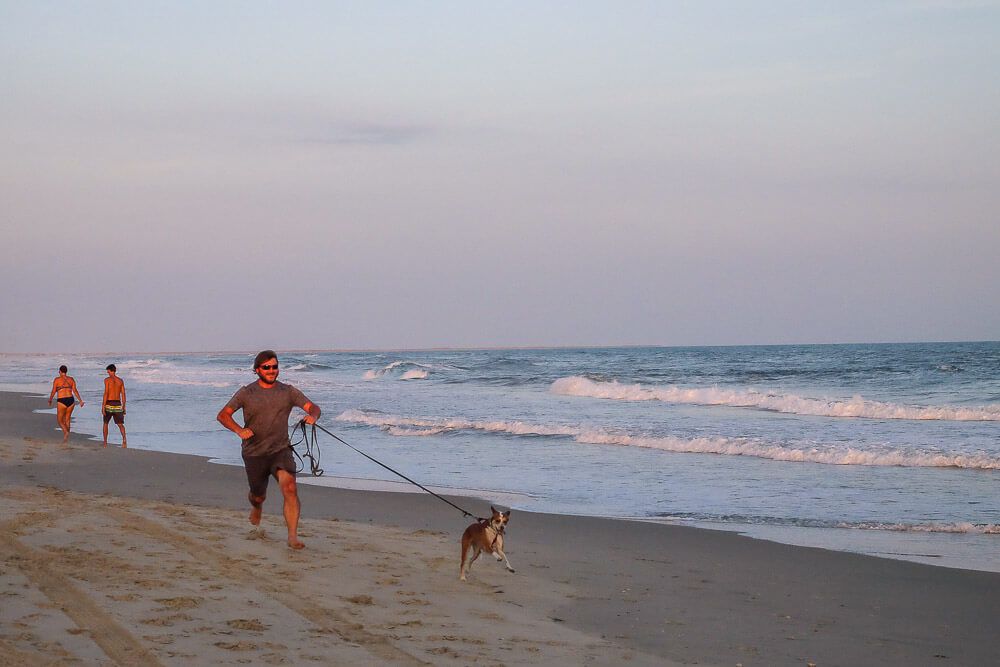 So I think that's it. I have a strong feeling we'll be back to Frisco. Even with the crowds. But maybe next time we'll plan to go early or late in the season. Or maybe even in the shoulder season… Who knows!
Hopefully this helps you plan your own trip to Frisco Campground!