Dupont State Forest offers numerous hiking trails. On a previous trip, Ryan and I did the popular 3 waterfall hike in the summer. But on this hike we wanted to avoid the crowds a bit. So instead we headed to Stone Mountain in Dupont State Forest, the highest point in the area.
At 3600', Stone Mountain offers some impressive views. And if you take the shorter route (like we did) then the top is easily achievable. So if you're headed to this area, then just follow along with my trail guide to Stone Mountain.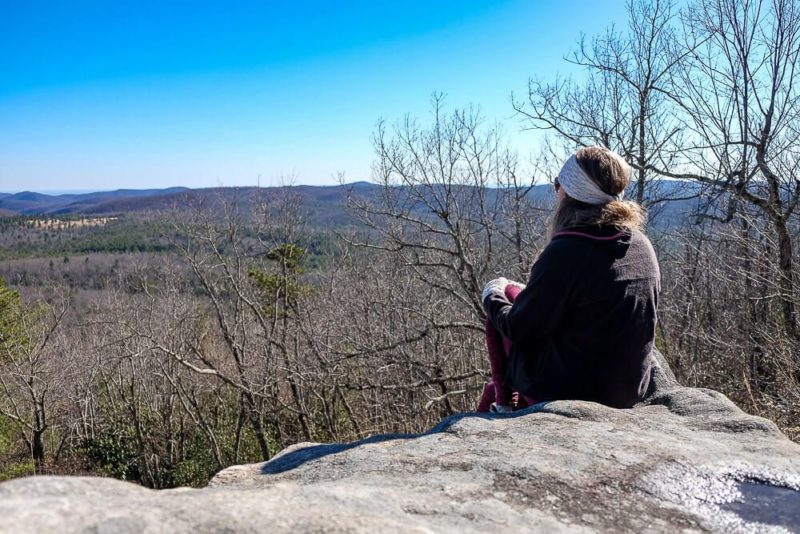 ---
How To Get To The Stone Mountain Trailhead
As mentioned above, Ryan and I hiked the shorter trail. There are two options to this hike but since we were hiking in the winter (and therefore with limited daylight hours) we decided to go with the shorter route.
To get to the trailhead, you'll want to drive along Sky Valley Road past the Guion Farm parking lot. About 1.5 mils past this lot you'll see a small clearing to your left and a trail sign marking one end of the Rocky Ridge Trail.
Here is a Google Map to the parking lot.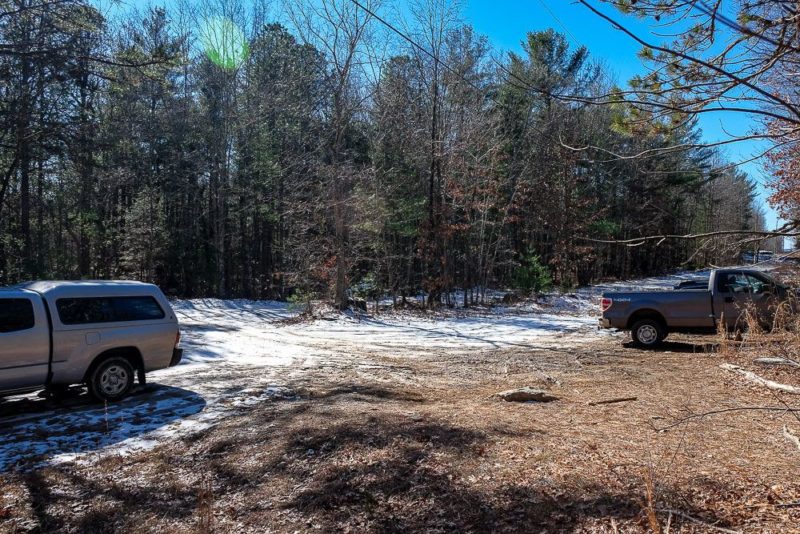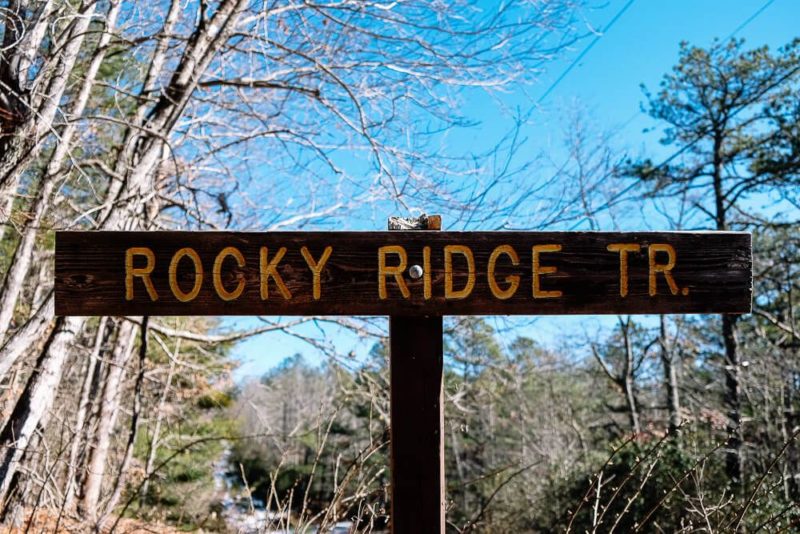 One important thing to note here is that the Sky Valley Road is unpaved for most of the way. And you are going up and over ridges. We were in a truck with 4WD and since there was still some snow on the ground, we were using the 4WD.
There are lots of deep ruts here as well that could cause issues for your car even if the road was dry.
My suggestion would be to avoid driving this road in a small car that has low ground clearance. You could be okay, but I'd hate for you scrap the bottom of your car. Anything with AWD or 4WD should be able to handle this road with ease.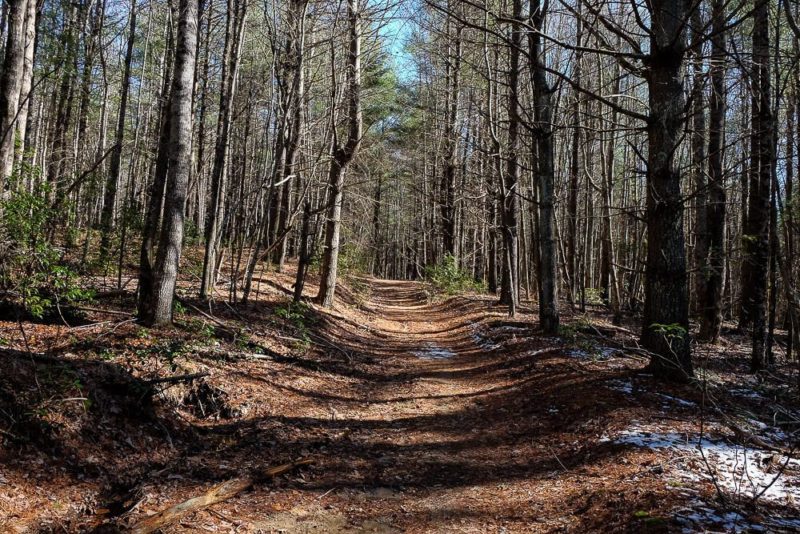 ---
Hiking Stone Mountain in Dupont State Forest
From the parking lot you'll set off on the Rocky Ridge Trail for about a half mile or so. This section of the trail is fairly level and easy (see the photo above). You'll hit your first intersection (with the Stone Mountain Trail) and continue straight on it.
The second sign is where the real "fun" begins. Here you'll find the Stone Mountain trail sign pointing to your left and up the mountain. Straight is the Switchback Trail (not where you want to go).
Make sure to check the map at the bottom of the post if you're lost.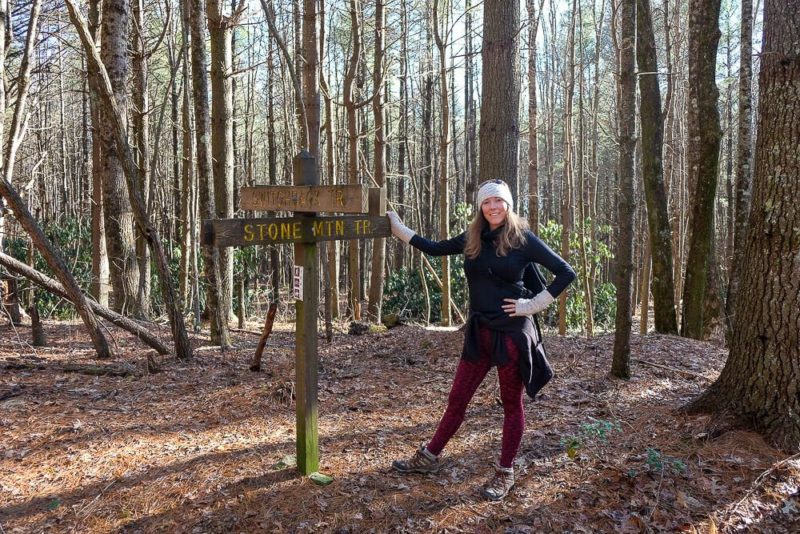 This is where the uphill section starts. And you'll climb up steadily for several minutes. Though you'll only have a few steep sections, it's a solid uphill climb (or a slog as I like to call it). The kind where you hike uphill, round a corner, more uphill, round a corner, more uphill…you get it.
It's a constant uphill from here on out.
Just be careful with your footing here since there are a lot of rocks on the path (and snow when we went).
Finally you'll get a brief respite when you'll hit a grassy field. (Though it's technically still uphill though just at a smaller incline.)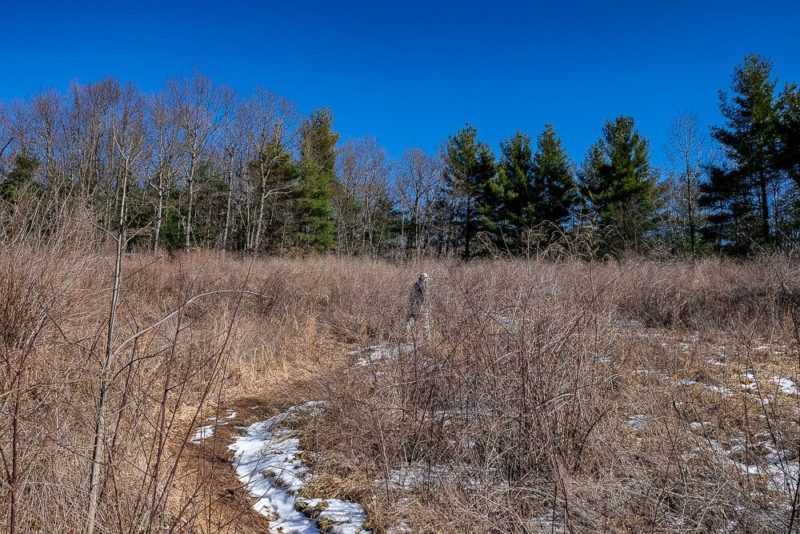 Through the field you'll reach some boulders and there's a brief dip down in the trail here before the final ascent.
I had read before we went that the hike is the worst right before the top. And that is 100% correct. After this brief dip down, you'll come up on the final ascent.
In the winter I could make out the shadow of the knob in front of me as I approached. And since I was not yet in hiking shape for the year, I groaned.
This final little bit is very steep. Think some very large steps & boulders. I often used my hands to pull myself up as well as grabbing onto nearby trees.
It's also very rocky and, lucky for us, still covered completely in snow. This whole section is basically a tunnel through thododendron which means the sunlight does not penetrate to the trail floor easily.
I slipped a few times in the mud/snow and had to catch myself on some nearby trees.
But then we were out!
The top of Stone Mountain has a lot of exposed granite slabs, offering you amazing unobstructed views. Since the mountain is in the northeast corner of the park, most of your view to the south will be of the rest of Dupont State Forest and surrounding lands.
From where you emerge there are some amazing south facing vistas, but for the best views take the spur trail to your left. Here you'll find a wide open area that's perfect to sit back and rest a bit.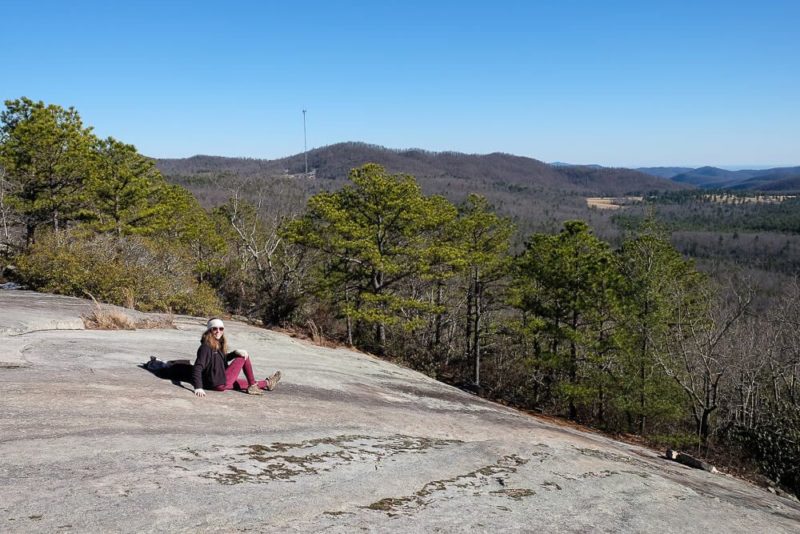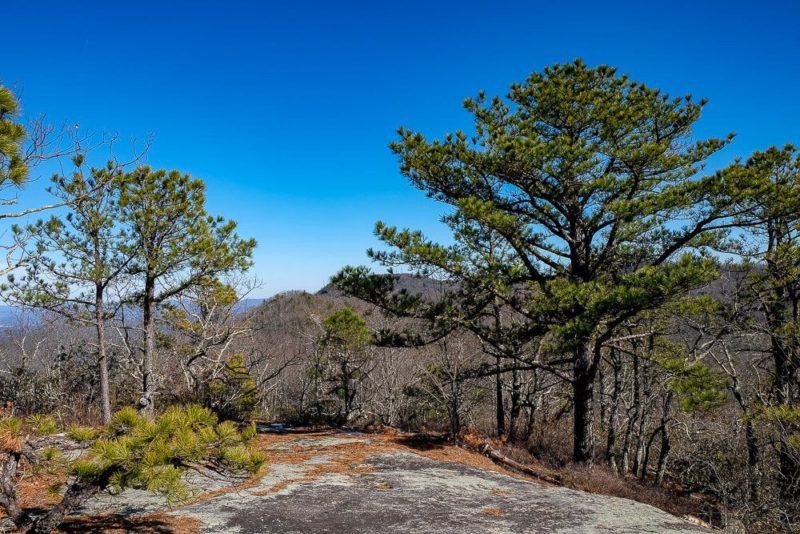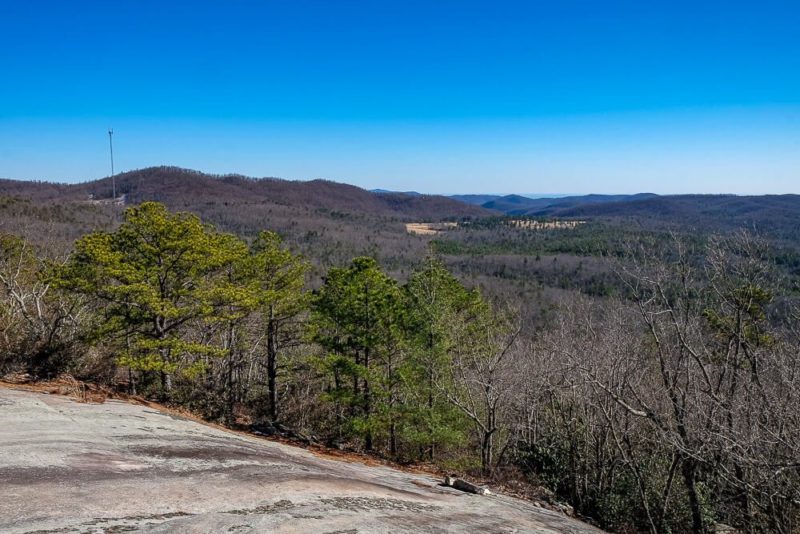 There are also some side trails along this way that offer some views to the north as well. Since we were here in the winter, they were pretty impressive. But when the leaves are on the trees I would expect them to be mostly blocked.
You can also find some cairns to the right as well that others have created.
I also later read that there was a spur trail that led down to a boulder with amazing western facing views. (Down 200' though.) I never saw this spur trail but keep an eye out for one marked by flagged trees near the trail leading back down the mountain.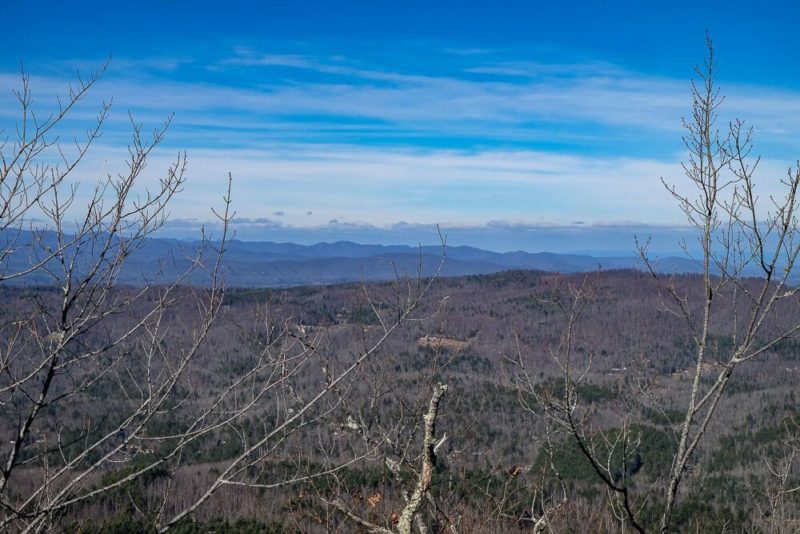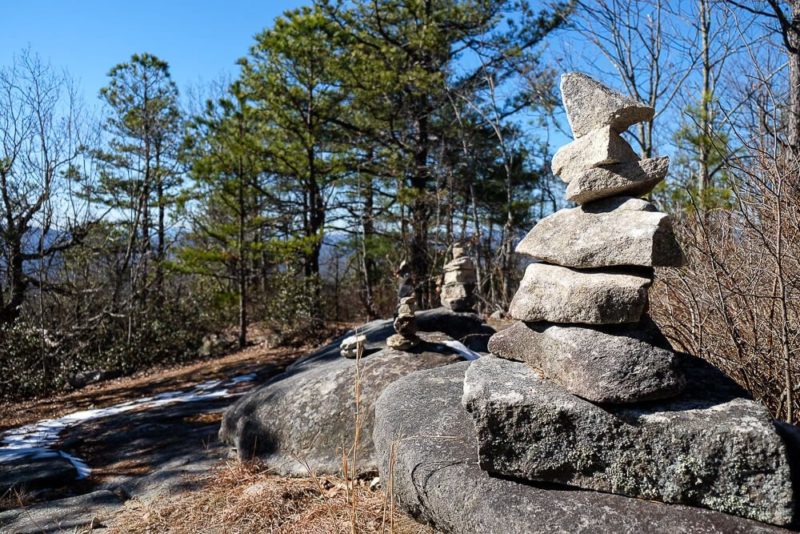 ---
Nitty Gritty
Difficulty. Hard. I was panting heavily during some of the uphill sections.
Length. 2.8 miles roundtrip.
Elevation. About 600 ft elevation gain
Time. Ryan and I hiked this in about 2 hours and 40 minutes. But looking back, we spent over an hour at the top of the mountain. In terms of climbing time, it took us about 50 minutes to reach the top and a little bit less coming back. But we did stop a lot and take photos along the way. I think you should give yourself at least 2 hours so that you can spend some time at the top and relax.
Parking. We did the short version. You can find where to park here!
Trail Map. You can download the full Dupont State Forest Trail Map here!
I've also snipped out just the part you'll need below. I've marked the Sky Valley Road in red from the Guion Parking Lot to the one we parked at. Then the trail we took (Rocky Ridge -> Stone Mountain) is marked in blue. If you start at the parking lot we did, it's a right and then a left at the trail intersections to reach the top.