Miradouro.
As I began researching my trip to Lisbon, this word kept popping up. Everywhere. I don't think I could have cracked a guidebook on Lisbon and not seen it. And so, my interest was piqued.
I decided to drag my ass all over Lisbon to try to see them all.
I'm so glad I did.
But what is a miradouro? Easy. It's a lookout. A viewpoint. A designated spot on top of a hill that has an incredible view. And if you're in Lisbon, you definitely don't want to miss them. Especially since they're free.
But be warned. As mentioned above, miradouros are on top of hills. Some hills are higher than others, but they are all up. Trekking around to each of them is a workout (trust me on this one). Be prepared to sweat.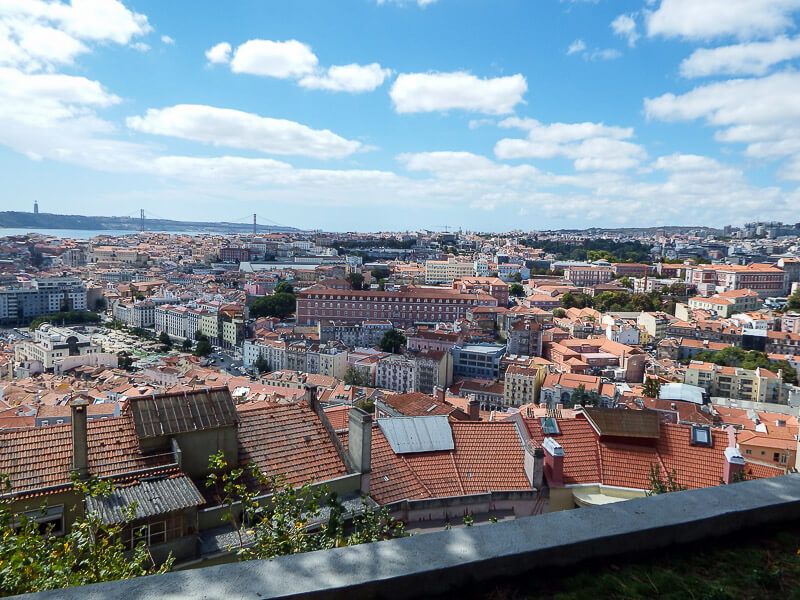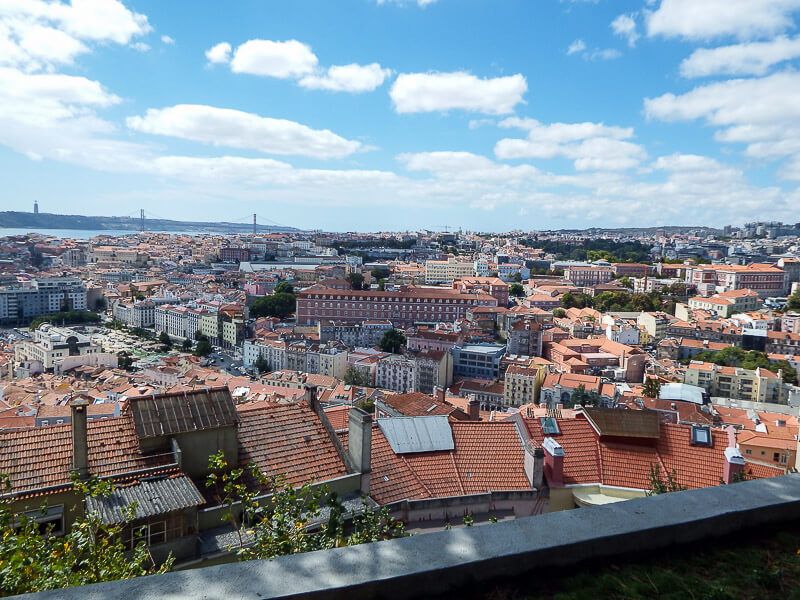 ---
Miradouro de São Pedro de Alcântara
Our journey to see the miradouros started on our first night in Lisbon. Our hotel was located near Bairro Alto and Chiado. So we headed straight up the hill to Miradouro de São Pedro de Alcântara.
The viewpoint is located in a small park across from The Independente. The park has fountains and even cafes where you can buy drinks and snacks. But we came here for the view. I headed straight for the railing.
It was breathtaking.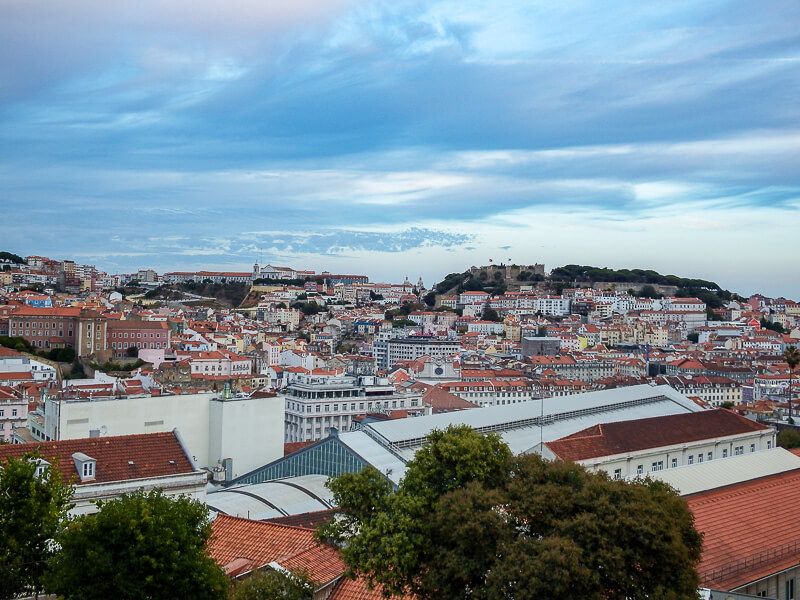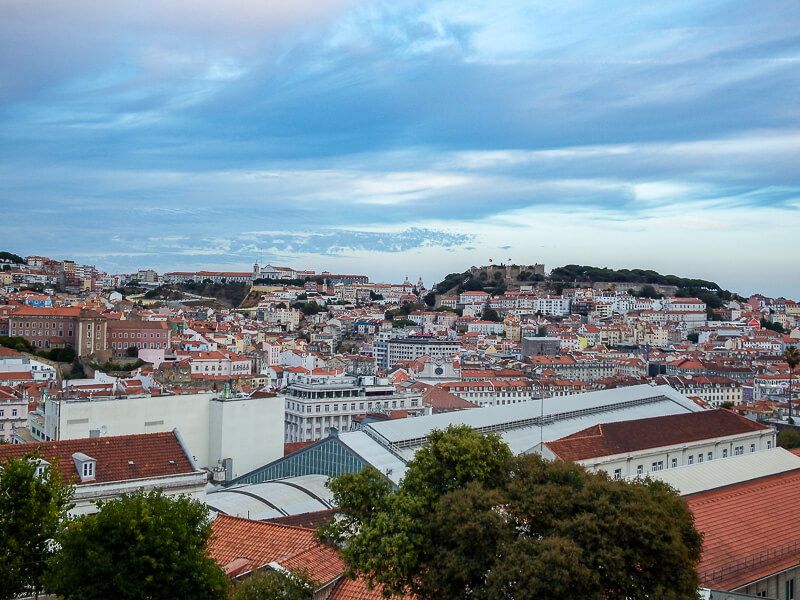 From Miradouro de São Pedro de Alcântara, the Rossio and Baixa neighborhoods spread out below you. Across the valley, on the opposite hill, sits Lisbon's Castle, the Castelo de São Jorge. And far off to the right, I could barely make out Lisbon's river over the rooftops.
I was hooked. I didn't want to leave. But as the light started to wane, I knew our time here was limited. Plus my hunger was increasing (and I've been told I get hangry).
If you're headed for the Baixa (like we were), you can make your way down the steep Calçada da Glória to Praça dos Restauradores. The Elevador da Glória also runs this road so keep an eye out for it. You can hitch a ride on this elevador up or down the street, but if I remember correctly, it was more than I wanted to pay. So we hoofed it both ways that night.
But before heading down, I lingered at the railing. I wanted to take it all in. In the dying light, I was enthralled. My pictures of this miradouro turned out sub-par, but in that moment, I didn't care. I finally knew what all the fuss was about. This was a miradouro. And I couldn't wait to see more.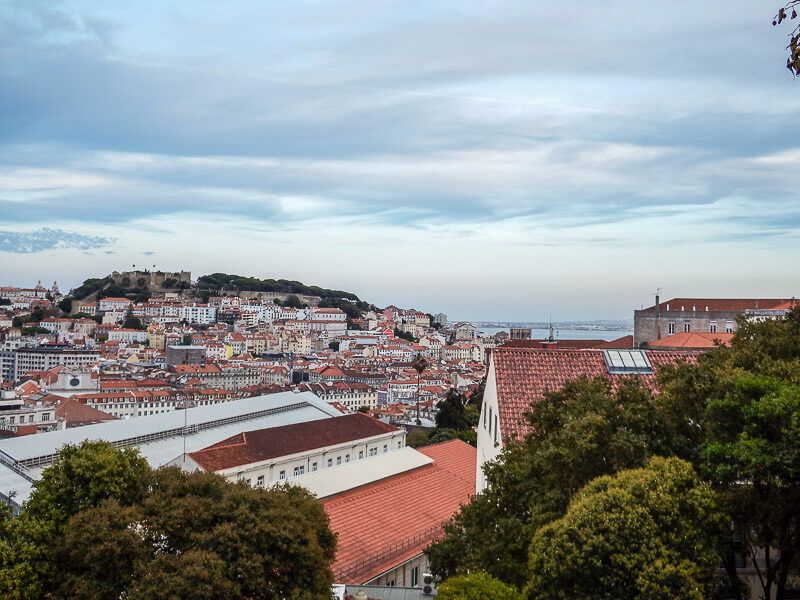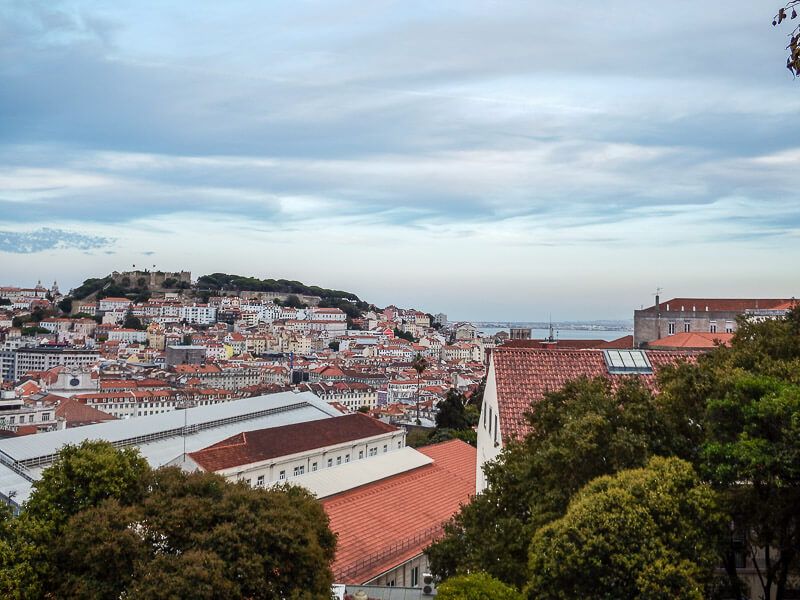 ---
Miradouro de Santa Luzia
The next day we hopped on Tram 28 and headed across town. The first stop for the day was Miradouro de Santa Luzia near Largo das Portas do Sol. This miradouro sits over the Alfama and that's its main draw. Before us were the twisted buildings, roads, and alleys that make up the Alfama.
From above, all we could see was a sea of orange rooftops.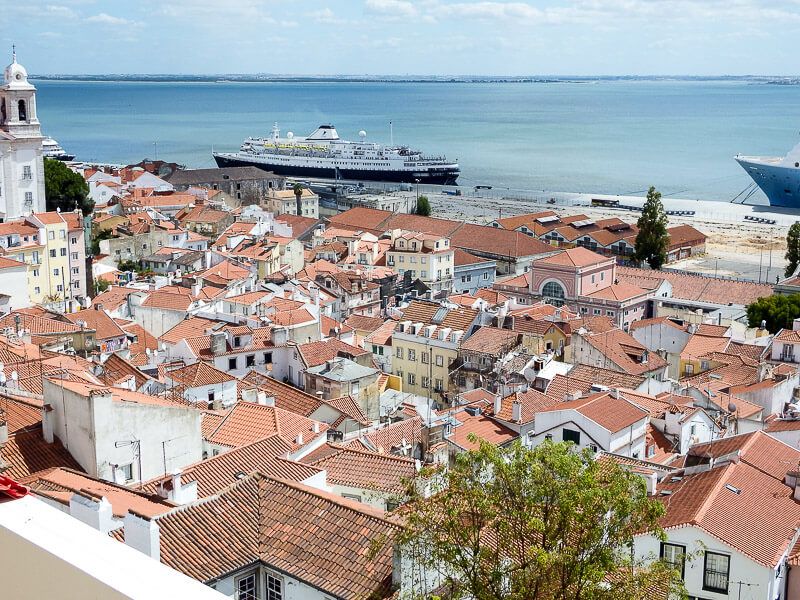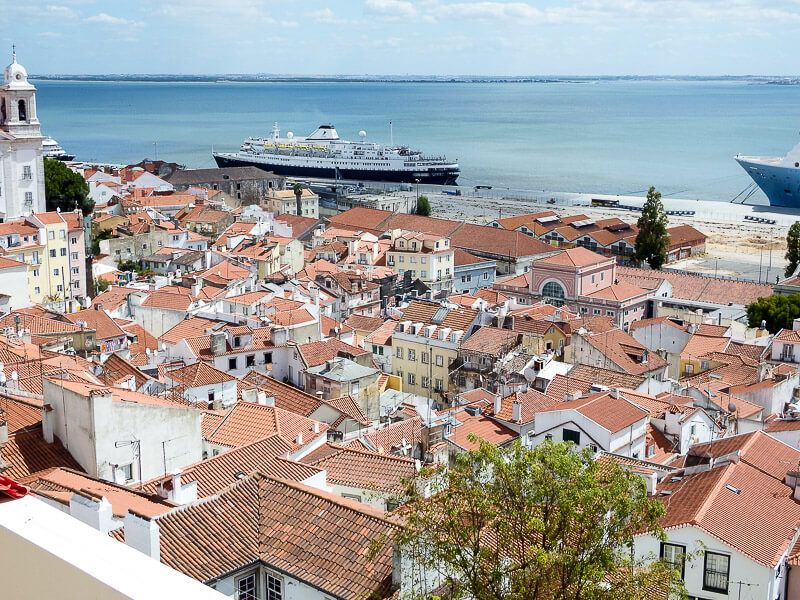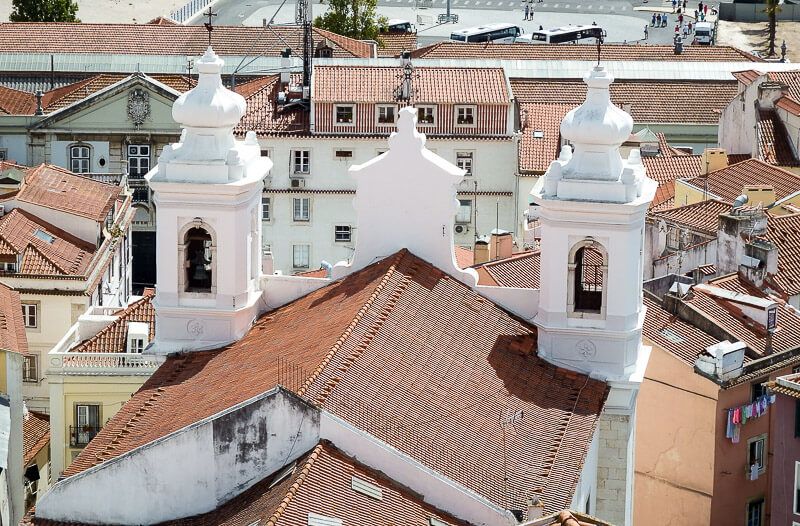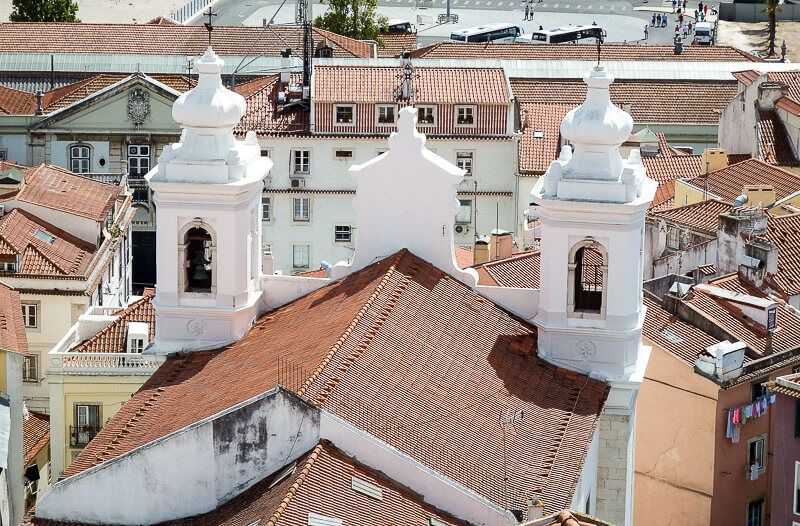 We lingered here a moment, taking in the beauty of Lisbon in the daylight. My favorite was seeing the Igreja de São Miguel poke up out of the Alfama.
My least favorite part? All the freaking cruise ships.
Yep. Apparently Lisbon's dock sits at the bottom of the Alfama so your view at Miradouro de Santa Luzia might be filled with a giant ship. Like mine was. Thank you Royal Caribbean.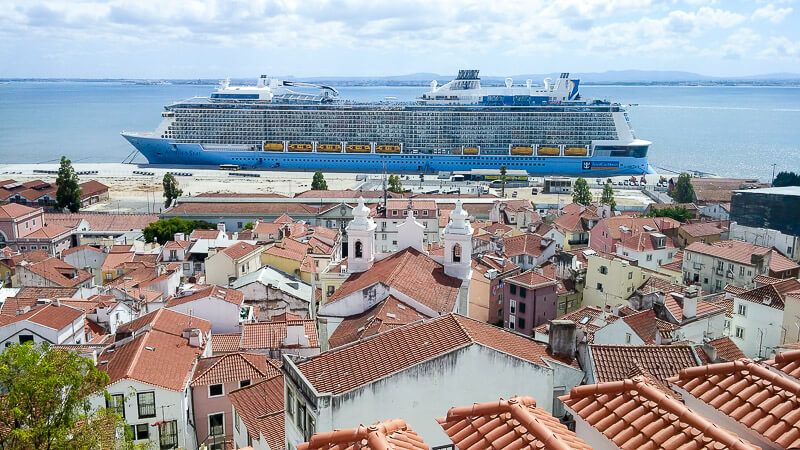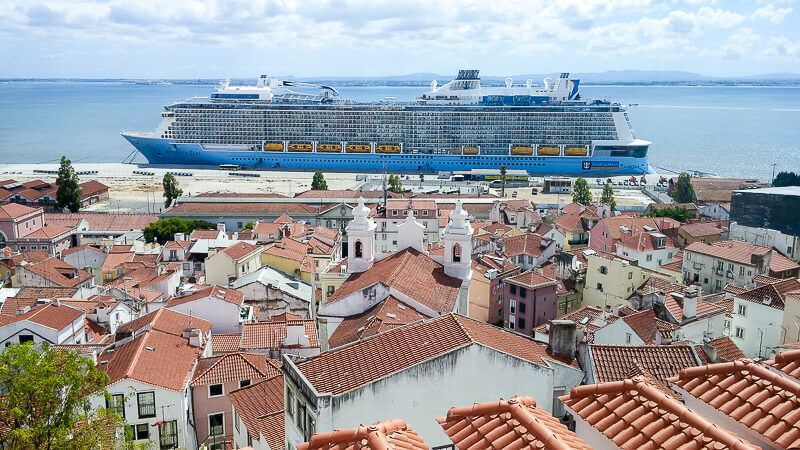 ---
Miradouro da Graça
After Santa Luzia, we headed up to the castle and then around the back of it to the Miradouro da Graça. The walk started off easy, but after awhile, it started to climb in a distinct upwards direction.
When we reached the miradouro, I was ready for a break.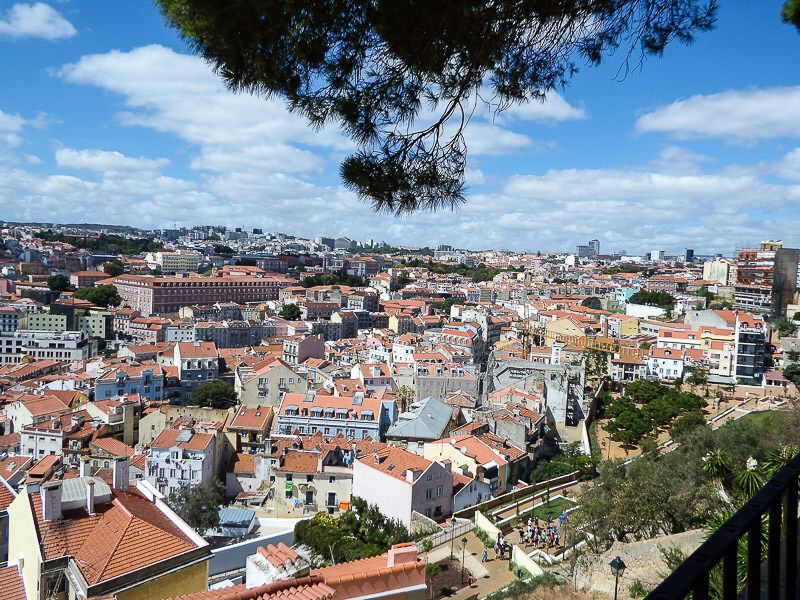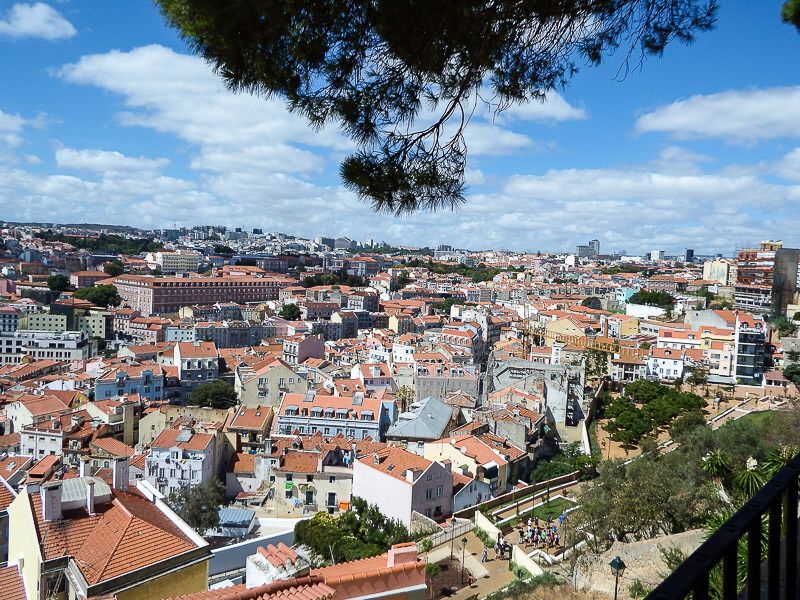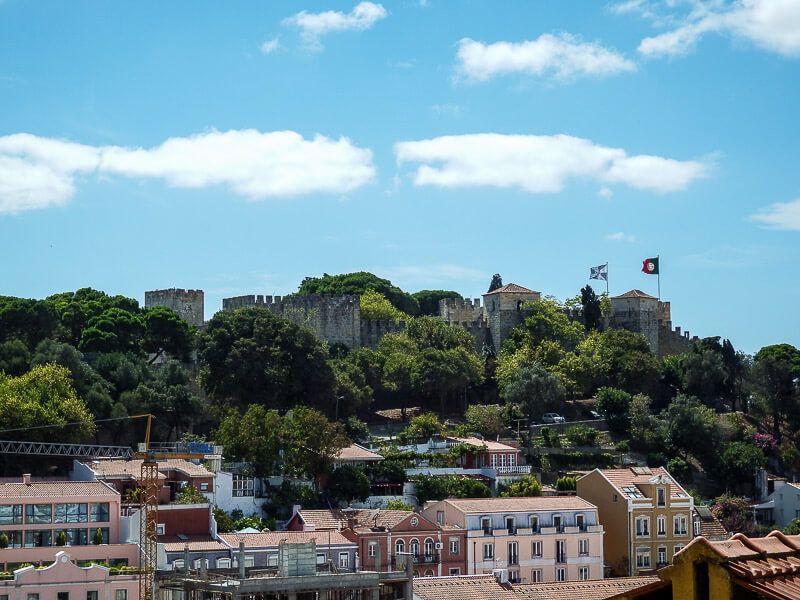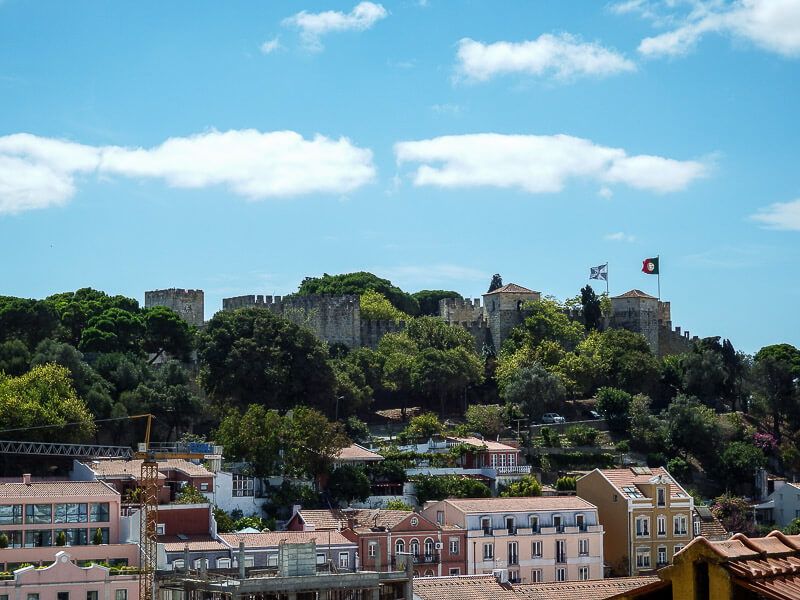 The terrace sits outside of the Igreja da Graça. Shaded by blessed pines, you can order a couple of drinks and snacks from the cafe, and sit back and enjoy the view. Which is amazing. The castle sits just to your left and central Lisbon spreads out in front of you.
I was starting to get the feeling that Lisbon (and Portugal in general) really digs orange rooftops.
But sadly, with everything we were trying to pack into one day, we knew we couldn't linger. We looked longingly at those tables and shade but continued on. There was one last miradouro on my list, and I just knew I couldn't miss it.
---
Miradouro da Senhora do Monte
This is Lisbon's highest viewpoint. And maybe it's best.
Though it's only located one hill over from Miradouro da Graça and I knew it probably had a very similar view, I couldn't pass it up. By the time we topped the final hill to Miradouro da Senhora do Monte, my feet were aching, I was sweating, and I was ready for my reward.
And there it was. Lisbon. It spread for miles.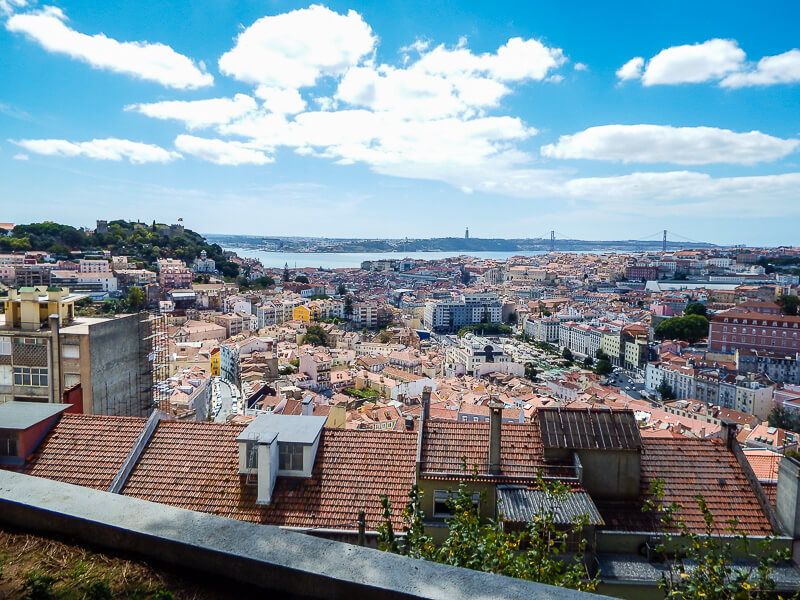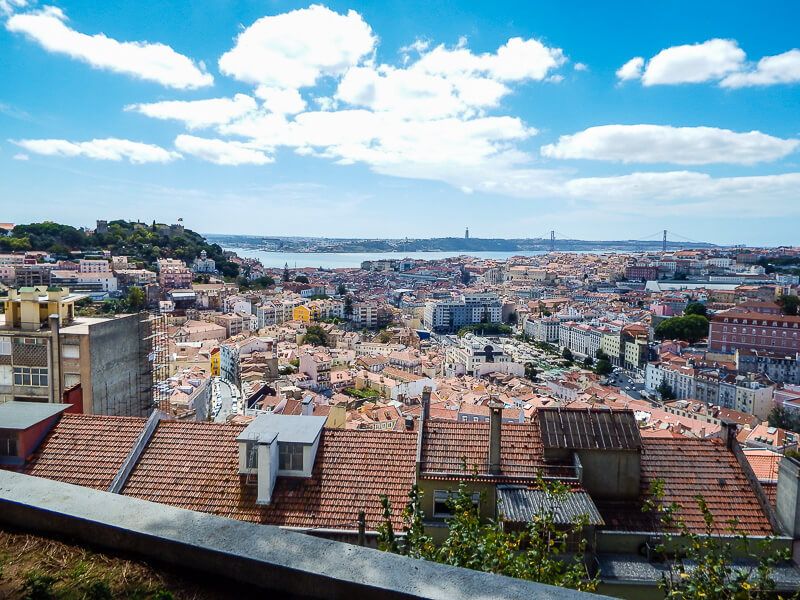 From the hills to the castle to the river to the horizon – this was Lisbon. And I felt proud of myself for making it up here. We had basically slogged the trail backwards (you should start at Miradouro da Senhora do Monte) and made it to the end.
Was the highest the best? Probably. But you should find out for yourself.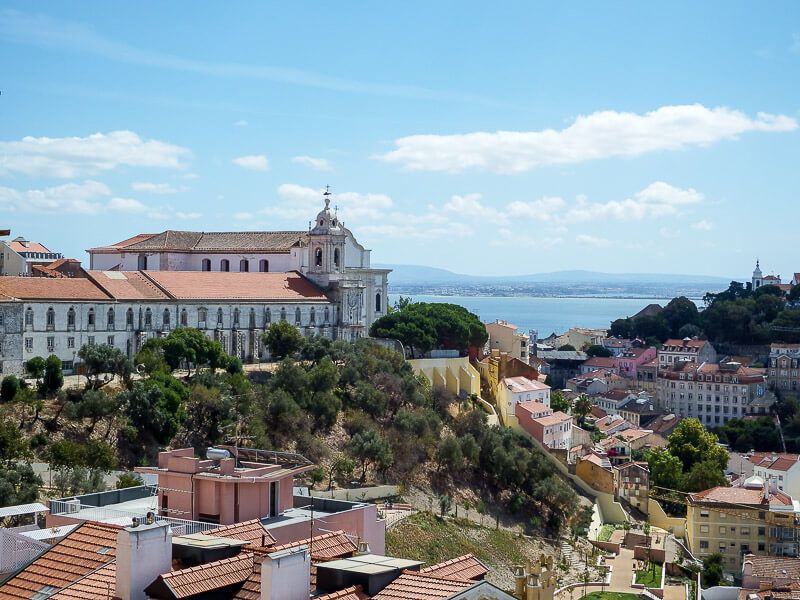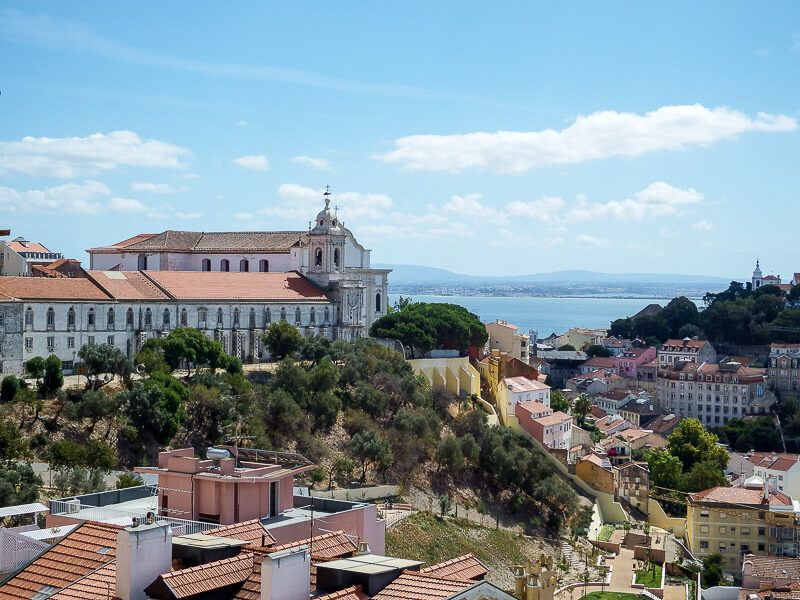 ---
Honorable Mentions
Miradouro de Santa Catarina
Want a different view of Lisbon? Head on over to Miradouro de Santa Catarina to the west of Chiado. It's the only viewpoint we visited that faces straight south towards the river. We passed by this miradouro at night and though (somehow) I don't have any photos, the view was fantastic. The lights, river, and bridge sparkled.
And we were ready to sit back and enjoy it. We headed over to Noobai Cafe, adjacent to the miradouro, to have some sangria and relax. Big mistake. Noobai Cafe looks cute and it has great views…but the sangria. Oh that sangria. It was bad.
The sangria tasted off, syrupy, and wrong. Just wrong. I powered through it but I blame it for my lack of photos. My stomach tumbled the rest of the night and I all but ran back to the hotel, fearing the sangria would end up all over the streets of Lisbon.
So it's probably safe to say that my memory of Miradouro de Santa Catarina is a bit tainted. But don't let that ruin your experience. Just don't order the sangria at Noobai Cafe.
Lisbon's Castle: the Castelo de São Jorge
I debated including this "miradouro" because, well, it's not a miradouro. And it's not free (€8.50). But it does have one of the best views in Lisbon. And I can't not include it for that reason alone.
My visit to the castle wasn't all it was cracked up to be. But the main thing the castle has going for it is it's view. Which is amazing. I won't deny it that. And seeing Lisbon from the ramparts was pretty cool.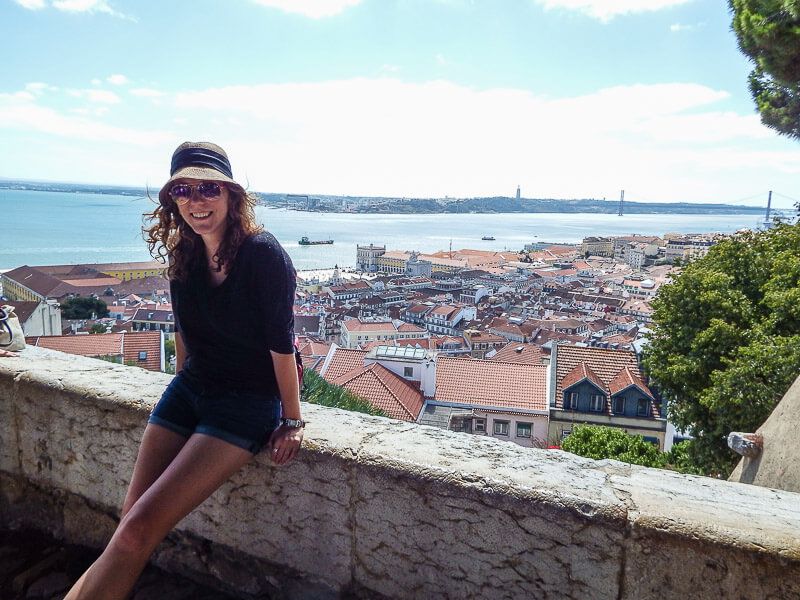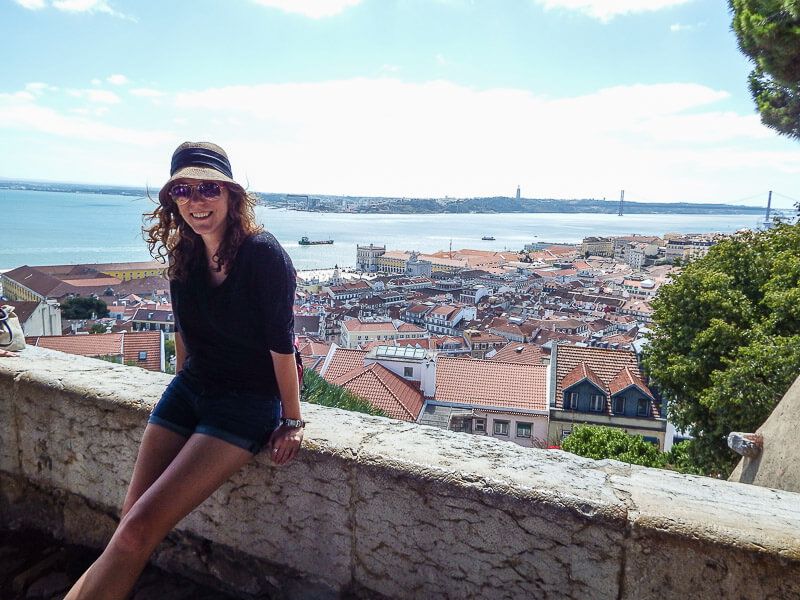 ---
Where are the Miradouros?
The miradouros aren't too hard to find. And Google knows exactly where they all are. But if you want to see all of them (especially the ones on the eastern side of the city), then you should tackle them in a downwards direction.
When we sought them out, I disregarded all of the advice I had read and decided to start with Santa Luzia. This was not a good idea. We had to slog all the way up the hill and then all the way back down. Smart Laura.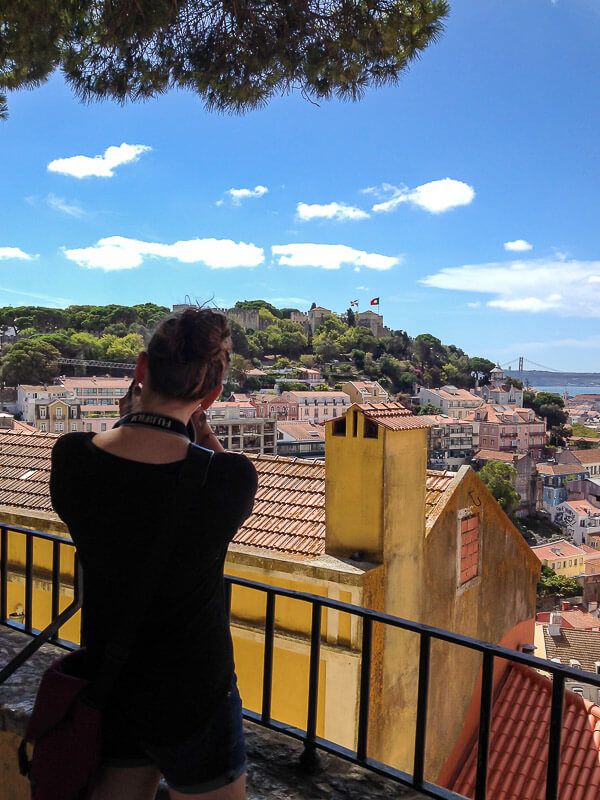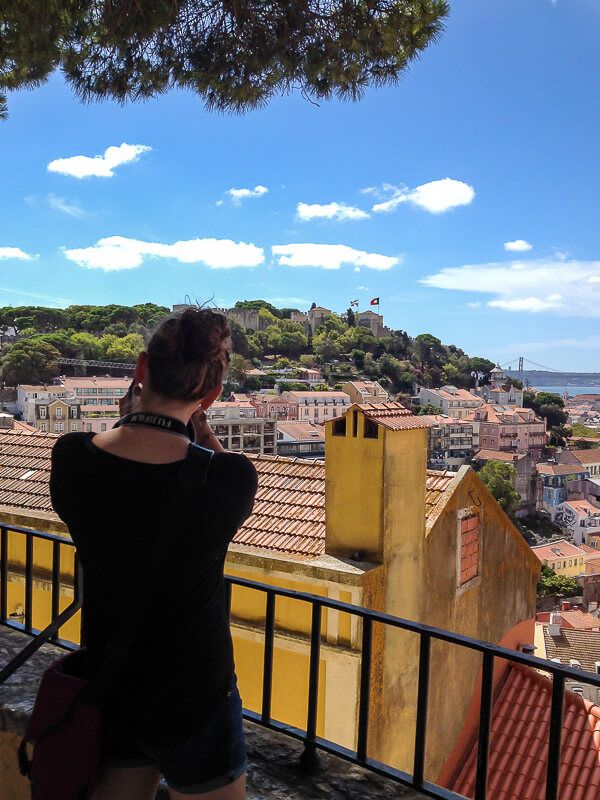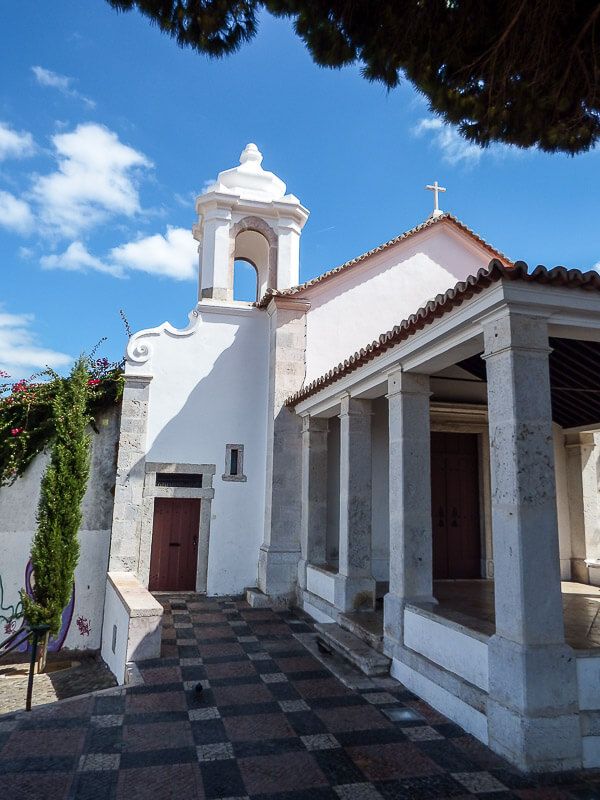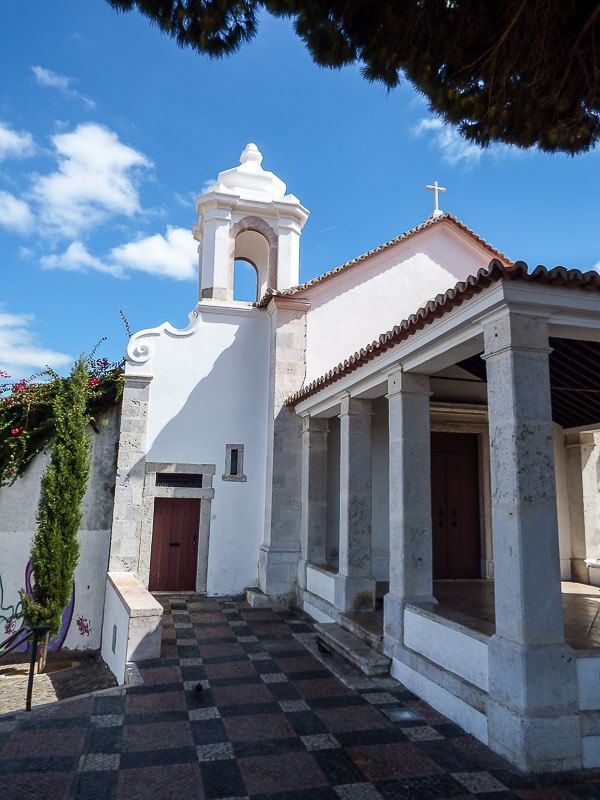 First, take Tram 28 to Largo da Graça. You'll pass all the major sights on the way but just let them go, you'll come back by them. Once you get off the tram, you'll be close to Miradouro da Senhora do Monte so head straight there.
After seeing Lisbon's highest viewpoint, head south and take the next two rights to Miradouro da Graça. If you want to visit the castle afterwards, you can take either the quick or the scenic route there. If you want even more great views, sweep around the backside of the castle along Costa do Castelo. If you're in a rush, head straight south and then hook a right to the gate.  Once you've been to the castle, head down the hill to Miradouro de Santa Luzia. 
Since the miradouros at São Pedro de Alcântara or Santa Catarina are on the other side of the city, their order isn't as important (though if you are seeing them back to back, start with Alcântara so you can walk down the hill to Catarina).
Lisbon is beautiful. Full of winding hills, large and small plazas, tucked away restaurants, and amazing views. Orange rooftops, white churches, and a medieval castle fill almost every one of my photos from the miradouros. And we were able to experience them all for free. Which is a rarity I think. Most viewpoints are at the top of churches, clock towers, or monuments. And you have to pay to go up. But not in Lisbon. The hilltops themselves are the viewpoints, you just gotta make it up there.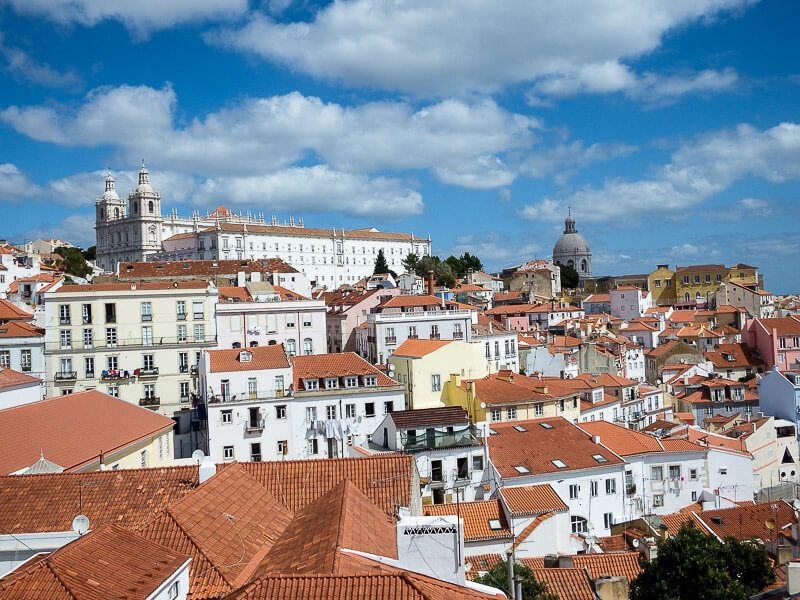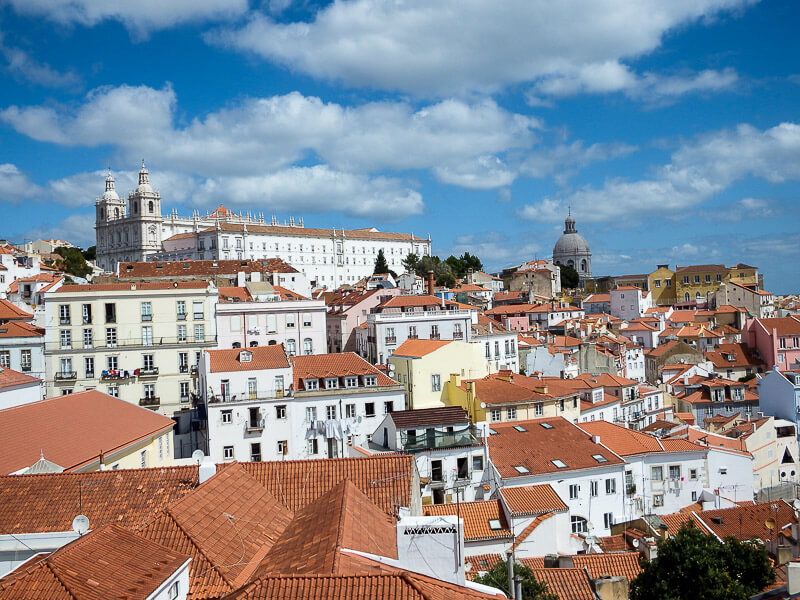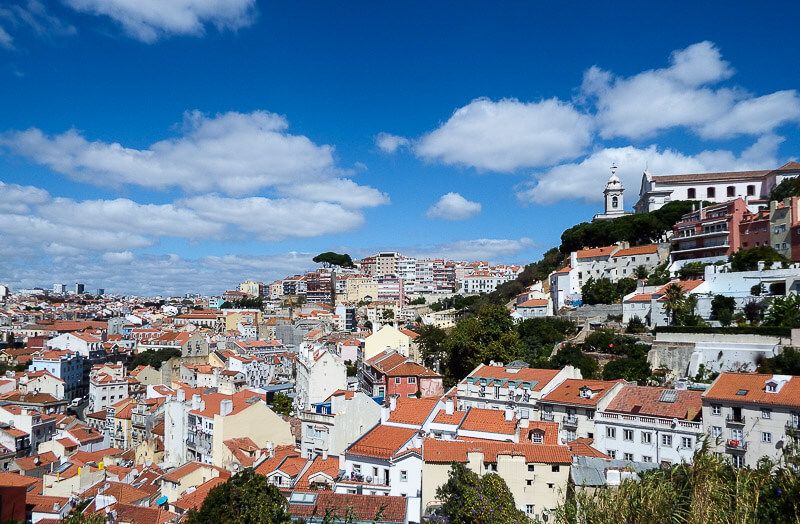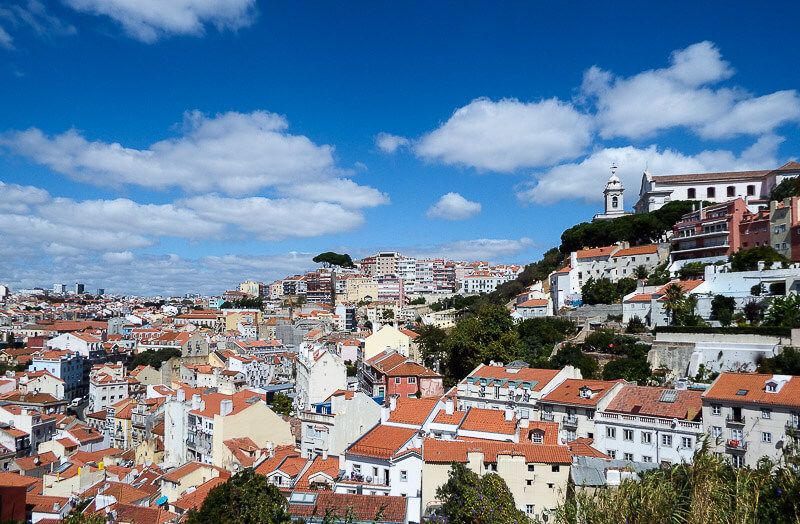 – How important are great views to you? –