"Why isn't there anything inside? Was it just walls? This sucks."
My head turned at these words, grimacing not just at what they said but the American accent they were spoken with. I spied the disgruntled college-aged girl who was wandering the courtyard complaining to her friend.
I didn't hear much more as they passed but I was immediately annoyed. Didn't she realize that castles could be at least 1,000 years old? That many fell into disrepair for centuries? That restoration projects are remarkably recent? Didn't she know that many castles have suffered natural disasters, fires, and pillaging that have stripped them of their interiors and former glory?
I instantly disliked this girl but, if I'm being 100% honest, Lisbon Castle, the Castelo de São Jorge, was just…eh.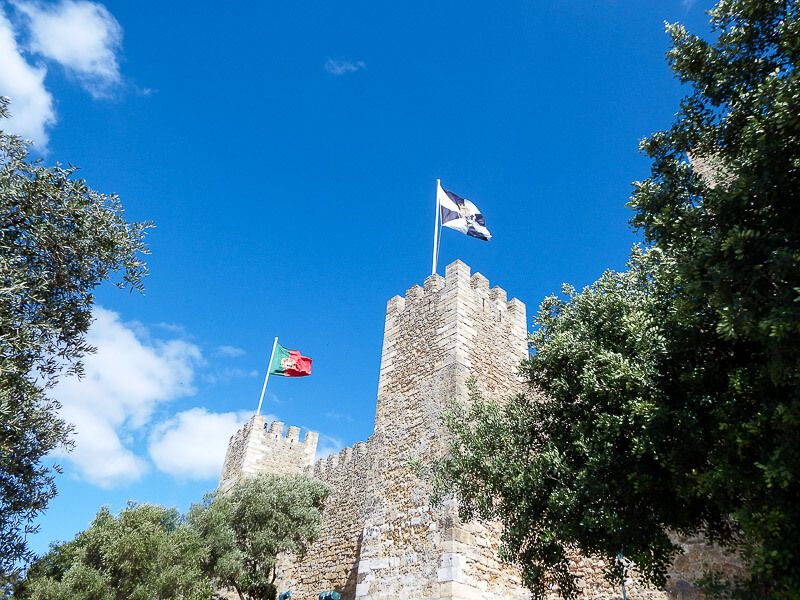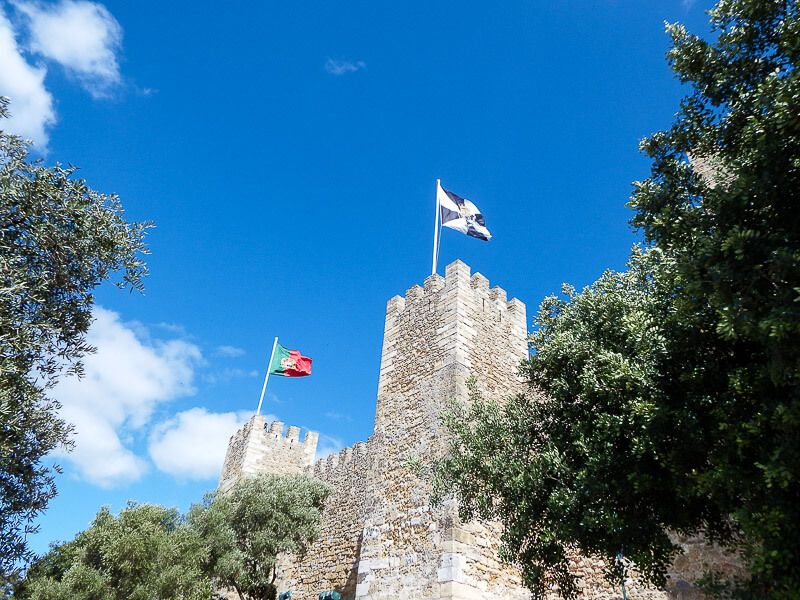 I hate to think this about any castle but…it didn't wow me. It felt boring. And it was nothing like what we found in Sintra with the Moorish Castle or the National Palace. Both of those castles were awesome.
And so Lisbon Castle just felt drab in comparison.
I kept trying to find something, anything to change my opinion. To make me feel something for the castle. But by the time we left, I just felt underwhelmed. And bored. Hot. Annoyed by the crowds. And ready to go. My feelings can be summed up with one word – eh.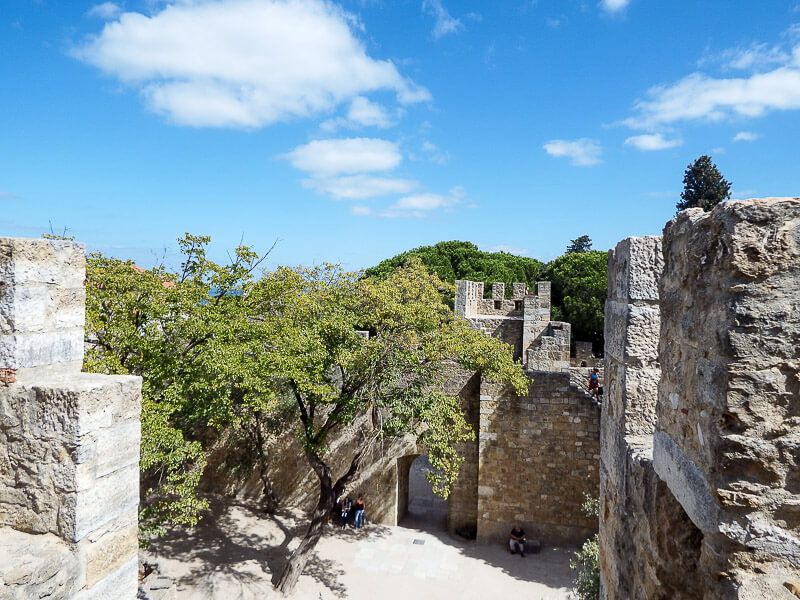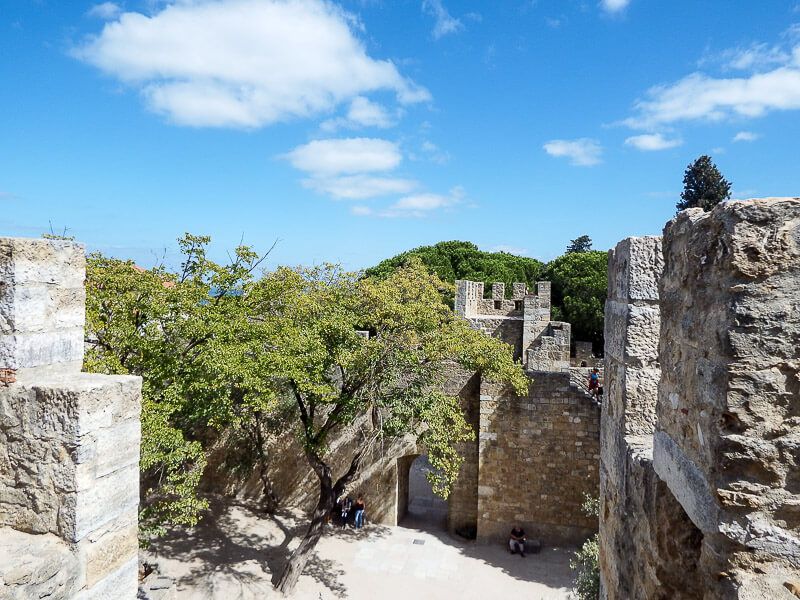 I had looked forward to visiting the castle for so long. It topped many of the "must-see" lists for Lisbon. Lonely Planet listed it as the number one sight for the Alfama district. And ever since we had arrived in Lisbon, it had stood over the city. Beckoning to us. It looked impressive, historical, and grand. I needed to go.
It was at the top of my list for our first full day in Lisbon.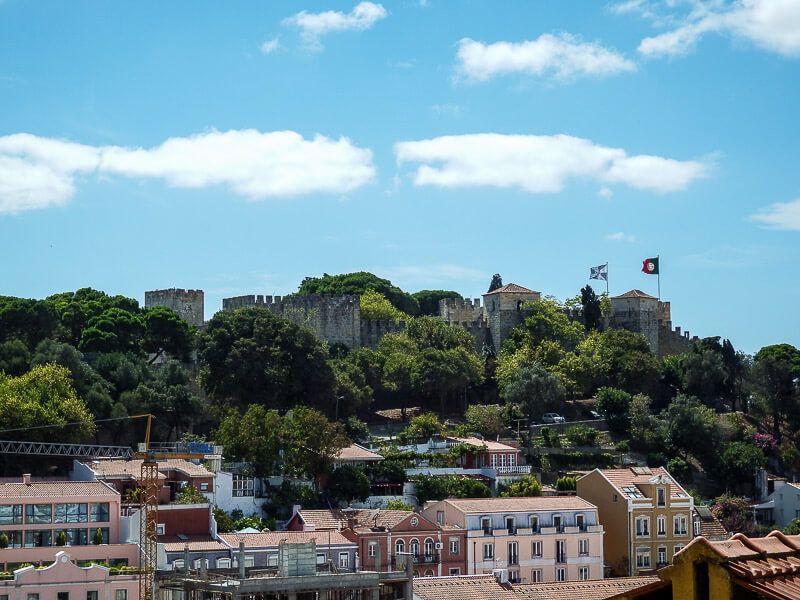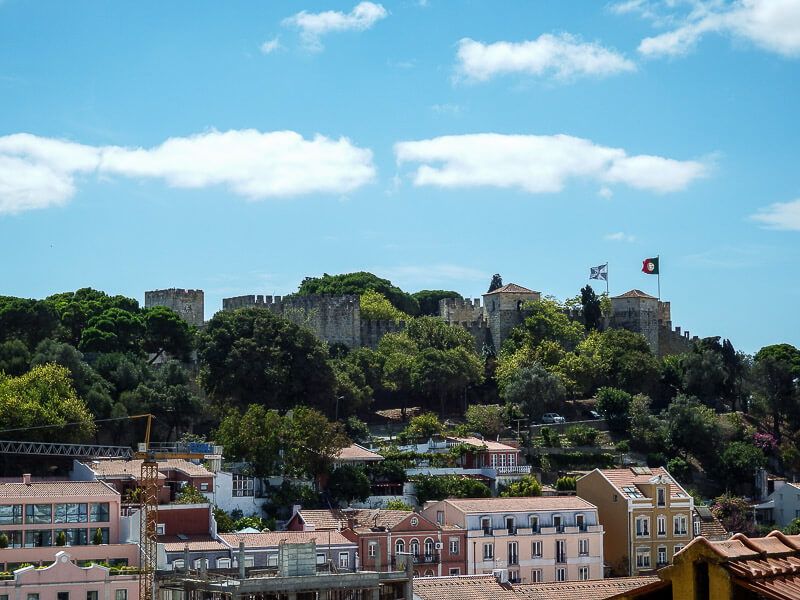 We caught a lift on Tram 28 from our hotel over to the Alfama and jumped off at the Miradouro de Santa Luzia. From there we started up the streets to the Lisbon Castle. I began to get nervous as I joined the horde of bodies making their way up the hill. Everyone was trudging slowly but determinedly. And there was only one thing up there for this many people. The Castelo de São Jorge.
We made our way through some of the outer gates and they were impressive. But I stopped dead as we reached the ticket office. A line 20+ people deep leaked out of the building and spilled in front of the entrance. How far into the building did the line go?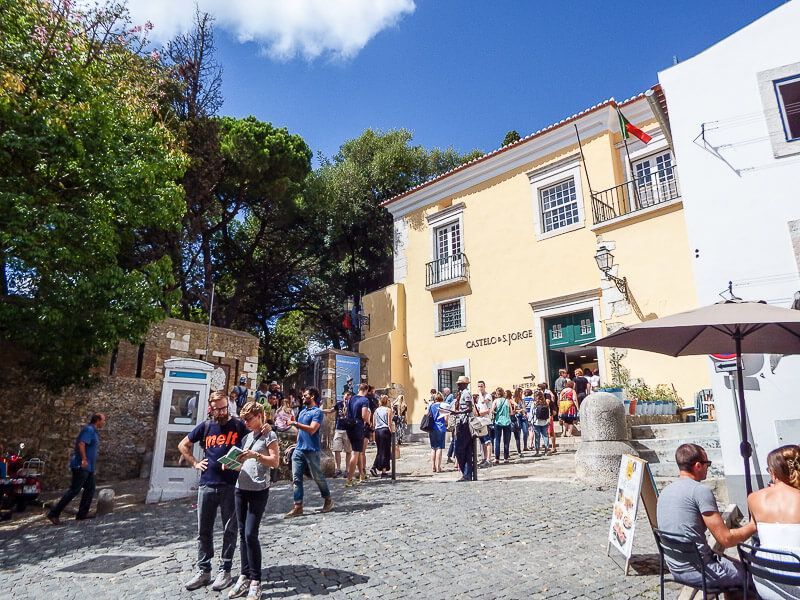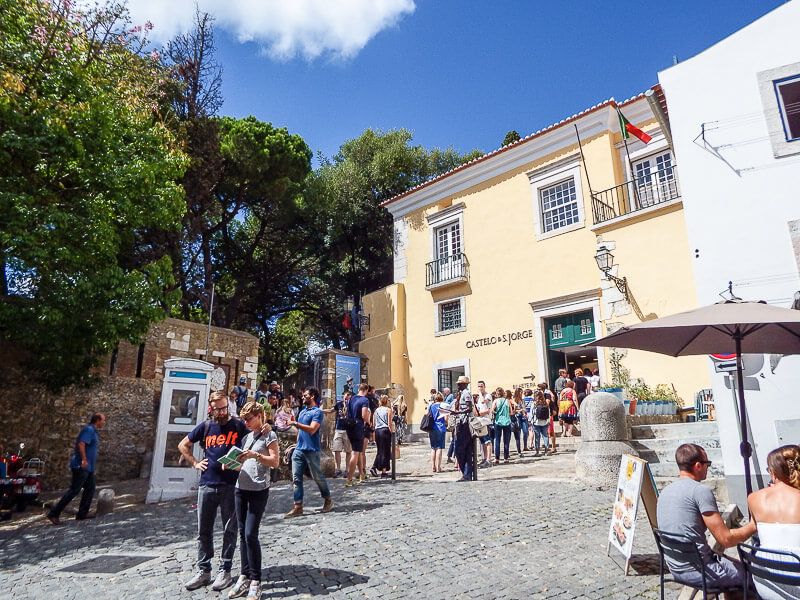 Major attractions have crowds – I know that. But I was already a bit hot and sweaty. And seeing this line made my resolve weaken. Did I really want to shuffle among the ruins while trying not to bump into people?
And as we stood there, debating whether or not to actually buy a ticket, more bodies joined the line. And I swear it wasn't moving.
Ryan probably has good intuition. He turned to me, "I'm okay with skipping it unless you want to go in." I ducked my head and agreed. We headed off in search of the famous viewpoints (the miradouros) I'd read about. But as we circled back towards the castle and made our way to the Alfama, I decided I didn't want to miss out on the castle. I didn't want to regret not seeing it.
We made our way back to the ticket office and I breathed a sigh of relief. The line was much, much shorter. I grabbed our tickets (€8.50 each), and we headed through the turnstile into the castle proper.
The first thing that greeted us was the large square right inside the main gate.  And it's here we got our first glimpse of what the castle really has to offer – an amazing view.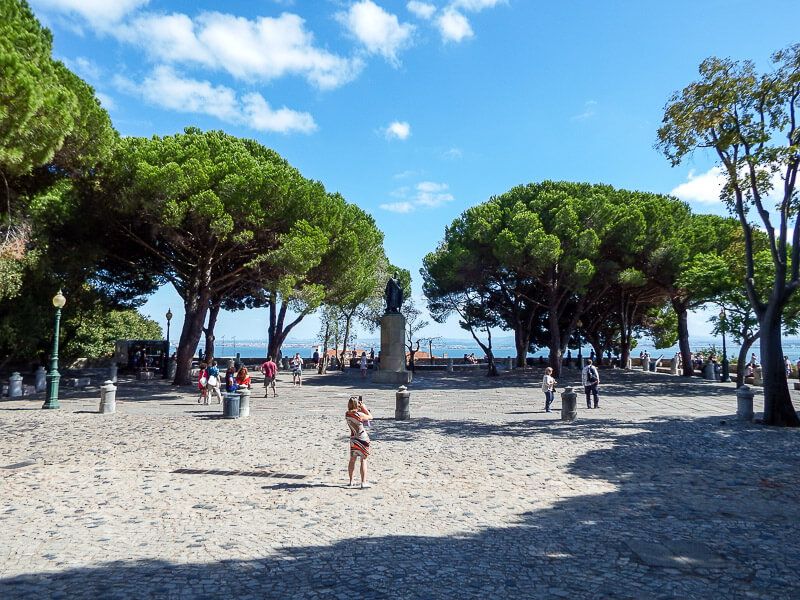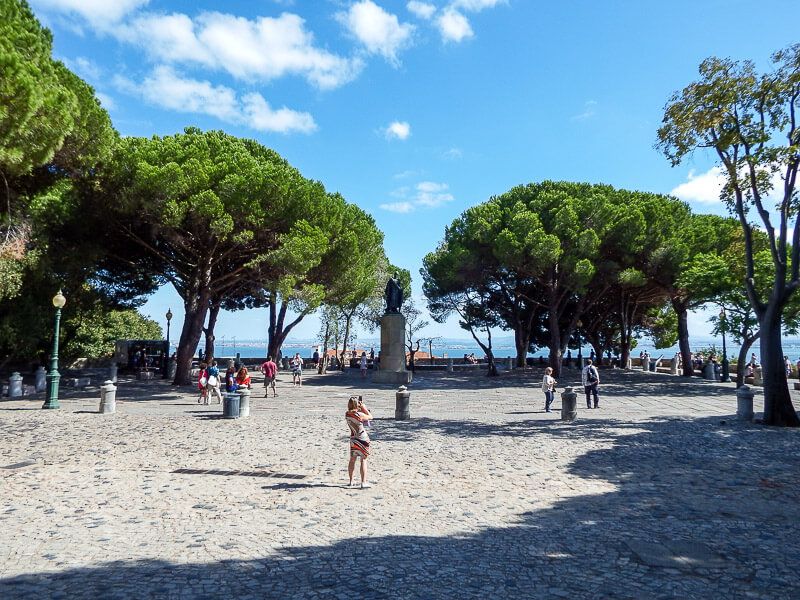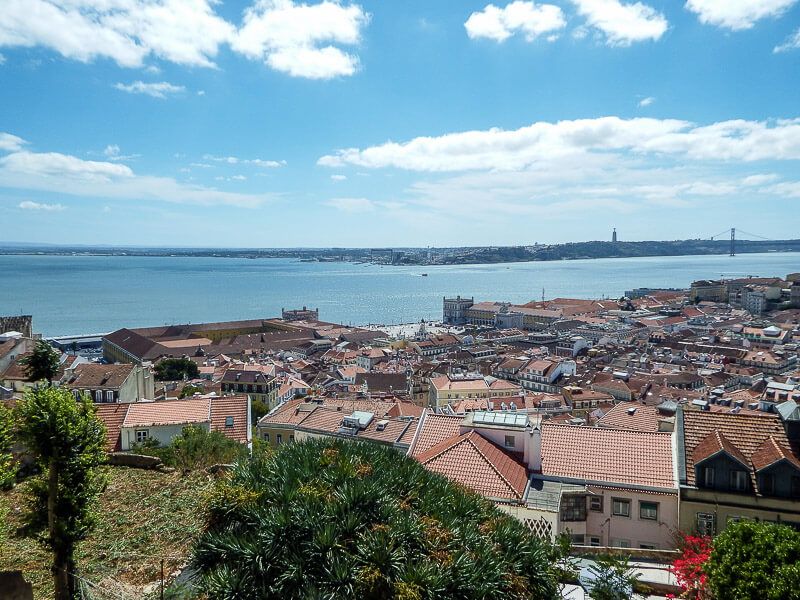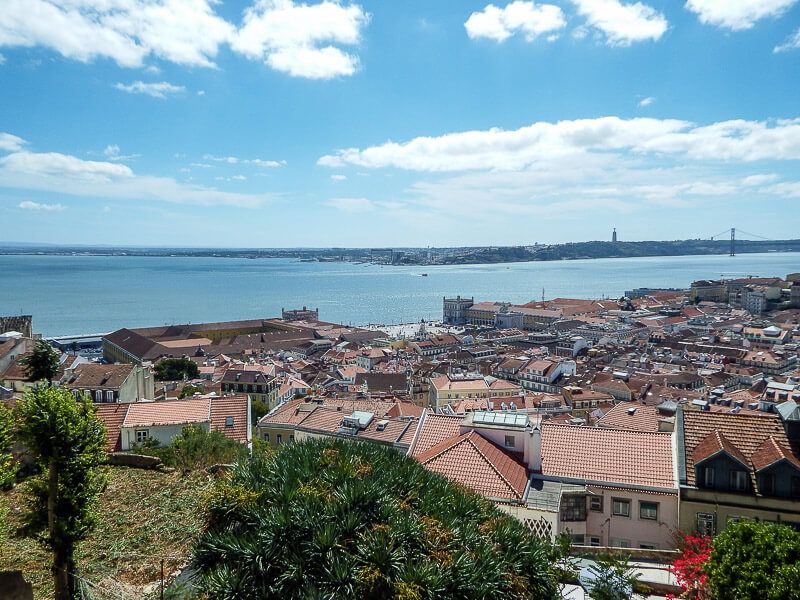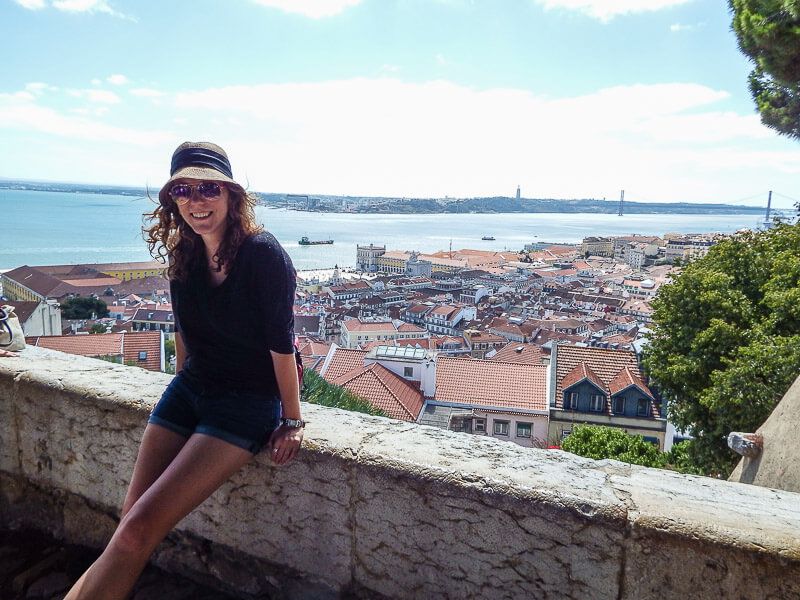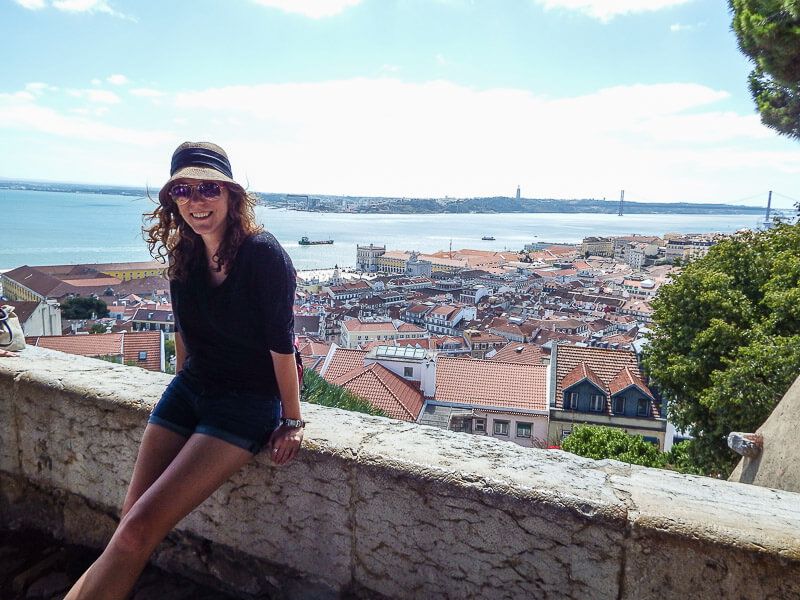 I was drawn to it immediately and I headed straight across the garden to an opening along the wall. The red rooftops of the buildings of Lisbon spread out below us and the river sparkled. We could see for miles. A light breeze hit us and it felt refreshing in the hot sun.
It definitely had one of the best views in the city.
I won't even try to deny it that. You want an amazing view of Lisbon? The Castelo de São Jorge's got your back.
We wandered through the gardens and square, and headed down along the wall of Lisbon Castle itself. The walls are impressive. The oldest parts of the castle date back to the 6th century. From Visigoths to Moors to Christians, this hilltop has seen it all.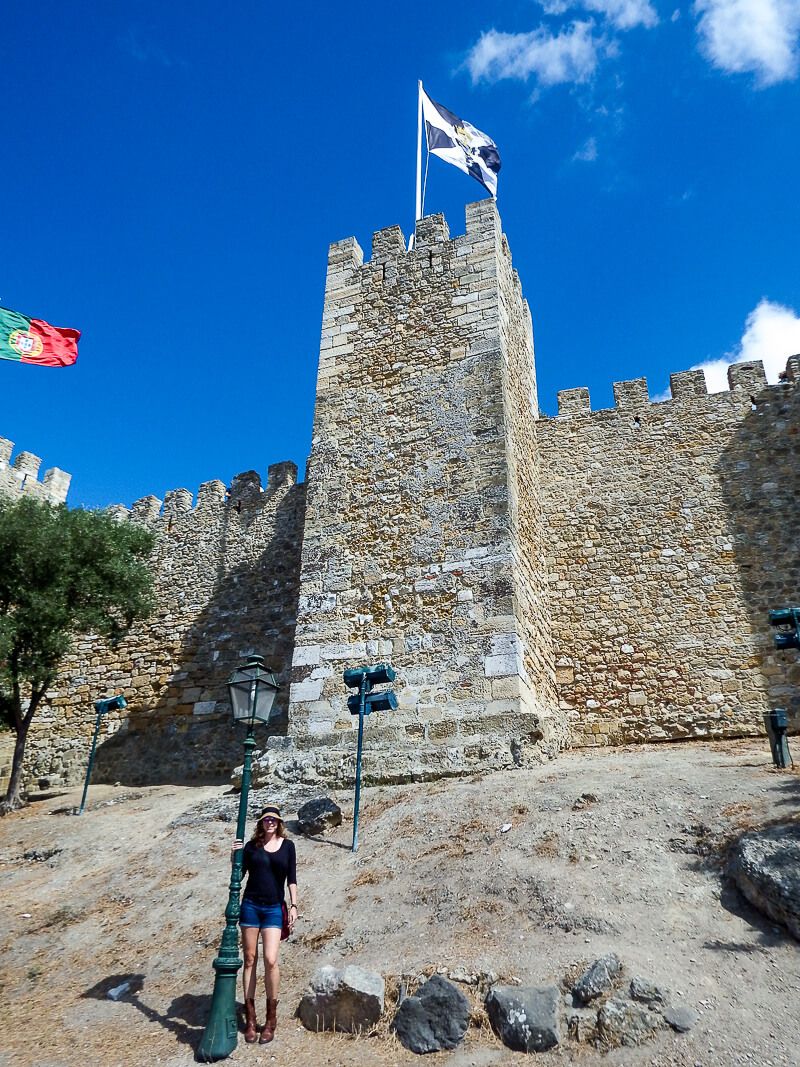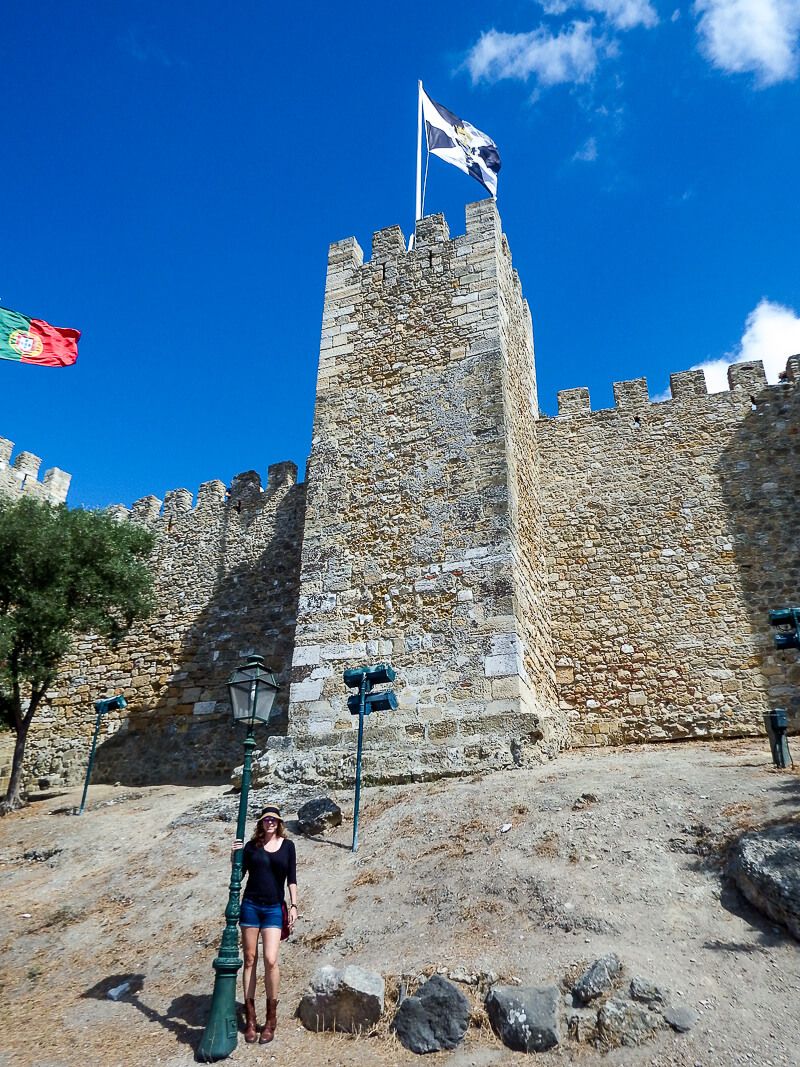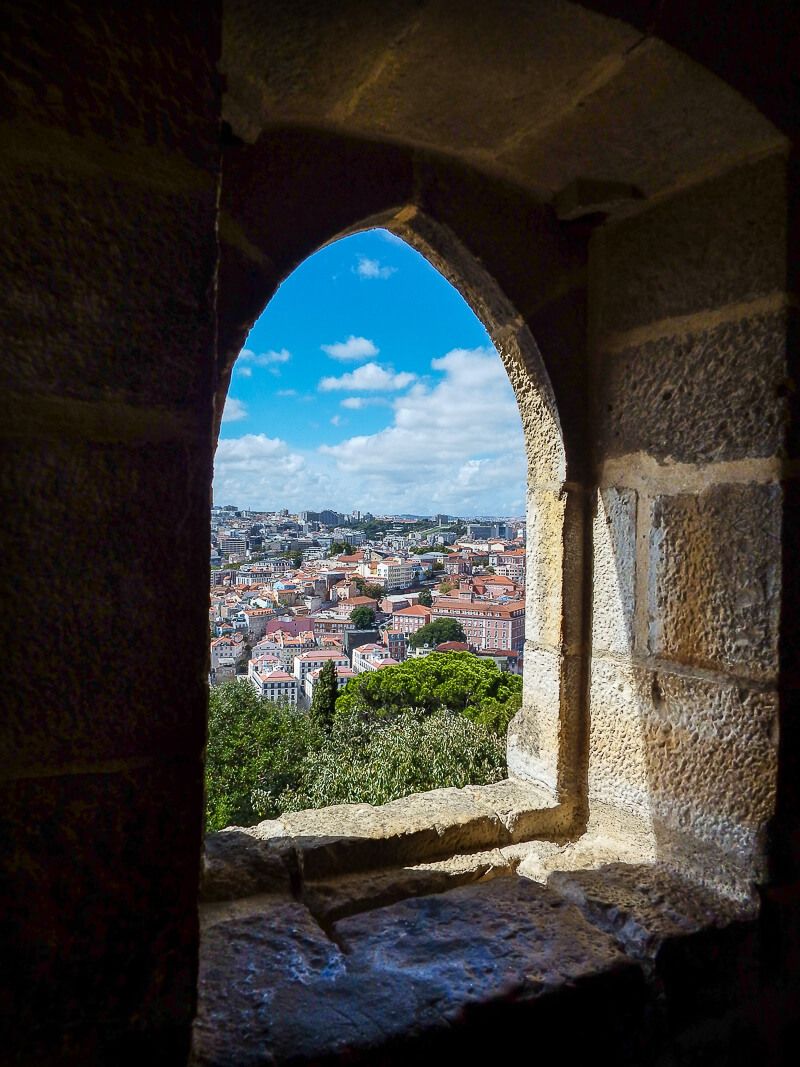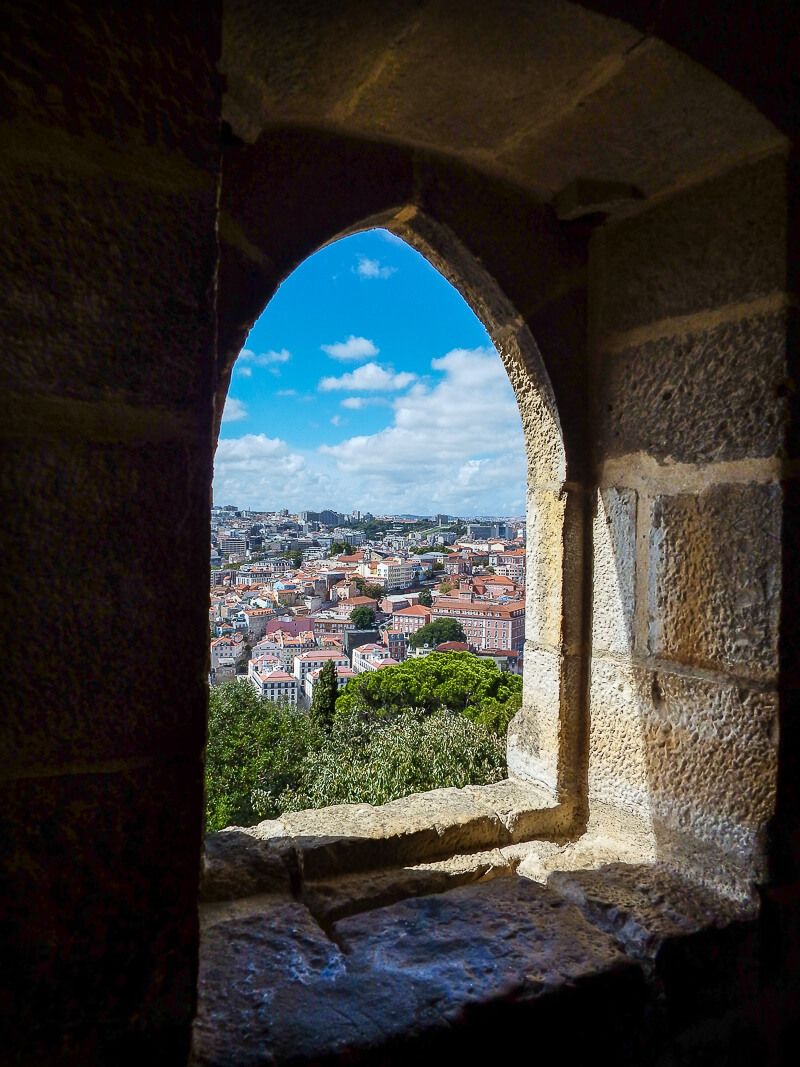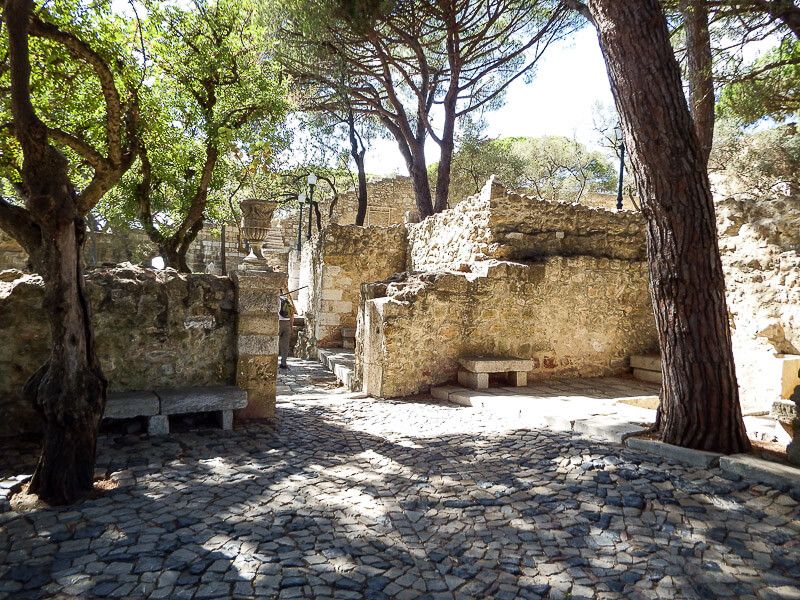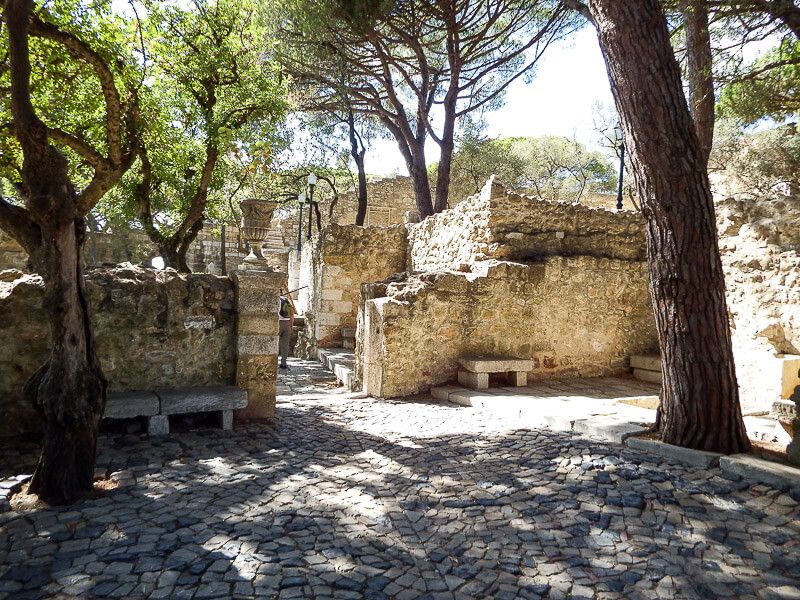 After the Christians retook Lisbon, they expanded and enlarged the castle itself. They also constructed a royal palace in between what I would think of as the "castle" and the square you see when you first come through the turnstile. But all that remains of this royal palace is a set of ruins (though parts of it have been converted into a restaurant). Around the back of Lisbon Castle, you can also find some archaeological ruins with remains from the Iron Age, the Moorish occupation, and the Portuguese Royal time period.  
We explored this area a bit and then headed towards the medieval castle itself. Originally built by the Moors, this was the last stronghold if attackers were able to break through the outer gates. We crossed over the old, dried up moat and into the medieval, Moorish structure.
We entered the interior and found ourselves in one of the two large courtyards that make up the center of the castle. It was large and…empty. The girl was right about that. Tree sprouted from the dirt and other than a few arched, stone entrance ways there wasn't a lot around.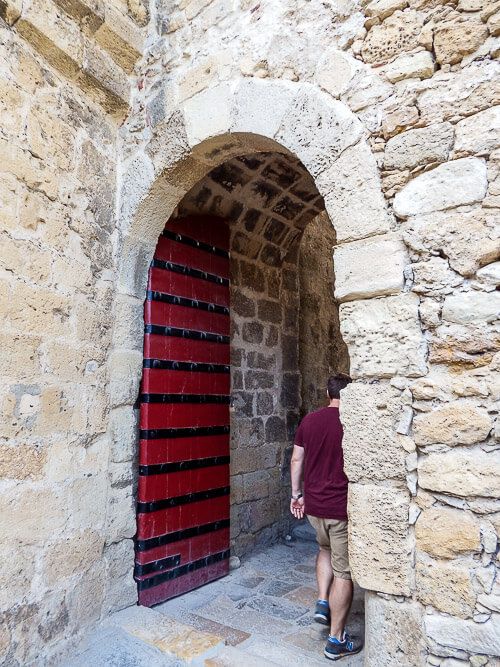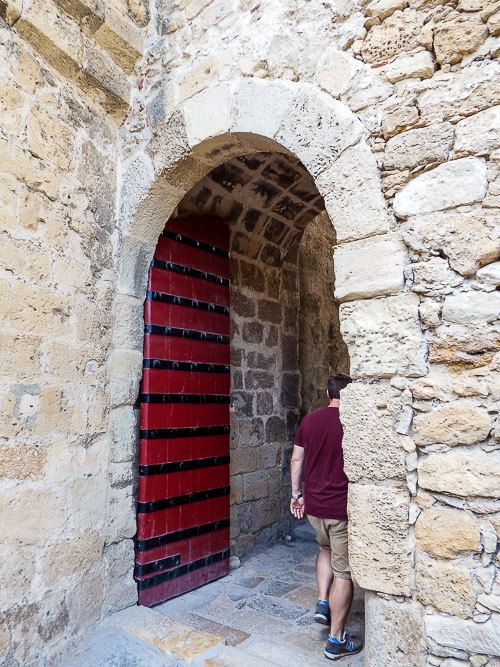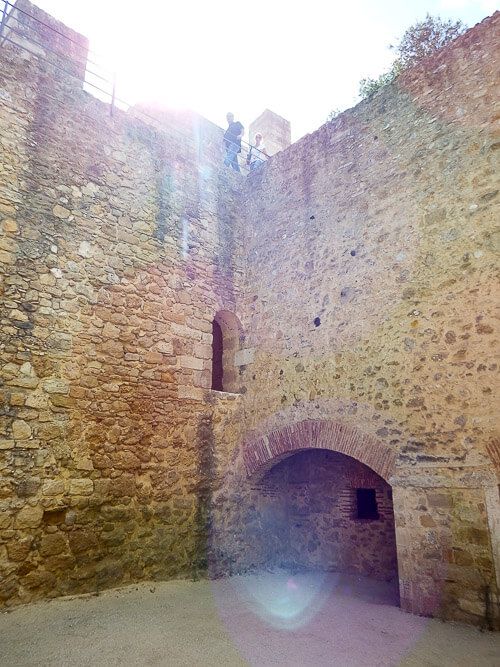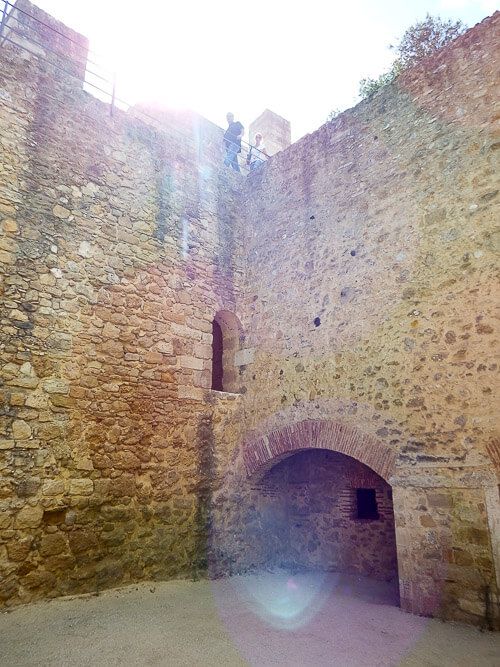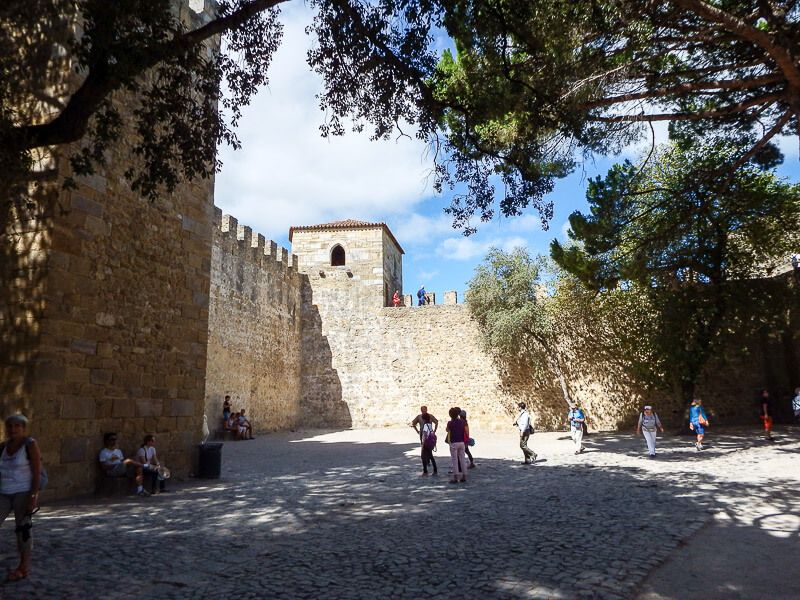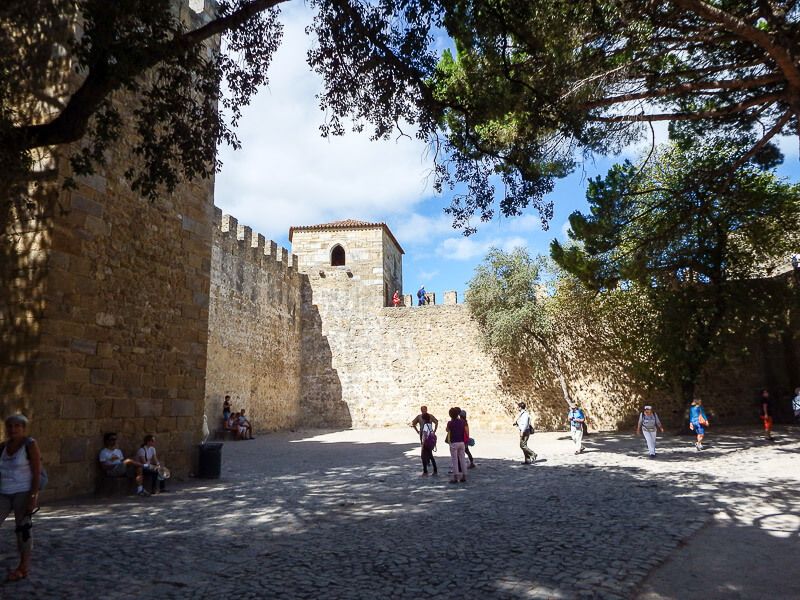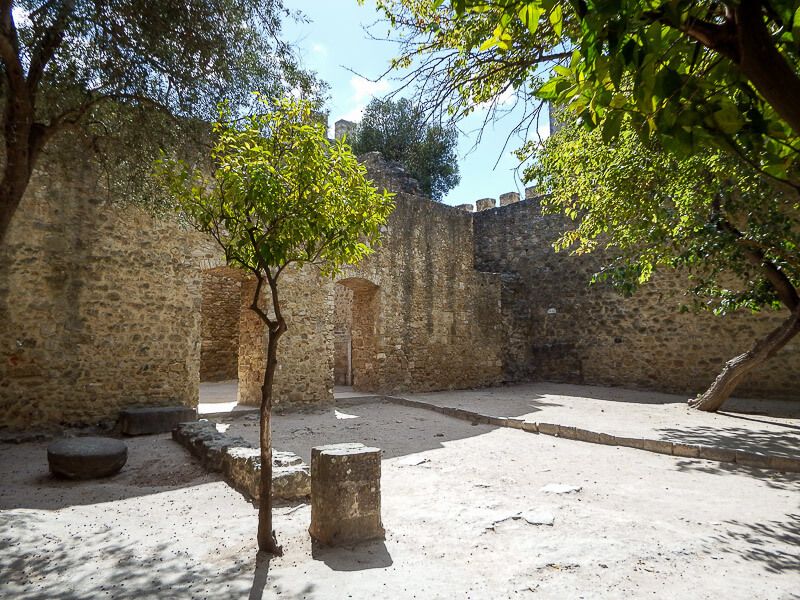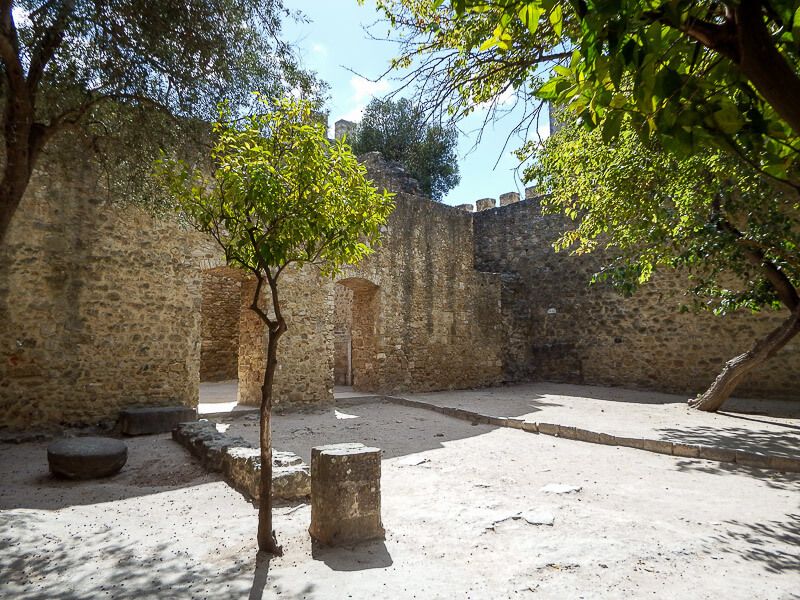 But I did still enjoy seeing these Moorish ruins. The stone of Lisbon Castle is almost blonde, bleached by the sun over the centuries. And compared to the castles I've seen in England, it looked incredibly different. I could also start to make out the rooms that had divided these courtyards. Remnants of hallways, walls, ovens, and fire pits were clearly visible…if you knew what you were looking for.
I could even start to imagine what this castle would have been like in its prime.
After looking around, we headed up to the walls themselves. Most of the medieval castle was destroyed in the earthquake of 1755, but you can still wander its walls and climb its 18 towers. And it's here, again, you can enjoy the castle's main attraction – it's view.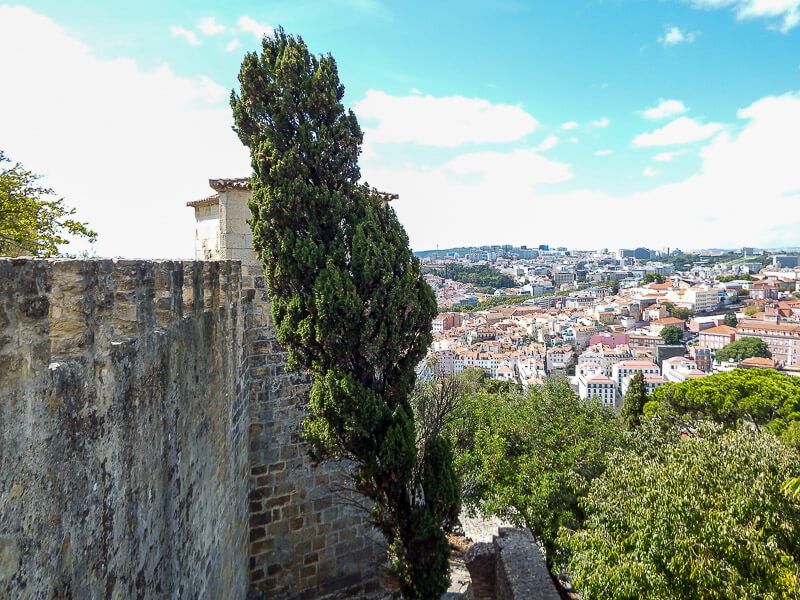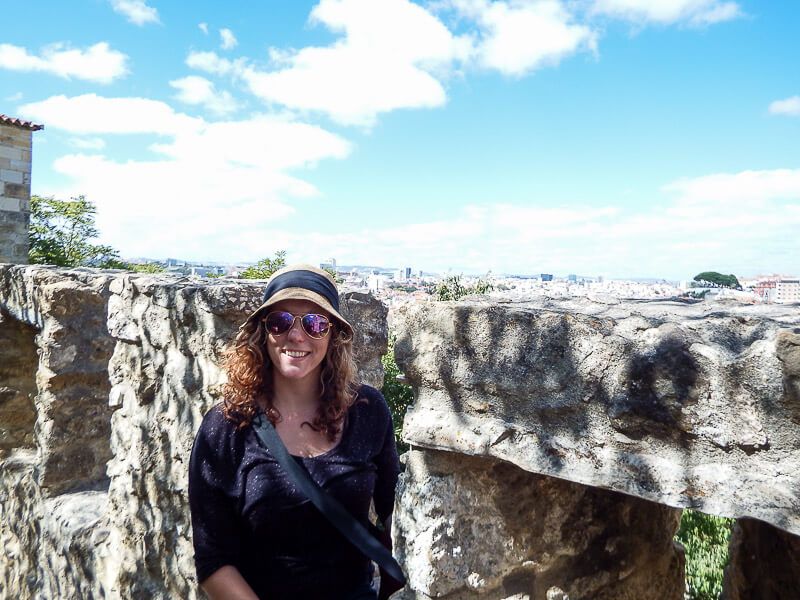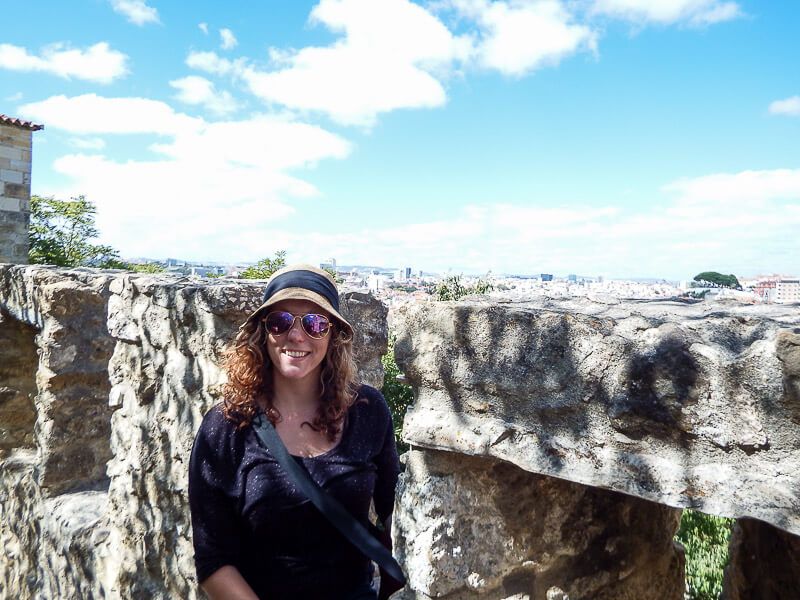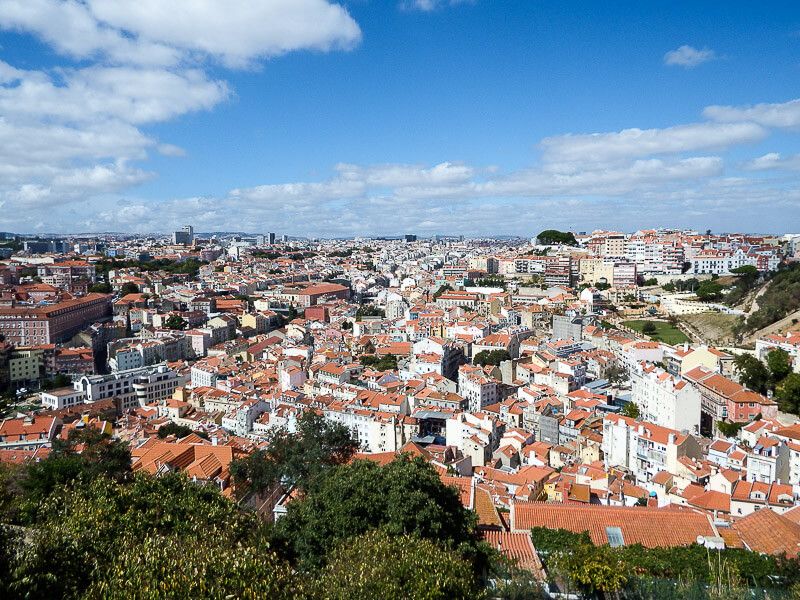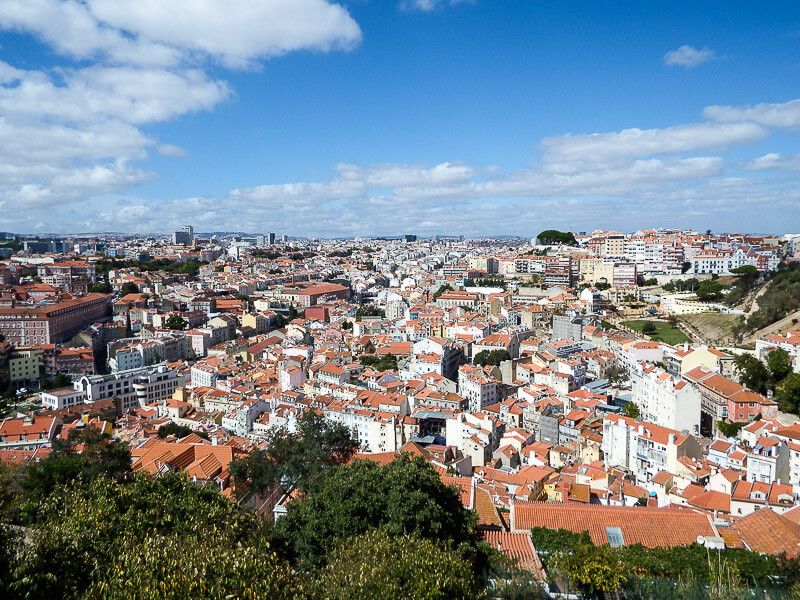 Wandering the walls, we were able to see Lisbon from all sides. And I did love standing on the ramparts, gazing out at the city below me. Just like the soldiers would have done in the Middle Ages (though I bet the view has changed a lot).
But after wandering the medieval castle a bit (and hearing my stomach rumble), I was ready to move on. I had enjoyed the castle, but I still felt underwhelmed. Maybe it's because I've already seen a fair amount of castles (I do have my favorites). And though this one is big and expansive, it just felt…
Eh.
I've left off a bunch of the history of this castle for a main reason. Lisbon Castle has a great and rich history but you wouldn't know it from visiting it. I didn't receive a pamphlet when we entered (maybe I missed it?) and there are zero placards placed around the garden, royal palace, and medieval castle (again…maybe I missed them all?).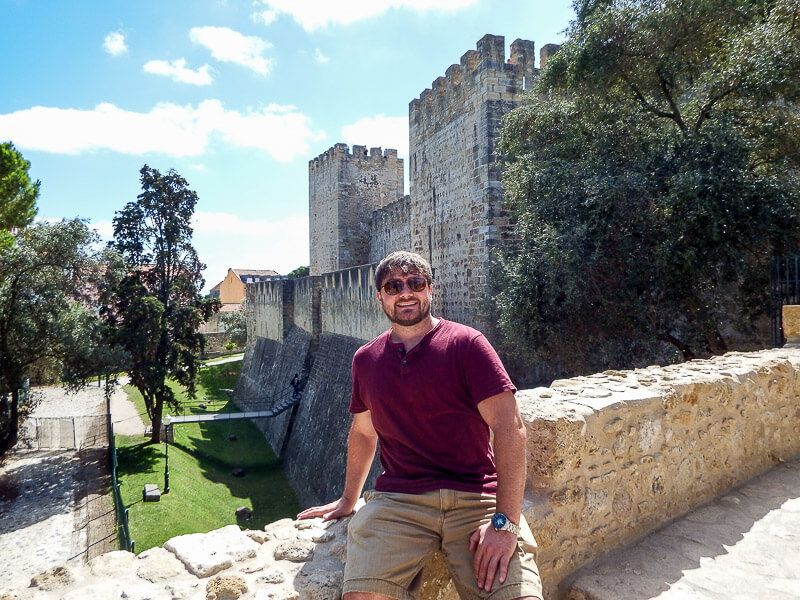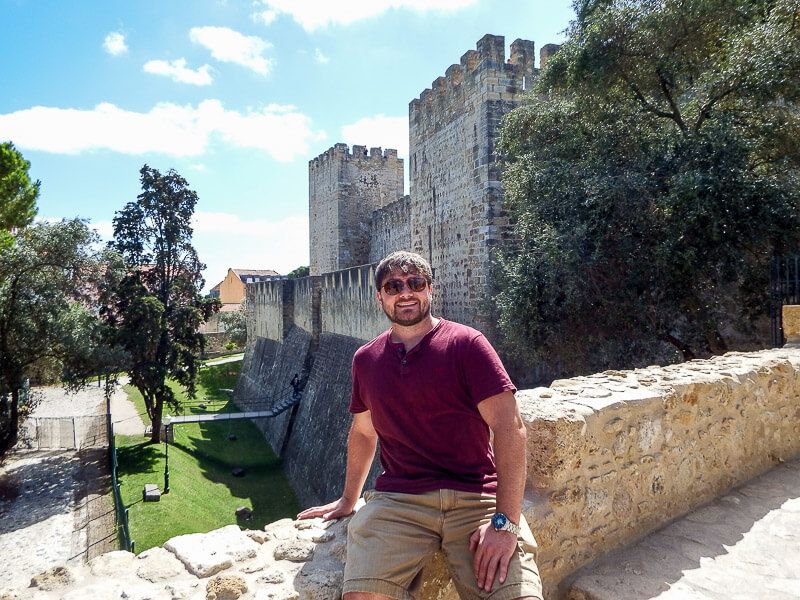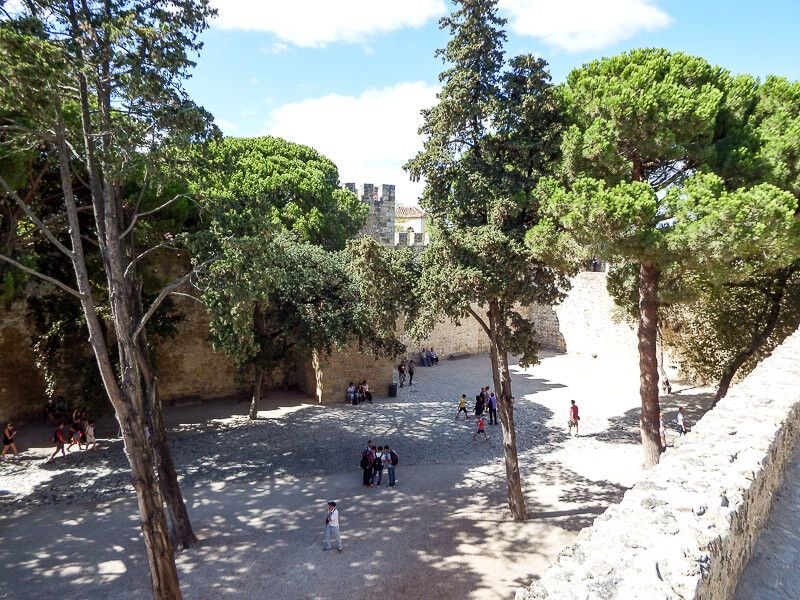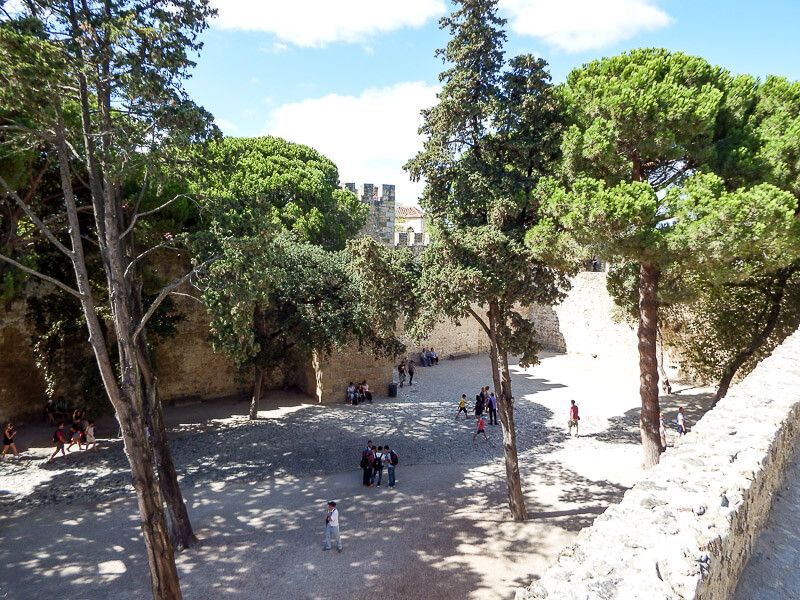 Instead of knowing what there was to see, we wandered a bit aimlessly, trying to avoid the crowds (which were thick in some areas).
Now I am a history nerd. So most people may not mind that there was zero information available. Apparently, after researching a bit after the fact, there is a multimedia show about the history of Lisbon tucked among the ruins (I think) that would have given me some context about the castle around me. But I had no idea this existed when I was there.
And so, I can't really blame that girl. How would she know what the castle was like back in the day? There was no information except for the walls around her.
This was one of the biggest drawbacks of Lisbon Castle. I like to know a little bit about a place. And while I know I should have researched it before I went, I had expected there to be some information when I was there.
When was it built? I don't know. Who was it built by? No idea. What are these ruins? You got me. Did the royal family ever live here? Who knows.
Come on! Give me something!
But alas that was it. With one last look around, we headed out of the gate. Am I glad we went? Yes. The views were fantastic. But I just feel eh about the whole thing.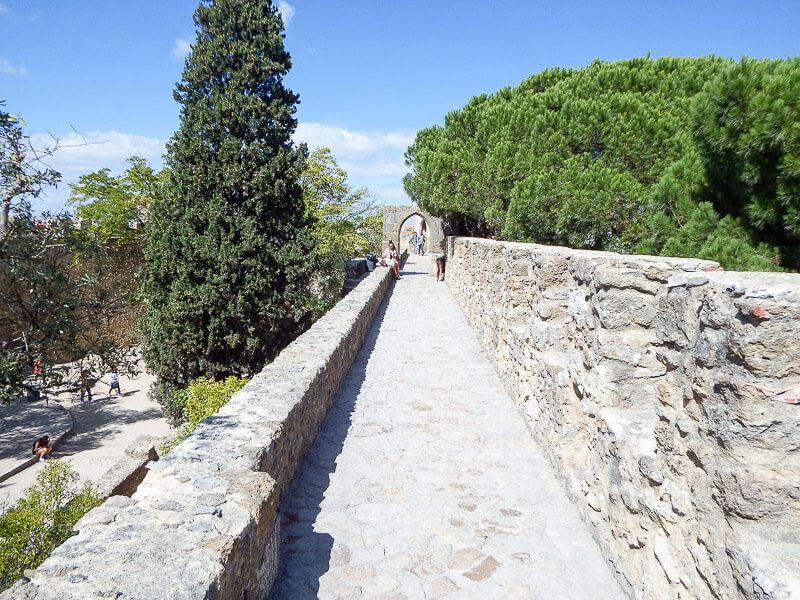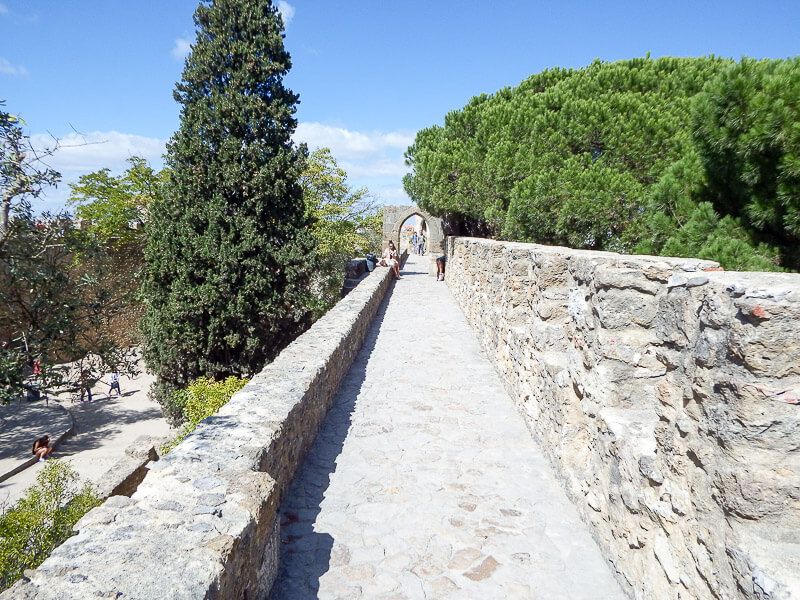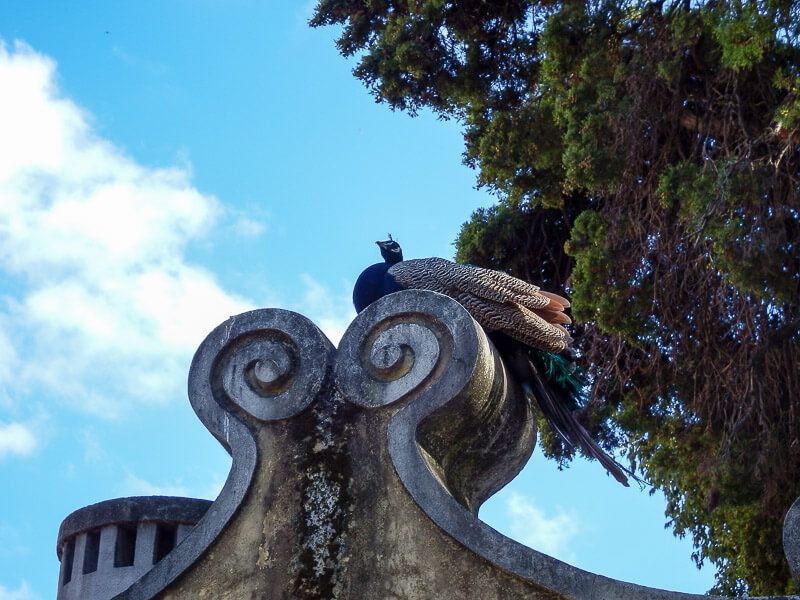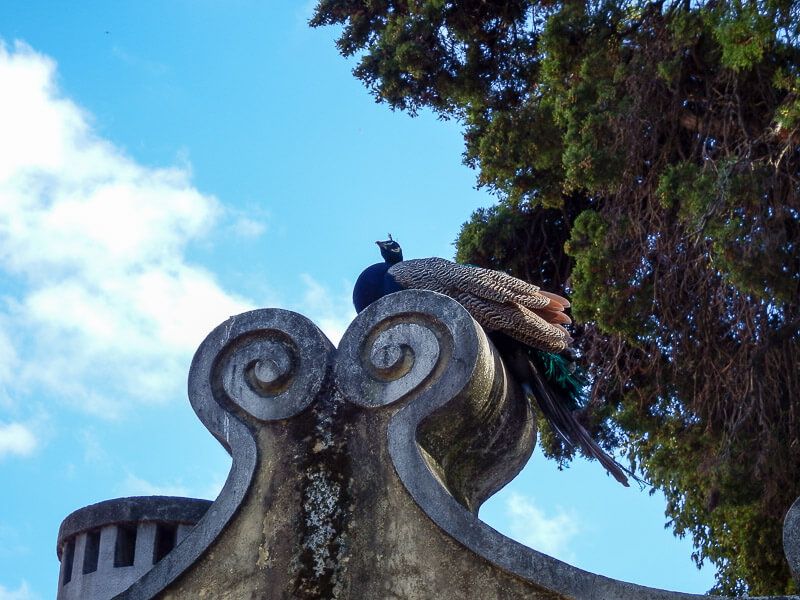 – What places have let you down in your travels? –
---
Nitty Gritty
Hours. 9am-9pm (March-Oct.) and 9am-6pm (Nov.-Feb.)
Price. €8.50 but there are discounts for children, students, and seniors.
How to get there? The Castle is located above the Alfama. And I do mean above. You can catch Tram 28 (like we did) to Miradouro de Santa Luzia and head up the hill from there. You can also take  bus 737 from Praça Figueira and it goes right to the gate. Check out this Google Map for the castle's exact location in Lisbon.
Alternate names. There are a lot of names for this castle. Here are a few of them: Lisbon Castle, Saint George's Castle, St. George's Castle, Castle of St. George, Castelo de São Jorge, São Jorge Castle, and Castelo de S. Jorge.
Castle Map. After looking online, I did find one map of the castle. Though it's only in Portuguese.