Winter in Maui means one thing: whales! But a distinct whale-watching season means one other thing – tons of companies offering tours. Each one with its own pros and cons. I didn't want to be on a boat with a ton of people, but less people usually means higher prices. And finding a good medium between the two can be difficult. But I think we hit the gold mine with the Trilogy Whale Watching tour out of Lahaina.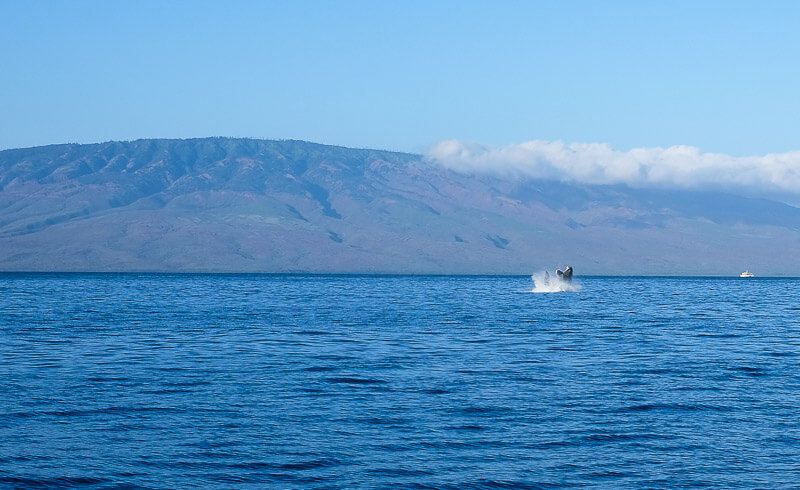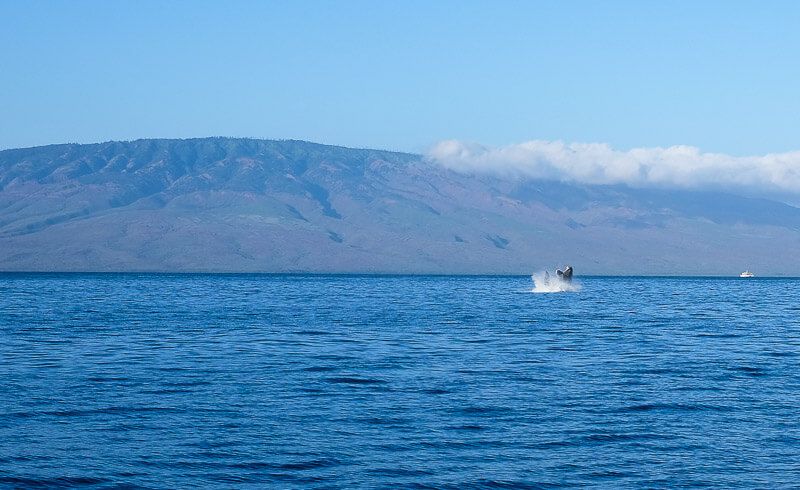 We woke up early (that seems to be a theme on this trip) in order to catch our tour. After much deliberation, we had decided on the 8am tour out of Lahaina. Which meant we needed to arrive by 7:45 and it was a 45 minute drive from Kihei.
Hello 6:30am. Aren't you beautiful.
We rolled into Lahaina and surprisingly didn't have any trouble parking. We scored a spot on Front St. just a couple of blocks from the boat.
We easily found the Trilogy Whale Watching stand on Wharf Street and I was immediately worried. There were a TON of people there. Like 50+. Wasn't Trilogy supposed to be a smaller tour?
Then I noticed that the boat right next to the Trilogy's catamaran was a Pacific Whale Foundation boat. And the people are packed onto these beasts like sardines.
So when a guy and called, "Trilogy 8am tour!" only about a dozen or so people emerged from the waiting group. We checked in easily and then scored some great seats near the front of the boat.
More people arrived between 7:45am and 8:00am, and the boat filled up to 30+ people or so. But if you want a great seat near the front of the boat, get there at check-in.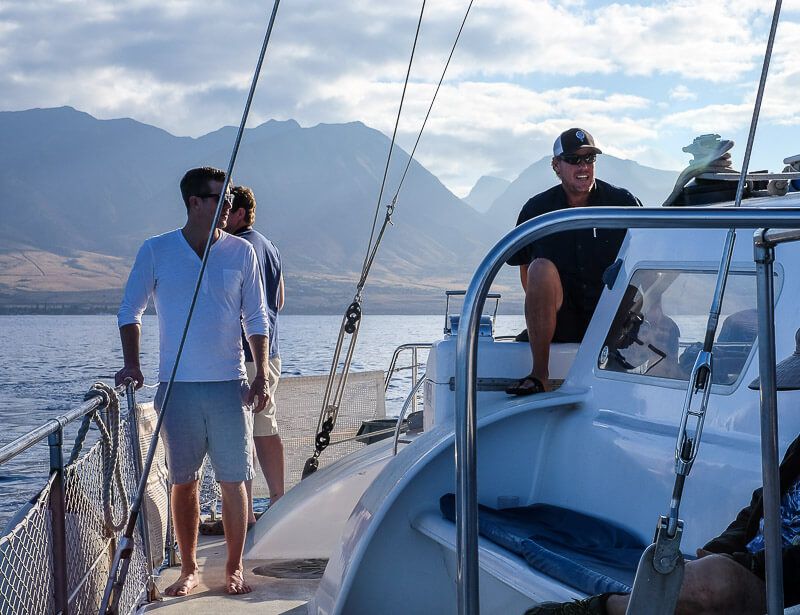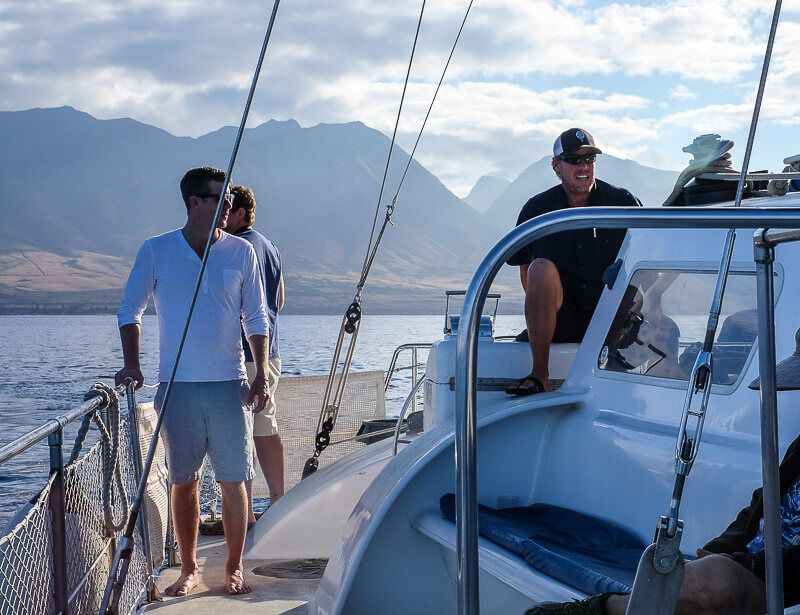 Then we cast off and headed out of the harbor and out into the big blue. As soon as we were clear, our captain started his warm up. He told us about the whales and what our strategy for the day would be.
But our eyes were bouncing around, waiting for the first whale of the morning. I was listening to the captain, but I wasn't going to miss anything. I didn't care where the bathroom on the boat was, I wanted to see a whale.
And then…straight out in front of the boat…a whale breached clear out of the water!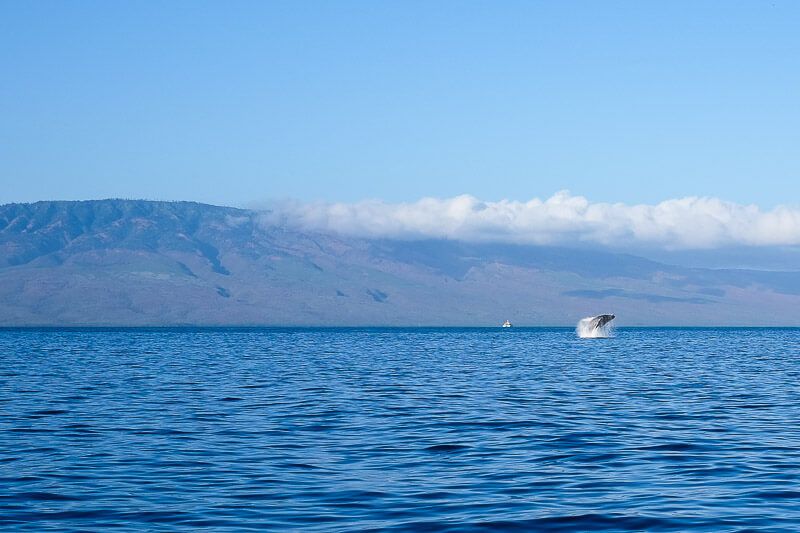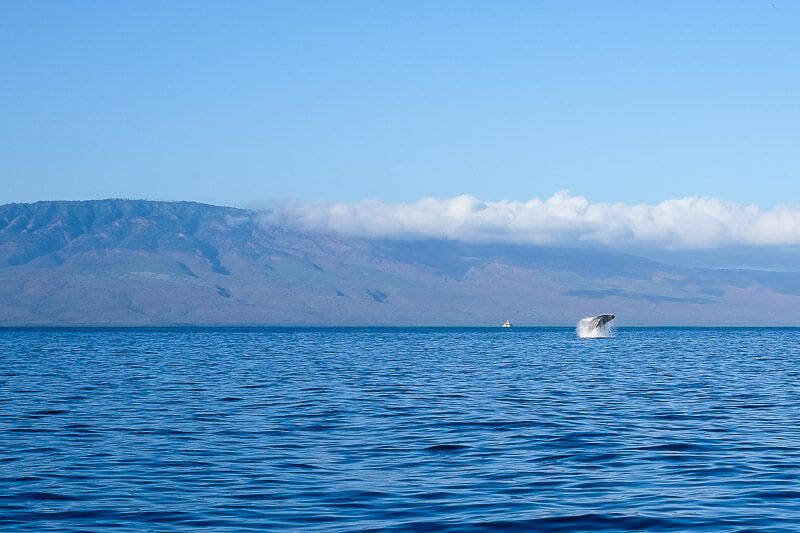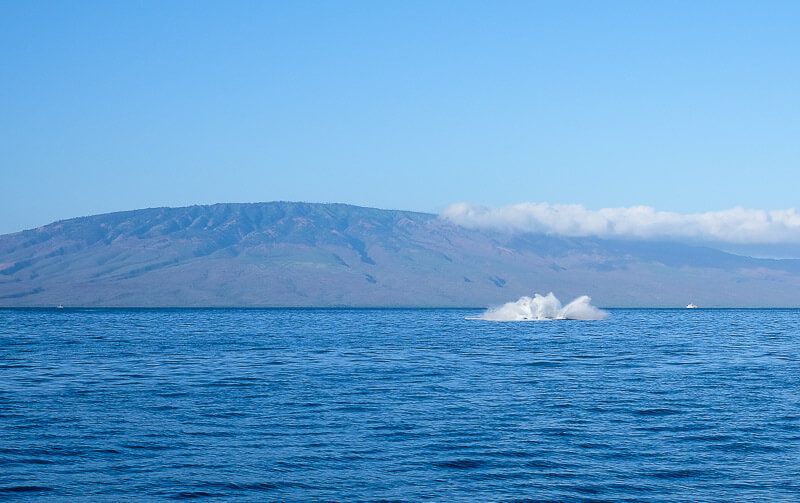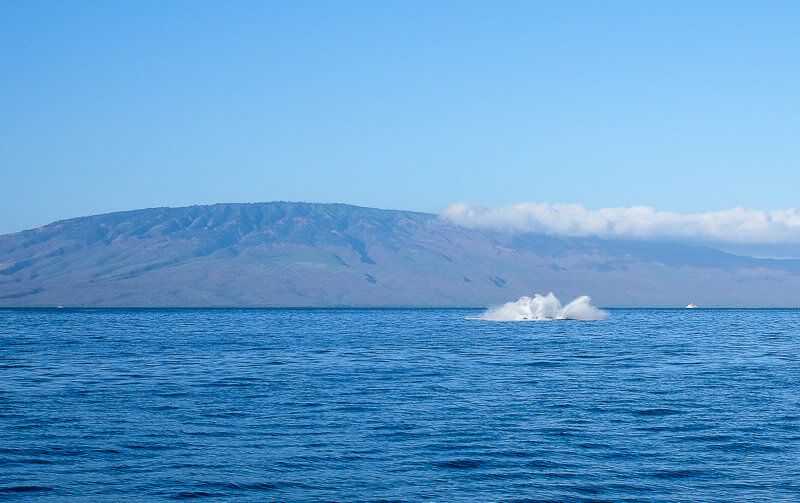 A collective gasp of awe arose. The whale jumped high, completely out of the water. His body arching in the air as he plummeted back down. We were still several hundreds of yards away, but the sound of his body hitting the surface of the ocean reverberated back to us.
It was awesome. The whales had come.
Our captain laughed and explained that it was, in fact, a breach (when a whale jumps out of the water), and joked that we could just turn around now and head back.
But that first jump was only the beginning.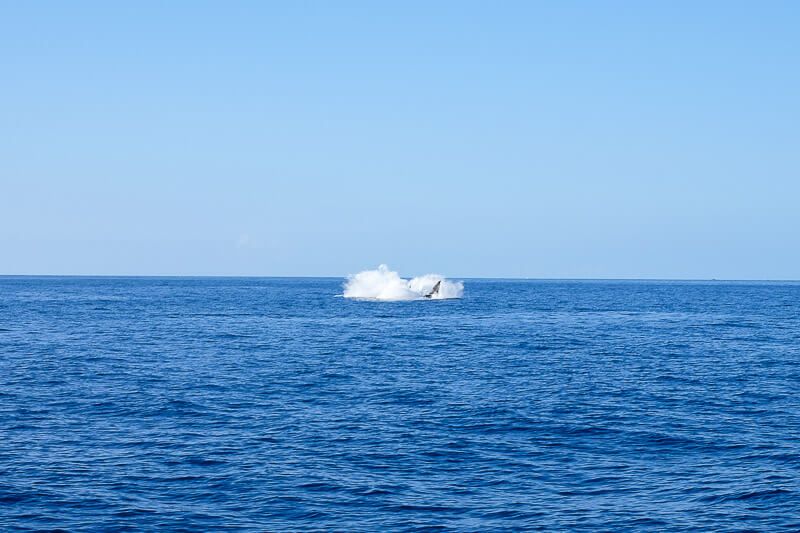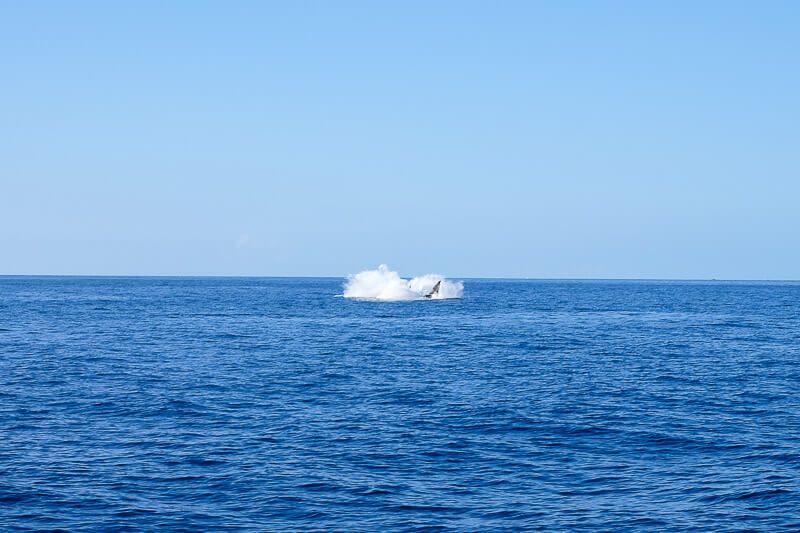 The day quickly became one of the days for the record book. We saw so many whales, too many to count. Even the captain and crew were shocked at the number of breaches and tail slaps. At just the sheer number of whales that came out to see us.
One whale in particular followed the same routine for almost 20 minutes. A couple of spouts, a couple of fin slaps, then a tail slap, and then, 5 minutes later, a breach!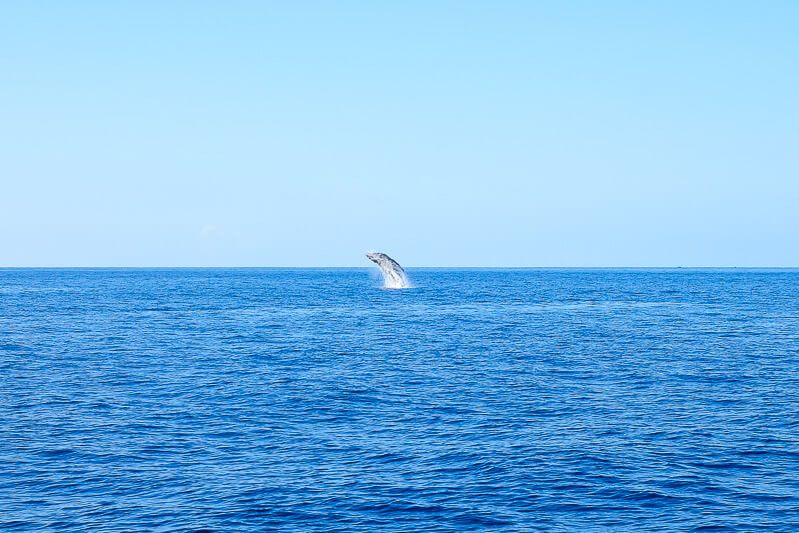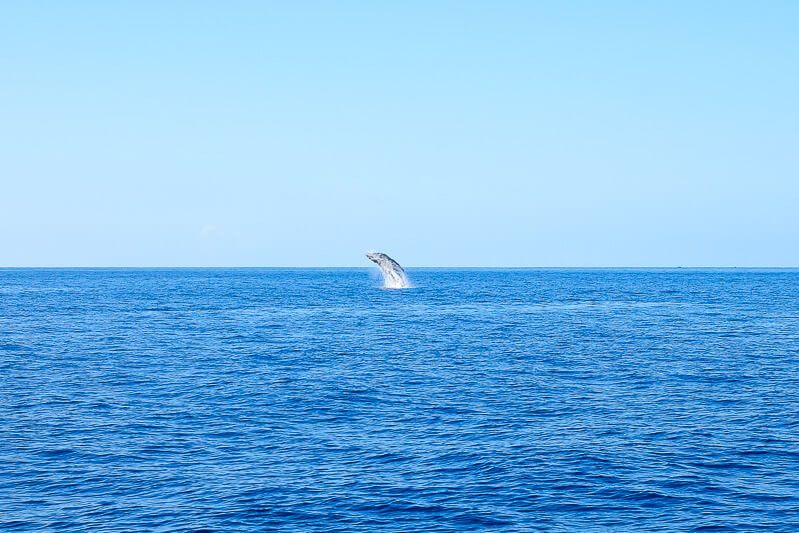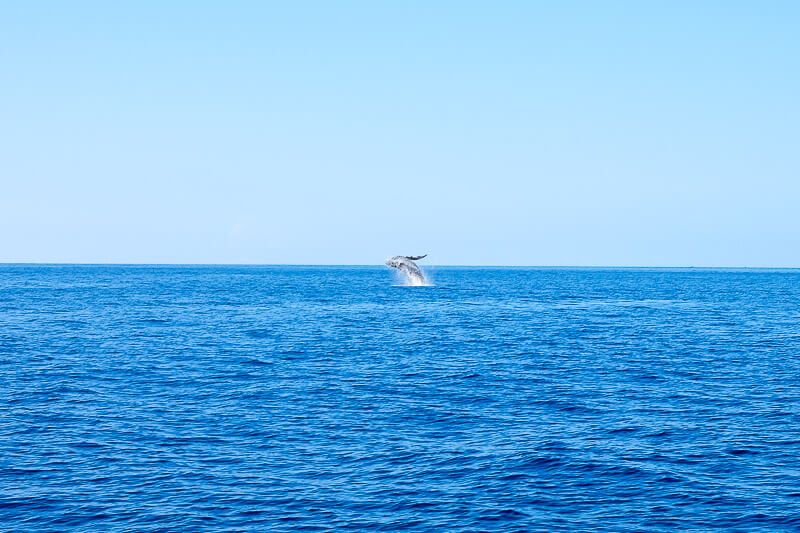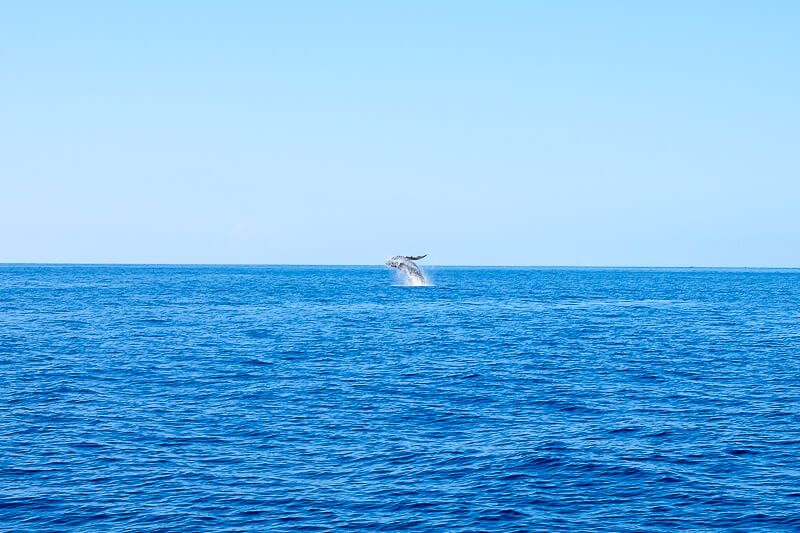 I'm not sure how many breaches we saw – 10? 12? It was a lot. Combine that with the number of tail slaps, and the number grows higher still.
For the first hour of the Trilogy Whale Watching tour, everyone's eyes were glued forward. Cameras clicked. Gasps were heard. Fingers pointed in all directions.
There's a spout! No, there's a tail over there. Wait, this whale on the right is closer!
There was hardly a break in that first hour when we weren't seeing or waiting for particular whale to appear again.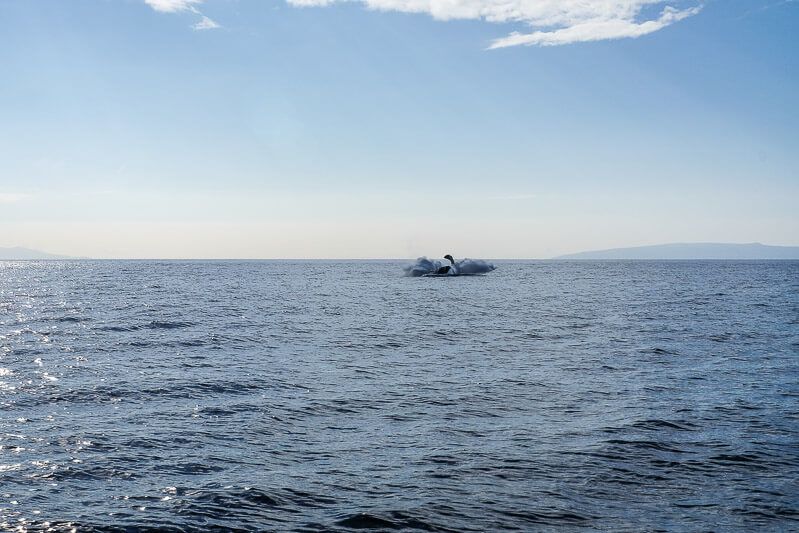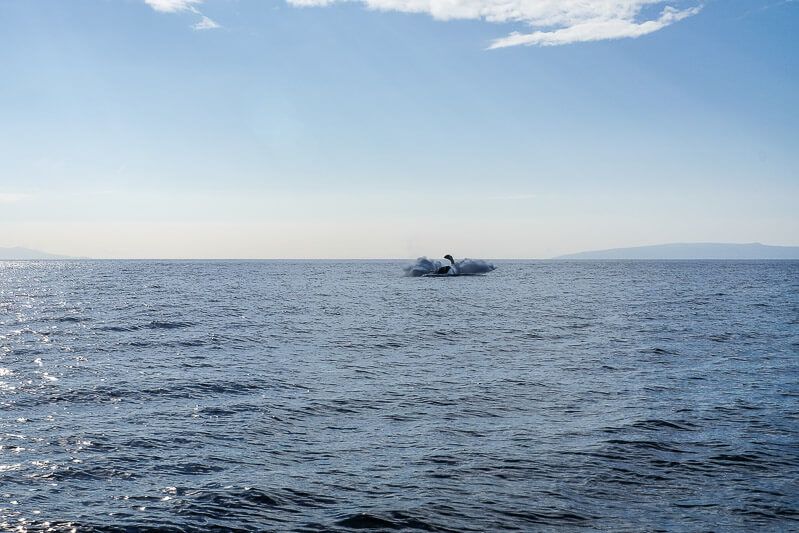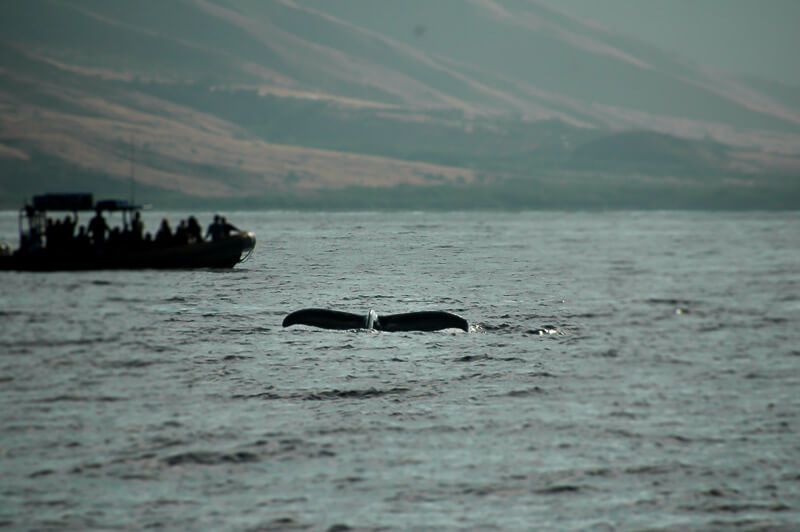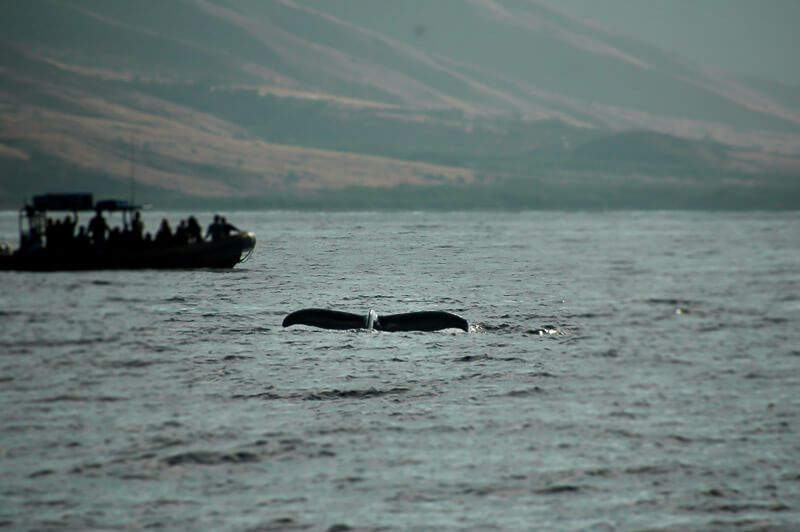 The crew came around with the breakfast for the morning (and yes it's included). Fresh cinnamon rolls and an egg and cheese croissant were presented. But most passed on these offerings. They didn't want to lower their camera for even an instance. A whale might breach in that moment you were biting into a delicious cinnamon roll.
I just think that sounds perfect though – eating a cinnamon roll while watching the whales play? Sign me up!
As I'm sure you can tell, I didn't pass on these platters. And yes, the rolls were delicious.
Then there was also the free alcoholic beverages. Now the website states that you only get two, but since most people weren't drinking and no one was counting, I think I ended up having three. One bloody mary and two mai tais.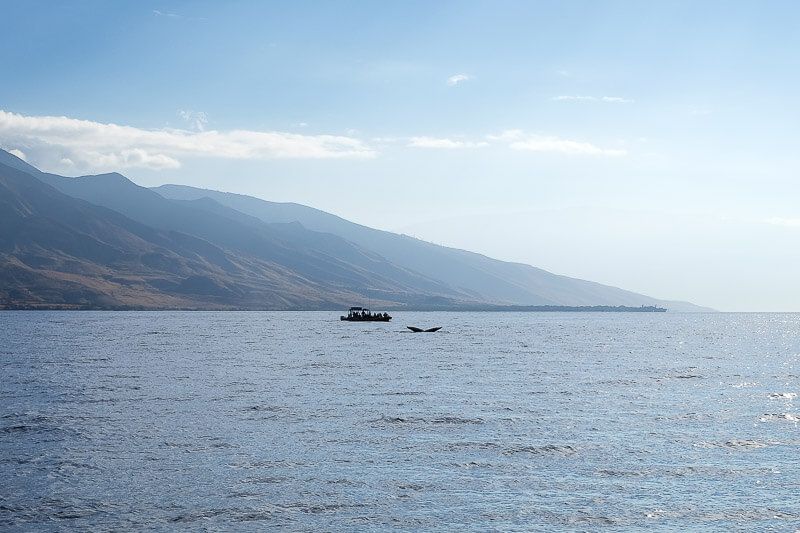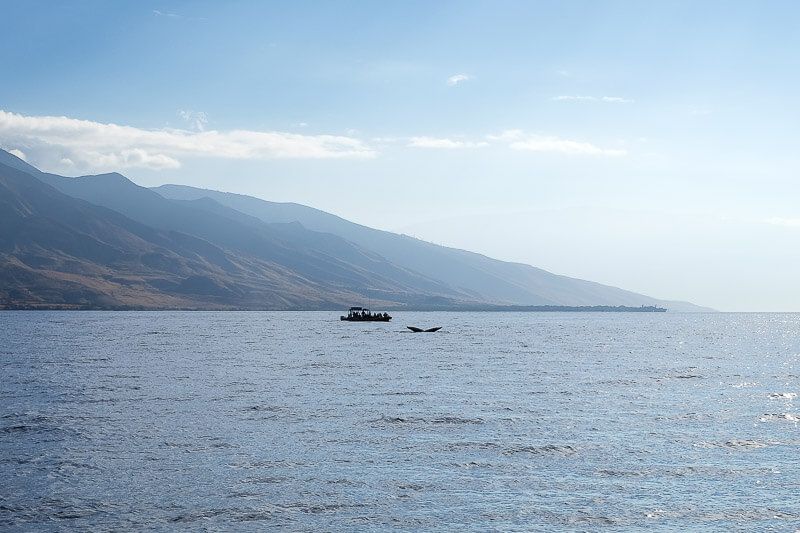 As the clock ticked closer to 9:30, the whales started to become more sparse.
The first hour was definitely the best. And for the last 20 minutes or so, I don't think we saw anything more than a whale spout.
But the view itself was marvelous to look at. The West Maui Mountains are breathtaking and having them as a backdrop to our whale watching tour wasn't too shabby.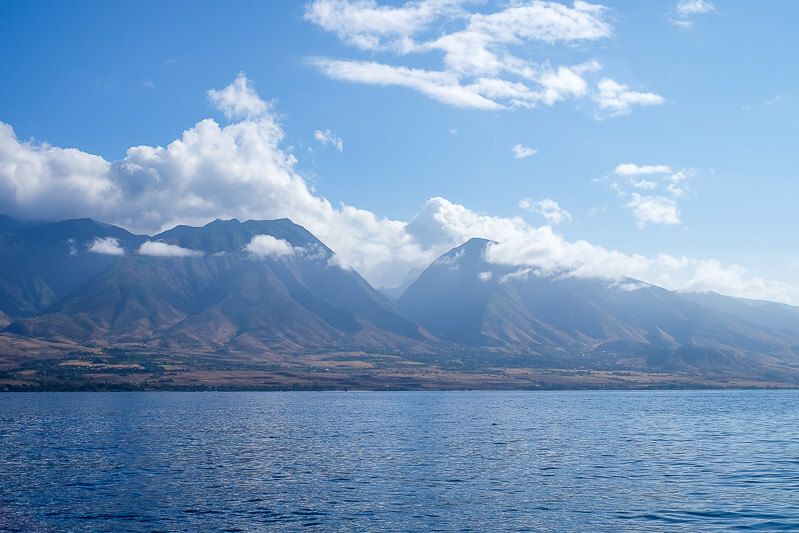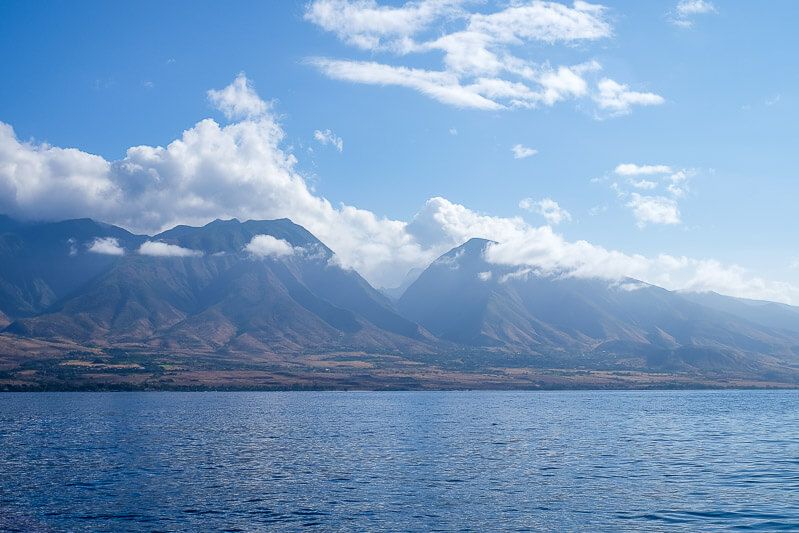 I couldn't have been more happy with our Trilogy Whale Watching tour. A great boat, a helpful crew, yummy food, and awesome whales. Everything was wonderful that morning. The tour had been worth it in every way. Hands down. In fact…
Can I go again?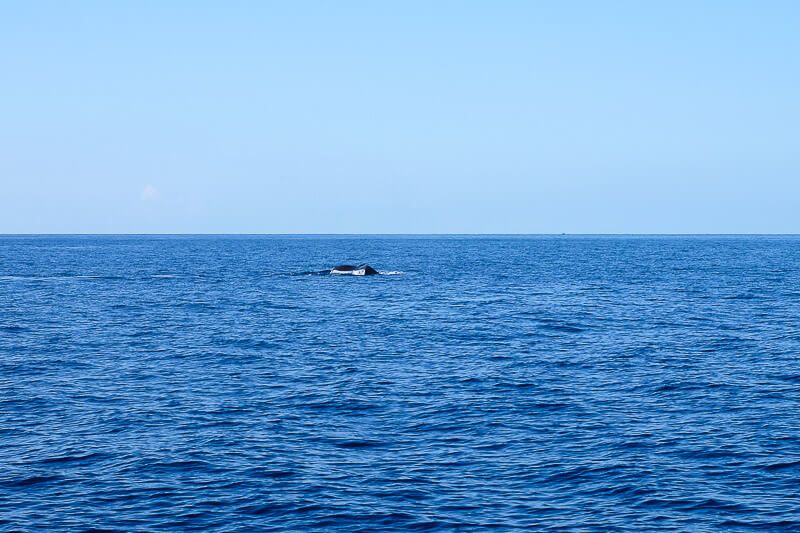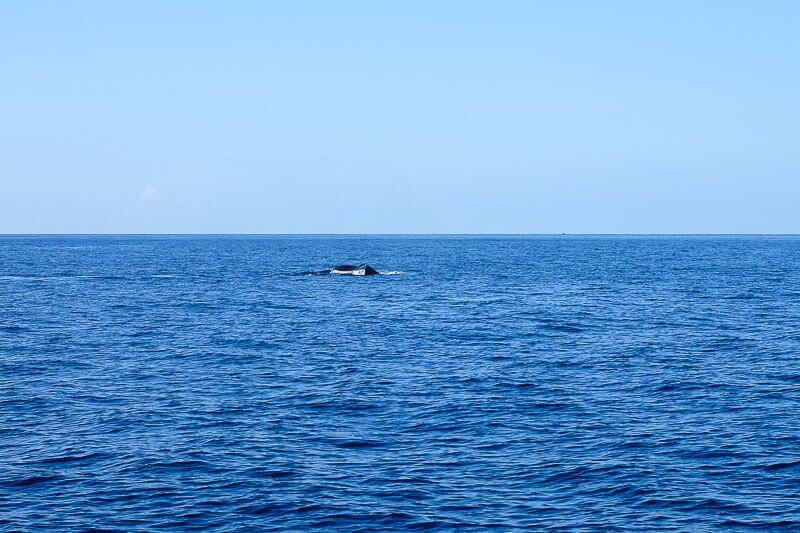 ---
Why Did We Choose the Trilogy Whale Watching Tour?
So why Trilogy? First, many of the guidebooks recommended it. Our Lonely Planet book did.
I also wanted a tour company that wasn't packed to the gills. I wanted a small boat.
I've been on another whale watching tour where I had to push other people out of the way in order to make it to the railing. And I didn't want to experience that again.
With the Trilogy Whale Watching tour I got a seat. A seat I didn't have to get out of to see the whales. And then later in the tour, I stretched out on the net across the front of the boat. Spying some of the other whale watching tours, I was so glad we picked Trilogy.
The Pacific Whale Foundation tours are just too big for me. I don't want to fight anyone to see the whales. I want to sail on a catamaran out into the ocean to find them.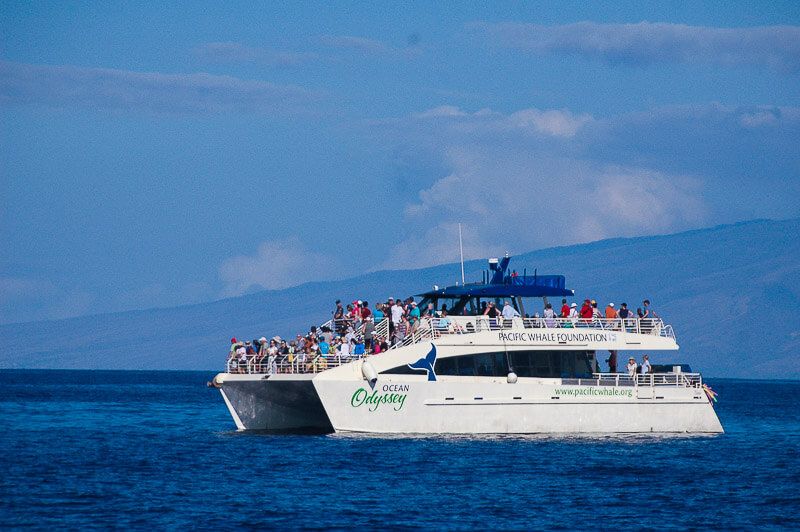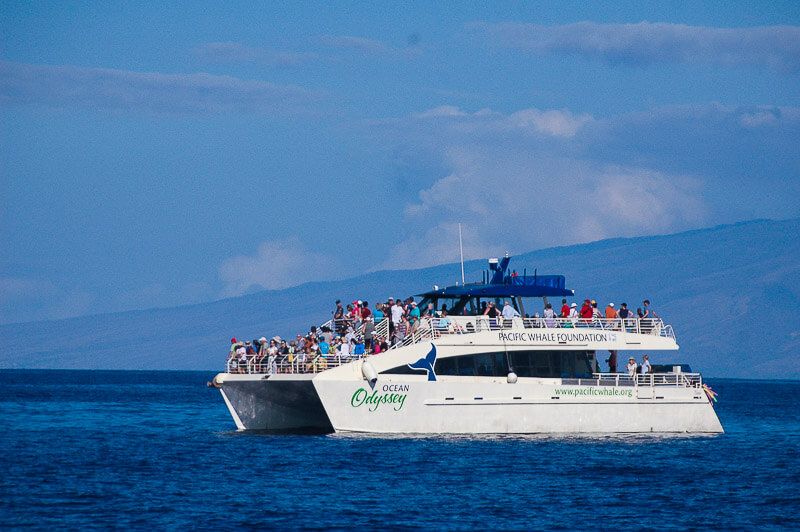 We almost considered doing a raft tour. These boats are fast. Once they spy a whale, they are usually the first ones there. But I was nervous about bringing my camera on one of these rafts. Did I have to hold on to the raft the entire time? Would my camera get wet?
And lastly I wanted some comfort. Breakfast and free drinks sounded like the perfect addition to our Trilogy Whale Watching tour.
---
When Can You Go Whale Watching in Maui?
Whale watching is not a year round event though.
The humpback whales (about 12,000 of them) come to Maui's shallower waters in the winter to mate and give birth. You might think 12,000 is a lot, and you'd be right. That's nearly two-thirds of the entire North Pacific humpback whale population.
The whales hug Maui's western coastline so that they're calves are protected in the shallower waters. Which means you can see them from the coastline.
In fact, when we were surfing, we saw several playing right behind us. Surfing with whales was not something I thought I'd be able to experience. But it was epic.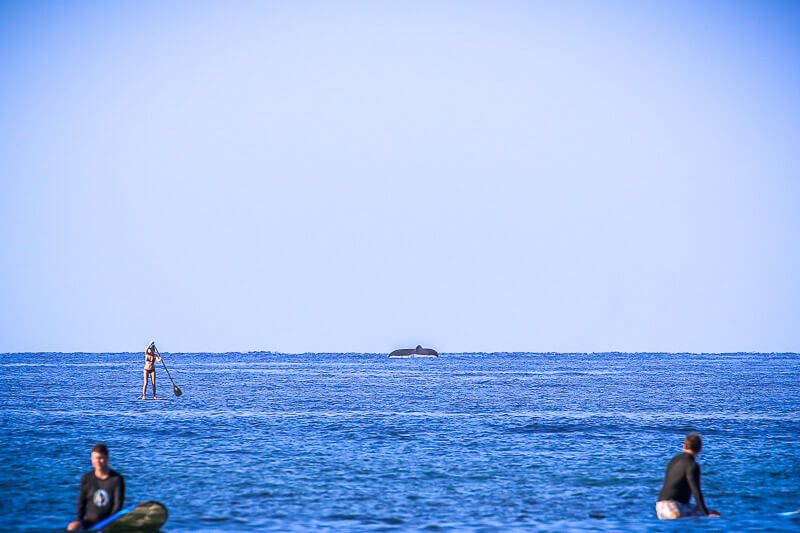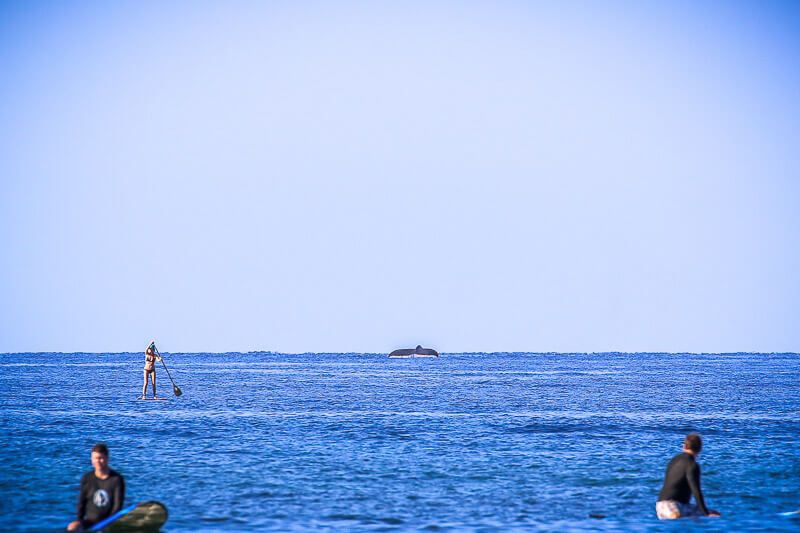 So when are the whales there?
You'll see whales from January to March (sometimes in December and April as well). And the peak season is February. Which is when we were there and experienced our one hell of a tour.
So if you want to see some whales, head to Maui in February! And sign up for a Trilogy Whale Watching tour. In fact, if we ever go back, their other tours are at the top of my list.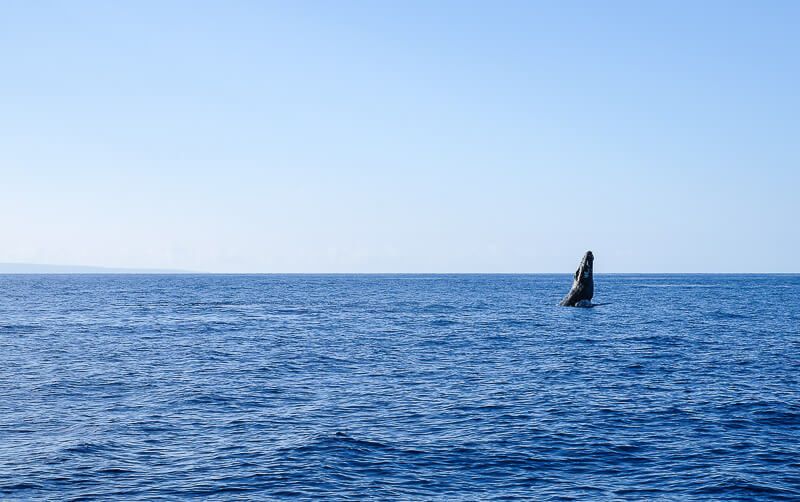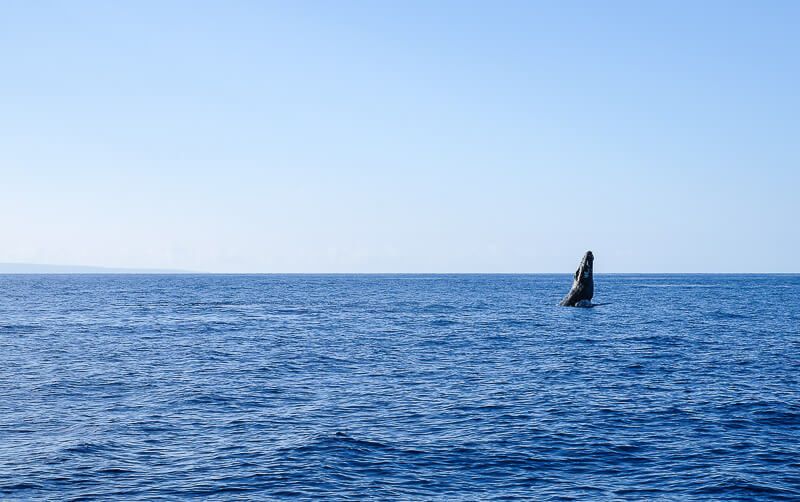 Have you ever gone whale watching?
---
Nitty Gritty
Price. The price for the Lahaina Whale Watch Tour was about $59/person. Our total ended up being $132.36.
Location. The Lahaina tours depart from Lahaina Harbor (675 Wharf St. Lahaina HI, 96761). You'll find Trilogy's stand on the right hand side of the harbor.
Times. There are three times (8am, 10:30am, and 1:30pm) for the tour. (Check-in is 15 minutes prior to departure time.) We went for the 8am tour since I know the waters are calmer in the morning.
Planning your trip to Maui?