I needed to see a sea turtle.
This was my number one goal for Maui. I needed to see a sea turtle. My desperation was so intense that Ryan started to get worried. He started to tell me that it would be okay, that our vacation would not be ruined if we didn't see a sea turtle.
This only intensified my need. There was a chance we wouldn't see one? Our Lonely Planet Guidebook
had a picture of a freaking sea turtle on the cover.
I had to see one.
And so, while we were snorkeling in Maui, we went to 4 beaches, hoping to spot the elusive, beautiful, majestic, awe-inspiring sea turtle.
(Yes I know, I'm kind of obsessed.)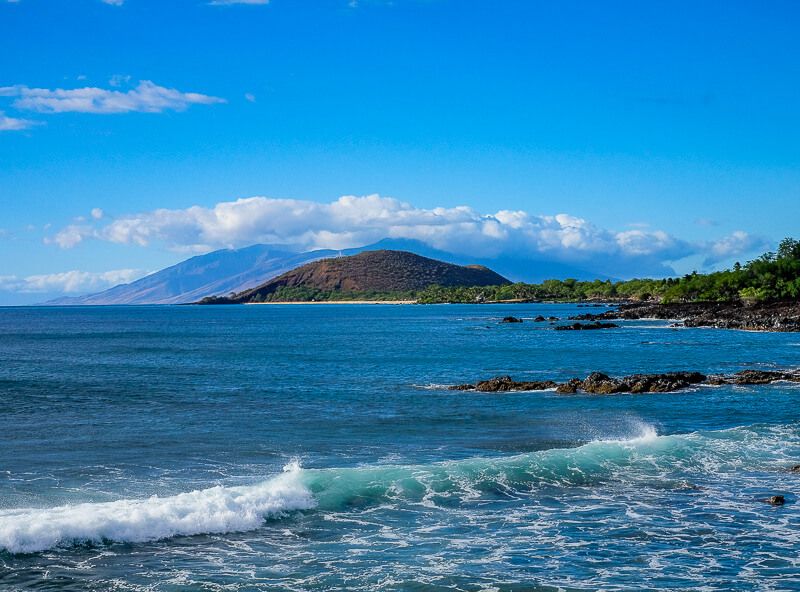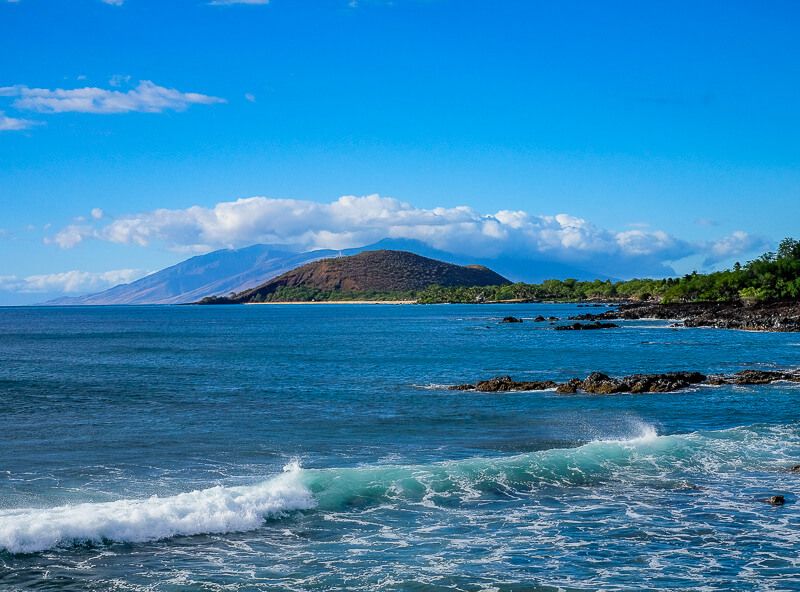 Our first day started out early. (But not too early – it's me you guys. And you know how I feel about sleeping in.) But still early enough that we could snorkel for several hours in the morning. The wind and waves start to pick up in the afternoon (and therefore the sand as well) so if you want to be able to see anything in the water, your snorkeling in Maui needs to be done in the morning.
But anyway, we got up and headed to Kihei Caffe for breakfast to fuel up. We didn't get there early enough (apparently) and had to wait in a 20-30 minute line. But was it worth it? Oh yea. Without a doubt.The food was delicious. And it came out EXTREMELY fast. Like once we ordered and got a table, the food arrived in 2 minutes.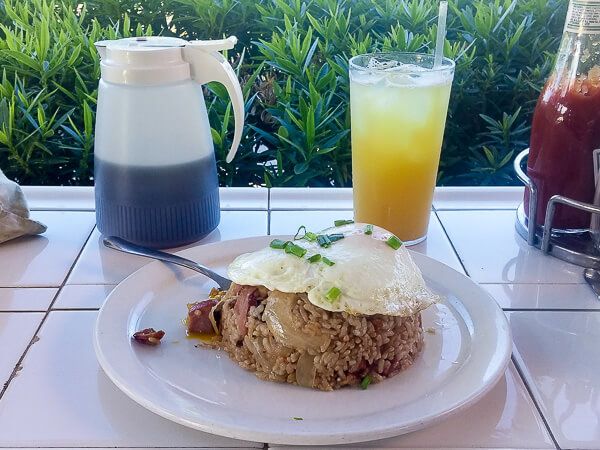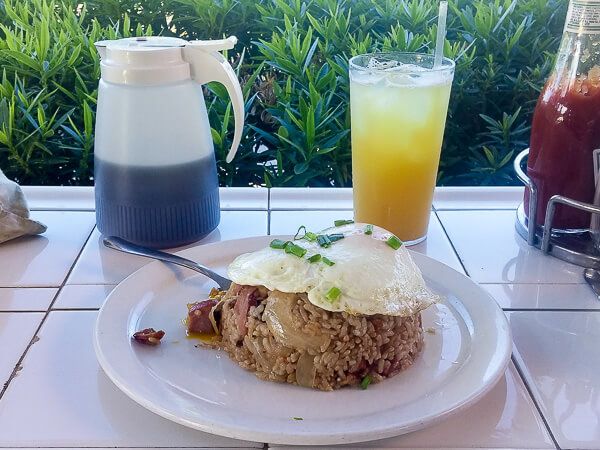 After feeling sufficiently fueled for the day, we headed to Snorkel Bob's* to grab some snorkel gear. We decided to go for the split level masks and we rented them for 3 days. The lady was super nice. And when she heard that I wanted to see sea turtles, she told us to head to Makena Landing first. She said, and I quote, "The water there is thick with sea turtles."
At this my head popped up. Thick? With sea turtles? I looked at Ryan expectantly. This was now our first stop.
---
Makena Landing
We headed south along the main road and soon the hustle and bustle of Kihei was behind us. After a sharp right, we came upon Makena Landing. (And somehow I don't have any photos of Makena Landing. That should tell you how focused I was on finding a sea turtle. I didn't even think to take a photo of the landing itself. For SHAME Laura! For shame!)
Makena Landing is just that – a landing. It's not a beach. So no sunbathing here. But there are a lot of people. On a bright note though, a lot of kayak, snorkel, and scuba tours leave from here so not everyone is snorkeling. There's one landing where people can put in boats and the rest of the coastline is just rocks. There's a small parking lot but you can also just park along the road as well.
After parking and pulling on our gear, we wandered down the landing and into the water. The water is chilly. But, luckily, not frigid, like Portugal. We then headed to our right and snorkeled up to the point, staying close to the rocks.
We saw some fish and coral but the water was murky. And dirty. And the sand was everywhere.
I tried to take some photos but they turned out subpar. Like really subpar. Like is that a fish, a piece of coral, or a smudge on the camera lens?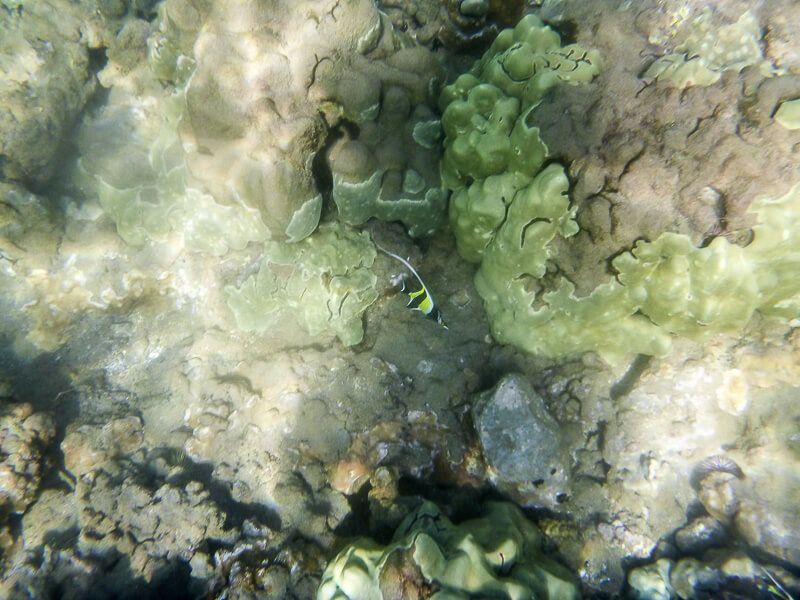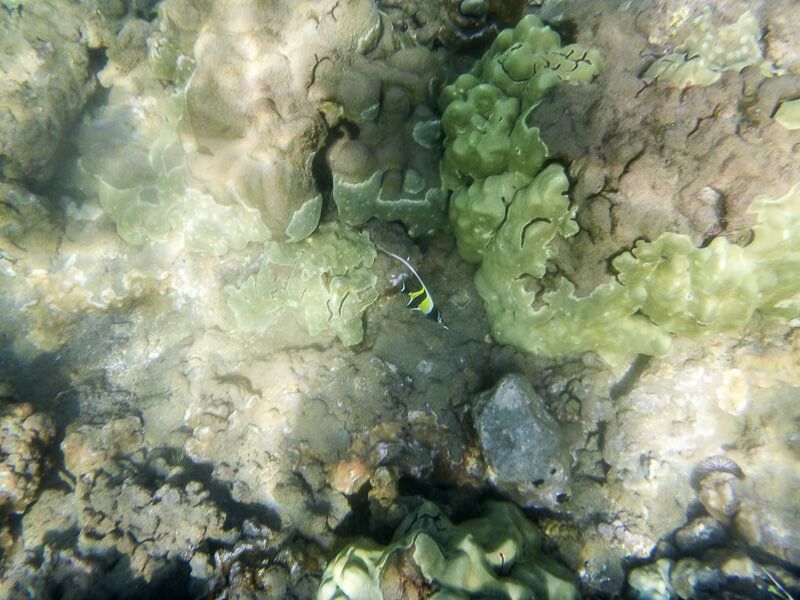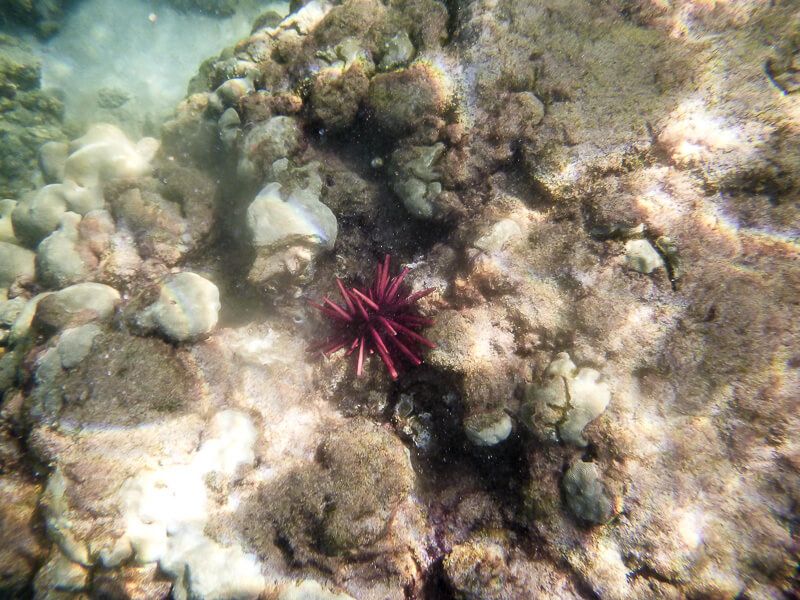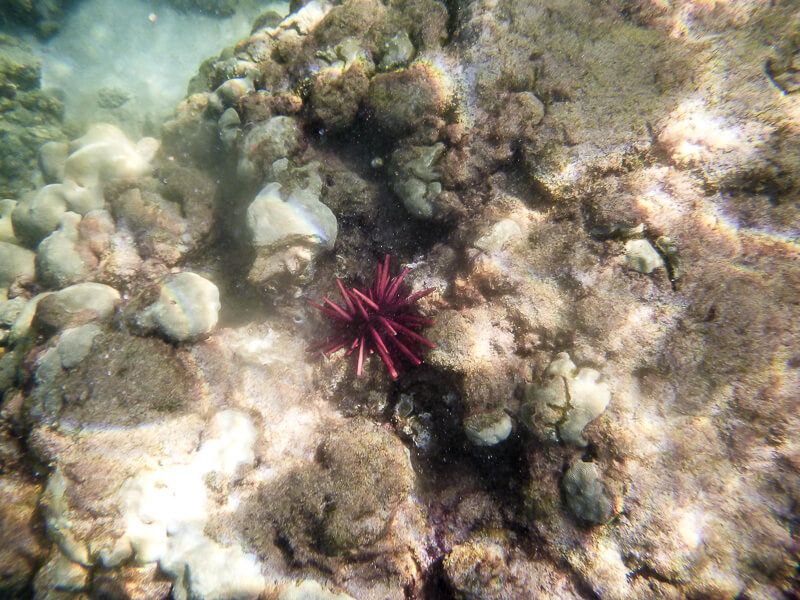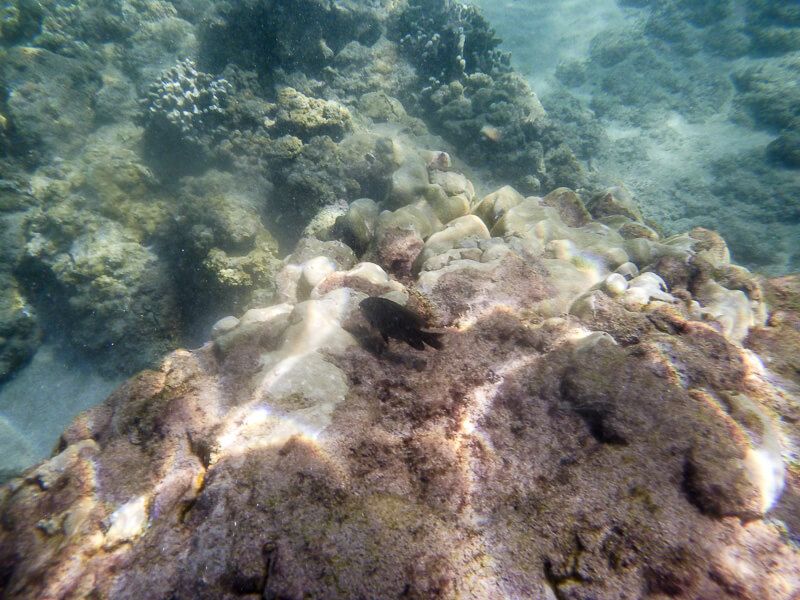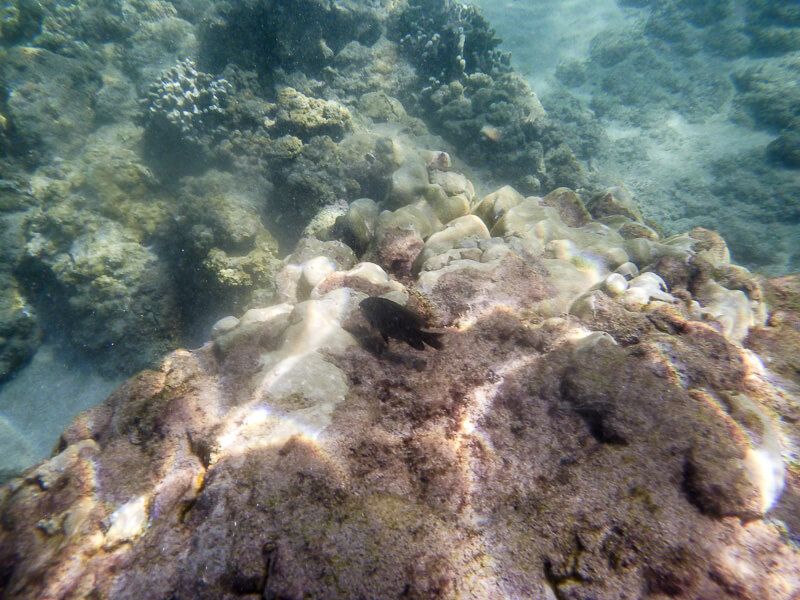 But no sea turtles. The water here was NOT thick with sea turtles. I felt cheated. And now my worries were beginning to increase, especially since the wind was picking up. And so we piled back in the car to head to our next destination.
---
Malu'aka Beach (aka Turtle Town)
Yes there is a beach nicknamed Turtle Town. I almost squealed with joy when I discovered this. I was sure we would spot sea turtles at Turtle Town. I mean, that's why it's called Turtle Town, right?
Lonely Planet told us that that the coral is about 100 yards out, and the "best action" is on the southern end of the beach. This is a very popular spot to go snorkeling in Maui. Most of what I had read had said that this was where you should go to see turtles. But I was a little worried about the wind. It was already getting choppy. Would we see anything? We pulled on our gear and headed for the water.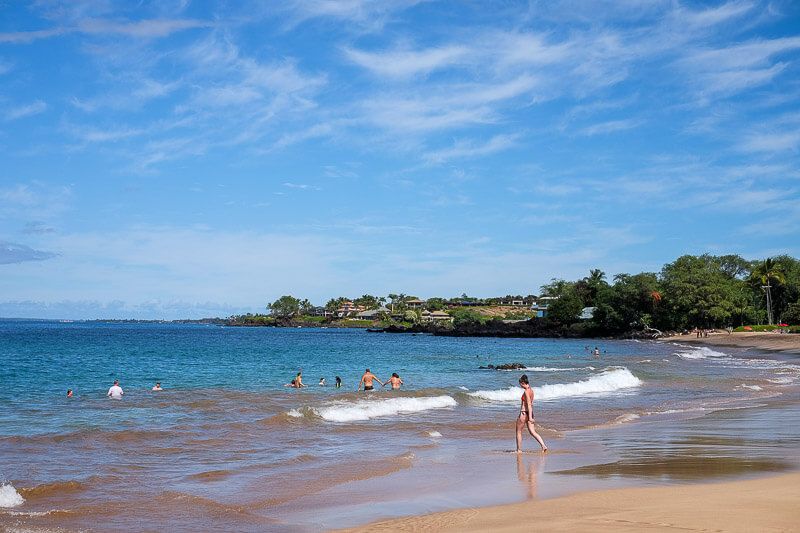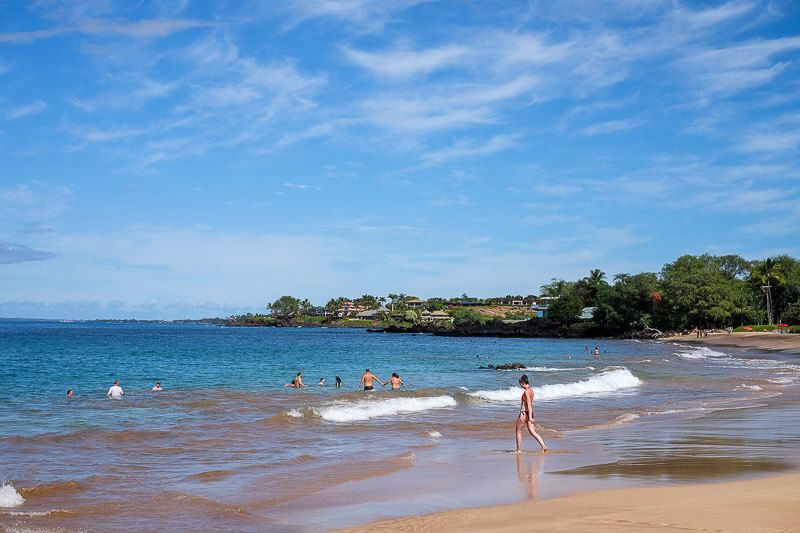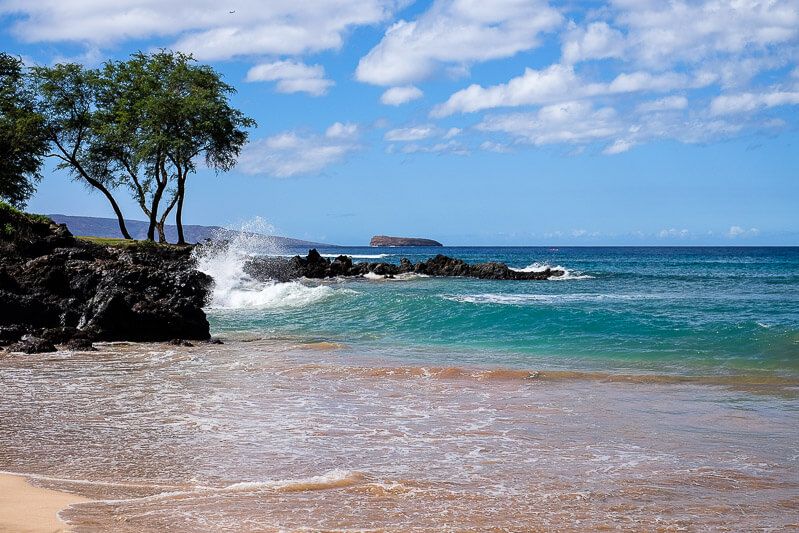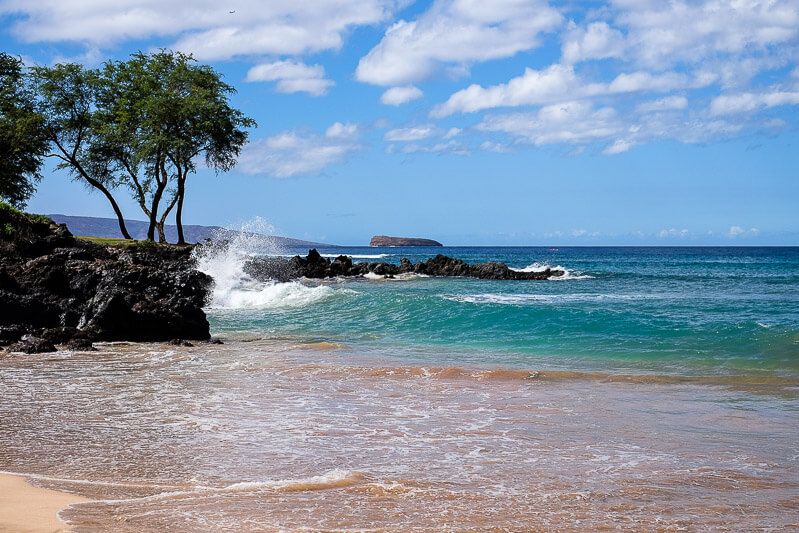 100 yards is far you guys. That's a football field. That's swimming a football field straight out. But we did it. I powered through and swam out past the surf. And then there was the coral! It was much deeper here but the coral was impressive. Some of the time it was 15 feet below us, others it was only about 5 feet.
We paddled around and I kept my eyes peeled for sea turtles. Every shadow, every nook and cranny, even dark spot I swam towards, I hoped and prayed for a sea turtle. But alas, there were none.
At this point we had been snorkeling for about an hour. And the beach was now almost 200 yards away. And the wind and current was pushing us farther out and south.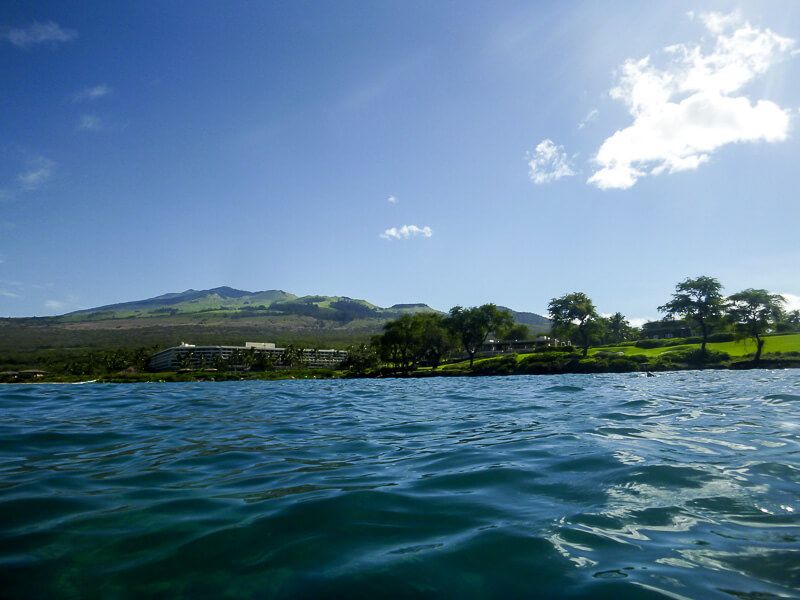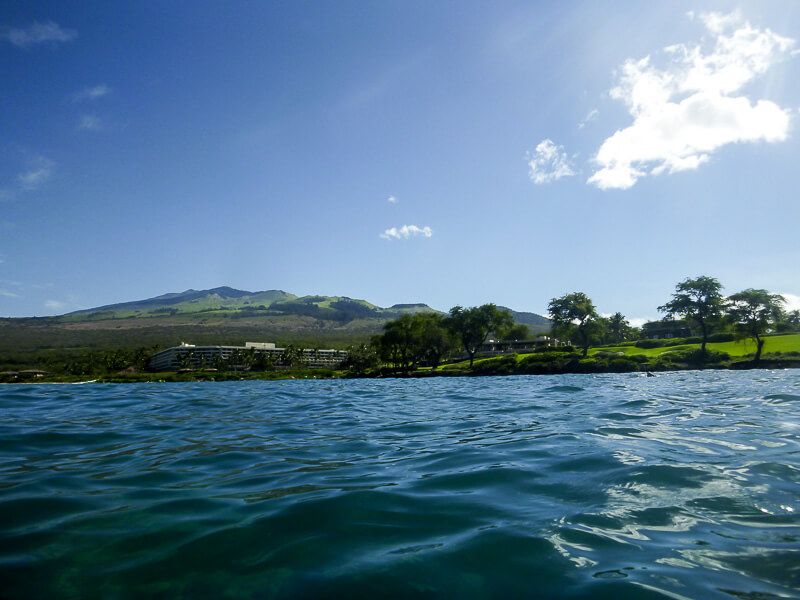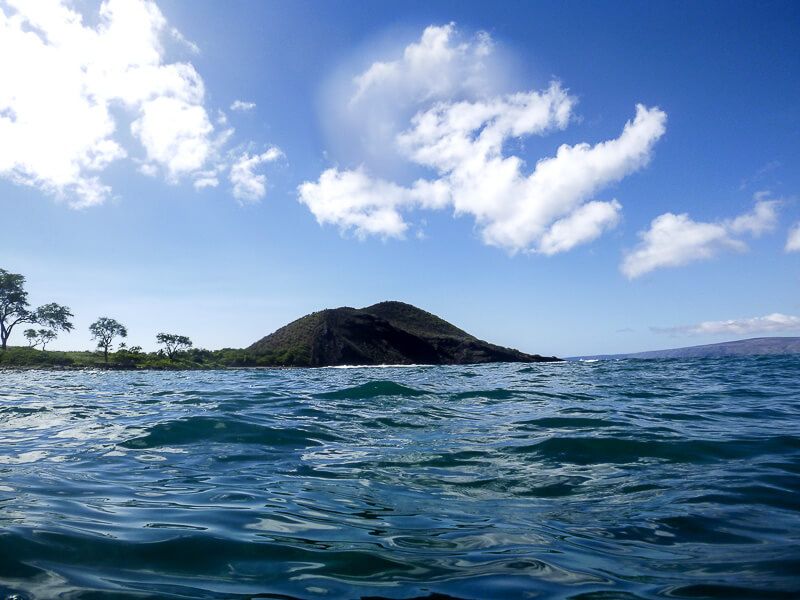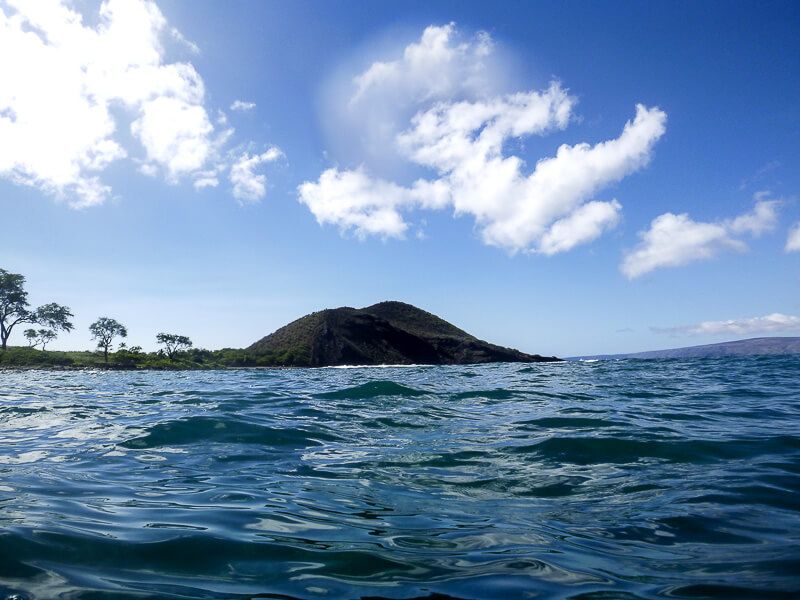 I'm not the best swimmer you guys. Like I can swim. I can snorkel. But I definitely wouldn't have made the swim team back home. And swimming back to the shore was rough. I even got scared at one point because the current was that strong. I would flip on my back and paddle for a while, and then flip on my stomach and do the same. And it really felt like I was taking two steps forward and one step backward.
Ryan (aka the seal) stayed with me though and (I hate to admit but) towed me. If it wasn't for him, I'm not sure I would have made it back to Turtle Town.
So please, please, please listen when I say that the wind and current pick up around noon.
As I hit the shore, I all but collapsed in relief. Sand. I had made it to dry ground. I flopped over onto my back and just laid there for several minutes. Ryan on the other hand, decided to go back out snorkeling. He wasn't even winded.
But the best part of Turtle Town? Besides my crushing defeat? Our underwater camera broke.
Yep it broke. (I think it's time to bite the bullet and get a GoPro
.)
---
Big Beach at Makena State Park
I felt defeated. Crushed. Two "sure things" turned out to be nothing. Nada. No sea turtles. And by now, it was past noon. The snorkeling time had ended. Our day dedicated to snorkeling in Maui had turned out to be a bust. So, with a solemn heart, we made our way to Big Beach.
Located in Makena State Park, Big Beach is beautiful. There are no condos, houses, or real infrastructure. It's located in a state park and it remains wild. One of the best beaches on Maui by far. But it's not a snorkeling destination.
We parked and headed towards the beach. If you're here on the weekend, expect a big crowd (locals come here and to Little Beach to party). We grabbed a plot of sand on Big Beach and sat back to enjoy the sun.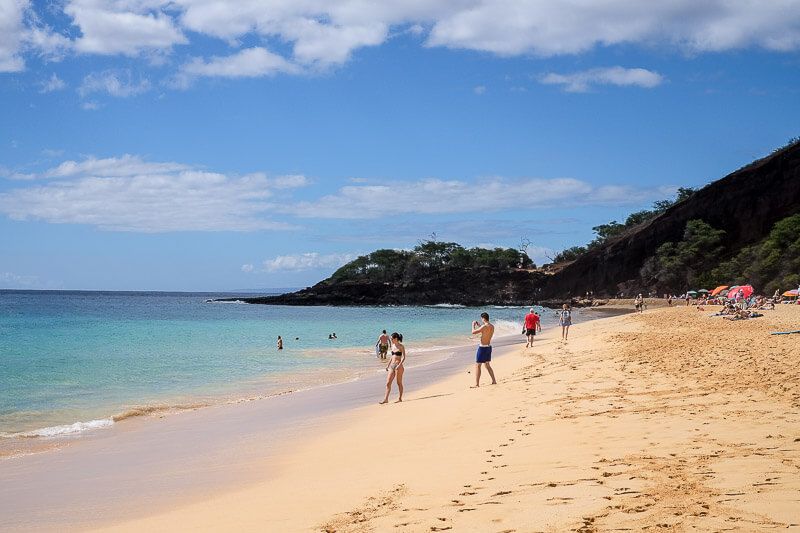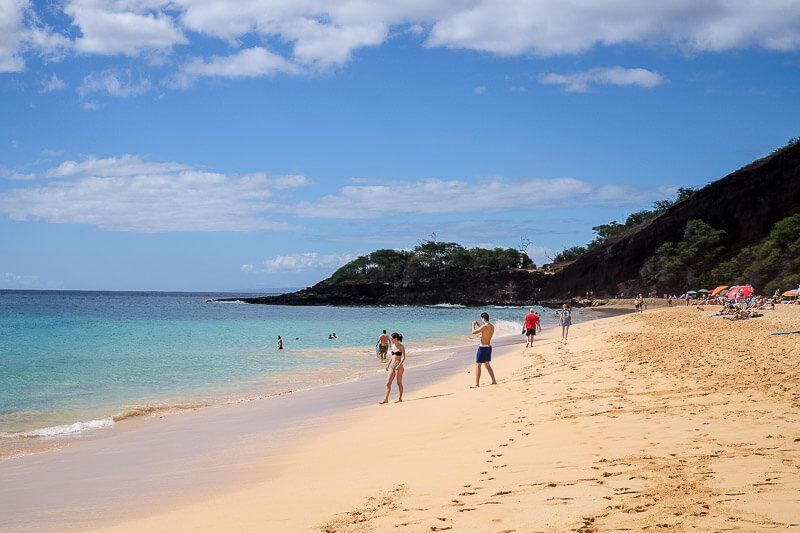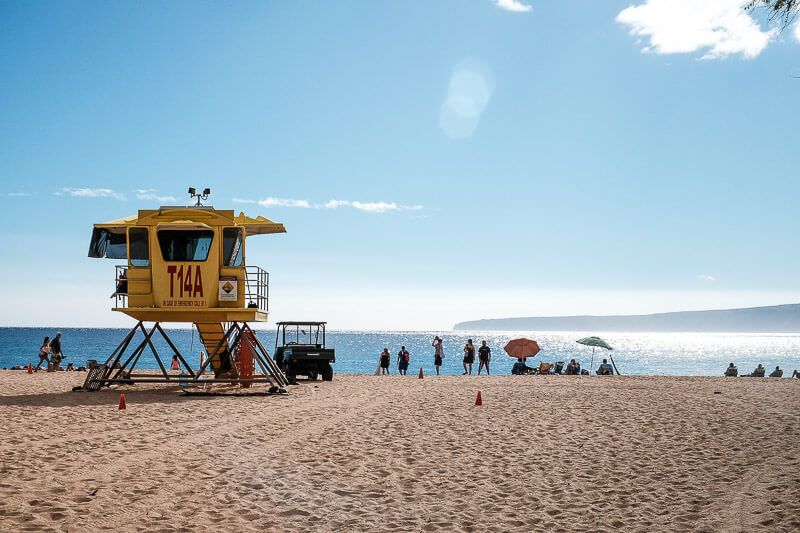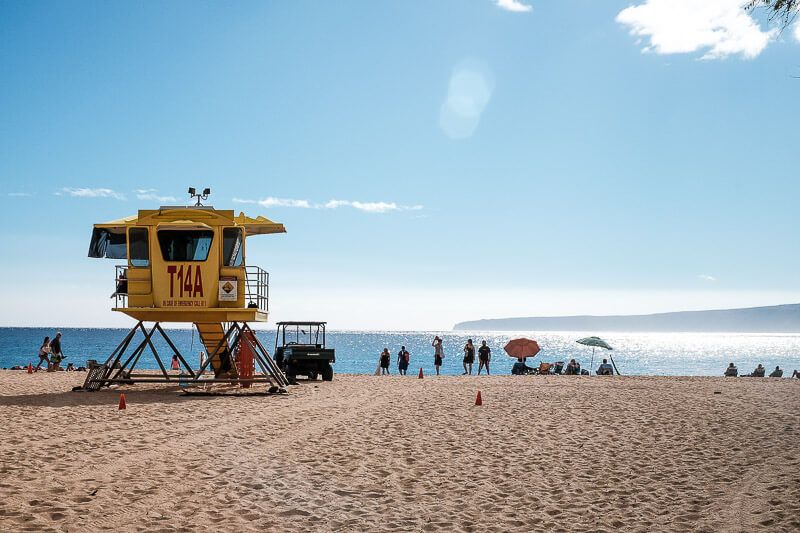 But I felt restless. And so I stood up and went to the shoreline. And then, to my left, I saw a couple pointing to something in the water. I looked towards the breaking waves, not 20 feet from shore, and saw a dark shape. My first thought (SHARK!) was quickly silenced.
And then, two feet before a small wave broke, I saw a sea turtle head lift up out of the water and take a breath.
I think I screamed. Like literally screamed. And then ran into the water to get a closer look. The sea turtle seemed huge: 3-4 feet long. And he was just lazily swimming down the shore, about 20 feet out, right before the waves were breaking.
He swam right past people snorkeling, swimming, playing, talking, etc. None of it fazed him. And when he poked his head above the water again and took another breath…it was beyond cool. It was special.
It was one of the best experiences of my life. To be there, swimming, with a sea turtle.
When he finally turned and went out to sea, I stood there a little while longer. Just staring in the direction he had gone. My first sea turtle.
I smiled the rest of the day.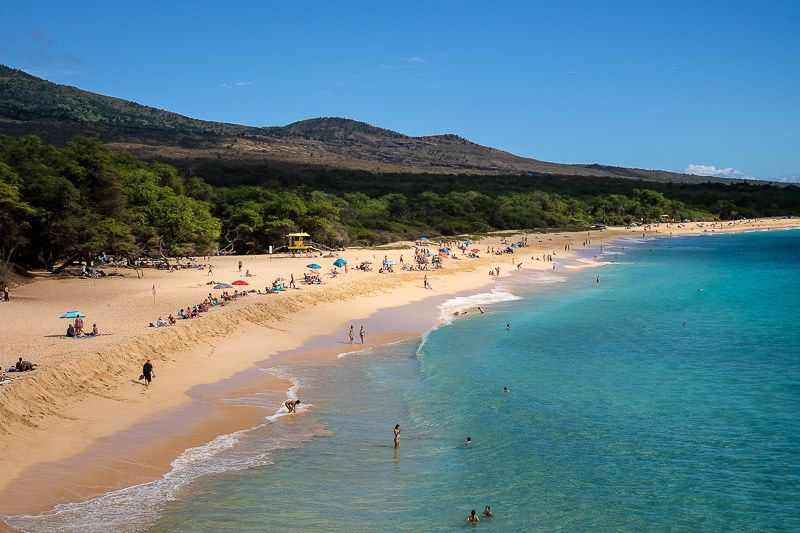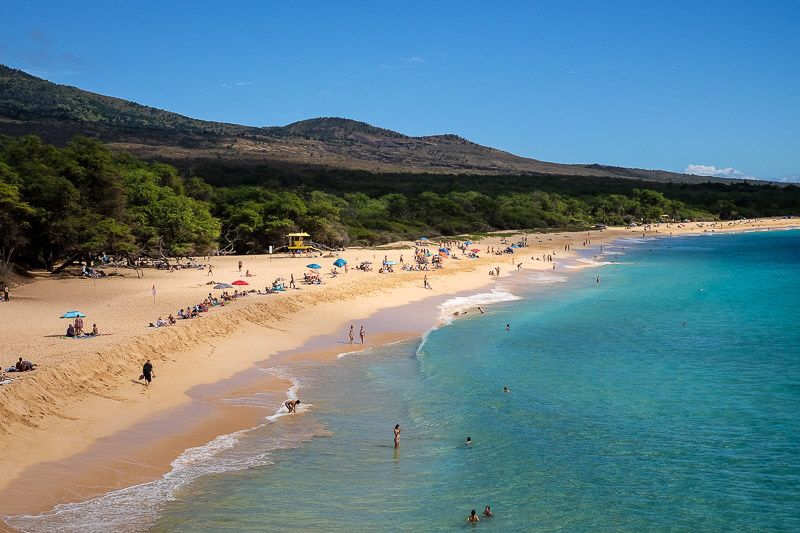 ---
'Ahihi-Kina'u Natural Area Reserve
I felt complete now. I had seen a sea turtle. So when Ryan suggested we check out the last snorkeling spot on my list (located even further south than Big Beach), I shrugged. Sure! I was up for anything now.
We didn't expect much at the Reserve. It was about 3pm. Surely it would be too windy.
But we couldn't have been more wrong. This was the best snorkeling spot ever.. Hands down. No competition. Without a doubt.
The best snorkeling in Maui.
Driving there sucks but do it. The road is small and curvy, and you may almost get hit by a ton of cars. But keep going. Head into the Reserve and drive about a third of a mile until you see a big, dirt/gravel parking lot on your right. Park here and take the rocky path down to the shoreline. The black sand (more like rock) beach doesn't seem inviting but it is.
There was only about three other people there on that Sunday afternoon. And after 15 minutes, even they left. Only the surfers who had arrived and then paddled 100 yards were still there. We had the whole snorkeling spot to ourselves.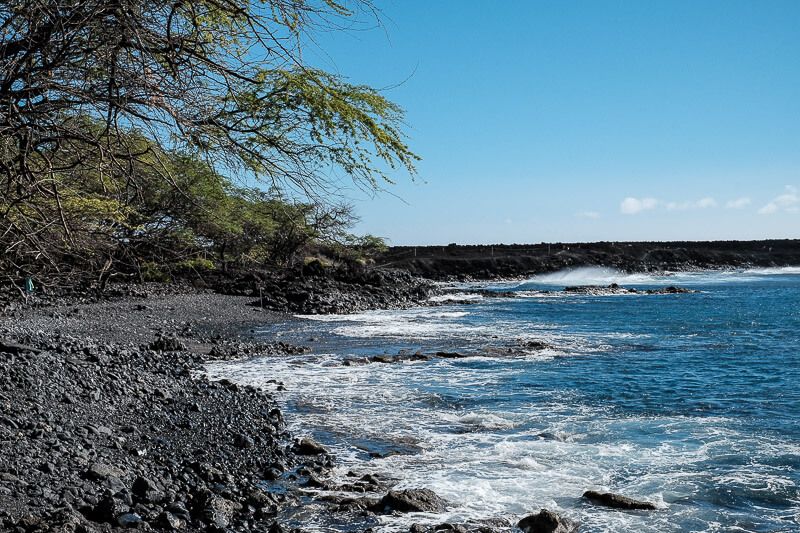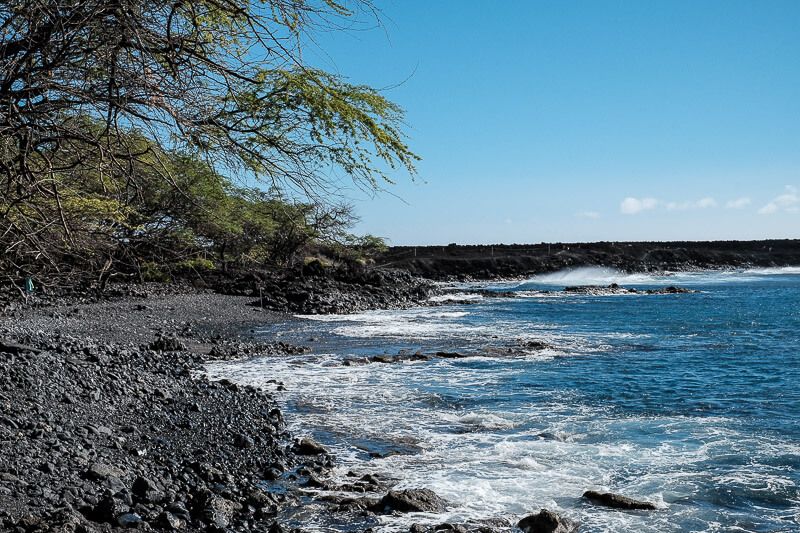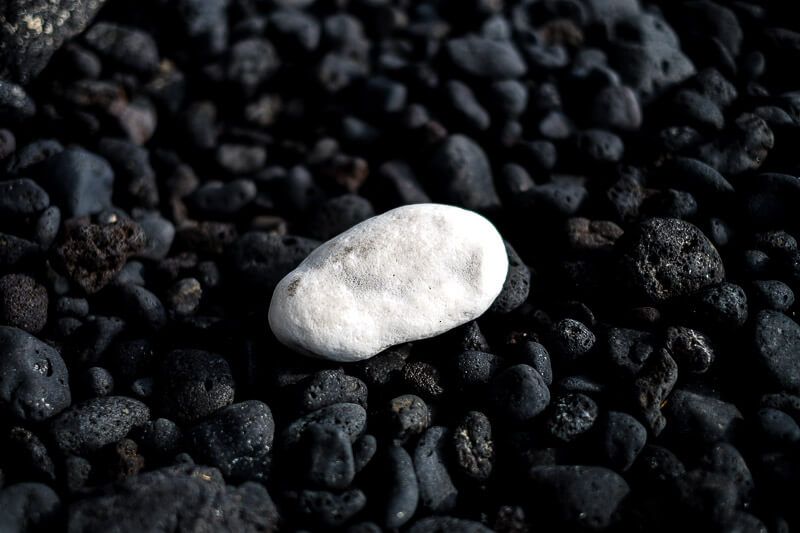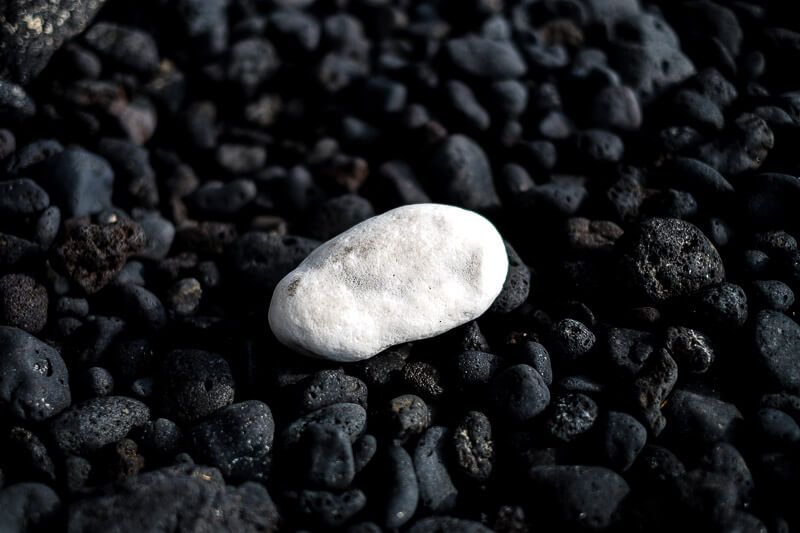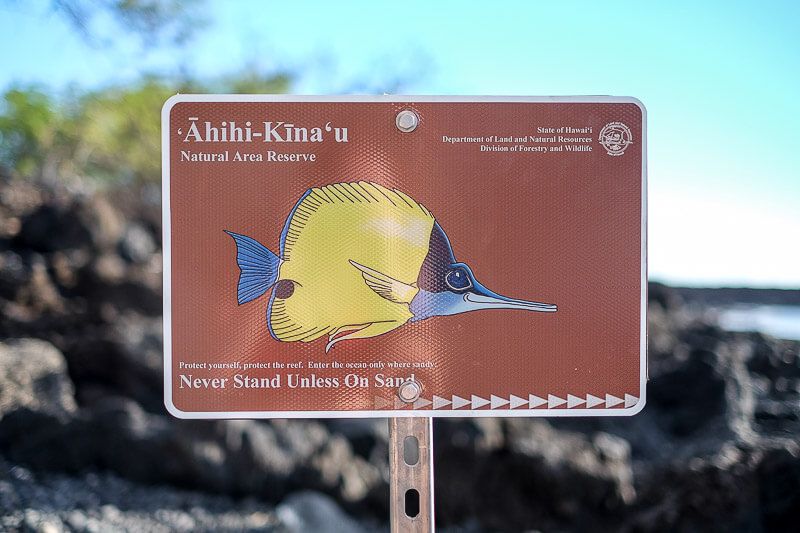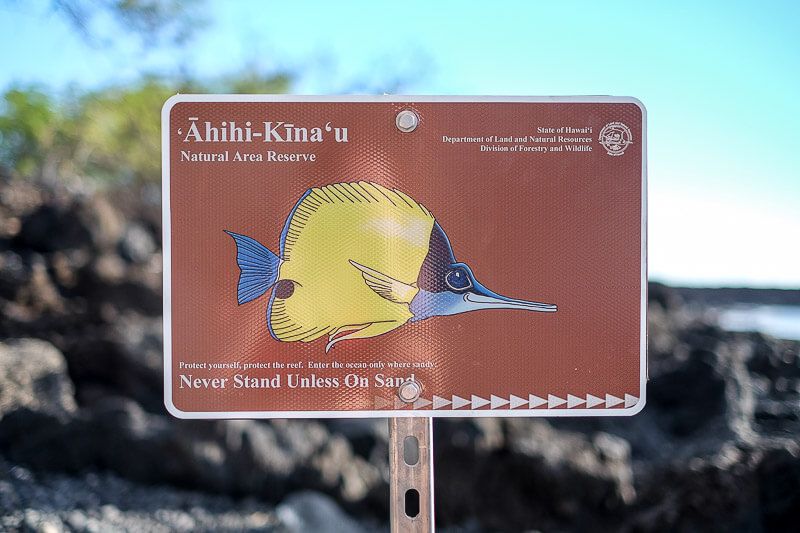 We put on our stuff and entered the water on the far side of the beach. It was tough getting past the small waves with our gear on. But once we were completely in the water, we headed north.
In just a couple of strokes we were over the most beautiful coral I'd ever seen.
The water was crystal clear. Like an aquarium. The sand, murk, and cloudiness of the water from the other two spots was missing here. We could see straight to the bottom at times, 20-30 feet below us. The coral rose like mountains beneath the surface. And the fish hardly seemed afraid of us. We would almost have to swim around them, instead of the other way around.
I saw more fish than I'd ever seen in my life.
And then…there it was. Ryan waved me over and pointed 15 feet down. Another sea turtle! He was just swimming along. No worries in the world. And didn't even seem to notice us.
He was a bit smaller than the other one but, this time, I had a clear view of him. Even 15 feet beneath me, the water was still so clear I could make out the markings on his shell. I stayed where I was and watched him pass by and then out of sight. I couldn't believe it. Two sightings in one day.
To say this was the best snorkeling in Maui wouldn't do it justice. I'm now crying that my underwater camera broke. It would have been perfect here. The water was so clear, the coral so beautiful, the fish so colorful… Everything you'd ever want in a snorkeling spot was here.
Three days later, we came back to 'Ahihi-Kina'u Natural Area Reserve for one last snorkel. It was about 9am and the place was much busier. Not "crowded" per say but you'll definitely have other people around you.
But the water was still clear. The fish were still plentiful. And this time, we saw two sleeping sea turtles. Nestled against the coral, we almost didn't spot them. We only drifted over after we saw a group pointing at something. So that's definitely a plus of having other people around. More eyes.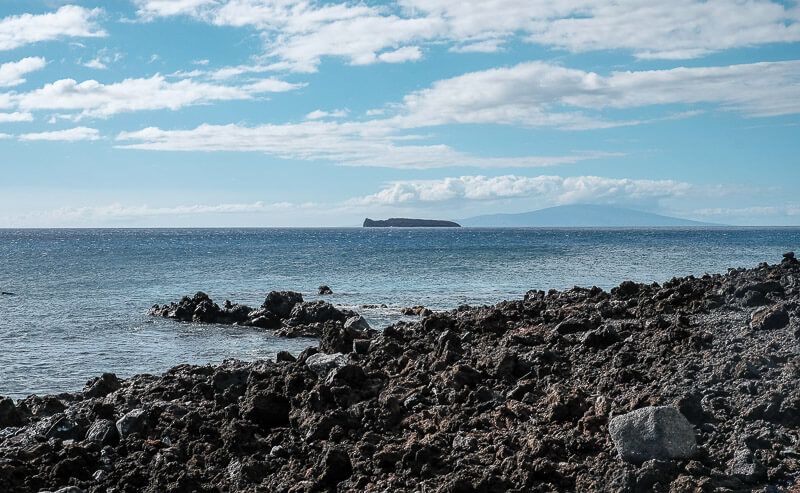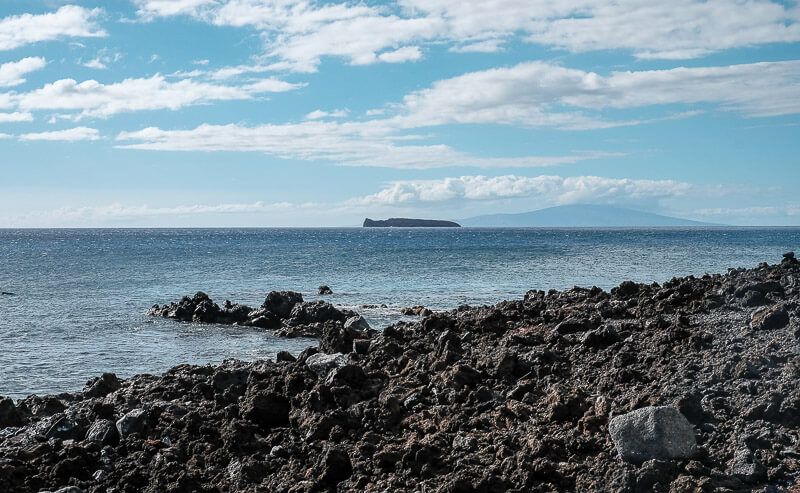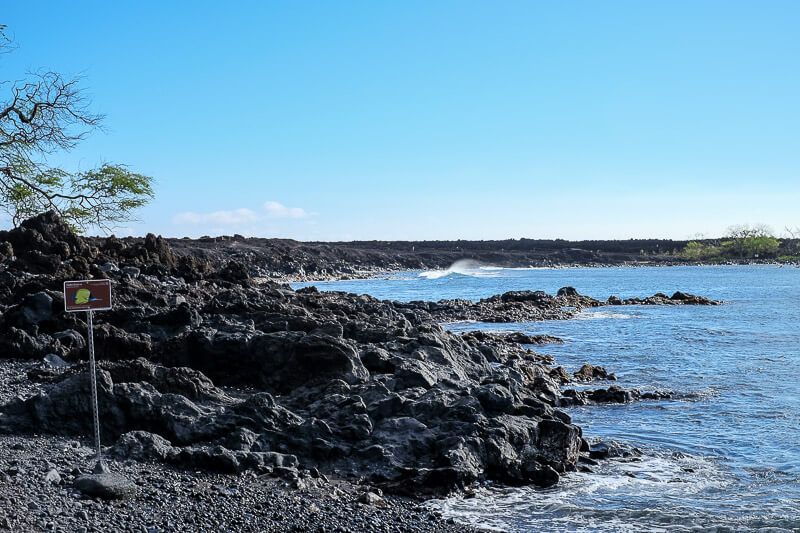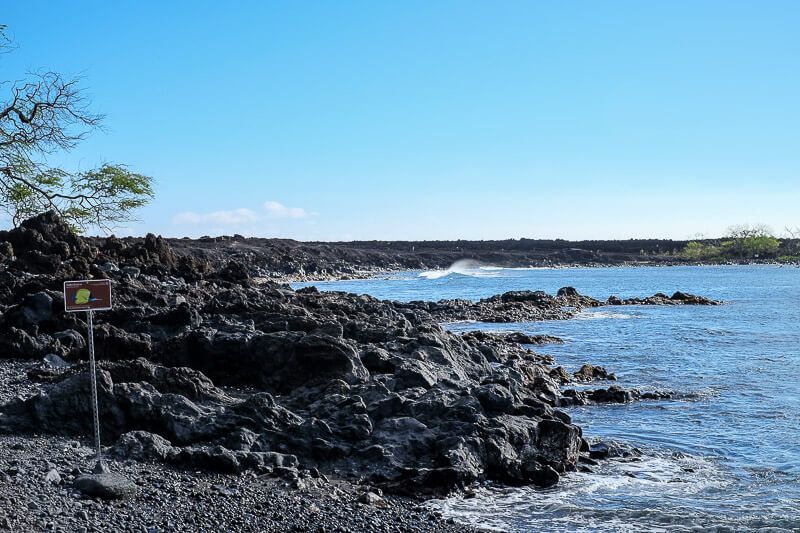 ---
Makena Landing Round Two
On our way back to Snorkel Bob's, Ryan then made one of the best suggestions. Why don't we stop at Makena Landing once more? Just in case.
I shrugged, why not? With my sea turtle quota sufficiently filled, I didn't mind if we didn't see anything.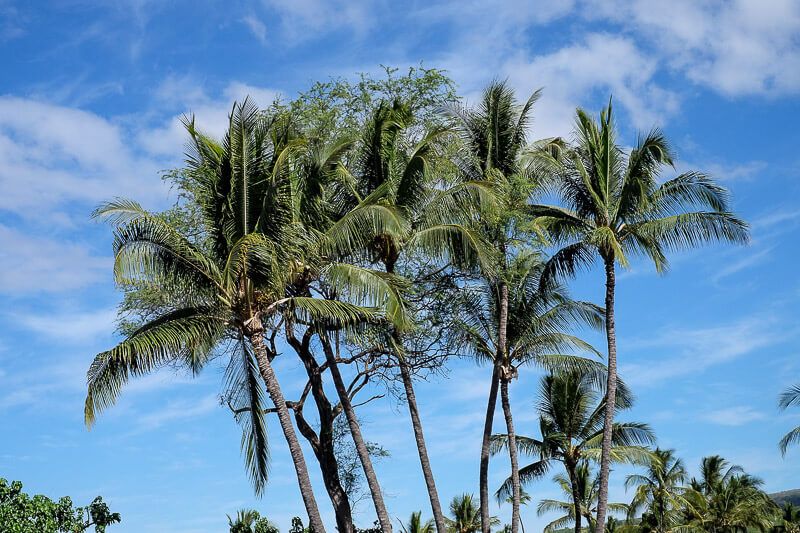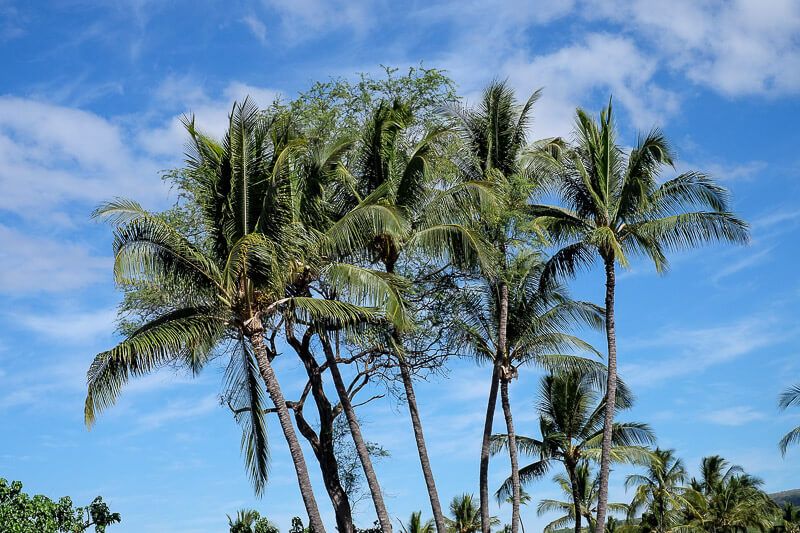 We pulled on our gear and headed out into the water. It was again murky and sandy. We did a quick lap, saw nothing, and then headed back to the landing to get out.
Somewhere on our lap, I got separated from Ryan (he's a much faster swimmer than me). He had journeyed further out while I decided to hug the rocks. I wanted to try to see some of the fish. Then…there it was.
Something large in the water next to me. I jerked my head to the left and, not four feet from me, a sea turtle was swimming by.
He had squeezed between me and the rocks, and I almost shrieked. I hadn't seen him until he was almost right on top of me. He was just swimming on by, trying to duck into a cove, and paid me no mind. I just stopped and stared at him for awhile.
I don't know where he came from, but I couldn't take my eyes off of him for several seconds. He was obviously trying to make it down this very narrow channel between the rocks. But he kept getting rocked by the waves.
Knowing Ryan would want to see this, I popped my head above water and glanced about. But he was nowhere in sight. I ducked my head back under to keep watching my turtle friend, but he was gone. In a blink of an eye, he had disappeared. The water was that sandy. I could no longer make him out among the rocks.
I made my way back to the landing and pulled myself over to our car, and that's when I spotted Ryan. He was standing on the bank, looking down on the rocks from above. He motioned me over.
There was my sea turtle.
He was trying to make his way into a small pool near the bank. He struggled for several minutes before he was able to pull his body over the rocks.
Then when I looked to my right, I saw another turtle on a small beach. I couldn't believe it. On our last snorkeling day, we saw not one or two turtles. But four. Bringing my turtle count to six!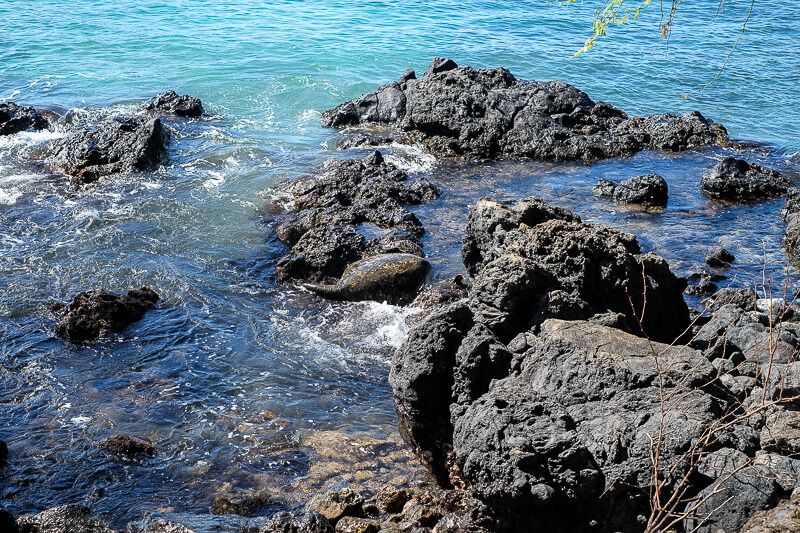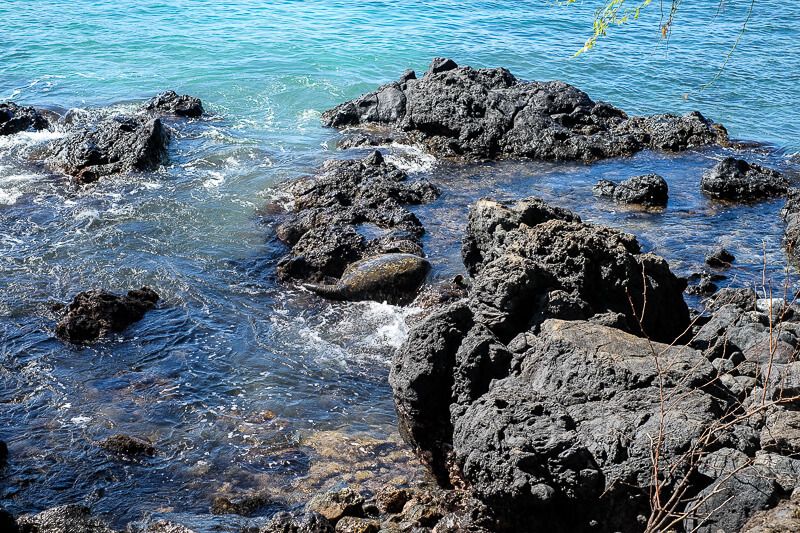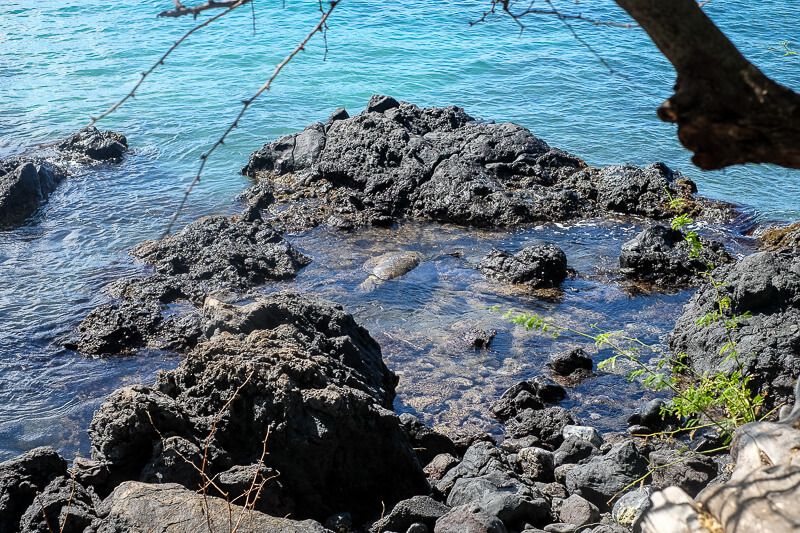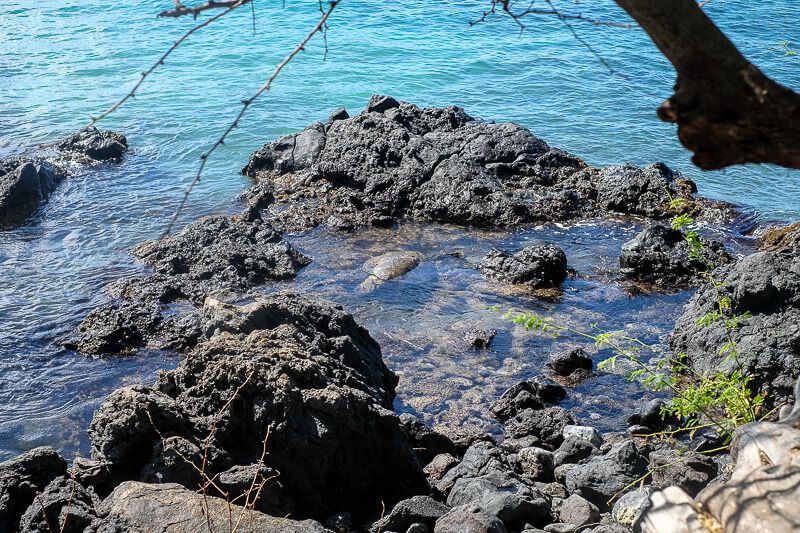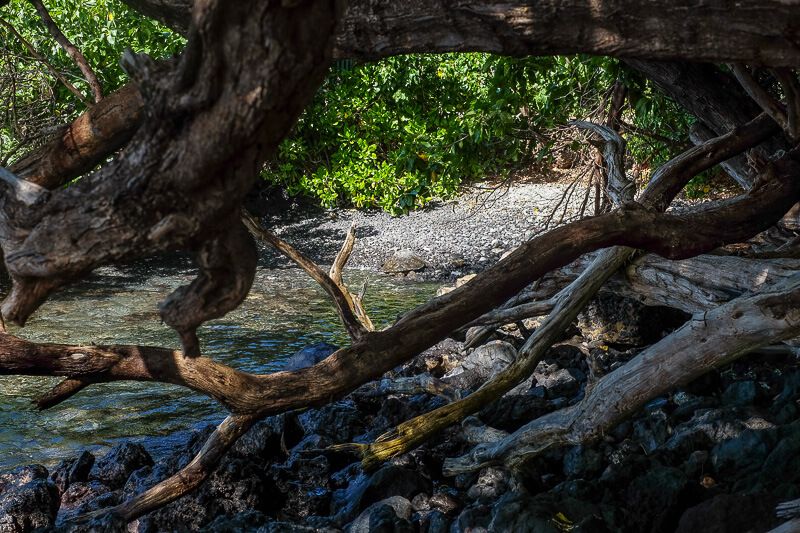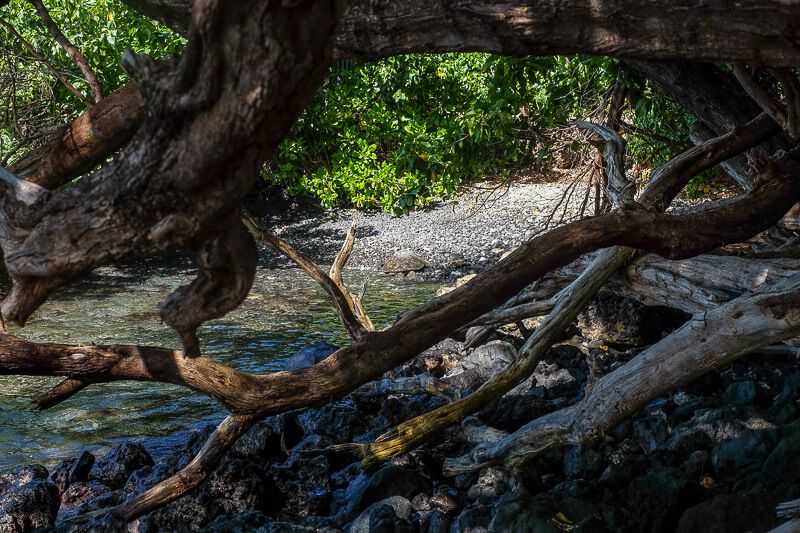 Snorkeling in Maui was better than I could have imagined. I needed to see a sea turtle and I ended up seeing six. Mission accomplished. (Though I'm still peeved that my underwater camera broke right before we saw a sea turtle.)
But if you want the best snorkeling in Maui. If you want to see an ocean that looks like an aquarium. If you want to be surrounded by sea life and mountains of coral. Then you have to go to 'Ahihi-Kina'u Natural Area Reserve. It's the best. By far. We made three separate trips out to this southern point and I wish we had been able to go everyday.
There are many other famed spots for snorkeling in Maui (like Molokini Crater). But in our 3 days in South Maui, we decided to stick to the shoreline. I can only hope to go back to Maui one day, find more great snorkeling spots, and update this list. But if I do go back to Maui, you can bet I'll be visiting the 'Ahihi-Kina'u Natural Area Reserve again.
Don't miss it!
Where have you gone snorkeling?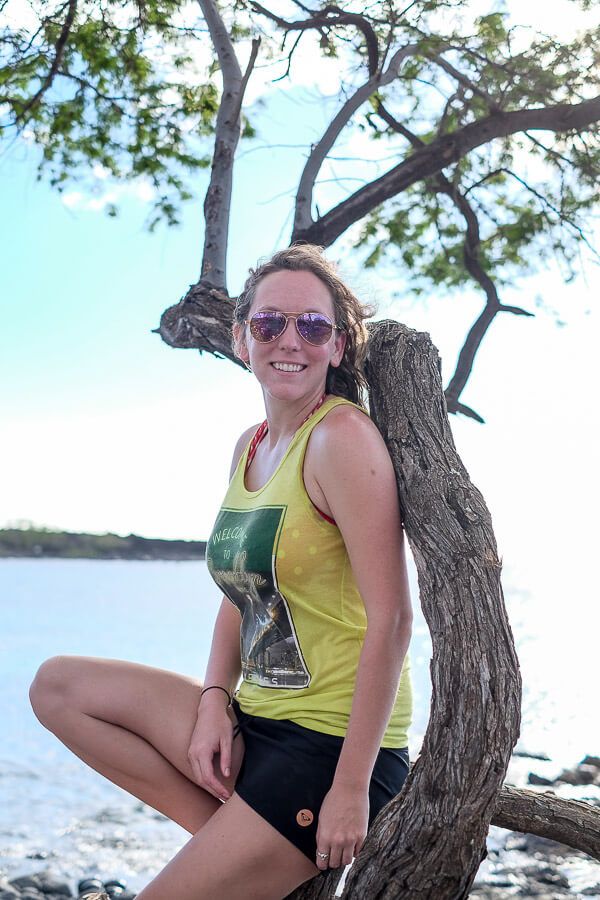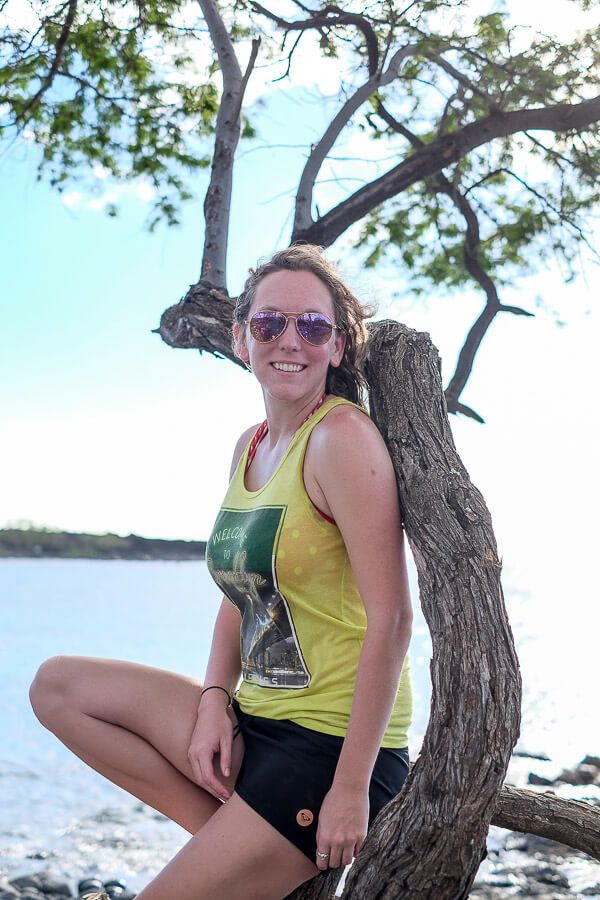 ---
Nitty Gritty
Where to stay? Because we booked our vacation a little late (just under 2 months), all of the cheaper hotels were already taken, and we were not going to be able to pay resort prices. So we stayed in an AirBnB in in Kihei. The room had its own balcony which was heavenly. And though there was a shared bathroom, this didn't bother us too much.
Where to grab breakfast? Look no further than Kihei Caffe. The line will be long in the morning. Like really long. But it's worth it. The food is fantastic and it comes out super quick. I want to go back and eat everything on the menu.
Snorkel Gear Rental. We rented our snorkel gear from Snorkel Bob's. They have locations across Maui. You can also rent by the day or the week. We decided to rent the gear for 3 days (initially). *
*The only bad thing to note about Snorkel Bob's is that when we checked out the snorkel gear, the lady said that if we wanted to keep the gear any longer, then we could just do it. They would then just charge us the weekly rate when we returned the gear instead of tacking on an extra day (which would be more expensive). However when we did keep the gear an extra day (by just 3 hours – gasp!!), there were new people at the shop. And they did end up charging us an extra day instead of the weekly rate. So if you think you'll have the gear for 4 days or more, just go with the weekly rate. I really liked Snorkel Bob's but this was a big downside.
Where are the beaches?

Planning your trip to Maui?