Are you looking for a Road to Hana guide that explains which of the stops you need to see (and which you can skip)? Because trust me, there are so many things to see here that you'll need to make some tough decisions. And they'll be tough. We're talking breathtaking views, amazing hikes, black sand beaches, secluded pools, and tons of waterfalls.
But with so many Road to Hana stops along the way, which should you choose? Well, that was the same question we had when we started. But now, after visiting many of the "best spots," I've put together this Road to Hana Guide.
We tackled the Hana highway over 2 days. And we couldn't have been happier with our choice. Spending the night right outside of Hana let us explore and see more.
We were blown away by some Road to Hana spots (the hits), while we realized we could have skipped others (the misses). There are also those that are good if you have time (the ties), and some we wanted to see but just couldn't squeeze in.
So read on to discover my picks for this Road to Hana Guide!
Confused as to what the Road to Hana is? It's a small 55 mile highway located in the northeast of Maui. Oh and it's made up of 54 one-lane bridges, blind corners, and, oh yea, more than 600 curves. It can take 3 hours just to drive it. But you don't want to miss it! It's one of the most spectacular drives I've ever done.
---
My Road to Hana Guide
TIE: Huelo Lookout (4.5 Mile Marker)
Let's start this Road to Hana Guide off with an important question – are you hungry?
We certainly were when I asked Ryan if he could go for a coconut. His answer was a resounding yes. A coconut sounded marvelous. If you need one too, then head to this classic Road to Hana stand.
HIT: Bamboo Forest Trail (6.5 Mile Marker)
This is the first "must-see" stop for my Road to Hana Guide. The Bamboo Forest Trail is supposed to be a bit of a secret stop, but you'll definitely still encounter a lot of folks on it.
The entrance to this trail is across the road from a bunch of tall, skinny pine trees (which look really out of place). There are several entrances that head into the bamboo, but they all lead to the one trail. It's steep, rocky, and (can be) dangerous.
Several days before we heard about a tourist who was airlifted out because she twisted her ankle here.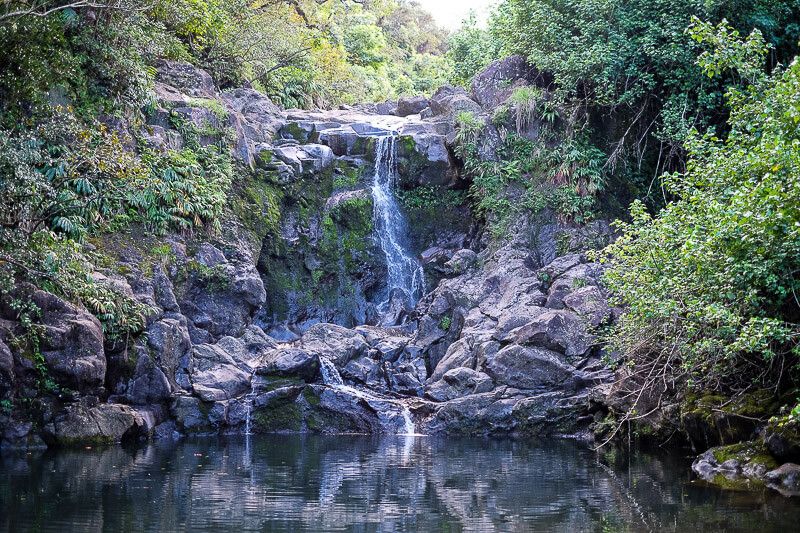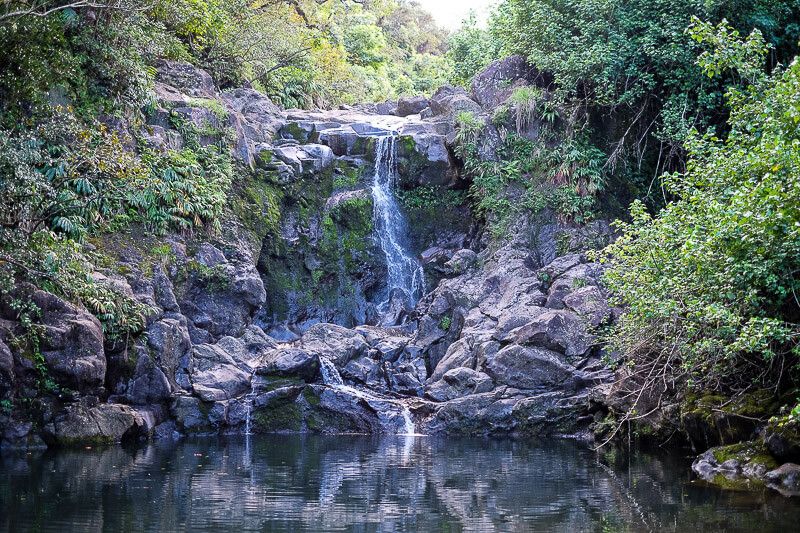 We actually decided to do the bamboo forest trail late in the afternoon on a day we were staying in Paia. We had several hours to kill and knew that if we waited until our "Road to Hana" day, we might not have time to squeeze it in.
We arrived at about 4pm and as we weaved our way along the trail, we passed several groups on their way out. It seemed like we were the only ones still going in.
After a half mile or so, we reached the first falls. A man lounging on the rocks, pointed up and told us that the second falls were much more beautiful.
We clambered up the rope and steep slope (not an easy feat) and made it to the second waterfall. I looked longingly at the ladder leading to the third waterfall, but the light was fading so we stopped here. Plus we had the second falls all to ourselves – our own private waterfall.
There is a third and fourth waterfall you can go to but be careful! This trail is very dangerous and slippery. And don't go if it's rained recently or there's a chance of flash flooding.
MISS: Waikamoi Nature Trail (9.5 Mile Marker)
At first I was excited for this trail (a ½ mile loop with a side spur leading to a picnic area). I heard it had eucalyptus trees and great views of the Hana Highway.
And while there were impressive trees and a bamboo forest across a ravine, we couldn't really see the road. My favorite part of the trail ending up being when we discovered the "Quiet Trees At Work" sign.
At this point though we had already done several impressive hikes on Maui, and this one just left me disappointed.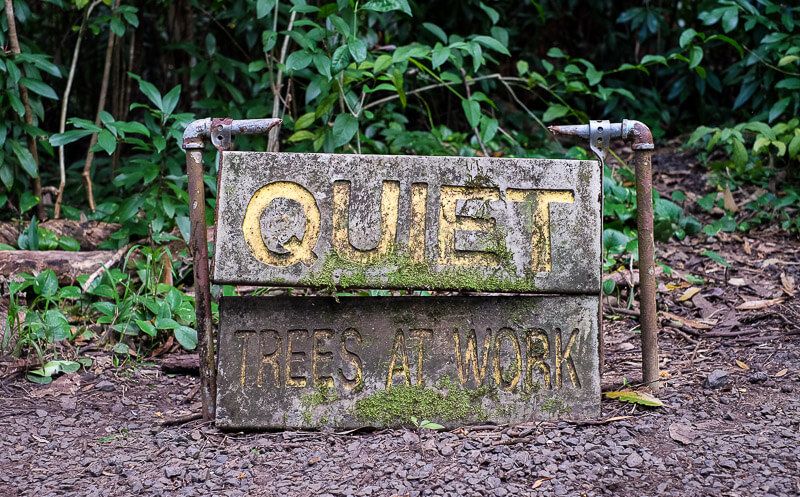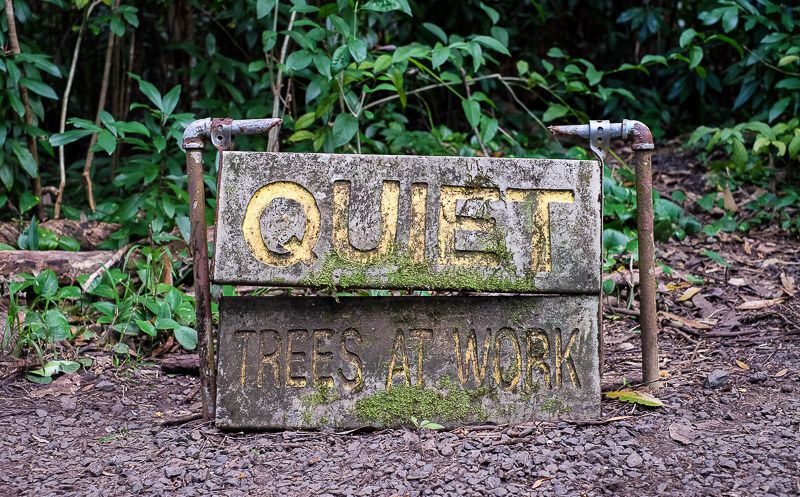 TIE: Haipua'ena Falls (11.5 Mile Marker)
These falls were hidden away from the road and we only bumped into one other couple as we were leaving. The pool beneath the waterfall is deep enough for a swim, but the area is completely shaded.
And that water? Cold! We decided to pass on swimming, but if you're adventurous, you may want to go for a dip. Park on the Hana side of the bridge and follow the stream to the waterfall.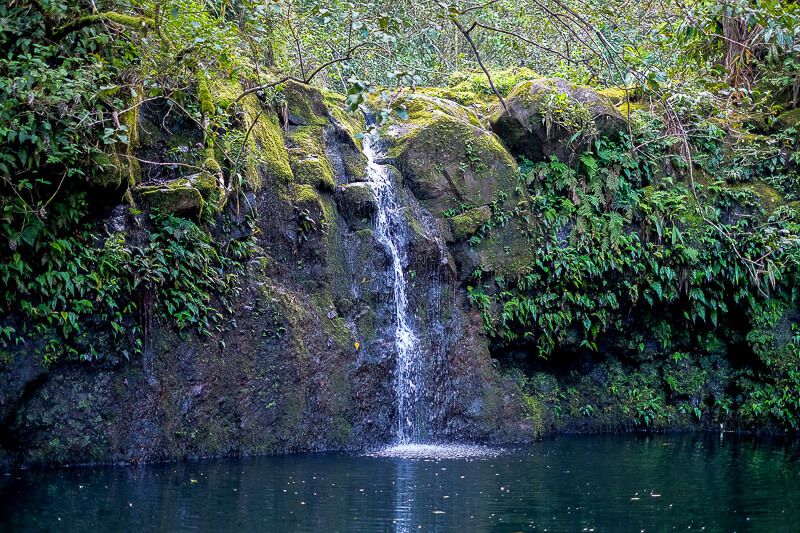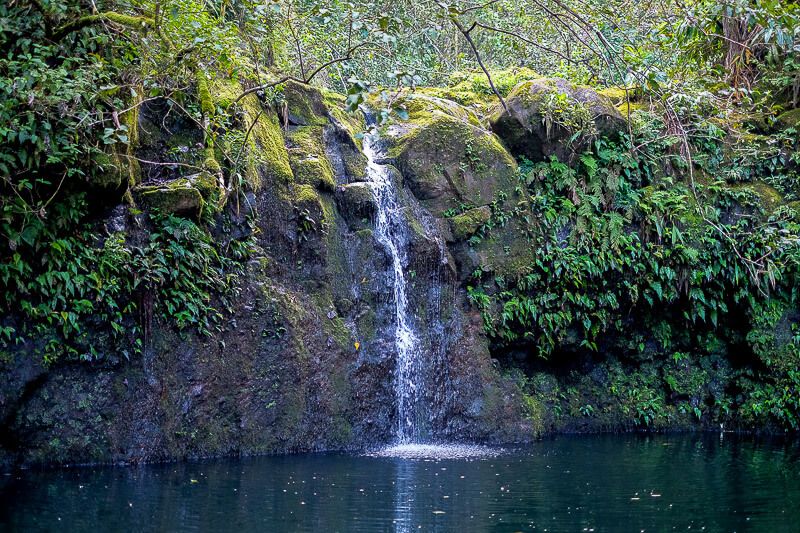 MISS: Kaumahina State Wayside Park (12.2 Mile Marker)
Only stop here if you need to use the bathroom (which is why we pulled over). We did wander back among the trails, but overall we were unimpressed with the views.
HIT: Ke'ane Landing Fruit Stand (16.5 Mile Marker)
My Road to Hana Guide wouldn't be complete without mentioning the best banana bread on the highway.
Head down the turnoff to the Ke'anae Peninsula (on the ocean side of the road) to this little roadside stand. It looks low key but it hides a big secret – amazing banana bread. There's other fruit here too, but seriously, that banana bread.
Opposite the fruit stand, you'll be treated to amazing views of the winding Road to Hana. So sit back and enjoy the view (and the delicious bread). This was one of our favorite Road to Hana stops.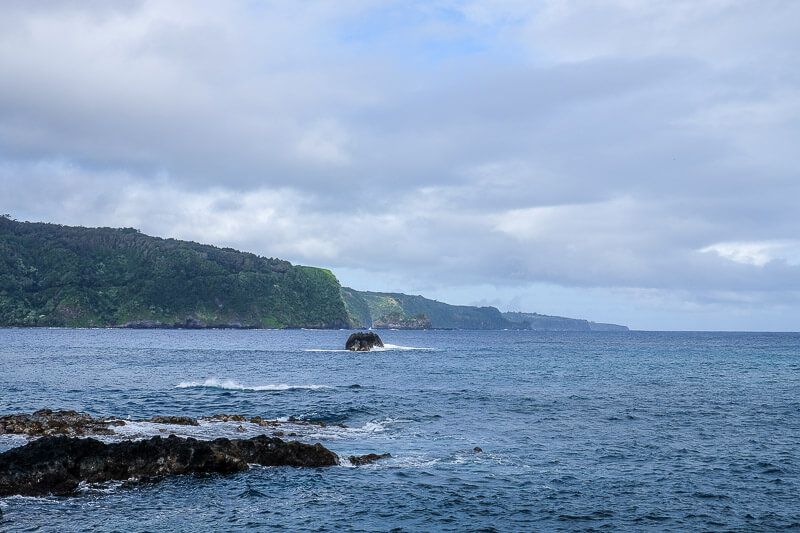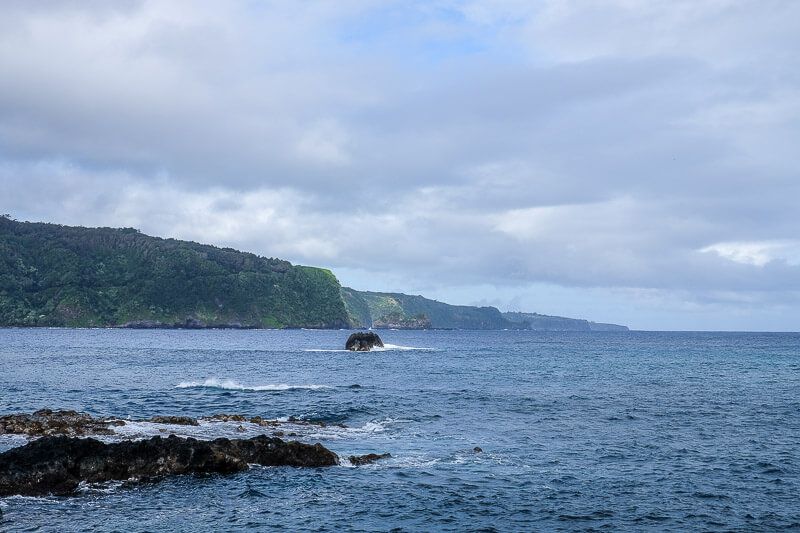 MISS: Ke'anae Peninsula Lookout (17 Mile Marker)
Want to see the Ke'anae Peninsula from above? This pull-off will give you a bird's eye view of this quaint little community. But after seeing the Wailua Peninsula, I was a little unimpressed with this one.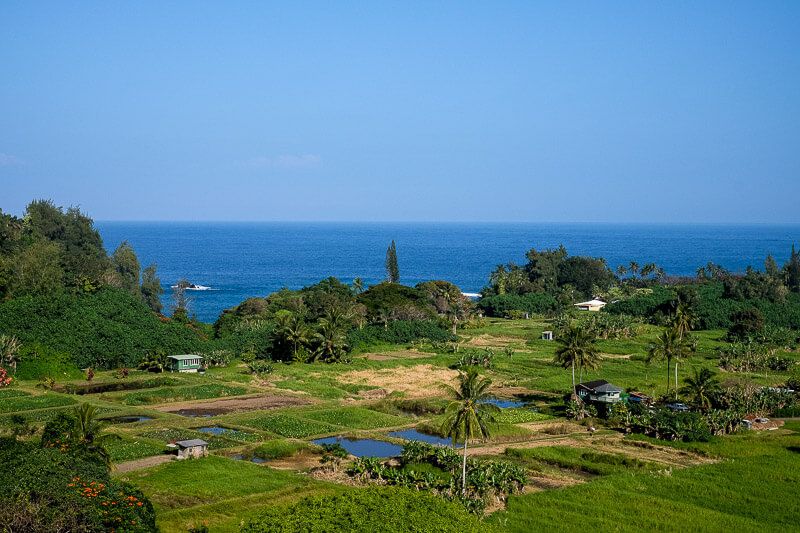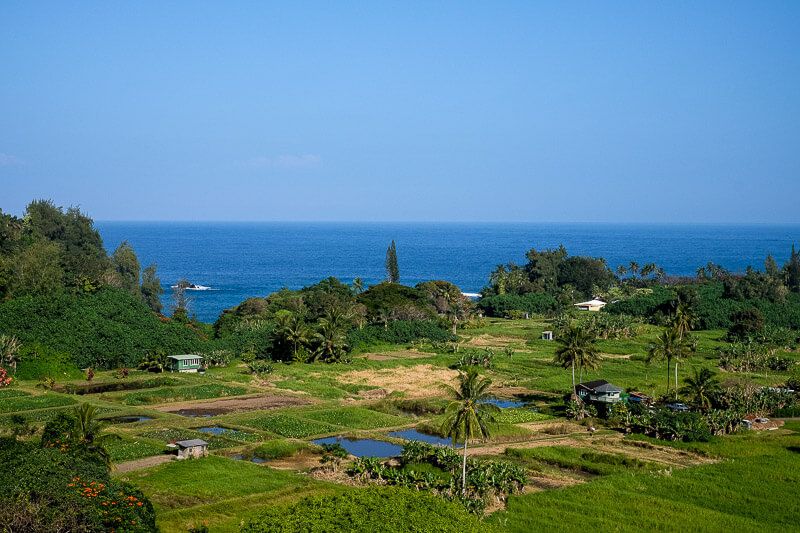 HIT: Wailua Valley State Wayside (19 Mile Marker)
Don't miss this pull-off! It's a definite must for my Road to Hana Guide. You'll be treated to one hell of a view of Ke'anae Valley.
This valley goes all the way up the mountain to Ko'olua Gap (one of two gaps in the rim of Haleakala's crater). And on a clear day (like we had), you can see this gap over the ridges on the left side of the valley.
Also, if it's been raining recently, you'll see waterfalls cascading off the hills on the sides of the valley. And if you look towards the ocean, the Wailua Peninsula spreads out below you.
Easily one of my favorite stops along the Hana Highway.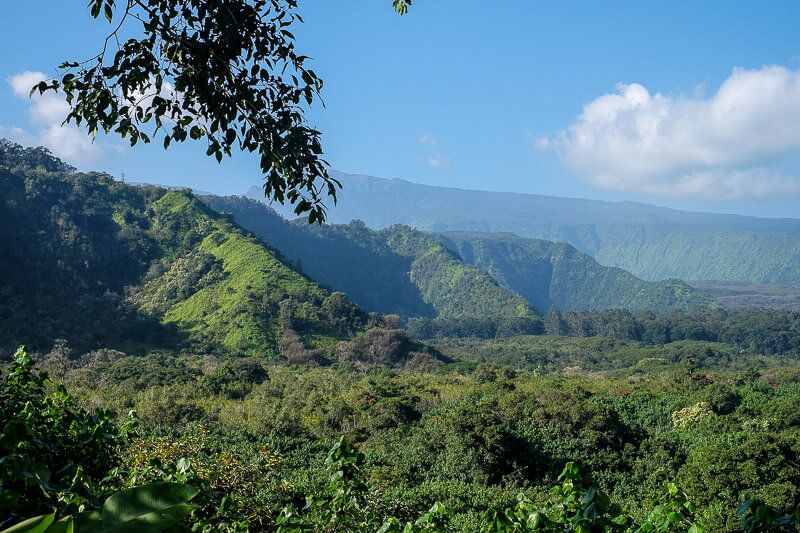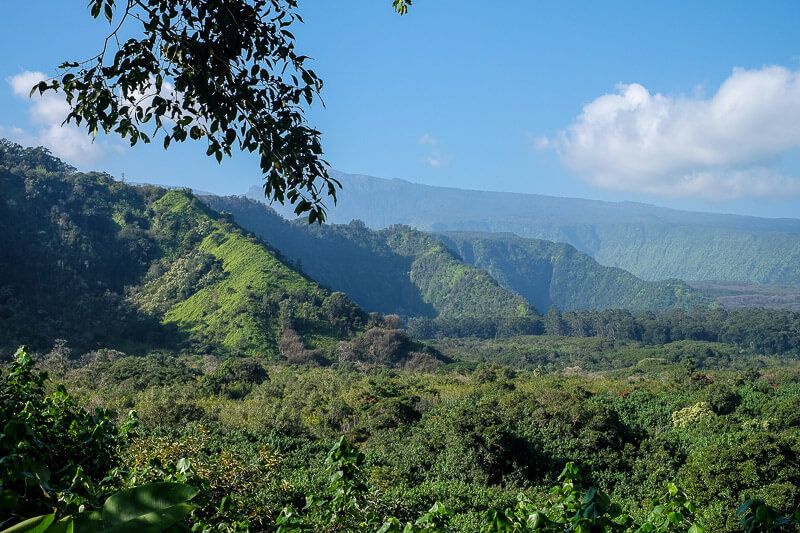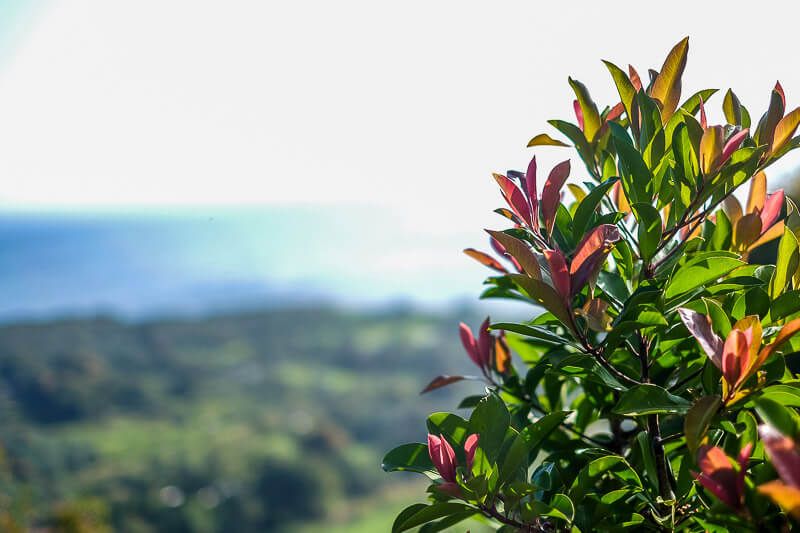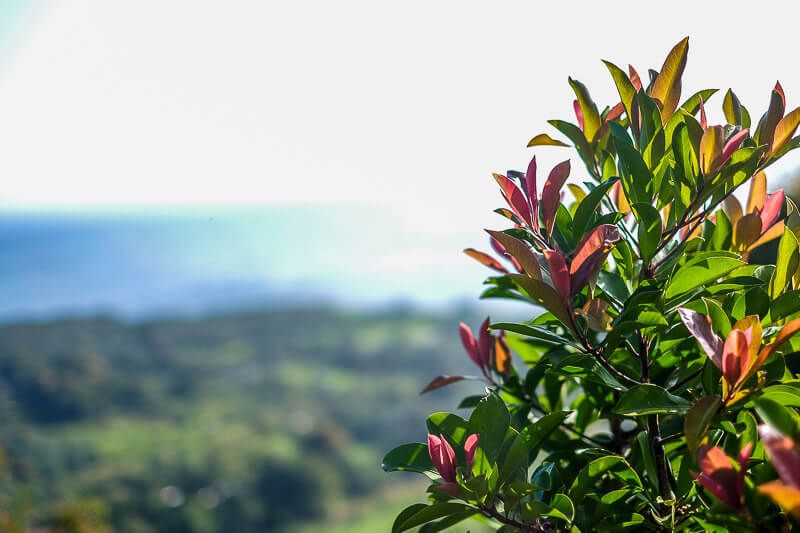 TIE: Wailua Peninsula Lookout (19.25 Mile Marker)
This large, paved pullout has a great view of the Wailua Peninsula. If the view from Wailua Valley State Wayside didn't do it for you, then this one surely will.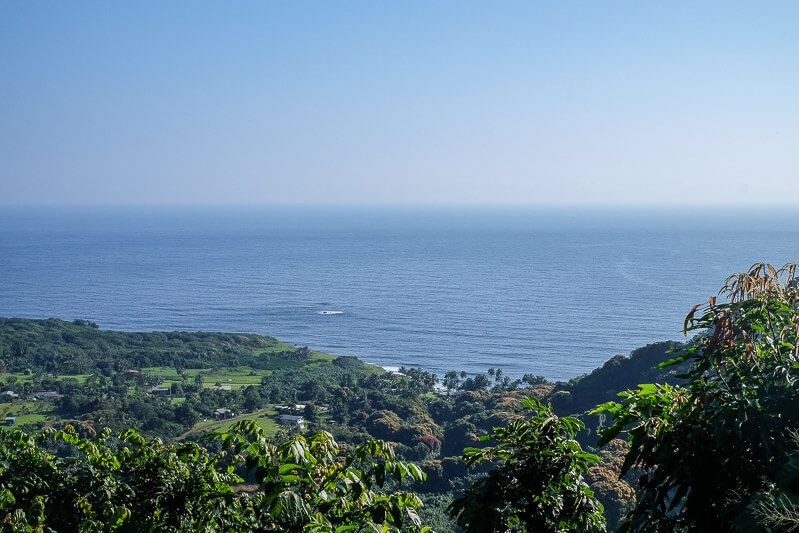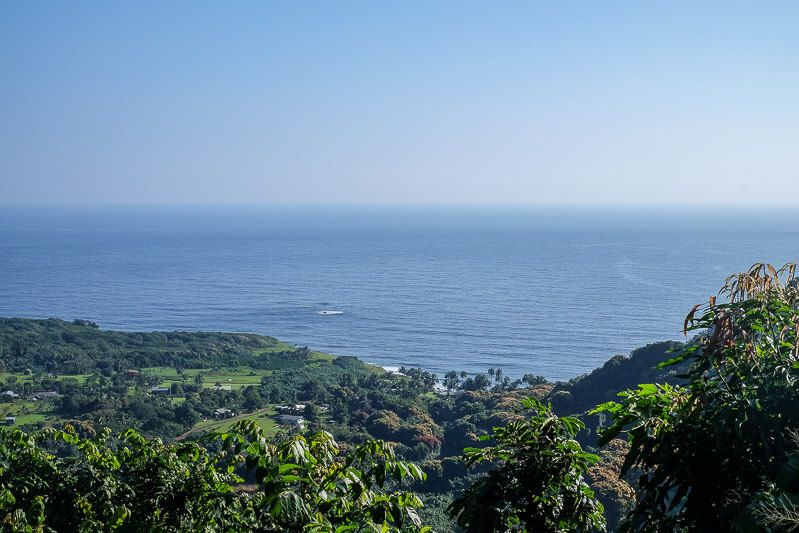 HIT: Three Bear Falls (19.5 Mile Marker)
This waterfall is fantastic. Three cascades tumble together down a mossy rockface. You can marvel at the falls from the road, or try to make your way down to them via a path on the Hana side of the bridge.
The only problem here is the parking. No parking signs next to the falls are supposed to discourage would-be gazers. T
he official parking for the falls is over the bridge and up the hill to the left. And it's quite far. But if you want a closer look, you may want to make the jaunt.
If we had more time, I definitely would have parked and clambered down to the falls. This is considered to be one of the Road to Hana stops and I wish we would have had more time here!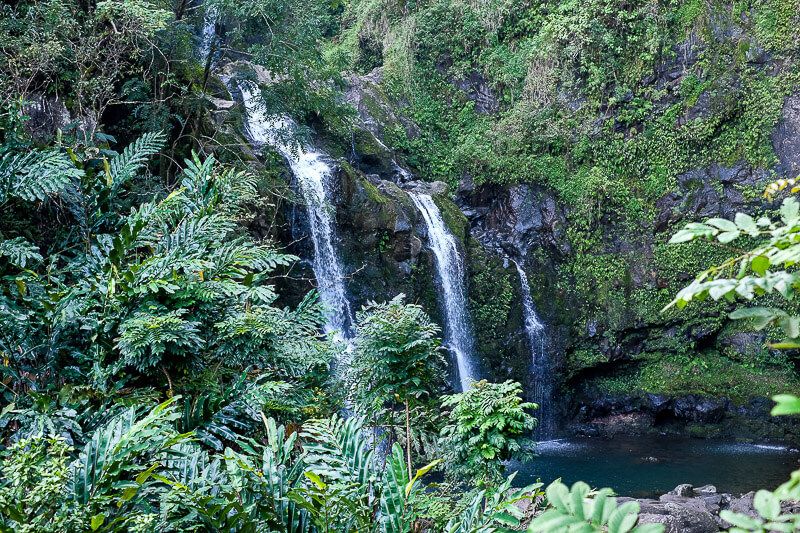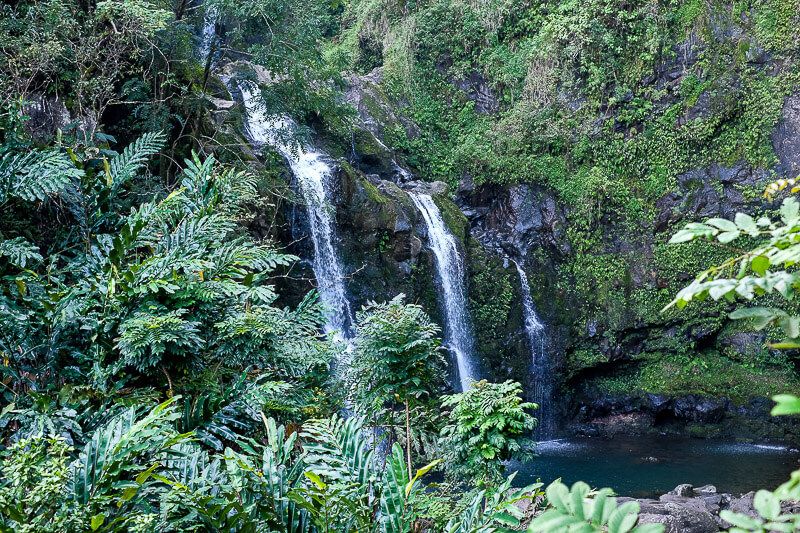 MISS: Makapipi Falls (25.1 Mile Marker)
This waterfall's plunge starts under a bridge. I was excited by the chance to see the falls from above, but with one look down at the trickle emerging from the stone archway and I was unimpressed.
HIT: Wai'anapanapa State Park (32 Mile Marker)
This state park is a must for my Road to Hana Guide. With a black sand beach, lava caves, a blowhole, and an impressive hike across a lava field, you could spend a lot of time here.
Most people come only for Pa'iloa Beach – one of the most beautiful black sand beaches on Maui. And though you should definitely spend some time digging your toes into the sand there, this park has so much more to offer.
I would love to be able to go back and swim in the lava caves and hike part of the Pi'ilani Trail.
If you want even more time here, consider camping at the state park like we did. Not only will you have the black sand beach to yourselves, but you'll also have a perfect base for exploring the Road to Hana.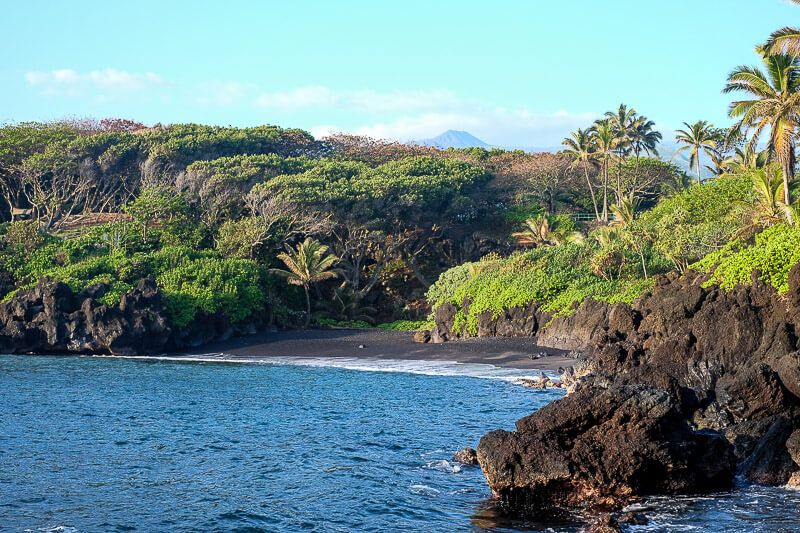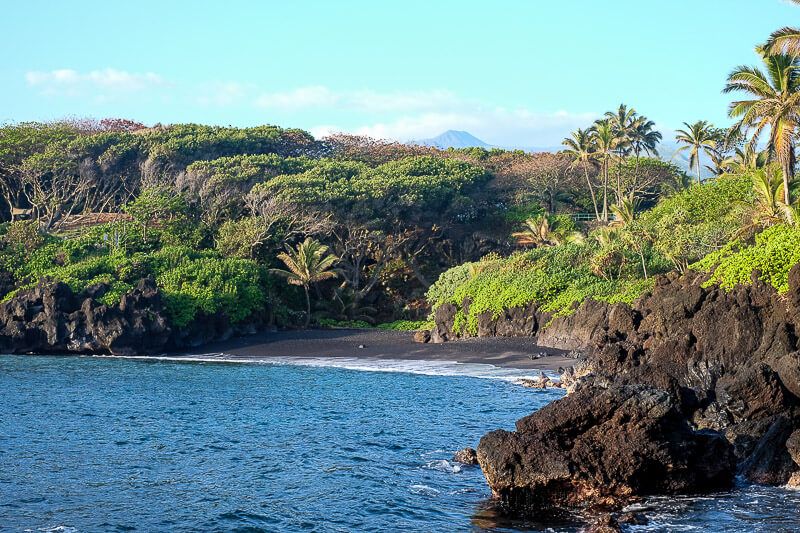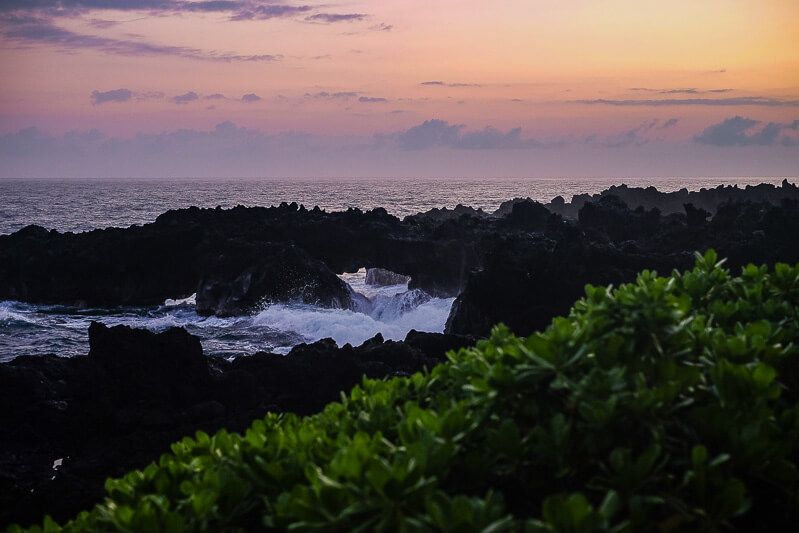 TIE: Hamoa Beach (On Haneeo Road after Hana. Mile Marker 48.)
This beach is tucked away into a small cove, and it is beautiful. However, when the surf and wind is up (like it was for us), swimming is out of the question. Instead you can watch the surfers take to the waves.
Deciding to stop here will depend on if you have the time, what the weather is like, and what you want to do. I would have liked to have gone swimming, but going out into the water that day was a no go unless I was strapped to a board.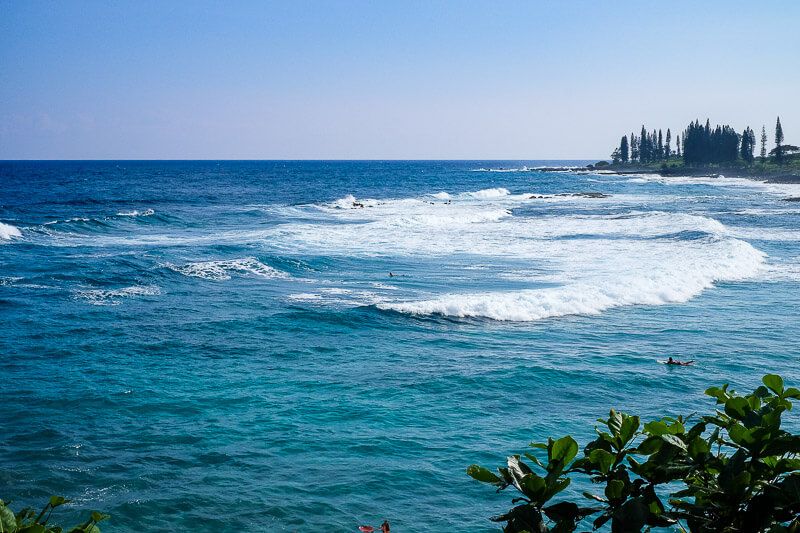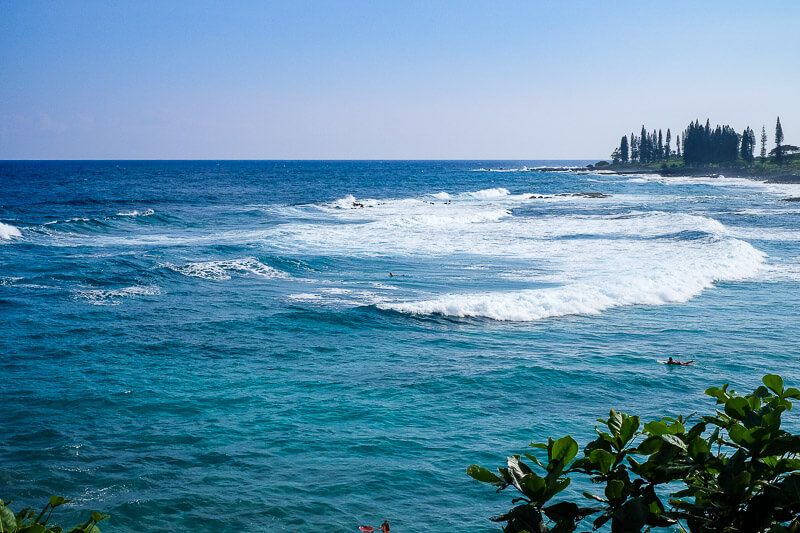 HIT: Kipahulu District of Haleakala National Park (After Hana. Mile Marker 42.)
'Ohe'o Gulch or the Kipahulu Area of Haleakala National Park is a definite stop for my Road to Hana Guide! Besides the 24 freshwater pools and the lower Kuloa Point Trail (where we actually swam in one of these pools), I wanted to come here to see the 400ft waterfall – Waimoku Falls.
Located 2 miles inland along the Pipiwai Trail, the Waimoku Falls are breathtaking and I'm still happy with our decision to prioritize these falls that day. See my longer post on what our experience was like hiking to this waterfall.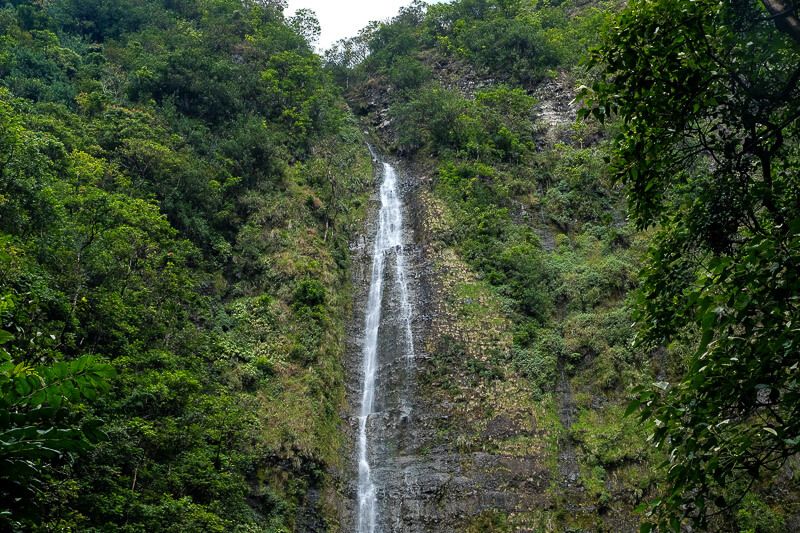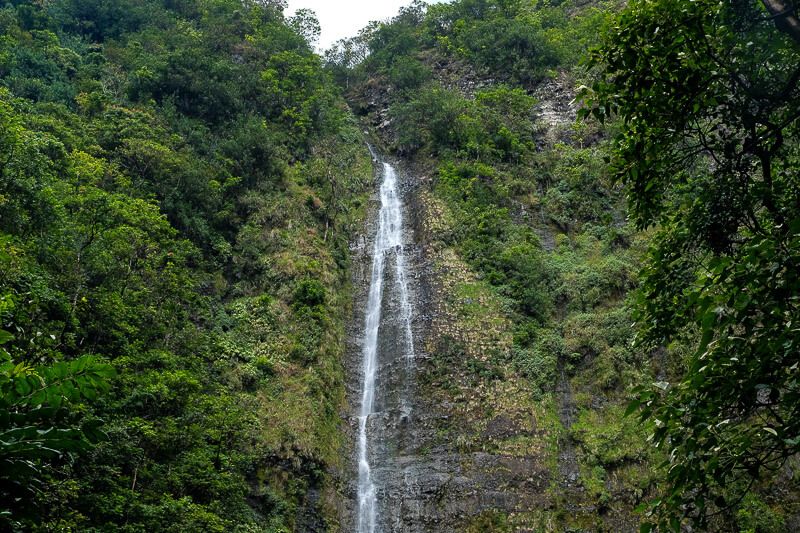 ---
Places I Wish We Had Time To See
Even though we spent two full days on the Road to Hana exploring the various sights, waterfalls, pools, and hikes, I still feel like it wasn't enough.
There are just so many Road to Hana spots. I now think three days would be perfect. And so, this Road to Hana Guide wouldn't be complete without mentioning the stops I was sad we missed.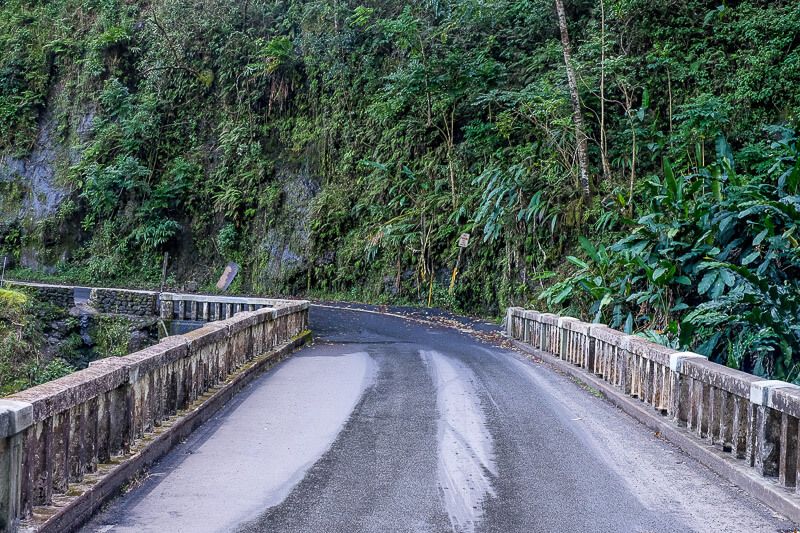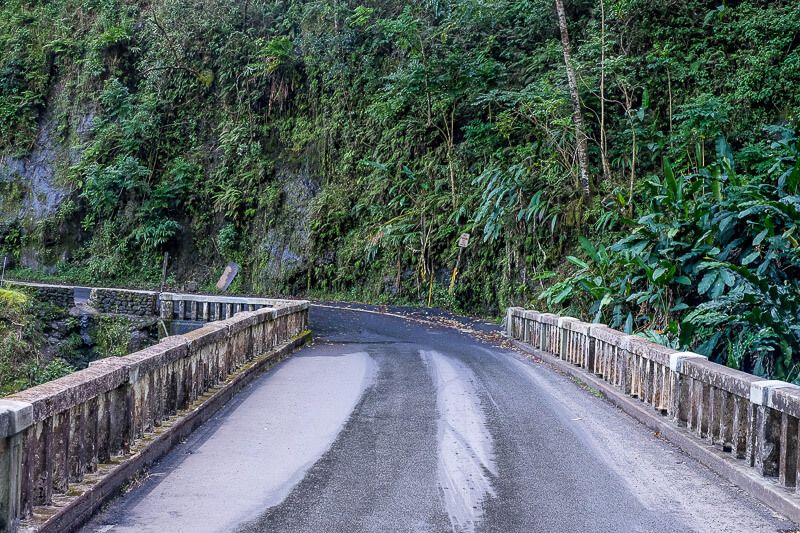 Honomanu Bay (Mile Marker 13 & 14)
At MM 13, there's a small pull-out where you'll be able to take in the beauty of this bay. But if you want a closer look, take the small, nondescript road past MM 14 to head down to the bay itself and its black sand beach.
Pi'ilanihale Heiau & Kahanu Garden (Mile Marker 31)
The main thing I wanted to see here was Pi'ilanihale Heiau – the largest temple in all of Polynesia. The temple was constructed around 1200 and all that remains is a 450ft long lava stone platform.
I would love to be able to come back and do a guided tour. These tours are only given on Saturdays (10am & 1pm) and must be reserved in advance.
Kaihalulu (Red Sand Beach)
This beach is located in Hana itself. To find it, start at the Hana Community Center and follow the coastal path to this hidden cove. A dramatic red cliff forms the backdrop of this little beach, giving the sand its ruddy color.
Koki Beach (Haneeo Road)
This beach is also located on Haneeo Road (with Hamoa Beach). But unlike Hamoa, red cliffs butt up against Koki Beach. And even though it's sand retains its tan color, I'd love to go back and lounge on Koki Beach for a couple of hours.
Wailua Falls (Mile Marker 45 – after Hana)
This waterfall is on the way to Kipahulu. If you have the time (which we didn't), stop for a moment to take in the beauty of these 100ft falls.
Pi'ilani Hwy
The backside of Hana. This is the road that takes you from Kipahulu around the southeastern corner of Maui and Haleakala, and loops you back up to 'Ulupalakua in the Upcountry.
The road is rough and narrow in parts (and may require a 4WD vehicle), but I wanted to do it badly. However, with time running short and with the low clearance of our Mazda, we decided to pass on this.
---
That's It!
Phew! That's a lot of stops! We spent two days exploring the Road to Hana, but I still feel like we rushed parts of it. I can't imagine what it would be like to try to squeeze it into one day. But if you have the time and the weather's good, I think three days would be perfect.
Where to Stay
You can camp at Wai'anapanapa State Park, but be warned that it is super rustic. That's what we did. And though it was one of the best things we did, I was begging for a shower after two days. If roughing it isn't for you, I'd try another option.
Below are some options near Hana that look fantastic (and then there's also AirBnb as well!)
Regardless, staying overnight is a definite must; things just move slower out here (that is if you aren't rushing from stop to stop).
---
Putting together this Road to Hana Guide has forced me to retrace our journey. I loved every second of this spectacular drive. It's a different side of Maui. A more rugged, rich, rainforest-y, cooler, wilder side. It's also slower here, if you let it be.
Planning your trip to Maui?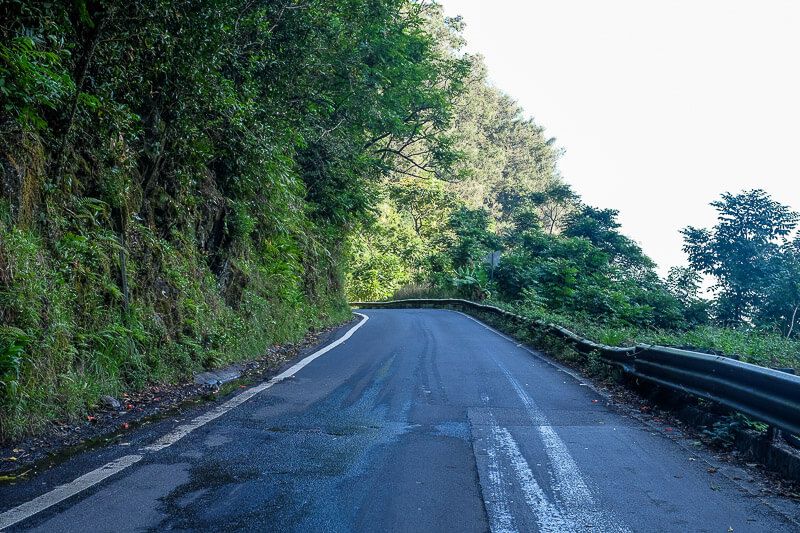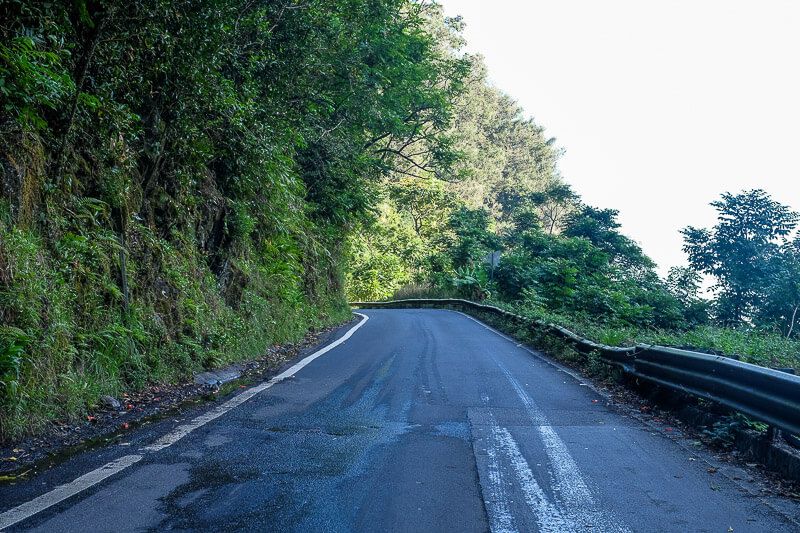 Which of the Road to Hana stops call to you?