Did you know there's a backside to Haleakala National Park? Before this trip, I thought the park was just the shield volcano itself. And though we loved exploring its desolate and beautiful summit, the park also extends down to the Kipahulu Valley. A valley rich in fresh water pools and waterfalls, it's official name is 'Ohe'o Gulch. Located at the end of the Road to Hana, we came here to hike the Pipiwai Trail to Waimoku Falls.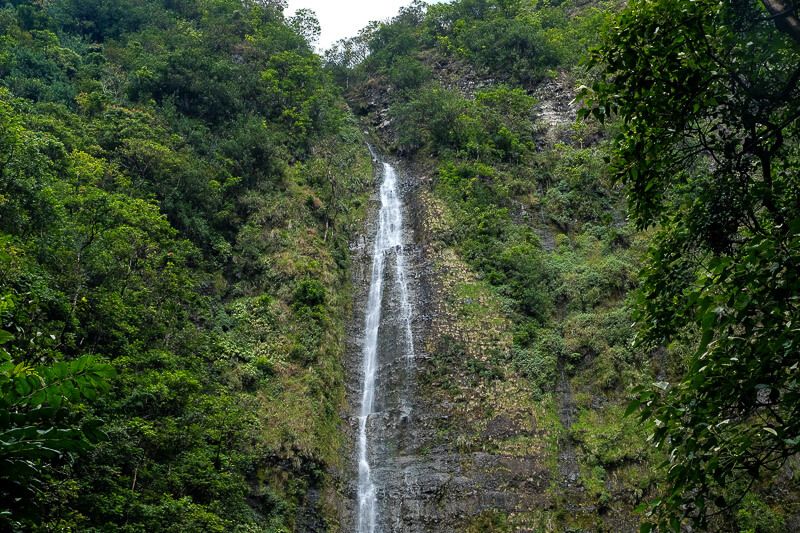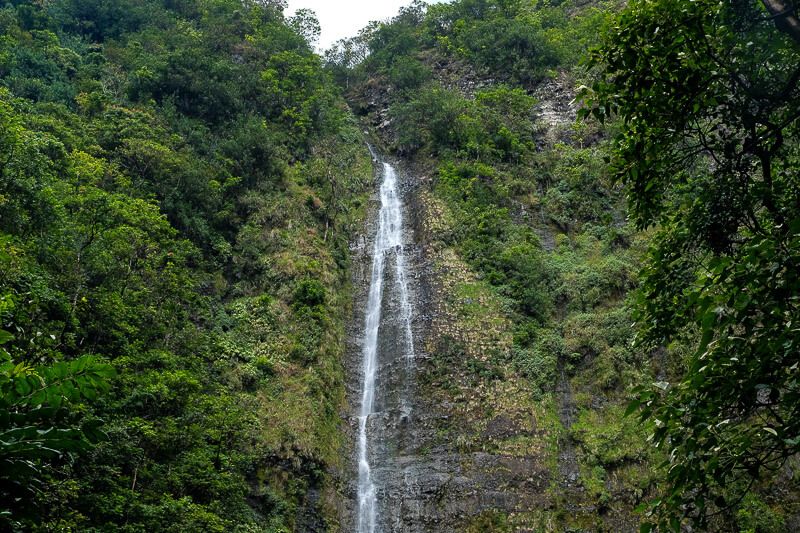 Amazingly, we got an early start that Friday morning. Our goal for the day was to drive all the way down the Road to Hana, bypassing everything else to get to Kipahulu early in the day. You see, since it's at the end of the Road to Hana (actually it's passed Hana), most people don't get to Ohe'o Gulch until late in the afternoon. We wanted to miss most of the crowds and do it first.
And we mostly stayed to our plan. Our one and only stop on our way there? At Aunt Sandy's for some homemade, delicious banana bread.
Oh that banana bread was good.
We arrived at Kipahulu before noon. We had made excellent time. And since we visited the Summit area of Haleakala National Park the day before, our 3 day pass was still good and we didn't have to pay another entrance fee. Score!
One word of note about getting here, the road gets much narrower and windier between Hana and Kipahulu. I didn't think that was possible, but it was.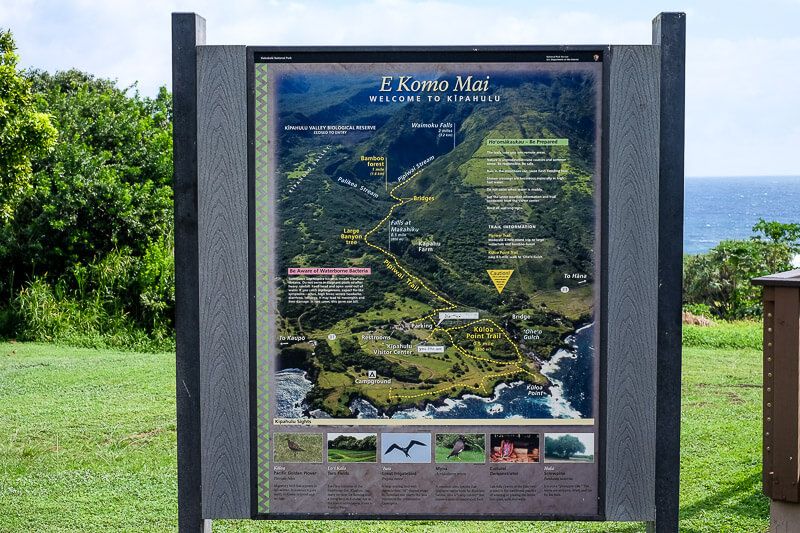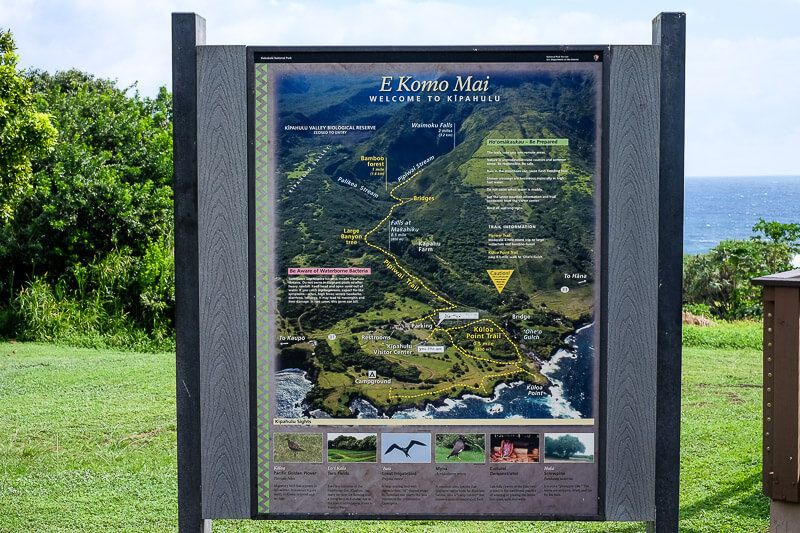 ---
Pipwai Trail to Waimoku Falls
We parked and headed for the Pipiwai Trail first. I was ready for Waimoku Falls.
The Pipiwai Trail is 2 miles each way, but the elevation change isn't that bad (or at least didn't seem that bad after the Sliding Sands Trail). The Pipiwai Trail follows a stream and you'll pass several pools, small waterfalls, and two large ones (Makahiku Falls & Waimoku Falls). And by several pools, I actually mean 24. Stretching from Waimoku Falls to the ocean, this trail will definitely satisfy your waterfall craving.
The first major site we reached was Makahiku Falls. Located only a ½ mile up Pipiwai Trail, we arrived much sooner than we thought. I was excited to see this bridal-veil waterfall…or at least I thought I was.
The waterfall had dried up!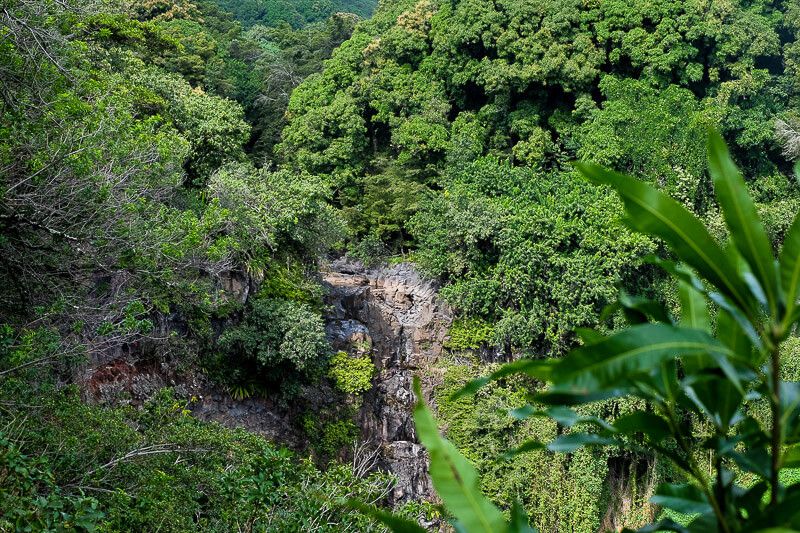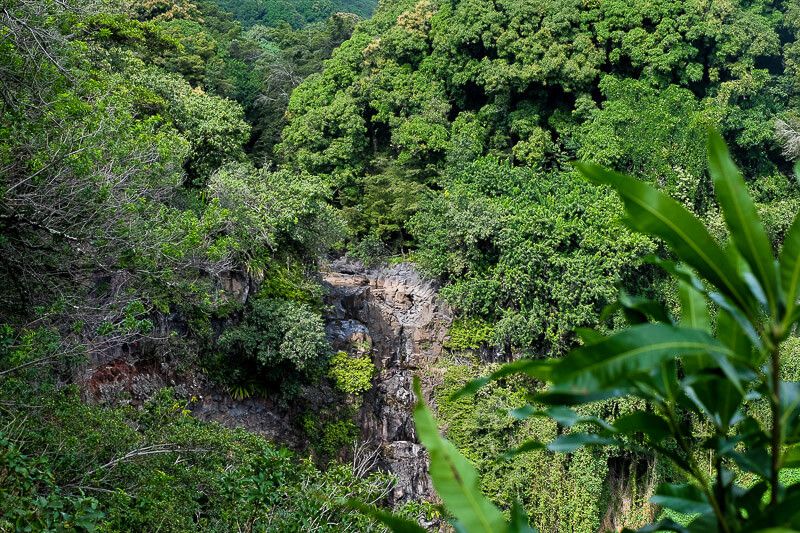 Just a lone, sad shelf of rock stared back at us from across the gorge. I tried to imagine what it would look like, water tumbling over that edge and dropping almost 200 ft to the pool below. The gorge was deep and steep, and I couldn't even see the bottom of it. I closed my eyes and pictured the photos I had seen from our Lonely Planet guidebook.
(We later learned that it hadn't rained in awhile, and all of the waterfalls were much smaller than normal.)
Determined to continue on to Waimoku Falls (and hope it too wasn't dried up), we powered on.
It was intriguing that we passed through a gate on our way to Waimoku Falls, but later we found out the reason for the fence. Basically it comes down to the fact that Maui doesn't have any native land mammals. And that certain ones that were brought in, like goats (which are everywhere), are especially harmful to the native wildlife. So Hawaii is trying to fence in all of the parks to keep these pests out.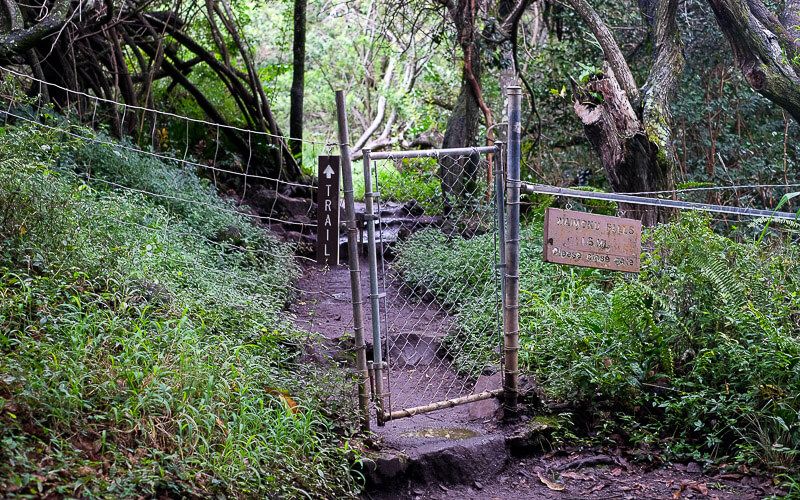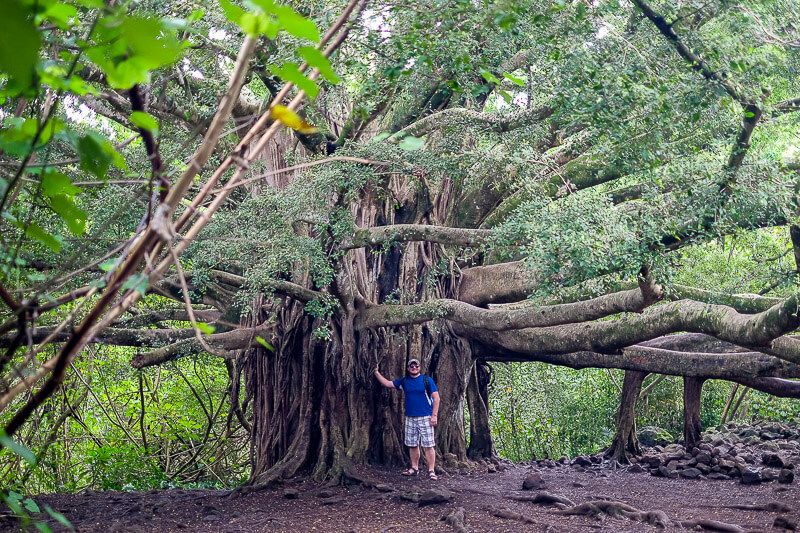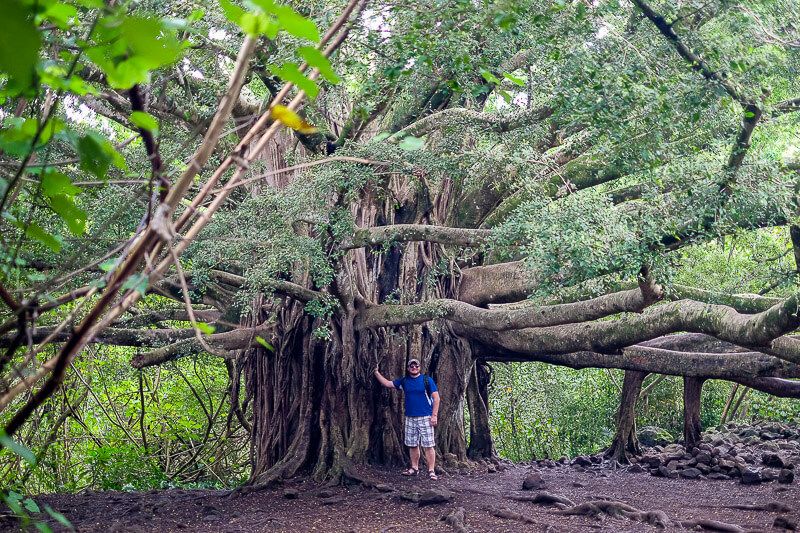 Next we came across a large Banyan tree (though not as big as the one in Lahaina). These trees astound me. I've never seen anything like them. A Banyan tree will continually grow new trunks that shoot down from it's low hanging branches. While this one only had a couple, the one in Lahaina has more than 16 trunks!
It's almost an acre in size!
After that, we passed some more of the freshwater pools and waterfalls along the trail. Most were located down a steep bank or rock. And to try to discourage would-be swimmers, signs were posted by each one reminding folks that people have died trying to swim in these pools.
Kind of grisly, but definitely enough to discourage me.
At about the one mile mark, we entered the bamboo forest and basically stayed in it till the end. The bamboo forest was one of my favorite parts. The stalks themselves reach high overhead, covering the entire trail in shade. Sometimes the bamboo tops on either side of the trail crossed, creating a makeshift bamboo tunnel.
And other than the soft trickle of the stream, things just seemed quieter under the bamboo. That is until I started to wonder if we would ever reach Waimoku Falls. One guy coming the other way said it was only 10 minutes farther. And 20 minutes later, we still weren't there.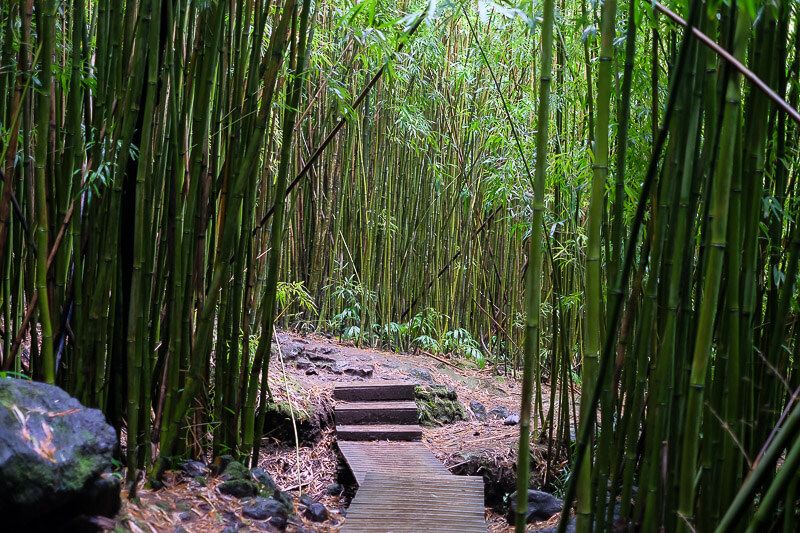 But finally, through a break in the foliage, I got my first view of Waimoku Falls and my breath caught.
Dropping 400 ft, Waimoku falls is a thin, almost delicate looking waterfall. It tumbles around a corner at the top before plummeting down a very sheer cliff face to a small pool below. Due to the lack of rainfall, it seemed soft and light.
I debated briefly about getting a closer look. There are many signs around the trail indicating that we should not venture further since flash floods and falling rocks have killed those who have gotten too close. (Again, kind of grisly.)
In the end though, I decided I was happy to just sit back and enjoy the view. Plus I knew we couldn't linger here long; it had taken us much longer than we thought it would to reach the falls. But many others did clamber around the sign to get a closer look and to play in its waters.
As we were leaving, I couldn't help but keep turning around to look back at Waimoku Falls. I couldn't get enough of its graceful descent.
---
Kuloa Point Trail
After the long walk back (and a quick look at our watches), we decided to take a stroll along the easy ½ mile loop Kuloa Point Trail. This trail circles around the lower freshwater pools and gives you a glimpse of what Kipahulu has to offer if you don't have time for the Pipiwai Trail.
After a quick walk down the trail, we arrived at the coast where Ohe'o Gulch meets the ocean.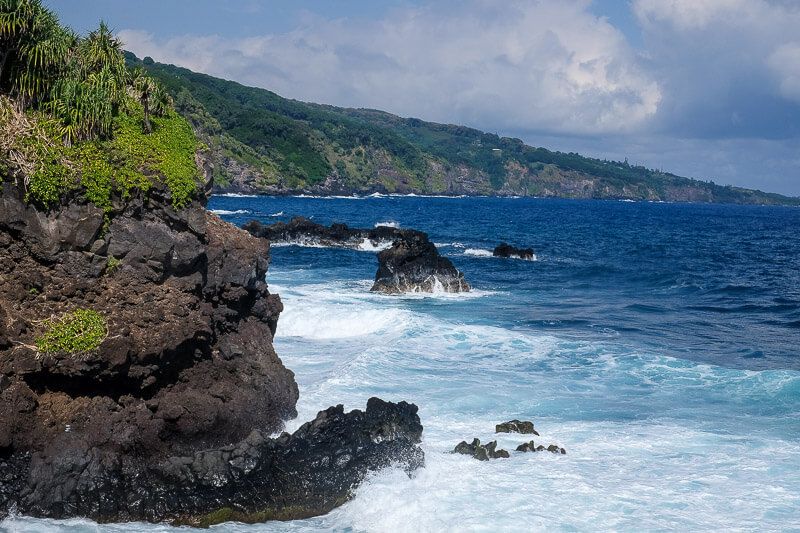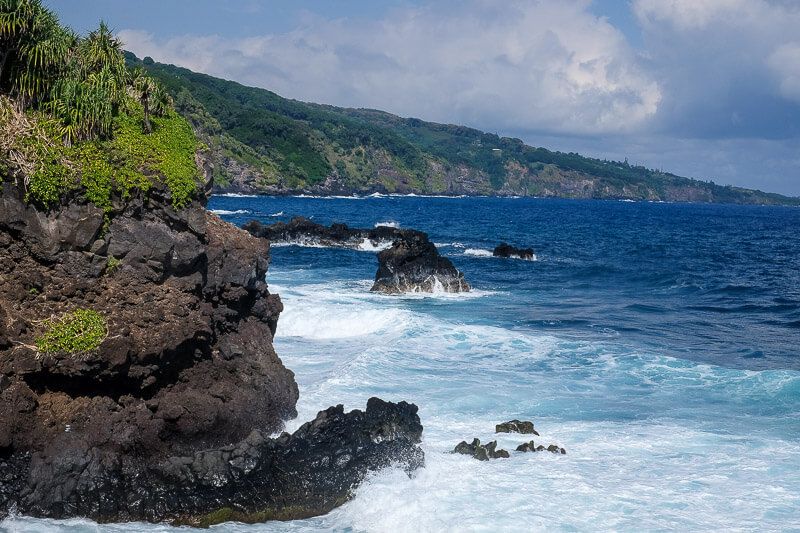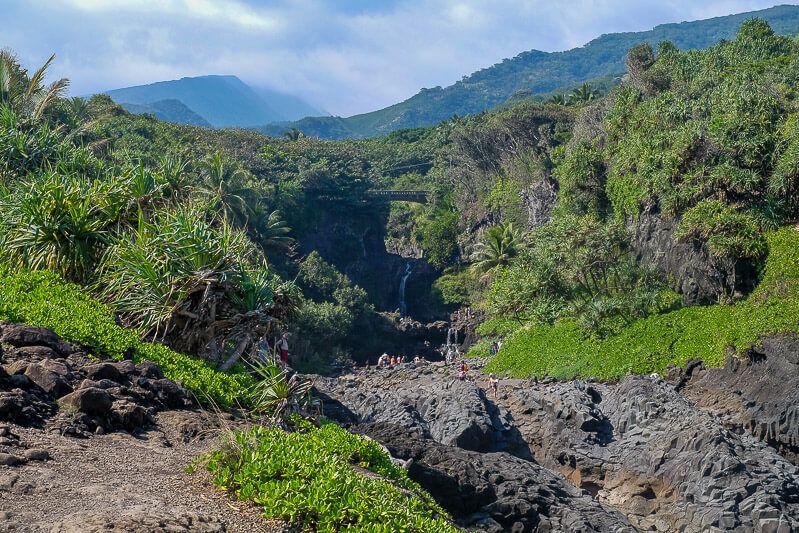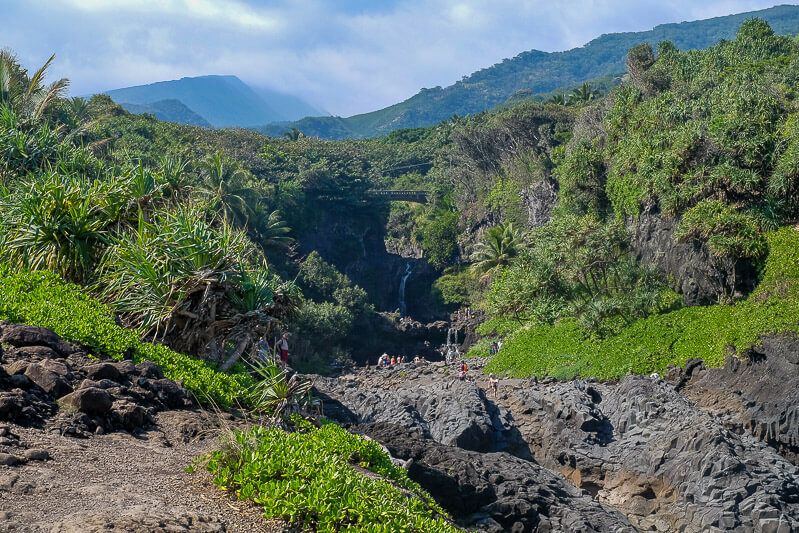 The sea was incredibly blue that day, but our eyes were immediately drawn to the last pool. I had thought that the pools were closed to swimming, but here were dozens of couples and families frolicking in the water.
You didn't have to tell me twice! I quickly dumped my bag and jumped into the water. COLD! I gasped as I popped my head up. Goosebumps immediately appeared on my skin. And it was then I noticed that most people weren't actually in the water. They were sitting on the edge or squatting by the small waterfall.
Steeling myself, I swam to the other side of the pool and back before I pulled my body out of its frigid waters. Ryan (aka the human seal) stayed in for a couple of more laps. After drying ourselves off in the sun, we finally admitted it was time to go.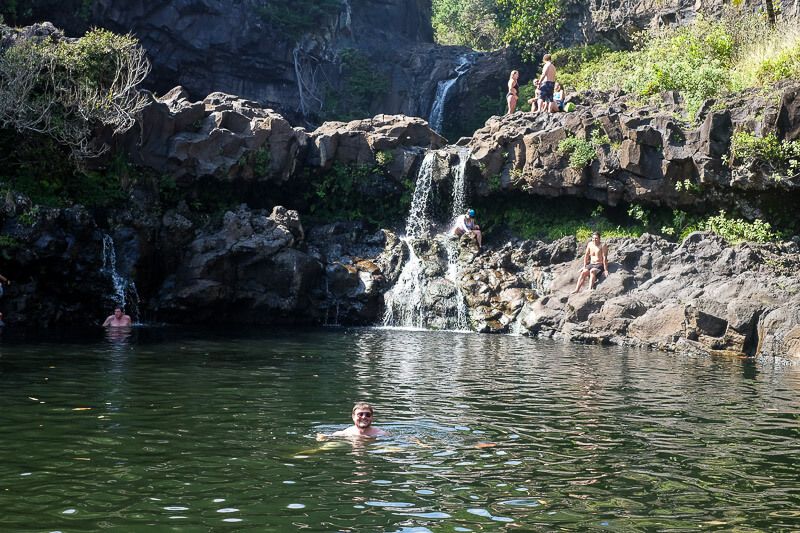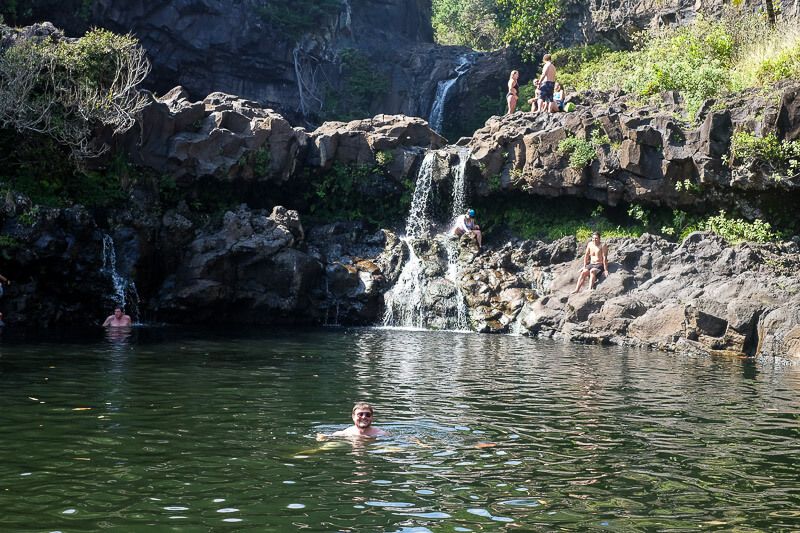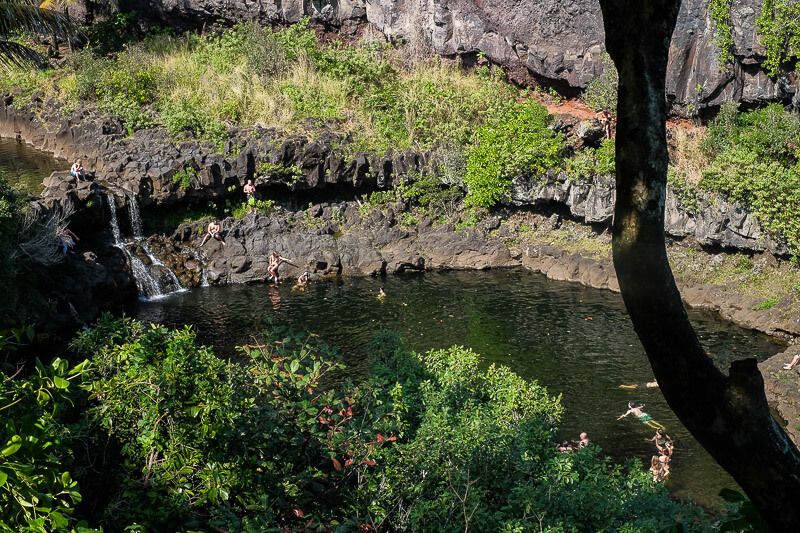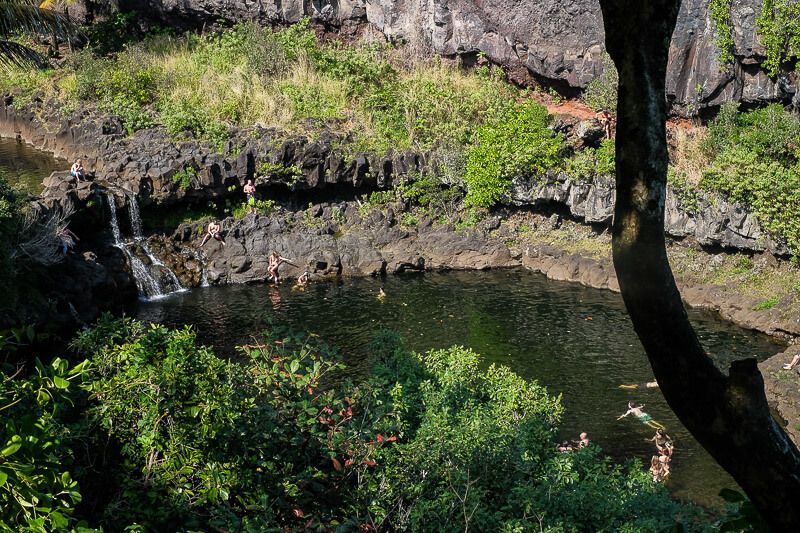 Our time at Kipahulu was one of my favorite stops along the Road to Hana. We ended up spending over 4 hours at the park between hiking to Waimoku Falls and swimming in the lower pools. But I couldn't have been more happier with our plan that day. We totally made the right decision to head there first (and probably beat a lot of the late afternoon crowds doing so).
Haleakala, you continue to astound me.
---
What Should You Bring?
Haleakala Day Pass. If you visit the Summit area of Haleakala National Park first (like we did), your park pass is good for 3 days (including the day you get it). And it works for both areas of the park – the Summit and Kipahulu. If you do both areas within 3 days of each other, definitely hold onto your pass. (The price of the pass? For a private vehicle expect to pay $20.)
Good Walking Shoes. The trail to Waimoku Falls is wet and muddy. We also knew we might be crossing some streams. Instead of wearing my Merrell hiking boots, I decided to go for my Keen athletic sandals. There were times I wish I had my boots, but my sandals made swimming in the lower pools a breeze on my feet. Just make sure you're wearing closed toed shoes for the Pipiwai Trail.
Bug spray. The mosquitos along the Pipiwai Trail can be ruthless. Definitely don't forget some bug spray.
Sunscreen. While the hike to Waimoku Falls is covered for the most part, the Kuloa Point Trail isn't. Don't forget your sunscreen.
Water. Waimoku Falls is 2 miles away from the Visitor Center. That's a 4 mile hike. Plus it's muggy, hot, and humid at times. Definitely bring along some water. I suggest a reusable water bottle like my Camelbak. Maybe even two if you tend to drink a lot when you exercise.
Snacks. They don't sell any food within the park. So make sure you bring your own if you're there for a couple of hours. I recommend a loaf of banana bread.
How far would you hike to see a waterfall?
Planning your trip to Maui?