There were so many things that I had to do when we were in Maui. Like I needed to see a sea turtle. And I just had to make my Blue Crush dreams a reality and go surfing. But then there was Haleakala. Standing over us, the mountain beckoned to me for first half of our trip. But finally, on the fifth morning, its time had come. We were going to hike Haleakala's Sliding Sands Trail.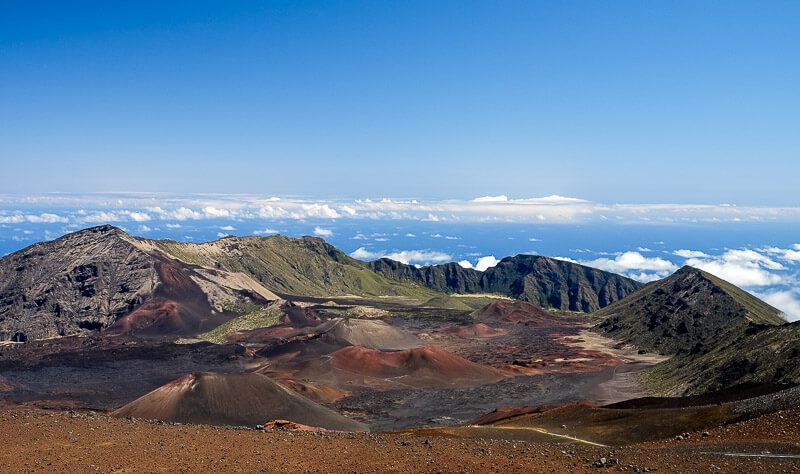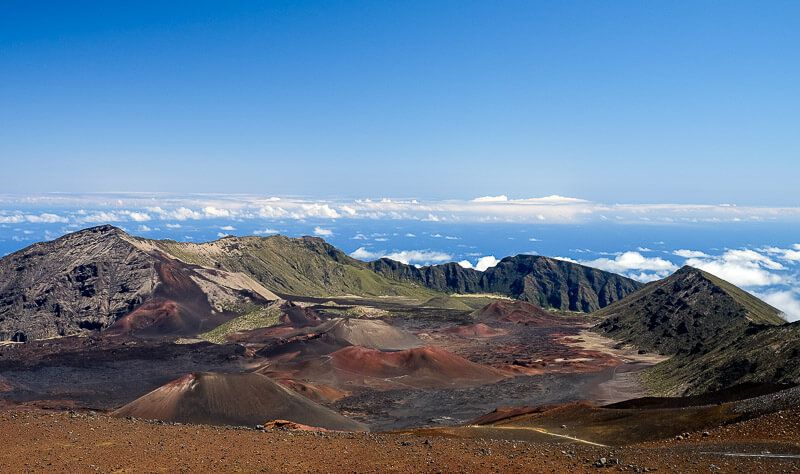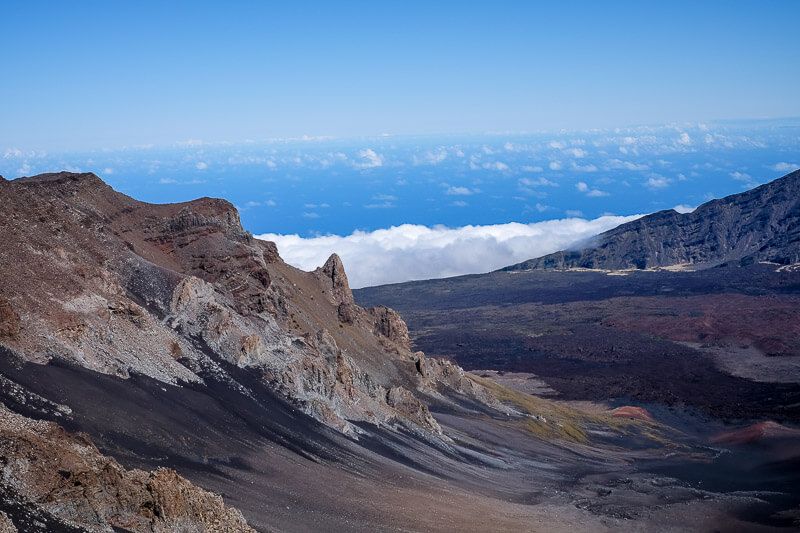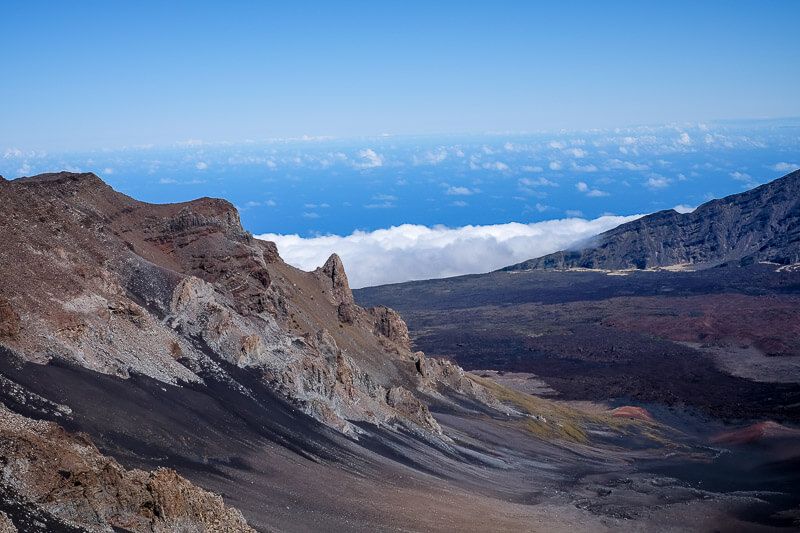 I will start this post off with a caveat though. Most people come to Haleakalā National Park (the Summit Area), to watch the sunrise. It's considered, by many, to be the thing to do in Maui. Our Lonely Planet guidebook listed it as the top highlight – beating out all others.
But just the thought of waking up at 3am to drive to the summit and then wait in the freezing cold for the sun, just didn't appeal to me. It was the easiest thing to cross off the list.
Mainly because I didn't just want to see Haleakala, I wanted to hike it.
And I knew that if I woke up at 3am to watch the sunrise, I would not be able to handle the Sliding Sands Trail.
This is one tough trail.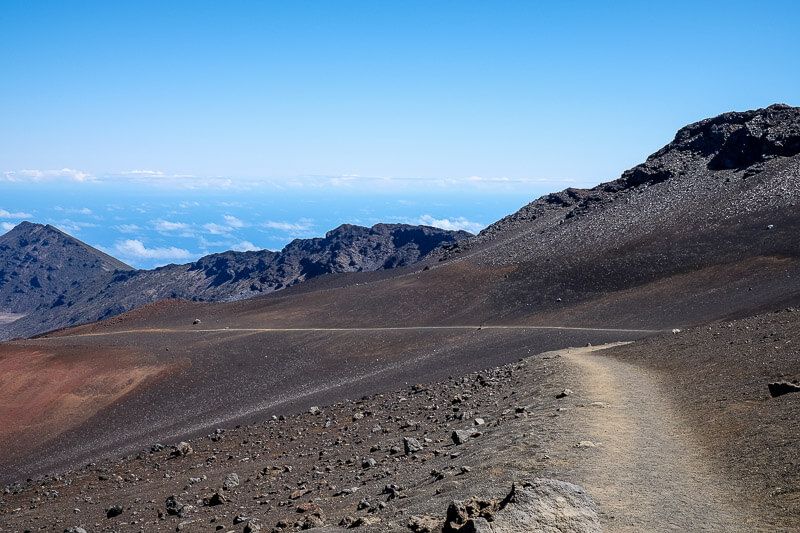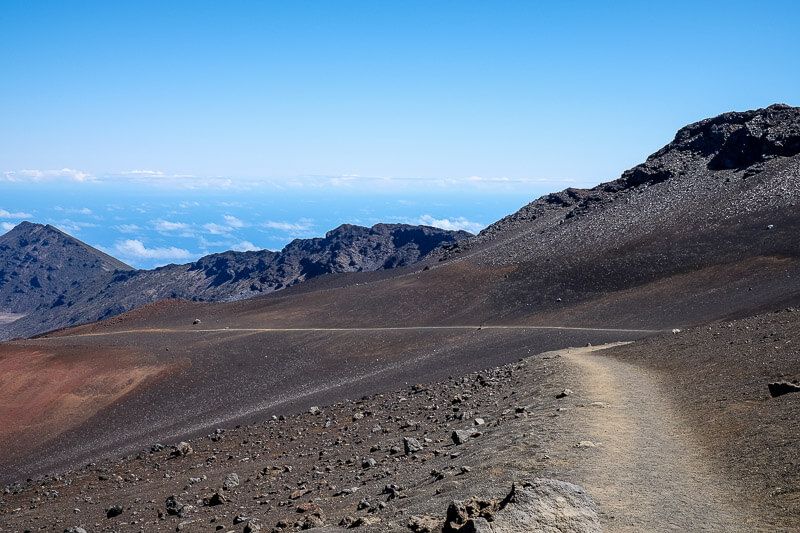 We were supposed to wake up early for our hiking day…but I just couldn't do it. When our alarm went off at 6:30am, I smacked it back asleep. Another hour or so wouldn't hurt. And so by the time we left Pa'ia, ate some breakfast, and reached the top of the summit, it was about noon.
And don't trust Google on this one. The roads are steep and curvy. And by the time you reach the entrance to the park, you still have at least 30 minutes of driving until you reach the summit.
Now I had read it was cold at the summit. You will read that it's cold at the summit. I had heard tons of stories of people shivering in cars because they didn't pack warm enough clothes.
I vowed not to be one of those people. I had come prepared with multiple layers. But when I stepped out of the car and that wind hit me, I was shocked.
It was cold.
By the time we were hiking the Sliding Sands Trail, I was wearing thick athletic leggings, hiking socks, hiking shoes, two long sleeved hoodies (one light weight and another much thicker), and a neck warmer.
Come prepared you guys – come prepared.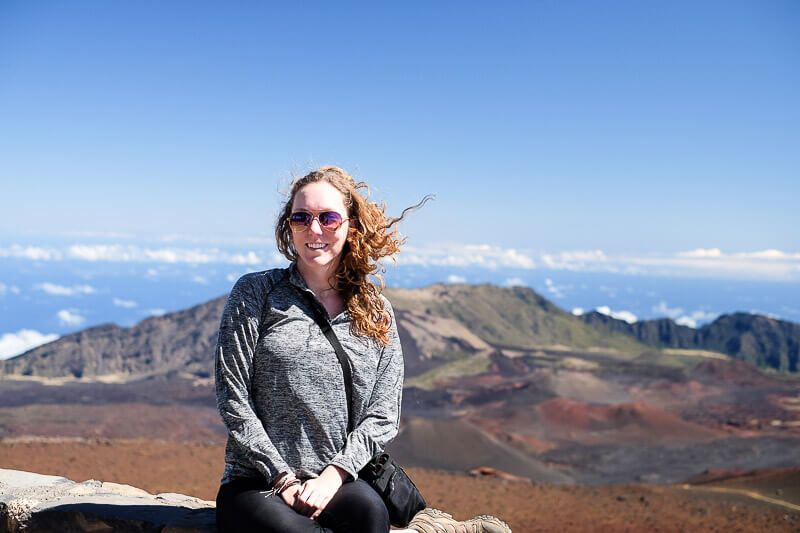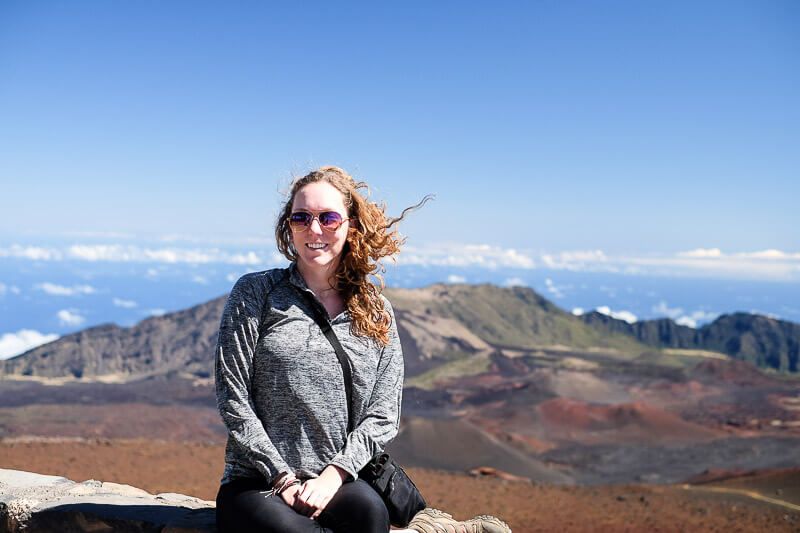 We started at the Pu'u'ula'ula Overlook. It's the highest point you can go to, and it offers a 360 degree view. The building at the top has wrap around windows which makes it the spot to come to if you want to watch the sunrise. (Especially since it gets you out of the wind.)
But the view that day was spectacular. The crater itself was an array of colors: red, green, brown, gray, yellow, and orange. Cinder cones from past eruptions sprouted like small pyramids in its center. Each one a different color, a slightly different shape. And the largest rising several stories high. Though they didn't seem that big from the top.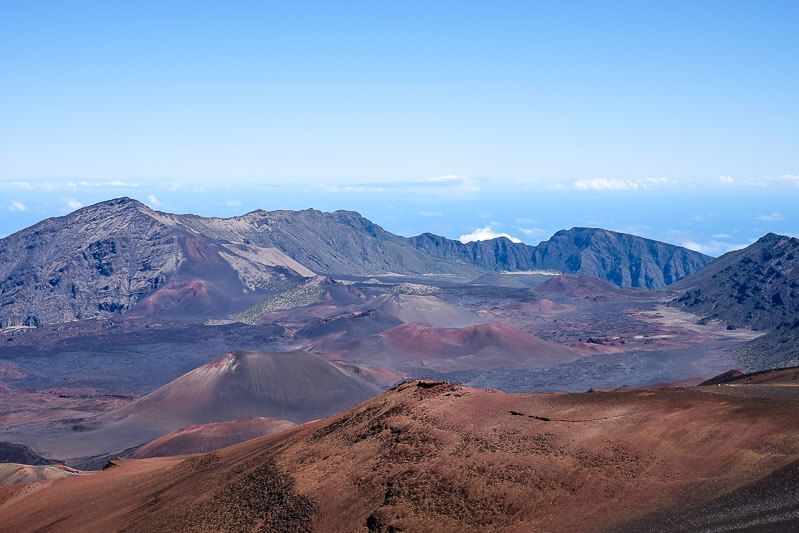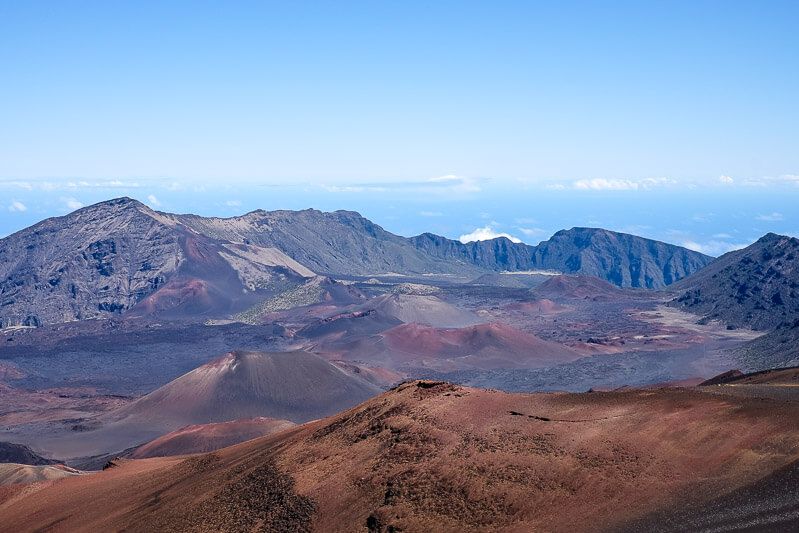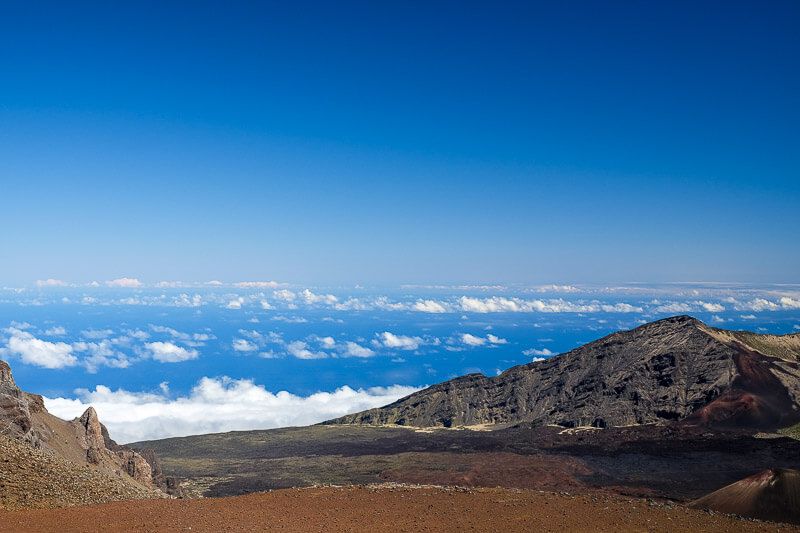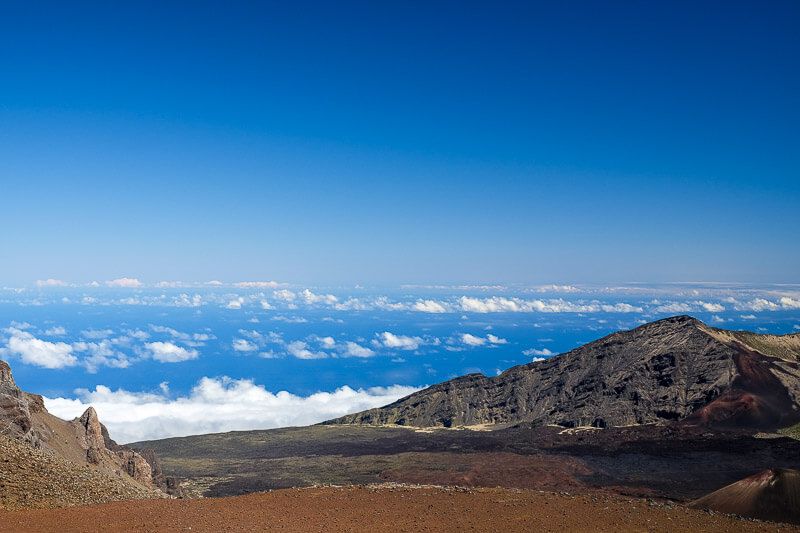 It was so beautiful and so vast.
Seeing pictures of Haleakala doesn't really do it justice. The crater is HUGE. Standing there and looking out towards the other rim, it was hard to imagine that almost 8 miles separated us. (It's also almost 2.5 miles wide.)
And the crater floor itself? Almost 3,000 ft below us.
The other really cool thing about the Pu'u'ula'ula Overlook? On a clear day you can see Mauna Kea and Mauna Loa in the distance…on the Big Island! Standing at over 13,500 ft each, they top Haleakala by over 3,000 ft.
Their rounded peaks rise above the clouds and the haze, standing out against the blue of the skyline.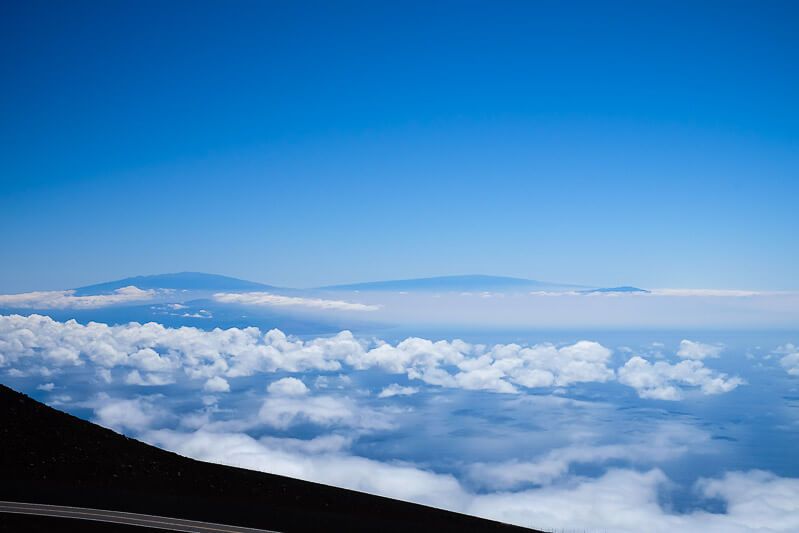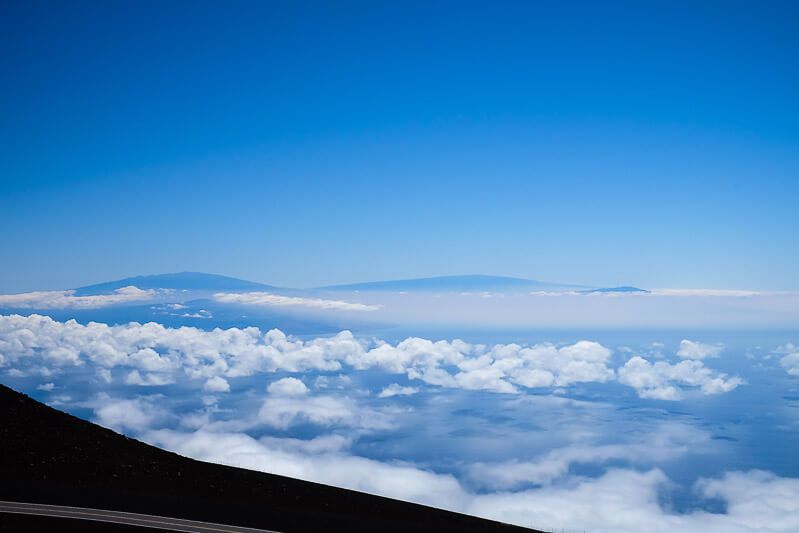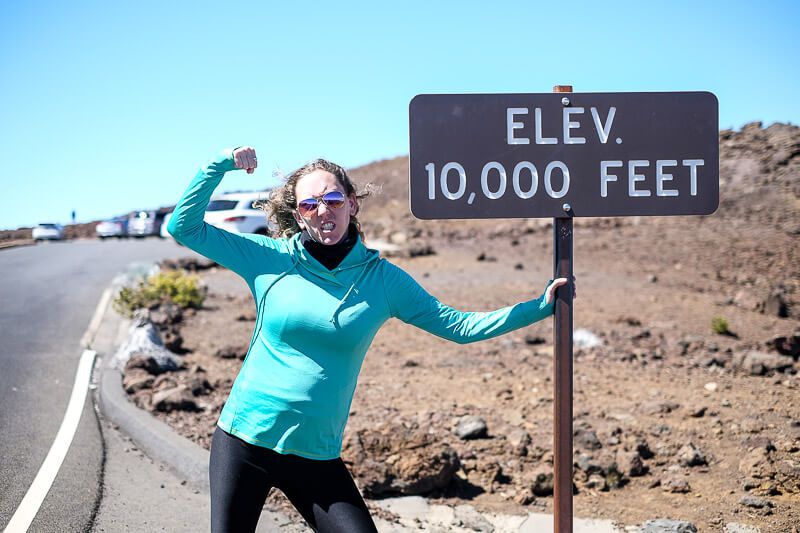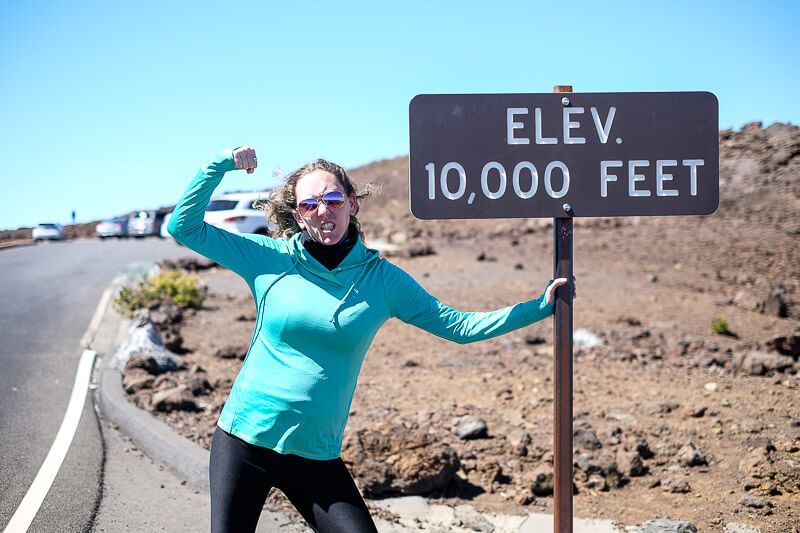 After taking in the view, we headed back to the Visitor Center – the main viewing point for the crater, and the starting point for the Keonehe'ehe'e or the Sliding Sands Trail.
The trail starts at the back of the parking lot and loops around the White Hill before heading down. One of the best views of Haleakala is only a short distance down the trail. You'll hit a wide viewpoint after only 10 minutes. From here, you can see the entire crater including a great view of Ko'olau Gap on the north side of the crater. We could see the clouds forming just beyond the gap, readying themselves to spill up and over the crater floor.
And below you, the Sliding Sands Trail continues on, snaking along a wide curve before dipping out of sight.
To be inside the crater itself was other wordly. I've heard this expression before, but I can't help but admit it's right. Hiking down the Sliding Sands Trail felt like I was traversing across the Moon's surface. Or maybe even Mars. The reds and oranges of the hills and cinder cones were astounding.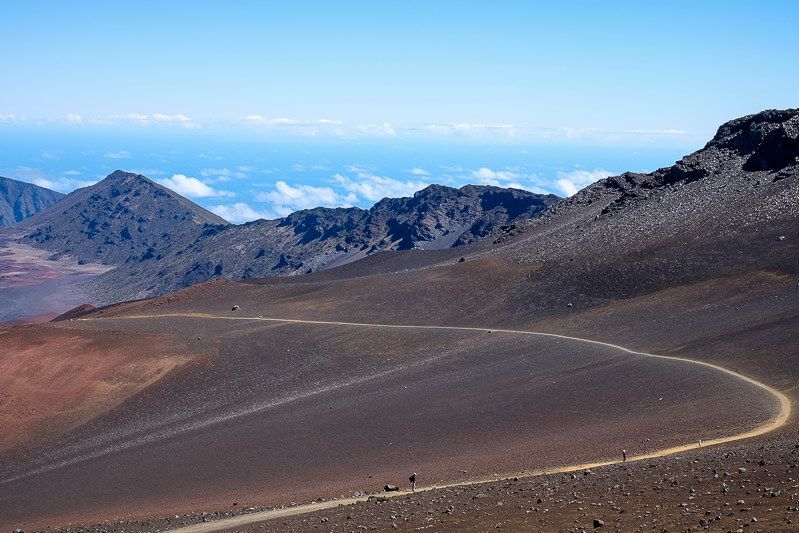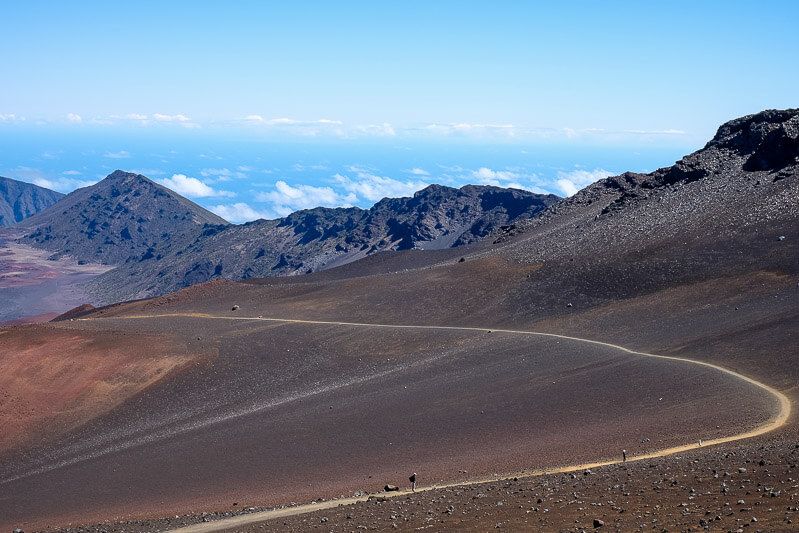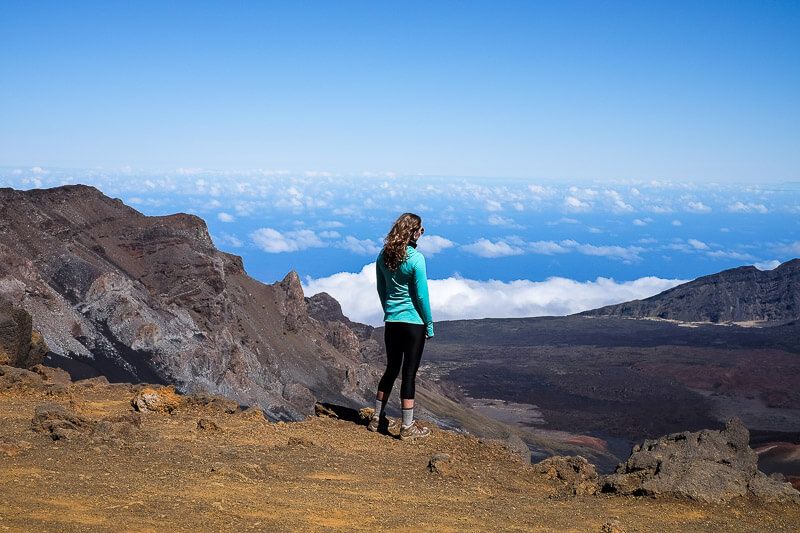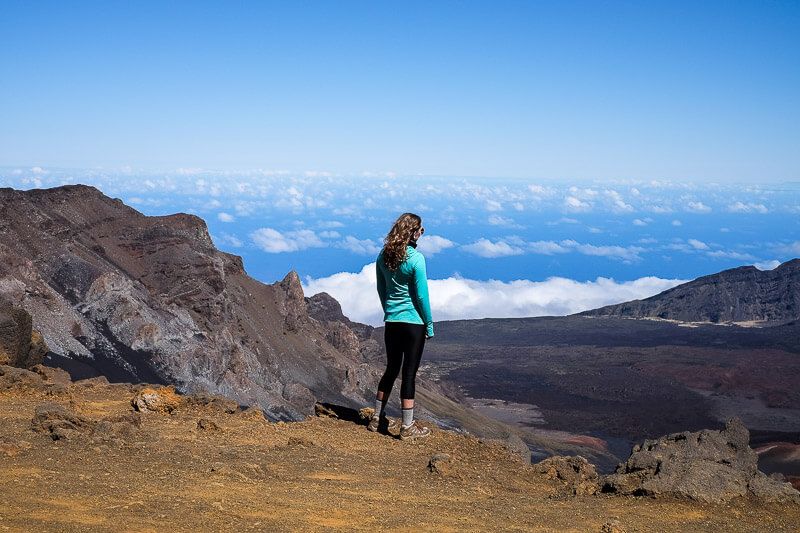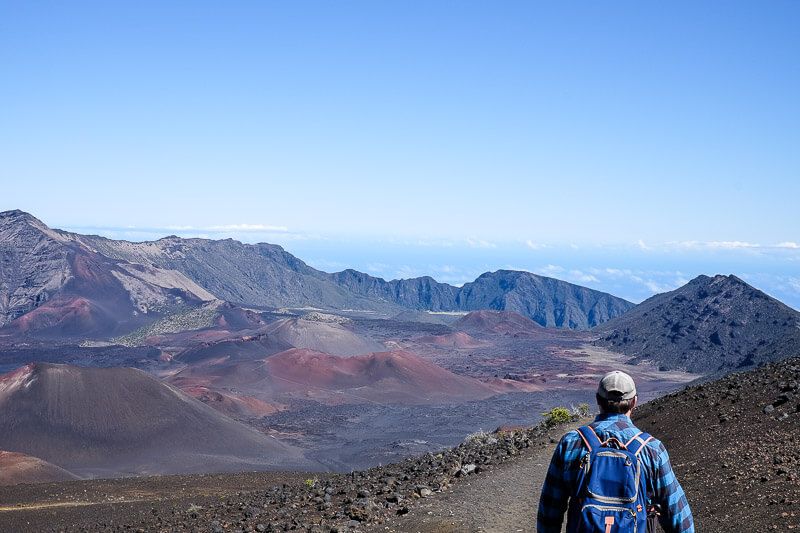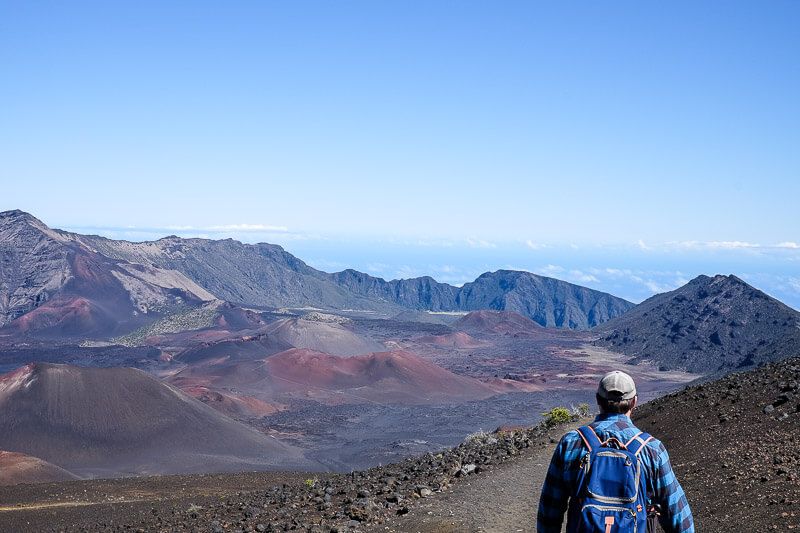 Only a few plants dare to try to survive at this elevation and in such a foreign environment. Though the farther we walked, the more we saw. But even then, I was shocked that anything could live in such a harsh land.
And the most spectacular of these plants? The silversword. A beautiful silvery green plant that literally shimmers in the sunlight was breathtaking. And these poor plants are endangered, though a concerted effort has brought them back from the brink of extinction.
Just try not to stand too close to these shimmering plants, their roots are very shallow and stepping too close to the plant can crush and damage them.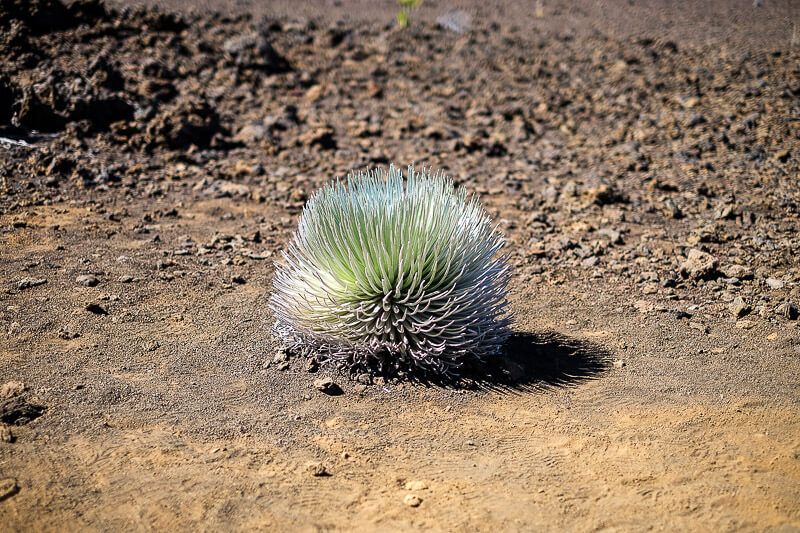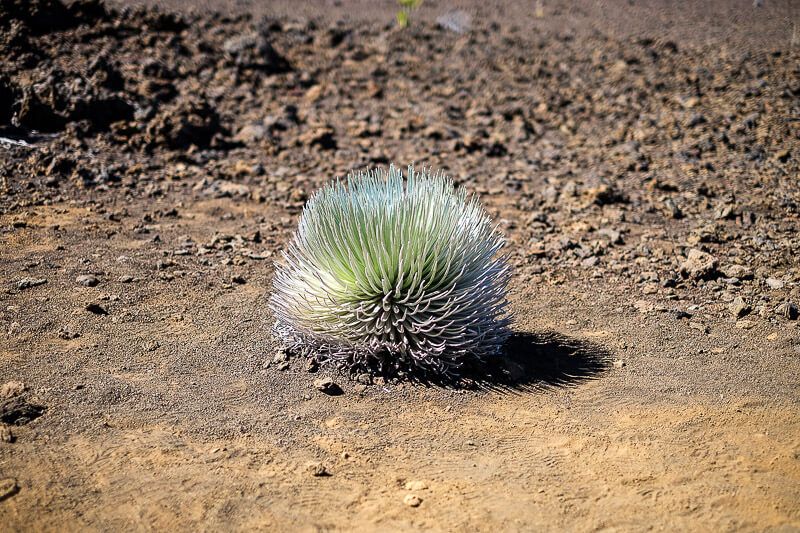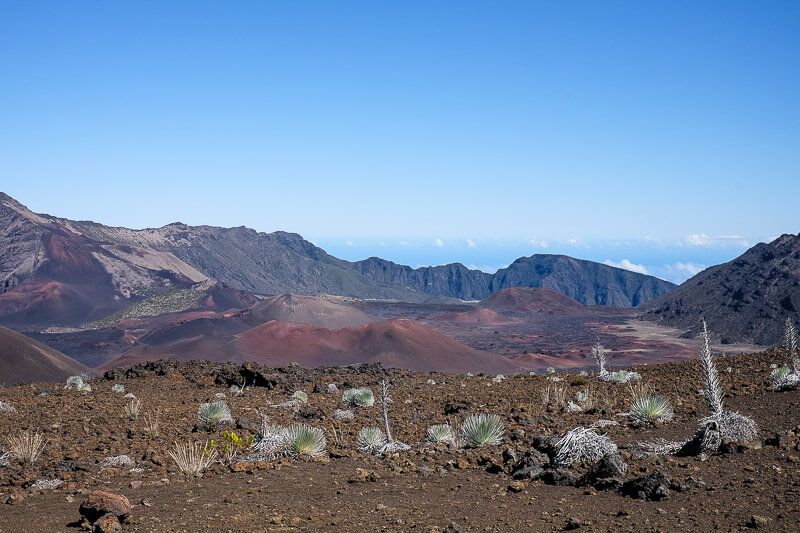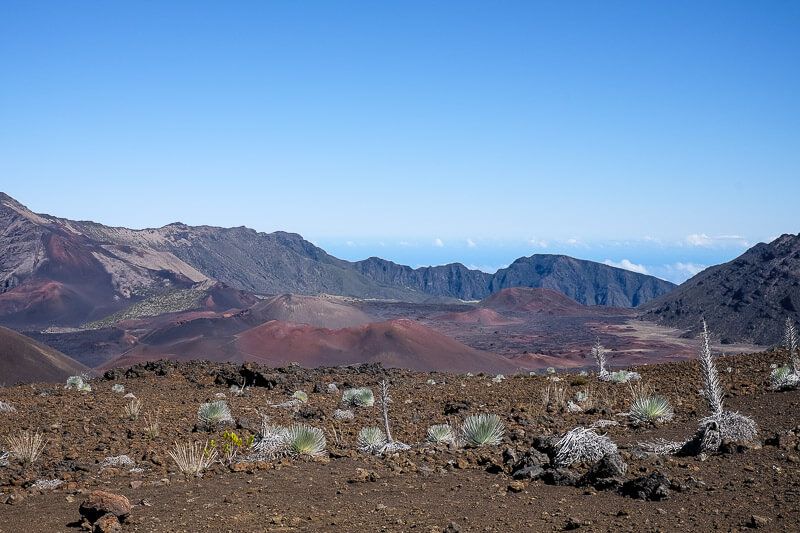 We made our way slowly down the Sliding Sands Trail, stopping often to just sit back and enjoy the view. About 2 miles down we passed the two towering rock structures Lonely Planet suggested we turn around at.
At this point we had hiked 2 miles straight down and dropped 1,500 feet in elevation. But we were still nowhere near the crater floor.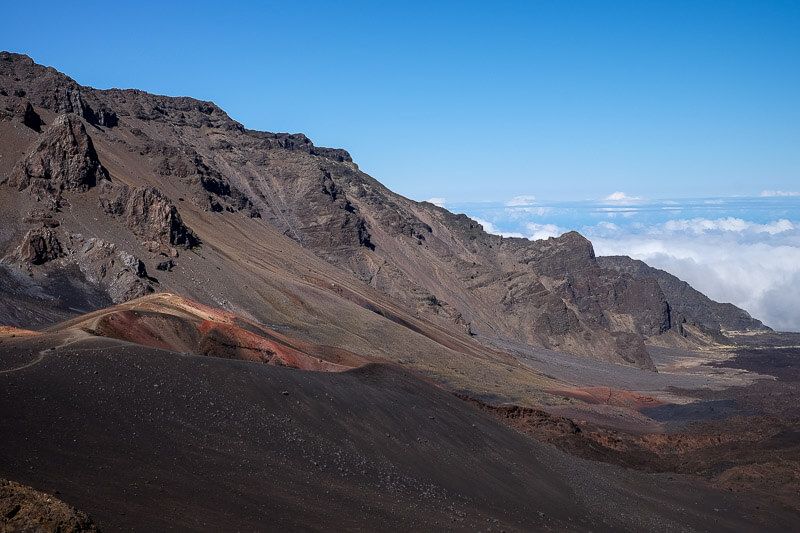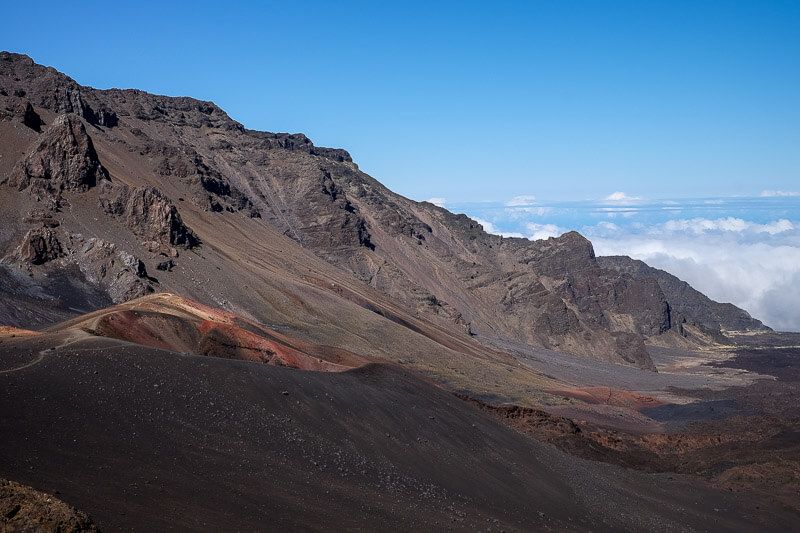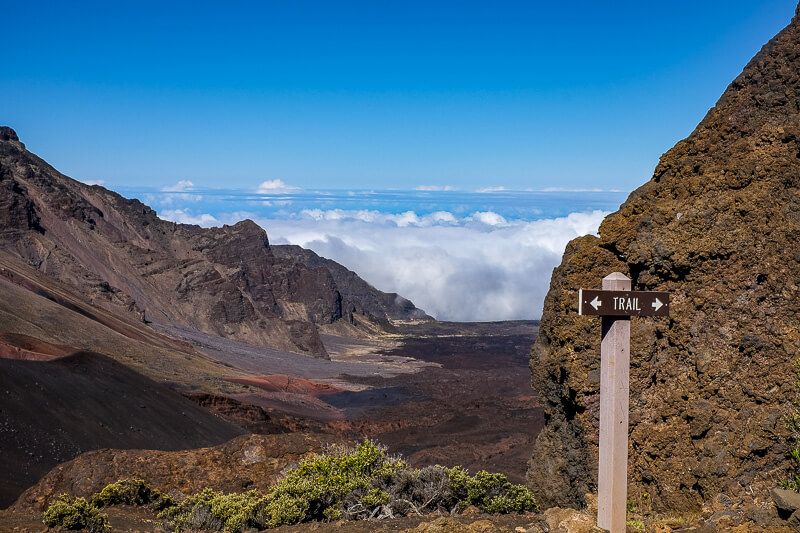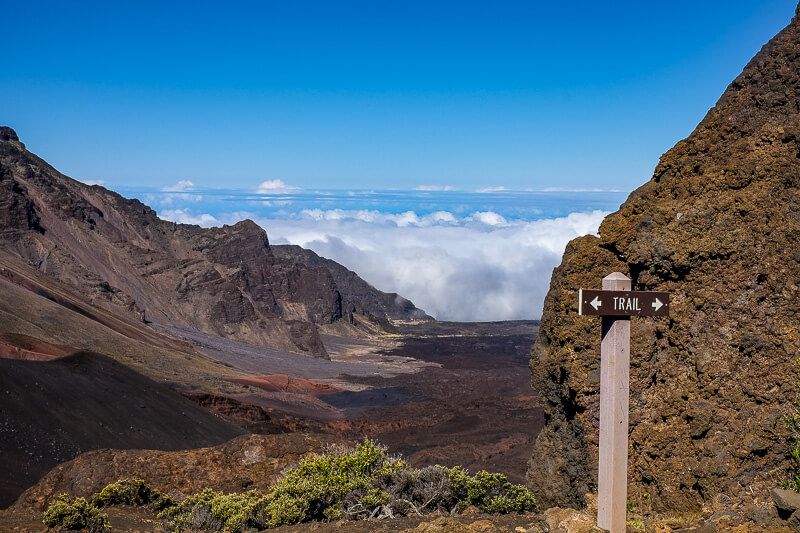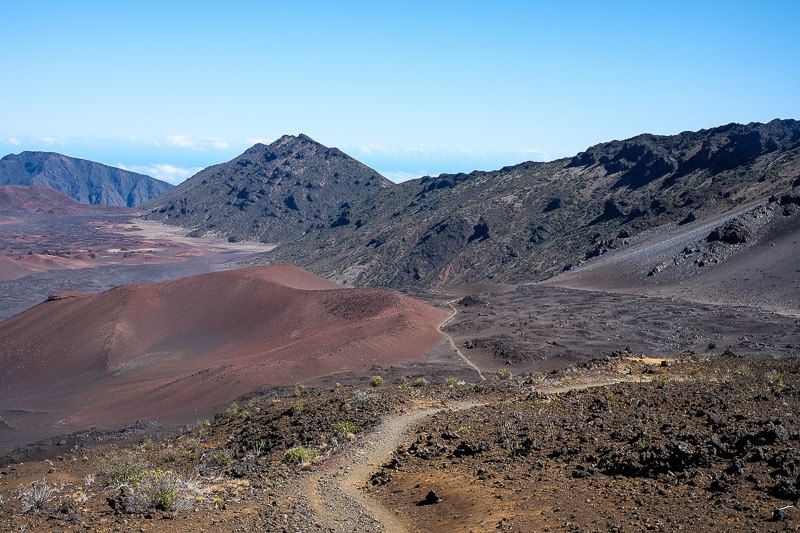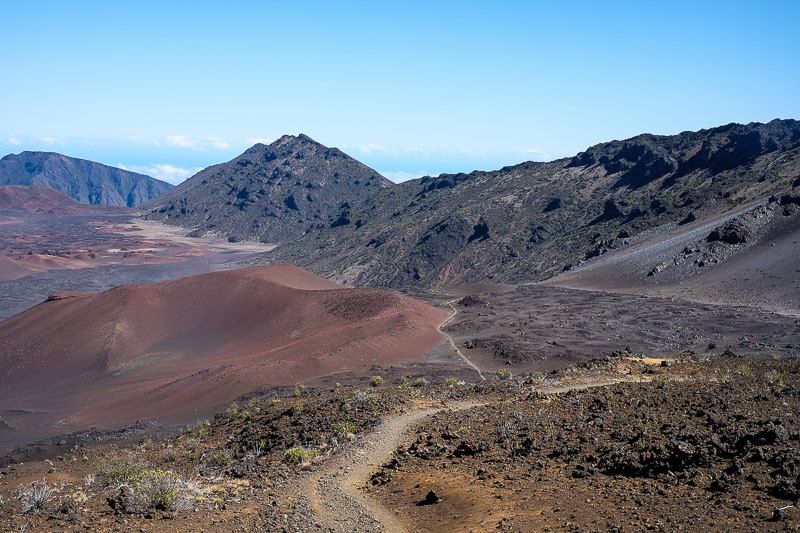 We stopped and refueled here. I was ready to head back, but Ryan peered further down the Sliding Sands Trail. He swore he could see the "crater floor" just a little bit further. And so we hiked another ½ a mile down.
That last half mile was steep. Probably one of the steepest. But afterwards it did level off. So much so that we told ourselves that yes, we had made it to what we would call the bottom.
After a quick photo session to mark our accomplishment, we turned around and headed up.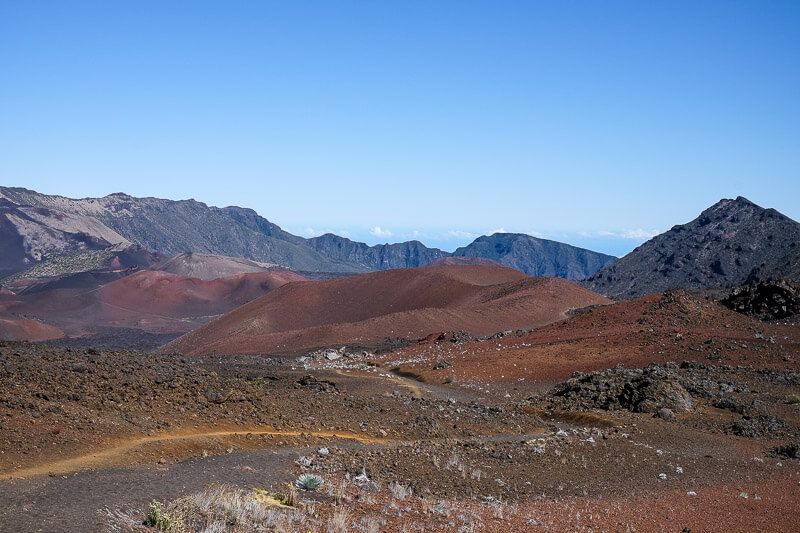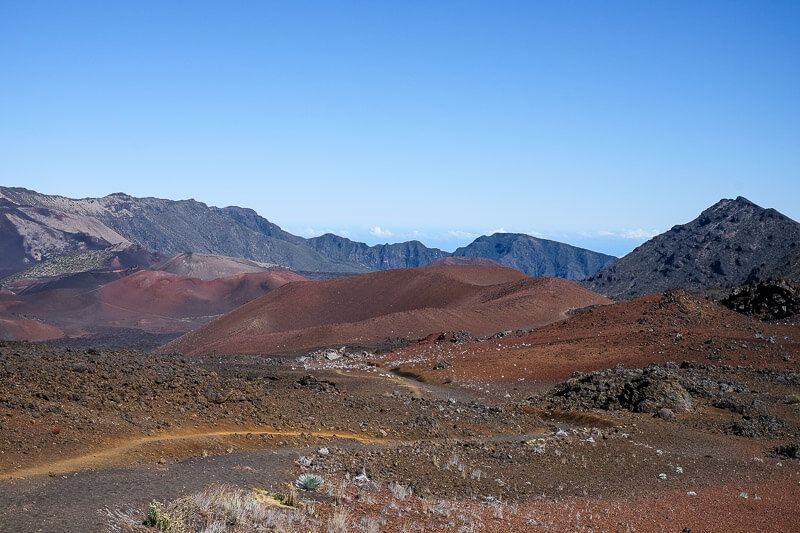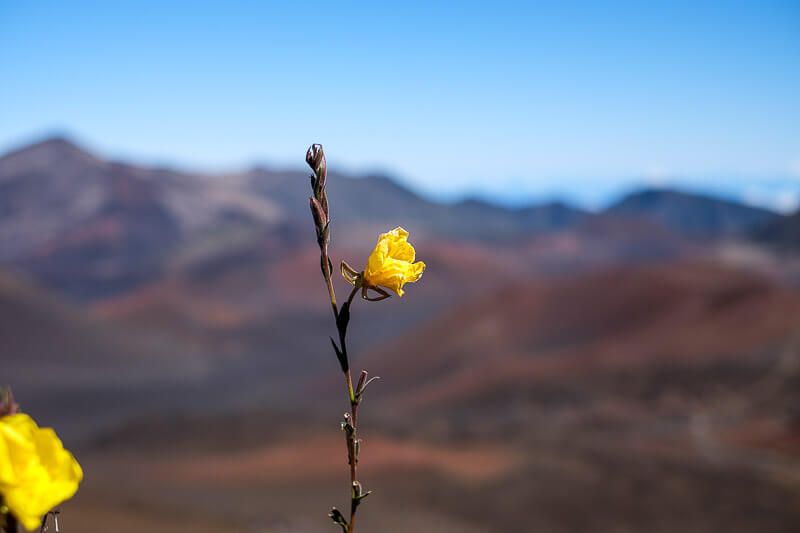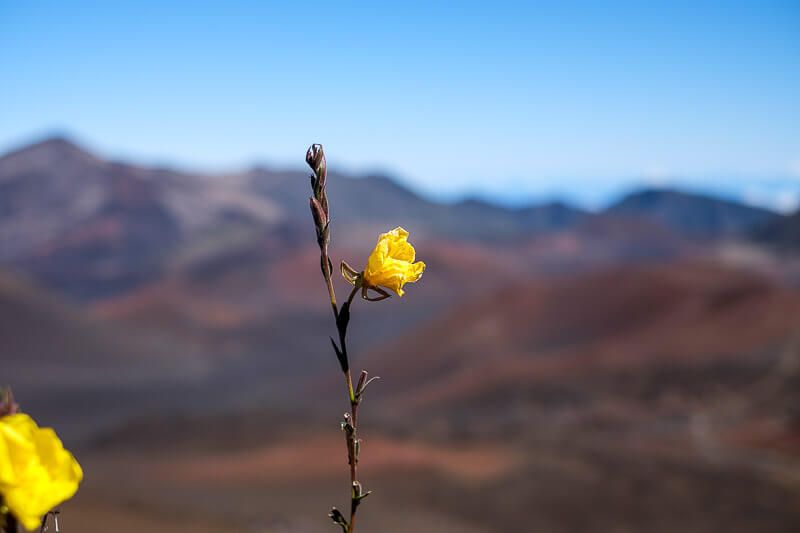 It took only 5 steps for me to realize this was going to be a lot harder. The visitor center was 2.5 miles away and, after it was all said and done, it would take us nearly 2 hours to reach the top. But the distance and the elevation change wasn't the main problem.
It was the elevation itself.
Hiking at almost 10,000 ft is hard. Like really hard. It makes it hard to breathe, to catch your breath. I started panting immediately, and I didn't stop until we reached the top.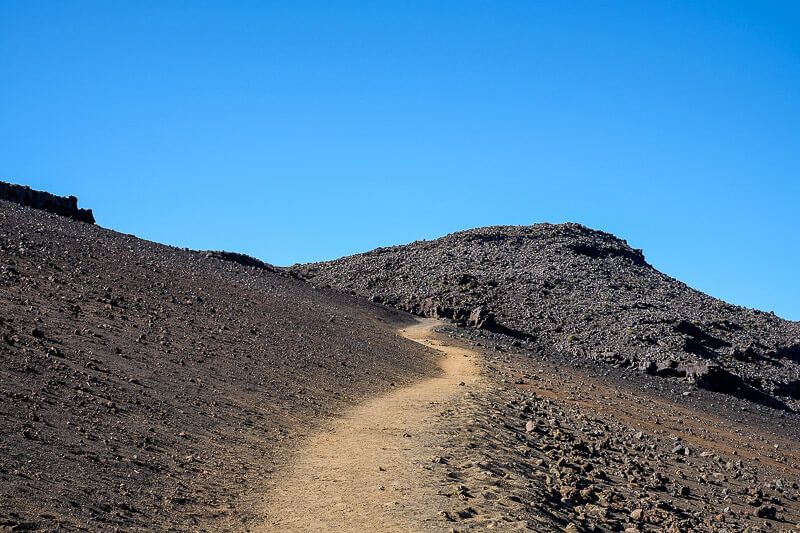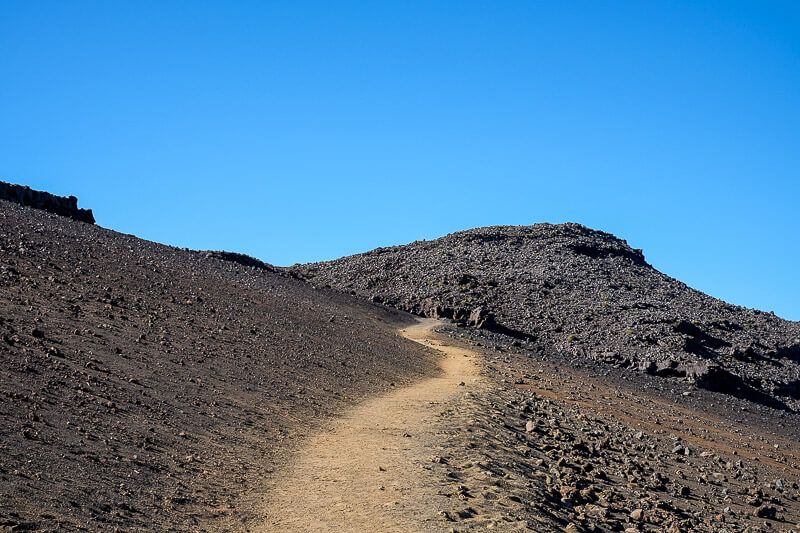 And though the Sliding Sands Trail didn't seem that steep coming down, it was steep. Very steep. Every step going up was more of a stair than a step. And climbing a 2.5 mile long staircase is hard. And when you can't catch your breath, it's even harder. Ryan even felt faint near the end and had trouble breathing.
It was that steep and that high.
Sweat poured off of me. I was both hot from my exertion and cold from the wind. The air was dry and dusty, and somehow I hadn't noticed this on the way down. But now my mouth was constantly parched. Sand kept blowing into my eyes and sticking to the sweat on my face. And the trail was steep.
Have I mentioned that yet?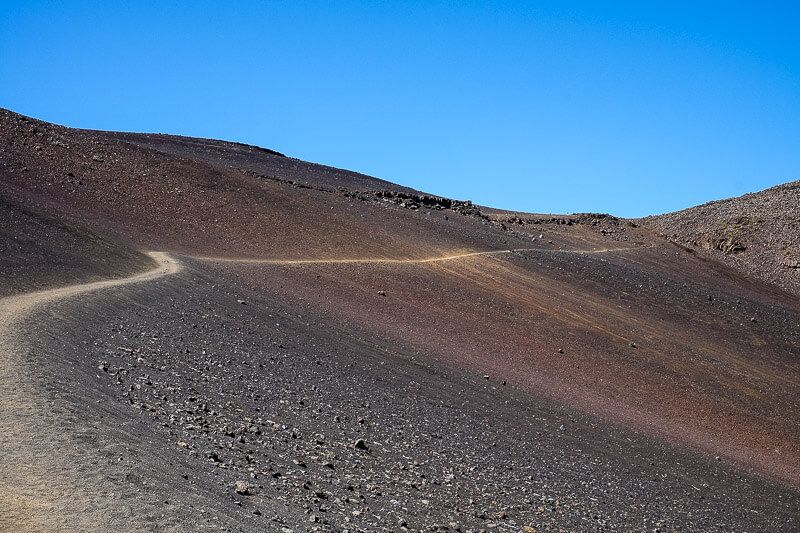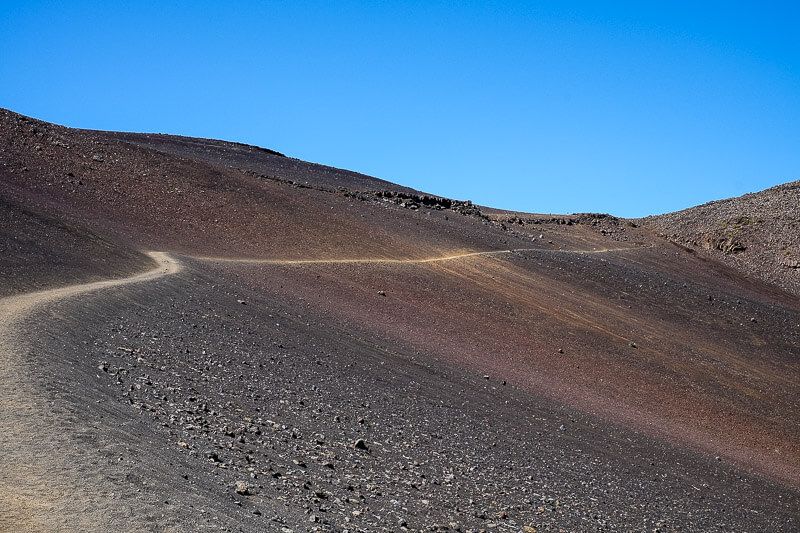 We only took a few brief stops on the way up. The sun was getting much lower and the temperature was dropping. We wanted to make it back up to the top before it got too much colder.
And the more we climbed, the more the clouds began to spill into the crater. Coming through the two gaps in the crater wall, the clouds peered up over the ledge and crawled across the crater floor. I kept looking back, gauging their progress, wondering if they would fill the entire basin before night rolled in.
As we climbed higher, we started to pass people again. And usually, without a doubt, they would stop and ask us how far we had made it. By that point, I think I could only croak out a weak, "far," before taking another chug of water.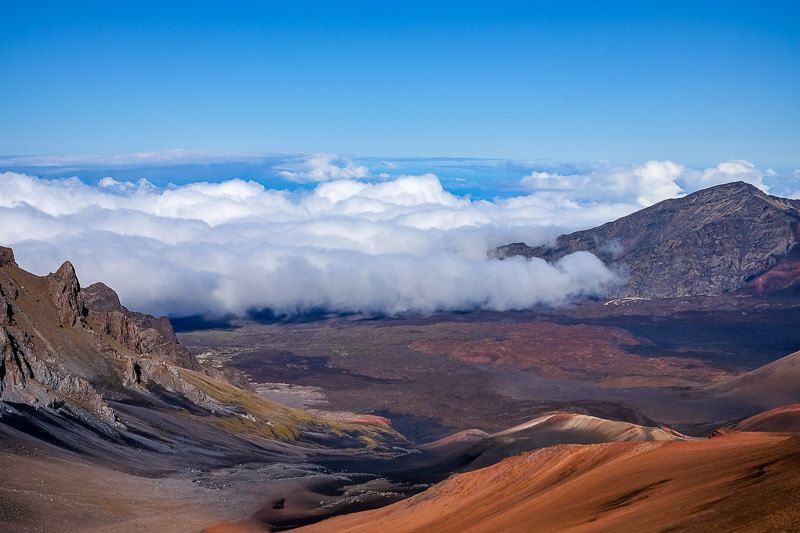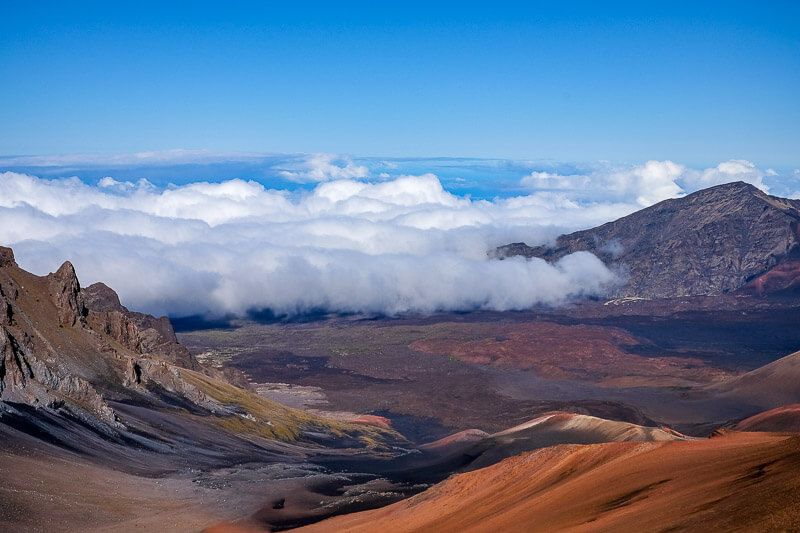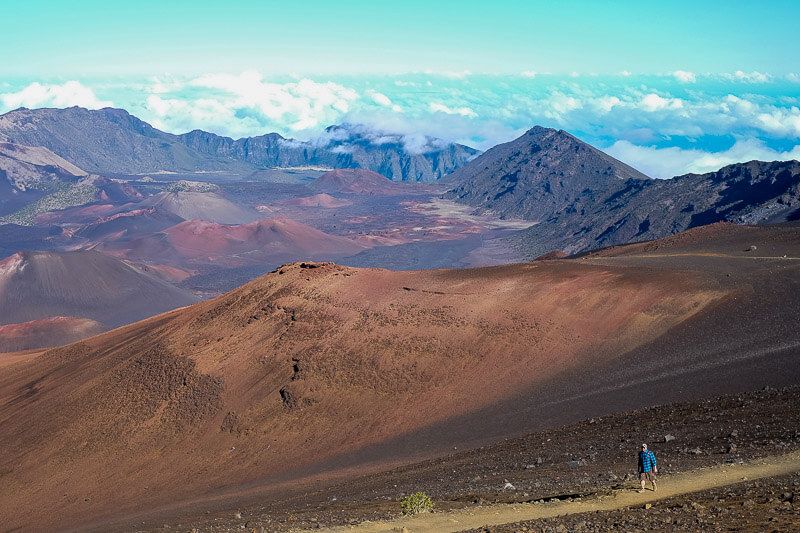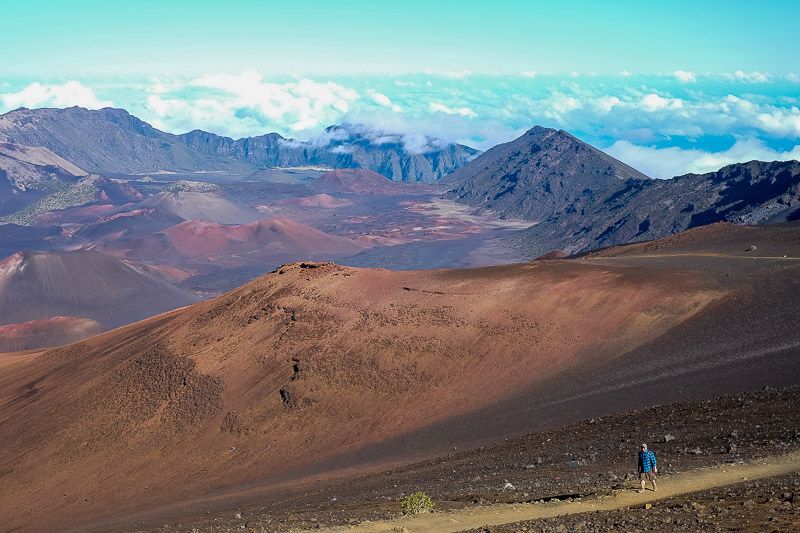 But my favorite encounter? That has to go to the couple who asked us if we had seen the crater. They told us they wanted to peer down a hole and see lava. I think Ryan and I just kind of stared at them. Haleakala is a shield volcano. The last eruption was centuries ago and that wasn't even in the crater itself.
We just shook our heads, and they moved past us on the trail. We stared after them. Did they not realize they were in the crater?
But alas, we turned and kept going.
Finally, we reached the top of the Sliding Sands Trail. When I hit the pavement of the parking lot, I almost teared up in relief. I could finally stop climbing. I could finally try to catch my breath.
My eyes lifted to the west, to stare out at all of Maui in triumph when I noticed the clouds.
They were everywhere.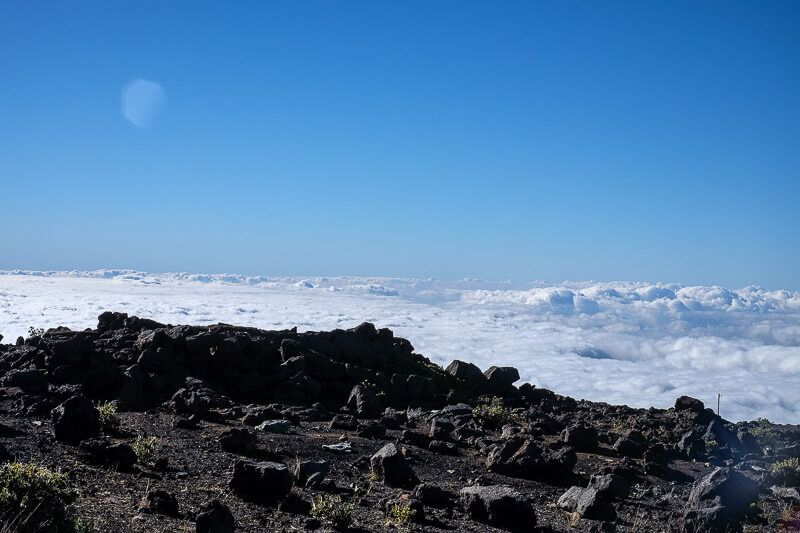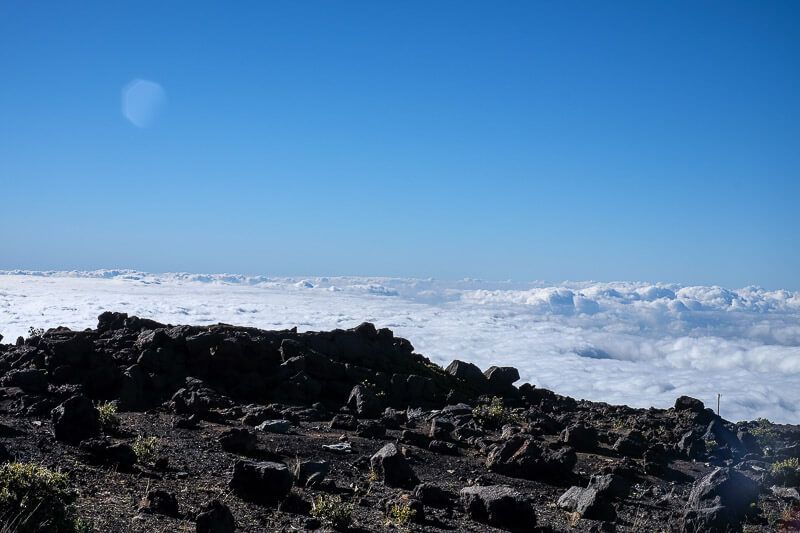 To the north and east there were patches of blue, but to the west, white filled the sky below us.
I marveled at this fact for awhile. Here we were, on a cloudy day, above the clouds.
Above the clouds.
Finally, I peeled myself away from the view and collapsed into the car. Ryan and I gauged our watches. Sunset would hit in the next hour….maybe two. And we were dirty, hungry, and my feet were literally dying they hurt so bad.
So we decided to pass on the sunset and take our time coming down the mountain. There were two overlooks I wanted to stop at, and we pulled off a couple of times to snap pictures of the view. But now I'm sad we didn't stay for sunset. I can only imagine it would have been beautiful, but my stomach had other ideas that day.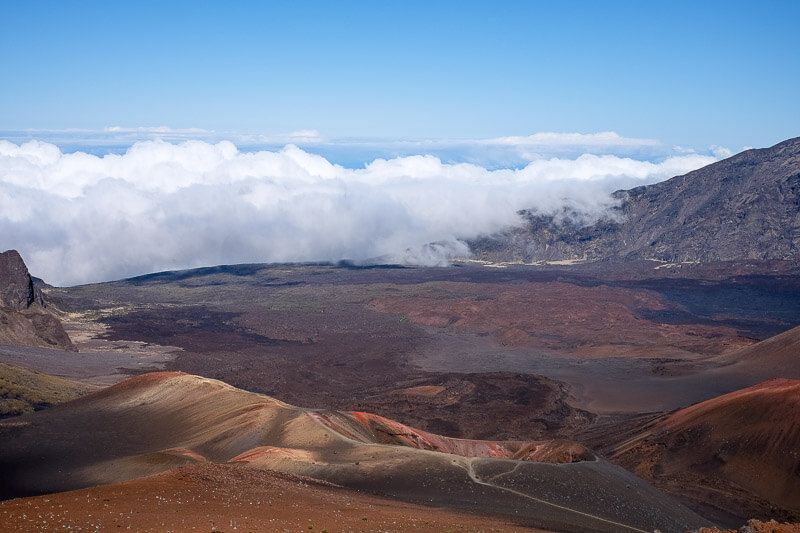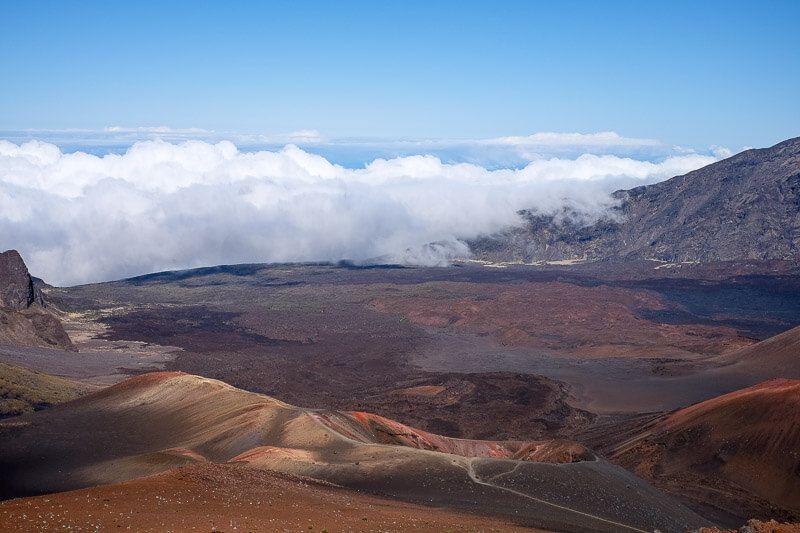 If we go back to Maui, we are definitely returning to Haleakala.
For one, I want to arrive at Haleakala in the morning and do the holy grail of hikes. You start on the Sliding Sands Trail, descending into the belly of the crater. After 3.9 miles, you head north for the Halemau'u Trail. This trail will weave you across the crater floor before ascending upwards along a series of switchbacks to a cloud forest. But this trail is tough – 11.2 miles – and it will take you at least 10 hours to complete. Here's a hiking map for reference.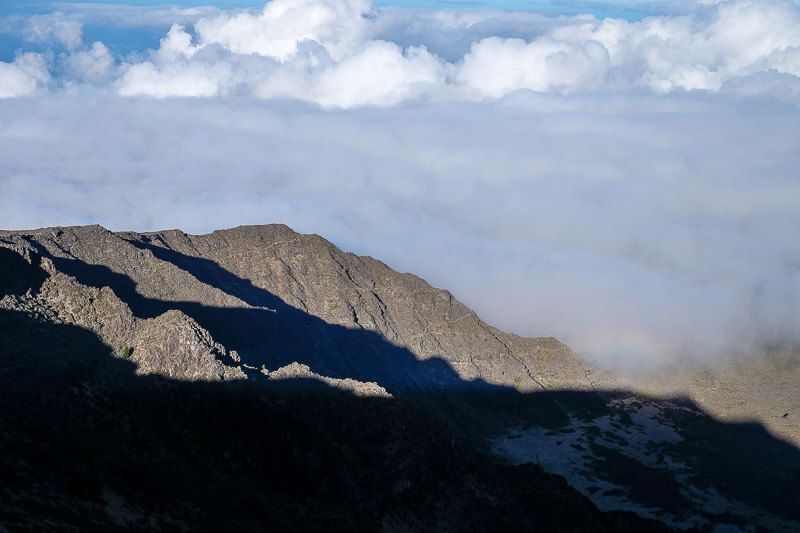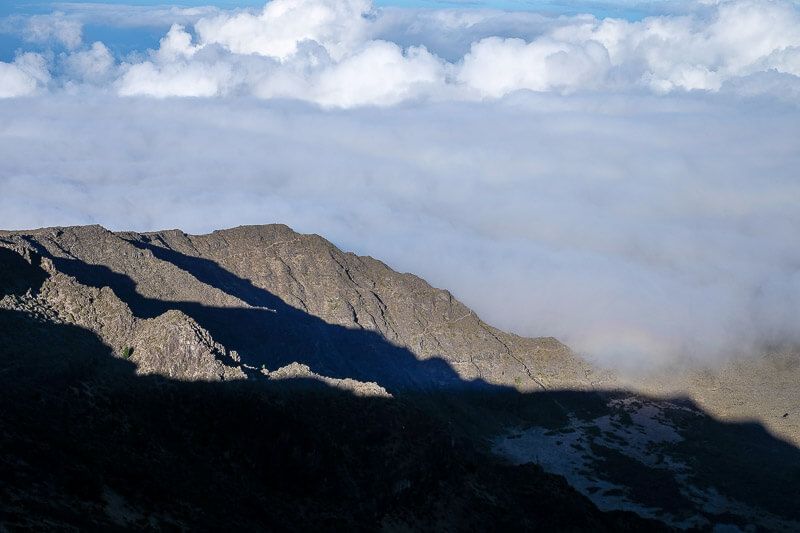 But the main thing I'd love to come back to do? I want to camp in the crater itself. There are two campsites and three cabins spread across the crater floor. Camping at one of these sites would give us time to explore the crater itself. To see its different features and environments like cinder cones, lava fields, more silverswords, a bottomless pit, and even forests.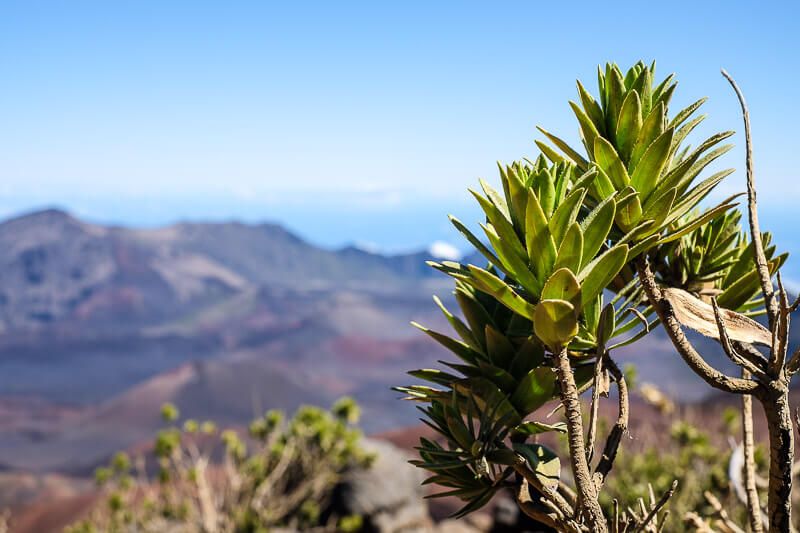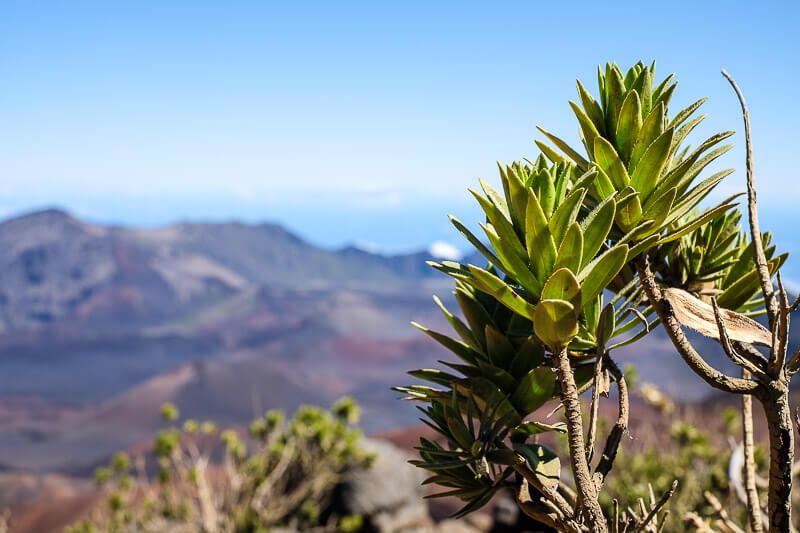 After 5 hours with Haleakala, we were on our way down the mountain. I was tired, dirty, exhausted, and hungry. I was ready for a shower and a good meal. But I already felt like there was more to do with Haleakala. More to experience in its other worldly center.
I want to go back.
---
What Should You Bring?
Good Hiking Shoes. I would suggest wearing hiking boots if you have them. I have a pair of Merrell Moab hiking boots that I really like. But in case you didn't pack your hiking boots, wearing a good pair of athletic shoes is a must. Please don't wear your flip flops. My mouth literally dropped open when I spied one girl sliding down the trail in a pair. The Sliding Sands Trail is one tough, steep trail.
Hiking Socks / Compression Socks. My feet were killing me near the end. They were so tired and worn out. My hiking socks helped lessen that pain, but I wish I would have also worn my compression socks. They are especially good if you are on your feet all day.
Warm Clothes. Okay – it's cold up there. Like, much colder than you think it will be. Even during the day. I'm a big fan of my athletic hoodie and it was a god send that day. If you hate carrying a lot of clothes, and you don't want to wear them on your drive to Haleakala, just throw them in the car just in case. You might find yourself pulling them out of the backseat once you hit the summit.
Water Bottle. Hiking the Sliding Sands Trail is tough. Please bring some water. Preferably two water bottles. I'm a fan of reusable water bottles (like my CamelBak), but any water will do. This trail is a lot steeper than you think it is. And though it's cold, it's sunny and bright. You'll sweat a lot.
Sunscreen. You're above the clouds. Enough said.
Snacks. If you're one of those people who needs to refuel during your hikes (like me), then bring a couple of granola bars just in case.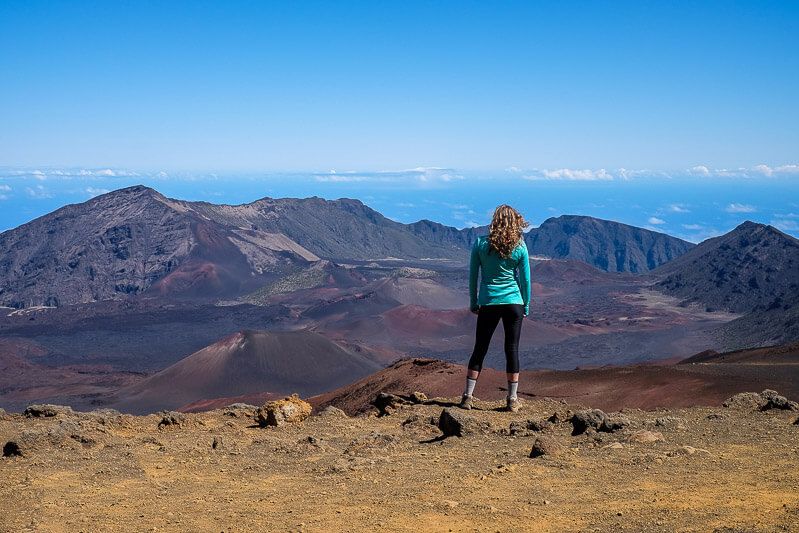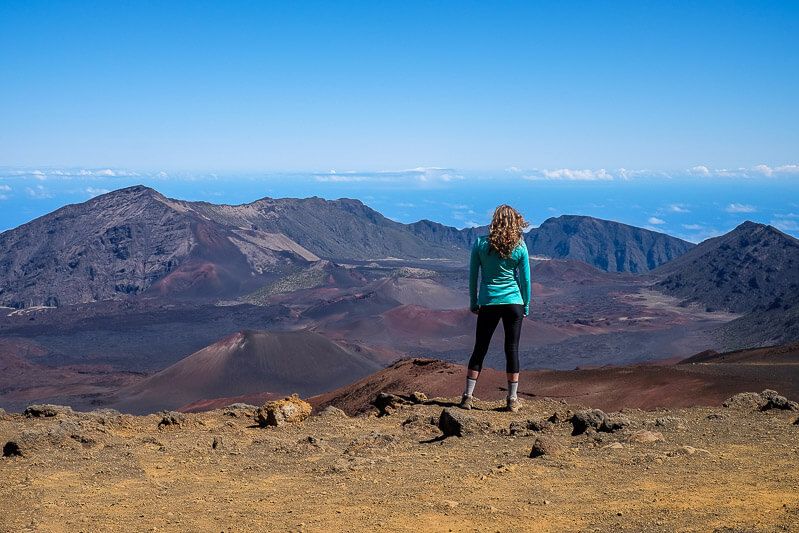 So, do you want to hike the Sliding Sands Trail?
Planning your trip to Maui?