It was earlier this year when I saw it. Scoping out 2015 budget travel options, a picture popped up on my screen. Showcasing blue water, tan sand, rugged cliffs and towering seastacks – my heart instantly called out. I vowed then and there that I would be sitting on Camilo Beach within the year. And so I spent the next several months planning my trip to Portugal. All for one beach. And was it worth it?
Oh hell yea.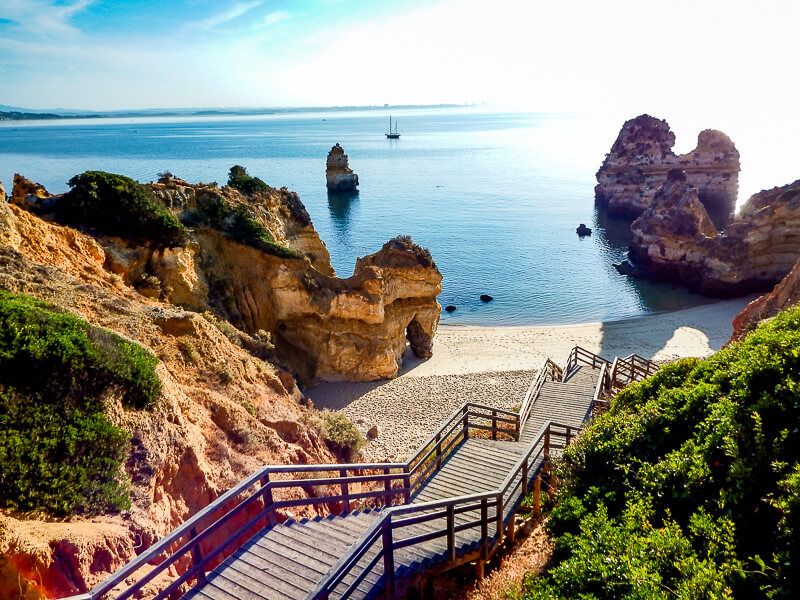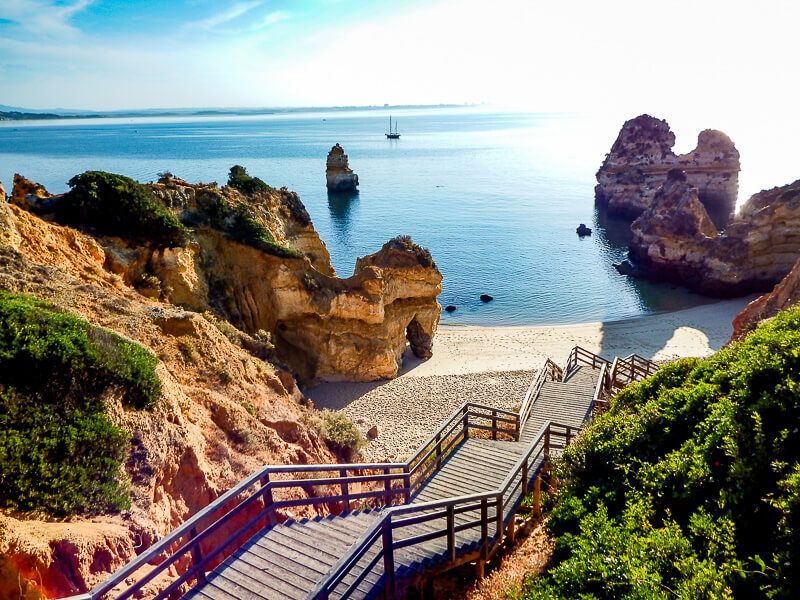 I soon discovered that my dream beach was called Camilo beach (or Praia do Camilo in Portuguese) and it was located just south of Lagos on the southern coast. I found a cute if slightly expensive B&B just a couple of blocks away and told myself we would choose cheaper options in the next two cities in order to be able to walk to Camilo beach.
We arrived late our first night, and though we ate at O Camilo, a restaurant overlooking the beach, we couldn't really see it. It didn't matter though, the next morning was to be our beach day. The day I had worked into our schedule to do nothing but lay on the beach for hours.
A little before 11 (yep I slept in), we turned out of our B&B and headed for the beach. Camilo Beach is located off of Estrada da Ponta da Piedade. This is the main road heading out of Lagos to the south. After the road becomes dusty and the buildings disappear to your left, a small dirt road breaks off and heads toward the coast.
The night before we were a little unsure of the road, but that morning it was perfectly clear there was something down there. Cars clung to the side of the dirt path and the little parking lot at the far end was packed. I was instantly glad we had walked.
A wooden walkway leads away from the parking lot and then down. And down. And down. And down.
p.s. There are a lot of stairs.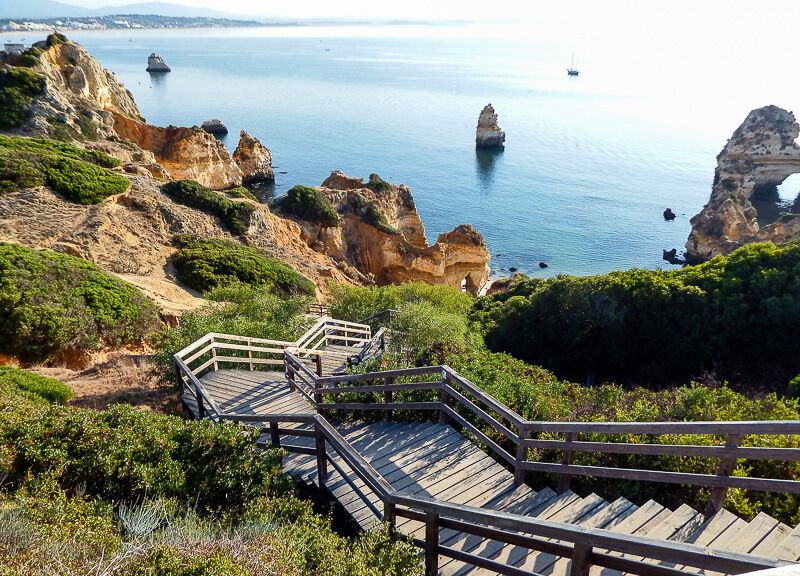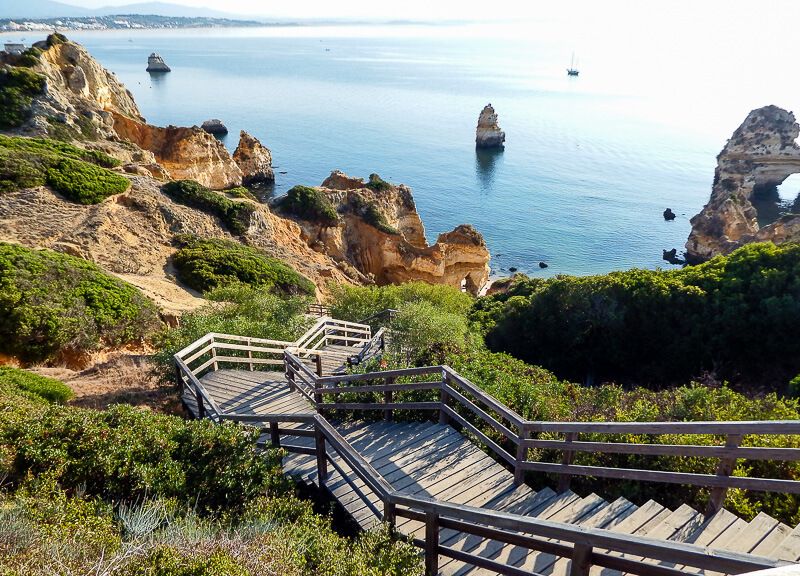 But I barely took notice of them as I skipped down the steps. I was there. At my beach. The one I had dreamed about for months. And though it was near midday and the place was packed, the crowds couldn't even bother me.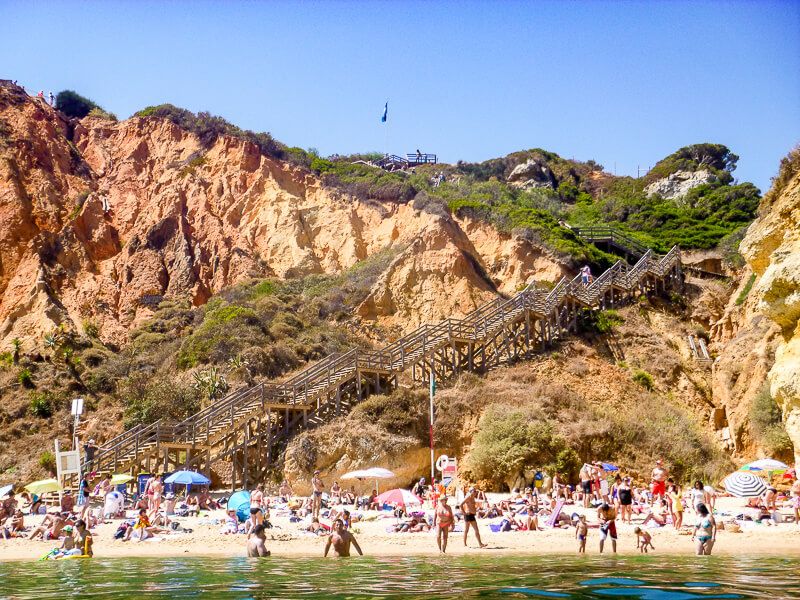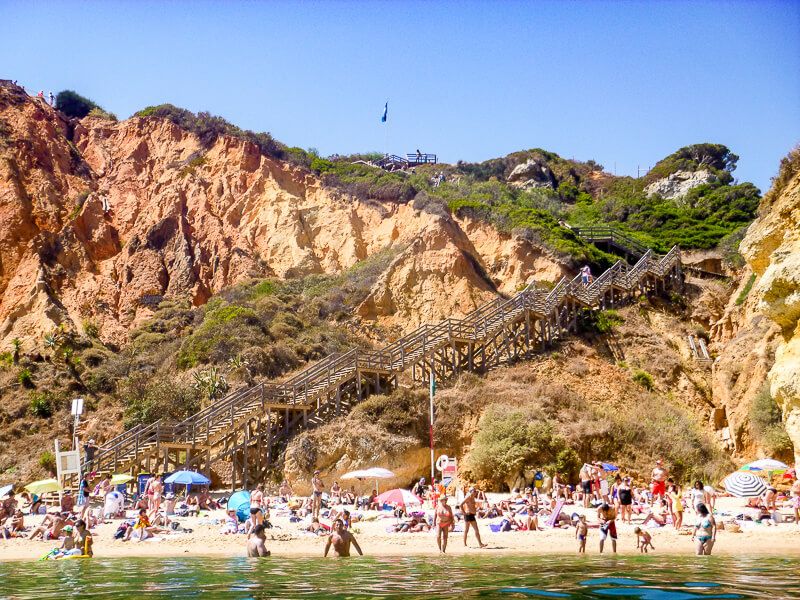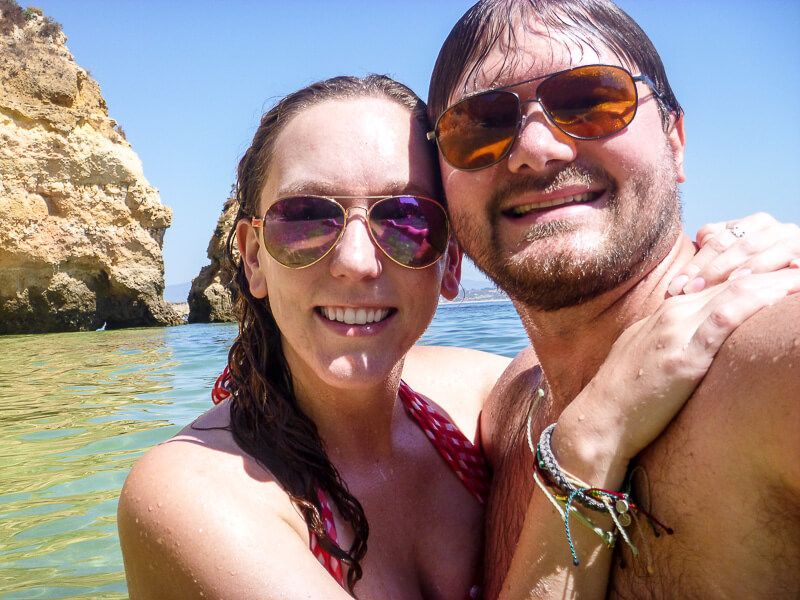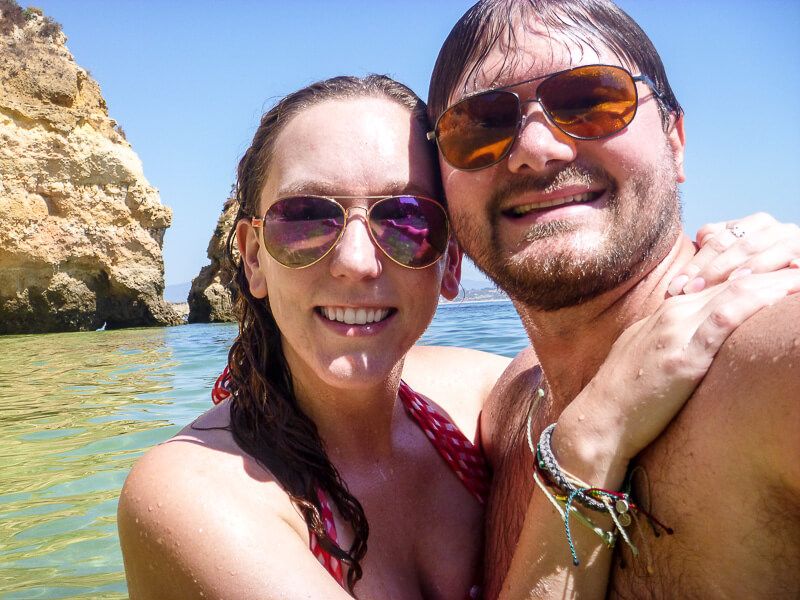 Ryan and I quickly found a small spot of sand sandwiched in between the hordes and laid out our small towel. Then I turned towards the water and ran for it. This was the Mediterranean! I had made it! But as my toes hit the water, I froze.
Literally.
The water was freezing! Now I've been to cold water beaches – California, Maine, Ireland – and Portugal will now be added to that list. I couldn't believe it! Why was it so frigid? And how were these people wandering into it? Some people expressed shock as they stepped into the icy abyss, but others seemed perfectly fine. I glowered at them as I tried to worm my body into the frigid water.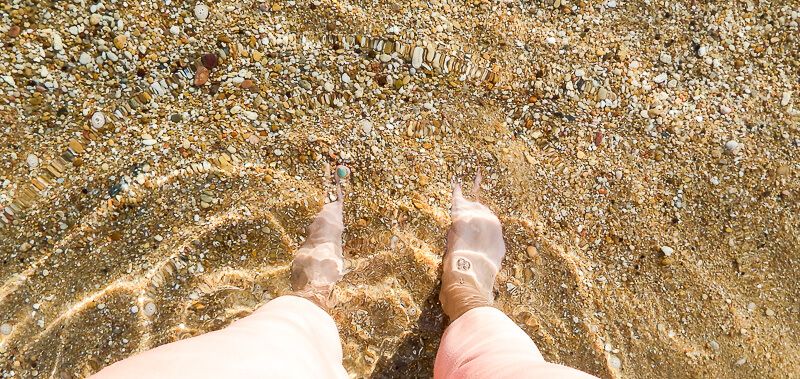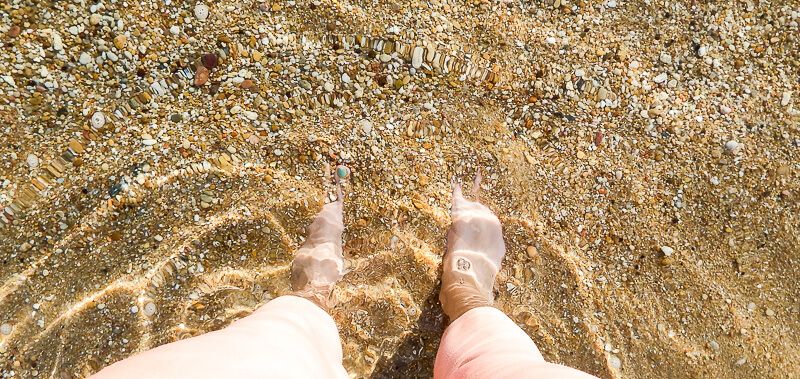 I realize now it was probably so cold because Portugal is at the mouth of Mediterranean Sea where the freezing waters of the Atlantic Ocean sweep into the sea.
Screw you Atlantic Ocean.
I tiptoed out and decided to explore the beach a bit more before forcing myself into the water. Camilo beach has some very cool features including a tunnel that goes from the main beach to a secondary beach of about the same size. It's a bit rocky but a lot less crowded.
And it was here, on the secondary beach, where I forced myself to just run and dive into the water.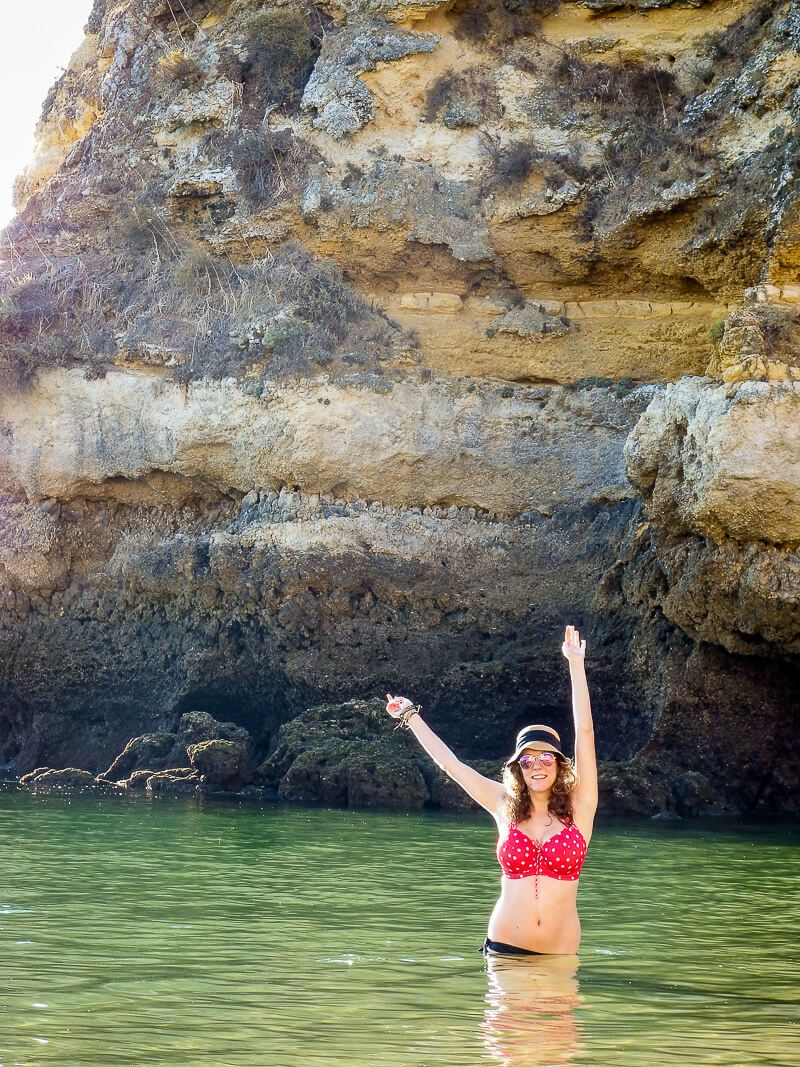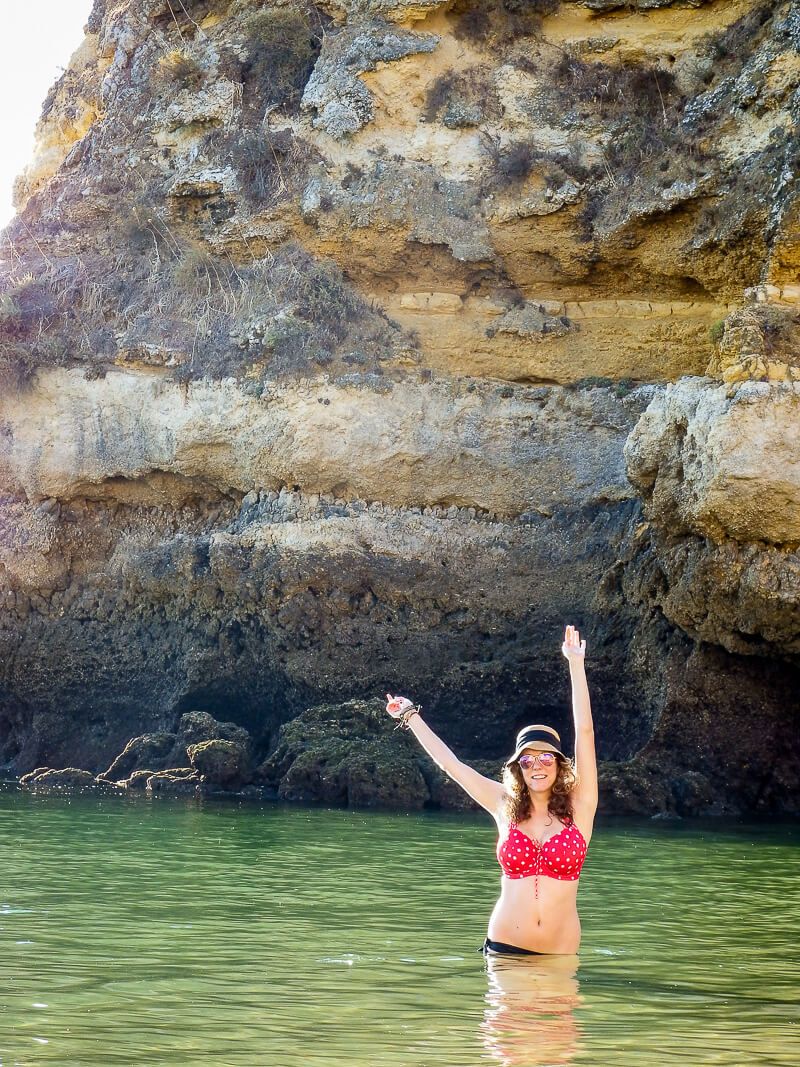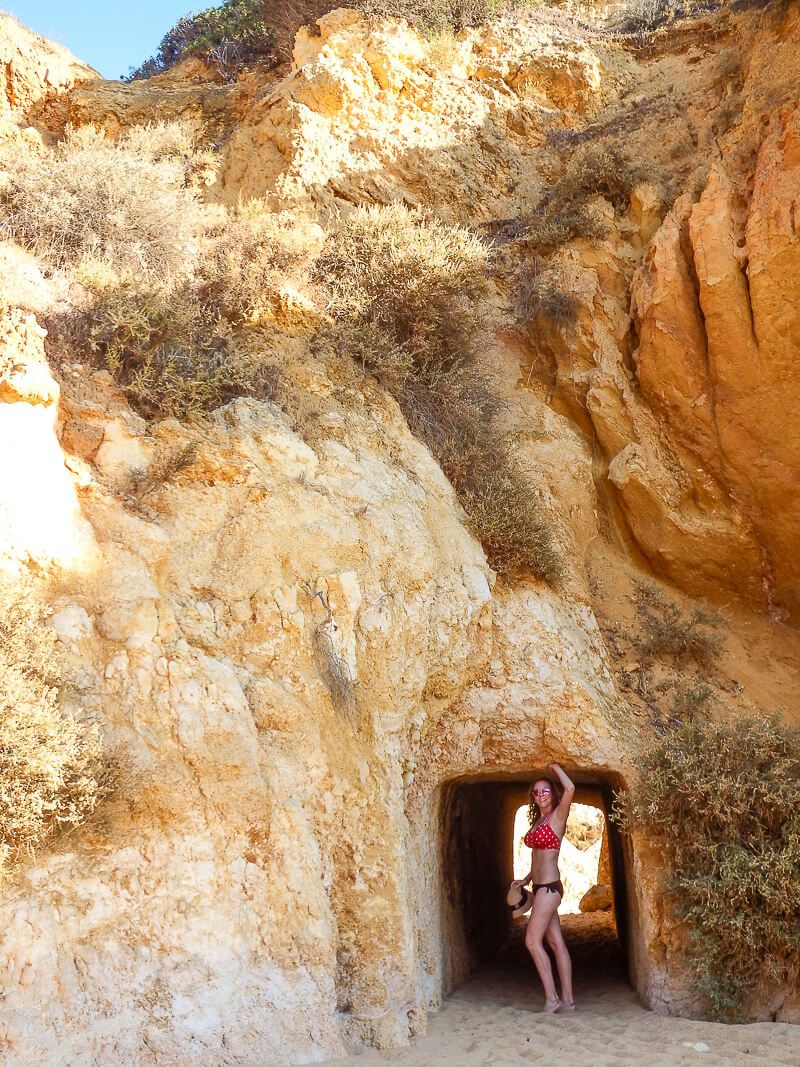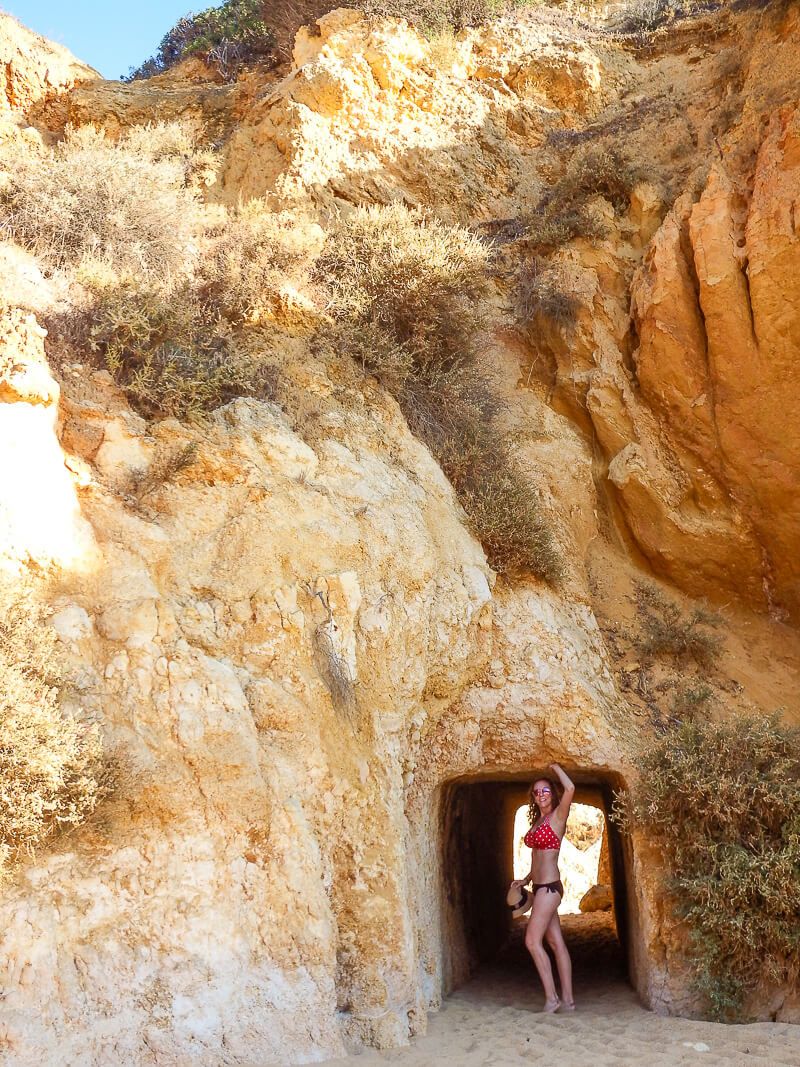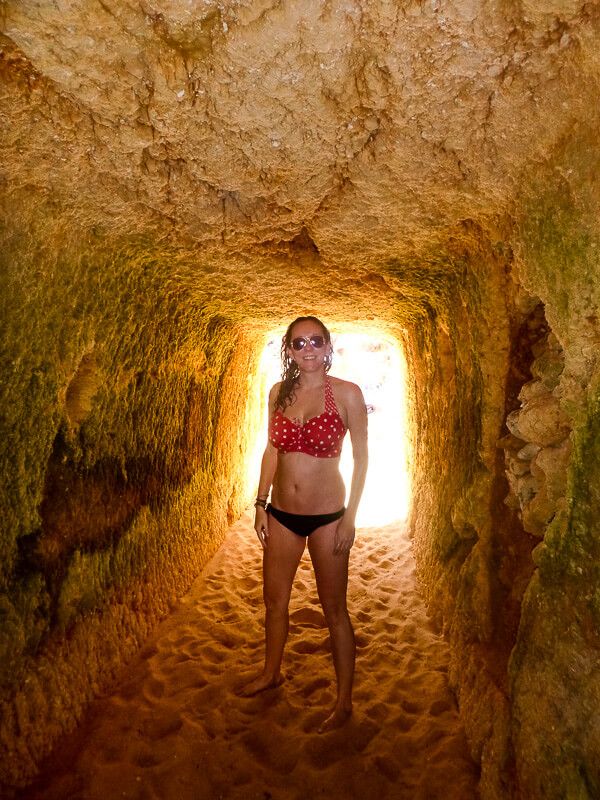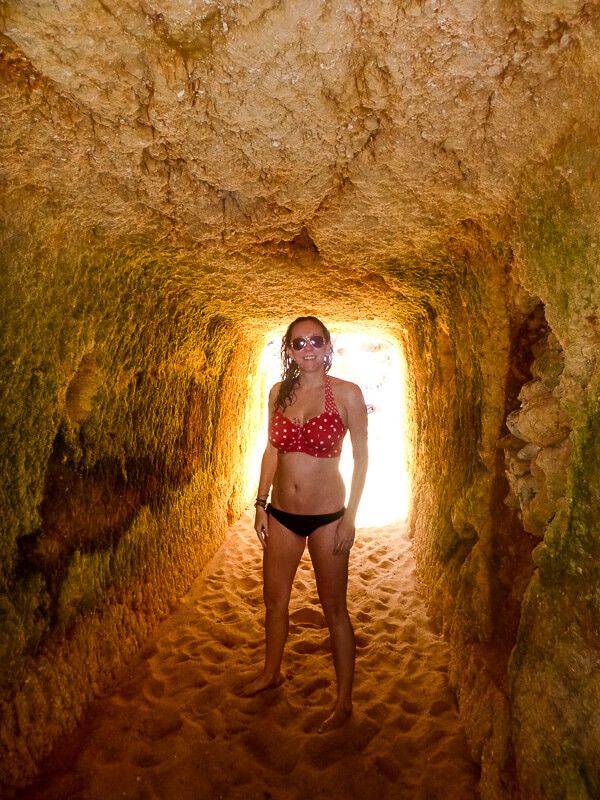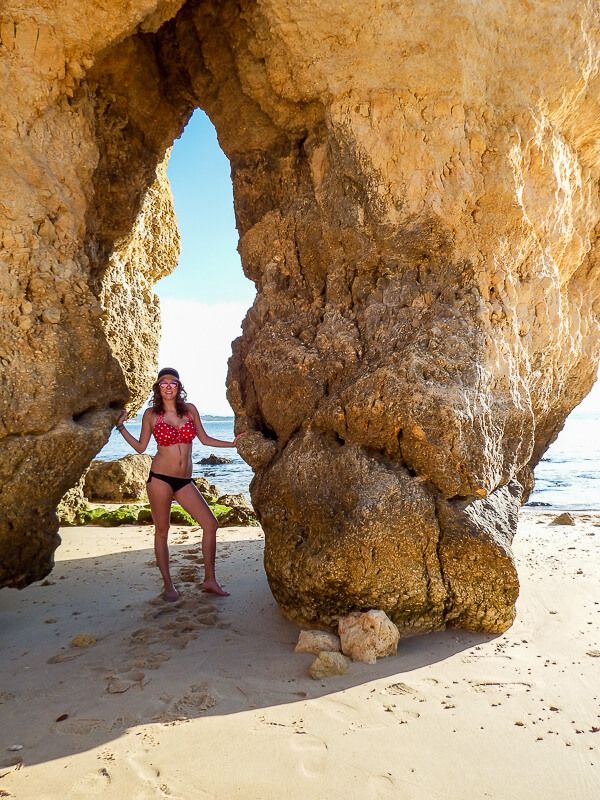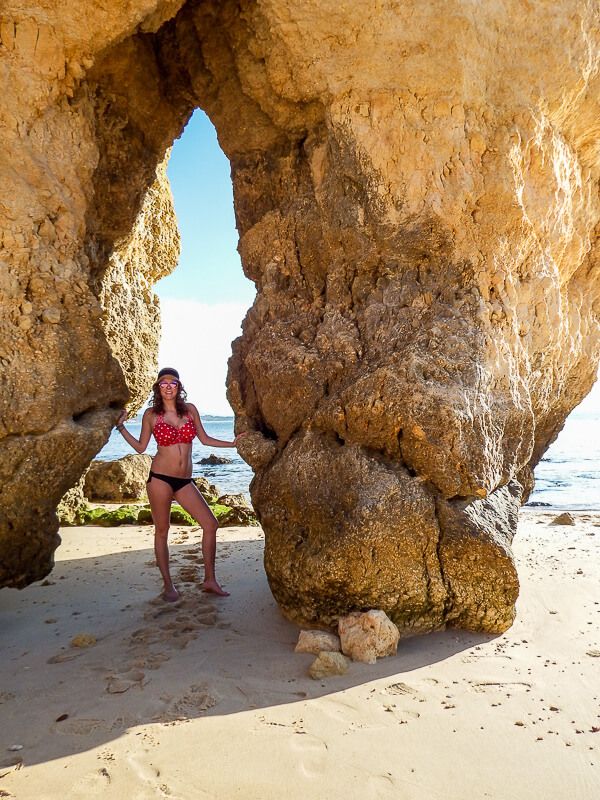 Having completed my feat, I made my way back to my towel as Ryan decided to go off and swim. I people watched for awhile before affixing my gaze to a rock positioned about 20 yards or so into the water. I had seen some people swim out to it, climb it, and even dive off of it. The rock also provided a great view of a lagoon to the right that was only barely visible from the beach.
I needed to be on that rock.
Now I wish I could tell you that I ran into the water boldly…but that would be a lie. Instead I took the wussy approach and slowly, painfully submerged my body over the course of 10 or so minutes.
But boom – once I was in, I was in. From there I swam to the rock and lugged my shivering body on onto it, a la The Little Mermaid. I basked in my glory and stared triumphantly at the beach. HA! I had made it.
Some kayakers and boat tours passed by and I could tell they were jealous (because there was no way that the look they gave me was a, hey would you take a look at that weird girl on the rock…right?). I could have sat out there all day but I soon spotted another brave soul making her way towards the rock so with one last look around I slid off.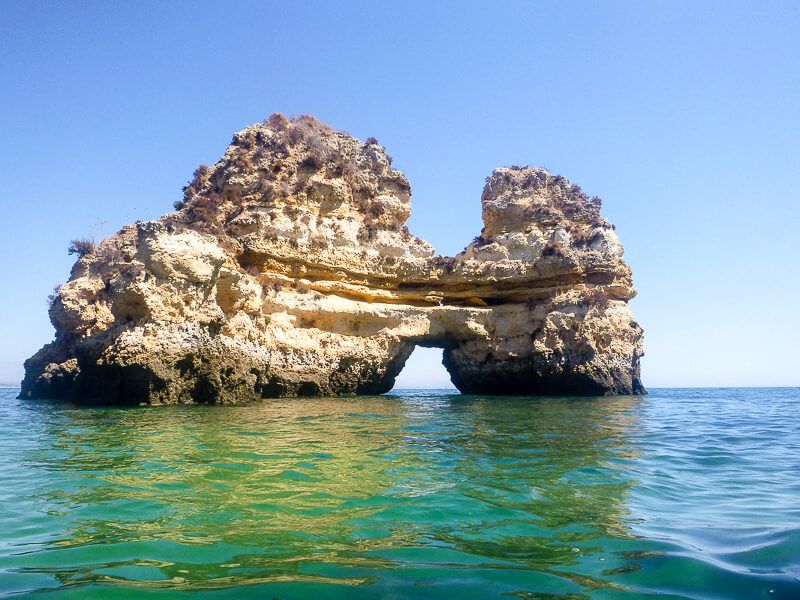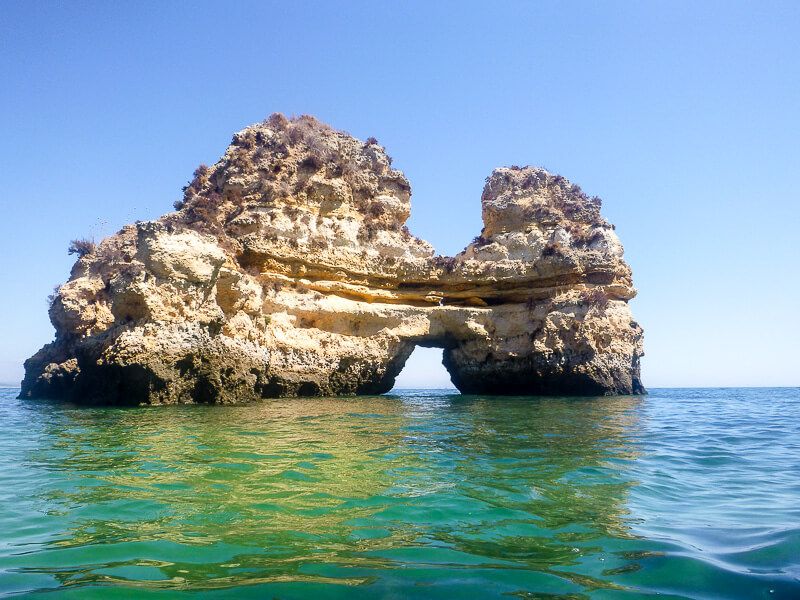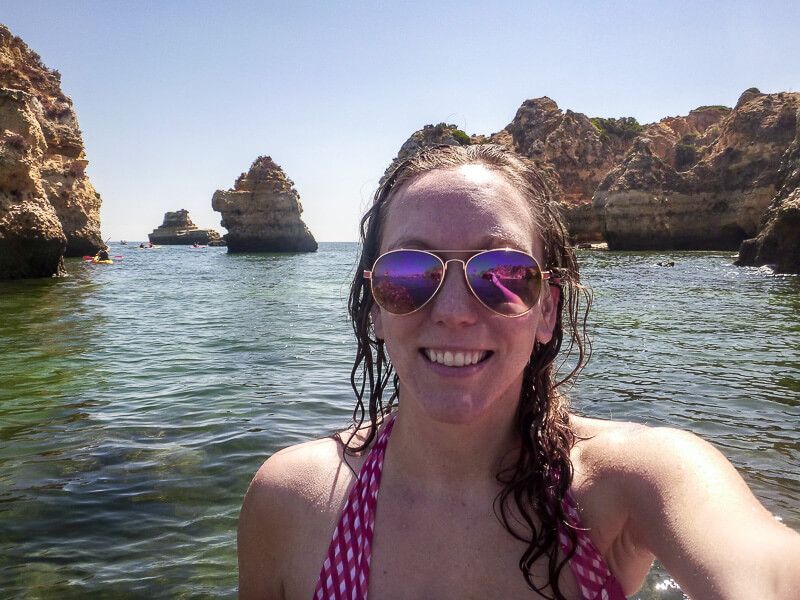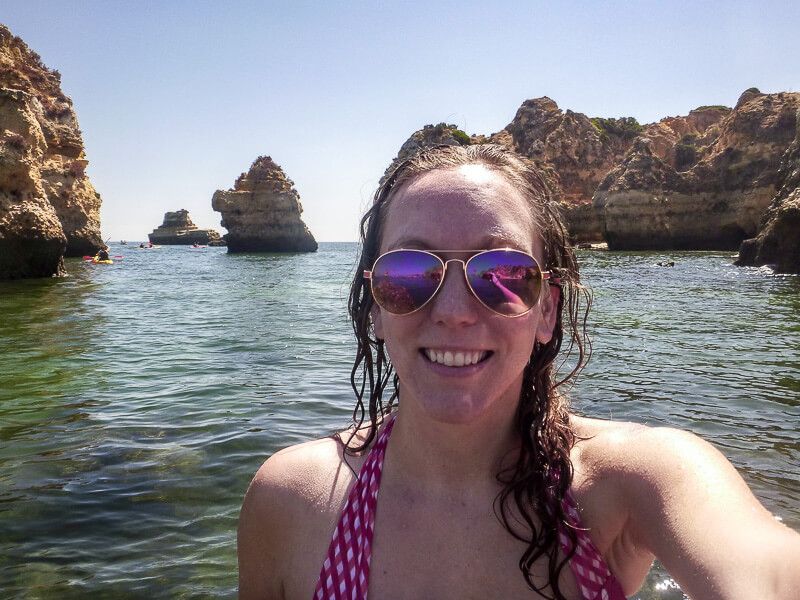 Before heading back, I swam into the lagoon for a little bit (and tried not to get hit by the boats/kayakers – of which there are a ton) before heading back towards the beach. Amazingly as I tried to capture my victory via selfie (and was failing), a passing British girl volunteered to take my photo. I love the Brits!
Now some of you are probably thinking that the water wasn't really that cold. If I was able to swim out to the rock and back, it probably wasn't that bad. Right?
Well that's the same thought I had as I started to swim back. Maybe it wasn't that bad. Maybe I was imagining the cold. But as I was swimming back to the beach, I noticed that my left arm was starting to go numb. Numb! The water was so cold my arm went numb! If that's not cold…what is?
Upon reaching the sand, I pulled my frigid body out of the water and collapsed onto the beach, willing the sun to make me warm again. A little while later, Ryan emerged from his swim and told me how he had swam around the cliffs to the next beach (what the fuck? Is he a polar bear?). I just shook my head. I was not going back into that water. I had conquered the cold and swam to the rock.
My job here was done.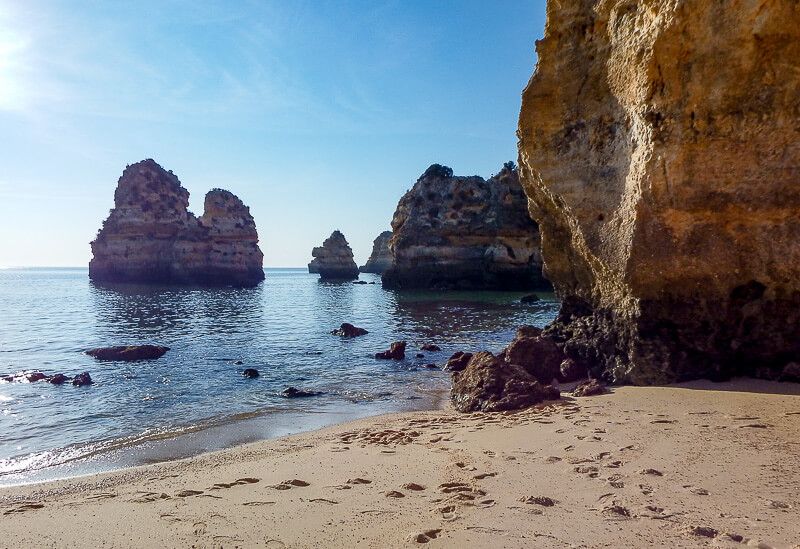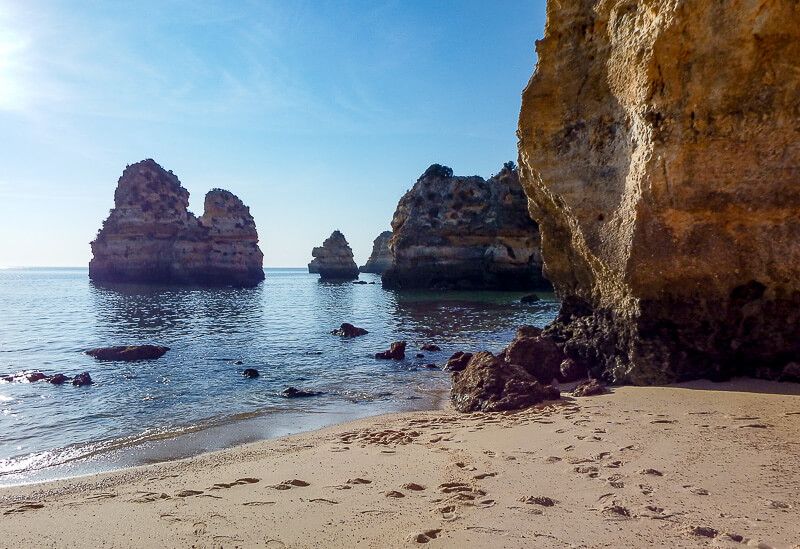 A little while later, as the afternoon waded on, we left Camilo beach and headed back to our room to shower and head into town for the evening.
But we came back to Camilo beach once more on the morning we left. I wanted to get some better shots of the beach before the hordes descended. They were only a few people around so it was perfect. (Though I did have to race down the steps to beat a German couple who were also trying to get photos of the deserted beach.)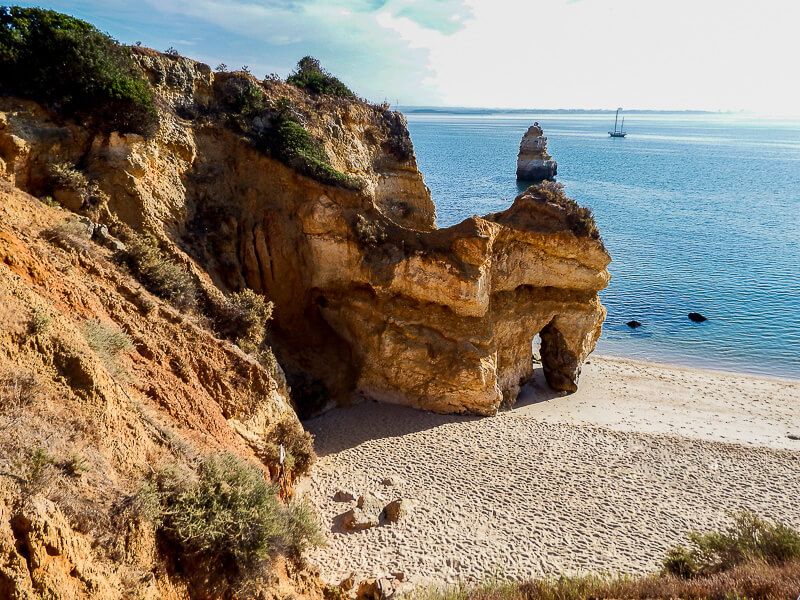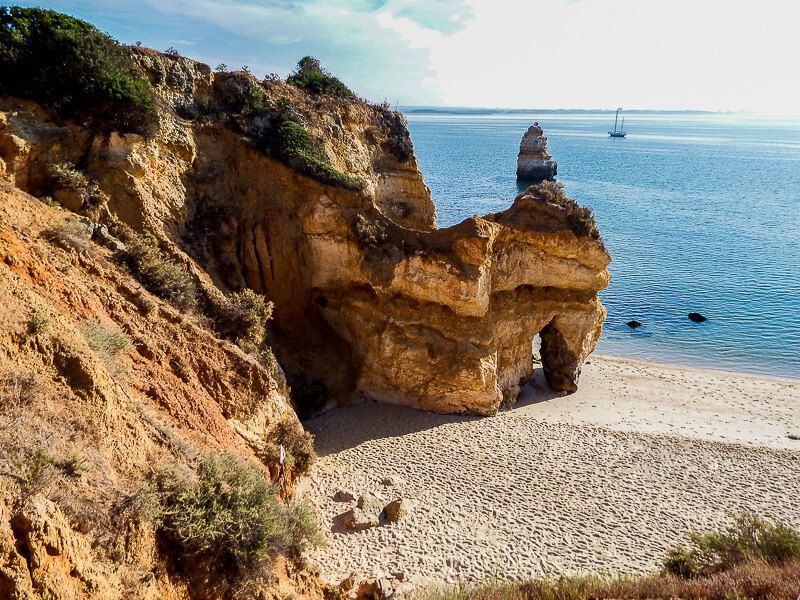 It was so peaceful that morning. So quiet. Only a few people were around and somehow the sun and water already seemed warmer to me. Was my body adjusting to the Mediterranean? One can hope. With my newfound strength, I even walked out into the ocean and found another rock to climb and conquer before I left.
As we were leaving, more people started to trickle down but none of it bothered me. Yes, Camilo beach can be very crowded. But somehow, for once, the crowds didn't faze me.
It was perfect.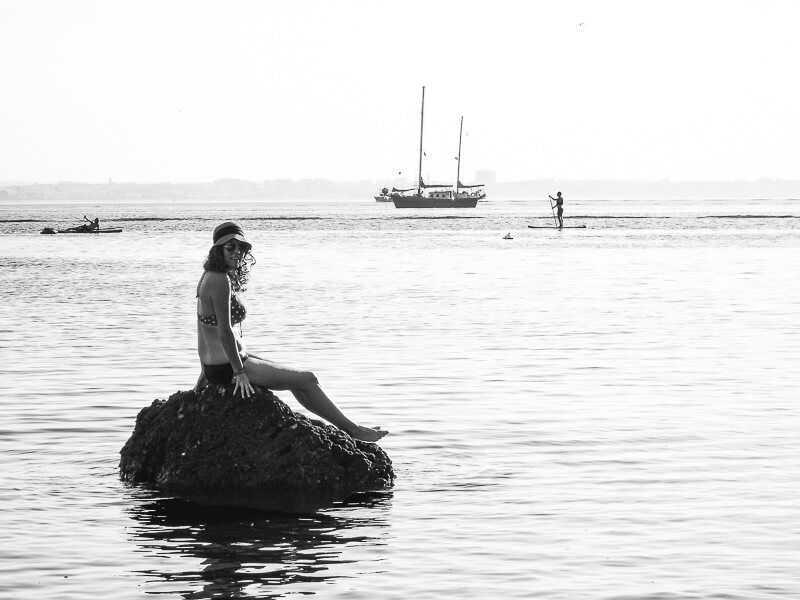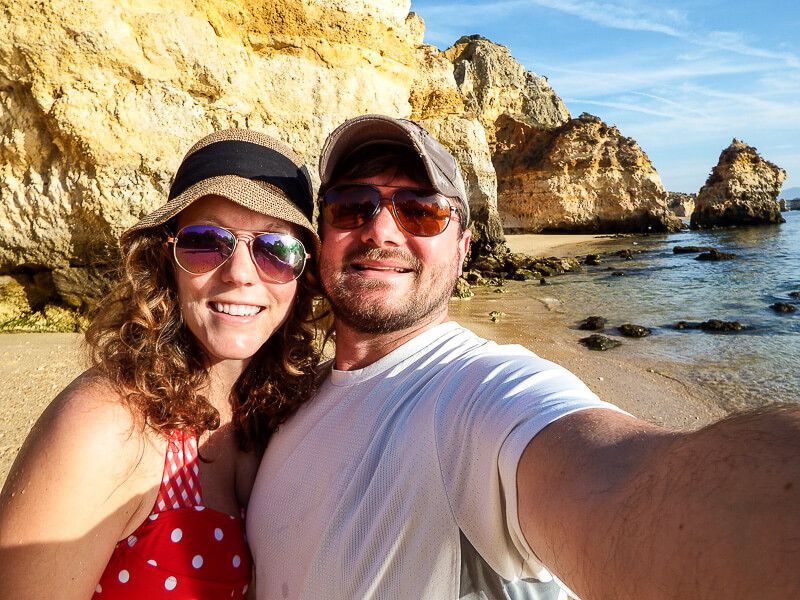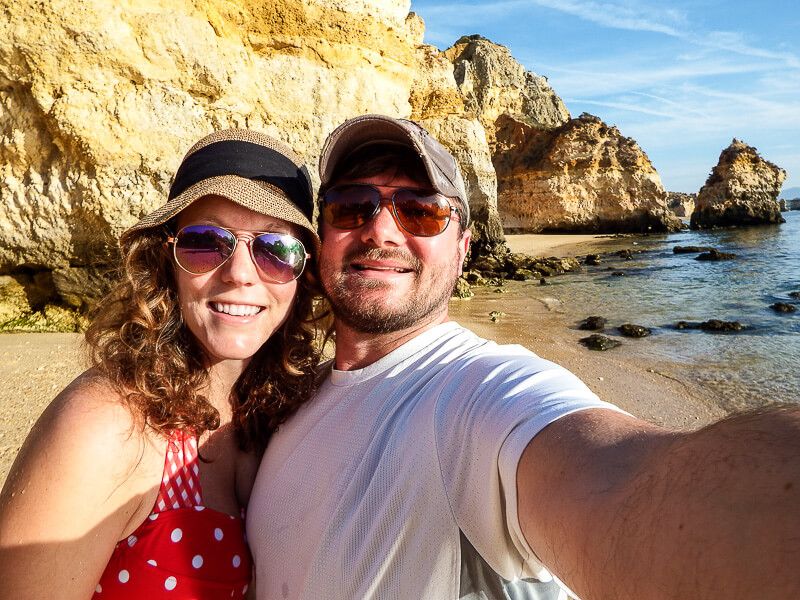 – What's your must-see beach? –
---
The Nitty Gritty
Location: Google Maps gives the address as: Praia do Camilo, 8600 Lagos, Portugal. To get there, take Estrada da Ponta da Piedade south out of town. After you pass the road leading to Praia Dona Ana, the next left will lead to Camilo Beach.
Amenities: No bathrooms and no lifeguard. There is a small stand that was open during the middle of the day. It sold some drinks, snacks, and beach gear.
There are also no lockers. Keep this in mind if you bring any valuables with you. I wasn't nervous about leaving my bag on the beach. Other than a towel and some water, I didn't bring anything else. No phones and no money. My small, waterproof camera was the only slightly expensive item I had and I made sure to bring it with me if I wandered away from my towel.
Parking: A parking lot is located at the top of the steps but once that was full, cars parked on either side of the small dirt road leading to the beach.