There are a few things you have to do when you visit Acadia National Park. Or at least that's what I heard on my first trip to Bar Harbor in 2012. And near the top of that list was renting a bike and cycling the Eagle Lake and Jordan Pond loop. And so, shrugging why not, my Dad and I decided to give it a go. Fast forward four years and renting a bike for the week and biking Acadia National Park was one of my top priorities.
Now why is biking so popular in Acadia? Well, for starters, the eastern side of the park has tons of Carriage Roads crisscrossing through its heart. These old "Roads" are leftovers from the days when people used carriages to get around and sightsee (hence the name Carriage Roads).
But today, the Carriage Roads are a playground for cyclists, hikers, and horseback riders. You can take them all the way from the north side of the island to the south (with all of the important stops in between). And since motored vehicles are prohibited, you'll be able to experience the park at a slower pace.
Yet with so many Carriage Roads there are literally dozens of different routes you could take. I found time to head out twice during my week in Bar Harbor. And I've broken down my rides into three loops.
You could tackle these routes separately or even combine them together if you have a full day to devote to biking Acadia National Park.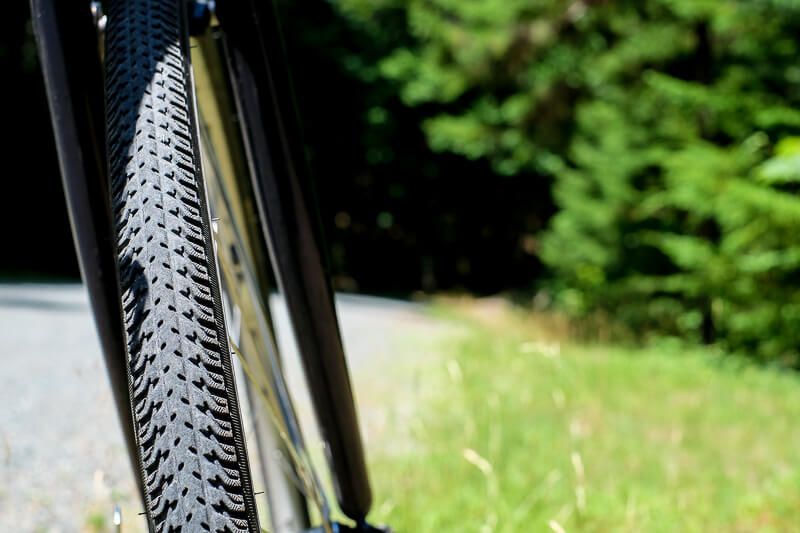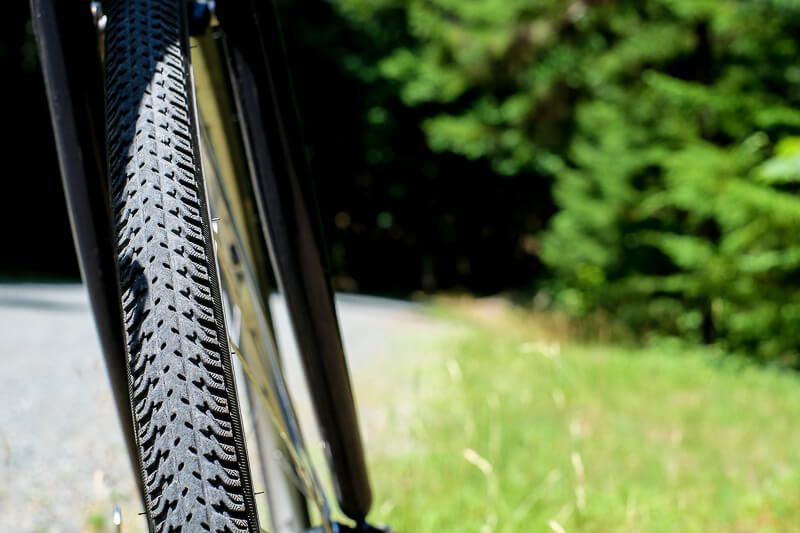 ---
Witch Hole Pond Loop
Waking up on my third day in Bar Harbor, the weather was a little gloomy. Overcast skies paired with scattered rain showers. Our original plan for the day, to go rock climbing, was quickly cancelled. But as it neared noon and the rain began to wane, I decided to head towards Acadia and bike the Witch Hole Pond loop.
I cycled straight out of town and headed for Duck Brook Road. You can catch this connector road about a ½ mile out of Bar Harbor (via West Street). Duck Brook Road itself is closed to cars (for this portion) and will take you right to the start of the Witch Hole Pond Loop.
Just .7 miles to Duck Brook Road. That shouldn't be tough, I thought as I started out of downtown.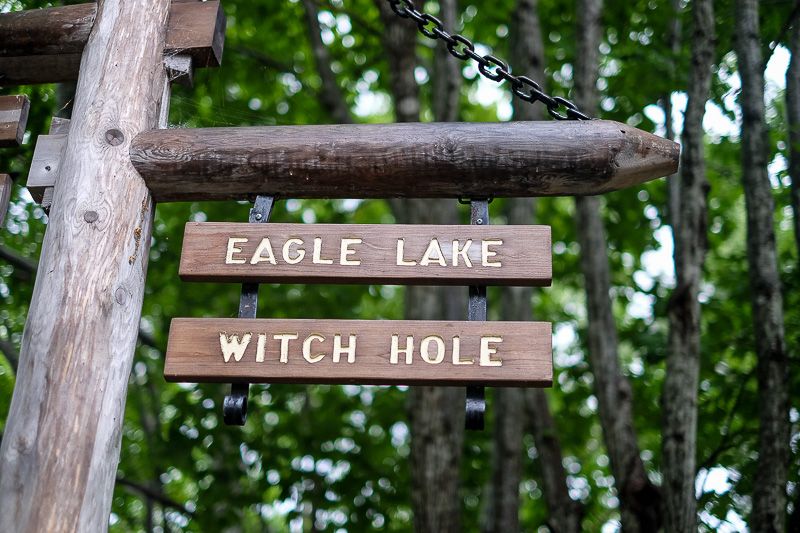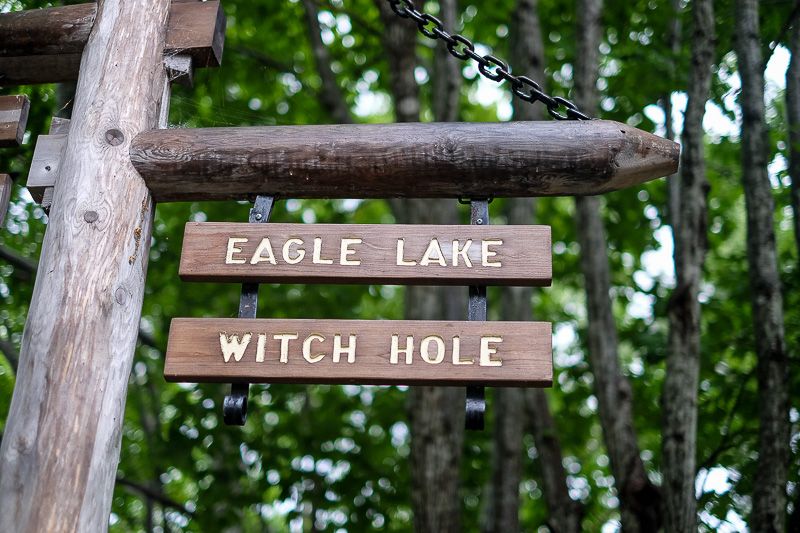 I'm not going to lie though. That .7 miles was, hands down, the roughest stretch of the entire day. I don't know if it was just steeper than I thought, or if it was the rain that started back up again, or if my body was just rebelling since I hadn't gone cycling in a very long time.
But whatever the reason, that .7 miles was hard. Very hard.
I stopped at the side of the road several times to hide from the rain and to catch my breath. I felt pretty pathetic. I wasn't even a mile out of downtown and I was already tired.
Had I made a mistake?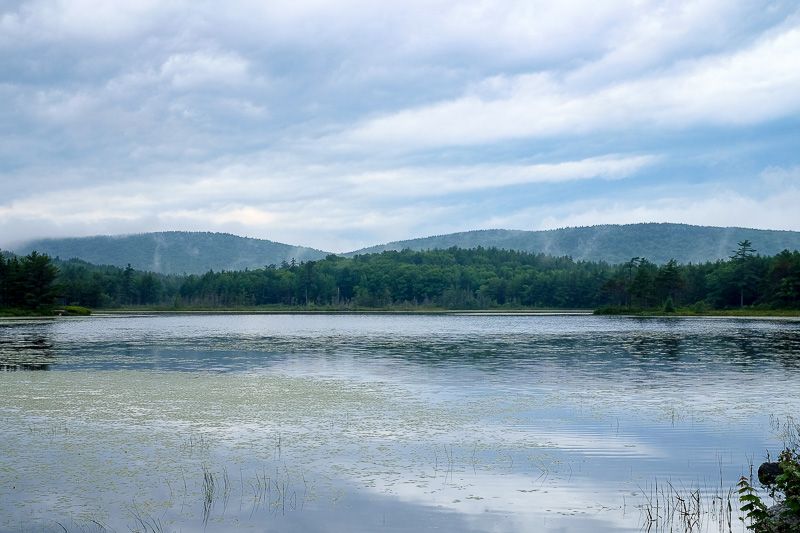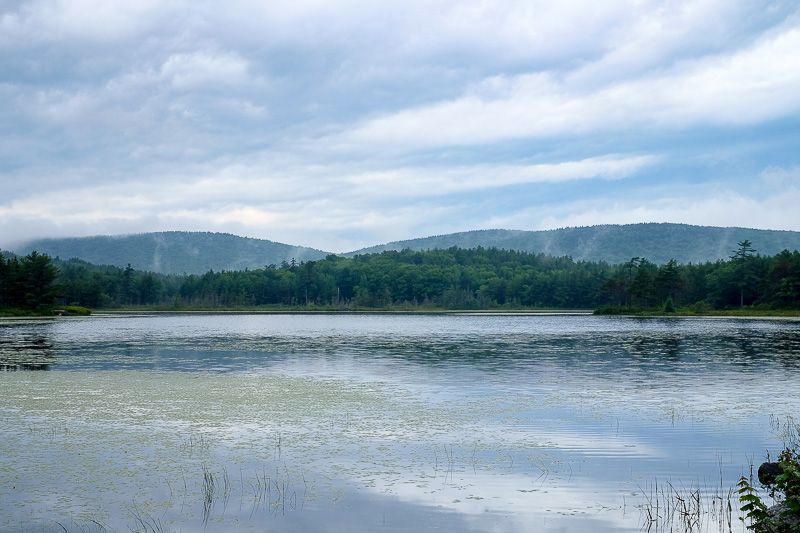 But I forced myself onward and soon I saw the Duck Brook Road branch off to my right and I took it. From there, it was an easy ride down to the Duck Brook Bridge and then across it to my first Carriage Road.
I went right and headed to Witch Hole Pond. I passed a few other, smaller ponds on the way (one of which had fog rolling off the trees in the distance), but the ride was easy. By the time I reached the next junction, I decided to go up and around Paradise Hill before heading down to Witch Hole Pond.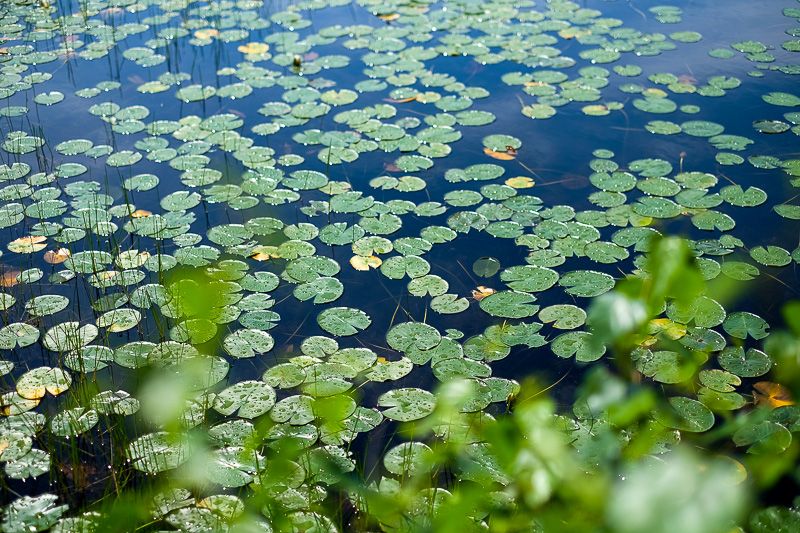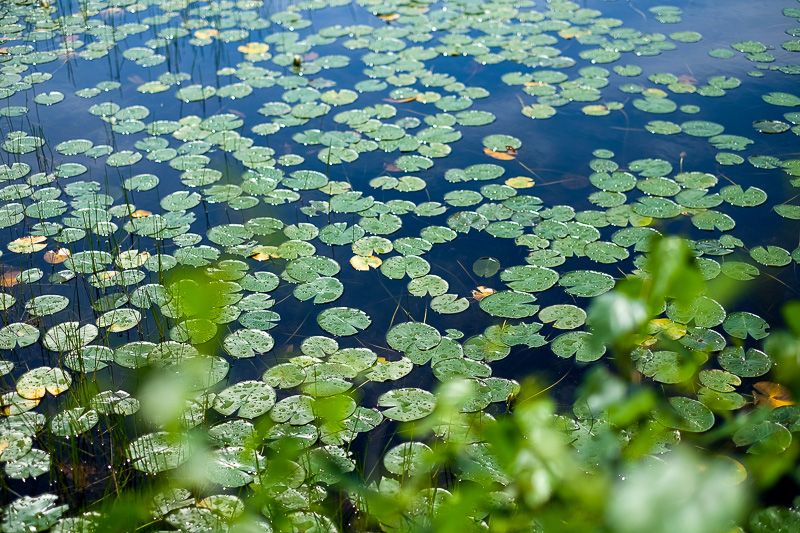 One thing I loved about all of the ponds along the Carriage Roads? The lily pads. Some ponds only had a few, but others had thousands!
Flying past Witch Hole Pond, I kept going, but as I reached the next junction I paused. To start heading back or to continue on? In the end, I pointed myself towards Eagle Lake. I knew I had time for another ride (and I also knew that I could catch the Island Explorer after I was done).
Distance: 5.7 miles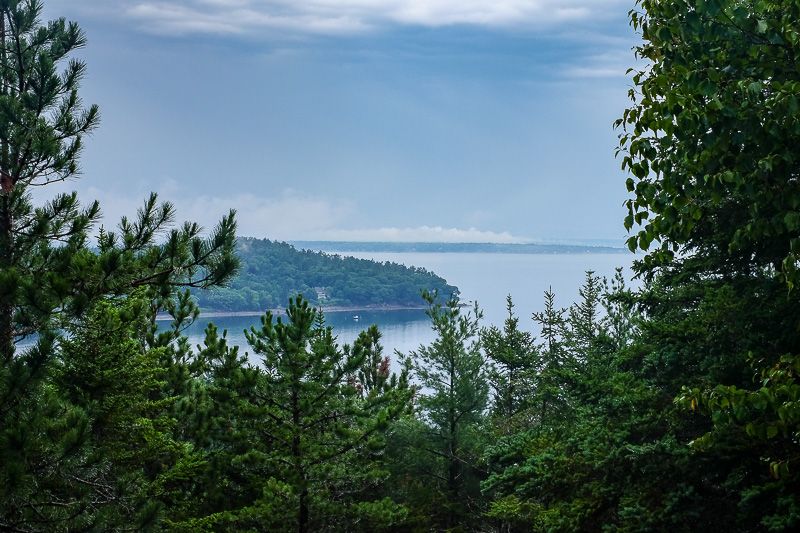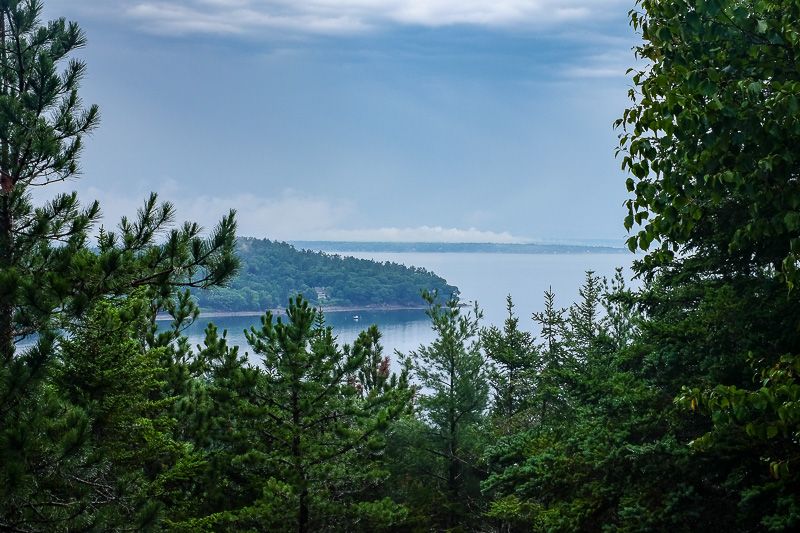 ---
Aunt Betty Pond Loop
On my previous trip, I remembered that my Dad and I cycled part of the Witch Hole Pond Loop. So for my second ride, I wanted to try something different. With a quick glance at my map, I decided to head towards Aunt Betty Pond.
Now to get there, I would have to bike a bit of the Eagle Lake/Jordan Pond route, but after only a couple of miles the loops would diverge.
So I headed down the western side of Eagle Lake, stopping often to take pictures. But soon the trail moved away from the lake and up.
And up. And up. And up.
Sensing a trend here? Yep after you leave the shores of Eagle Lake, there is one hell of a hill. In fact, this is the hardest hill of the entire Eagle Lake Jordan Pond loop. But after peddling my little heart out, I finally made it to the junction at the top.
Draped over my handlebars, I took a moment to celebrate my victory. And as a further sign of my triumph, the sun came out. And stayed out for the rest of the day. The biking gods were pleased with my attempt.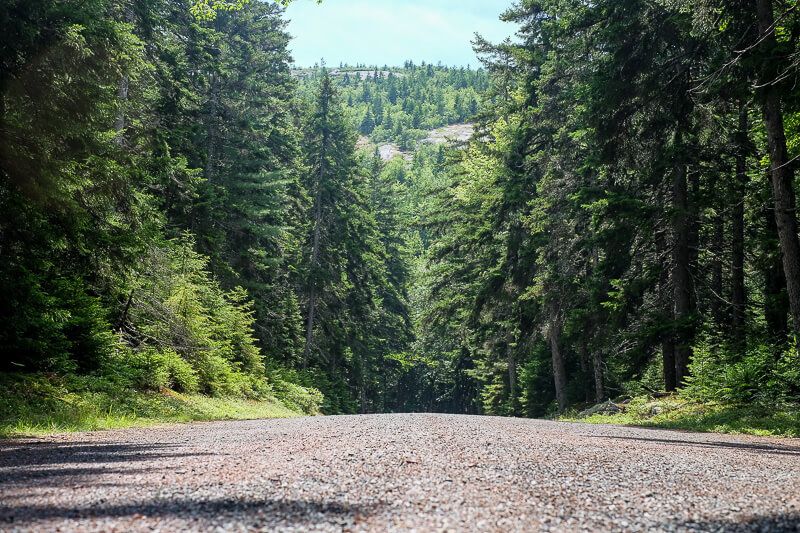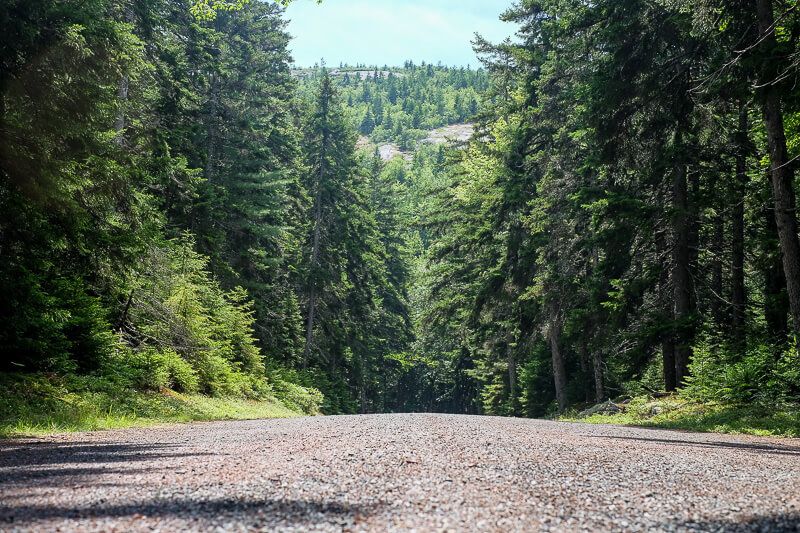 At the top of the hill though, at Junction 10 to be specific, is where I turned away from the main loop and headed towards Aunt Betty Pond.
Now there's something to be said here about the more popular loops: Witch Hole & Eagle Lake and Jordan Pond. They are popular for a reason – because they're easier. If you decide to head off those main paths, you might be surprised.
Basically, Aunt Betty Pond is not an easy loop.
As soon as I turned off and headed down, I came across the Seven Bridges. What are the Seven Bridges? Well, it's a part of the road that follows a ravine down a mountain. And it crosses (switchbacks actually) over that ravine about seven times via bridges. The Carriage Road was so narrow and so steep here, I had to squeeze the brakes tightly for the entire descent.
If you do decide to do this loop – make sure you go in the direction I did. I can't image what biking up that would be like.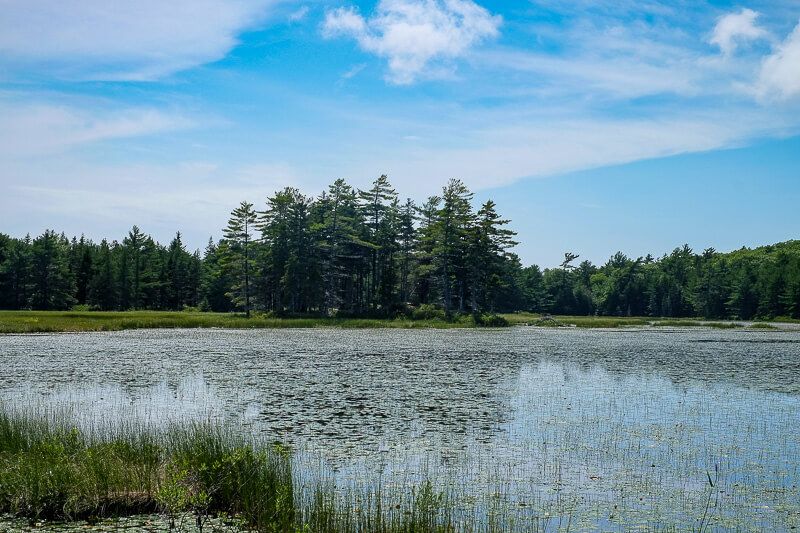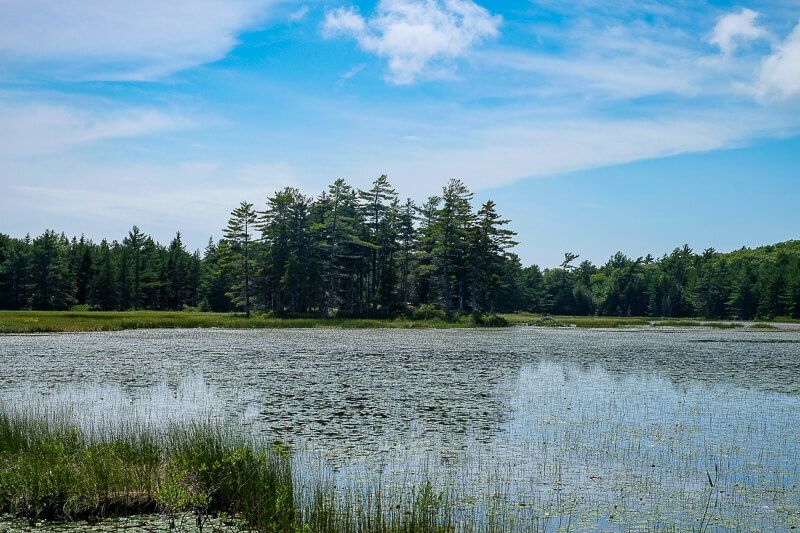 After the seventh switchback I was clear of the bridges and flying towards Aunt Betty Pond. Quiet and tranquil, I had the whole area to myself. In fact, for the whole time I was on the Aunt Betty Pond Road I only saw two other people.
This is where you can go to get away.
But I also knew what was ahead of me. The switchbacks down the mountain could only mean one thing – a climb back up. And I was right. By the time I reached the top I was breathing heavily and my legs ached.
With the hill conquered, I soon spotted Eagle Lake in the distance. After doing both the Witch Hole Pond Loop and the Aunt Betty Pond Loop, I knew it was time to call it quits. I headed for the top of Eagle Lake and waited for the (wonderful) Bicycle Express to pick me up.
Distance: 6.1 miles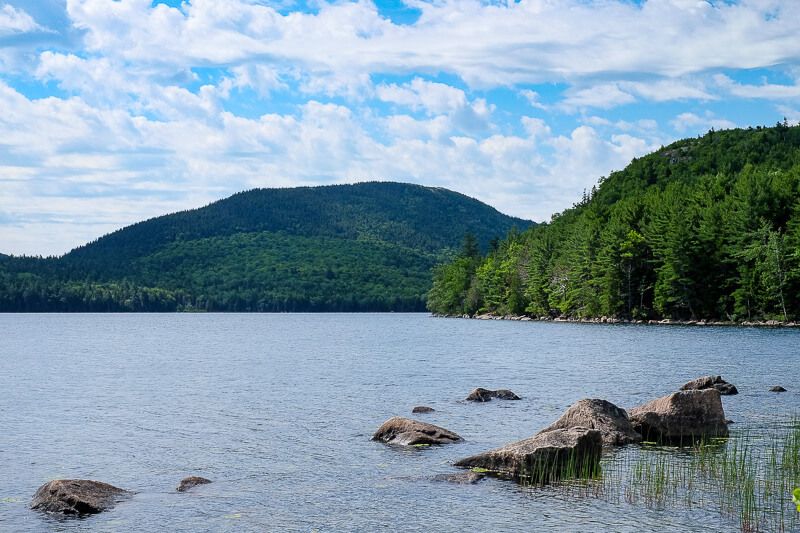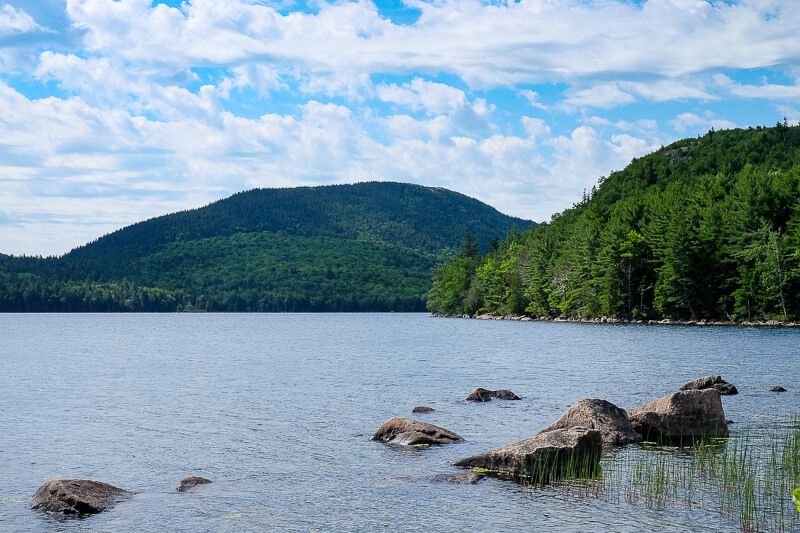 ---
Eagle Lake & Jordan Pond Loop
Two days later my Dad, my sister, and I headed back to Acadia to do this main loop. My Dad and I had done it on our first trip. And my main memories of that day are 1) how beautiful it was, and 2) how hot it was.
But thankfully this time it was cooler.
We decided to catch the Bicycle Express to Eagle Lake to save our legs, and after snapping a few quick photos, we were on our way.
The day was beautiful. Scattered clouds created dramatic shadows on the mountains. The sun was warm but not hot. And there was a bit of a breeze. While I distinctly remember how hot it was 4 years ago, my Dad and I couldn't help remarking (probably every 10 minutes) how much easier/better it was this time.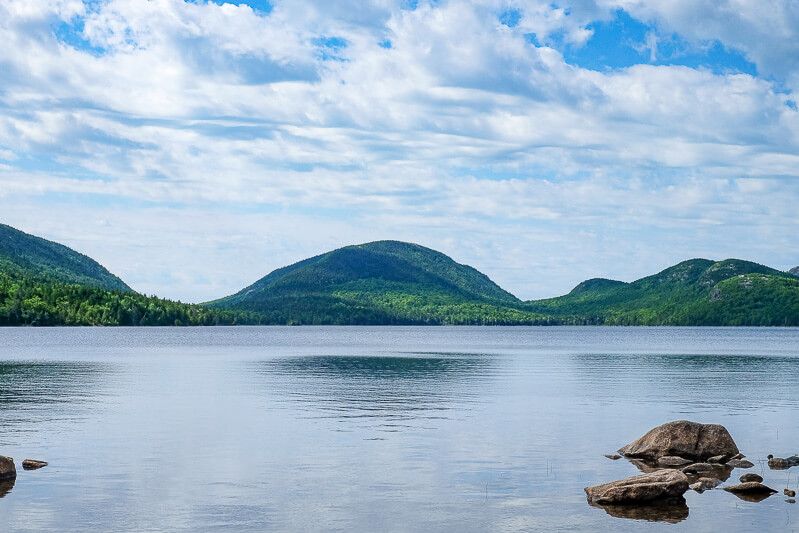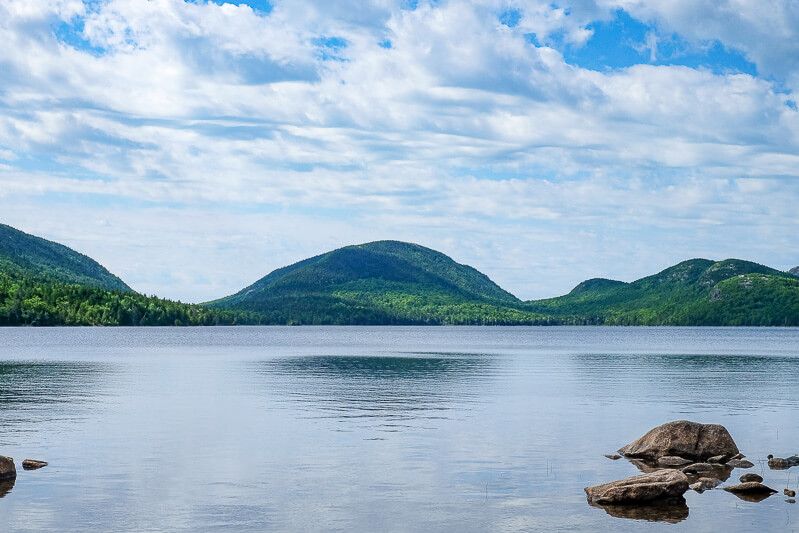 On this main loop, the hardest hill is definitely that one at the southwest corner of Eagle Lake. Its level for most of the ride down the side of the lake, but then the Road turns away and up. And you'll soon find yourself praying that after the next turn you'll see the top.
This is one long, tough hill.
When we finally reached the top, I rejoiced knowing that the hardest part was behind me. From here, we followed the signs to Jordan Pond.
The approach to the Jordan Pond House is definitely the prettiest descent along the entire loop. As you pass the Bubbles, the trees to your left open up and you have a clear view of the pond and the surrounding mountains.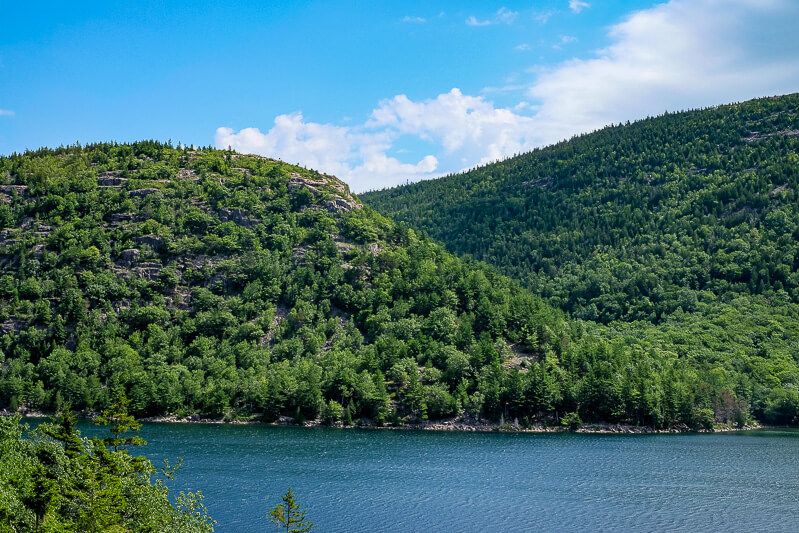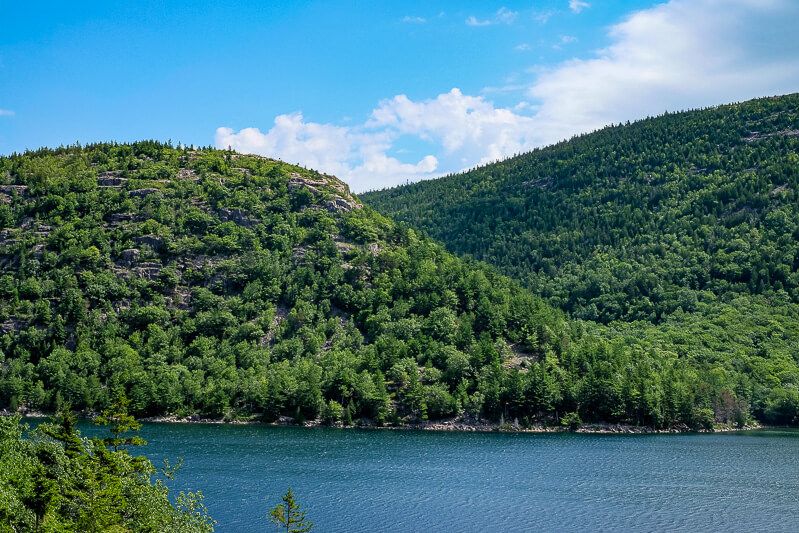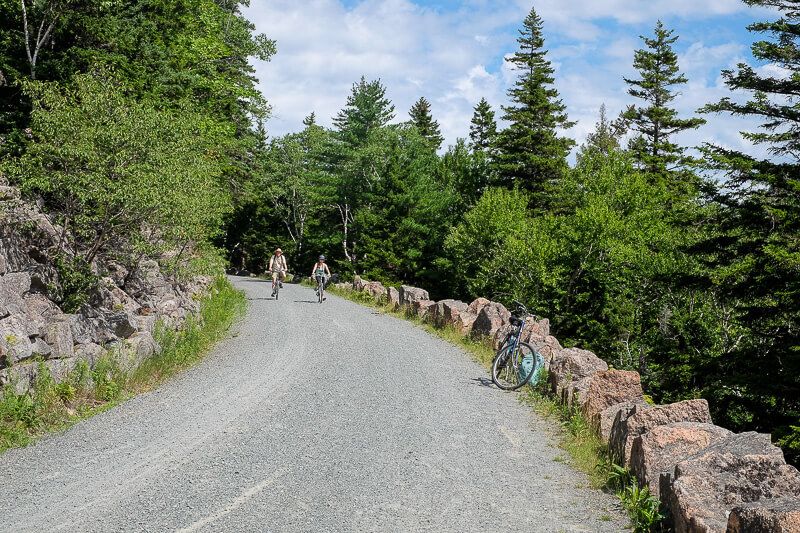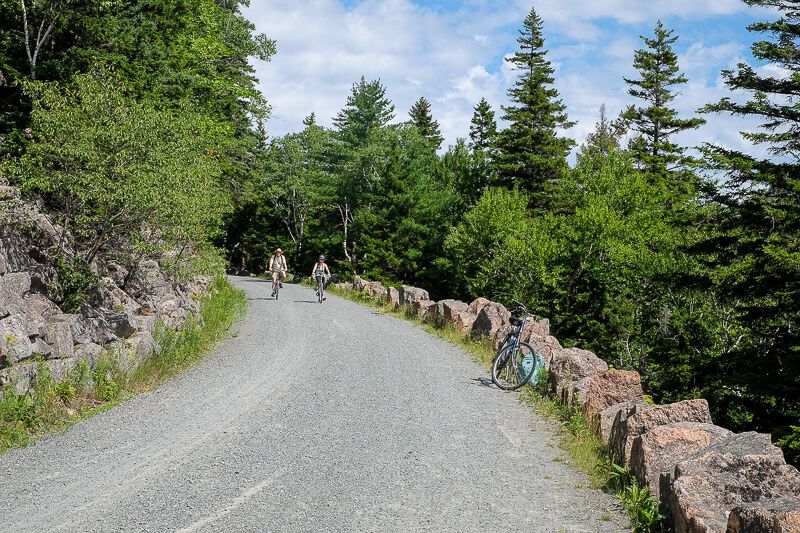 At the bottom of the hill, we decided to make a quick stop at the Jordan Pond House. The House is very popular around lunch time (expect long wait times in the summer). But we pulled over near the Gatehouse and headed to the little grab-n-go shop on the second level of the House to grab a quick lunch.
The view from the bottom (the southern end) of Jordan Pond is outstanding. Even if you don't have time to stop at the House, don't forget to pull over to see why it's so popular.
You won't regret it.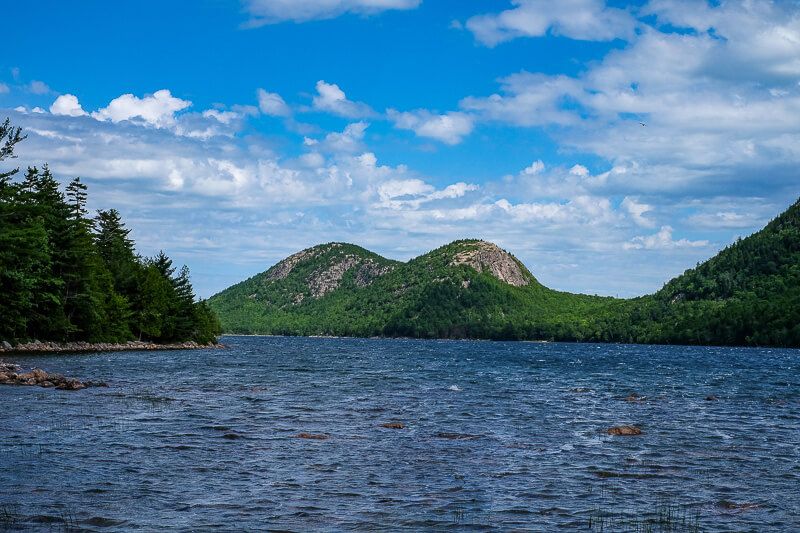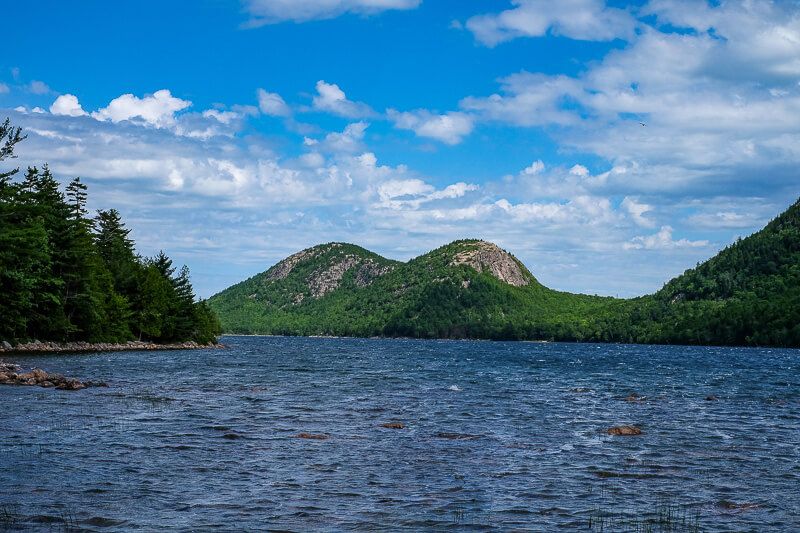 After lunch we continued past the gatehouse. There were a few hills scattered here and there, but before we knew it, we were heading down to Bubble Pond.
Bubble Pond is a lot smaller than Jordan Pond. And its dwarfed even more by Cadillac Mountain rising from its eastern shore.
Knowing we were nearing the end of the loop, we decided to take a few minutes and enjoy the beauty of the pond. My sister was particularly interested in spotting the pond's lily pads. If you only do the Eagle Lake & Jordan Pond loop, then Bubble Pond is your only chance to spot these plants.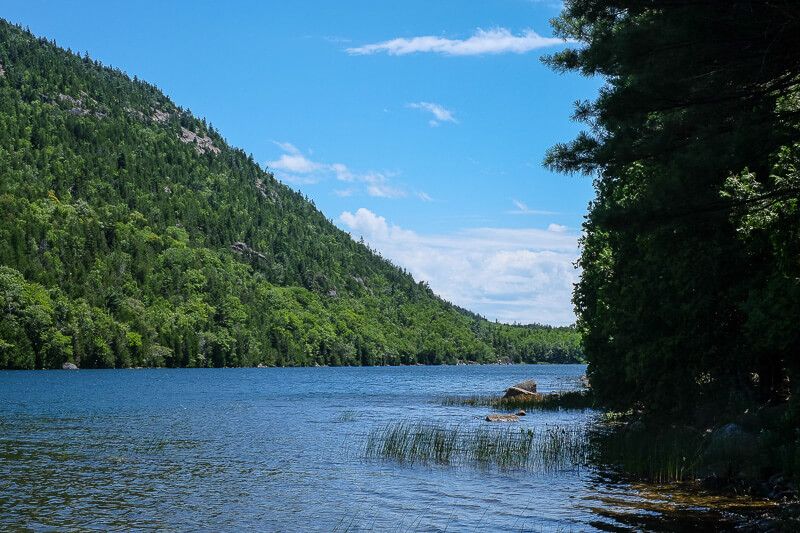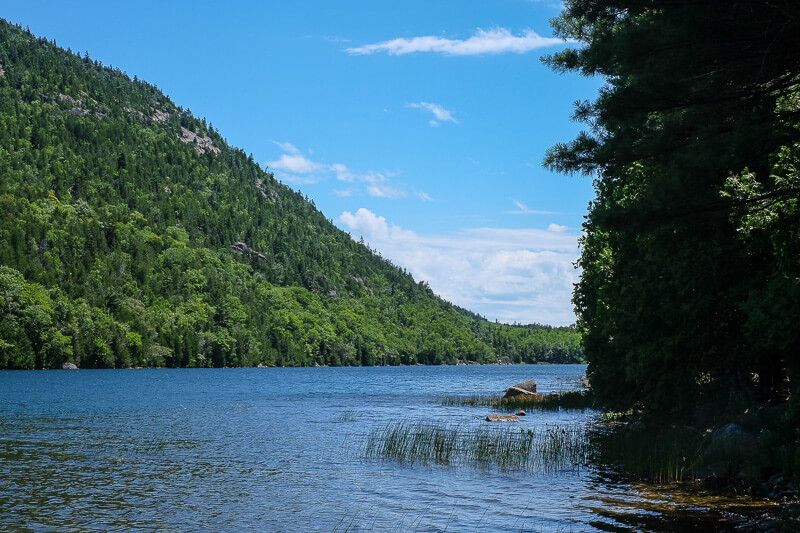 Leaving Bubble Pond behind, Eagle Lake quickly replaced it. An easy 2 mile ride down the eastern side of the lake and the loop would be finished.
And so we lingered.
By the time we crawled onto the Island Explorer for the ride back to town, we were done for the day. My legs were tired, but I was happy.
Distance: 10.7 miles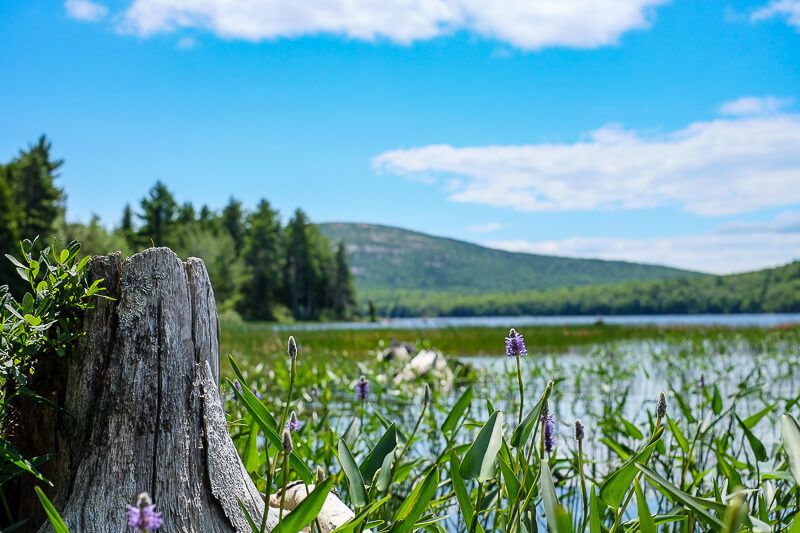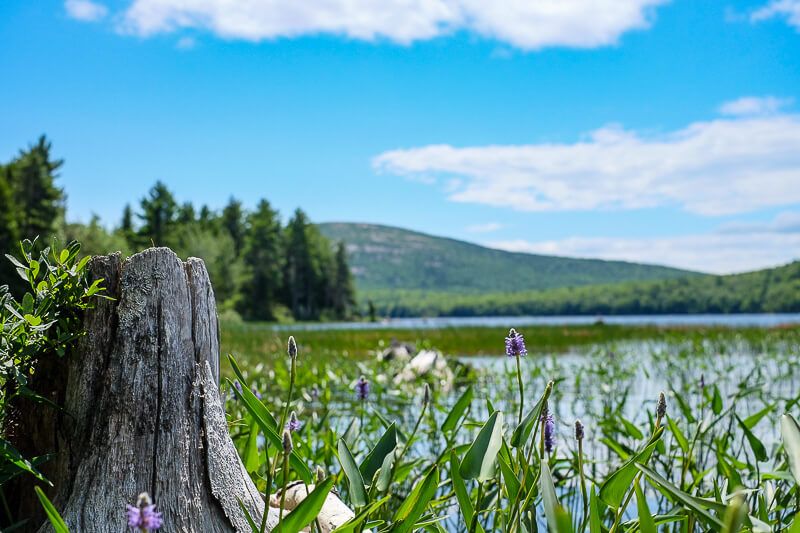 ---
So is biking Acadia National Park a "must" for your trip to Bar Harbor? I think that depends. Some people would hate even the idea of hauling themselves onto a bike and tackling the hills that surround Eagle Lake and Jordan Pond.
But for others, the chance to go beyond the regular roads and to explore the interior of the park is too good to pass up.
For me it was a simple decision.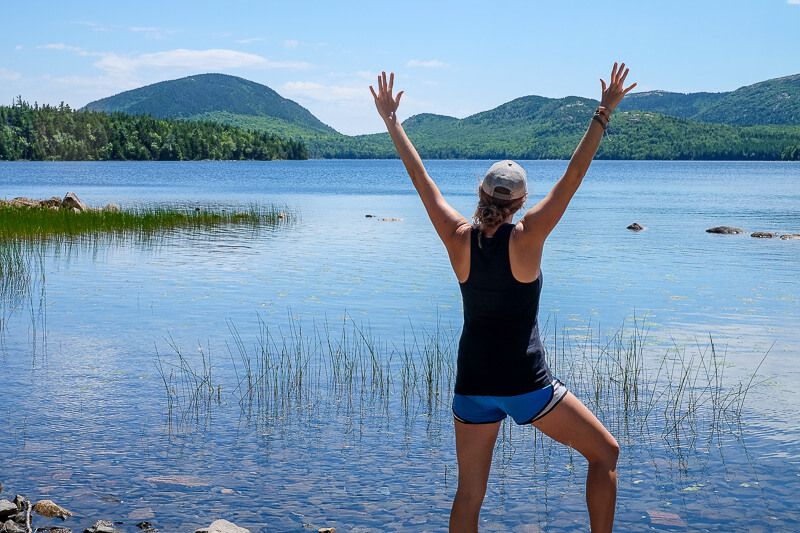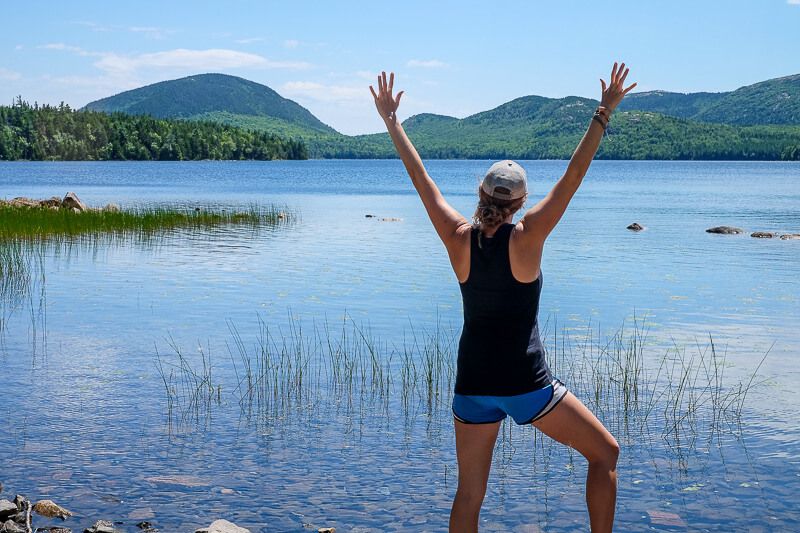 ---
Nitty Gritty
Where to rent a bike? There are several places in town where you can rent a bike for the day (or even the week like I did). I rented from Acadia Bike, but the Bar Harbor Bicycle Shop is also an option!
Island Explorer. The Island Explorer is amazing – especially their Bicycle Express. This shuttle will transfer you (and your bike!) from the Village Green in Bar Harbor to the northern end of Eagle Lake…for free! I personally used the Bicycle Express three times that week.
Map. Interested in biking Acadia National Park? Then don't forget a map so you know which Carriage Roads to take!
Would you bike Acadia's popular Carriage Roads?