A dream trip for many has to be Alaska. It definitely was for me, and I finally was able to make it happen as my honeymoon. I wanted to see glaciers, amazing scenery, and all the wildlife. If you also want to visit, then this 7 day Alaska itinerary can be the starting point for planning your own trip.
When planning your trip to Alaska, there's one thing you have to understand right off the bat. This is a BIG state. Like, even if they might look "close" on the map, it could still take you several hours to go from one stop to the next. And a one week trip means you'll be able to visit like 2ish places due to the time it takes to travel between them.
More than 2(ish) places, and you'll be spending all of your time in a car/bus/train, instead of out in Alaska.
So when doing my research, there were two places that stuck out to me. The first being Denali National Park and the second was Kenai Fjords National Park. So those were my two stops (with the whole flying in and out of Anchorage thing).
If Denali and Seward our on your list, then read on to see the highlights of our 7 day Alaska itinerary.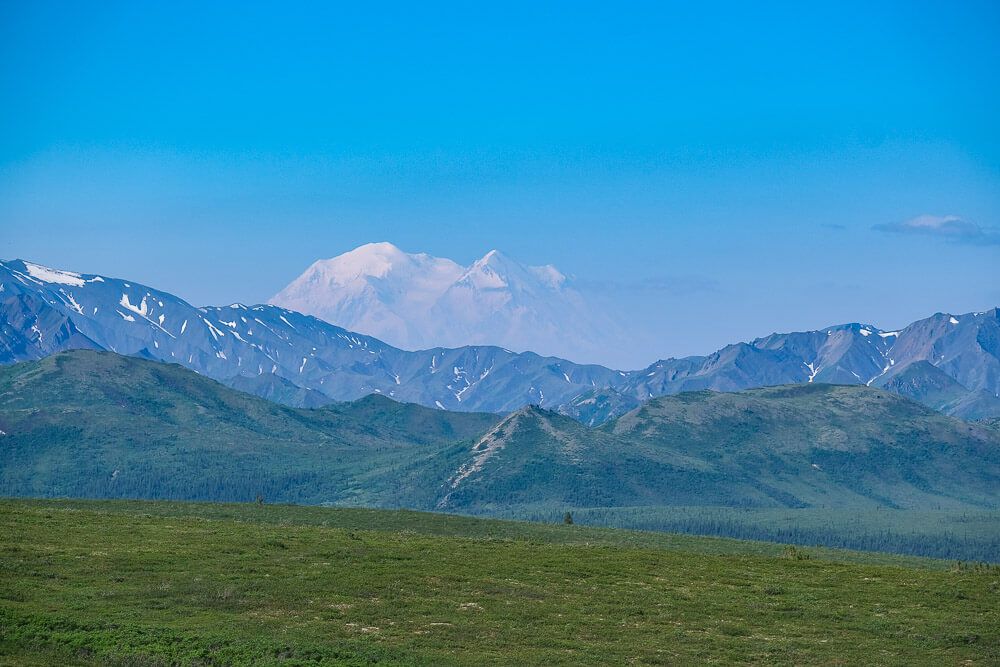 ---
What About An Alaskan Cruise?
So one of the most popular ways to see Alaska is via an Alaskan Cruise. And, well, our Alaskan honeymoon was actually 2 weeks long with the first week being a cruise through Southeast Alaska.
But this was not your typical cruise. The big, mega-ships do not appeal to me. So instead I looked for a small ship operator. And that's when I discovered Uncruise Adventures.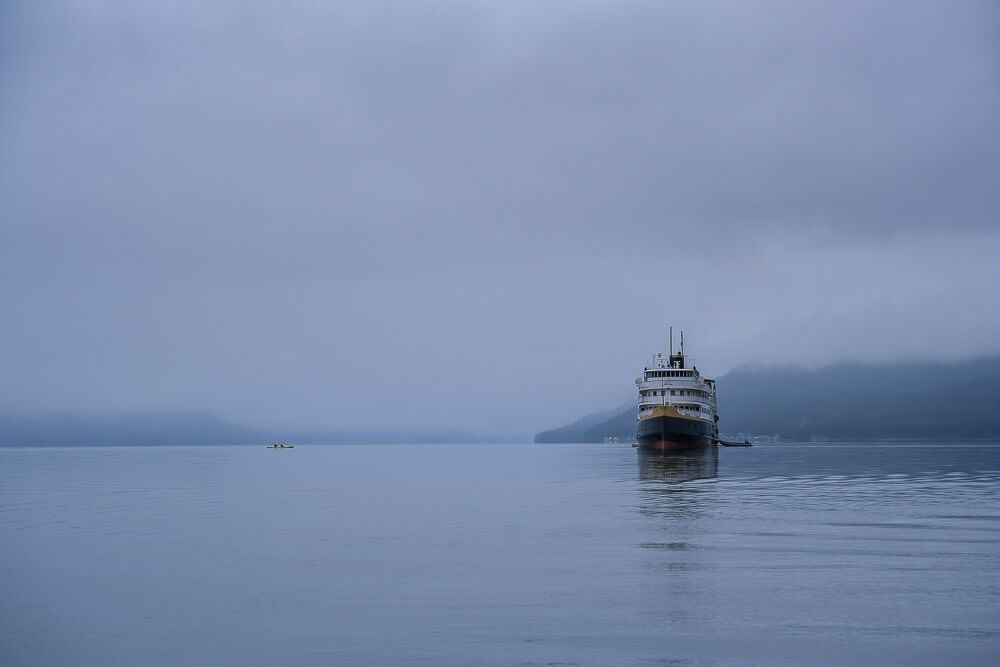 Our one week cruise with Uncruise focused on the natural beauty and wildlife of Alaska. There were no dockings in towns (other than our embarkation in Juneau). Instead we kayaked in beautiful coves, took skiff tours to glaciers, bushwhacked to remote places, and even got to spend a whole day exploring Glacier Bay National Park.
Our cruise with Uncruise was a highlight of our trip, and I've written a whole review of it – including who I think this kind of cruise is for (and who it's not for). Check it out if an Alaskan cruise is on your list!
---
When To Visit Alaska
The best time of year to visit Alaska would be during the summer. Peak summer season is from June to August. And, well, this is because the weather is the best during those months (think drier and warmer).
But don't expect hot temperatures. The highs during the day range from like 60°F-80°F and the lows at night drop to like 40°F-50°F. And if you come in the shoulder season (May & September), expect even cooler temperatures.
In terms of rain, it gets rainier as the summer months go on. So driest in May and rainiest in September where there's like a 50% chance of rain everyday.
Now there are exceptions to this weather. (Remember my number one comment about Alaska – it is BIG.) So each destination is a bit different. But these are good, general rules to go by.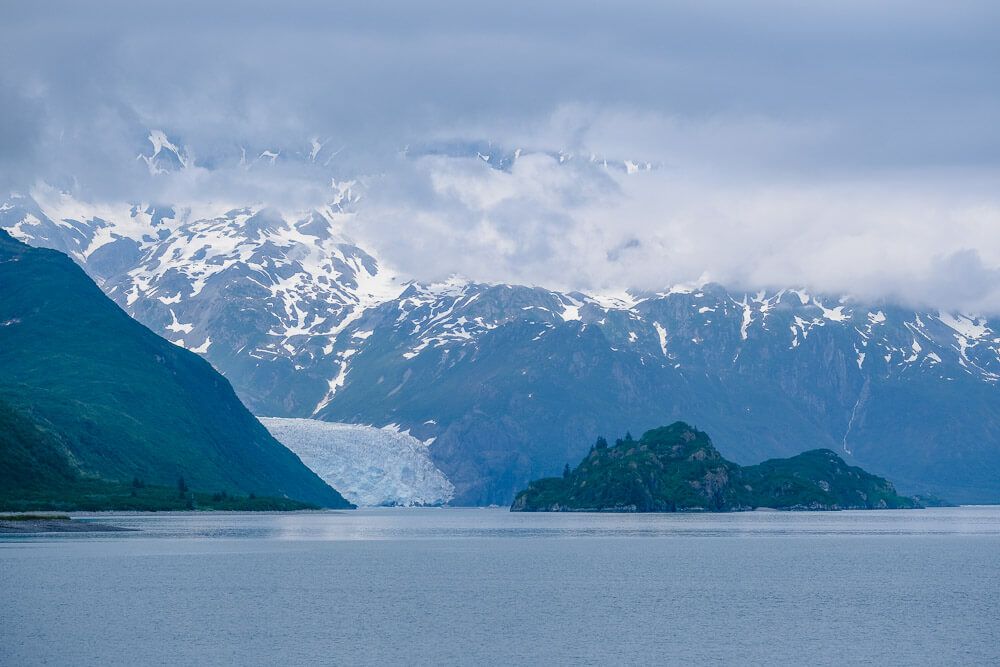 ---
Day 1: Anchorage
Flying into Alaska probably means you are coming into Anchorage. (Exception being a Southeast Alaska trip where you'll fly into Juneau.)
Now you can rent a car for the whole trip, and this does have it's advantages (the number one being freedom from schedules). But renting a car was EXPENSIVE when we looked at it. We wanted to take the train (as an experience in of itself), and looked to rent a car for the second half of the trip. And it was over $1,000 for just like 3/4 days. Plus you have gas and then parking to deal with.
If you can find a good deal on a car rental, I'd definitely consider it. But we didn't. And you definitely don't have to.
We landed in Anchorage in afternoon, so we just had one night in the city before catching the train in the morning.
Dinner at 49th State Brewery
49th State Brewery was recommended a ton everywhere I looked. And the food and the beer looked good. What I didn't quite grasp was just how popular this place is.
After getting checked in and cleaned up, we walked over at about 7pm and there was like a 3+ hour wait for a table. Now because it was summer, there was plenty of light outside (and still would be at 10pm), but like we wouldn't be eating until 10:30pm.
But we put our names down and then kept an eye out for a table to open up in the bar area (basically the first floor), and really lucked out when someone got up just as we walked by and were able to snag a table.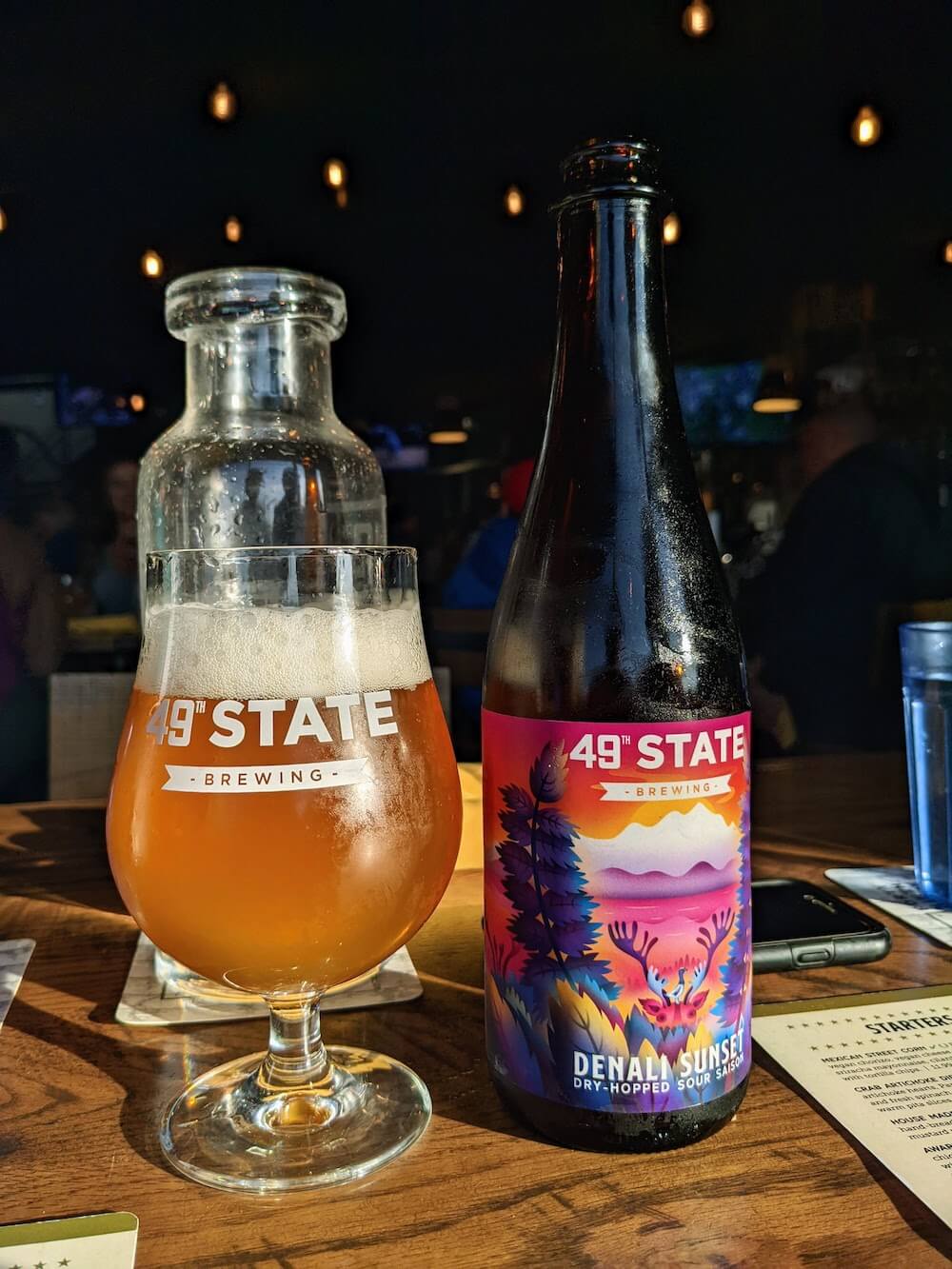 The food was really good, and Ryan liked the beer. The one I really wanted to try was out unfortunately, but my second choice was good.
If you can get in, I'd definitely recommend this place. But just expect a long wait – perhaps especially on the weekends (it was Saturday night for us).
Anchorage Accommodation
We really wanted to stay at the Hotel Captain Cook, but unfortunately didn't book It in time. If we came back, that is where I would like to stay. Instead we stayed at the Ramada, which was ok. They did have an airport pickup, which I appreciated.
More Anchorage Accommodation Options:
Day 2: Train to Denali
Alaskan Railroad
The Alaskan Railroad is often touted as one of the things to do in Alaska. Especially the journey up to the Denali area. One because the views are magnificent, but also because of the good chances to actually see the mountain (aka Denali herself) from the train.
The train journey to Denali National Park leaves in the morning. And these trips book up fast. So once you know you want to do it, I'd book those tickets. You can also look to book the Wilderness Explorer, which is a separate company, but is attached to the Alaskan Railroad train and makes the same journey.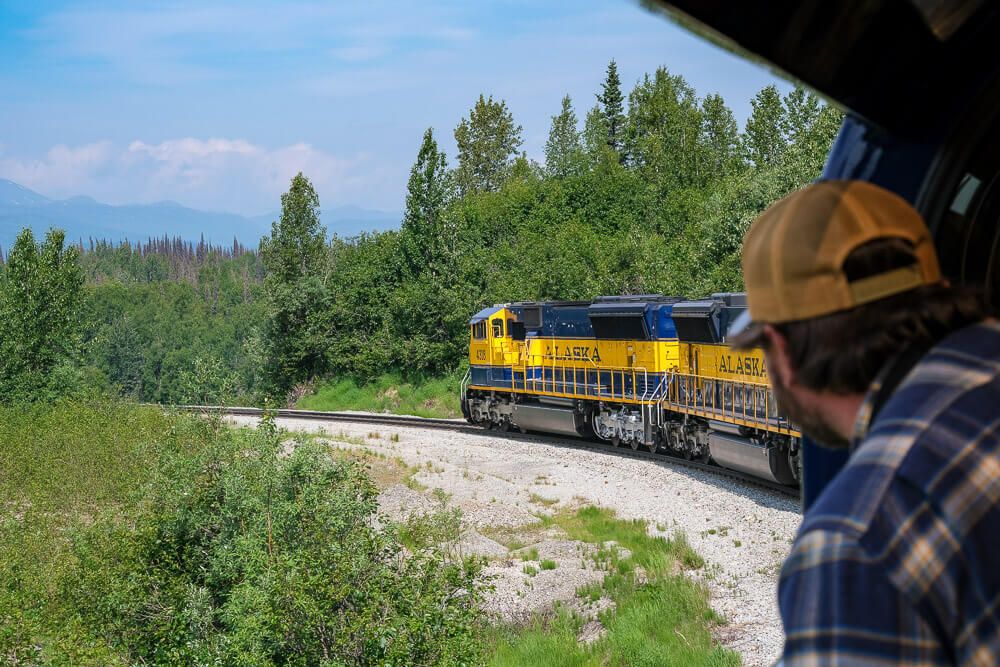 Now if you can afford it, the way to go is the Gold Star Service. They do feed you – and the food is ok – but the glass domed railcars were epic. And we lucked out and had the first seats on the train, so we had glass above us, to the side of us, and right in front of us.
The only bummer about the trip was that the morning was a bit rainy, so the journey north was a bit cloudy. So we did not see Denali during the train ride. But even with that, the views were incredible.
Lastly, we made our reservations through Alaska Tour & Travel, a travel agency, since they were able to find us seats for the days we wanted even though they looked sold out. Definitely recommend.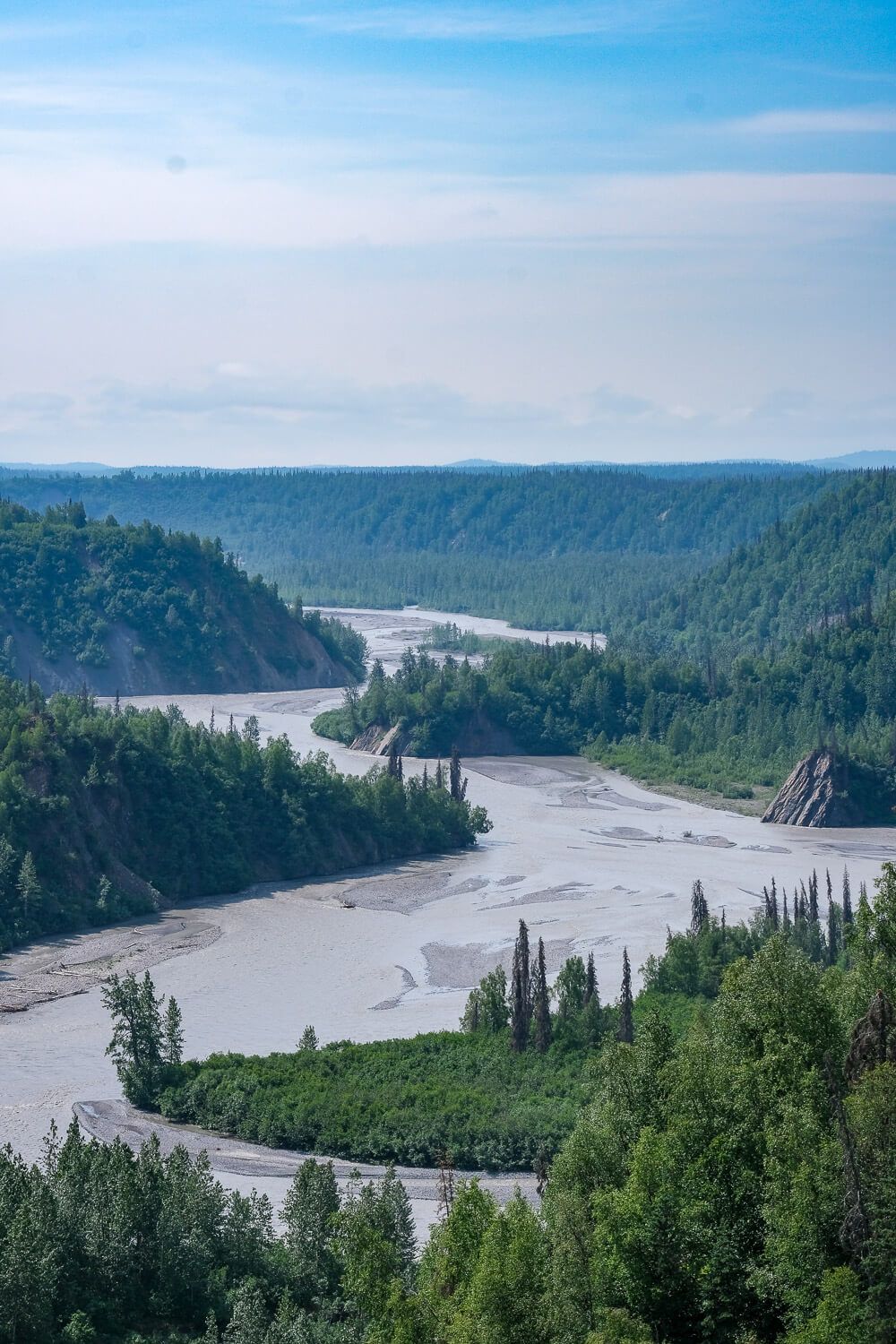 Arrival in Denali
Now Denali National Park is quite large. And there are several towns you can stay in. (All are along the Parks Highway that forms the eastern border of the park.)
We stayed in the community right by the main entrance to the park.
When the train arrives at the depot, there will be hotel representatives around to take you to your accommodation. We struggled with ours (more on this below), but eventually we were able to get on a bus.
Dinner at Moose AKa's
Moose AKa's was one of the places we were looking forward to the most. Serbian food in a small Alaskan town? And with amazing reviews? Hell yes.
And, guys, it did not disappoint. The service was impeccable. The food was incredible. We loved trying the Serbian beer as well. I want to go back and eat there a second time.
A second time? Yep. It was so good we ate there both nights. It was that good I wasn't even interested in trying anywhere else.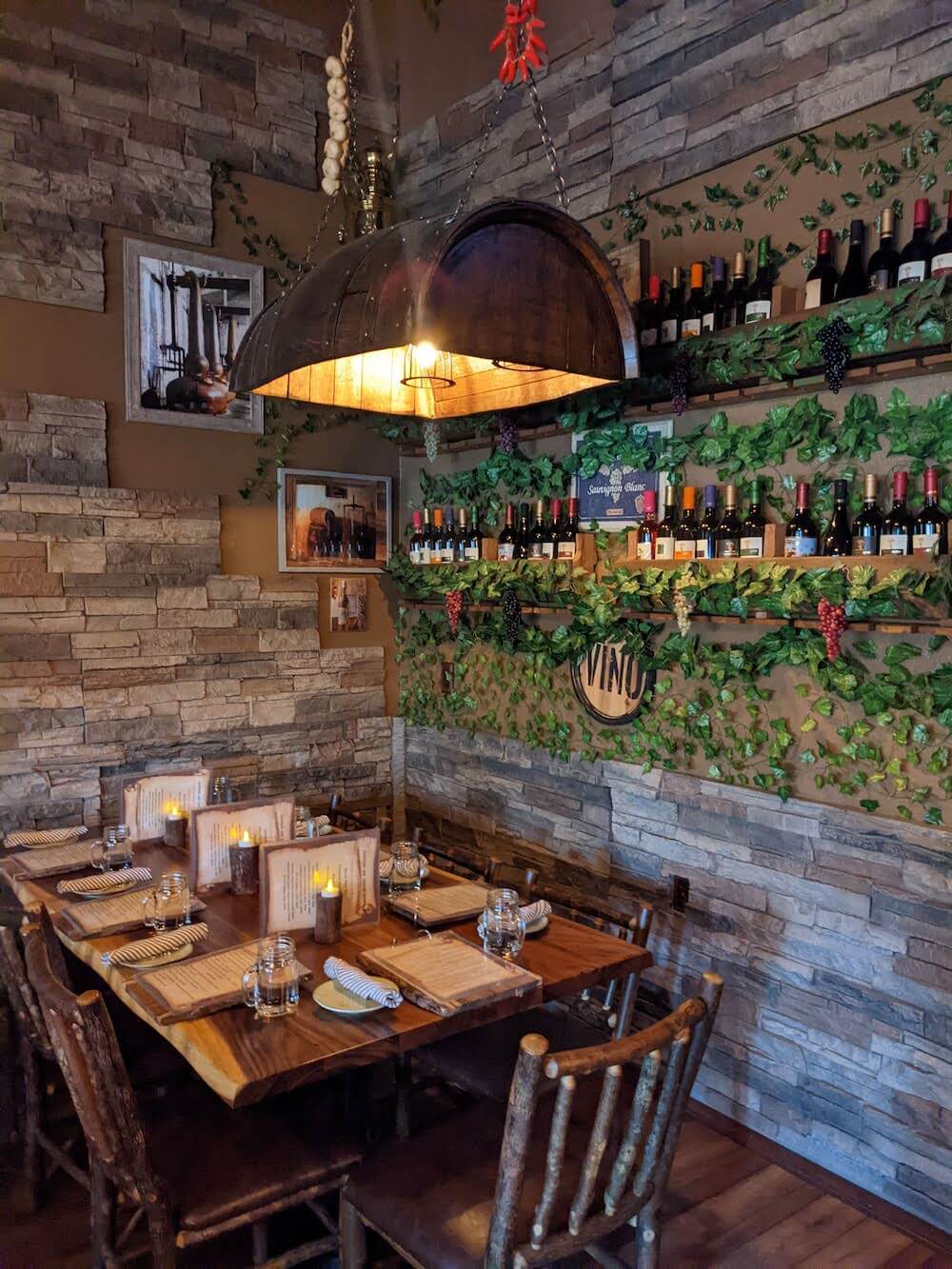 Denali Accommodation
Now we wanted to stay at Denali Bluffs or even the Grand Denali. But again we booked late. (And by late I mean like within 4/5 months. Book like over 6 months out you guys.)
So there was only one hotel left when we went to book and that was the McKinley Chalet. Now it seemed nice, but what we didn't realize is that the resort basically caters to a cruise line that has the "Denali Experience" as an add-on package.
Basically everyone staying there was doing this. And their whole trip was planned and organized by the cruise line. Our independent booking confused them to no end.
There was no one there to pick us up at the train depot, but eventually we got a ride (after like an hour of asking for help and even calling the hotel).
They pushed back on coming to pick up our bags at the end of our stay because we weren't on their list. Even though we were checking out and had asked the front desk for the bag pick up the day before. It was a headache the whole trip.
More Denali Accommodation Options: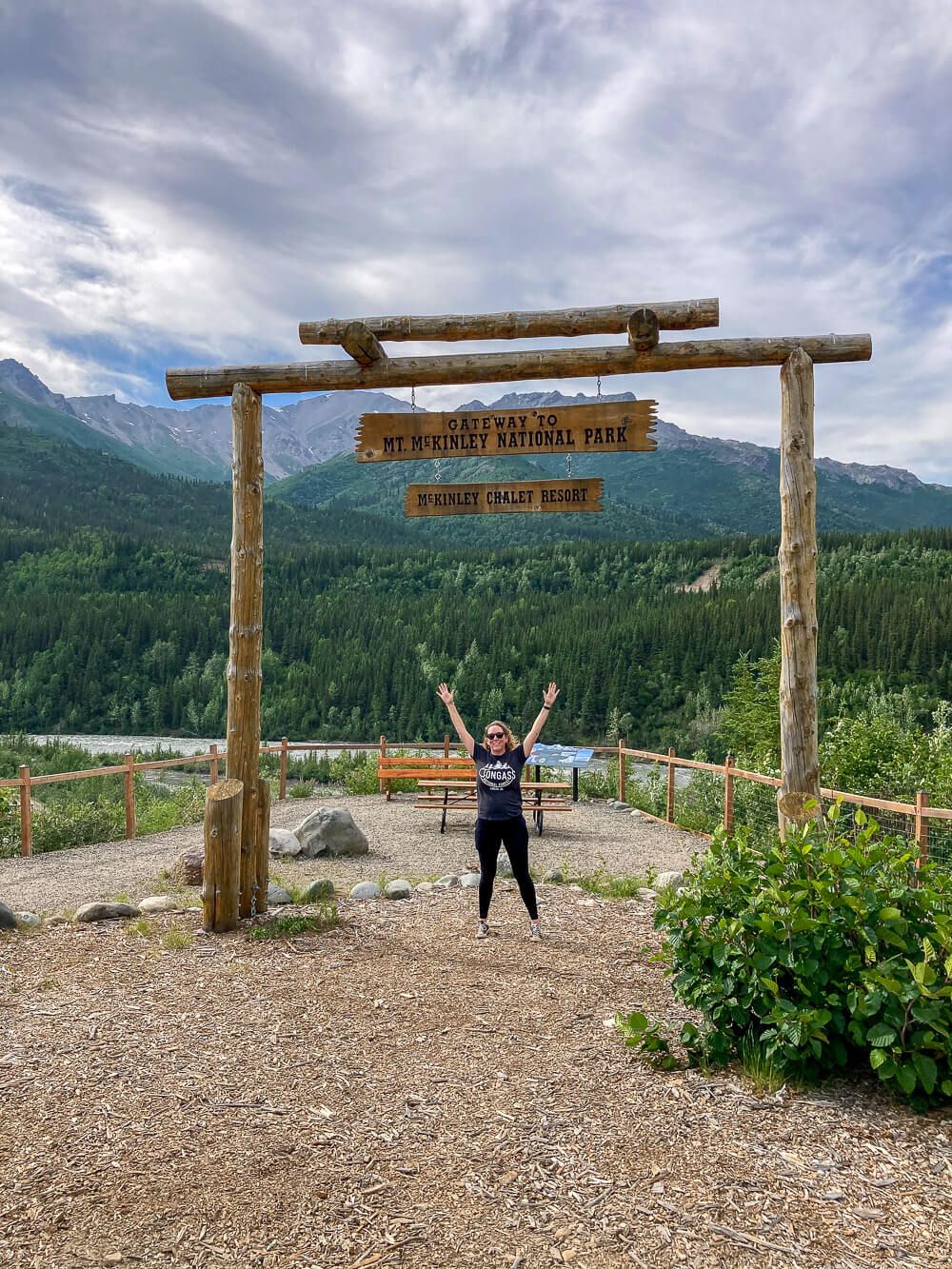 ---
Day 3: Denali National Park
This was our full day in the area and we had debated for a bit on how to spend it. The tours into the park seemed like the best way to see the park in one day. I actually wish we would have had two full days in the area, but we decided to spend more time in Seward.
Definitely consider adding on an additional day in the Denali area to go hiking in the park, white water rafting, or even flightseeing. (This last one was a big one we ended up removing for scheduling reasons.)
Tundra Wilderness Tour
So the main way to access Denali National Park is via the Denali Park Road. And since private vehicles can only drive the first 15 miles, buses are your main way into the park. The main ones being the tour buses and transit buses.
After a lot of research, we decided for the Tundra Wilderness Tour.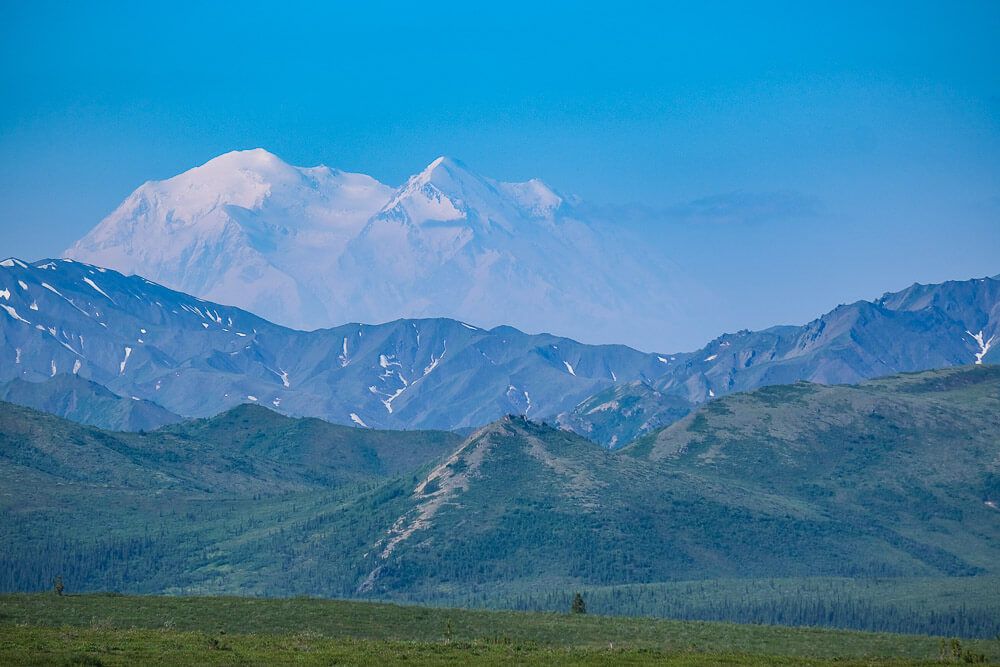 IMPORTANT INFORMATION FOR 2022 & 2023. Due to a landslide along the Park Road, the Denali Tundra Wilderness Tour turns around at MM 43. In fact all buses (tour or transit) turn around at MM 43. This is roughly just halfway along the road and significantly shortens the tour. There is a chance the road will not be fixed for the 2023 season. ALWAYS check the current conditions via the National Park Service.
Under normal conditions, the Denali Tundra Wilderness Tour is one of three tour buses operated by the park. Longer than the short Natural History Tour, but several hours shorter than the 12 hour Kantishna Experience which takes guests all the way out to the end of the road.
The Kantishna Experience is not currently offered due to the road being out. Which was unfortunate as that was the one I wanted to do.
The Tundra Wilderness tour claims to offer great scenery and, hopefully, chances to see wildlife and Denali. (Note that the mountain is only visible about 30% of the time, so there's a good chance the weather won't cooperate during your time in the park.)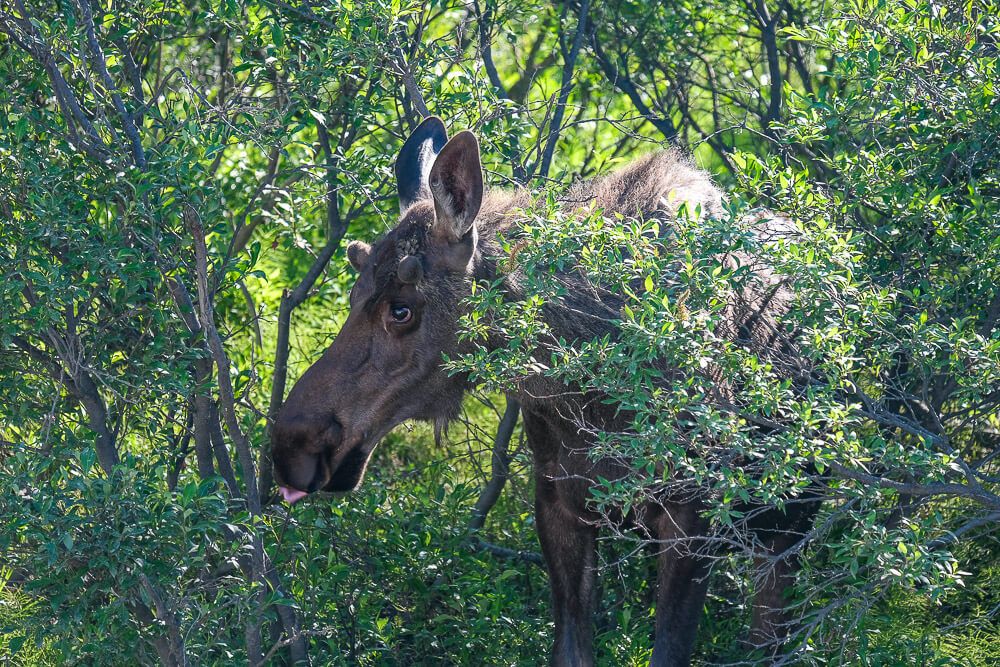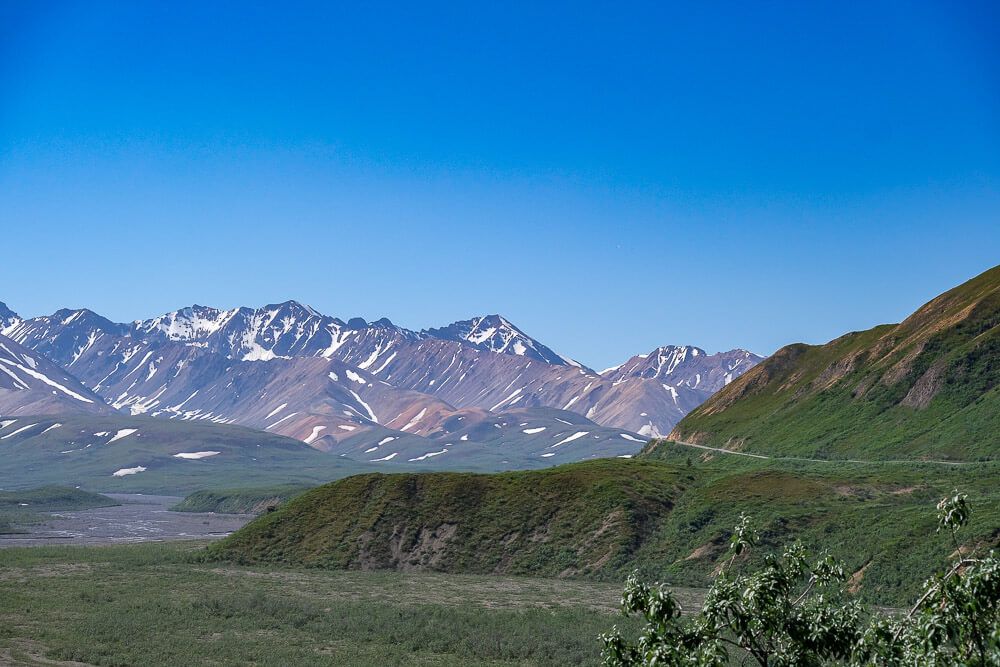 And while there were several things I didn't like about our tour, in the end we were able to actually see Denali and some wildlife. (Though no bears, wolves, or sheep – just moose and caribou.)
Definitely read my review and see if this is something you'd like to do.
After the tour, we spent time doing a bit of souvenir shopping, walking out to the main Denali National Park sign, and again eating at Moose-AKa's. If you have a car, you could drive up to Healy and eat at 49th State Brewery (their second location).
If my afternoon doesn't thrill you, you do have options. You could spend your time flightseeing, taking a shuttle to the visitor center and doing a few hikes around there, or even white water rafting. Since it doesn't get dark until basically past midnight in the summer, you have a lot of daylight.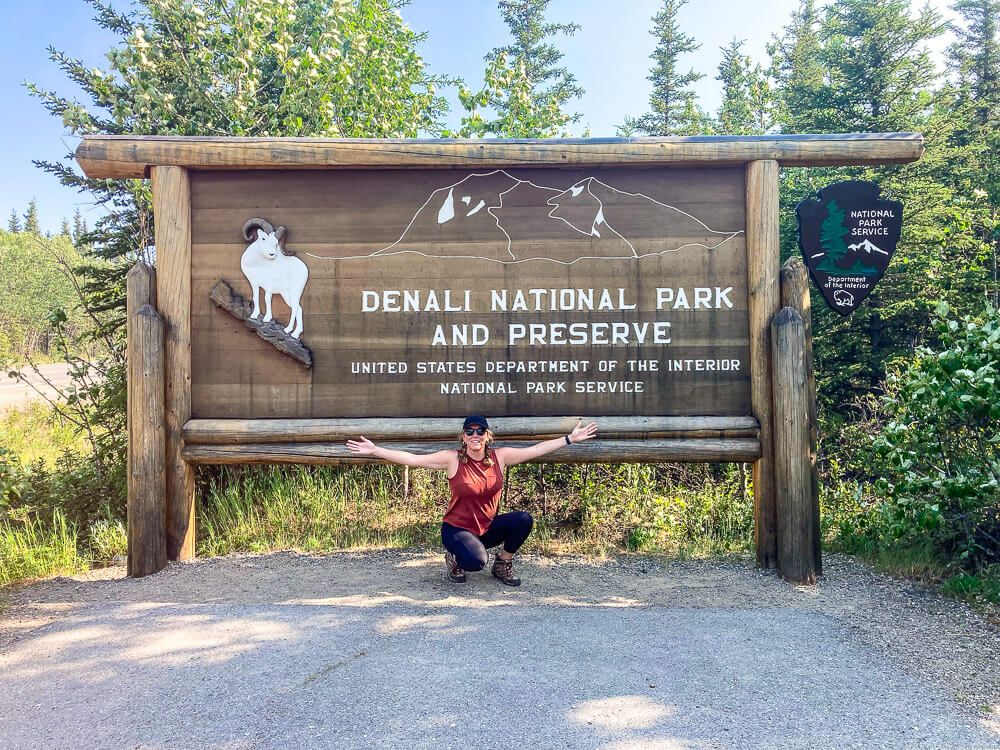 Day 4: Travel to Seward
This was a long day. Driving time from Denali National Park to Seward is 6.5 hours. Since we didn't have a car, we opted for the Park Connection Bus. The bus picked us up at our hotel in Denali around 7am and we got to the Seward area around 5:45pm.
We did stop in Anchorage for about an hour and a half for lunch. We grabbed a bite to eat at Humpy's Great Alaskan Alehouse which was right around the corner from the bus stop. And there are a few other bathroom breaks as well.
But we basically spent most of the day on the bus.
Once we arrived in Seward, we called a taxi to pick us up and take us to the hotel. Unfortunately our hotel didn't offer a pick-up, but it was right in the old downtown so we then could walk to restaurants, shops, and more.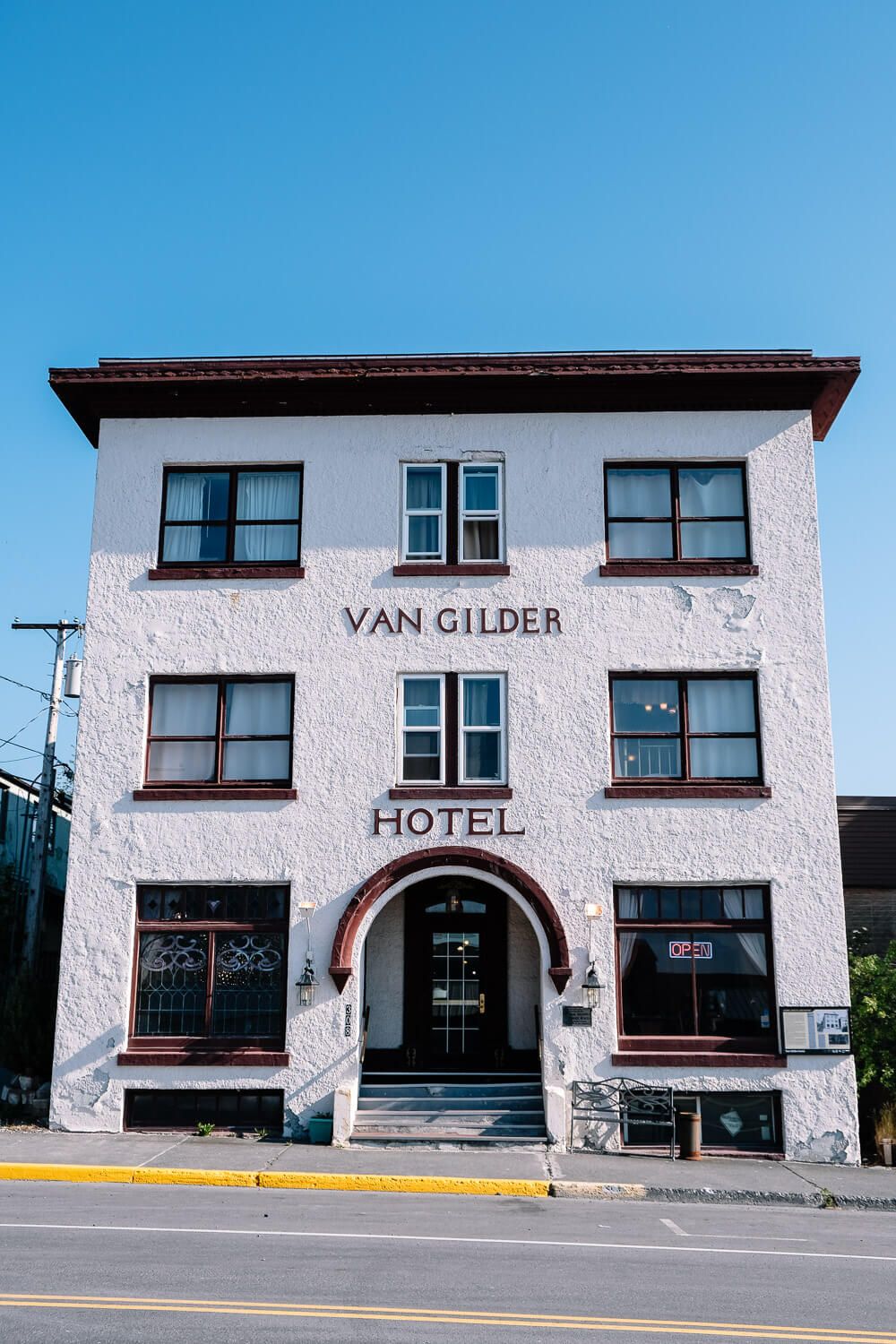 Seward Accommodation
We were on a bit of a budget (and, well, booked kinda late), so we stayed at the Van Gilder Hotel. This is an old, historic hotel. Also, apparently, a bit haunted as well. I loved the historic feel of it, but I know some people might be put off by it.
But for the price and location, it was perfect for us.
More Seward Accommodation Options
Day 5: Seward
The next couple of days are spent in Seward – a town I really came to love. And you don't really need a car while here. Both of our main activities (dog sledding & boat tour) had free pick-up/drop-off. And then there's the free Seward shuttle.
Glacier Dog Sledding
Fly in a helicopter. Land on a glacier. Go dog sledding. Yes, this is a thing. And yes, it's as cool as it sounds.
It was also the second big splurge of our trip, as it is expensive. But this experience was incredible – read my full review for all the details and photos.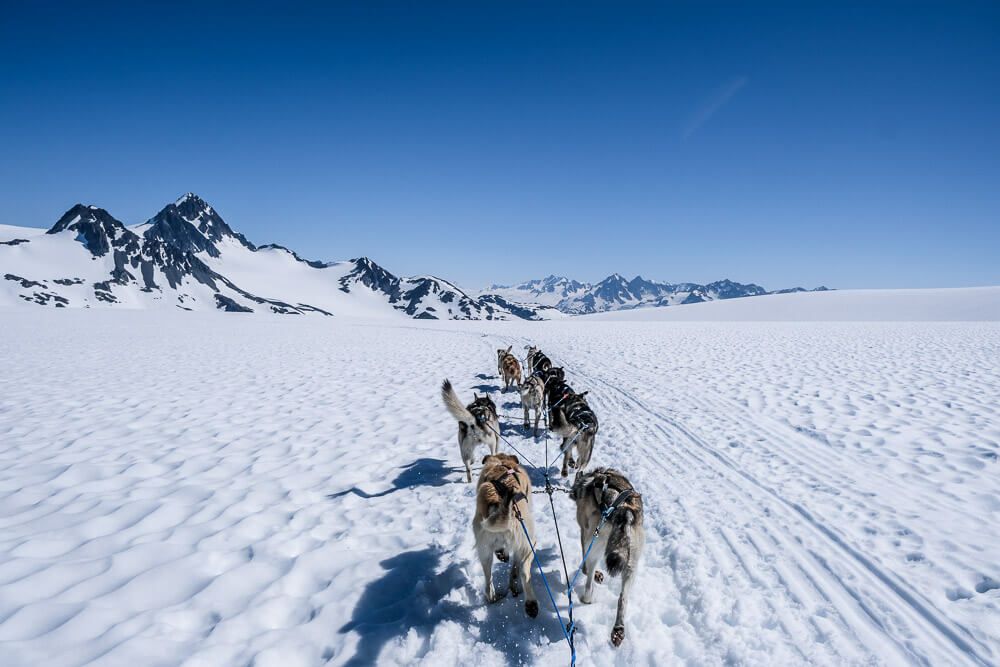 You can find information about the tour we did from Turning Heads Kennel and from Seward Helicopter Tours. The Book Now buttons go to the same booking engine because they are the same tour (they partner together).
The booking process was very smooth and I liked their cancellation policy. They also offered free pick-up and drop-off in the Seward area.
First it started with the 15 minute helicopter ride. Everyone gets a window seat (and I was even up front next to the pilot). You'll swoop across the bay and up towards Godwin Glacier.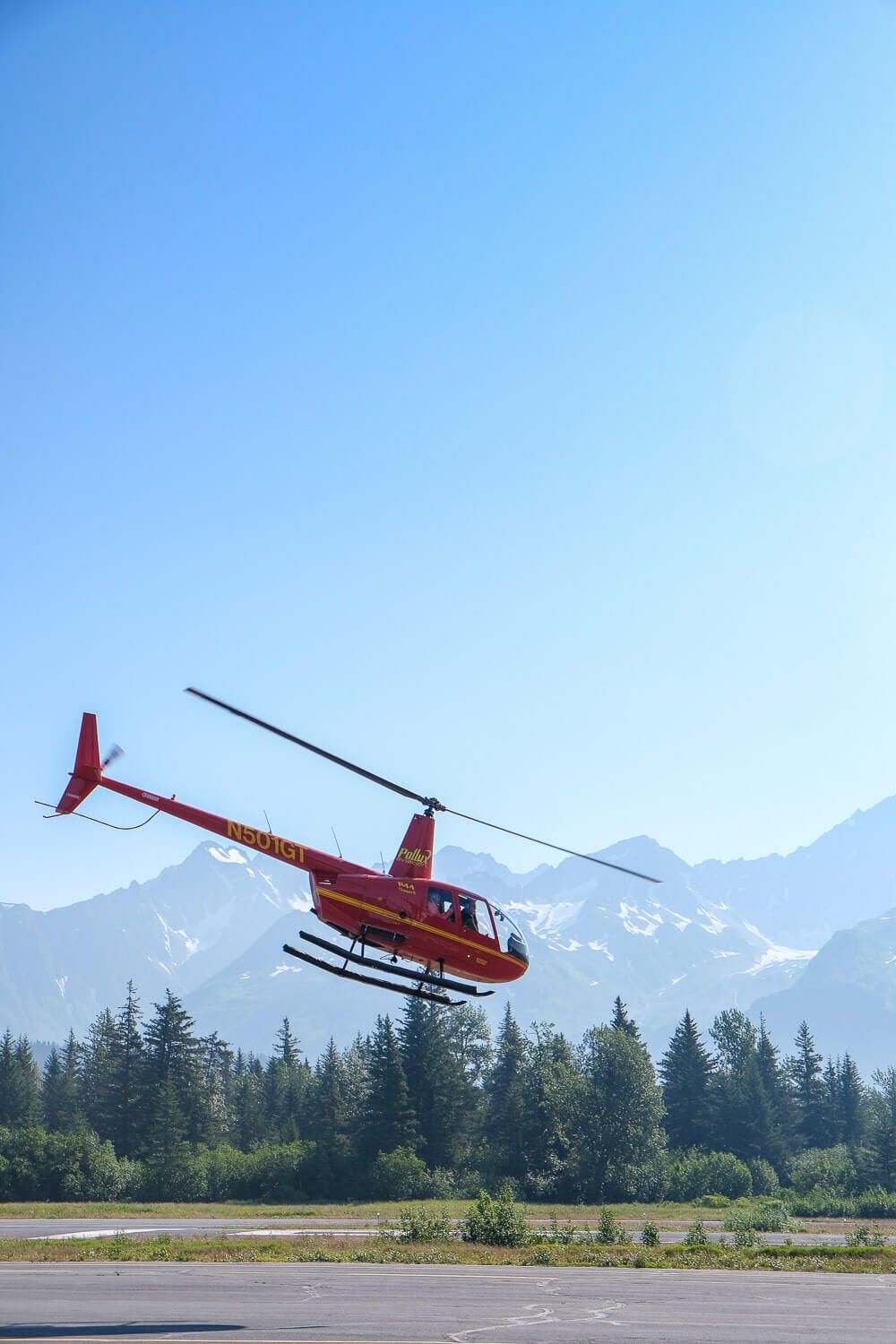 I had never flown in a helicopter before the tour and though it was a bit nerve-racking at first…I loved it. This part of the trip seemed to fly by (literally) and before we knew it we had crossed over the lip of the glacier and could see the dog sled camp in the distance.
The only thing I would do differently would be to schedule a second helicopter tour. (Which you can do through Seward Helicopter Tours.) I loved that part of the experience so much.
Then you have about an hour on the glacier itself. Only a few people dog sled at a time, so the first half of our time on the glacier was spent taking photos, talking to the staff, and snuggling so many cute sled dog puppies.
Then it was our time to dog sled. The 25 minute dog sled ride is broken into 3 different parts. This works to give each person on the sled a chance to sit in the front and grab those amazing photos and videos of the dogs running.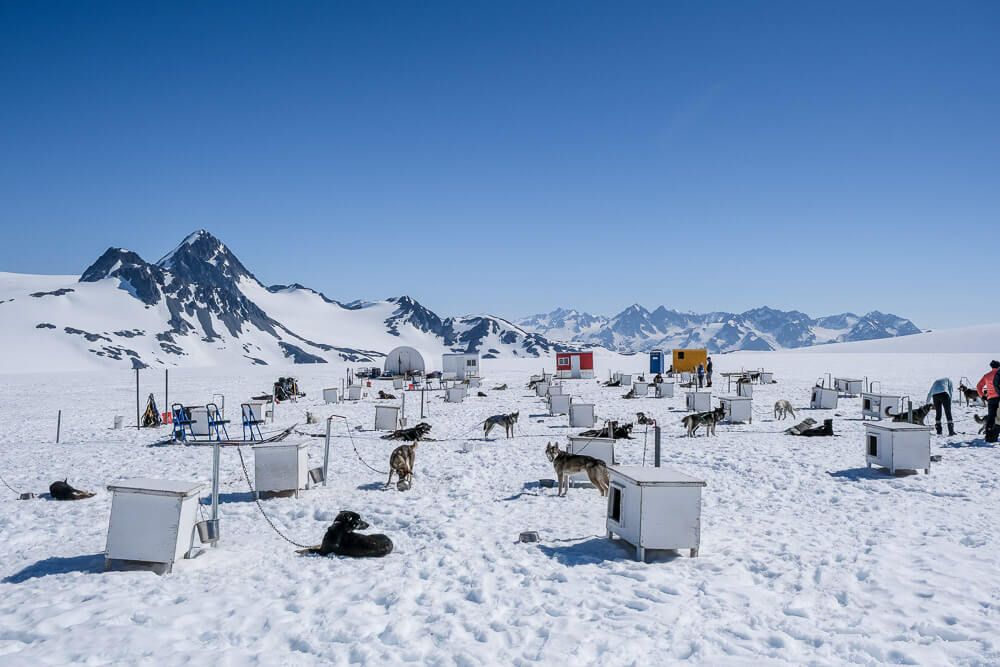 At each stop along the glacier, you'll have a chance to get off and take some photos. Your guide will also be able to take some photos of you on the sled and with the dogs.
It goes without saying that the actual experience of dog sledding on a glacier was a once in a lifetime experience.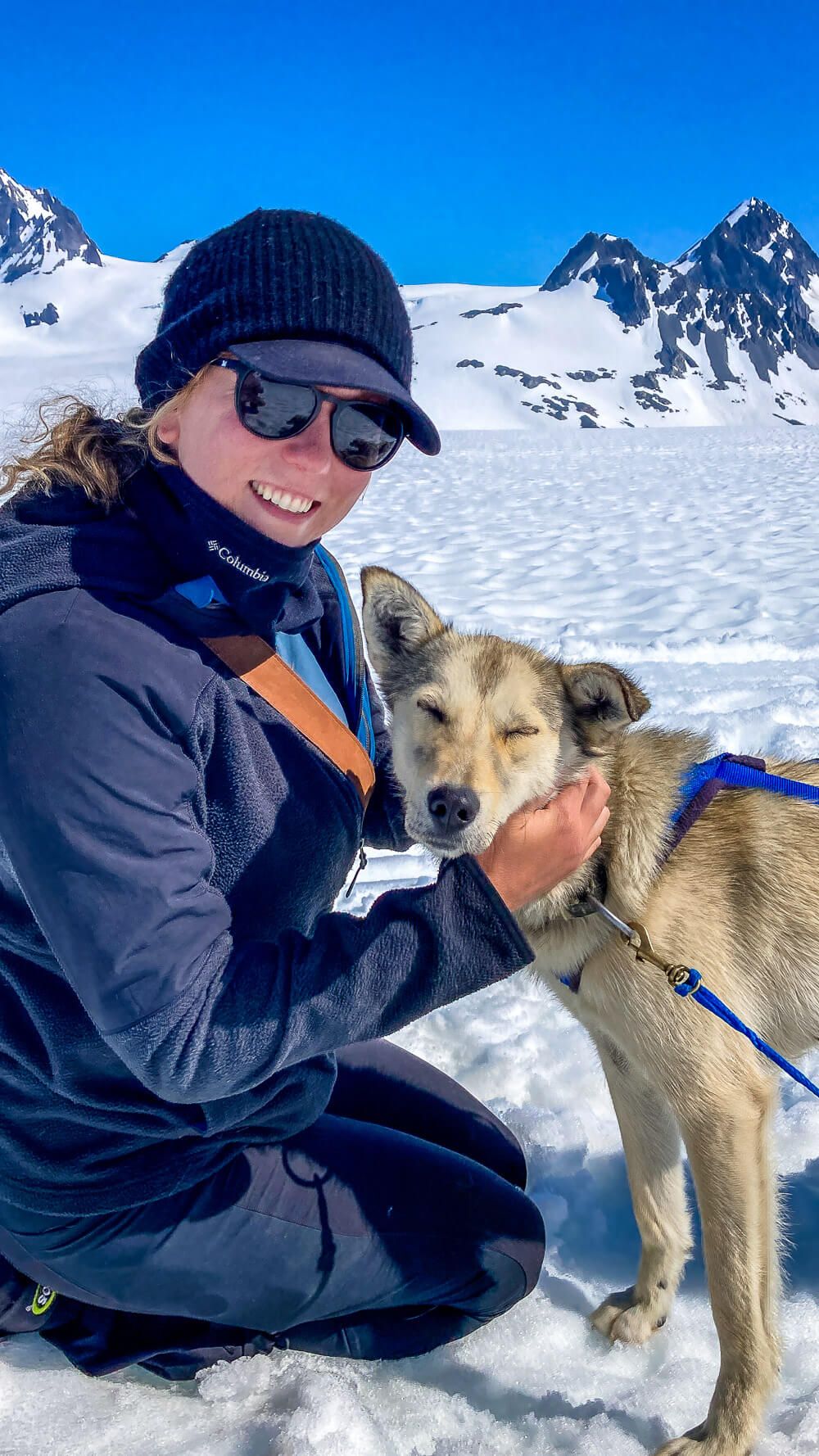 More Seward Activities
Over the next two days we did two additional must-see activities, but you may find that you have some more free time. The dog sled tour took about 2ish hours, and so we had the rest of the day to ourselves. We spent it exploring the downtown area and relaxing a bit.
But there's so much more to see in Seward! Here are some of the activities I have bookmarked for next time.
Visit Exit Glacier
Exit Glacier is another of the most popular spots in Kenai Fjords National Park and the only part of the park accessible via road. Try the 2.2 mile Exit Glacier Trail to get a sense of the area. Though you may have to walk further than you think due to how fast the glacier is receding.
If you don't have a car, there are several shuttle operators in town that can you take you to Exit Glacier. (You will need to book these in advance.)
Hike to Harding Icefield
This massive (700 square mile) ice field is responsible for so many of the wonders of Kenai Fjords National Park. Because this is where the glaciers come from. Think Exit glacier, Bear Glacier, and the tidewater glaciers you'll see during the Kenai Fjords boat cruises. All come from the Harding Icefield.
But if you want to get up close and personal, you can hike out to the icefield from the Exit Glacier area of the park. It's a very strenuous 8.2 mile roundtrip hike (with over 3000ft of elevation gain), but I've seen the photos and they are impressive. You have to be prepared for all the weather and be a strong hiker. Here's the Harding Icefield Trail on All Trails.
Scenic Helicopter Tour
I loved the helicopter ride during our glacier dog sledding tour so much that a scenic helicopter tour is now on my list of things to do again. Seward Helicopters is the main operator (and the one that works with the dog sledding group).
They offer four scenic flight options: 15min, 30min, 45min, and 60min. So you can pick the best flight option for you (based on what you want to see and your budget). They even have an overnight experience at Bear Glacier that looks incredible.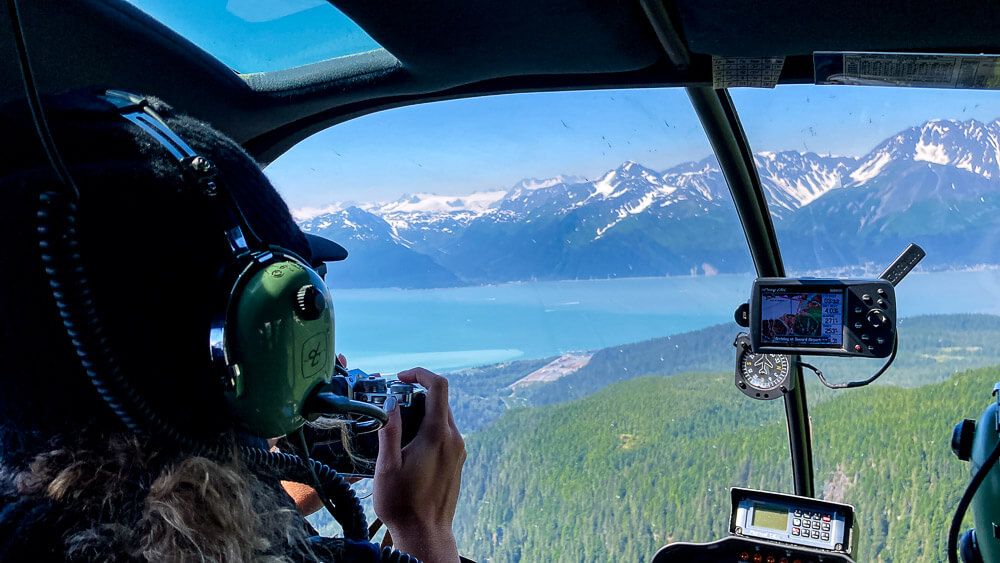 Climb Mt. Marathon
So there's a mountain that kind of looms over Seward. This is Mt. Marathon. And every July 4th there's actually a race to the top of it. (It's call the Mount Marathon Race, and is about a 5k distance with almost 3,000ft of elevation gain).
We were in Seward in the days leading up to the race, and people were excited about it. In 2022, the winners did it in like 45(ish) minutes.
But when it's not race day, you can hike the mountain the rest of the year. The trailhead is located on the west side of town, at the intersection of Monroe Street and First Avenue.
Day 6: Seward
Kenai Fjords Boat Cruise
Without a doubt, the number one thing to do in Seward is to take a Kenai Fjords Boat Cruise. I wasn't sure what to expect from ours, but it was a highlight of our trip.
Major Marine Tours offers several different cruise options. The varying factor here is time (ranging from 4 all the way up to 8.5 hours). And of course the longer the tour the more you see and the farther out you go.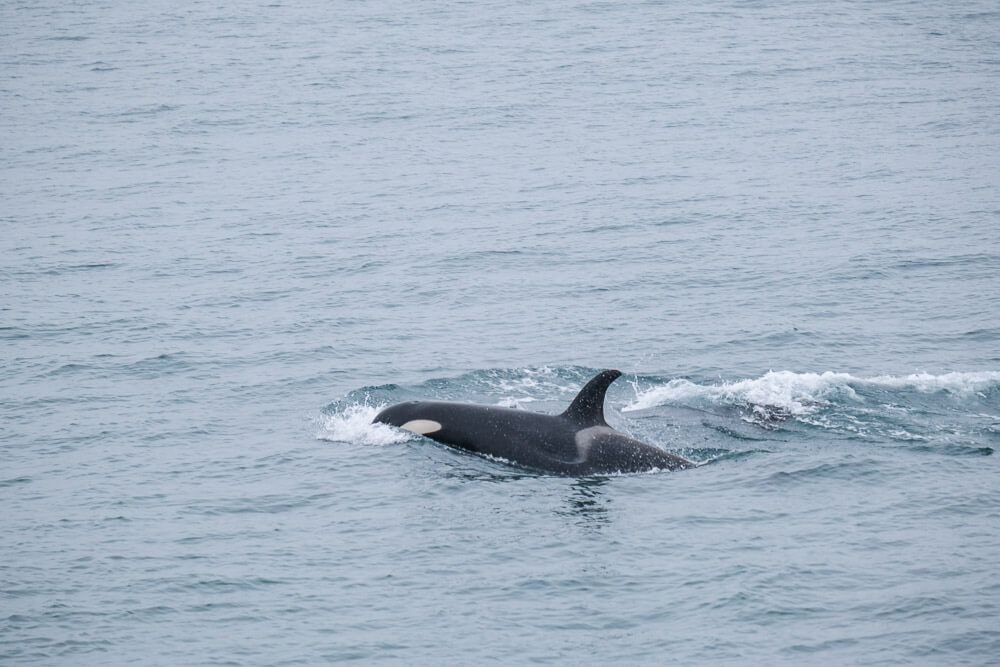 One of the things we wanted to do was to see a tidewater glacier. So we choose the 7.5 hour cruise due to it being one of the longest they offer (and therefore more wildlife chances) and it visiting two massive and active tidewater glaciers.
Now the glaciers were incredible. But the best part was the wildlife. Sea otters, seals, orcas, humpback whales, sea lions, puffins, and more.
It was easily one of the best days of our whole entire trip. And if we were to go back to Seward, we would take a tour from Major Marine again. That's how much we loved it. Check out my full review for all the details on the tour and what we saw!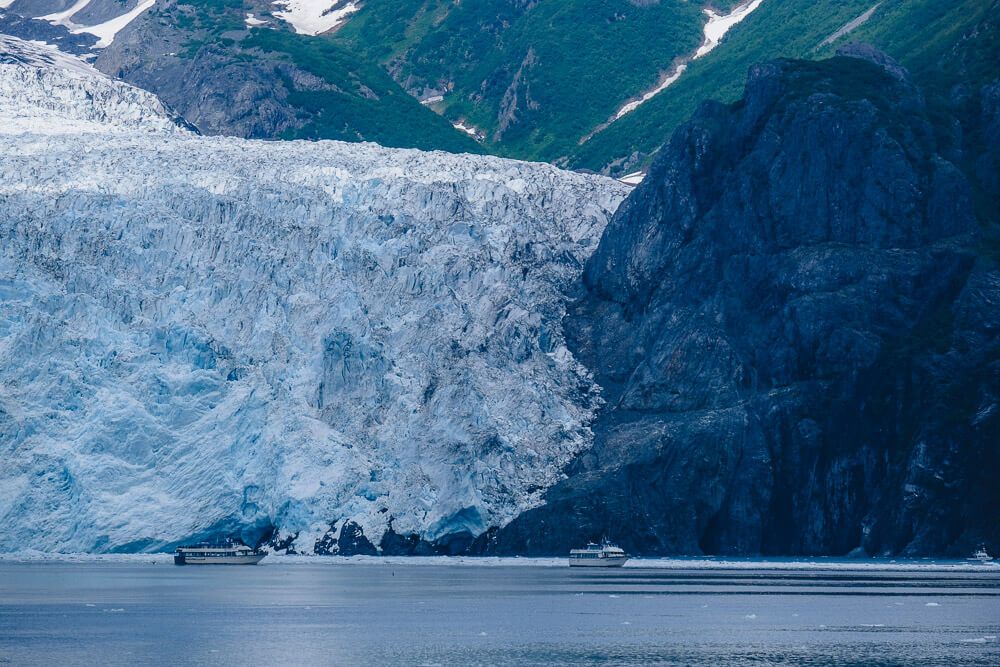 Seward Brewing Company
The Seward Brewing Company is not open everyday (closed Tuesdays and Wednesdays I believe). And unfortunately for us, we were there during those days. We did fit in a very short visit on our last day, but if you can, I'd go for a proper dinner.
The food and beer were fantastic. We sat at the bar and chatted with a few other patrons and with the bartenders when they weren't super busy. Plus it was less than a block from our hotel.
We probably would have gone for a drink almost every day if we could have.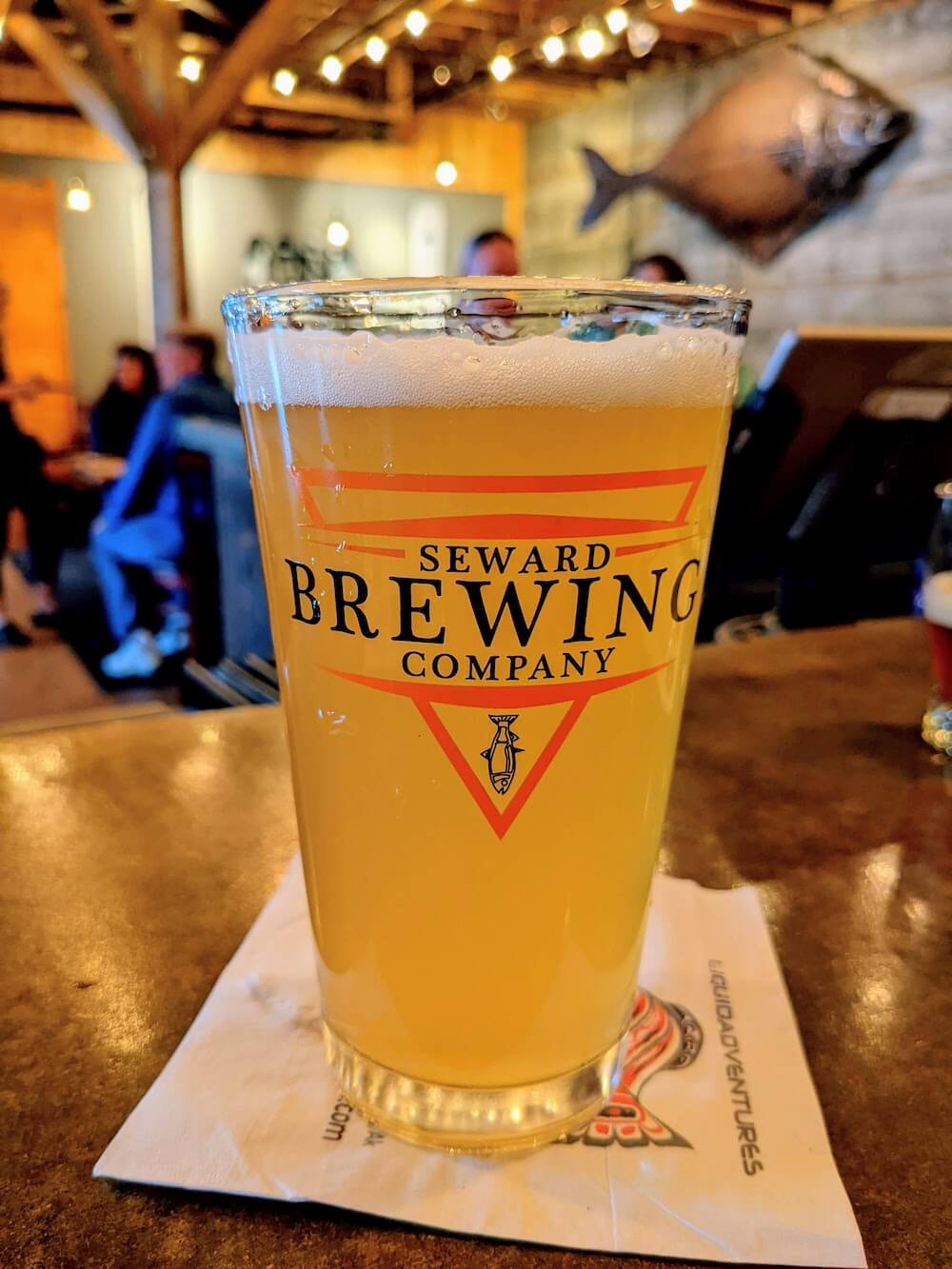 Day 7: Seward & Return to Anchorage
Alaska SeaLife Center
This was our last day in Seward and we were catching the evening train back to Anchorage. But first we spent the morning at the Alaska SeaLife Center. This is not only an aquarium, but also the only permanent mammal rehabilitation center in Alaska.
I enjoyed our visit and the chance to learn more about the animals and environment we had been seeing for the past several days.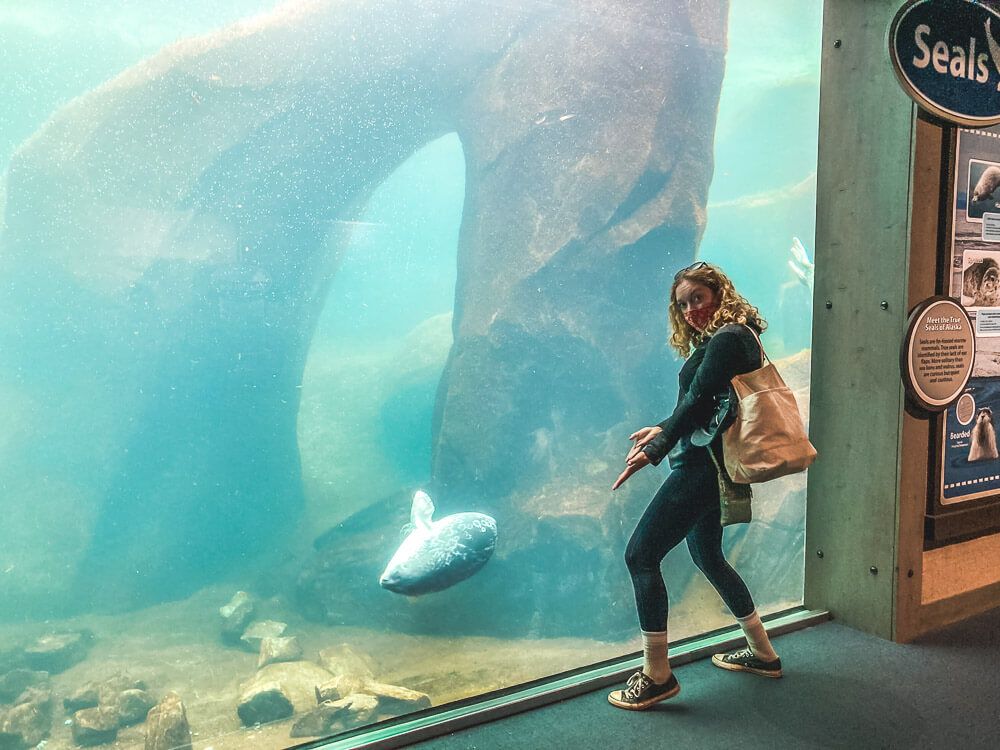 Return to Anchorage & Fly Home
We caught the evening train (left at 6pm) back to Anchorage. The 4ish hour journey was easy and quite beautiful. We went for the much cheaper tickets in Adventure Class (instead of the Gold Star).
When we arrived at the depot in Anchorage, we called the hotel we were staying at (America's Best Airport), and then it took well over an hour for them to come and get us. We were the last ones at the depot, and the security guard was worried about leaving before we did (the depot is not in a great part of town).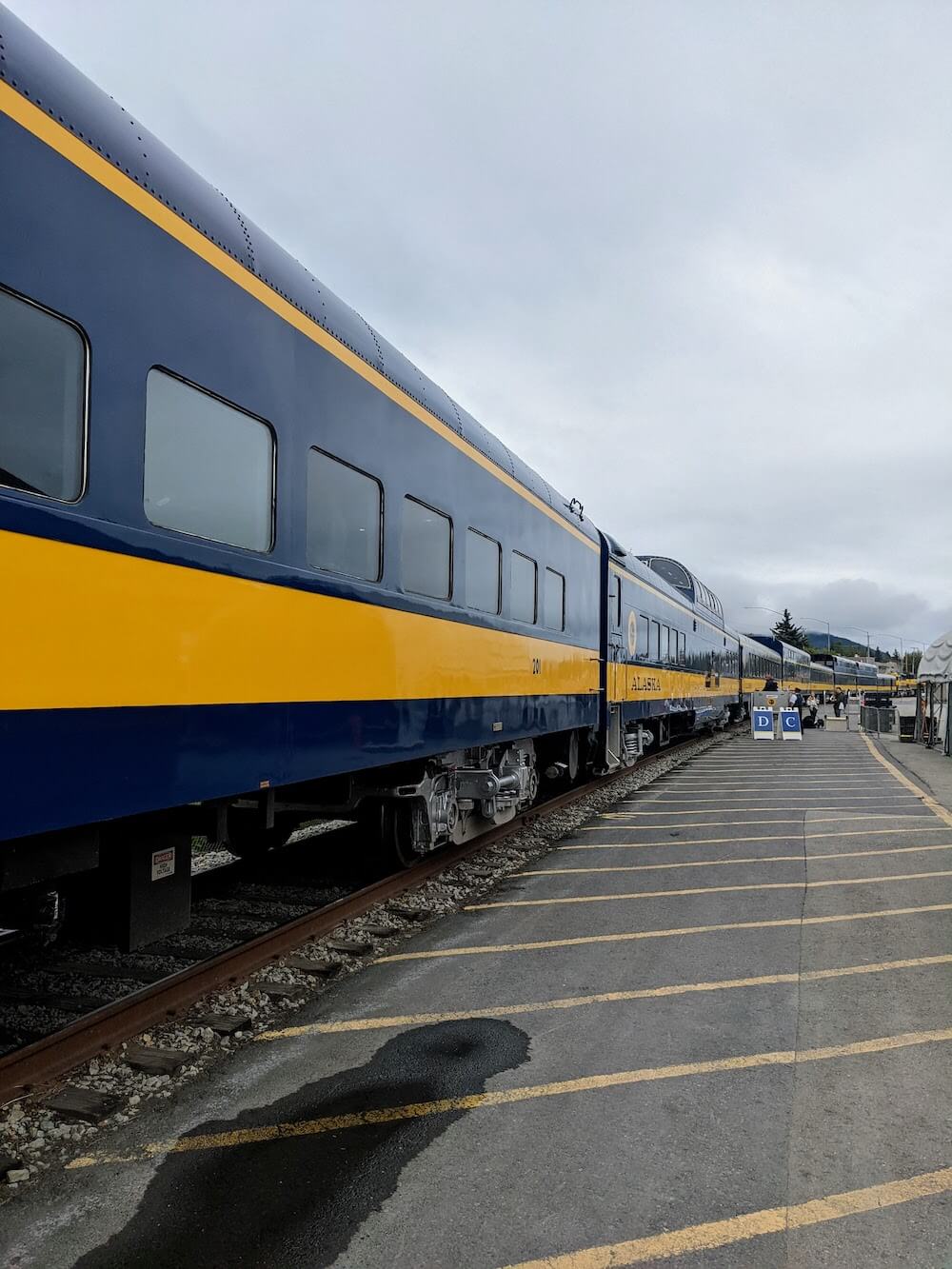 We should have just gotten an Uber, but every time we called the hotel, they told us the shuttle was just 10 minutes out. Ugh it was bad.
The first flight of our journey back home left very early the next day (6:15am), so we just needed somewhere to put our heads for 4 hours. But even then, I would not recommend the place we stayed. Ugh it was bad.
Depending on when your flight leaves, you could try to stay in the downtown area. But if it's super early like ours, staying near the airport is probably your best bet. Just avoid the America's Best if you can.
---
What to Pack for a Trip to Alaska
Packing for my trip to Alaska was a bit tough. The days in Denali National Park were warm, but the nights were cool. And then it was cool and a bit rainy in Seward. And if do a Kenai Fjords Cruise (and you should), it's very very cold if you sit outside on the viewing decks.
Clothing & Shoes
Other Items