We debated for a long time on what we should pick as the splurge for our trip. There are lots of options in Alaska that are splurge-worthy. But in the end, I knew what my heart was set on. I wanted to go glacier dog sledding in Seward. So I picked the Seward Helicopter Tours & Turning Heads Kennel tour and I couldn't have been happier. This was a once in a lifetime experience.
Fly in a helicopter. Land on a glacier. Go dog sledding.
That's the tagline for the dog sledding tour I picked and, well, it worked. It hooked me immediately. I didn't think I could go dog sledding on snow in the middle of the summer. But I was proven wrong.
You can go dog sledding in the summer if you fly to a glacier to do it.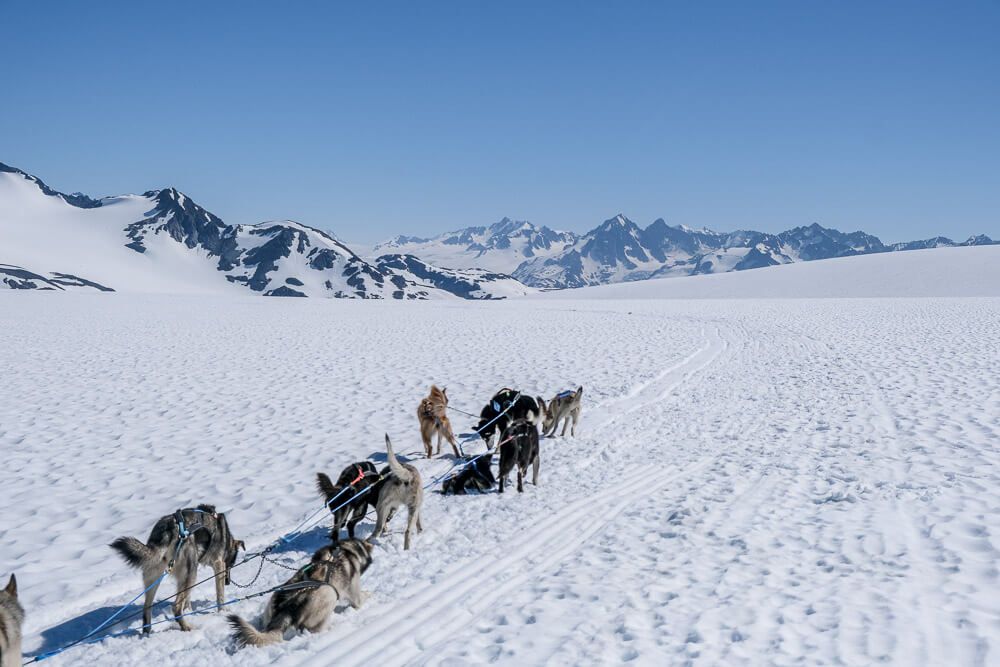 Now there are several different outfits in Alaska that offer this helicopter glacier dog sledding tour. There's a large one based in Juneau that caters to a lot of large cruise ships. And there's two near-ish to Anchorage based in Girdwood & Knik.
But I wanted to go dog sledding in Seward. For one, Seward was already on our itinerary (for Kenai Fjords National Park), so adding this in was easy. And second, I liked the smaller nature of the company (our tour had just 11 people) and that they use several small helicopters so that everyone gets a window seat.
I've included a full breakdown below of our dog sledding in Seward experience!
Planning & Arrival
It might be a bit confusing but the glacier dog sledding tours are usually a combo of a helicopter company and a dog sledding kennel. This was the case with our tour (and a couple of the others I considered).
You can find information about the tour we did from Turning Heads Kennel and from Seward Helicopter Tours. The Book Now buttons go to the same booking engine because they are the same tour. They just partner together to offer it (I believe).
The booking process was very smooth and I liked their cancellation policy. So I felt comfortable booking the tour even if later our dates had to change or something. They also offered free pick-up and drop-off in the Seward area.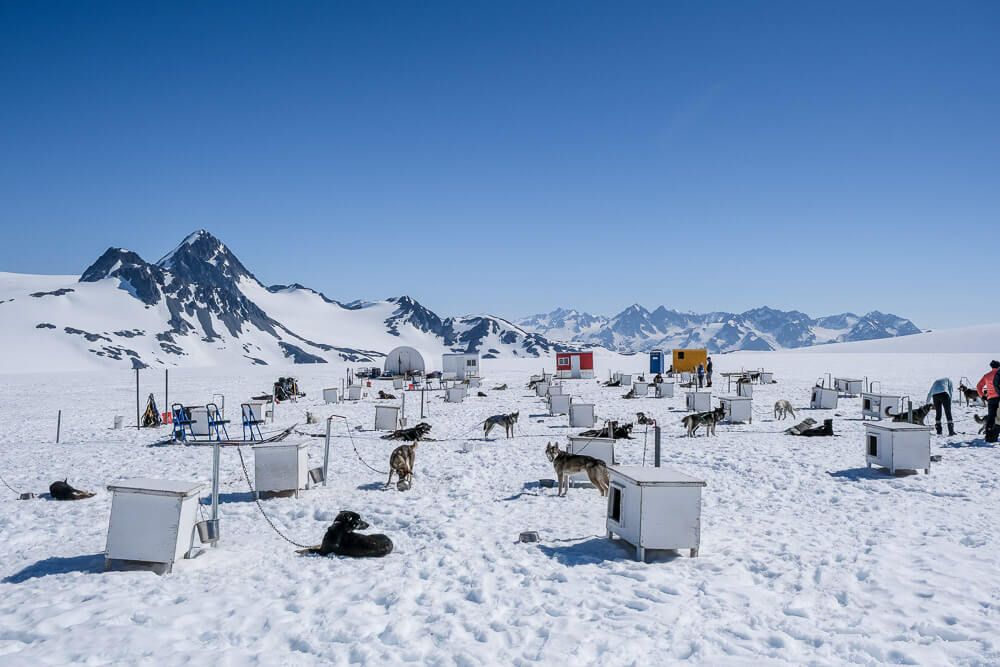 I even called the day before our tour to confirm the pick-up and drop-off too since we had to change the time of our tour the week before.
We were picked up right on time and taken straight to the office. After the check-in, they give you boots to wear (these will fit over your normal shoes) and then they weigh you. (The weighing happens so that they can properly distribute the weight in the helicopter.)
One thing to keep in mind is that no bags are allowed to go with you. So stuff your phone & wallet in your pockets (though have it ready take pictures during the helicopter ride). For my camera, I just put it around my neck and that worked.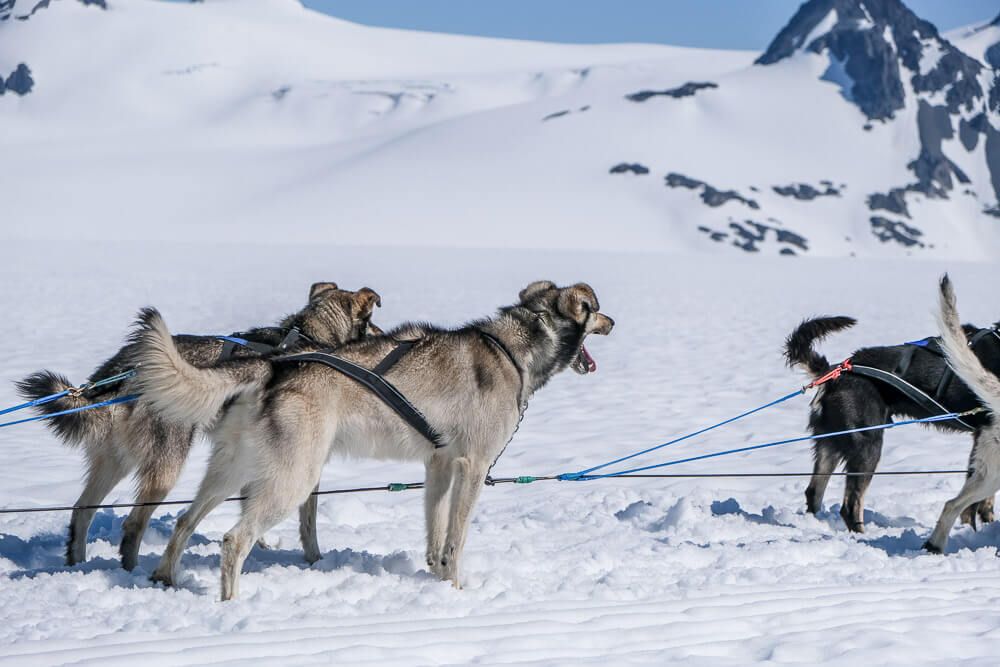 The helicopters can only carry 4 people (the pilot and 3 guests). One will be in the front with the pilot, and the other two will be in the backseat. Everyone has a window seat. And we were lucky in that we flew up with just the two of us and the pilot. Our "fourth" person was a bag of dog food.
Helicopter Ride to the Glacier
The helicopter will take you across the bay and then up towards Godwin Glacier.
I had never flown in a helicopter before the tour and though it was a bit nerve-racking at first…I loved it.
After crossing over the water and the forests on the other side of the bay, you'll round the corner and see the foot of the glacier creeping down the valley.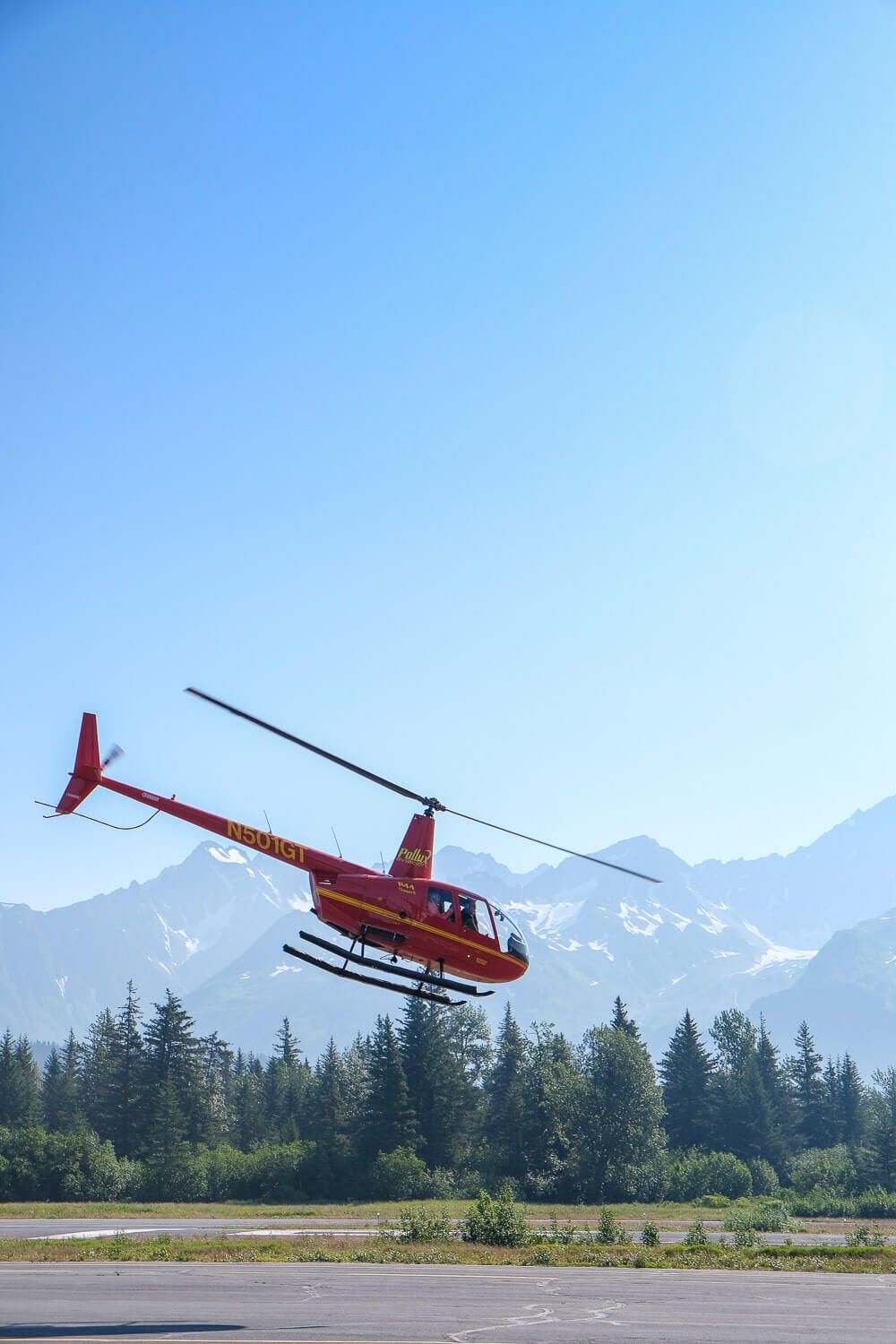 And then you're over it and heading towards the white snow field. The dog sled camp seems so small in the distance. Just a small blip in the middle of the snowy expanse.
Before you know it, the 15 minute helicopter ride will be over.
The only thing I would do differently would be to schedule a second helicopter tour. (Which you can do through Seward Helicopter Tours.) I loved that part of the experience so much.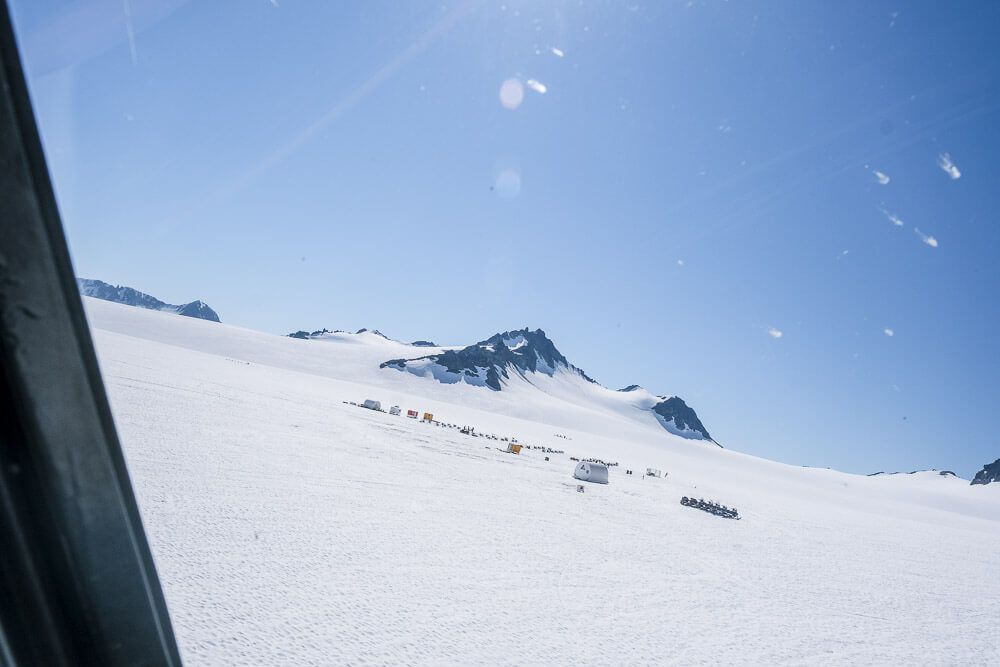 Dog Sledding on the Glacier
Now you'll roughly have about an hour on the glacier. Depending on your group size, the dog sledding will be dividing into two. Since we were in the last helicopter, the first two helicopters went dog sledding first.
Which meant we got puppy time! Each summer they have a group of sled dog puppies in an enclosure. Sometimes they are feisty. Sometimes they are sleepy.
We got to snuggle sleepy sled dog puppies. And they were the cutest!! I wanted to stuff one in my jacket to take home.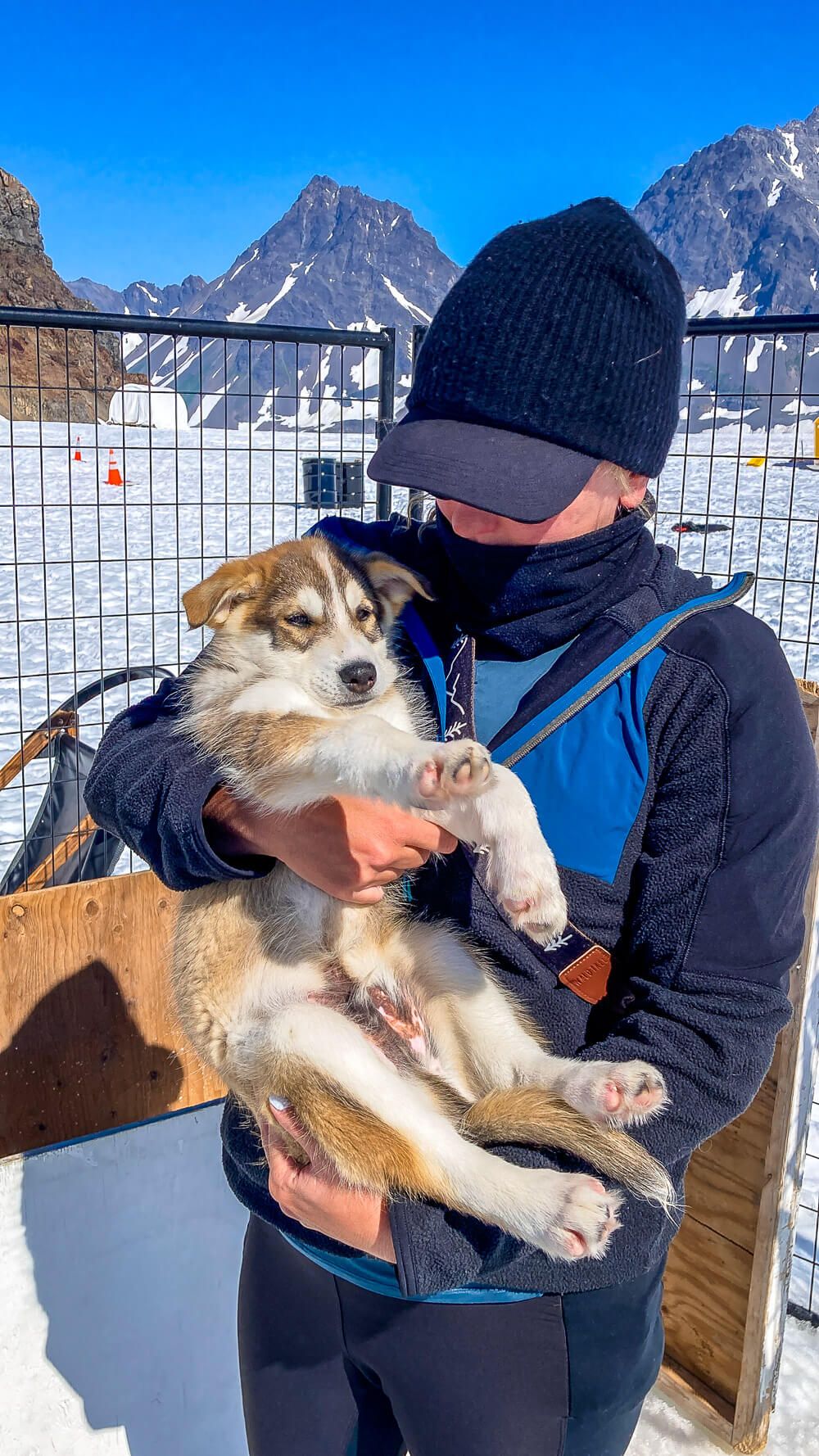 After the other two sleds returned, it was our turn.
Our musher was a young woman who was training her own dogs to run and working with Turning Heads during the summer as well. It was really interesting talking with her about the races, the dogs, and what it takes to have a team of sled dogs.
For the dog sledding, she had us each sit in one of the three spots (we were able to rotate during the ride so that each of us had a chance to sit in the front).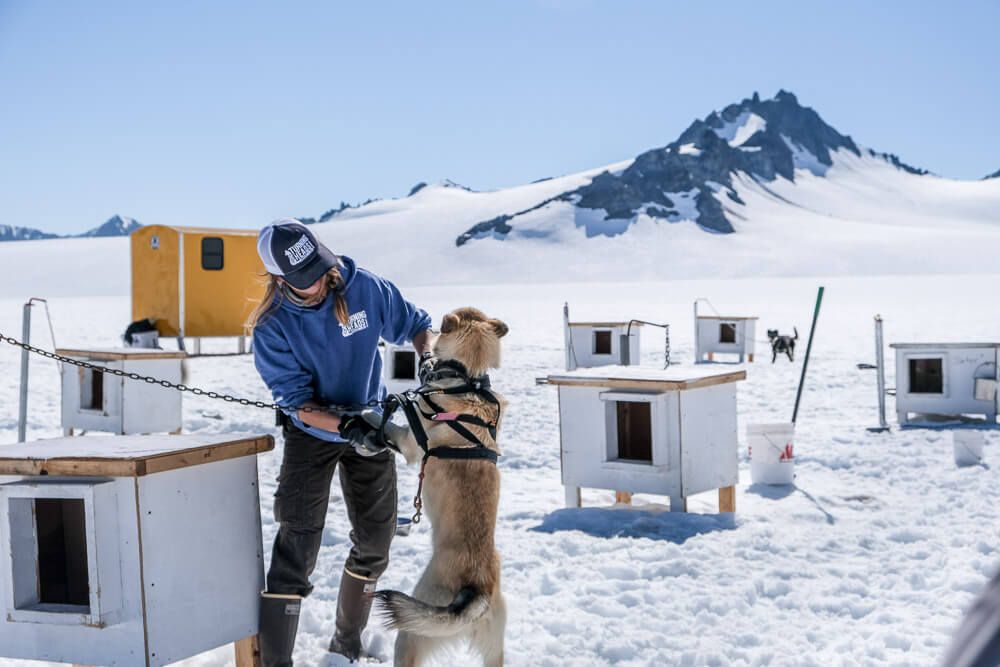 She then quickly changed out a few of the dogs. And the dogs were so excited to run! Each dog wanted to be hooked up and they were all jumping and barking like crazy.
Then she climbed into the back of the sled and we were off!
It was so interesting to go from the barking, excited dogs to dogs on a mission. They were so focused and diligent and quiet. They wanted to run!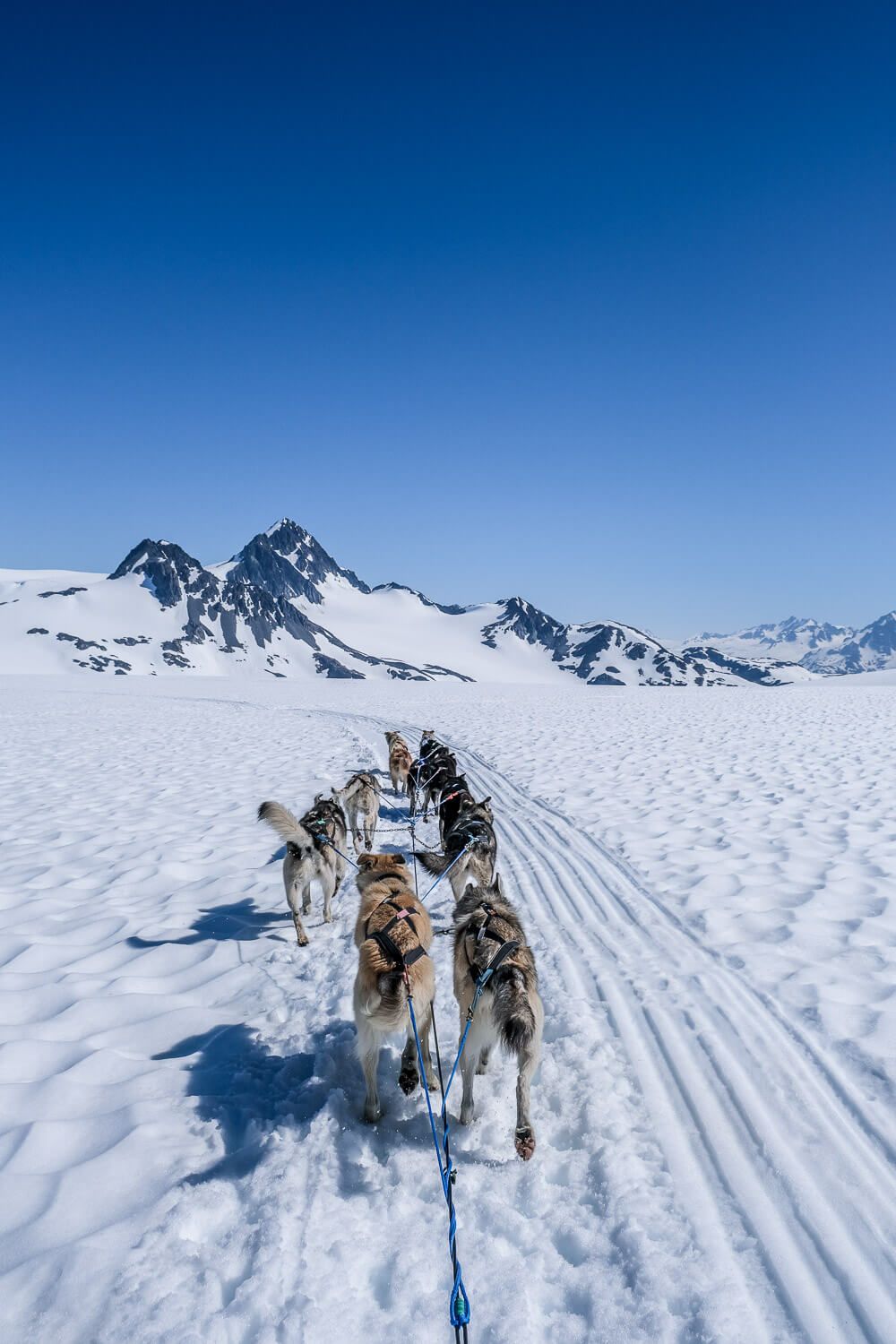 The 25 minute dog sled ride is broken into 3 different parts. This works to give each person on the sled a chance to sit in the front and grab those amazing photos and videos of the dogs running.
At each stop along the glacier, you'll have a chance to get off and take some photos. Your guide will also be able to take some photos of you on the sled and with the dogs.
I enjoyed having the chance to go up to the dogs and say hello. All were very friendly. I especially loved our sled's two lead dogs: Honey & Cleo. Our musher explained that it takes a lot of mental focus and intelligence to lead the sled. And these girls had it.
It goes without saying that the actual experience of dog sledding on a glacier was a once in a lifetime experience.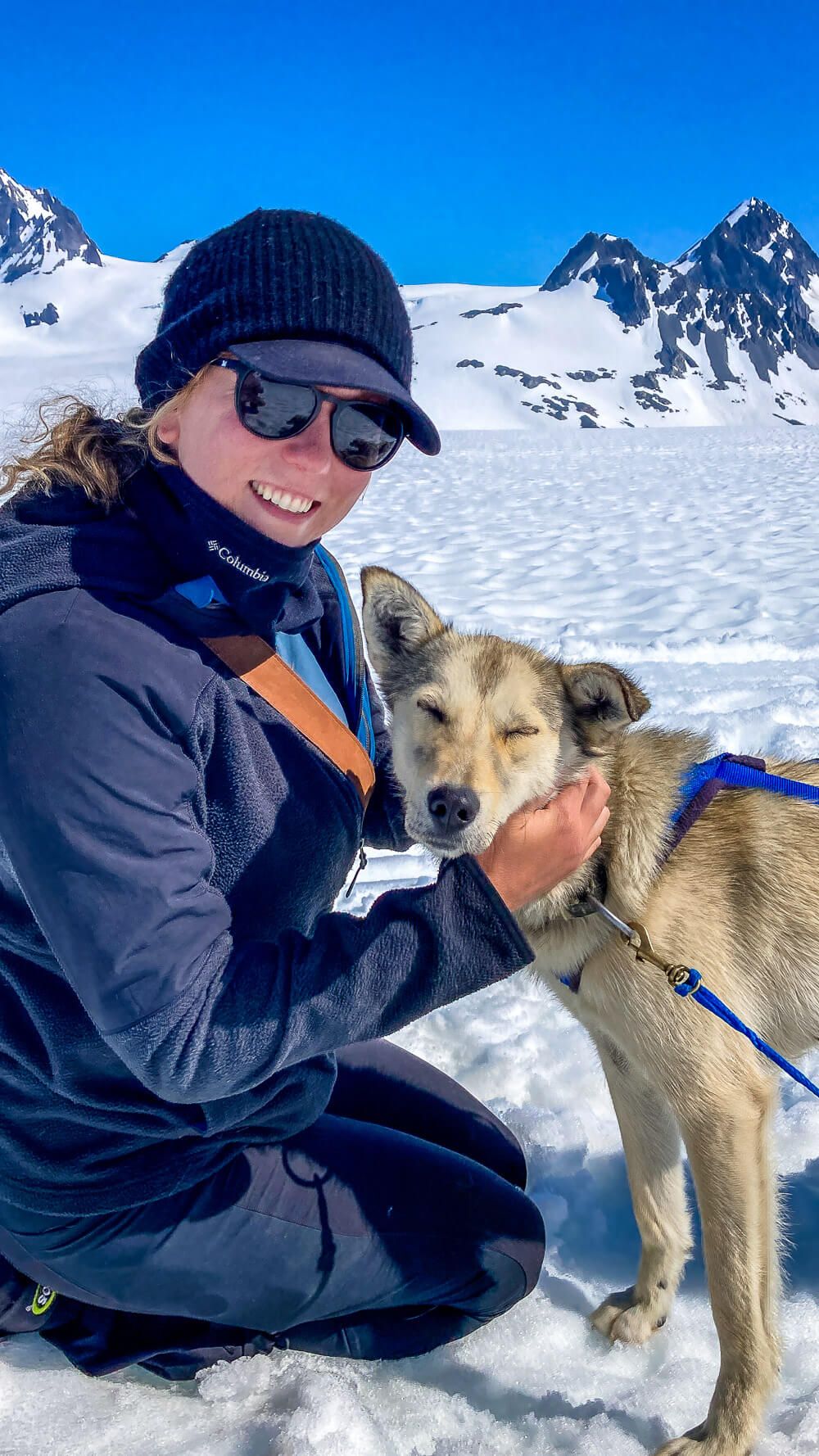 Return to Seward
After our sled returned, we were able to say hello to more dogs, and snuggle the puppies one last time.
Everything about this tour was amazing. But everything about it flew by! Before we knew it, our hour was up and it was time to re-board the helicopter.
And I think I enjoyed our flight back to Seward more. For one I was less nervous. And for two, our pilot took us on a slightly different route since the weather was so clear. We swooped up and over a low ridge in the mountain side and got to see a different side to the glacier and mountain.
Very, very cool.
Once we returned to the office, we simply left a couple of tips for the pilots and mushers. And then one of the staff dropped us back off at our hotel.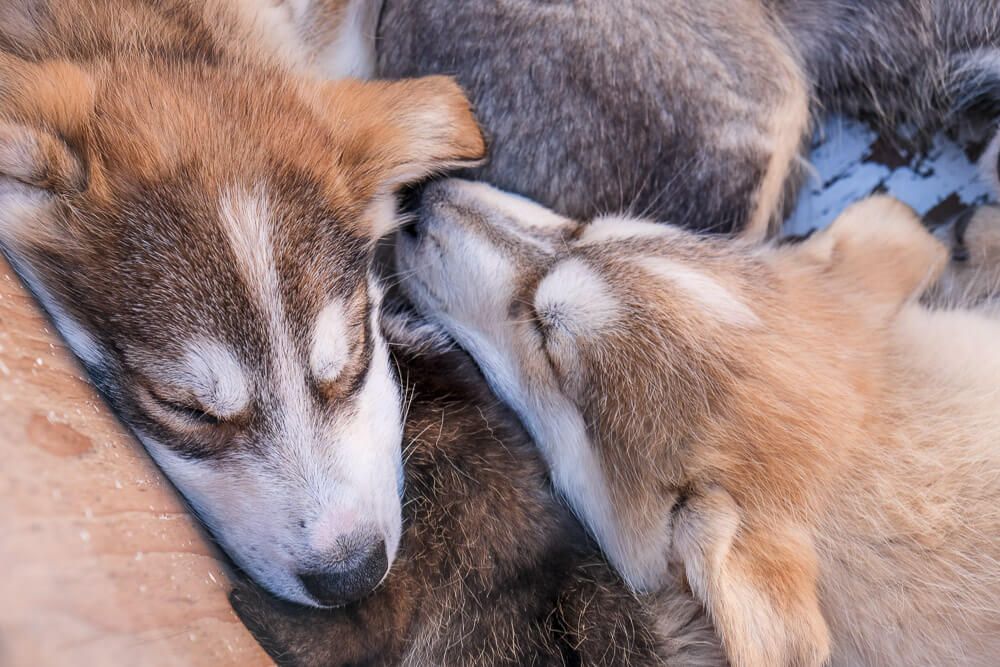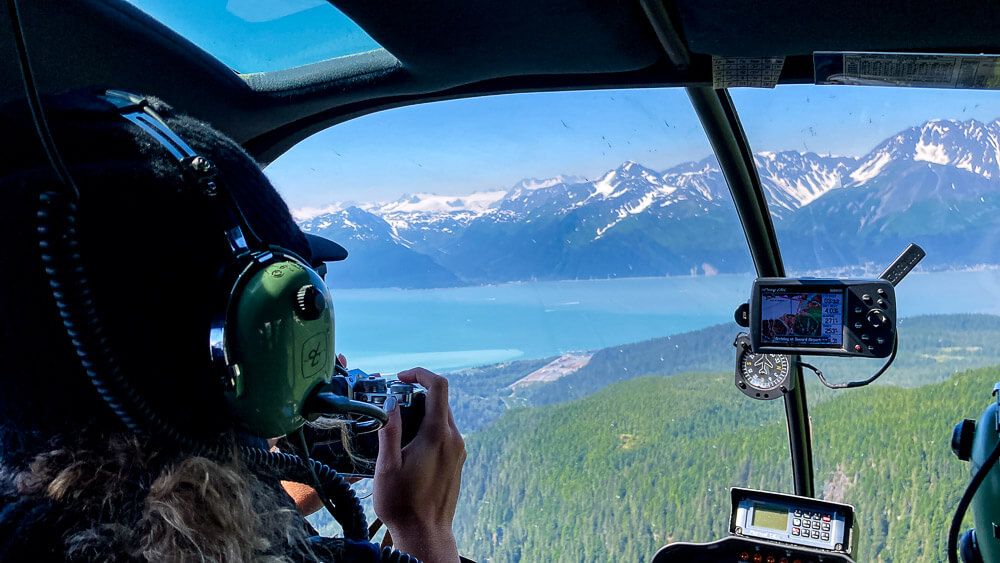 Final Recommendation
So if you love dogs, then this should be on your Alaska bucket list. Like I said, there are several splurge-worthy activities in Alaska. But something about dog sledding on a glacier just called to me.
And if it calls to you too, then I say go for it.
If it doesn't or if you don't love dogs, then maybe pick another splurge activity (like maybe just a helicopter tour).
Lastly, I was also very happy with our decision to go dog sledding in Seward. I loved our tour and I think one of the reasons I did is that the Turning Heads glacier dog sledding operation is the smallest in Alaska.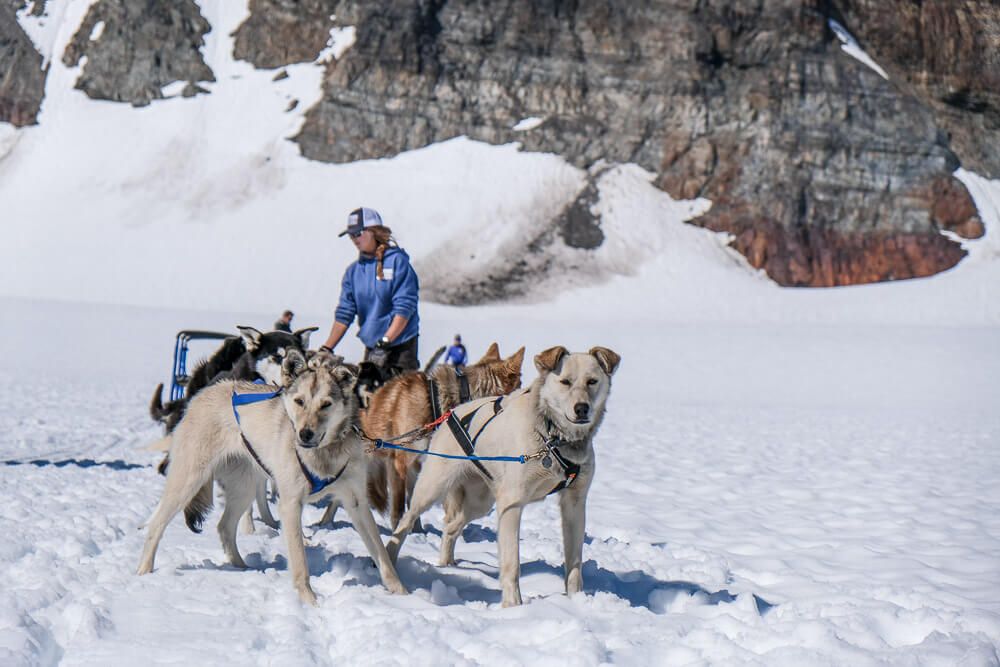 This meant I was actually able to call/email them with questions and have them respond quickly. We each got a window seat on the helicopters. We were on the glacier with just a handful of people. And we got lots of time with the dogs and with the glacier staff and mushers to learn all about dog sledding.
They also offered free pickup and drop-off so you could take the bus/train to Seward and not have to worry about renting a car.
Plus they also offered a very nice cancellation policy and if for some reason you can't fly due to the weather, then they offer a full refund (if you can't reschedule).
So to sum it up. Fly in a helicopter. Land on a glacier. Go dog sledding.
One of the best experiences in my life.