So you want to go on a cruise in Alaska? But those huge mega cruise ship lines just seem wrong to you. I get it. I have no desire to ever be on one of those big boats. But a small cruise ship exploring the hidden away places? Now I can get behind that. Find out if Uncruise Adventures is what you're looking for with my Uncruise Review.
My Uncruise Adventure was the Wild, Wooly, & Wow Cruise set in June of 2022. We had remarkably good weather I think with just a bit of rain on a couple of days. It was a bit foggy in the morning though.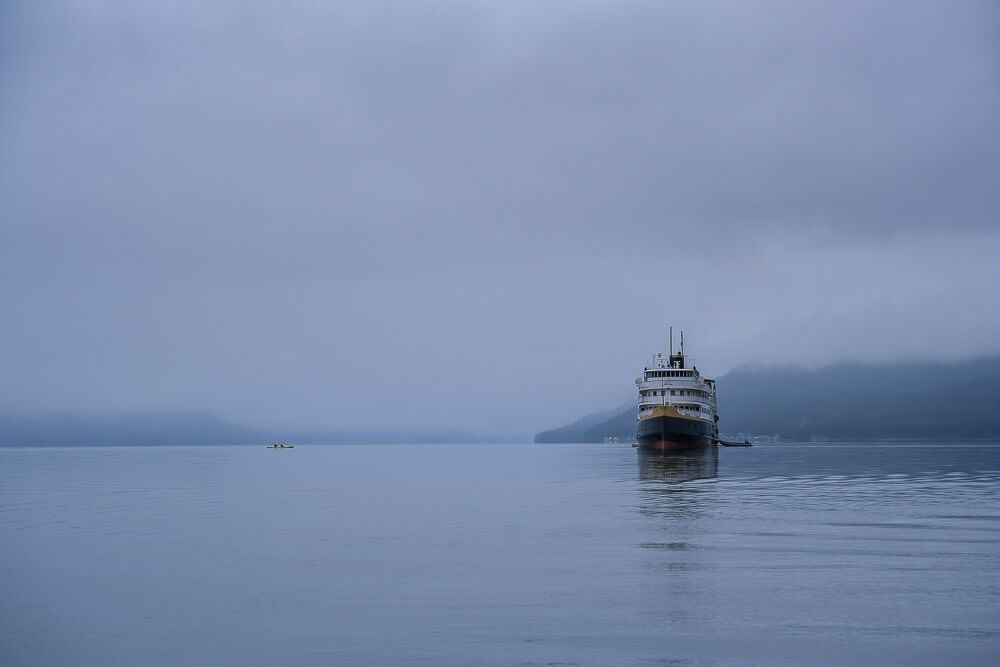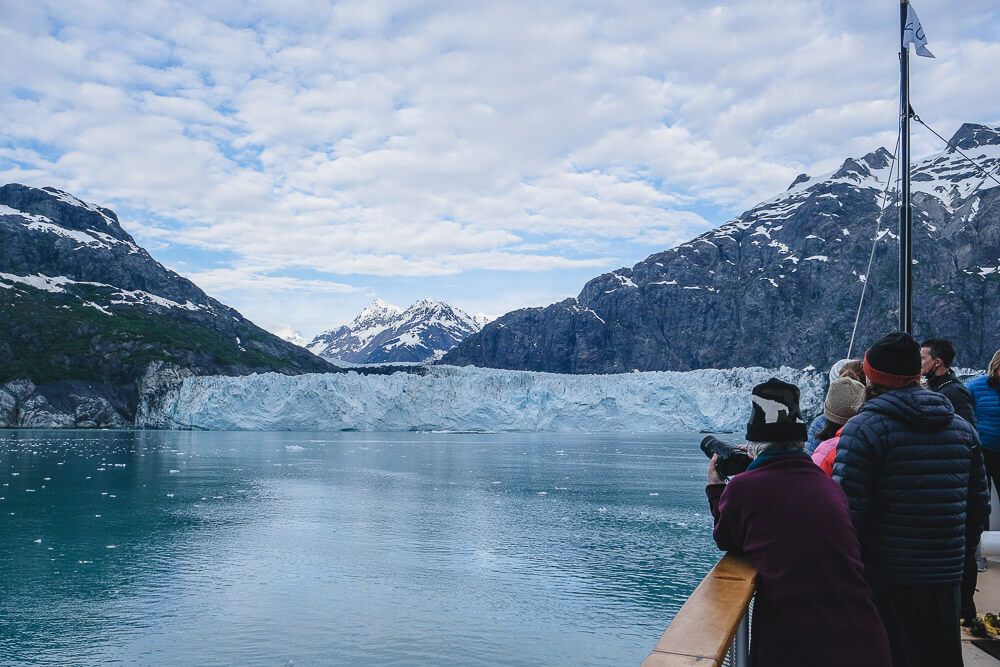 What Makes Uncruise Different?
Well for one it's a small ship cruise line. Our boat had a 86 guest capacity and it's the biggest one they have.
A small ship means that it (and you) can fit places the other big cruise lines can't. You'll explore fjords, glaciers, and coves that others don't even come close to.
Oh and you'll be able to get so much closer to wildlife.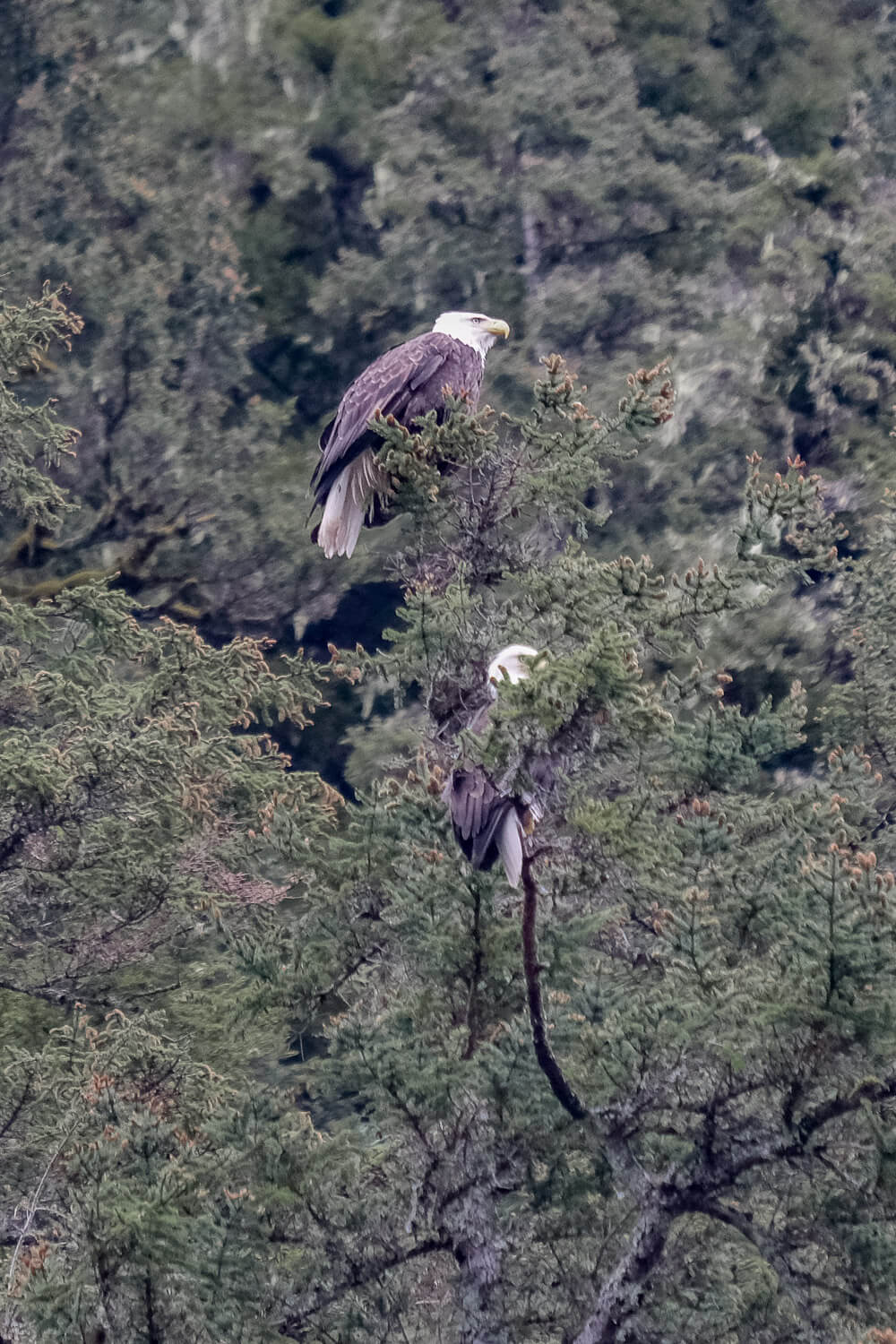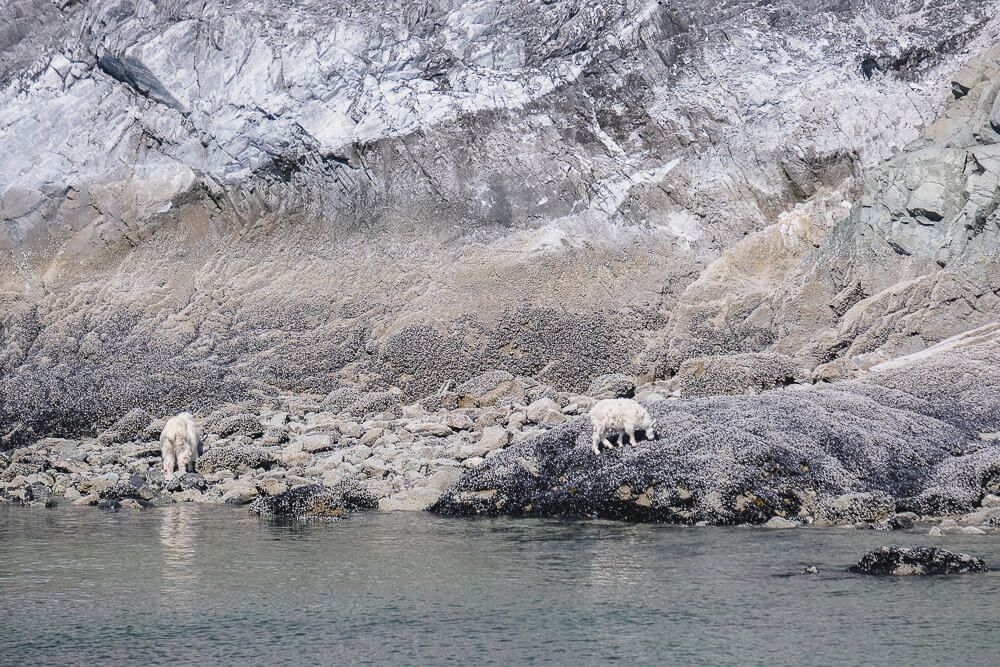 It's also Uncruise Adventures and they definitely mean it. Adventure is their passion. With two activities planned everyday, you will never be bored.
Trust me, they mean it when they say: Unlimited adventure, nature, and drinks.
Yes, drinks too. Everything is included.
That's one of the big things I liked about Uncruise. I didn't have to worry about add-ons or additional excursions. Literally everything was included for us. All the activities, meals, alcohol, etc. The only thing that's extra is the tip. (Which they collect at the end of the week and it gets split among the crew.)
Now Uncruise is all about showing you Alaska. Open, wild, and mostly uninhabited. You may stop by some more popular spots (depending on the cruise you pick), but for the most part, you won't see many other people.
We saw only a couple of other boats the whole time.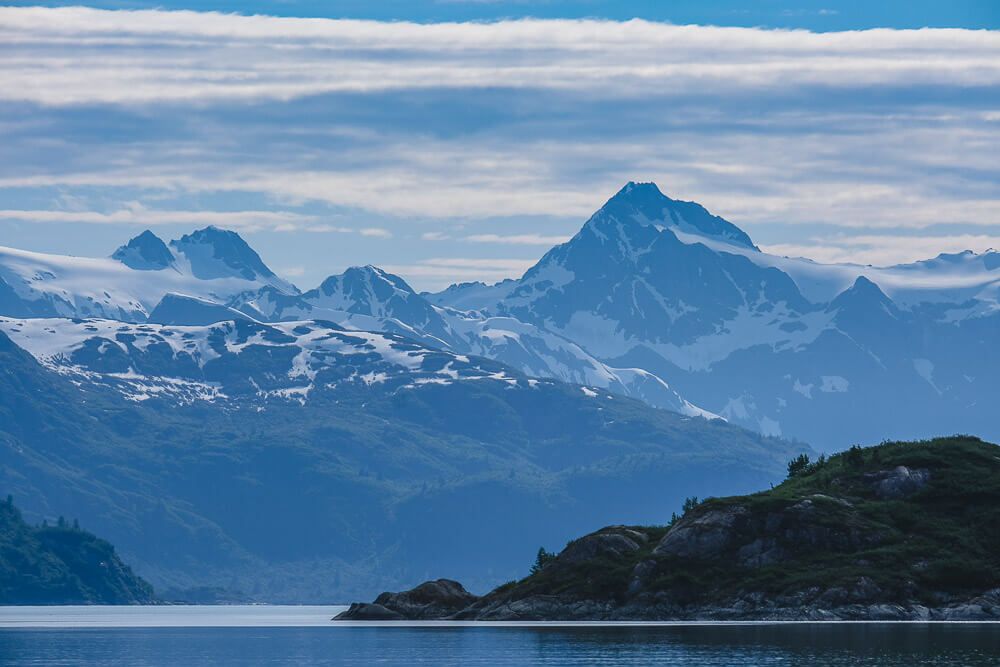 What this also means is that your cruise won't be covering a huge swath of Alaska. Their one week cruises stick to southeast Alaska and usually are roundtrip out of Juneau. There are a few exceptions to this, but you won't be sailing from like Seattle to Alaska and back again in a week.
Instead you'll be exploring more of Alaska. Seeing more wildlife, getting closer to nature, and relaxing at anchor.
General Daily Schedule
This was the general flow of the days. There were exceptions (of course), but this will give you a general feel of what to expect.
Morning
For the early risers, there was coffee and a small appetizer (like a pastry) in the Lounge at 6:30am. Due to the time change, we were often one of those early risers.
Plus a few days a week we woke up next to a glacier and going out early to experience it was high on our to do list. Or I just enjoyed grabbing a cup of coffee and then stepping out on the deck to take in the early morning fog drifting over the mountains.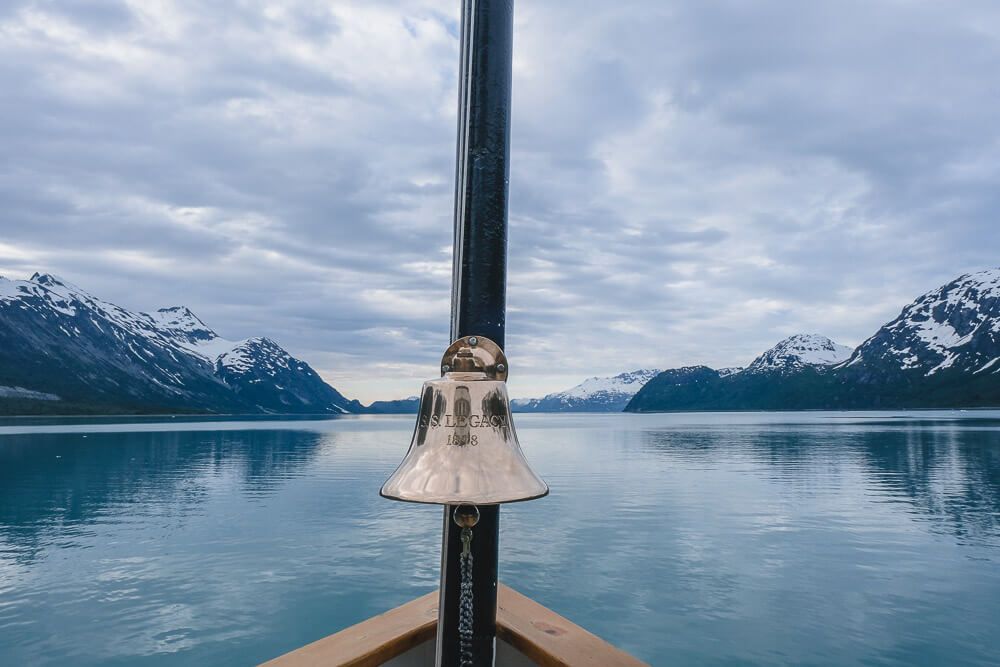 Then breakfast was at 7:30am. There was always 2 options, one was usually an omelet and the other was something different (like french toast, steak & eggs, biscuits and gravy, etc.). You can also add sides of like bacon or sausage. And they were super flexible if you didn't like either option and just wanted oatmeal or something.
After breakfast the morning activities would begin. In the day by day breakdown below, I'll explain what each of these were as more specific examples, but think like skiff tours, kayak tours, bushwhacking, etc.
Basically chances to get off the boat and see Alaska. These were usually staggered throughout the morning and lasted anywhere from 1-2 hours.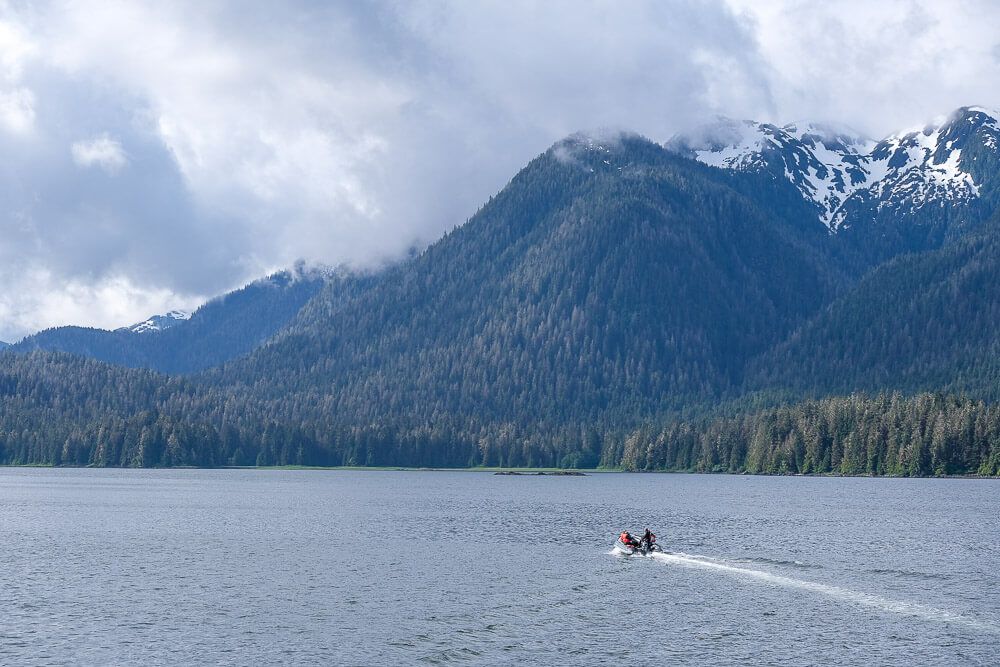 Afternoon
After everyone was back from their morning excursions, lunch would be served around 12:30pm or so. There were always 2 options (meat & vegetarian) and then a salad option with the fish of the day.
Oh yea, and dessert too.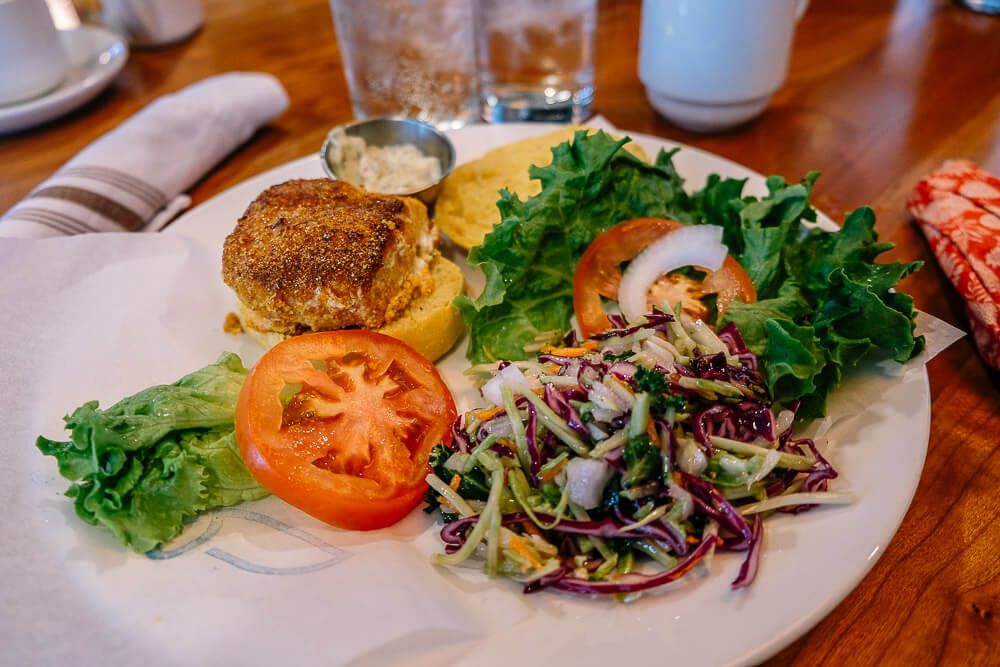 During lunch you would also pick your activities for the following day so that the expedition leader could make the schedules. For each session (morning and afternoon) there were usually a few different options to pick from depending on the activity level you wanted.
There were times where everyone would do like a skiff tour (because we were right by a glacier), but these were the exception. You have choices in what you want to do.
After lunch, the afternoon activities would start. Again these would be rolled out over a few hours and included kayaking, hiking, mountain biking, and more.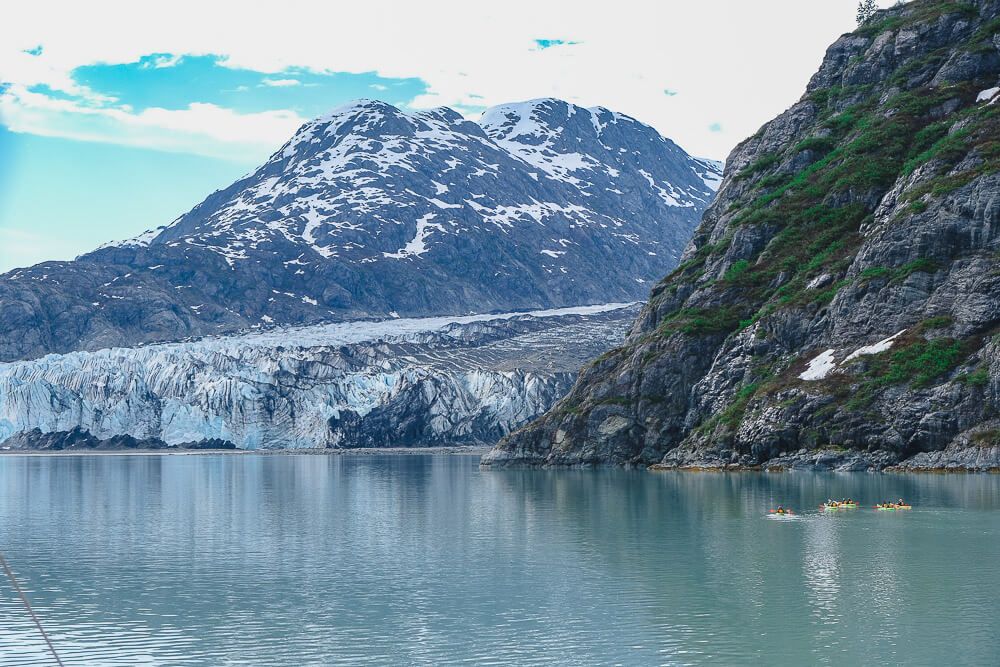 Everyone would usually be back on the boat around 4 or 5 and you'd have some time to take a nap, drink in the lounge, take a shower, go in the hot tub, and just generally have a bit of downtime.
Appetizers would pop up in the lounge too around 5ish in case people were hungry. (And cookies around 3ish.) So trust me. You are never hungry.
Evening
Dinner was usually around 6:30pm. And like lunch, there were three options: meat, fish, and vegetarian. And trust me, they are all delicious. The group of 3 sisters who shared our table usually got one of each and split them between them.
And yes, there's a crab night. All you can eat crab. So if this is high on your bucket list for Alaska, it's included in your Uncruise.
After dinner there was usually a presentation in the lounge around 8pm or so. I loved attending these to learn more about glaciers, Alaskan wildlife, and more. That way when you're out in a kayak, you can actually point out and recognize things. Like some beautiful oystercatchers that were just hanging out on a rock during on of our kayak excursions.
Then the rest of the evening is up to you. Want to read with a glass of wine? Or take a cocktail up to the hot tub? Or just go to bed early so you can wake up the next day ready to go? (This last one was usually my go-to.)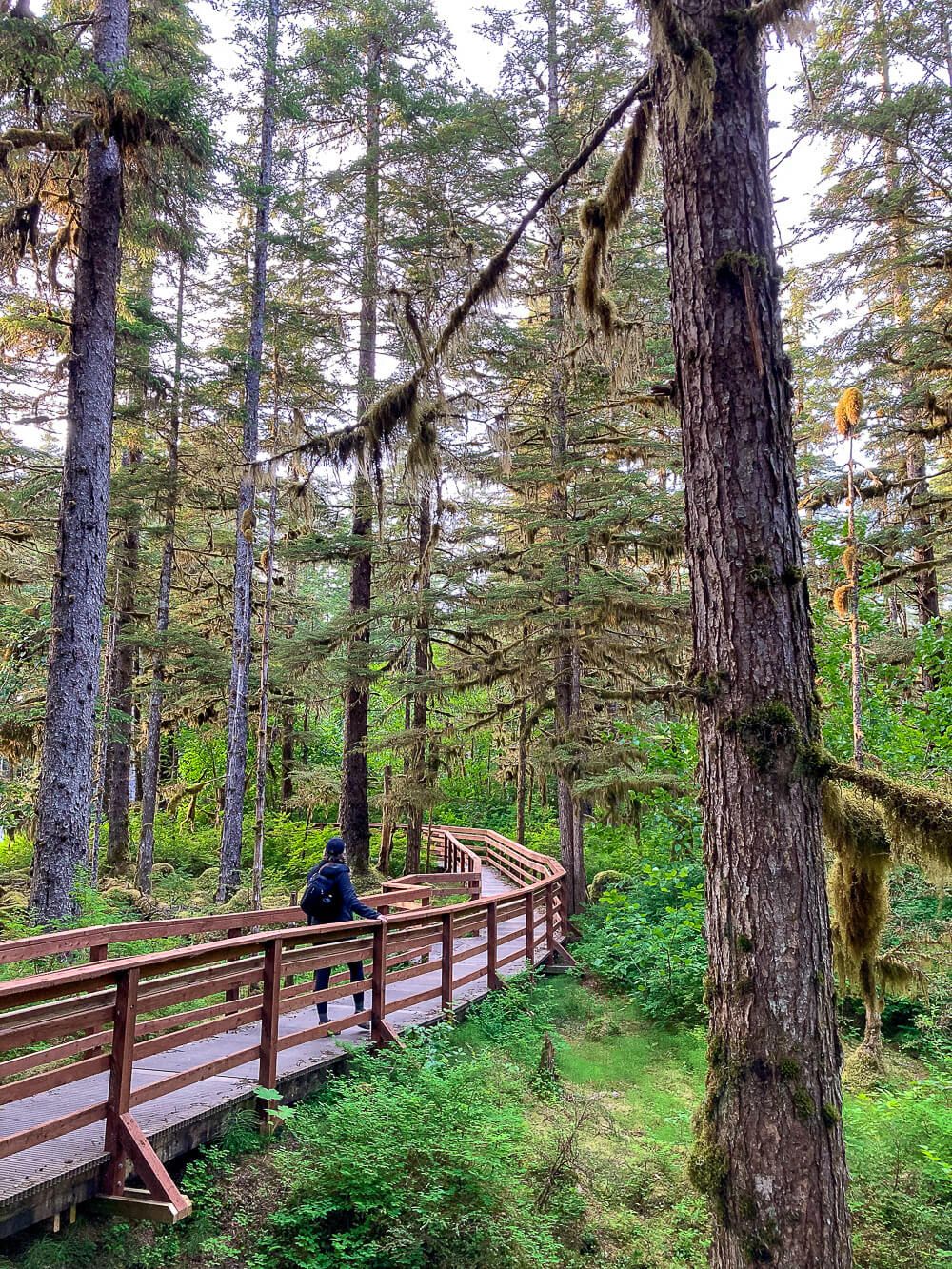 General Ship Layout
Now our ship (the Wilderness Legacy) was the largest in the fleet (at 86 guests), so if you are take another cruise on a smaller boat, expect changes.
The lower passenger deck included a handful of guest cabins that were accessed via the interior. We booked the cheapest room so this was one of our rooms.
We still had a double bed, bathroom, and a window. And, honestly, I didn't mind at all. We were able to leave our boots outside of our room when they were soaking wet and they were safe in the hallway.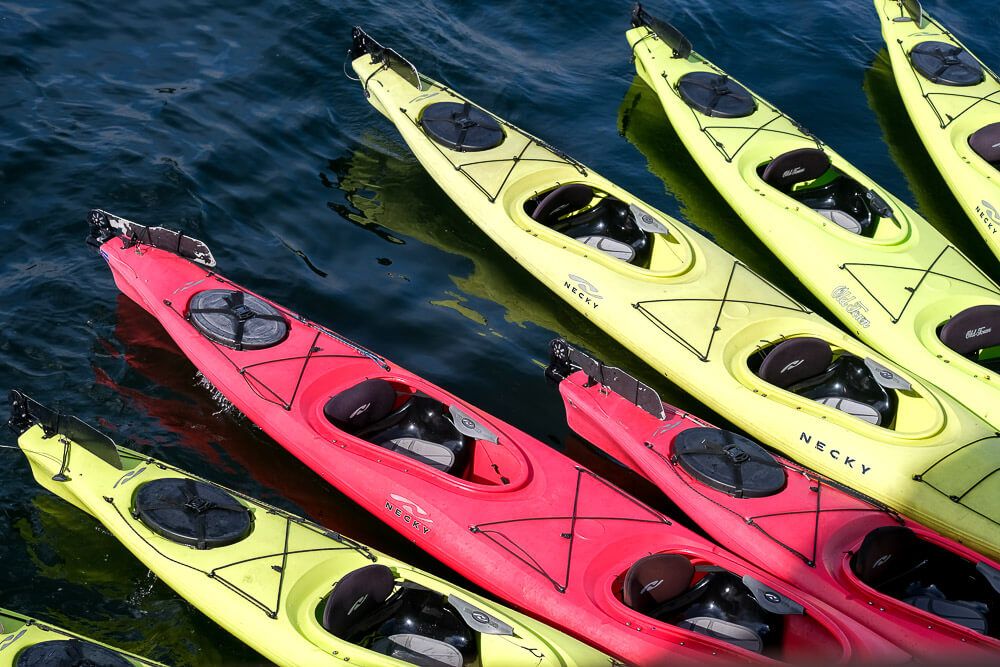 Now the rooms on an Uncruise ship are smaller than I think you find on those bigger cruise ships. You still have what you need, but there's not really any room to spread out. So you want to hang out, read a book, play a game, etc., you'll want to head to the lounge.
The dining room took up the other half of the lower deck and included tables of about 6-8 people. Due to Covid precautions, we were placed at the same table for every meal.
The second deck included the lounge with plenty of comfortable seating, books, and the bar. You could also access the front deck and this is where I was most likely found. The second half of this deck was guest rooms.
The third deck was all guest rooms. And the upper deck included the covered fitness room, the hot tubs, and the bridge.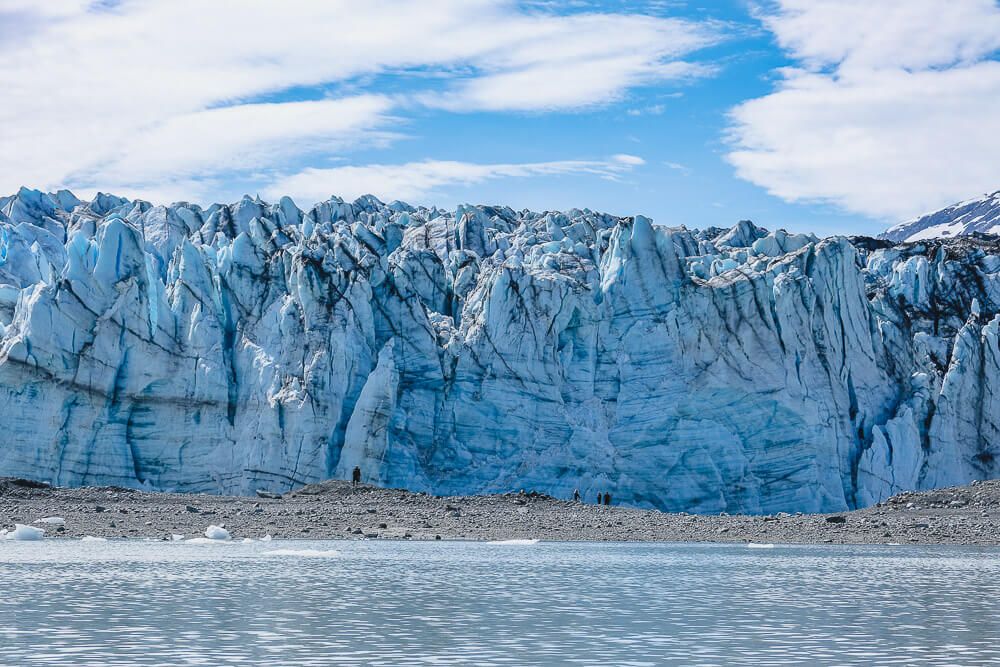 My Uncruise Adventures Itinerary: Wild, Wooly, & Wow
Now my uncruise itinerary did not follow the itinerary that we saw online. This is due to the fact that they got an extra permit for Glacier Bay National Park and therefore we were going into the main part of the park. This isn't included normally in the cruise we picked, but we were ecstatic that we got to do this.
Due to this permit (which is for a specific day), changes had to be made to the itinerary. I say this upfront because…well…things change. Weather, icebergs, permits…don't expect your cruise to exactly follow the scheduled itinerary.
Instead, be flexible. Know that they have your back and are trying to make sure you have the best cruise Alaska can offer.
Day 1: Embark from Juneau
We landed in Juneau the night before since we were coming from the east coast. You can check in and drop off your bags early at the Uncruise office before you actually need to board in the evening. Definitely do this if you need to.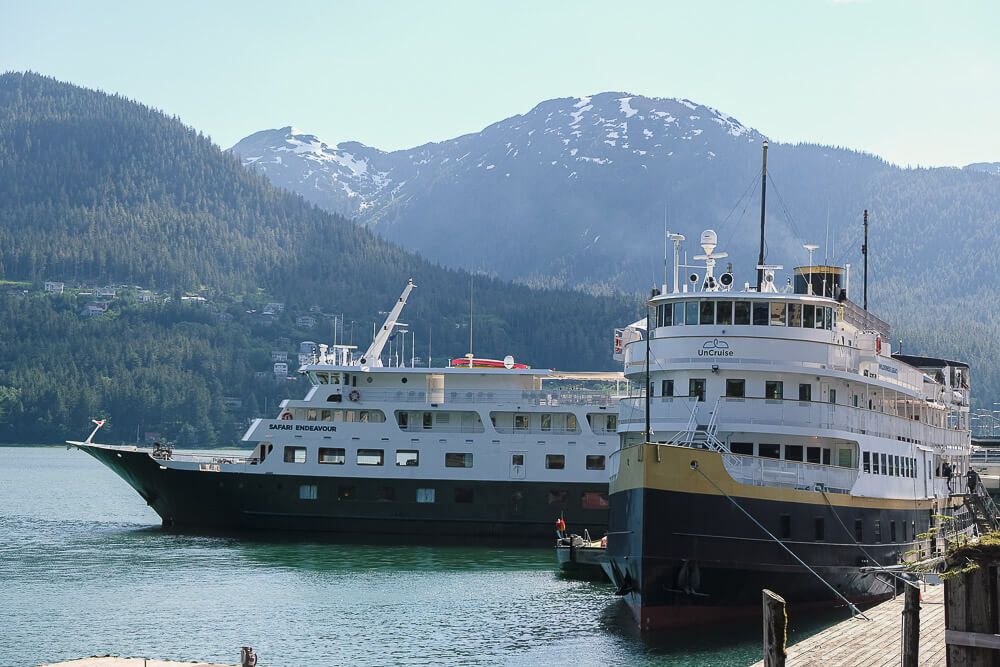 Juneau Activities
Breakfast/Lunch at the Rookery
Devil's Club Brewing
Barnaby Brewing
Hike the Perseverance Trail or the Flume Trail (you can make a 5 mile loop if you are feeling froggy – wear hiking shoes)
Once we boarded, we were shown to our cabin and we unpacked. That night we had an orientation/introduction and then we headed to bed early (jet lag you guys).
Dinner: mushroom risotto, beef tenderloin, & salmon
Dessert: chocolate cake
Day 2: Endicott Arm
I remember looking out our window that morning at like 6am and being like…oh my god there's a glacier outside. Because yep, we had travelled down Endicott Arm and were within sight of Dawes Glacier.
Dawes Glacier is a tidewater glacier. It's 200 ft tall at the waterline and 15 miles long.
We slowly made our way closer until the ship slowed to a halt. That morning everyone took a skiff tour closer to the glacier (1/4 mile away).
This was one of the best things we did the whole trip. Because we saw not one, but two calvings of the glacier.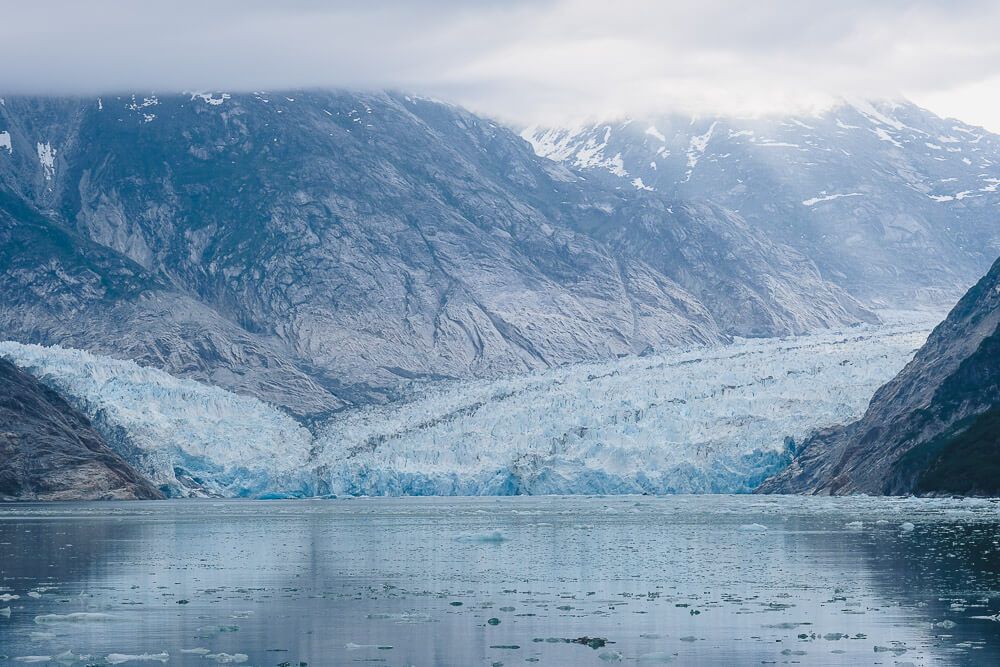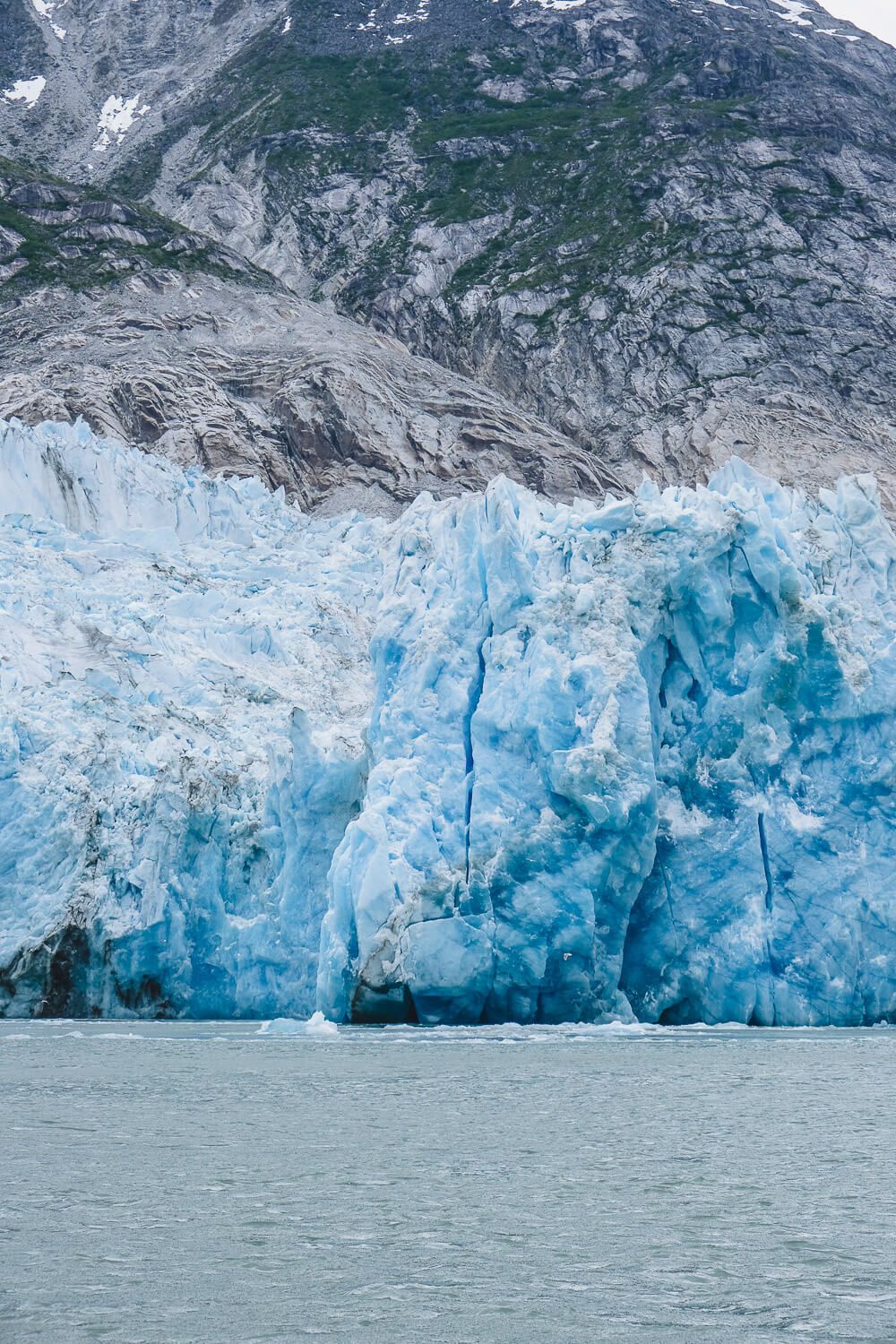 After the morning tours, the ship headed back up Endicott Arm and anchored in a small cove. We opted for the open kayak activity and spent about 1.5 hours exploring the cove, its waterfalls, and the seals that popped up near us.
Breakfast: frittata & cheesy omelet
Lunch: fish sandwich & salad with rockfish
Lunch Dessert: red velvet cake
Dinner: scallops & stuffed chicken
Dessert: key lime pie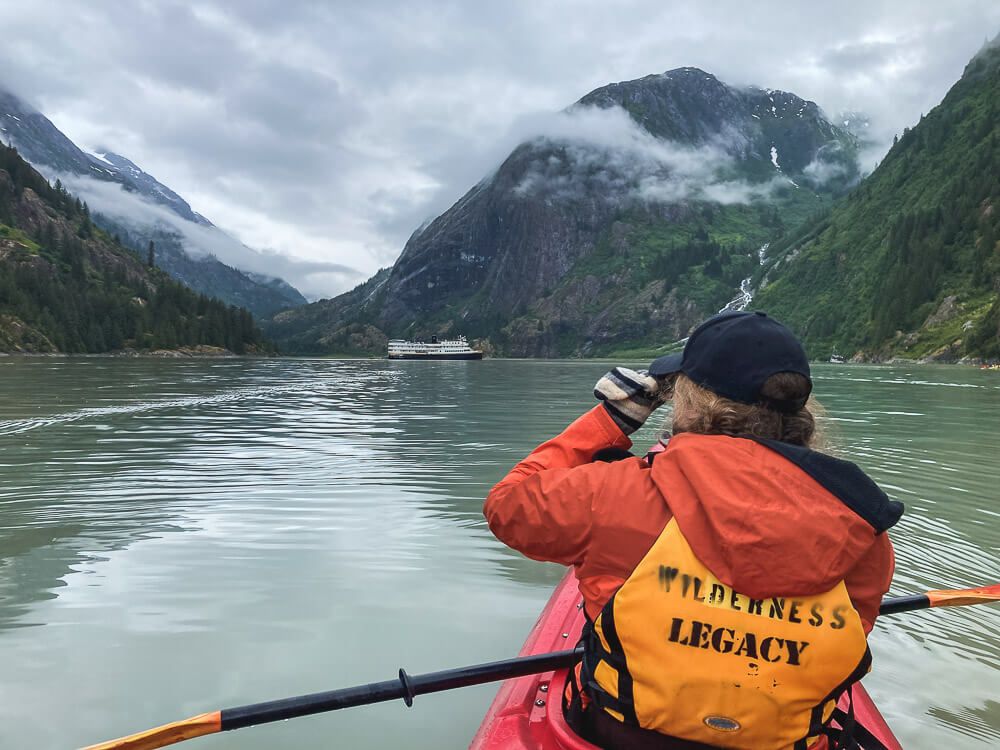 Day3: Thomas Bay & Baird Glacier
We decided to do the all-day kayak. The guides told us it would be tough and that we would be out in the elements the whole day. It was also the only day it really rained on us. Our kayak group (of about 12 people) kayaked 11 miles and bushwhacked 4 miles. It was brutal and uncomfortable. I was exhausted and sore afterwards.
But we were the only ones to see Baird Glacier and its glacial lake and that was incredible.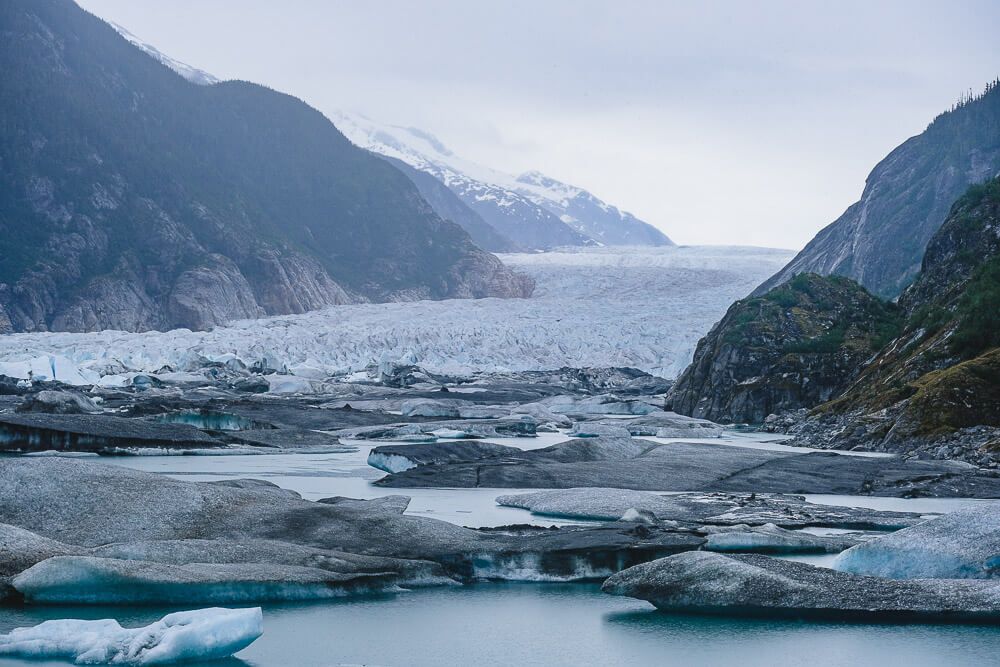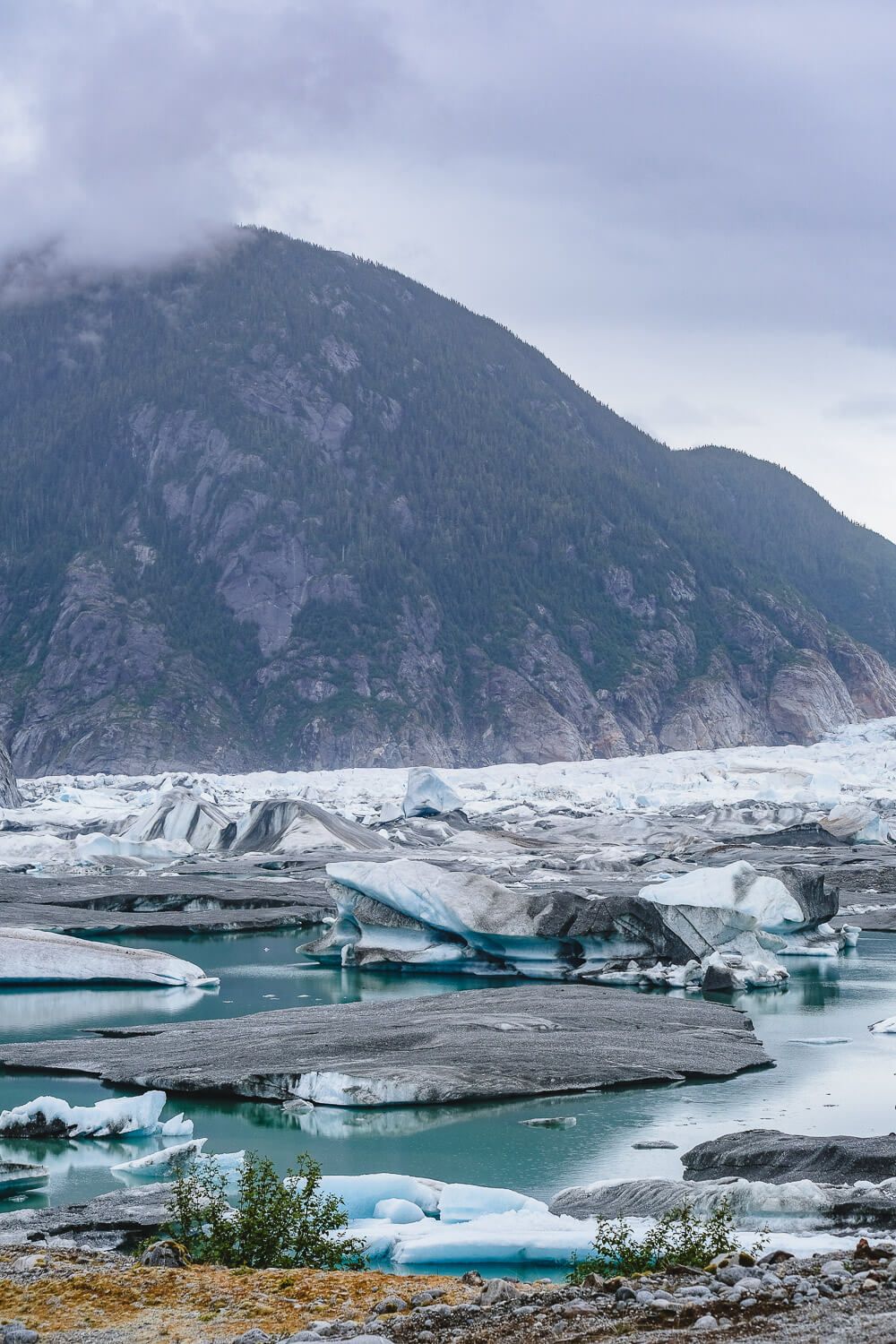 Basically our kayak started in the morning, and we made our way towards the glacier. But due to the tides and the rapids, we had to haul our kayaks out on the far side of the terminal moraine. Then we hiked across it (and afterwards all around it) to get a good view of the glacier.
We sat in the ran and ate a packed cold lunch while we gazed at the glacier. We saw a bear and lots of wildlife poop. We used glacial silt as war paint to mark our victory. I peed against an iceberg.
It was a tough, exhausting day. But it was worth it.
Dinner: beef short ribs & cod
Dessert: panna cotta
(forgot to write down the breakfast & the lunch was cold sandwiches during the all day kayak)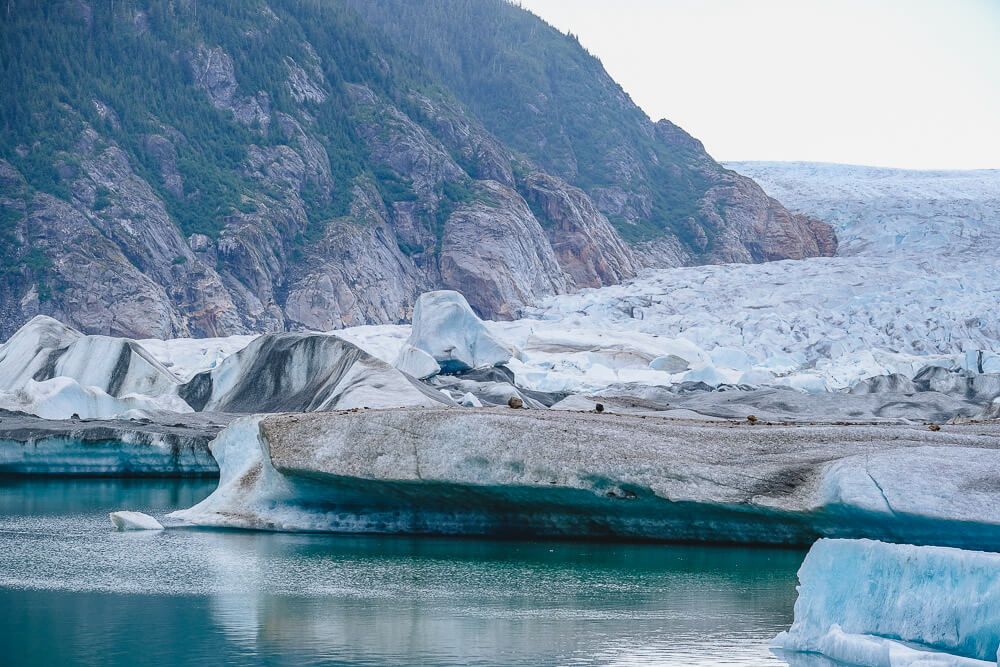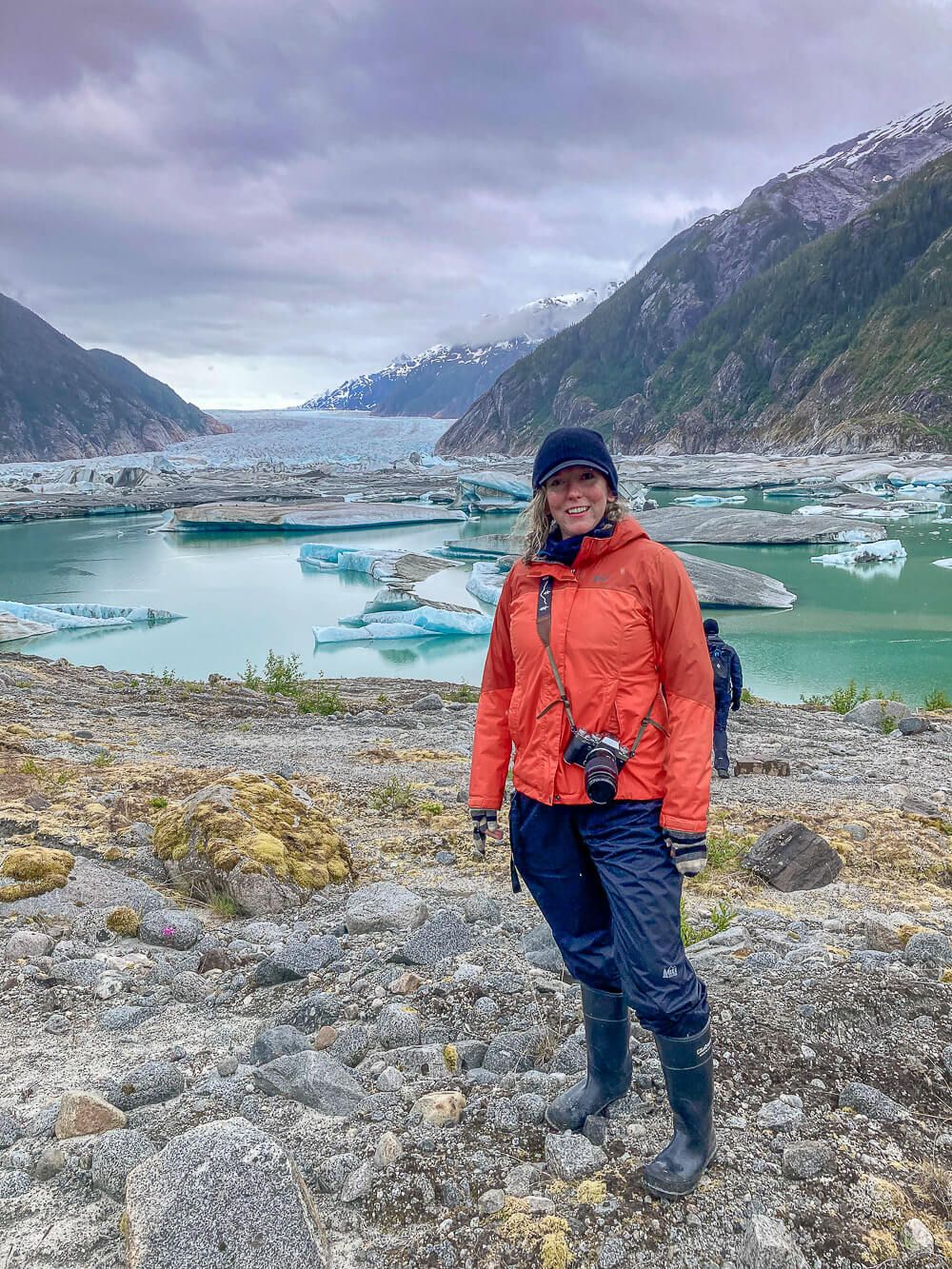 Day 4: Security Bay
In the morning we took a skiff tour around the bay and saw so much wildlife. First we watched a humpback lunge feed close to shore for like 30 minutes. Then we saw dozens of seals and a whole raft o sea otters.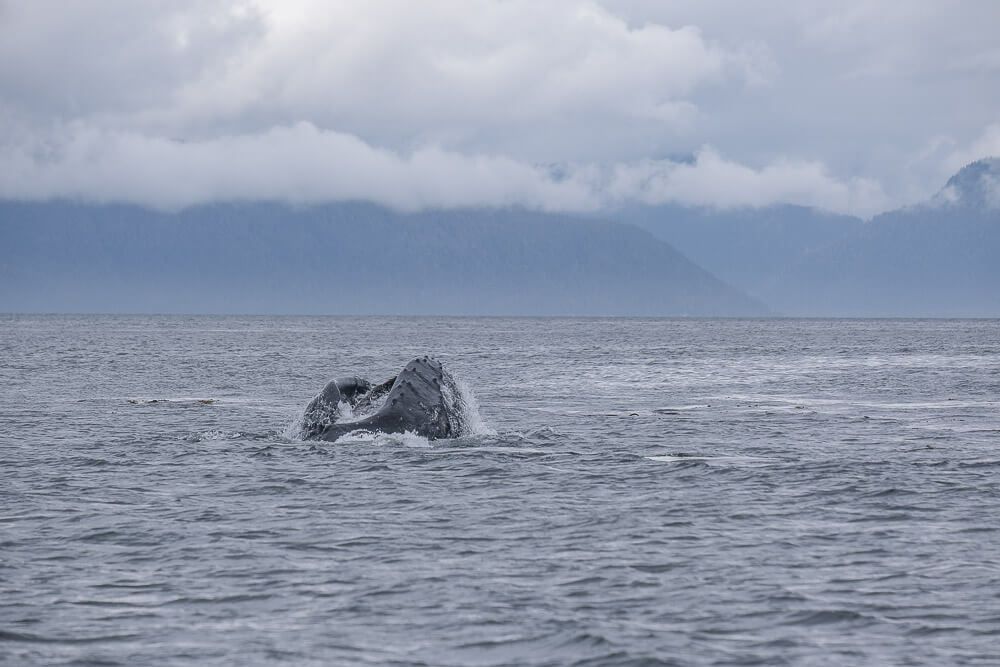 In the afternoon, we headed back out on kayaks and were able to get closer to the seals and sea otters. We even saw a couple of sea otters fighting.
That evening the ship made a pit stop in Red Bluff Bay to see a massive waterfall.
Breakfast: huevos rancheros & smoked salmon omelet
Lunch: salad with salmon & poke bowl
Lunch Dessert: matcha white chocolate brownie
Dinner: lentil soup with halibut & pork tenderloin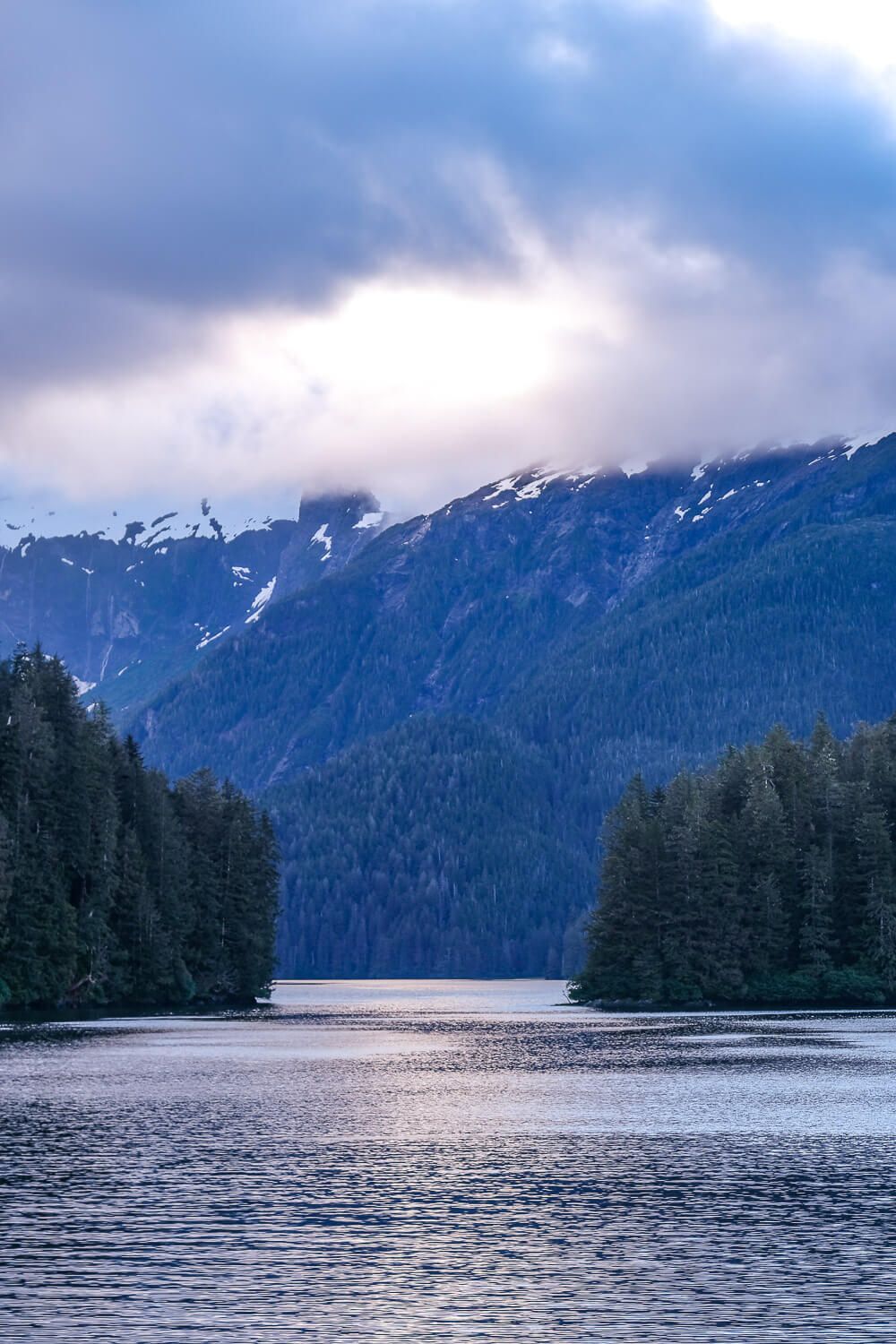 Day 5: Corner Bay
In the morning we took a skiff tour to explore the bay. I feel like the more popular options for this day were to either kayak or to bushwhack. However during our skiff tour we saw lots of eagles and even a brown bear hanging out on the hillside.
That afternoon we went mountain biking on Chichagof Island. It was definitely not easy (10 miles total), but we saw a bear along the trail! We were with a big group (20 people maybe) so he wandered off quickly after he spotted us.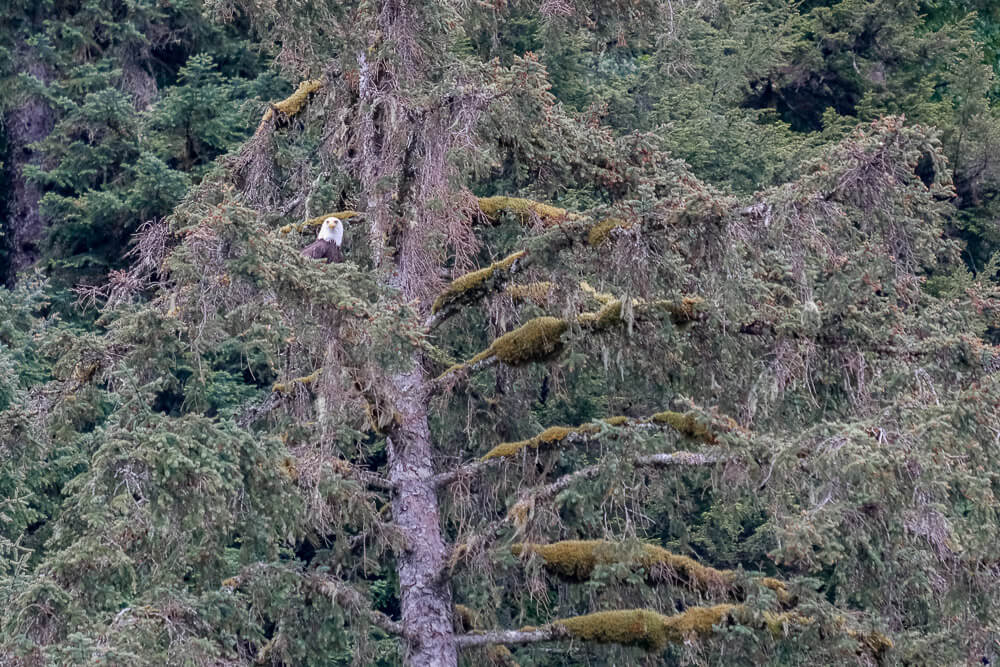 Apparently we were the first group to ever go mountain biking with Uncruise! It was a cool experience, but I would recommend it only to people who bike regularly. It wasn't an easy ride. But the ride back was mostly downhill, so after the initial push to the turn around point, things did get easier.
That night at dinner was also celebration night! If you had let them know you were celebrating a special occasion (birthdays, anniversaries, honeymoons, etc.), they made an announcement and then you received a specialty dessert. And since it was our honeymoon, we received chocolate covered strawberries.
Breakfast: french toast & denver omelet
Lunch: salad with rockfish & pork arepa
Lunch Dessert: lemon olive oil cake
Dinner: lamb chops & rockfish
Dessert: cobbler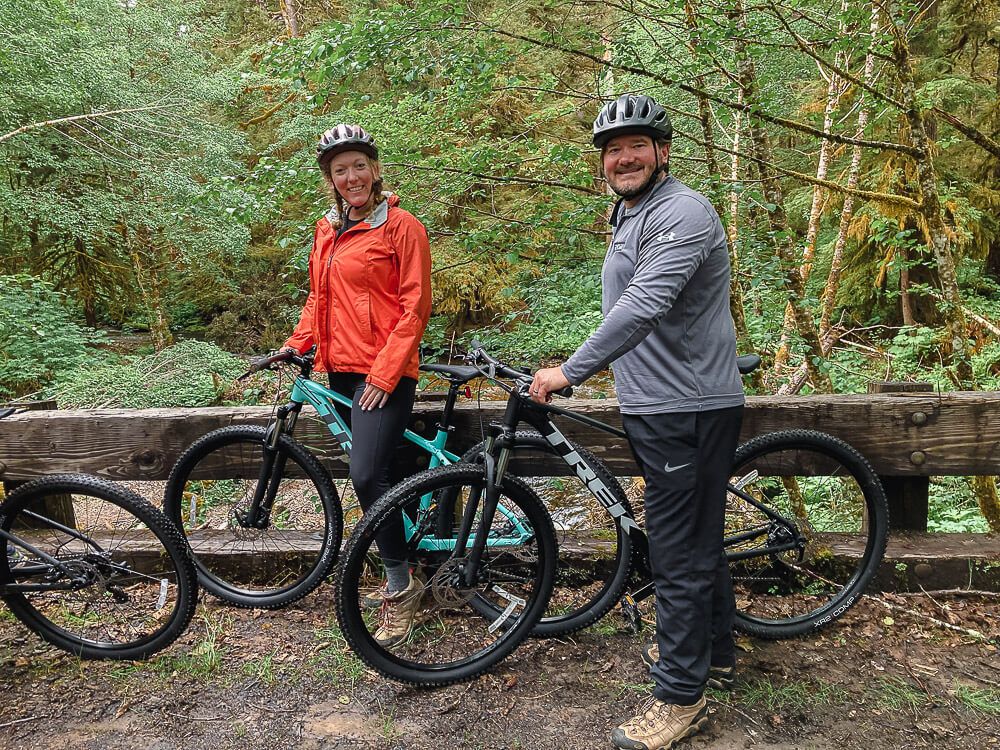 Day 6: Glacier Bay National Park
This was probably the best day of the trip. And the one that was most unexpected. Uncruise had obtained an extra permit for Glacier Bay and so we were headed into the Bay.
It began with an early morning wakeup call at 6am. Marjorie Glacier (and the Grand Pacific Glacier) were waiting for us right outside. We spent a good 30 minutes or so taking them in before we had to move on.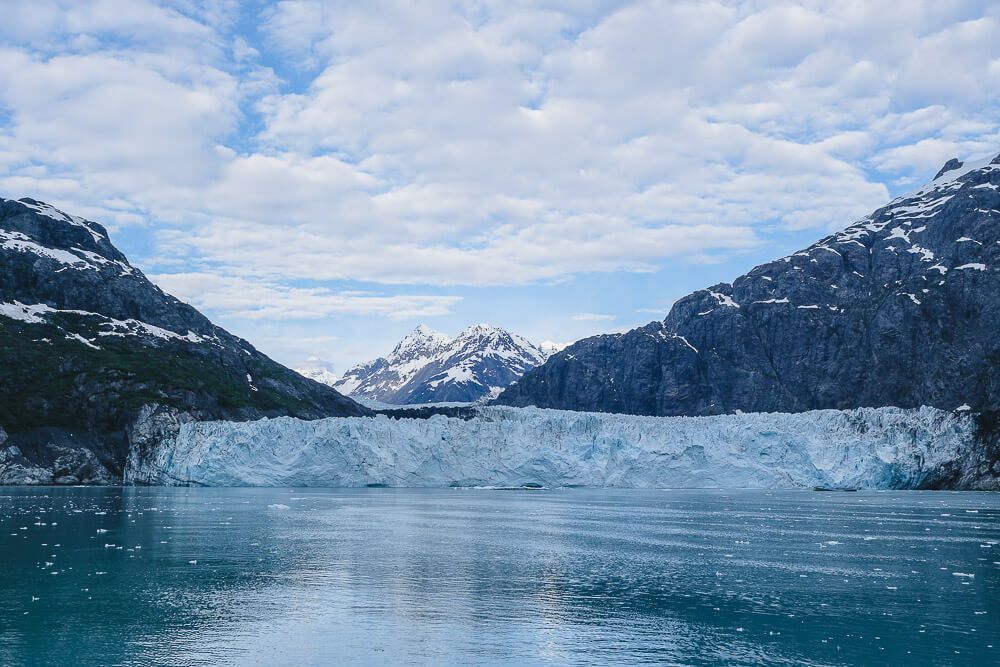 Our destination for the morning? Lamplugh Glacier. There were several options for the morning including a hike we almost picked. But in the end we opted for a kayak out out to the glacier. A terminal moraine sits at the face of the glacier, and we were able to kayak right up to the moraine.
Then it was back on the boat for the polar plunge. Yes, I jumped into the icy water of Glacier Bay National Park. And yes, it was cold. Frigid. Shockingly icy. I don't think I'd do it again. But I'm glad I did it once.
After lunch, we slowly made our way through the Bay stopping for wildlife along the way. We saw lots of seabirds including puffins, as well as goats seal lions, and sea otters.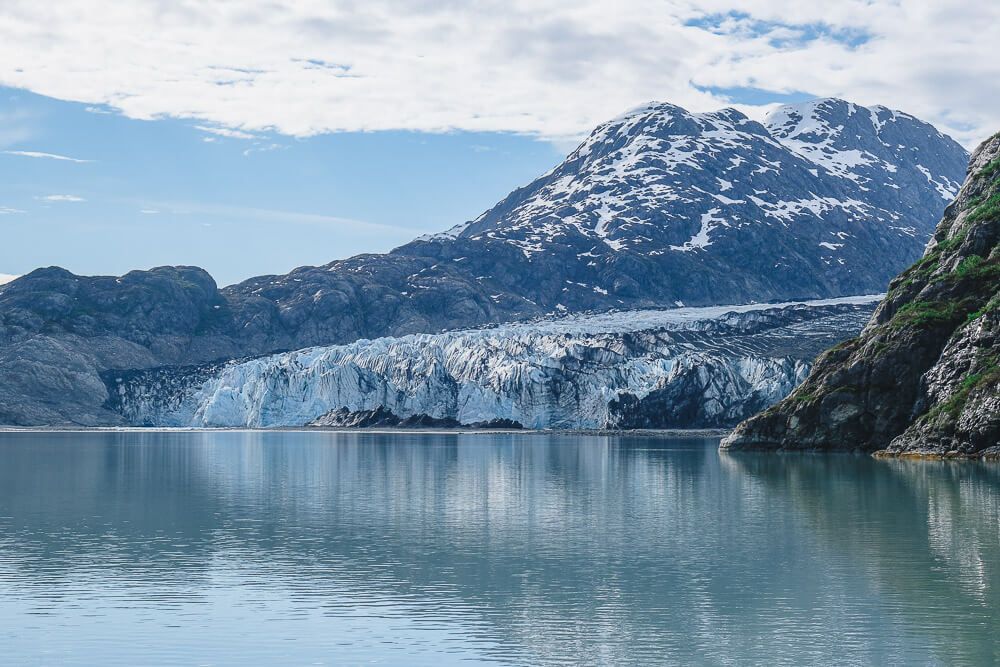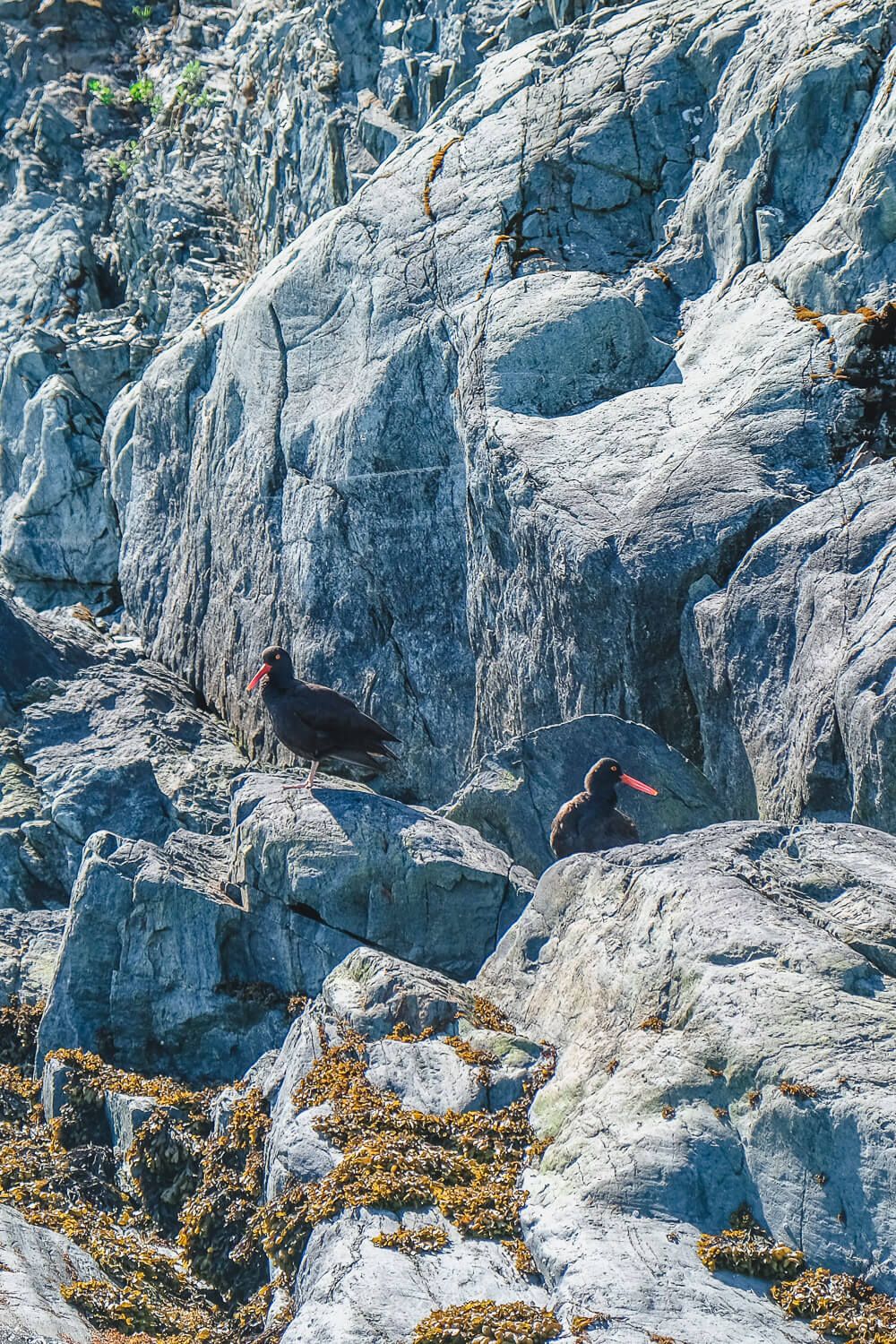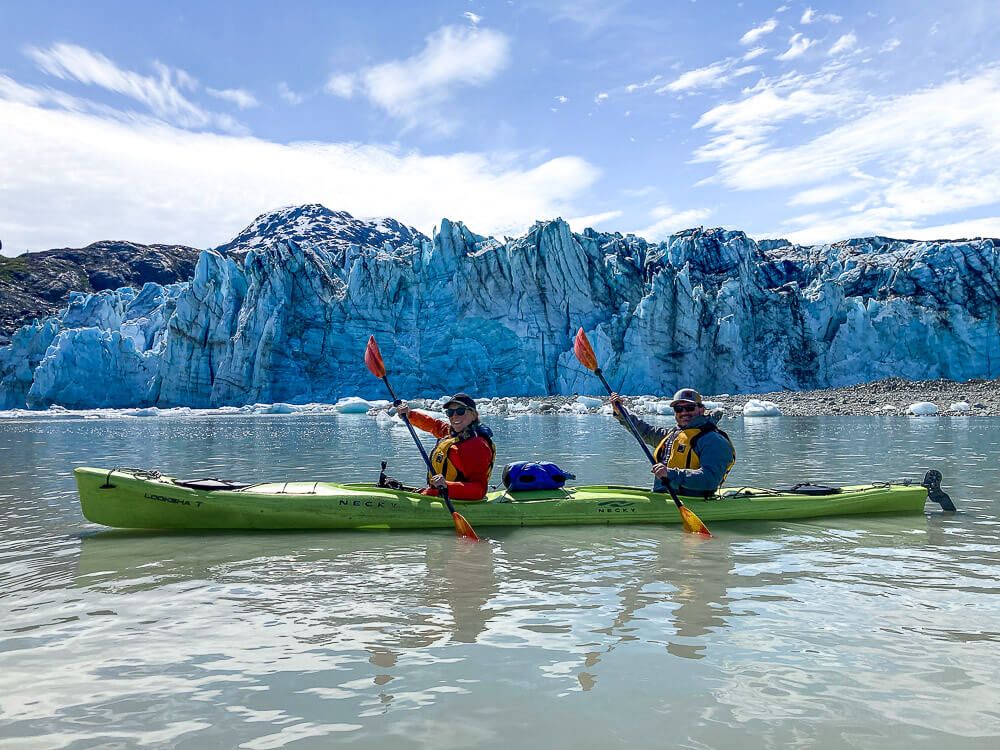 That night was crab night! And so we feasted on crabs before a an evening walk through Bartlett Cove where the main visitor center is.
Breakfast: spinach omelet & mexican bowl
Lunch: bison chili
Lunch Dessert: bread pudding
Dinner: crab legs
Dessert: orange mousse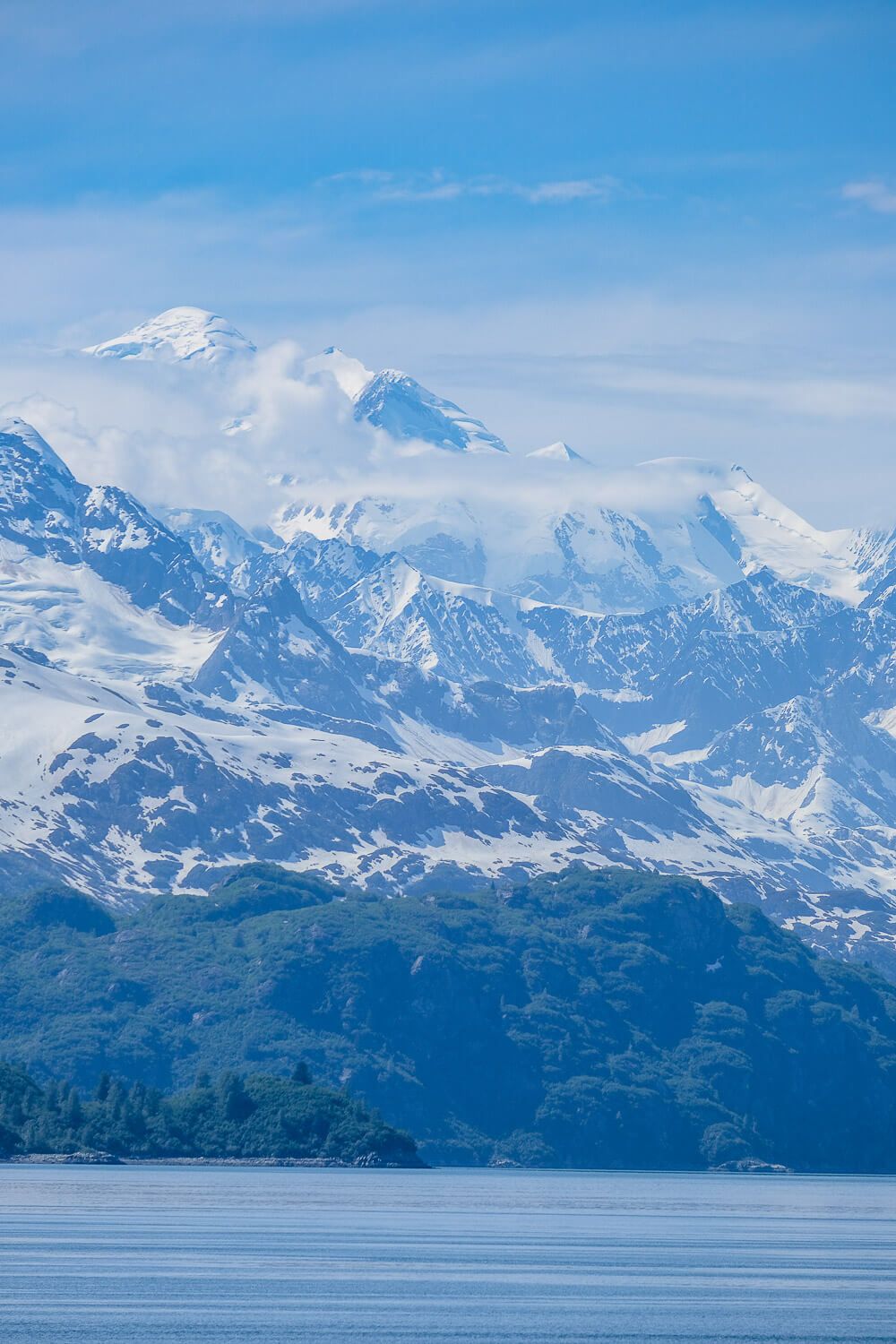 Day 7: Inian Islands
Things were a bit different for our last day on the boat. First we slept in till 7:10am since breakfast was moved back. (There was still some snacks in the lounge.)
But we began with a skiff tour around the islands. We found some (and by some I mean a lot) of sea lions swimming through the waters.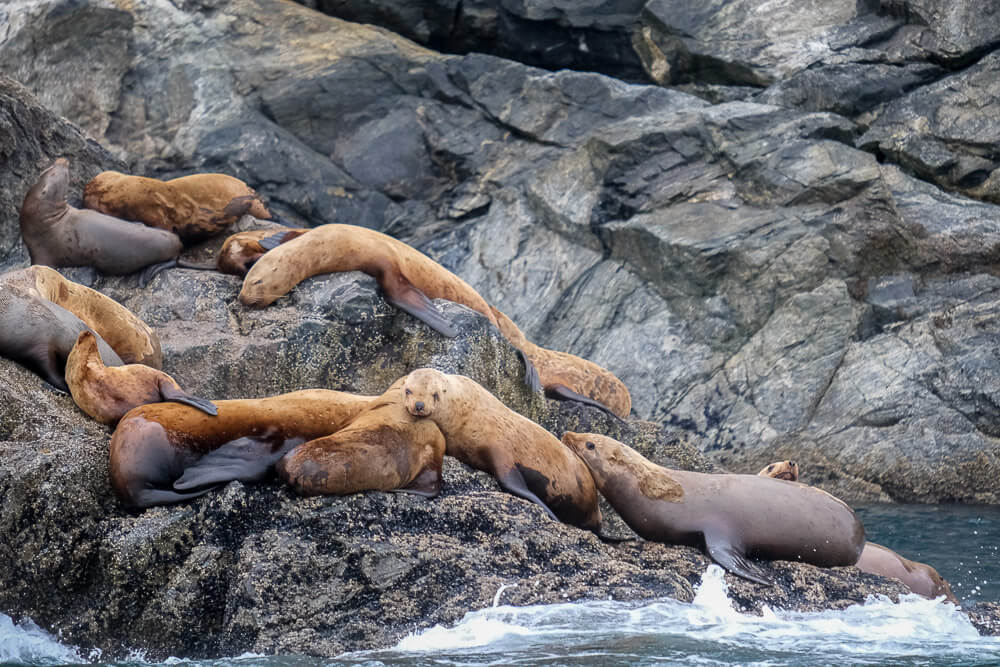 Then after brunch (yes a delicious filling brunch), we took a skiff over to George Island. The other option was a guided kayak around the island, and I kind of wished we would have picked that. But we still enjoyed the short hike on George Island.
We got to explore at our leisure. And afterwards, we headed up to the hot tubs for the remainder of the afternoon.
That night we watched a slideshow of the trip and all the pictures the guides took along the way.
Brunch: cinnamon rolls and steak & eggs
Dinner: prime rib & salmon
Dessert: s'more cake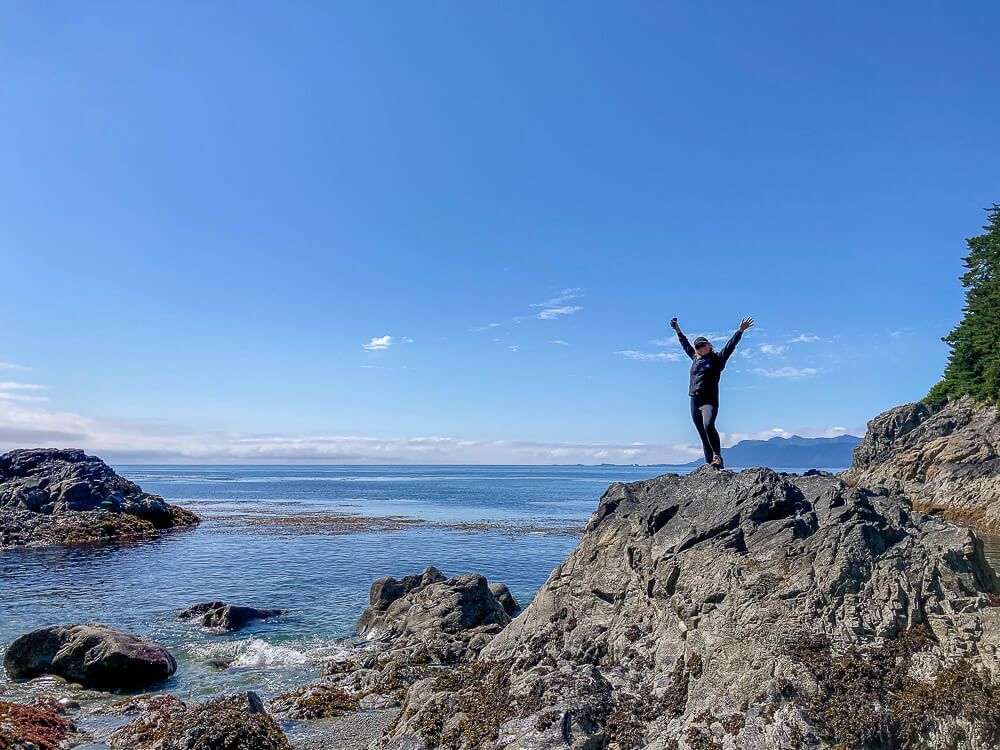 Day 8: Back to Juneau
We woke up to the boat docking and had an early breakfast before we headed off. Everyone was off the boat by 8:15am.
Uncruise arranges shuttles for those headed to the airport (or hotels), and will even hold onto your luggage until the shuttle's departure.
Breakfast: biscuits & gravy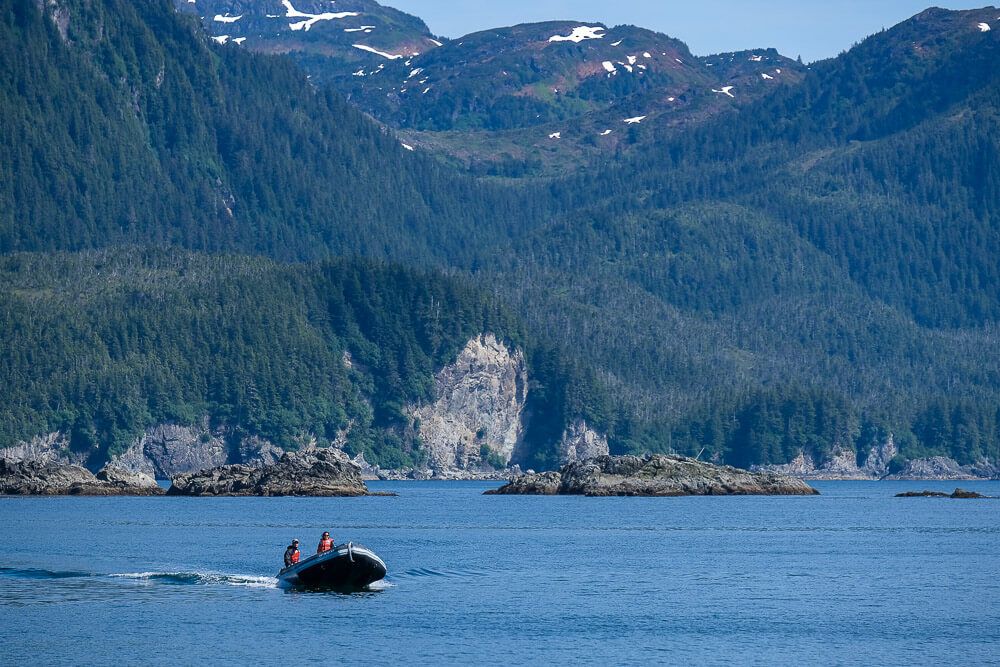 Who Is This Cruise Good For? My Final Recommendation
This cruise was amazing.
The small ship meant we could go places other cruises could not. We saw so much wildlife and were able to explore in a variety of different ways. It was probably one of the best trips of my life.
If you like having a plethora of activities to choose from, if wildlife viewing is high on your list, then consider Uncruise.
So maybe the better way to end this is by trying to determine who this cruise isn't for.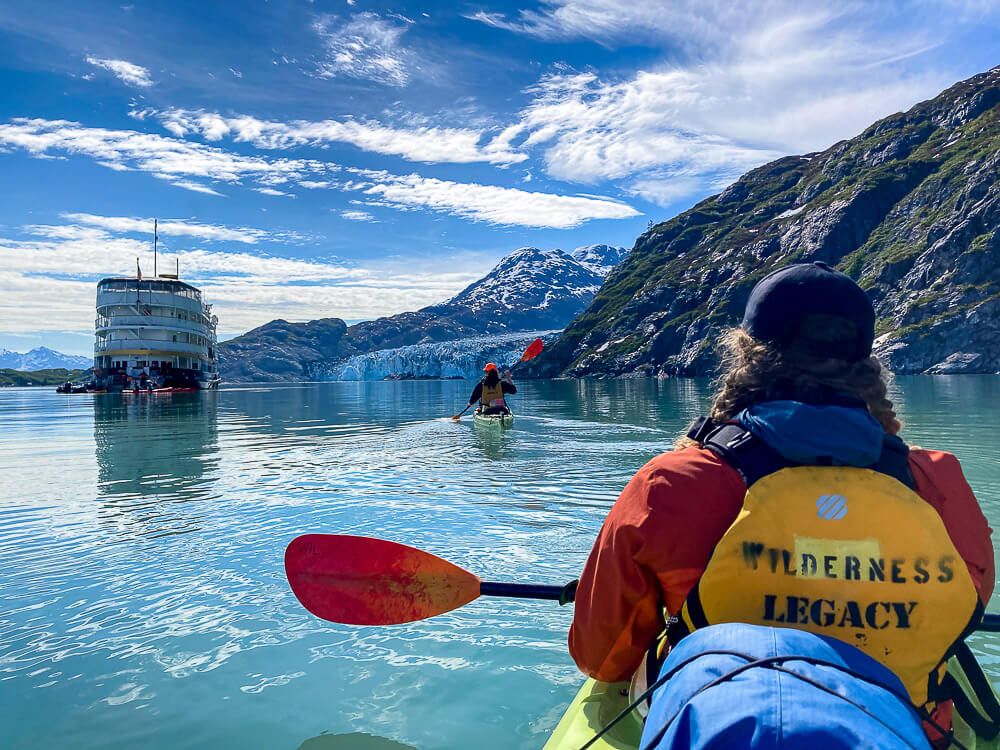 Well, for one, Uncruise isn't cheap. Now if you would plan to do a lot of add-on excursions and shore activities on a larger cruise, I'd suggest you price it out and see if there's a big difference. Because my bet is that in the end, they are relatively close in price.
I paid for this trip myself (it was our honeymoon). And we had to save up quite a bit in order to add it onto our trip to Alaska. So I definitely understand if the price is what's holding you back. But I definitely think you should price it out compared to the other cruise lines (and their add-ons).
Also the Uncruise experience is focused on activities and adventures. And they had experiences for people of all different activity levels. Everything from all-day kayaks to short hikes and even skiff tours. So you didn't need to be in good shape take part.
But you do need the desire to experience Alaska. To get off the boat. If your idea of a cruise is to sit on your deck, read a book, and just watch Alaska go by, then Uncruise is not for you.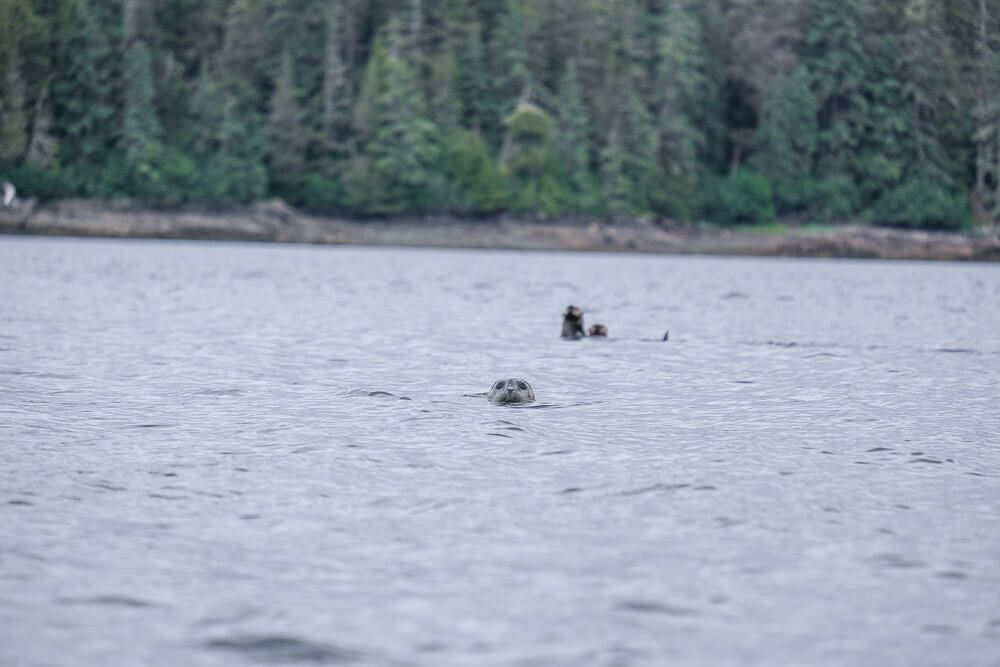 Lastly, the food was amazing on the ship. And there were options to choose from for each meal. I included the ones we choose in the itinerary breakdown above. But this isn't a buffet. And if you are a super picky eater then maybe this isn't for you.
And I don't mean dietary restrictions – because they will accommodate those. I mean picky. I mean you go to a restaurant and routinely ask them to alter/adjust/edit/remove items from dishes.
But beyond those exceptions, I would recommend Uncruise Adventures to everyone. You will see Alaska. You will experience it. You will remember it forever.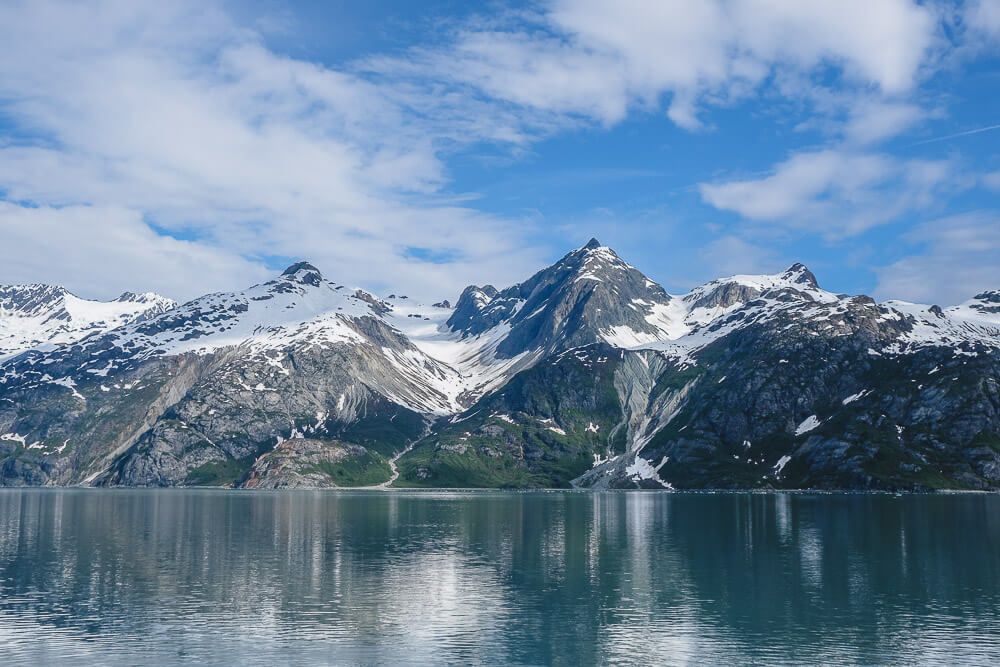 Looking for more inspiration? These are my favorite destinations: