Our tour into Kenai Fjords National Park was at the end of our trip in Alaska. We had seen glaciers and some wildlife already. But I had my heart set on seeing some orcas. After much research and (in)decision, we booked the 7.5 hour tour with Major Marine Tours for our Kenai Fjords Wildlife Cruise.
And the tour was outstanding! One of the highlights of our trip and something we'd do again in a heartbeat if we were to return to Seward.
Now some of that may come down to luck (like who our captain was), but I based on reviews and what I've seen/heard of form others, most tours are fantastic.
So read on to discover what we saw on the tour and to decide if this is the one for you.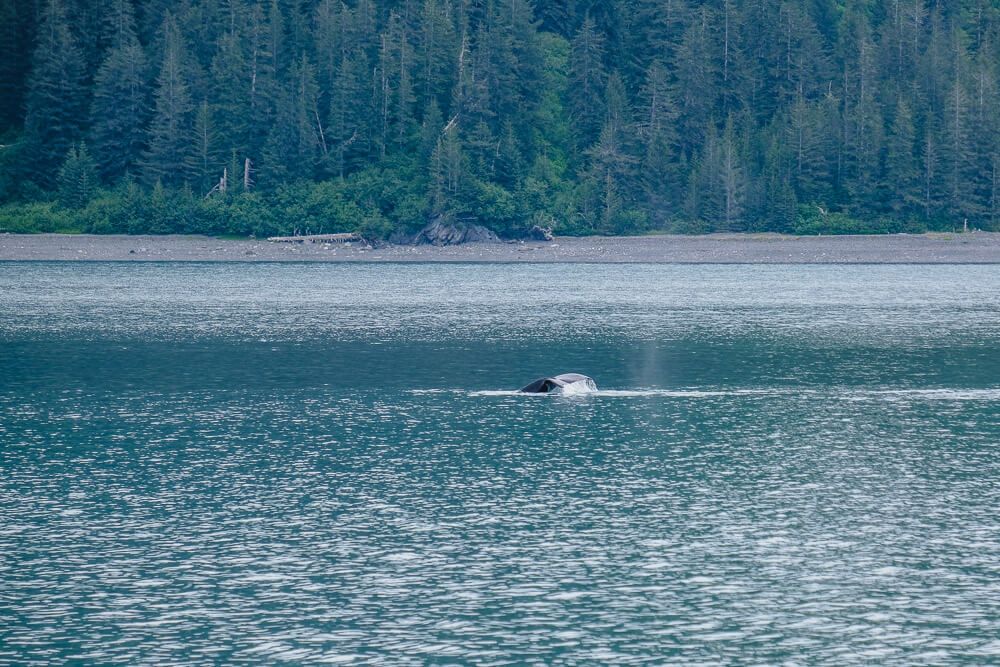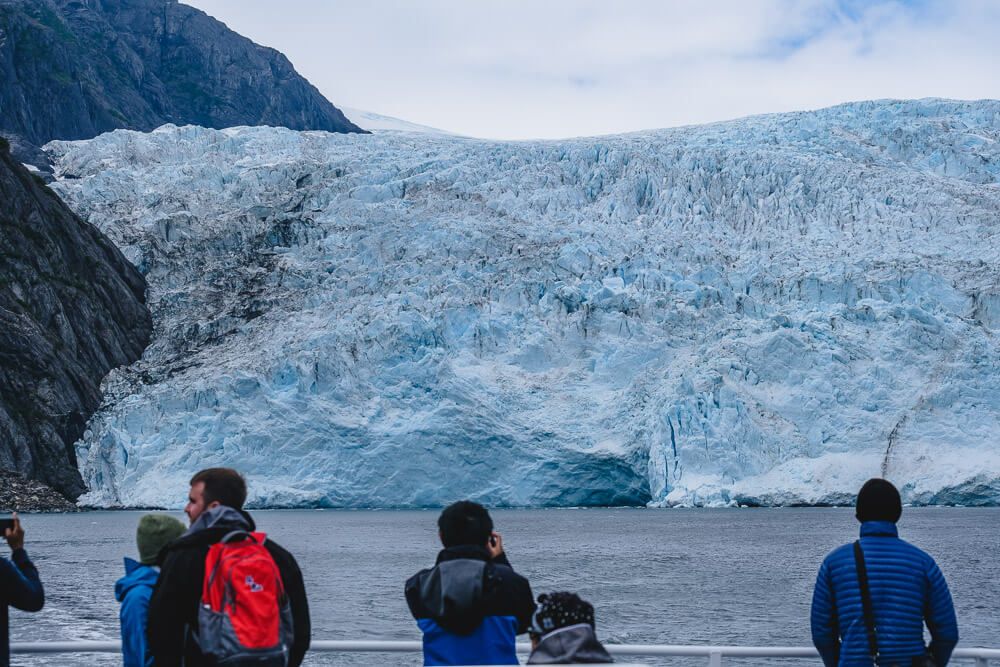 ---
The Kenai Fjords National Park Cruises
Major Marine Tours offers several different cruise options. The varying factor here is time (ranging from 4 all the way up to 8.5 hours). And of course the longer the tour the more you see and the farther out you go.
Now we booked our tour before we left for Alaska. And we planned for the first week of our trip to be spent on a cruise with Uncruise Adventures (out of Juneau), and we weren't sure we'd get to see a tidewater glacier (but we did). So we wanted our Kenai Fjords Cruise to include an impressive tidewater glacier.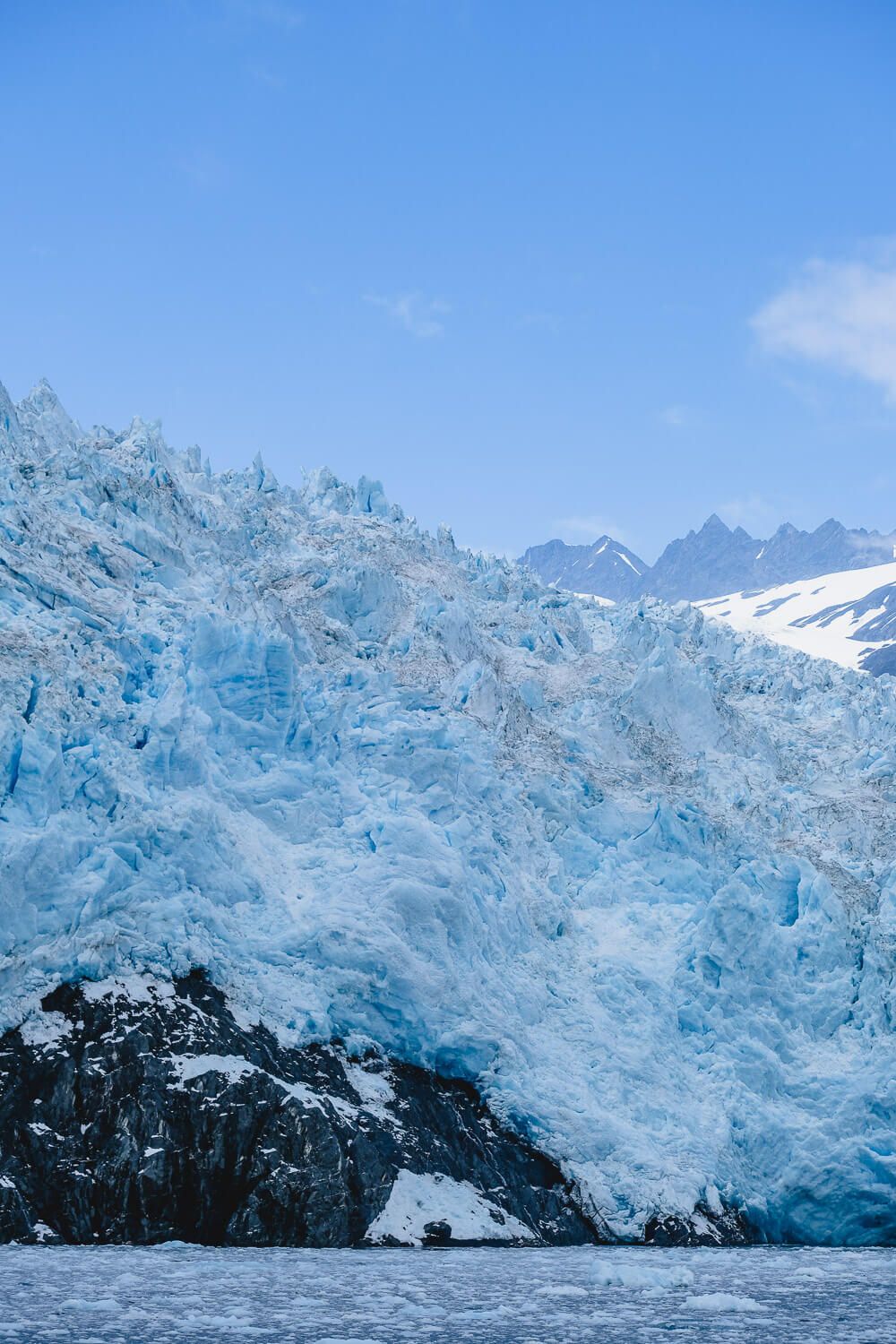 I was originally drawn to the 8.5 hour cruise since it was on a smaller boat and went the furthest away to the most remote areas of the park. It seemed to be more focused on the wildlife even though the description says it visits 3 glaciers.
If we were to visit Seward again, we'd go with the 8.5 hour cruise. Only really because we've seen big glaciers and I'm more drawn to the wildlife viewing.
We choose the 7.5 hour cruise due to it visiting two massive and active tidewater glaciers. Plus all the extra time meant we could go farther into the park and seek out wildlife.
And we saw all the wildlife. Details below on our route and what we saw along the way.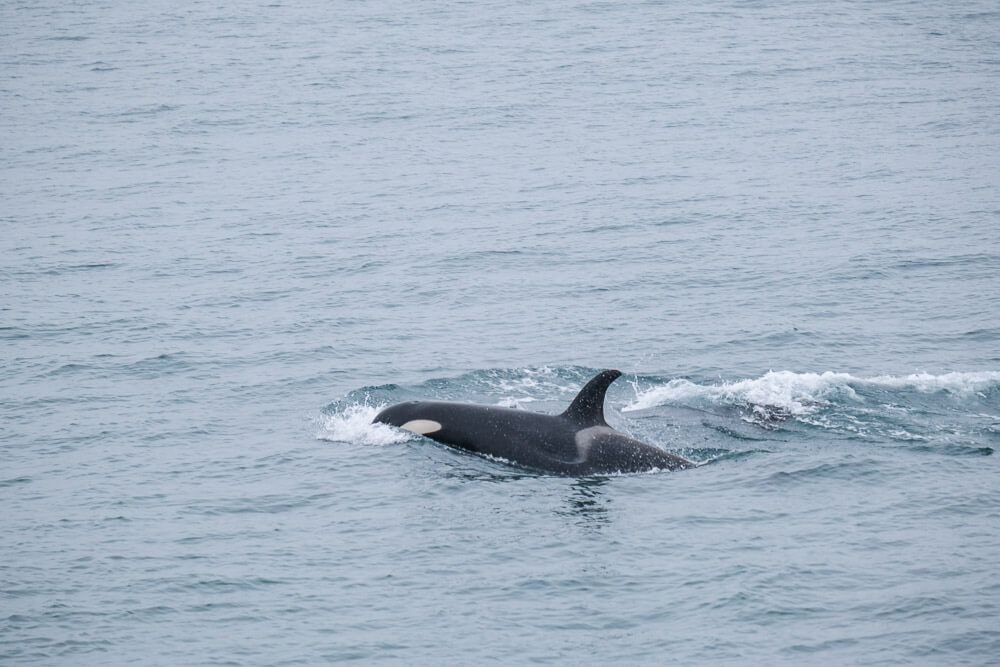 If you want to see wildlife and two very impressive glaciers, go with the 7.5 hour cruise. If you're mostly after wildlife and would like a smaller group, then the 8.5 hour one may be more up your alley.
---
Our Kenai Fjords Wildlife Cruise
Checking In
Major Marine also offers free pick-up/drop-off for those staying in Seward. We arranged this when we booked the ticket and just had to walk 2 blocks to the Alaska Sealife Center.
Once we arrived at the office, the check-in was super smooth.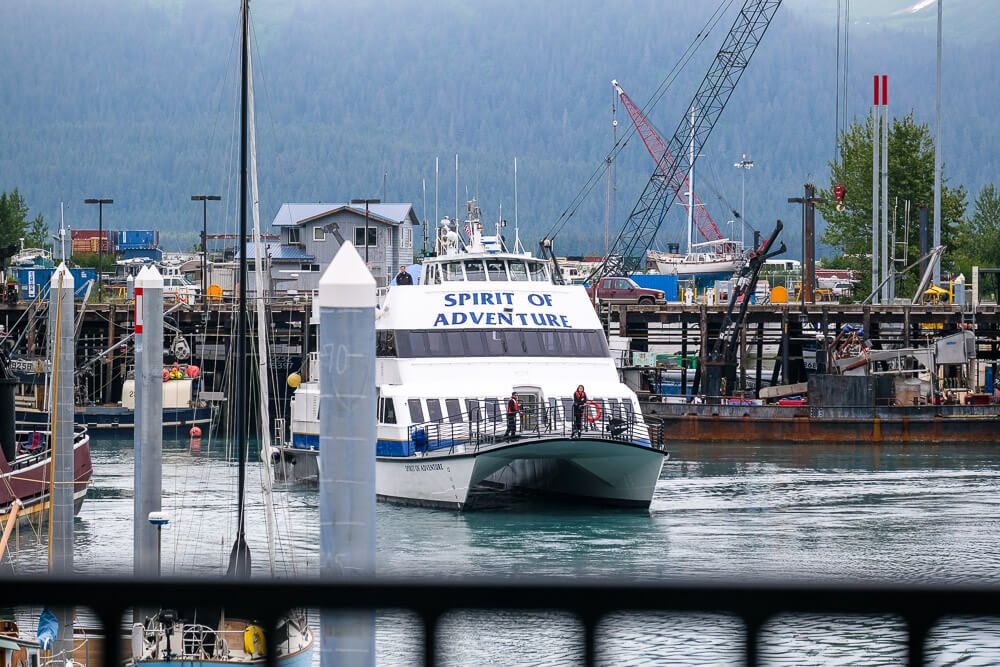 Now people will start lining up to board the boat early. You'll see the line start to develop. When we visited (during post-Covid times), when we boarded we got seats. Now you don't have to sit in them if you decide to sit outside (on one of the exposed decks or roof).
We ended up sitting up on the roof for the whole time. It was very cold. I would say the roof filled up quickly during boarding. But within 30 minutes, 75% of the people had drifted back downstairs and inside. When the boat is moving, it gets very cold. Doubly so if you are near the glaciers.
It's that cold.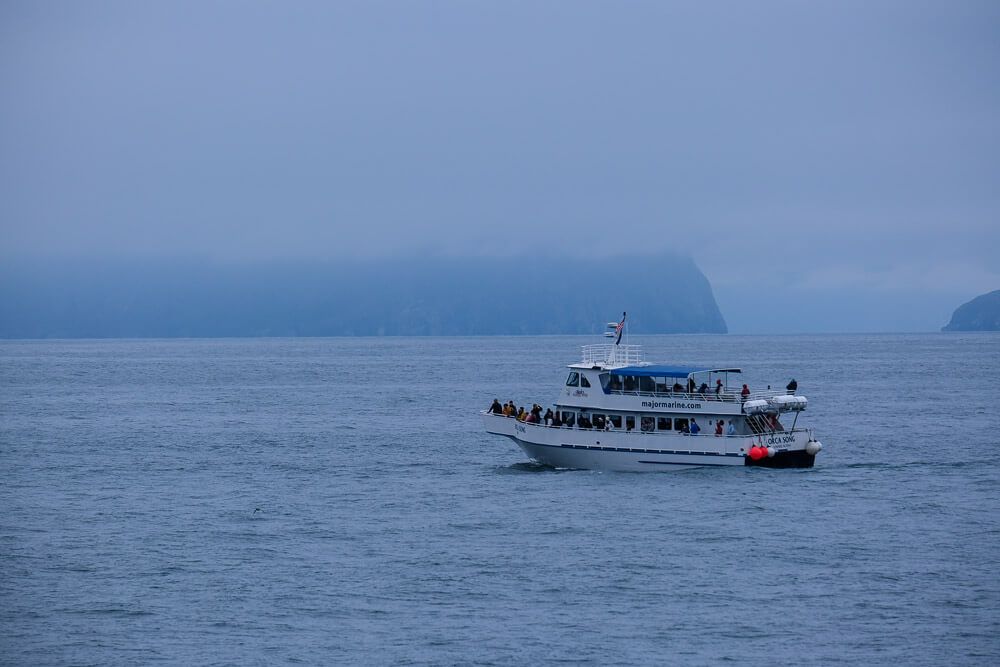 I wore thermal layers, warm athletic layers, sweatshirts, jackets, rain gear, hat, gloves, and my neck warmer. And I was still cold at times.
If you don't want to bundle up that much, they will let you know when you should head outside onto the decks.
Otters, Seals, & Bear Glacier
Before we had even left the bay, our first marine mammal was sited. A sea otter was chilling in the water and didn't mind at all as we drifted on by.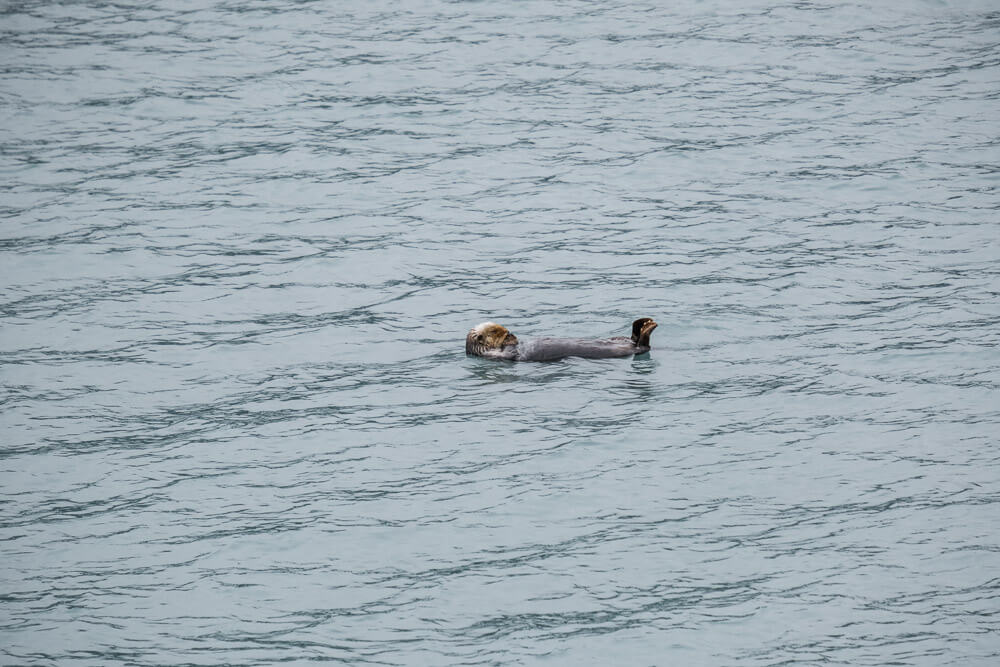 Then some harbor seals were spotted on some rocks by the coast. They kept an eye on us as we motored by, but they didn't move or swim away. This is a regular occurrence for them.
Once we entered Kenai Fords National Park, we spotted our first glacier of the tour. Bear Glacier is the largest glacier in the park. And even from a distance is massive.
And you do have to view it at a distance. In front of the glacier is a pretty large terminal moraine and lake. So the cruise never ventures close, but I still thought it was cool to see.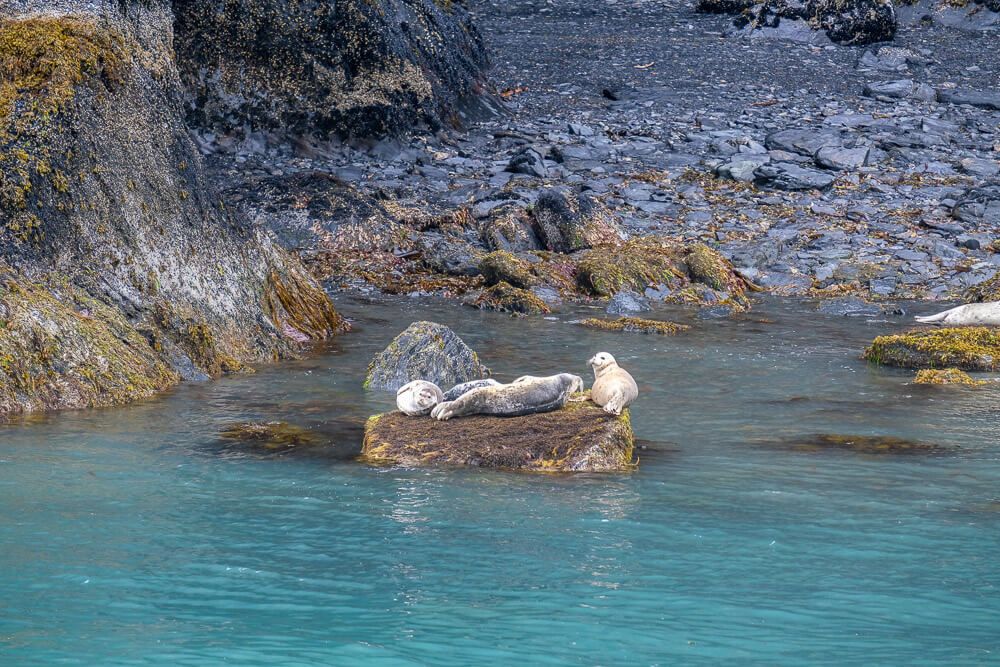 Orcas
Across from Bear Glacier, our Captain (Captain Tanner) said those magical words I had been waiting almost 2 weeks to hear. Black dorsal fins had been spotted ahead.
We had found a pod of orcas!!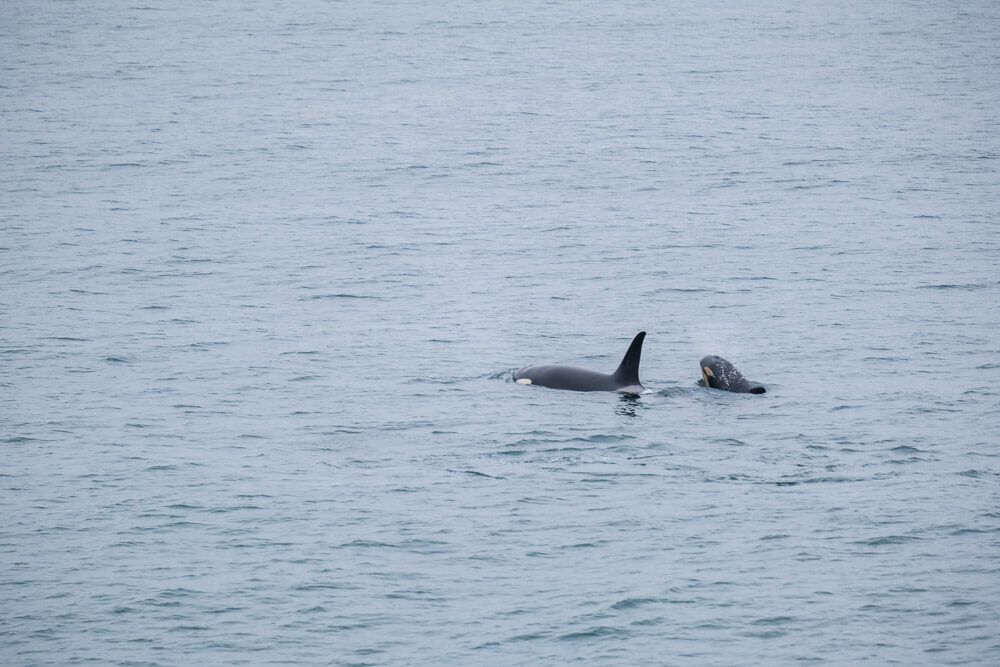 It was…the best part of the whole cruise. For several minutes, we stuck by the pod and just watched them. They'd surface for a couple of breaths and then dive down again for a minute or two before coming back up again.
It was magical.
The pod consisted of several females and a couple of calves. They looked so small in comparison.
Captain Tanner also let us know that the male had a name – El Dorado and that they were the same age. (I'm guessing late 20s.) El Dorado had been studied in the area and, though I can't remember the details on how, they had named several (identified by like the markings or something). El Dorado was massive. His dorsal fin was over 6ft tall.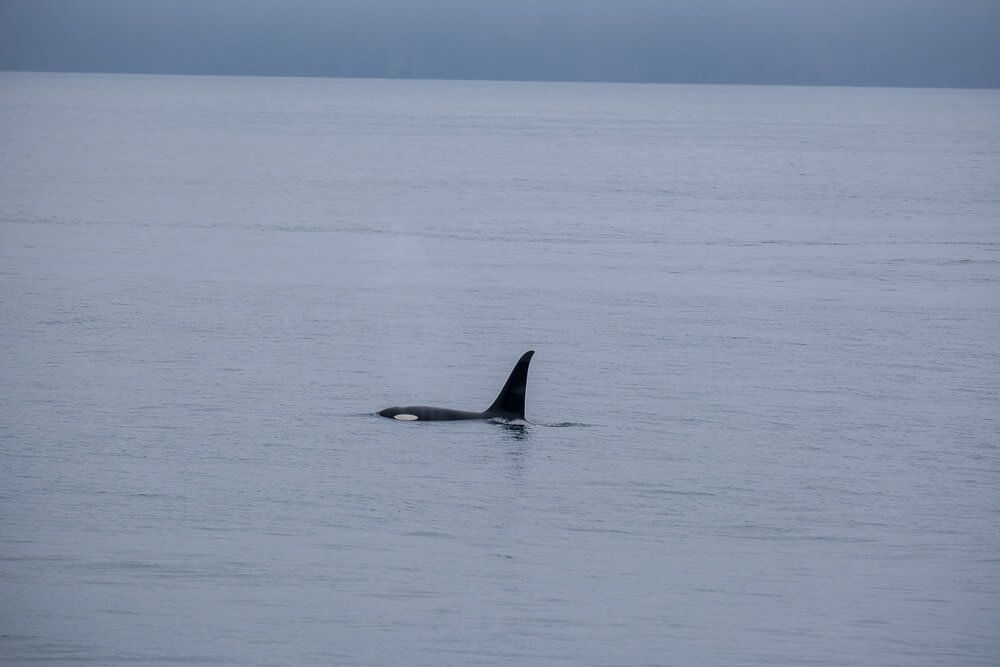 I could have spent the whole 7 hours just watching the pod. But alas we finally had to leave them. The Captain also seemed sad we had to turn away.
I love a captain that loves wildlife.
Humpbacks & Fin Whales
Shortly after we left the orcas behind, we had several other whale sightings in short order. First was a pod of humbpacks. They were swimming fast and in the opposite direction of us. We slowed down and stopped as they went by.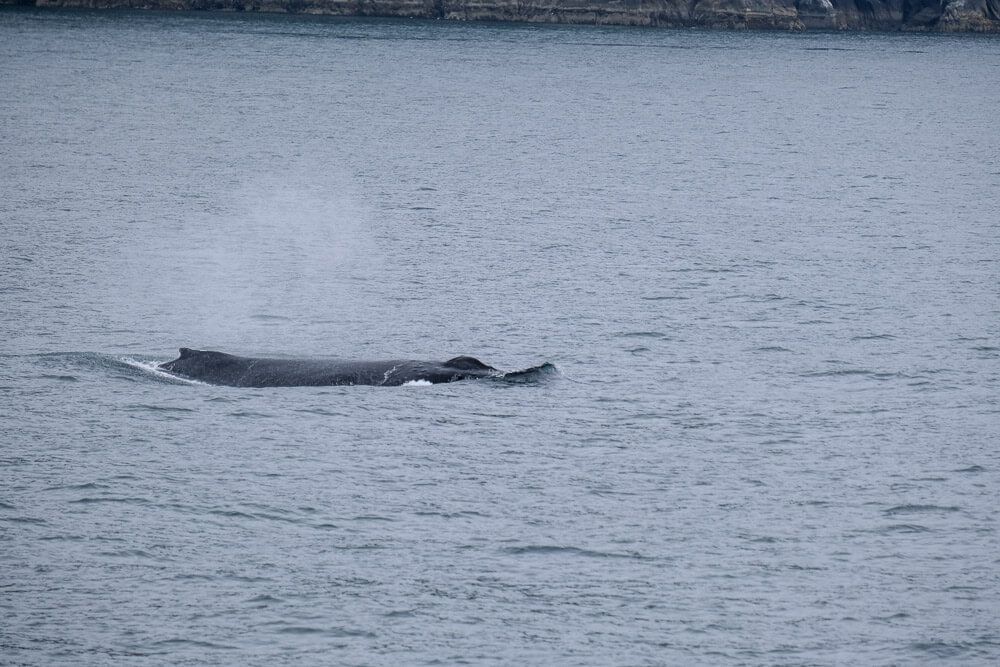 I was at first a little sad we didn't see more of them, but I shouldn't have worried. We caught up to them at the end of the Kenai Fjords wildlife cruise.
And then just as we started to pick up speed, we spotted not one but two fin whales! These whales are harder and more rare as they don't have to come up for air as often. They are also the second largest whale (only the blue whale is bigger).
This was unexpected and delightful. The first whale I had ever seen was a fin whale.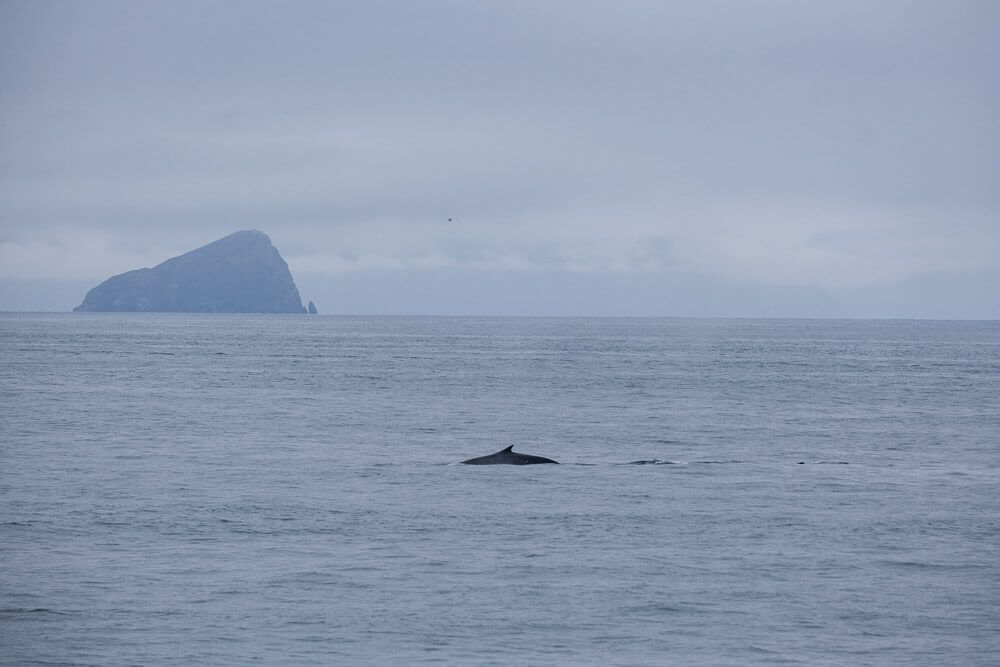 Puffins & Sea lions
As we cruised through the Chiswell Islands and made our way down into Aialik Bay, we passed by lots of wildlife.
First up were the puffins!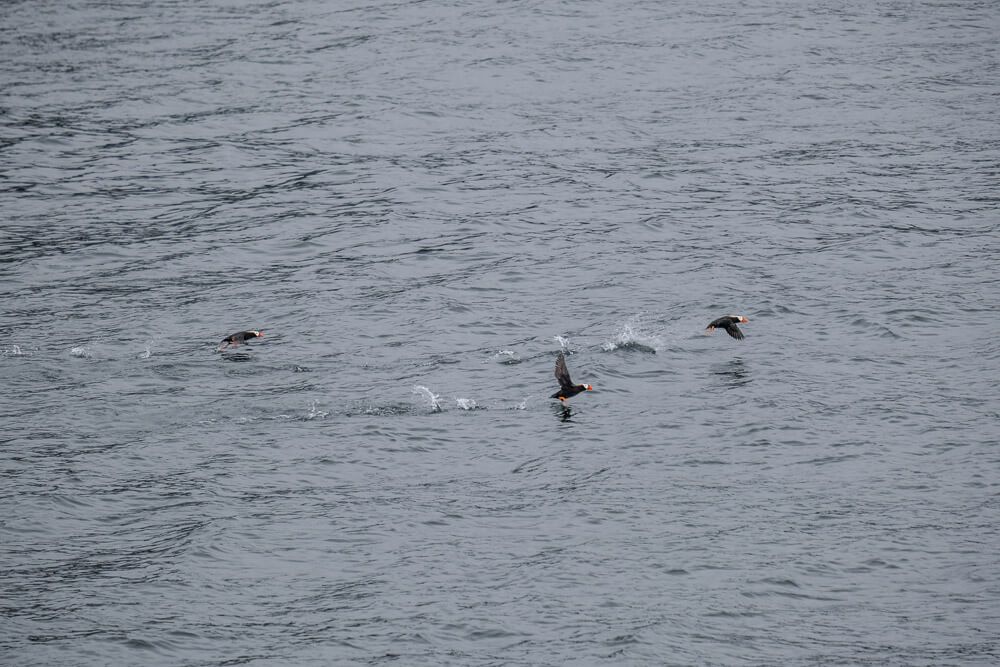 I love puffins. And though the horned puffin (the one that most people think of as a puffin) was more elusive – though we did see a couple – there were tons of tufted puffins about. These puffins have black bodies, white heads, the characteristic huge orange beak, and yellow tufts of feathers coming off their heads.
On the rocks around the island was also a bunch of steller sea lions. Larger than the sea lions further south, these sea lions were hauled out on a number of the rocks.
They gave us a passing look as we cruised by, but mostly ignored us.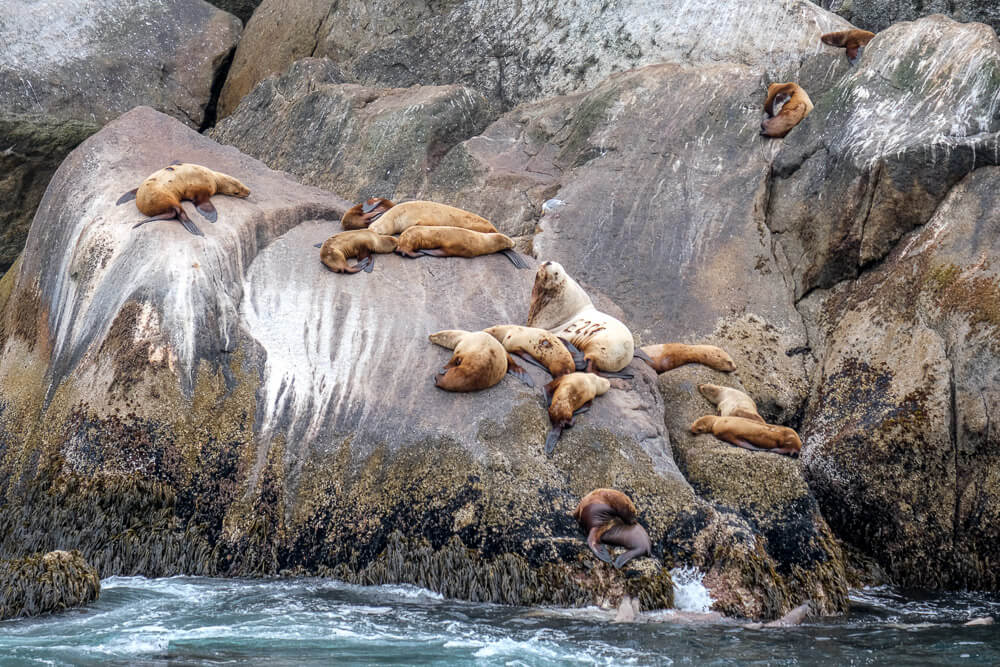 Holgate & Aialik Glacier
These two glaciers (located near each other in Aialik Bay) are the massive tidewater glaciers of the tour.
First is Holgate Glacier. It pours down the valley as the boat approaches and seems massive.
Interesting, boats have to keep a quarter a mile away from glaciers at all times (in case of a major glacier calving). And yet as you pull up to these beasts, they don't seem that big. The best way to really gauge their size is during the approach.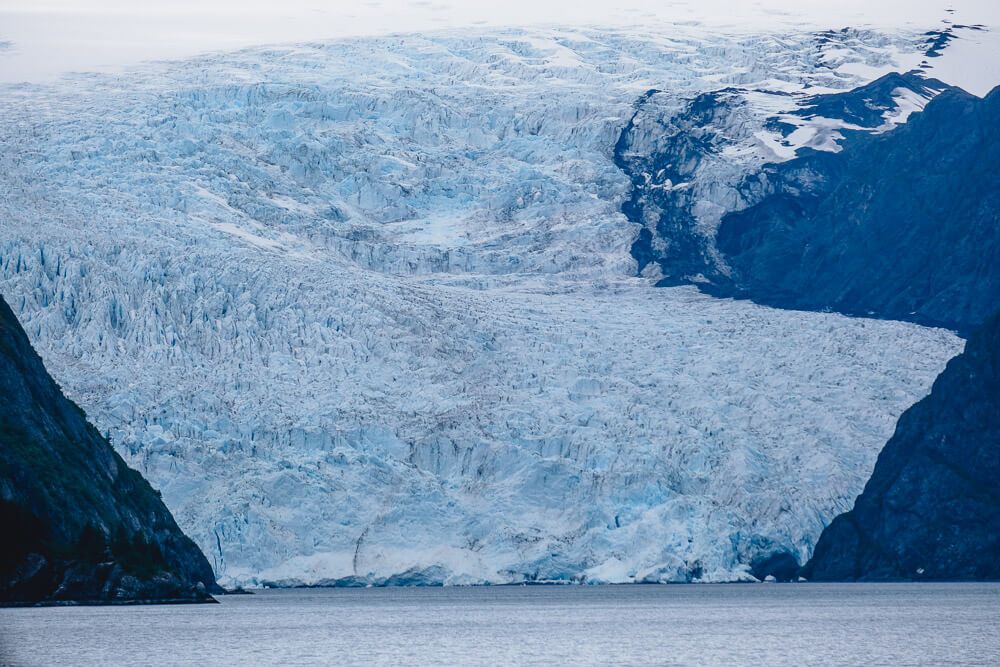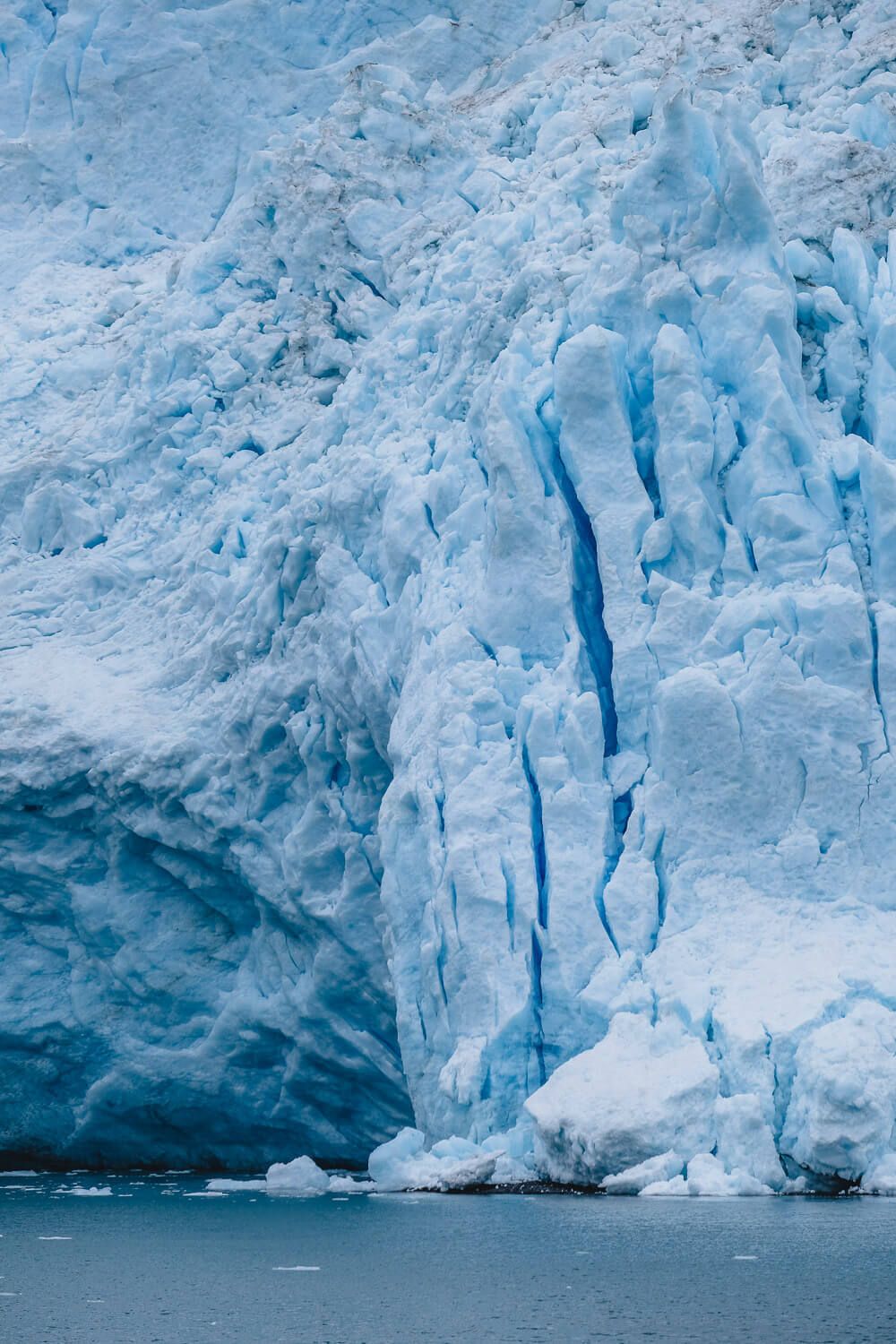 This was really apparent with Aialik Glacier. After leaving Holgate behind, we headed deeper into the bay. You could see it looming in the distance.
Aialik Glacier is 1 mile wide and 700ft tall at its terminus. 700 FEET TALL! That is…massive.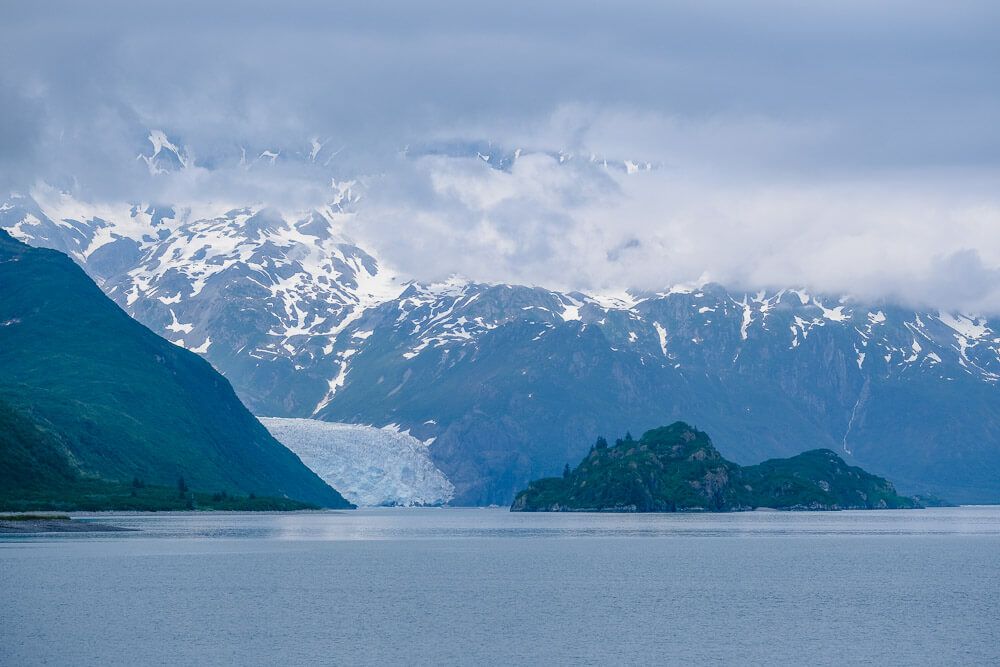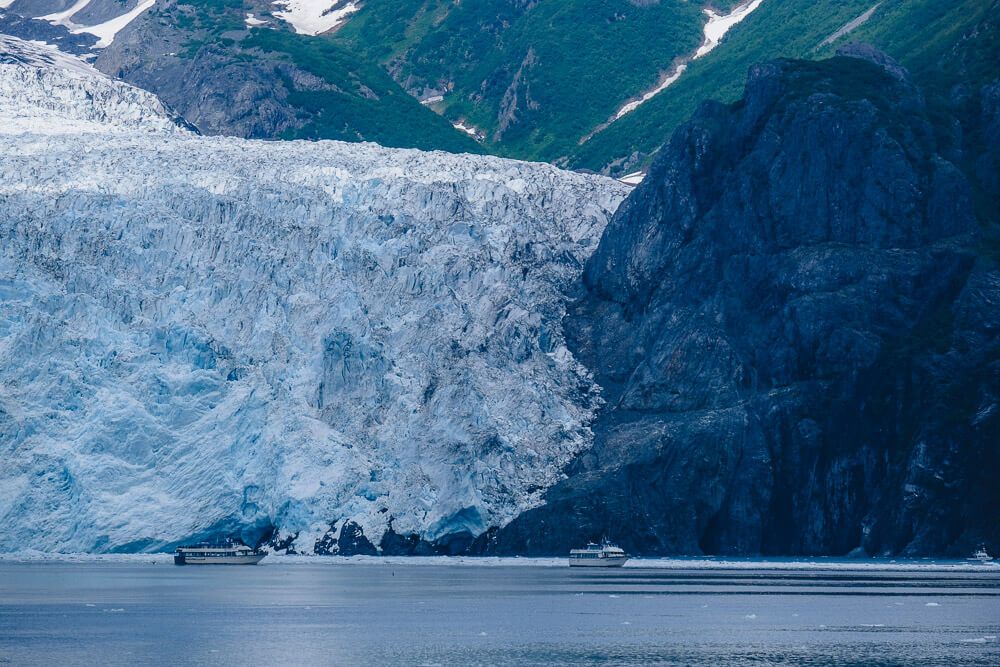 We spent about 20 minutes with each glacier. Which was more than enough time. Remember how I said it was cold? Well stopping in front of a glacier means that it's not just cold, it is absolutely freezing.
Most people came out onto the decks, snapped a few photos, and then quickly headed back inside.
Aialik was my favorite. Not just because of its size, but also how impressive it felt to be so close to it. Plus we even spotted some habor seals hanging out on the ice flows in front of the glacier. And like seals = love.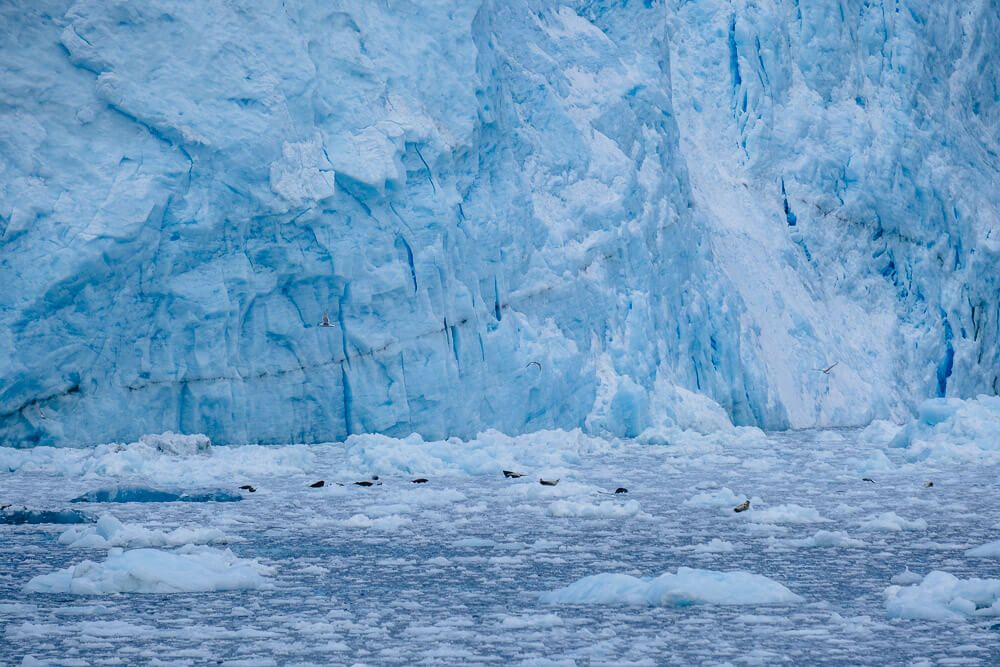 Bubble Net Feeding Humpbacks
After leaving Aialik Glacier behind, we began our return journey back to Seward. And we were trucking. Because of our Captain's love of wildlife, he had stopped at every sighting. Which I loved. And learned later that some Captains don't.
Captain Tanner you are the best.
But now we had very little time to make it back to the dock. However, we had two women on board from Anchorage and they were set on seeing humpbacks bubble net feeding. I had never heard of this beforehand, but they explained that its when a pod of humpbacks work together.
This is how it works (if I remember correctly). Two humpbacks are the worker bees. One blows a circle of bubbles (aka the net) while the other chases the fish into it. They then bellow (and you can hear it if there's a mic in the water). This is the signal to the other humpbacks. They charge through the net and swallow up the fish. You can see them as they breach the surface.
They begged the Captain to stop if he got word of it. And he did. He must have gotten a call from the other boats that humpbacks had been spotted across the bay's entrance.
And we pulled up to see a group of half a dozen or more humpbacks bubble net feeding. We only stayed for a couple of minutes but we got to see two full instances of the feeding.
Incredible.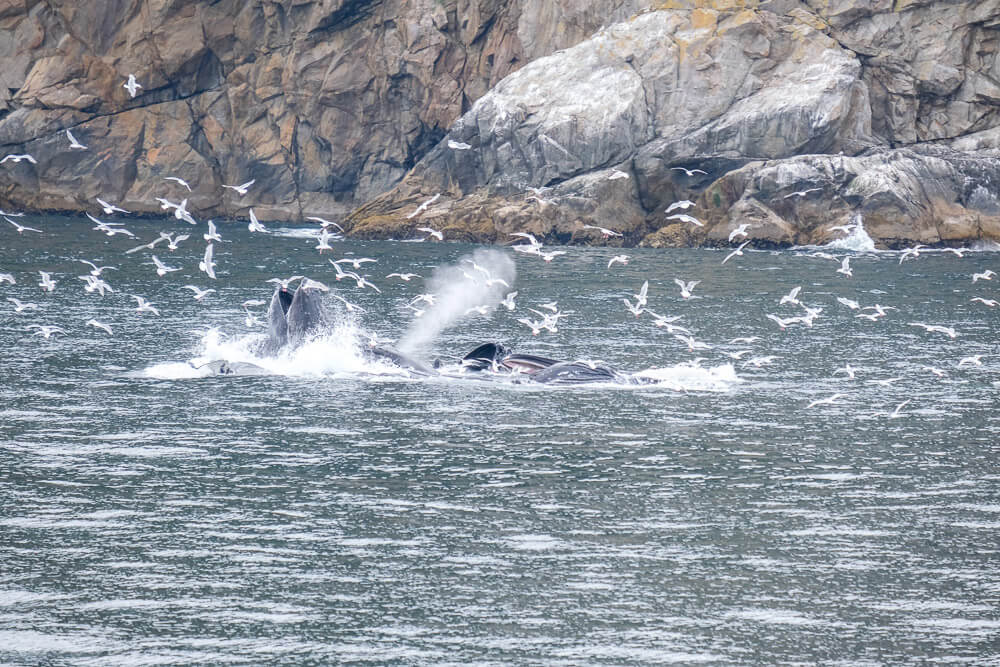 But almost more incredible was the story Captain Tanner told us as we motored towards Seward. He explained that the humpbacks used to bubble net feed all the time, but because of poaching they had stopped the practice. They had learned that they were more easily killed during the feeding (being in big groups near the surface meant easy pickings).
So the whales stopped feeding in this way in the 1980s. Then only about 8 years ago (2014), a pod of humpbacks were seen bubble net feeding. And throughout that summer, they were spotted doing it again and again. But each time scientists noticed that one old female humpback (identified by her fluke markings) was present.
They later hypothesized that the female humpback remembered how to bubble net feed. She was one of the only humpbacks who had been alive back when it was common practice. She was probably over 40 years old. And she not only remembered how to do it, but she was teaching the other younger humpbacks how to bubble net feed.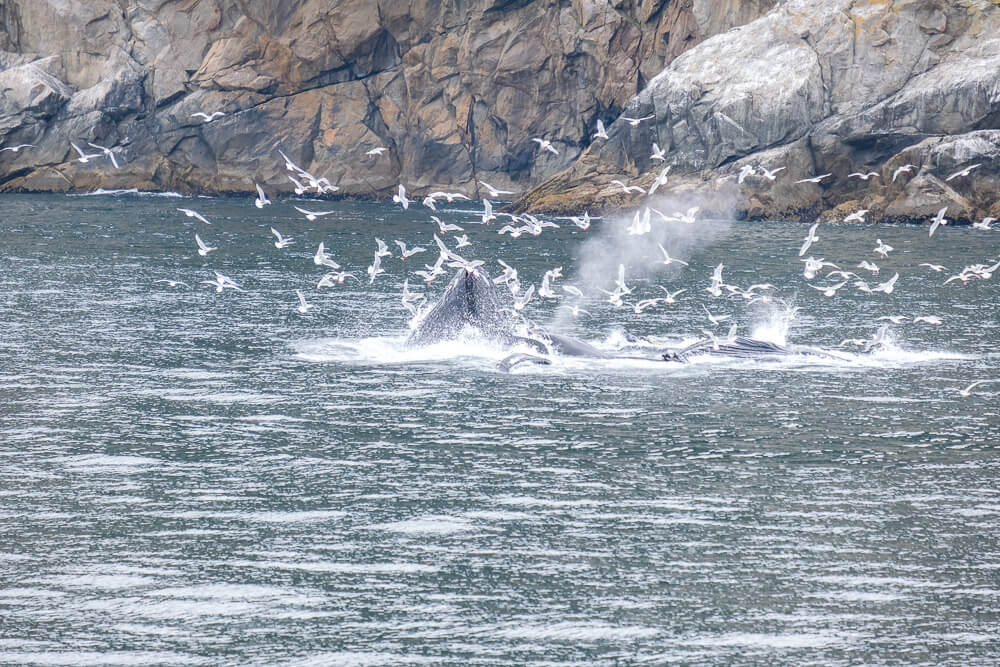 And it worked. The humpbacks have continued this practice every summer since. And though it doesn't last for the whole season (it seems to be concentrated in the first half), it was incredible to see.
If this is something you want to witness, be sure to visit Seward and take a tour with Major Marine Tours. You can even keep an eye on their Instagram to see if bubble net feeding has been spotted recently.
Final Recommendation
You (most likely) are going to Alaska to see wildlife. And other than a few exceptions (like for land animals like moose, bear, and caribou), we saw everything we wanted to see during our Kenai Fords Wildlife Cruise.
Humpbacks, sea otters, seals, orcas, puffins, sea lions, fin whales, and lots of other sea birds. Plus two massive tidewater glaciers.
If that's not what you came to Alaska to see, then this tour isn't for you. But if it is, and even if you think you might see it on a proper cruise, if you are going to Seward, book this tour (or the 8.5 hour one).
Seriously one of the best things we did the whole trip.