There's something magical about Germany in December. It actually made me feel that Christmas spirit. The markets, the food, the weather, the gluhwein…it all felt like Christmas. And that's the main reason I think you should go to Germany in December. To feel that ole holly jolly spirit. (And to eat and drink your face off too.) So if you're ready to do this, then read on for our 10 Day Germany Itinerary in December.
Now Germany is like a huge country with different regions. Instead of trying to see everything I did what I normally do – spend more time in less places. This means I spend more time on the ground (and in the Christmas markets) than I do on trains or planes.
So this itinerary focuses in on Bavaria. And in particular three cities in Bavaria: Regensburg, Rothenburg Ob der Tauber, and Munich. I felt like these places gave me what I was looking for – a great introduction to Germany's Christmas markets.
---
10 Day Germany Itinerary
Regensburg, Germany
This isn't as popular a destination in Germany for international travelers. And that was the big reason I wanted to visit it. With the other two places on this list being kind of hot spots, I wanted a more local city. One that felt more German.
Now with that being said, this is a small city. River cruises dock here. And it seems to be a popular spot for Germans to visit. So don't expect an un-crowded quaint town. This is a great city.
And a medieval city too. That's right, Regensburg has some history you guys (and you know me and history….#historynerd). In fact its got 2000 years of it. But the best (in my opinion) are all the medieval bits.
The old town contains several buildings built before the 1600s and it even contains some Roman ruins. One of the best things to do in Regensburg was just to wander the city.
Best Things to Do in Regensburg
Christkindlmarkt on Neupfarrplatz. This is the main Christmas Market in the Old Town. It's based around the Neupfarrkirche church, and you can't miss it. If you're strolling through the Old Town, you're likely to pass it through it within 10 minutes.
And this was one great Christmas market (my second favorite in fact). The main thing I remember about the Christmas market was all the gluhwein. Seriously, like all the gluhwein. This market seemed to have more types of gluhwein than any other market from our entire trip.
Not sure what I mean about gluhwein? My Regensburg post has a section that explains what it is and how to order it.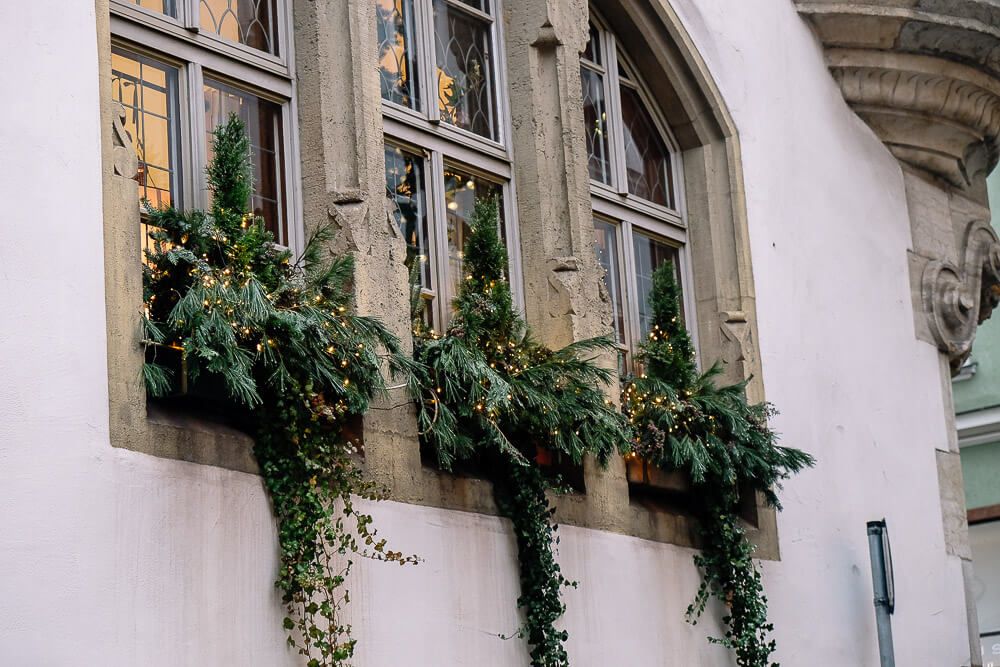 When planning the dates of your trip, be sure to check on when the Christmas market starts and ends.
Romantic Christmas Market. This Christmas Market is located outside Thurn & Taxis Castle. Yep it's outside a freaking castle. However, and a big however, the market has an entrance fee and it's not exactly cheap. (About 10 euros when we went.)
But the rate does go down after 9pm. Just be aware though that the market ends by 11pm so 2 hours might not give you a lot of time to explore. And this is one big Christmas market.
Adventsmarkt. My favorite market. It's located across the river from the old town in Spitalgarten. The market itself is quite small. It only had a few vendors of each type, but it felt cozy.
So if you're looking for a smaller market, then this one might be the one for you.
The usual drink options were here as well, including Feurzangenbowle (upgraded gluhwein with a sugar cube that's lit on fire – yes fire – check the end of this post for a picture of the drink). But the food was fantastic. They've got the brats, but I also had a bread bowl with soup and lamb burgers.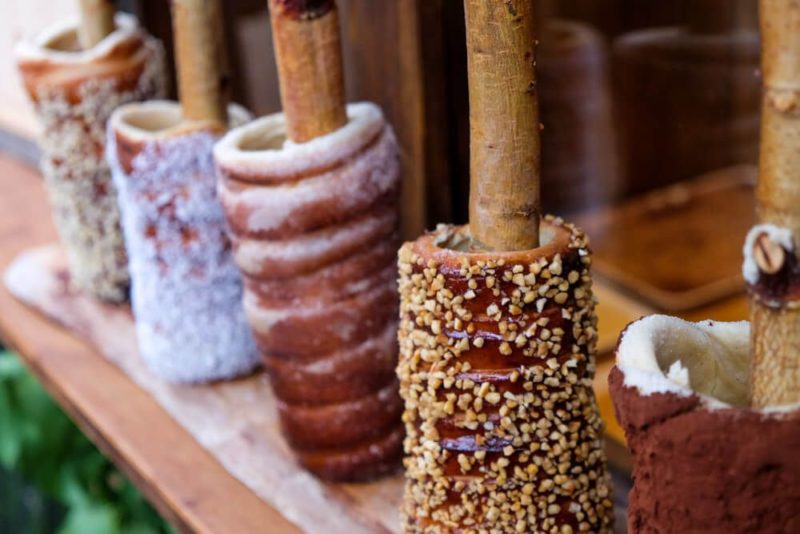 Lucrezia Markt. This market is famous for their artisans and their crafts. And with that kind of reputation, you know you can find some really nice gifts here.
The market itself is quite small. With just a few options for gluhwein and food, but the lines for some items (like the Baumstriezel) were enormous. So you know it's good. The market's located on Haidplatz und Kohlenmarkt.
Stone Bridge. I know that sounds pretty plan, but this bridge is pretty cool. It extends north out of the Old Town and over the Danube heading towards Spitalgarten. Built in like 1100s, it was a wonder of medieval architecture.
Dom St Peter. Built in the 13/14th centuries, this cathedral towers over the city. And it's one of Bavaria's grandest gothic cathedrals. Ducking inside to check out the architecture is definitely a must. (Hey you got to burn off some of that gluhwein and brats.)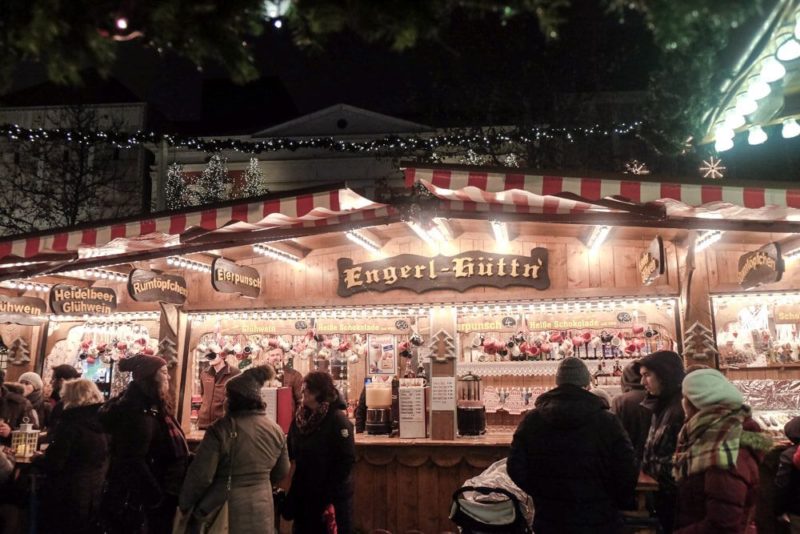 How to Get to Regensburg
Regensburg is located in central eastern Bavaria. The closest cities are Munich and Nuremberg. Your best best would be to fly into one of these cities and then to take the train to Regensburg. Trains from either one of these places leave frequently for Regensburg.
Depending on when you get in, you should be able to catch a train that day. You can buy your train tickets the day of for your trip from one of the machines. There are options to either buy a ticket for the exact train and time you want (which is cheaper) or to buy a flex ticket that's good for the whole day (which is more expensive).
You can also book your tickets in advance if you'd like as well. I've recently been using Trainline and found it very convenient to find routes. Though you can book directly with Germany's bahn site as well.
Some routes may also ask for a reservation (which is a seat). If you don't make one, you're not guaranteed a seat. But (I believe) you need to book this at least 1 day in advance. I never made a reservation and would usually hang out in the space between the compartments and then 1/2 way through the journey, look for an open seat without anything on the display over it.
If you are coming from further afield, you might one stay your first night in that location. We actually flew into Stuttgart, spent the night there, and then took the train to Regensburg the next day. This was a longer train ride (3.5+ hours plus at least 1 change), but we found very cheap tickets to Stuttgart so it was worth it to us.
Want to know how I score cheap flights? I use Scott's Cheap Flights! It alerts you to deals for airports near you. If I'm not using my miles, I'm using Scott's Cheap Flights.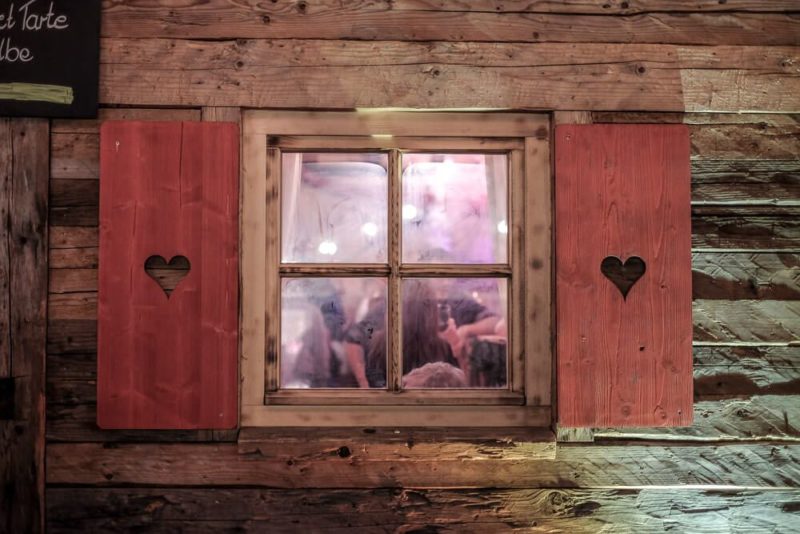 Where to Stay in Regenburg
If you're thinking of adding Regensburg to your itinerary, definitely book your accommodation in advance (especially if you'll be there over the weekend).
We booked only like a month and a half out and had zero options for a hotel under $500/night. And ended up with an Airbnb a mile outside of the Old Town. It was walkable and doable, but freaking cold.
I wish we would have booked earlier. Here are the options I liked: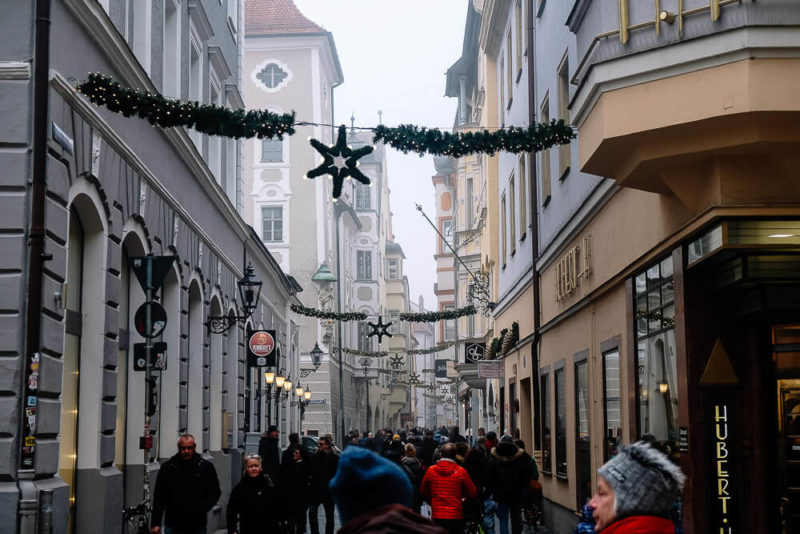 Where to Eat in Regensburg
So for the three days we were in Regensburg, we went to one restaurant. Just one. I remember having a beer in another in the afternoon when it was just too cold outside, but we didn't eat there.
Where did we eat instead? The Christmas Markets! Seriously plan for eating most of your meals at the markets. You just can't beat it. And even if you try not to, you probably will end up stuffing your face there anyway. So plan for it.
Where was our one meal? Weltenburger Am Dom. This restaurant was fantastic. The food and servers were great. Though I would make a reservation. We went in late and barely got a table. And the servers were kind of astonished we hadn't made one.
---
Rothenburg Ob Der Tauber
Rothenburg is one of the best preserved medieval towns in Europe. It's got an almost intact city wall, towers, churches, tiny lanes, circle doors (I love these), sweeping rooftops, stonework, and that straight-out-of-a-fairytale architecture look. (Hopefully you'll soon know what I mean by the pictures below.)
Rothenburg is simply beautiful. In terms of the architecture, beauty, scenery, and that olden feel, it beat our other two destinations hands down.
Now with all that good, here comes the bad. It being one of the best preserved towns means one thing, its damn freaking popular. It's a tourist town. There are tons of tourists here. National and international ones.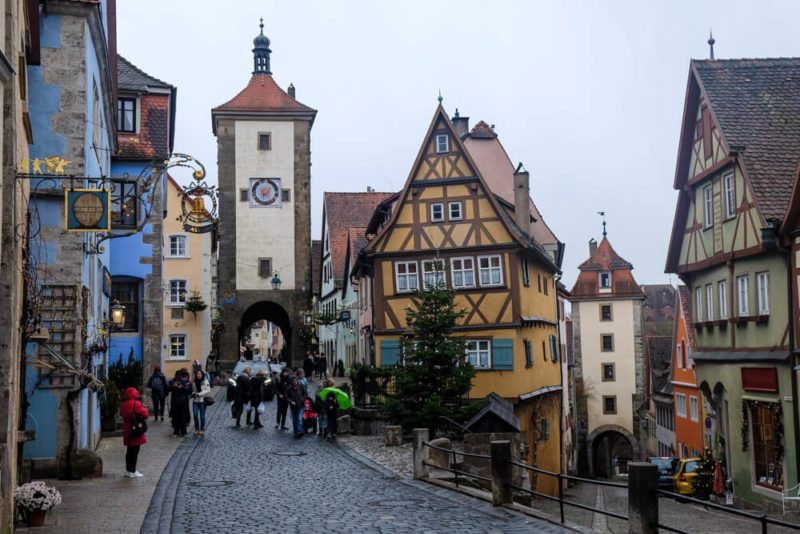 This is not a hidden gem or anything of the sort. Plus Rothenburg is also along the "Romantic Road" which is a route through Germany that links several picturesque towns along the way. And Rothenburg is a highlight on it.
But I think as long as you know that going in, as long as you know you'll get a freaking walled medieval town at the expense of crowds, you'll be prepared.
Now why is Rothenburg still so preserved? Well for one you can thank the trade boom during the middle ages for building the beautiful city. And then the following bust when the people had no money to update. And its basically damn lucky for surviving so many wars.
If you'd like to learn more about its history (like I said I'm a history nerd), definitely go for the Night Watchman's tour I mention below!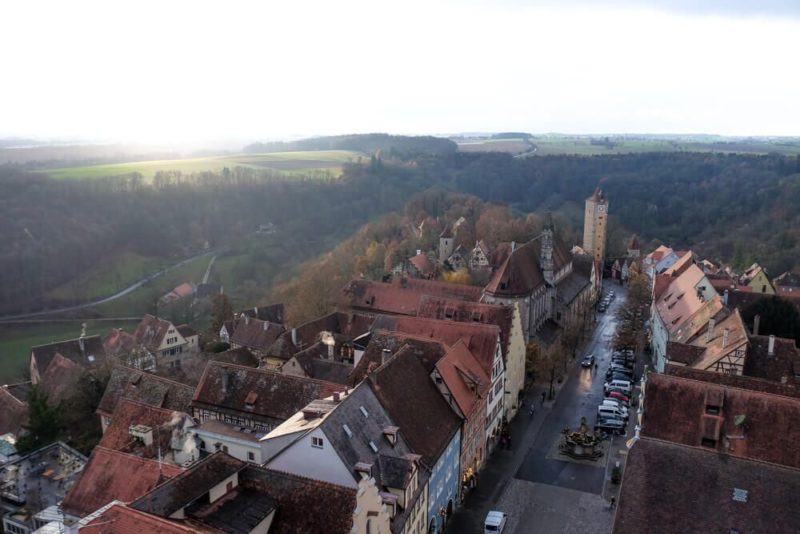 Best Things to Do in Rothenburg
Rothenburg Christmas Market. The town has one Christmas Market and you can find it around the Marktplatz where it extends to the front of St. Jakob's church. It's not overly huge and there are plenty of artisans (who seemed super friendly here), food vendors, and gluhwein stalls.
There were a few things I loved in particular about this market. One is that the deposit for the gluhwein mugs was the cheapest here (probably because they get so many tourists who take one), but still it was nice.
The whole market also used the same gluhwein mugs and there were specific return spots placed around the market. So it meant grabbing a glass and wandering was no issue since you could alway return it to the nearest spot.
Medieval Wall. So yea, Rothenburg still has a wall that rings the city. Some if it is newer than medieval times, but that's mostly due to repairs that had to be made due to things like bombings. But it's still amazing.
Expect great views, towers, covered walkways (great to do even when its raining), and historical placards to keep you informed along the way. There are multiple entrances and exits to the wall, which is a good thing. The whole length of the wall is roughly 2.5km. (It was definitely a workout to walk the whole thing.)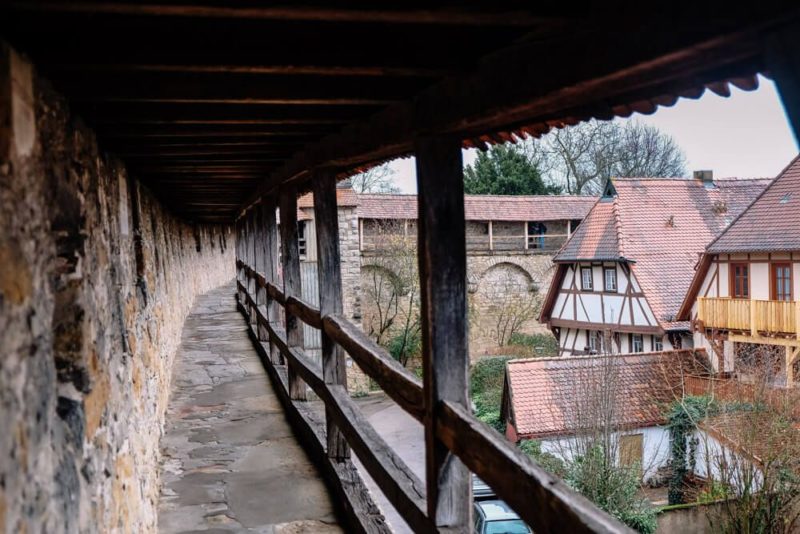 Plönlein. This is the classic view of Rothenburg, and for good reason. The street diverges at this intersection with a beautiful wood framed house in between. Plus its got a medieval tower in the background for good measure. To check out Plönlein simply head south out of the city center.
Burggarten. This is an old castle garden (the castle's long gone though) located in the oldest part of the city. But even though the castle may be gone, the views are not. It's located high above the valley below and with its position to the far west of the city, gives great views of the southern part of Rothenburg.
Night Watchman's Tour. This is is nightly tour that you can join each day, no reservations required. (You pay at the end.) Basically it starts at 8pm in front of the town hall in the Marktplatz. It's led by a guy dressed up as a night watchman (think historical garb and you're good to go).
Throughout the tour he'll tell you about the history of Rothenburg while leading you through the nearby streets.
I was fascinated by the tales he told and if you have any interest in history, definitely go on this tour. Just remember you won't be the only one. There were like 100+ people on my tour. (Yes 100+.) But I never had an issue hearing the stories.
Climb the Town Hall Tower. For a small fee you can climb the Town Hall tower that looms over the Marktplatz. It's a tight squeeze up the staircase and around the top of the tower. (Like a really tight squeeze – those scared of heights be warned.)
But the views from the top can't be beat.
How to Get to Rothenburg Ob Der Tauber
Okay Rothenburg is a bit of smaller town, and its on the other side of Bavaria from Regensburg. So expect like 3 hours by train with like 3 changes minimum. (The last change through Steinach is always required on any train route.) And it's not much better from Munich.
If that sounds like a hassle to you and Rothenburg didn't call to you, you could totally go somewhere else. I think it was worth it, but that's just my opinion.
Once I got the hang of them, I found the German train system to be easy to handle. So doing these 3 changes wasn't a big deal. But to each their own here.
One last very important thing to mention. When you are booking your train ticket, be sure to use "Rothenburg Ob Der Tauber" instead of just "Rothenburg," or you may end up in a different town.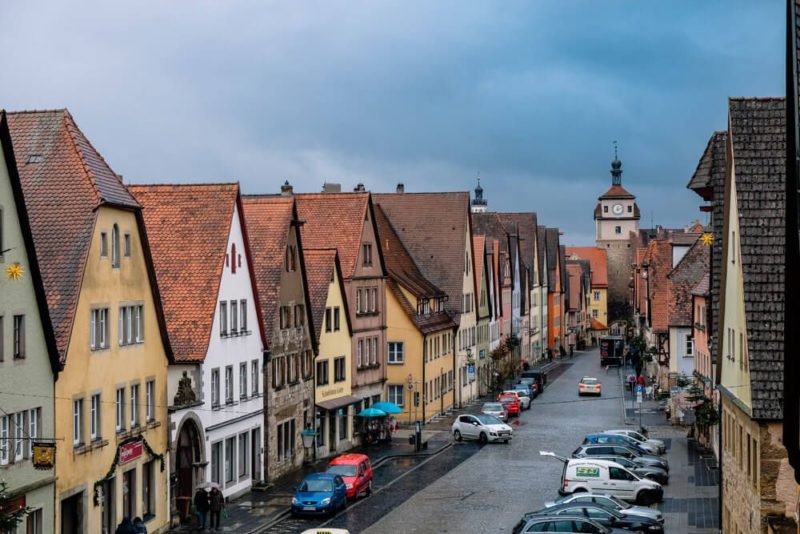 Where to Stay in Rothenburg
We stayed in a nice apartment owned by the adjacent restaurant. It was the splurge of our trip:
Where to Eat in Rothenburg
Okay I may have again stuffed my face at the Christmas Market. It constituted breakfast and lunch. But for dinners we actually ate out. However you'll need to make reservations at most places in advance. So if you know where you want to go, try to get a reservation before you arrive.
Zur Holl. This was our favorite restaurant. It's also in the oldest building in Rotheburg as well. But you will need reservations. Try to make one on their website before you arrive because you may not get a seat otherwise.
Zum Pulverer. We ate here on our first night. It was also good and we were able to get in without reservations. Hallelujah.
---
Munich
Munich is the capital of Bavaria…so it's like a real, bustling city. While the other two places on my list are definitely smaller, Munich is not.
But I don't think that should put you off. It's got one of the coolest Christmas markets (you'll soon see what I mean), great food, and beer halls. Plus it's a city loaded with history.
No matter what you're looking for, you'll probably find it here.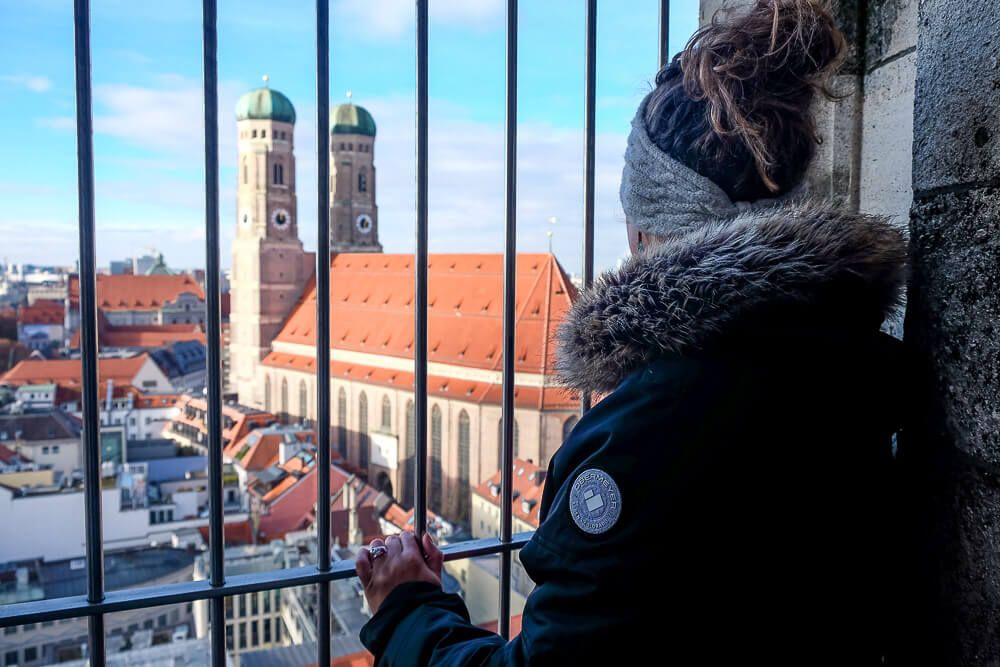 Best Things to Do in Munich
Medieval Christmas Market. Let me start with the coolest Christmas Market I went to during my entire trip. Yep, Munich has a medieval themed Christmas Market and everything about it is medieval. Gluhwein in goblets, drinking horns to purchase, and a giant hog on a rotating spit. It is hands down the coolest. The history nerd in me never wanted to leave. (It's also super crowded at night so I suggest hitting it up earlier in the day.)
Munich Christkindlmarkt. The city's main Christmas market is centered around the main square (Marienplatz). It's sprawling and crowded. But also has limitless gluhwein stalls (or so it seemed), tons of food, and a great atmosphere.
Other Christmas Markets. There are like over 20 Christmas Markets in Munich alone. So definitely swing by some others. The Christmas Village at the Munich Residenz is a smaller market squeezed into a garden of the palace. Definitely a cool space. And Shwabinger Weihnachtsmarkt is a more local Christmas Market to the north of the city. You'll have to take the metro there, but it has some great artisans.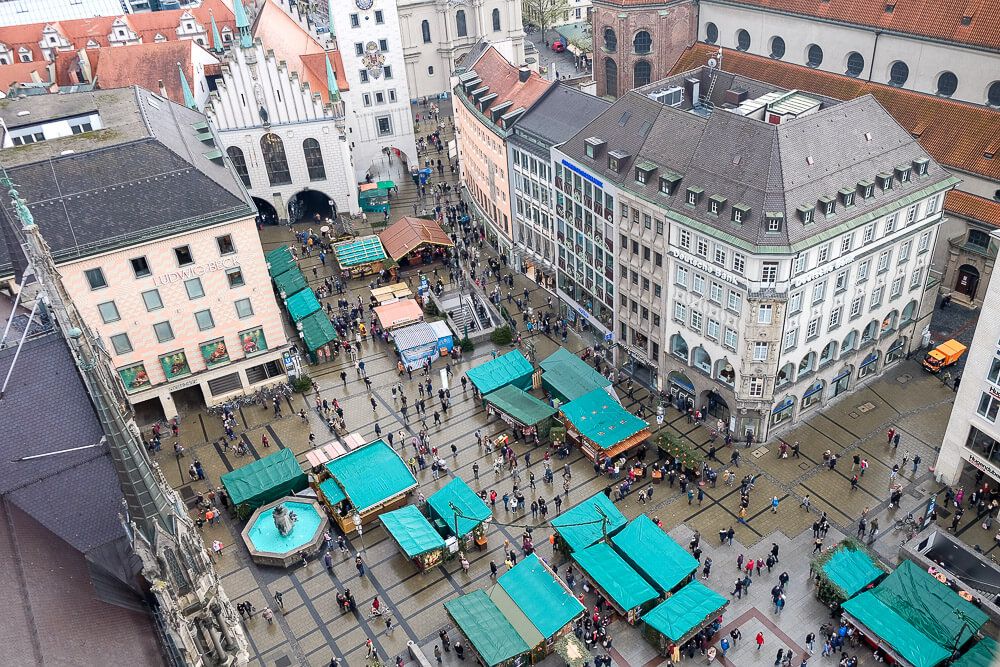 Climb the Town Hall Tower. The Town Hall towers over Marienplatz (and the main Christmas Market). And for a small fee, you can ride an elevator to the top. And it's not that scary since it's pretty enclosed (though windy as all hell). Just be sure to buy your ticket at the Tourist Information inside the Town Hall before heading to the elevator. The attendant at the lift doesn't sell tickets.
Climb St. Peters Church. Yep if the Town Hall doesn't do it for you, then head across the square to St. Peters Church. And though sadly there are no elevators here, the views are still pretty amazing. But if you're scared of heights, I would maybe hesitate. You'll be pretty exposed up there.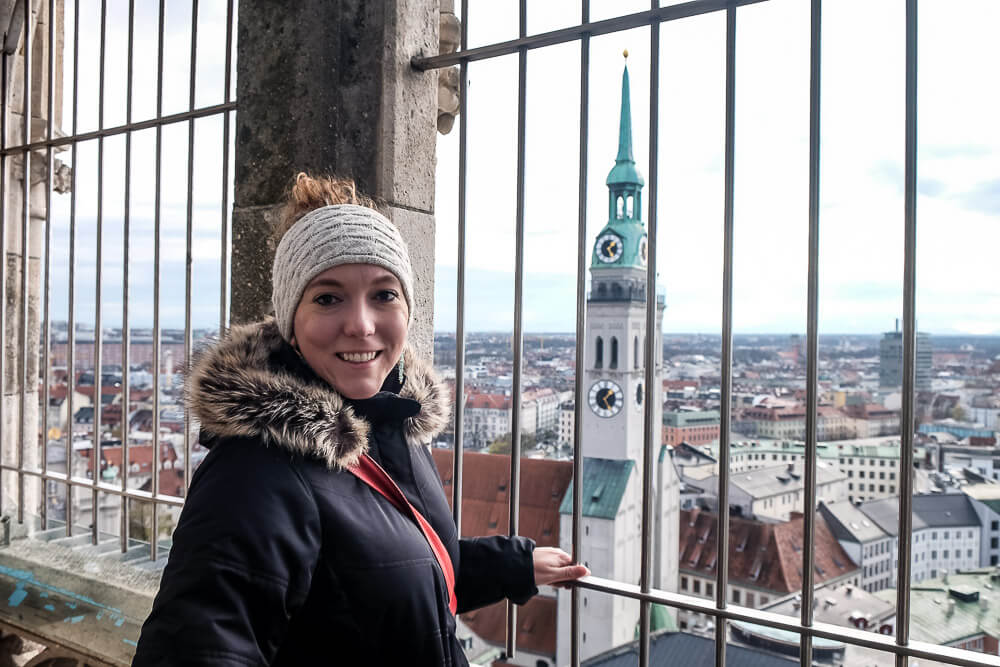 The Residenz. This is the main palace in Munich. If you're interested in learning more about the history of Munich, definitely think about doing a self-guided tour. Just know that the place is HUGE. After nearly 3 hours of exploring I just had to start walking through rooms to get to the exit because my feet were killing me (and I was getting hungry).
Frauenkriche. This church is like the symbol of the city. It's the one with those two domed towers. And it's super beautiful – both inside and out. Definitely give a stroll through the church if you can. You may also be able to climb the south tower. It was closed when we went for renovations, but you can always check if it's open.
Beer Halls. This is Munich. Land of the Oktoberfest. You have to visit some beer halls. Of course Hofbrauhaus is the most popular, but there are others. We visited Ayingers next door and a few others around the city too.
Dachau Concentration Camp. This was something we did not do. However if we head back to Munich, I'd like to take a day trip to Dachau. This is obviously a somber activity but if learning and seeing what those camps were about interest you, definitely think about adding this to your list.
How to Get to Munich
Since Munich is the capital, getting here isn't a problem. From Rothenburg, you're looking at about a 3 hours train ride. And from Regensburg, about 1.5 hours.
Once in Munich, you can catch their metro to many places throughout the city if you're not in walking distance of the train station.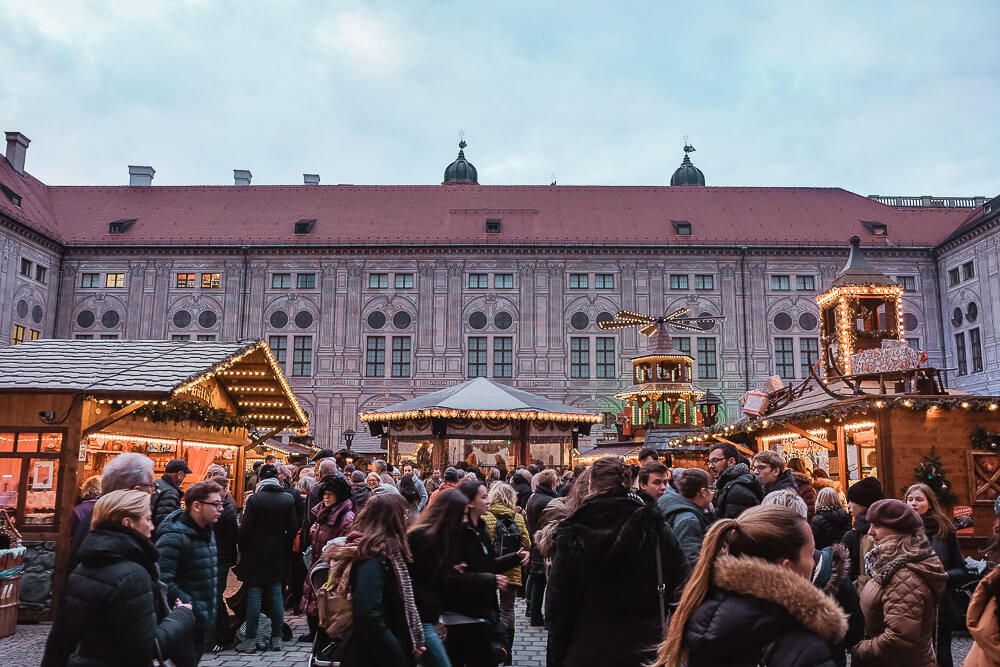 Where to Stay in Munich
The closer you are to the city center, the more expensive things will be. Because we booked a bit late and were trying to keep our budget around $150/night, we stayed just outside of the city center. It was nice but I didn't love the neighborhood. Luckily it was just 2 blocks from the start of the old town and in walking distance of the train station.
Here are some options I like near the train station:
And here are some options closer to the old city center:
Where to Eat in Munich
We actually ate out quite a bit in Munich (maybe because one can only eat so many brats). But regardless, we ate at quite a few restaurants. It would have been good if we had made reservations for these places. So if you know where you want to go and when, I recommend making them.
Here are the places we ate at.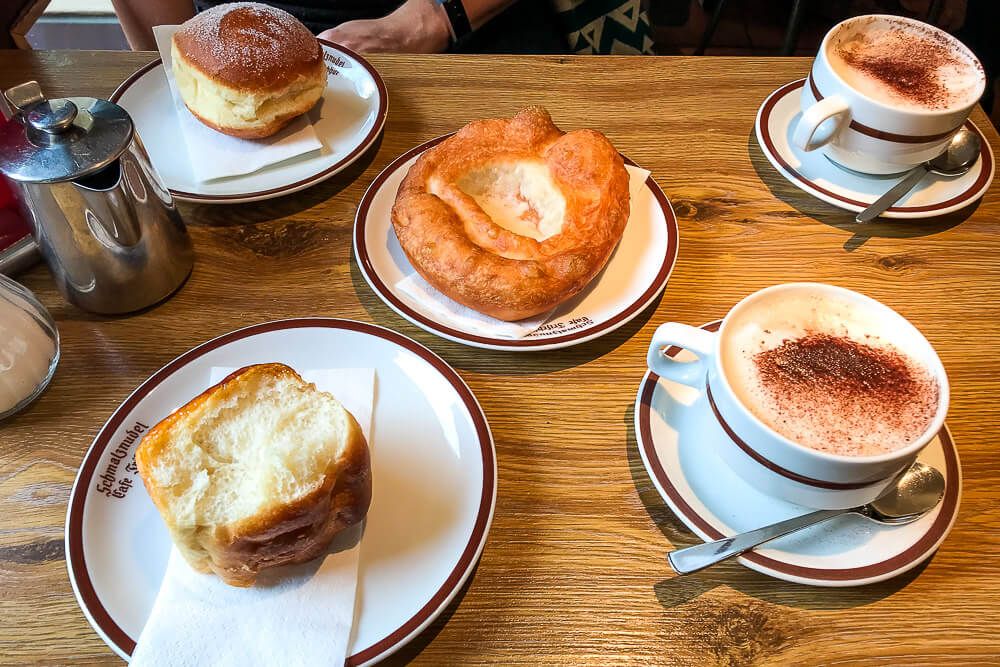 ---
Sample Itinerary for 10 Days in Germany in December
Okay so all that info above is great and all, but how long should you plan to stay in each place? Don't worry, I got you.
If you think you'll be all about the medieval towns, I would do 2 full days in both Regensburg and Rothenburg. If that doesn't sound too enticing for you, I'd remove one day from one of them and spend a third day in Munich. This would be especially good if you wanted to go to Dachau.
Day 1: Fly into Munich, take the train to Regensburg
Day 2 & 3: Explore Regensburg
Day 4: Travel from Regensburg to Rothenburg Ob Der Tauber
Day 5 & 6: Explore Rothenburg
Day 7: Travel to Munich
Day 8 & 9: Explore Munich
Day 10: Fly home from Munich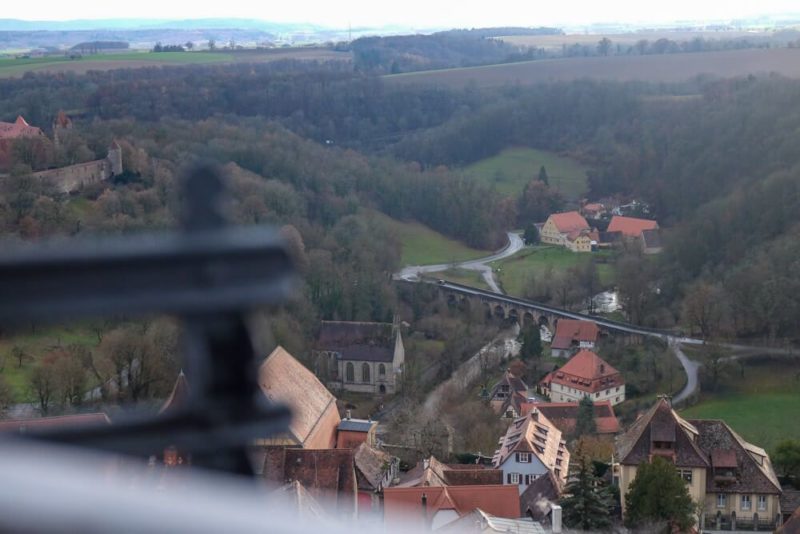 ---
What to Pack for Germany in December
Hopefully this won't come as shock to you but…Germany be cold in December. Like really, really cold. Like holy crap bundle up because it's freakishly cold outside.
Sadly we never saw snow (that would have been the ultimate Christmas Market atmosphere), but instead we had rain, drizzles, and wind. Snow would have been so much better.
Now some what to wear guides are all about the merino wool. I get it. It's fantastic. It breathes, it wicks away moisture, it keeps you warm, it's odor resistant, and…it's also expensive as all hell. So if you have some, great! But I don't think you need to go out and buy all the merino wool. You can probably cobble together some good base layers out of what you already have and maybe buy 1 or 2 needed ones in the merino wool (if you want to).
Okay, here is what I brought:
Coat. I bought a new coat that winter and brought it. It's basically a fancy ski jacket. I love it. Now you may not need a ski jacket, but a good coat is necessary. If you have a second puffy/packable one, you could throw it in as well. But I almost always just wore my big ski jacket one when we were outside. (In fact, looking back, I can't really find a photo of me from the trip where I'm not wearing this coat.)
Boots. I brought 2 but really just wore one. Pick one pair and go with it.
Scarf, gloves, and hat. I actually brought two head coverings – a hat and a headband.
Pants. I went for 2 skinny jeans – black and dark blue.
Sweaters. I brought 2 wool sweaters, 1 fancy one and a thinner one. Then I brought 3 big and fluffy seaters. That's 5 sweaters. But I wore these everyday and I tend to sweat a lot (merino wool is great, but it can only do so much). I think you may be able to get by with maybe 1-2 less if you're tight on space. And you don't sweat much.
Socks. So I really liked that I brought a couple of wool socks on this trip. They did keep my feet warm. And the odor resistant thing was nice.
Shirts. I brought a t-shirt (for sleeping), 1 plaid button-up, and 2 lightweight long sleeve shirt. On warmer days, I'd layer the long sleeve and plaid button up under my jacket instead of going for a bulky sweater.
Base layers. Okay so if you can go merino wool, do it. Here's the long sleeve shirt and pants I now have. But if you can't afford it, then find something equivalent you already have. I didn't have the pants above when I went, so I made due with an extra pair of leggings I could wear under my jeans.
Leggings. I brought 1 pair of fleece lined leggings for the plane and for lounging around the hotel.
Make sure to pack all your normal toiletry and technology stuff (think charging cords – because I always forget one of mine). And that's it!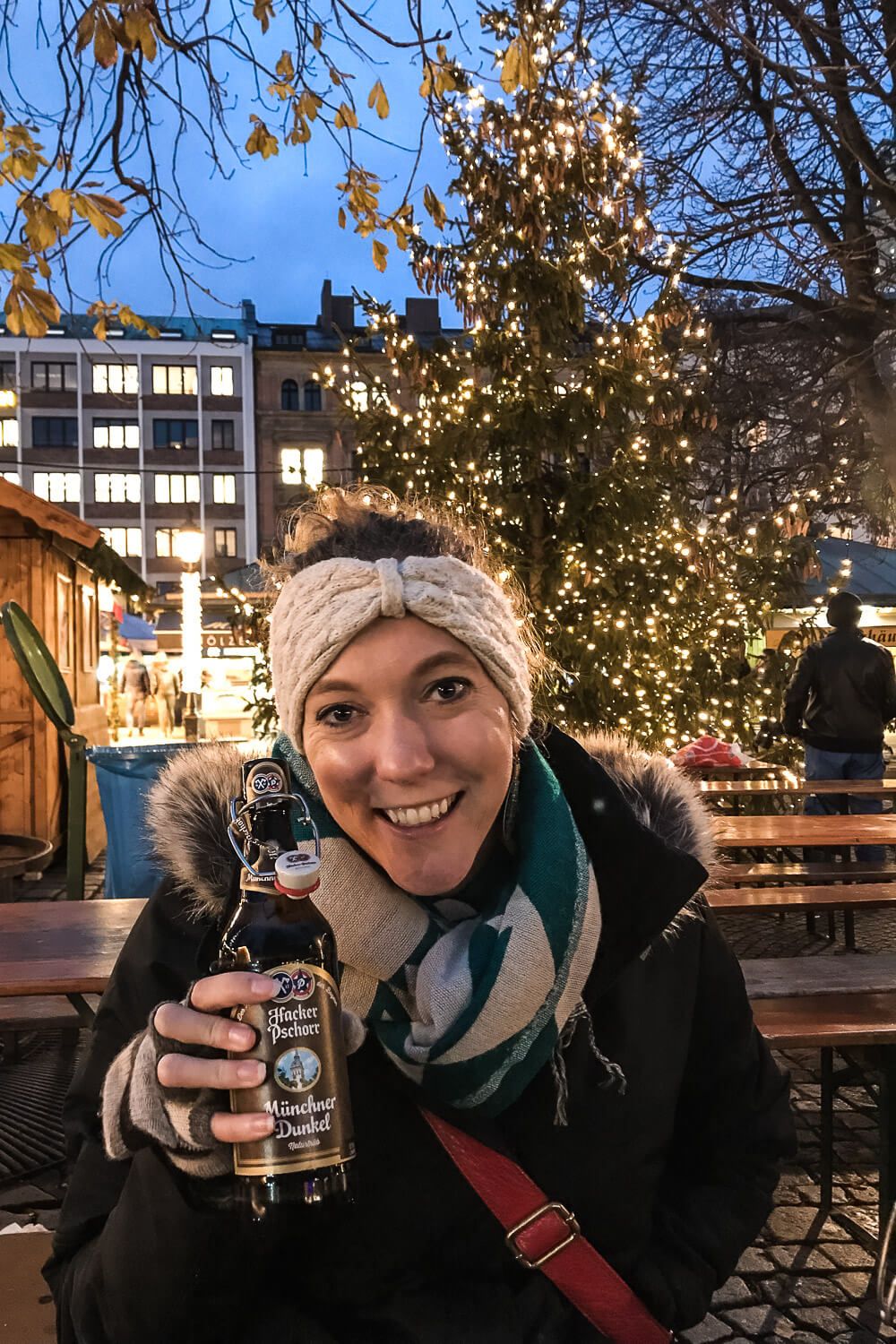 Have an amazing time in Germany! Drink a gluhwein for me!