Want to experience a small, Bavarian town during Christmas? Then Regensburg may be what you're looking for! It's a cute, medieval town that feels much more local than the bigger cities. And if you're here during December, then you're in luck. The Regensburg Christmas Markets were some of the best we saw during our trip!

I fell in love with Regensburg during our visit to Germany in December. It was wonderful to experience the town during this season and I loved seeing this side of Germany.

Make sure to check when the Christmas Markets open in Regensburg as the dates change every year. Generally it's the last week of November to Christmas, but all of the cities we went to had slightly different start dates.
---
Regensburg Christmas Markets

Christkindlmarkt on Neupfarrplatz

This is the main and most popular Christmas Market in Regensburg. In fact Google just recognizes it as "Christkindlmarkt."

It's based around the Neupfarrkirche church in Neupfarrplatz square. It's right in the center of town so you can't miss it. (Usually follow the crowds if you get lost.)

The market rings the church so be sure to walk all the way around to see all the booths and, most importantly, the gluhwein.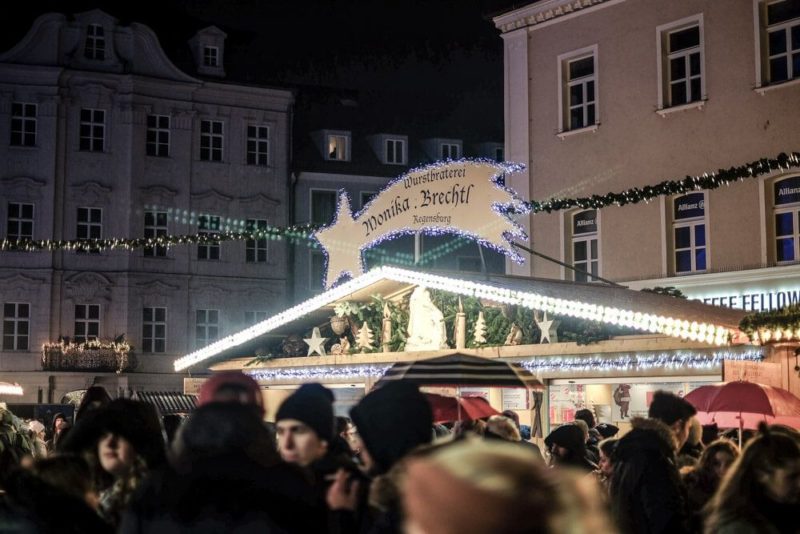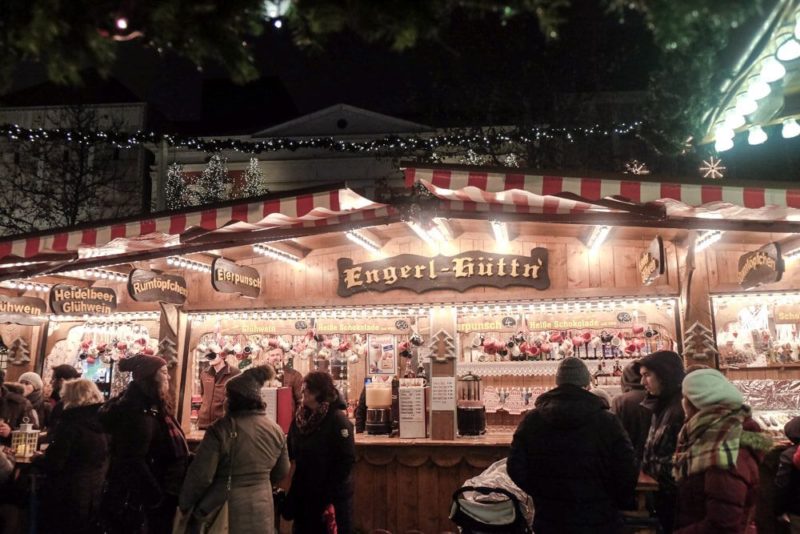 I'm not sure if this market is technically famous for all the different types of gluhwein, but we saw more varieties here than we did anywhere else it seemed like.

You've got the classic (with a shot of amaretto or rum if you like), apple, orange, cherry, elderberry, Feurzangenbowle (this one is lit on fire) and Eierlikor (an eggnog variety I didn't care for as much). Plus many, many more.

Food wise I remember eating lots of brats, a Feuerwurst (½ meter long sausage), and grabbing some toasted almonds (Mandeln) for a quick snack.

(If you're looking for chestnuts, look for the sign Maroni.)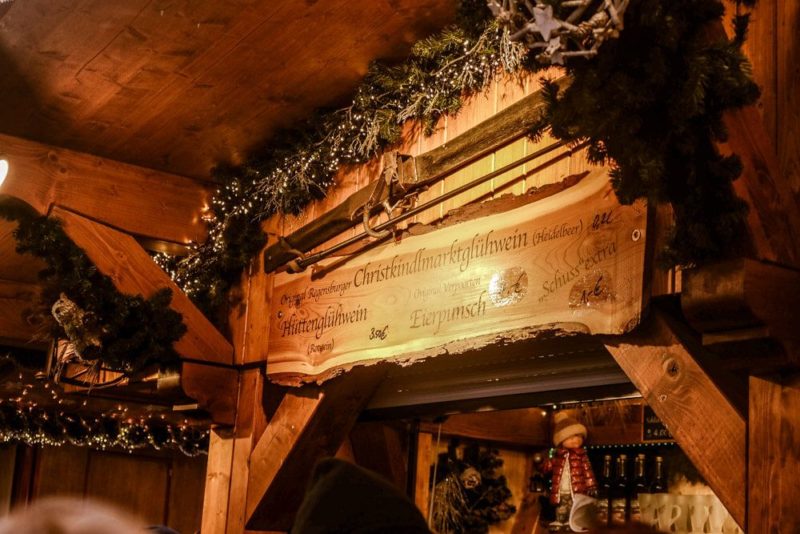 ---
Romantic Christmas Market

This is probably the most famous of the Christmas Markets. It's outside Thurn und Taxis Castle (south side of town) so it's got a great backdrop. (Because you know, it's outside a freaking castle.)

The market's also very large. It wraps around the outside of the castle and extends into the main courtyard as well.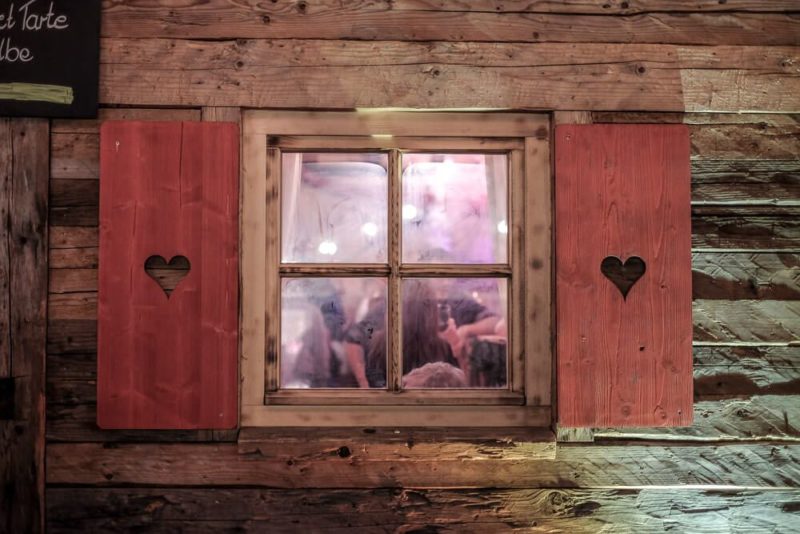 But there's one downside. There's a fee to get in. And it's not cheap. We got there in the evening and still paid about 10 euros per person. I think the fee goes down a bit after 9pm (but the market is only open till about 11pm so keep that in mind).

This is also a fairly popular market so expect some crowds. Though these do drop off as the night progresses.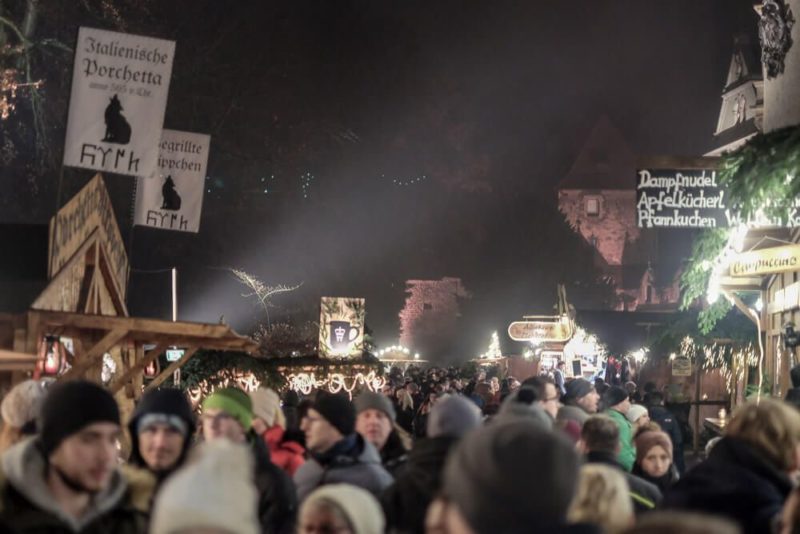 Overall though I really enjoyed the market. It's quite large and there's tons of different food stalls if you want to try lots of things. As well as vendors of course. One brings in their Alpacas as well, though at night they were sleeping in their barn so I couldn't see them as much.

And of course it's outside a freaking castle. That's always cool.
Google Map Location (There are signs pointing to it as well as you get close.)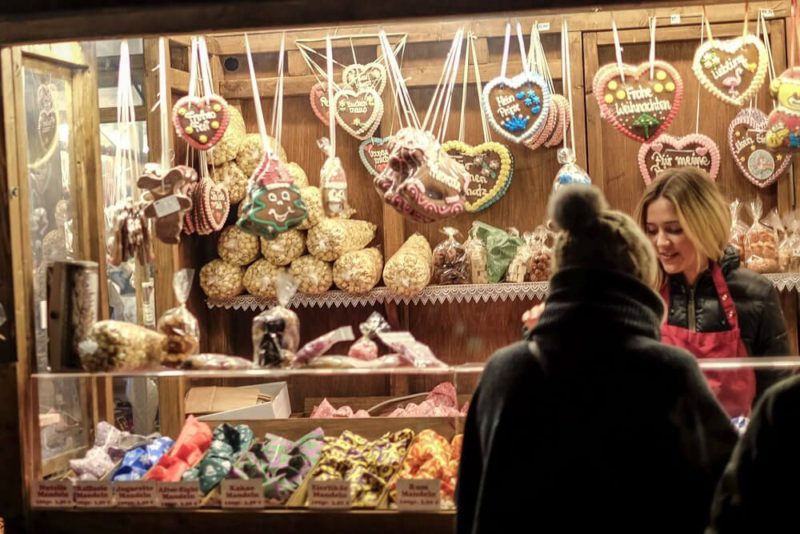 ---
Adventsmarkt

This small Christmas Market in Spitalgarten was actually my favorite. (Spitalgarten is a beer garden during warmer months I think.)
The market's quite small and can get quite crowded at night, but I loved the compact, cosy feel. It also felt really local since it's a little bit hidden away.

Spitalgarten is on Stadtamhof to the north of the old town (over the bridges). After you cross the bridge, it's directly to your right.

The vendors there were really friendly. Plus the wool stall brought in their sheep and lambs as well.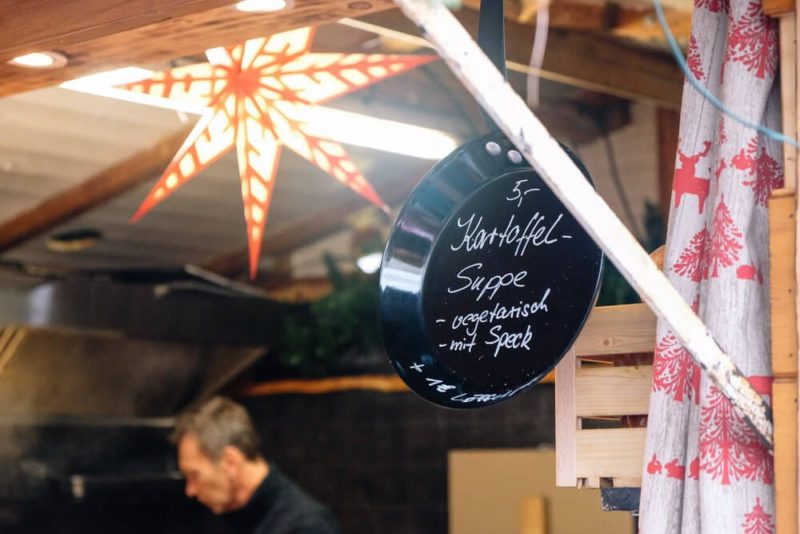 There are also real bathrooms here thanks to the fact that it's in a beer garden.

And though they didn't have a ton of gluhwein options, we still had the classics as well as the Feurzangenbowle.

Food wise, I had some brats, a bread bowl one rainy morning, and a lamb burger that was so good I got two. (I blame the gluhwein on that decision.)

This was my favorite of the Regensburg Christmas Markets.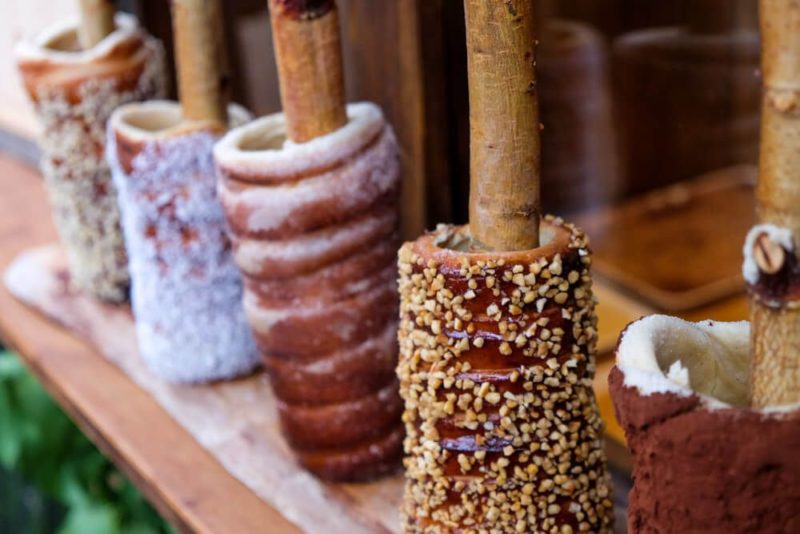 ---
Lucrezia Markt

The last market on my list is the one located on Haidplatz und Kohlenmarkt (on the north-western side of the city center).

The focus of this market is its artisan crafts. We saw lots of different vendors here selling things from honey to candles to purses to spreads.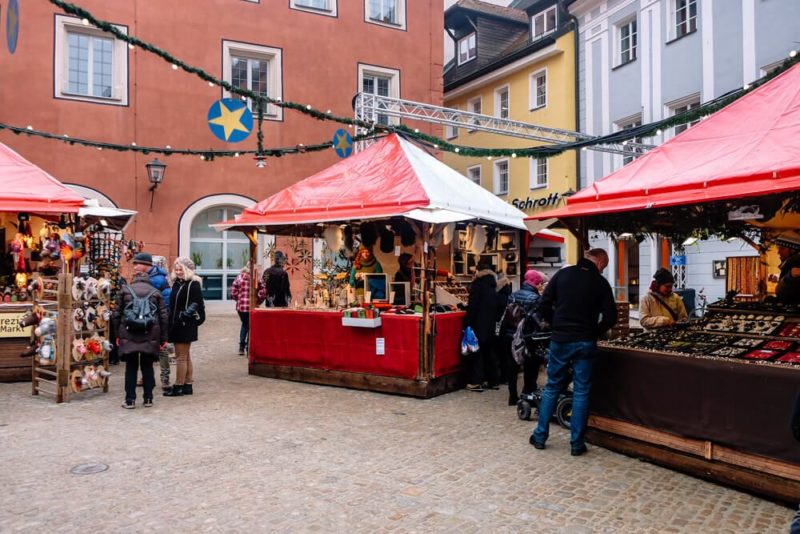 We didn't spend too much time in this market but they do have gluhwein and some food options as well. Baumstriezel seemed to be particularly popular here, but I was able to find it at the Adventsmarkt so I passed on ordering it here. (See the picture above.)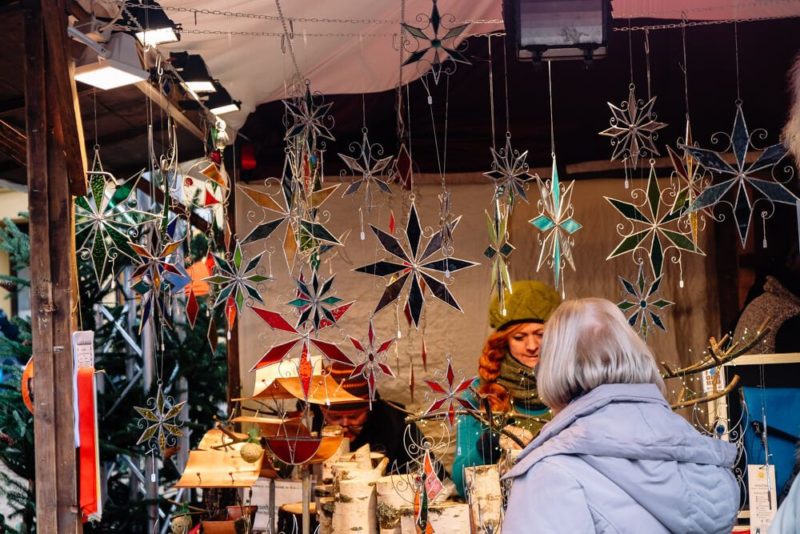 ---
How to Order Gluhwein

Okay so I mentioned gluhwein a lot in this post and you might not know what it is. It's basically hot spiced wine. You get it red or white, and there are extras you can add to it as well (like a shot of rum).

I fell in love with gluhwein during my trip and easily drank like 3+ mugs of it a day. It was the perfect way to warm up after walking around in the cold.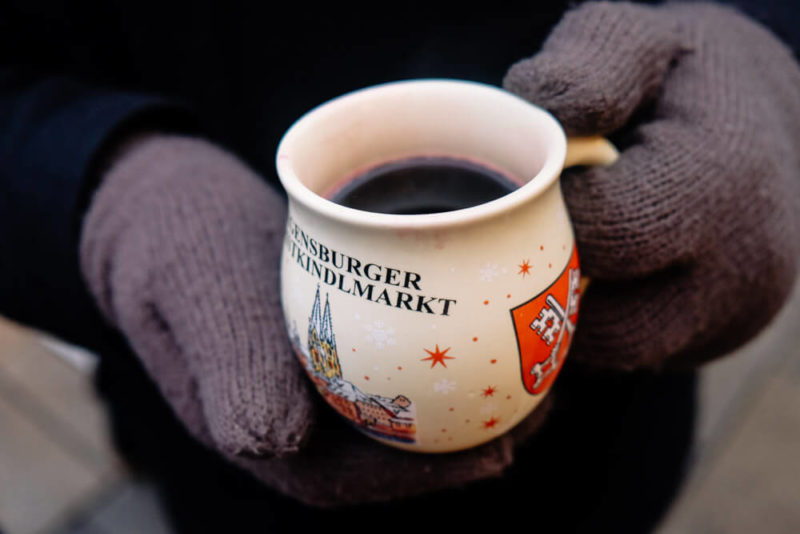 How to Order
Ordering gluhwein though is a bit different. Basically they will serve you the gluhwein in a real mug. Made of glass or ceramic usually. But it's a real mug. No plastic which I loved.
But because it's a real mug, you'll have to pay a deposit (indicated as pfand on the menus) for the mug.

So your first glass will be the gluhwein price + the deposit for the mug. Then when you want refills, just bring your mug back up and they'll refill or replace and fill.

How to Return
When your done with your mug, you'll simply return it to the vendor and get your deposit back. Usually there's a spot around the stall for the returns, so keep an eye out for it. I think I looked for the word "zurück" (back) to find this.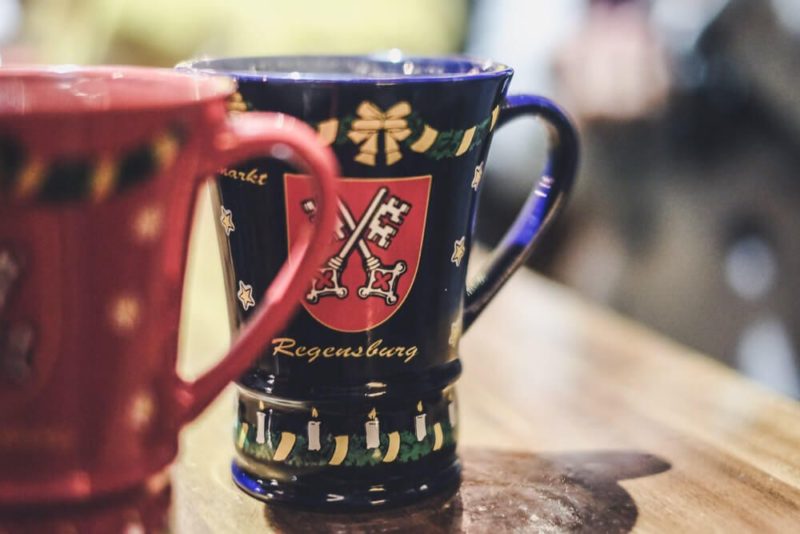 Multiple Stalls
Some of the vendors are different and you won't be able to return the mugs to any stall. You can return it to the stalls that are giving out the same mugs, but we found it easier to just hang around the stall where we ordered it, drink the gluhwein, return it, and then move on.
Taking Mugs
We collected one mug from each of the towns we visited. Basically we paid the deposit for it and then didn't return it one time. This is a big thing to do for tourists around Germany and you'll see several others doing this as well.
Mine now stand decoratively in my home reminding me of our visit. I love them and plan on breaking them out this Christmas when I try making my own Gluhwein.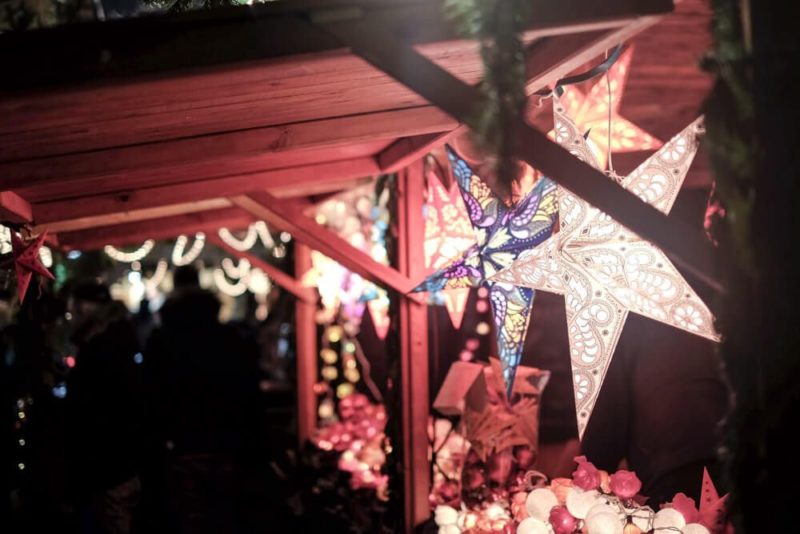 ---
Where to Stay in Regensburg
I remember when I was planning my trip that I had read that a lot of Germans travel to the smaller cities and towns to visit the Christmas Markets. And though I'm not sure that's true, the location we had the hardest time finding somewhere to stay in was Regensburg.
Now it may be due to the fact that we were in Regensburg over a weekend. Or due to the fact that it's popular and there aren't that many options. But there was literally no hotel rooms under like $500/night available for us and very, very, very few AirBnb options remaining.
In the end we did end up staying in an AirBnb. It was a good mile outside of the old town and we walked into the city center everyday. It was doable. Though cold. (We did a taxi and then bus from and to the train station though due to the luggage.)
But if you're planning on staying in Regensburg, I'd go for a place a little closer to the Old Town if you can. Definitely book well in advance to snag a room. Check out this list of places in Regensburg for ideas!
I hope you have a great time at the Regensburg Christmas Markets!