Are you headed to Germany in December? Want to visit a super cute, historic medieval city while you're at it? Then you need to add the Rothenburg Christmas Market to your itinerary! It's got historical buildings, a medieval wall, and a friendly Christmas Market in the city center. It was one of my favorite stops from my trip and I'm so glad we went.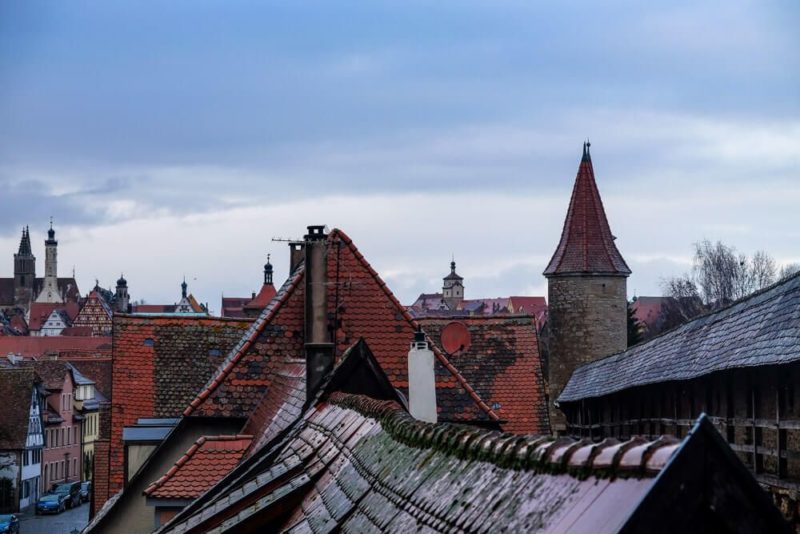 ---
Rothenburg Ob Der Tauber

Before I dig into what we did in our two days in the city, I want to explain just a bit about the city.
First the full name of the city is Rothenburg Ob Der Tauber. I'll just call it Rothenburg from here on on out, but when you're buying train tickets, remember to use the full name.

(You don't want to end up in some other Rothenburg in Germany by mistake. And yes that happens.)

Second is that the town is known for its medieval architecture. Like most of the stuff was built more than 500 years ago. And is still standing till this day (not easy in a country that's seen multiple wars – including two world war ones).

The buildings around the main square have that quintessential German fairytale-esque architecture. And if a building was built after like the 1500s, it's considered modern. For example, I think the restaurant we ate at had parts of it built in like the thirteenth century.

And it's still surrounded by its medieval wall.

I loved feeling like I stepped back in time when we wandered the streets. (Maybe it's the history nerd in me, but I adored the town.)

The last thing you should know about Rothenburg is that it's popular. Everyone wants to see its medieval architecture and so they go.
My guide book warned me strongly about this. But it also said that even though others are searching for that "undiscovered" Rothenburg, it can't quite be found. Because there is nothing like it in the country.
History has spared it for the past 500 years and is one of the best places to go in Germany (if not in all of Europe) to still see a medieval town.

Just expect the tourists.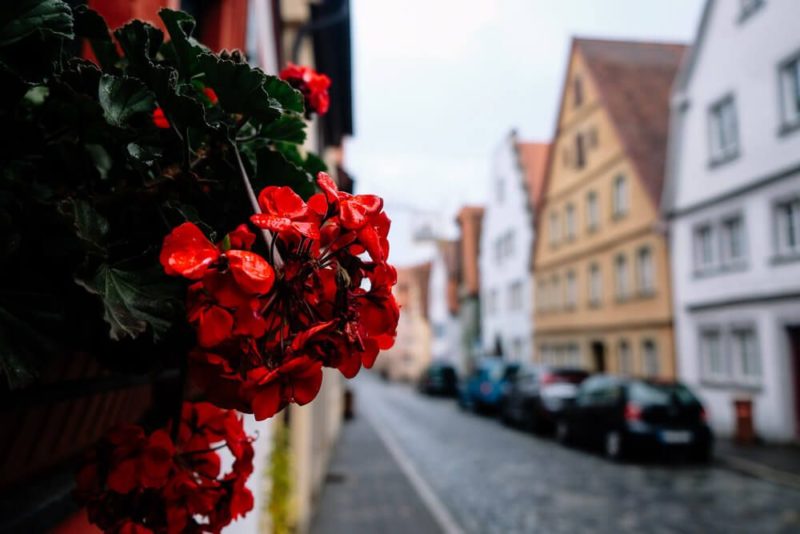 ---
Rothenburg Christmas Market

The Rothenburg Christmas Market can be found in the city center around Marktplatz. It then extends north to the little square in front of St. Jakob's church. A few alleys contain more stalls but you'll have no trouble exploring it.

The market itself has all the usual bits. But what stood out to me was how friendly the vendors were. Maybe it's because they're used to dealing with tourists, but all the vendors were welcoming to us.

I bought several christmas gifts in the town because I didn't feel intimidated going up to the stalls and taking a look.

The food at the market had the normal fare. (I ate a lot of brats. And one steak sandwich I found).
But the gluhwein was where it was at. The deposit for the mug at Rothenburg was the cheapest for our whole trip. Now the mugs weren't the fanciest (probably because they expect every tourist to take one), but I loved that the deposit was less than 2 euros.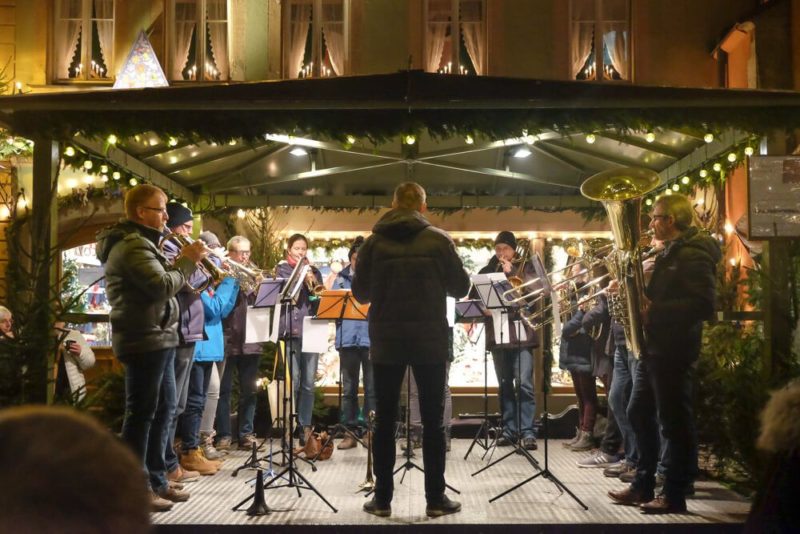 Not sure what I mean about gluhwein? I go through the details at the bottom of my Regensburg post if you want the details!

And of course if you return the mug you get the deposit back.

There's several stands around the market where you can go to return the mug. Plus you can use any mug at any gluhwein stand. Which made wandering the market with gluhwein in hand extremely easy.
Plus it felt extra special to see such a beautiful town decked out for Christmas. I think Rothenburg would be beautiful at all times of the year, but seeing it in December felt extra special.
What about the tourists? Well the market never felt super crowded. It did rain one day we were there (causing everyone to vie for space under umbrellas), but I still never felt jostled. And I found the crowds easy enough to deal with.
Rothenburg was worth it.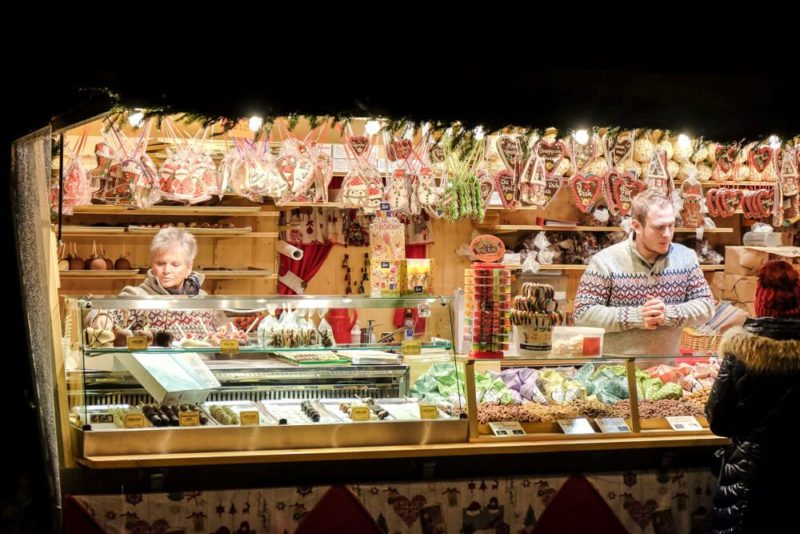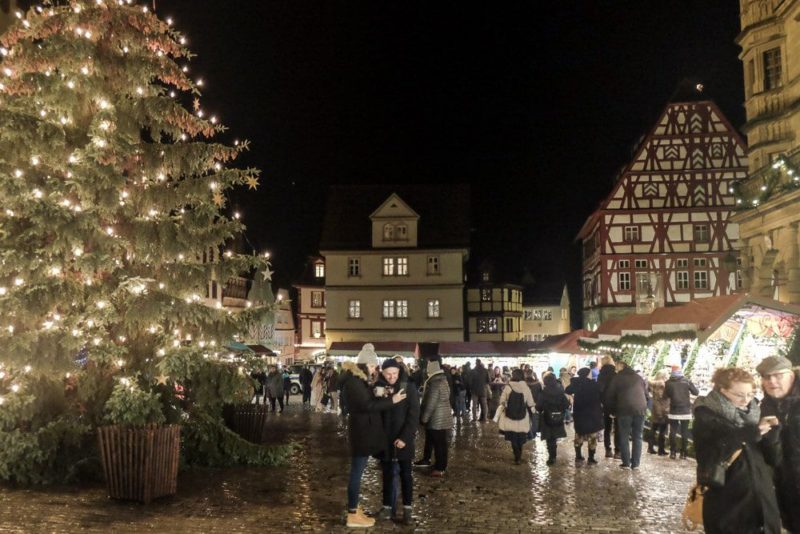 ---
Other Things To Do in Rothenburg

There are lots of other things to do in Rothenburg though other than visit it's Christmas Market while you're in town. We only had two days in the city and these were the four things I made sure we did before we left.

1. Explore the Medieval Wall
So as mentioned, Rothenburg still has its medieval wall. And it (for the most part) completely surrounds the city. Parts of it date back to the middle ages while others were built more recently (after sustaining damage from wars).

And it was incredible to explore. There are several entrances to the wall where you climb the steps to walk its perimeter. But be prepared if you want to walk it's length (it's about 2.5km in total).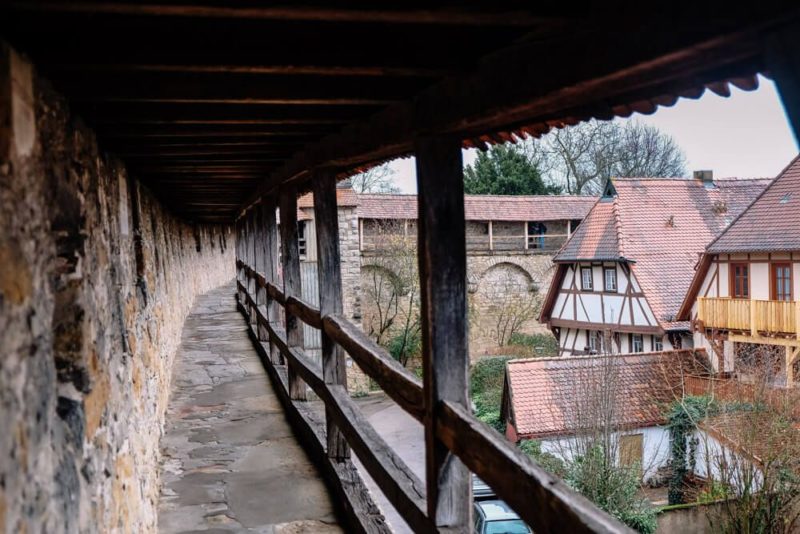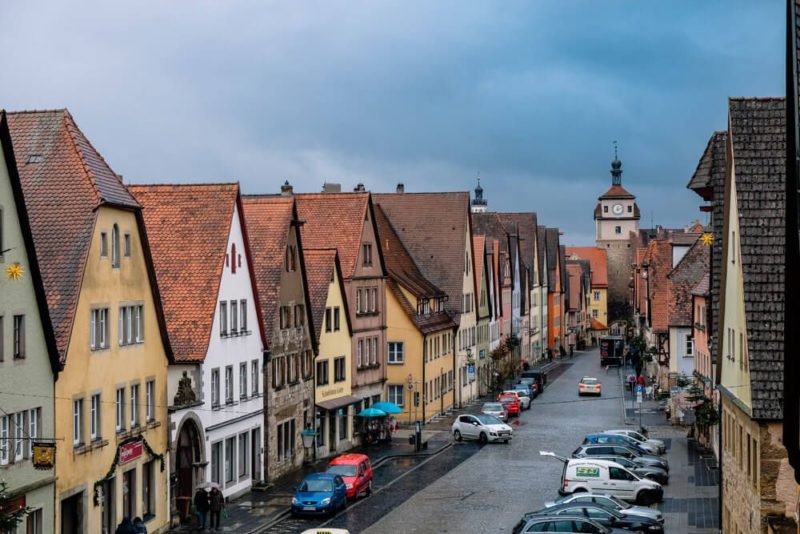 There are medieval towers, historical placards, and incredible views along the way. Plus its covered so if it happens to be raining a bit (like it was for us), you can still explore it without getting (too) wet.

Exploring the wall was maybe my favorite part of our visit.

And including the wall itself, there are two other historic bits of the city I think you should see.

The first is Plönlein and it's the classic view of the city. Simply head south from the city center and you'll come upon its postcard view.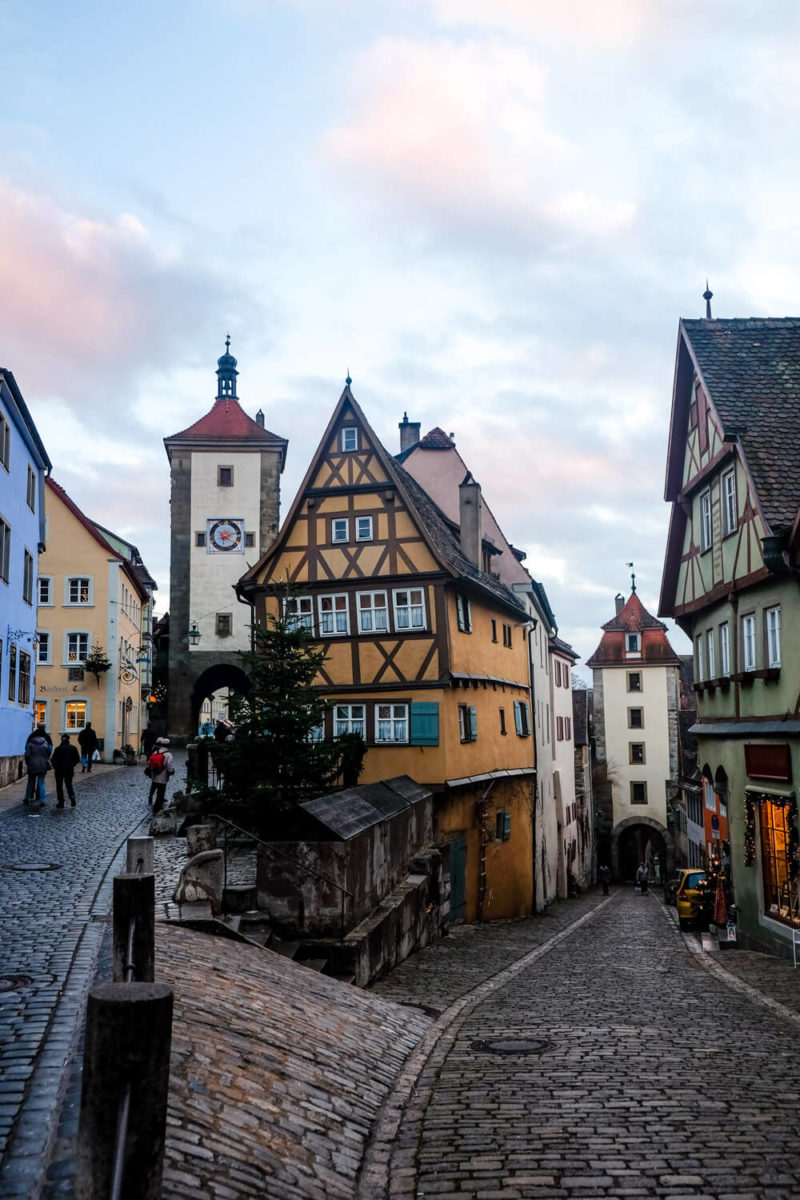 The second is Spital Bastion. You can explore the interior of its huge tower and its small covered bridge. You can find it at the southernmost part of the wall.

Oh! And as well as walking the wall itself, there's also a small paved pathway that rings the outside of the wall. If you want a different perspective that is.

2. Burggarten

Kind of part of the wall and kind of not, this old castle garden is located in the oldest part of the town. Only a few buildings/foundations remain from when an actual castle stood here, but it has some of the best views of the city and valley.

It also includes one very fantasy looking tower house (that seriously looks straight out of a fairy tale).

Don't miss the double bridge as well! You can see this on the south-western part of the wall walk near Burggarten.
And if you look off the very end of the point to the valley in the west, you may just see the weird little lifted house (picture in the series below).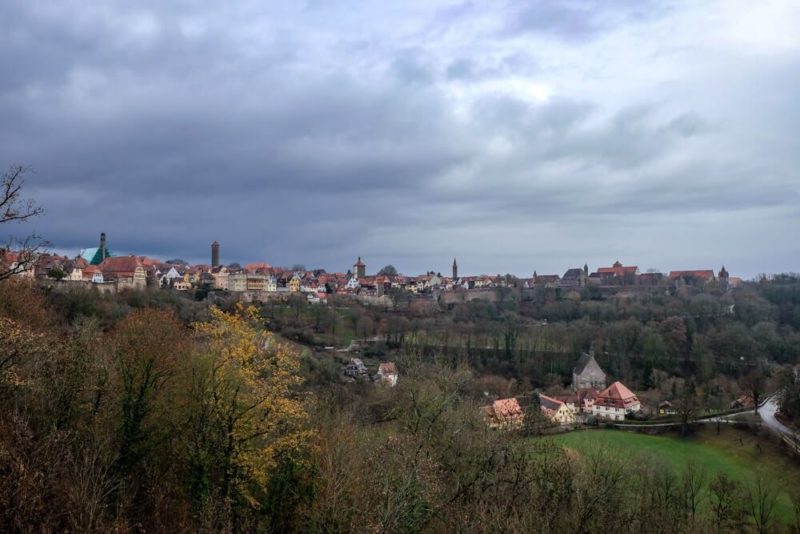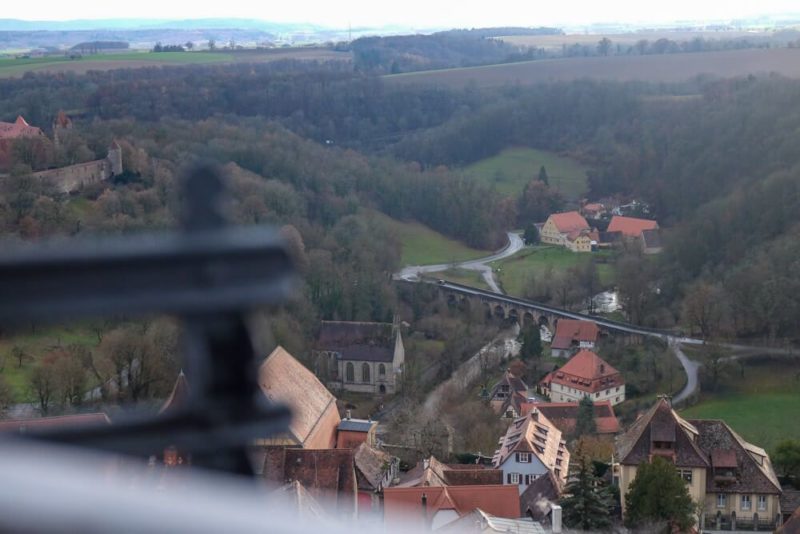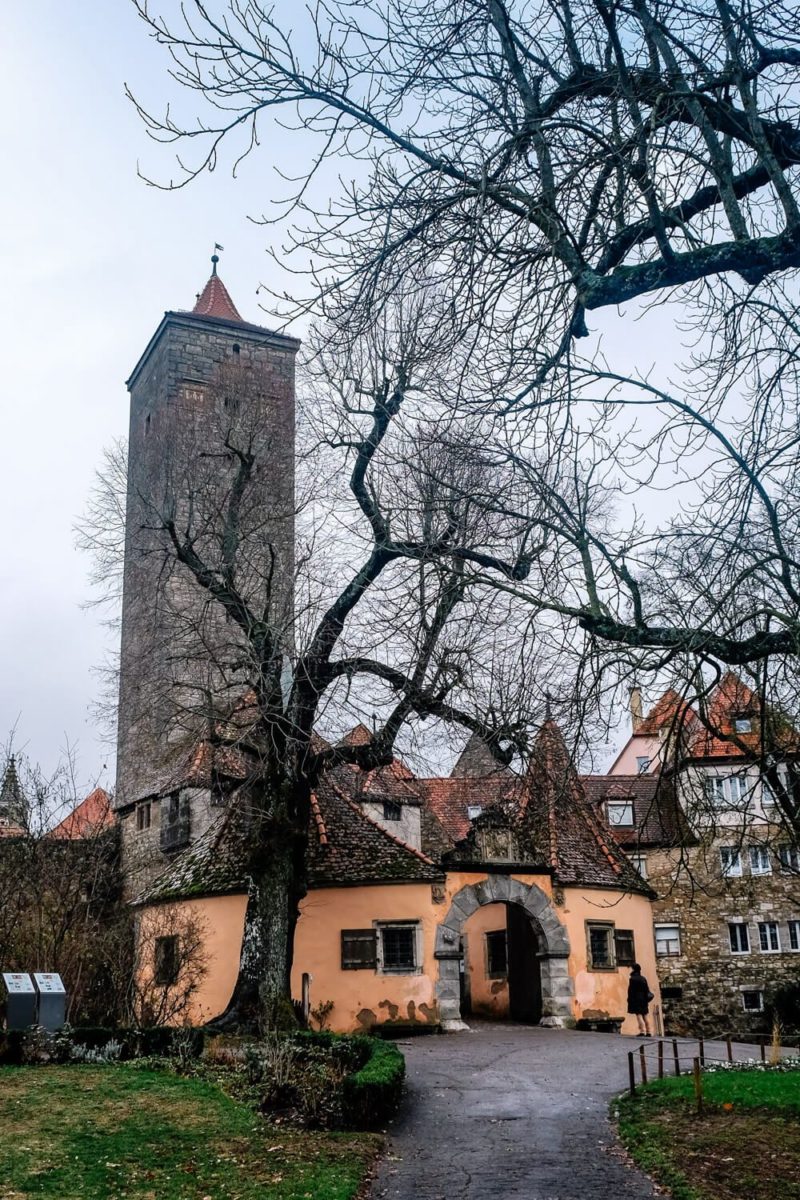 3. Climb the Town Hall Tower

The town hall towers over the Marktplatz and you can even climb to the top of it. They control the number of people that go up, so you may have to wait a bit if you have a large group, but it's worth it.

If the views from the wall don't do it for you, then hopefully these ones will.

Once making it to the top and climbing one hell of a narrow staircase, you'll pop out on a very small walkway that rings the top of the building. Those scared of heights should stay away.

But it'll give you 360 degree views of Rothenburg that are simply breathtaking.

Note you'll also pay for the climb near the top, so make sure you have cash to do so. I believe it was about 2.50 euros per person when we went.

Oh and please respect the automated system with the turnstill (about halfway up the tower climb). The stairs are really, really narrow after this point and it's so much better to wait by the turnstill in a large room, than squeeze onto a staircase while a stranger climbs over you to get down.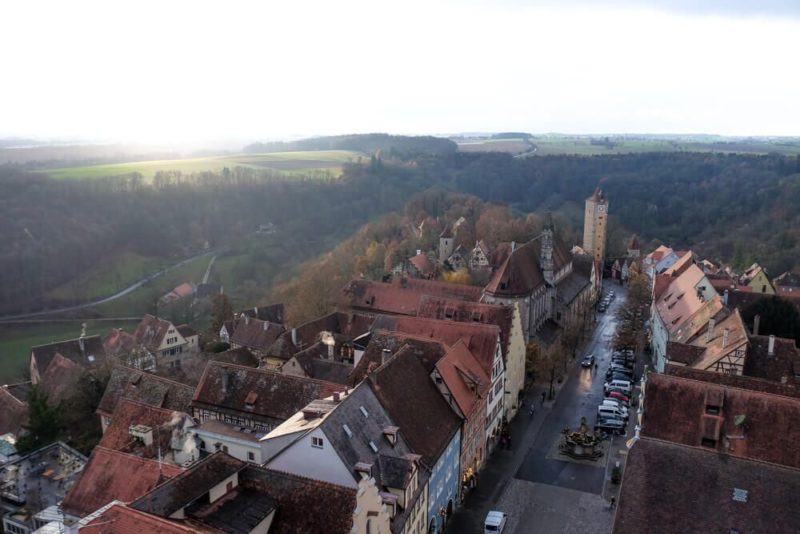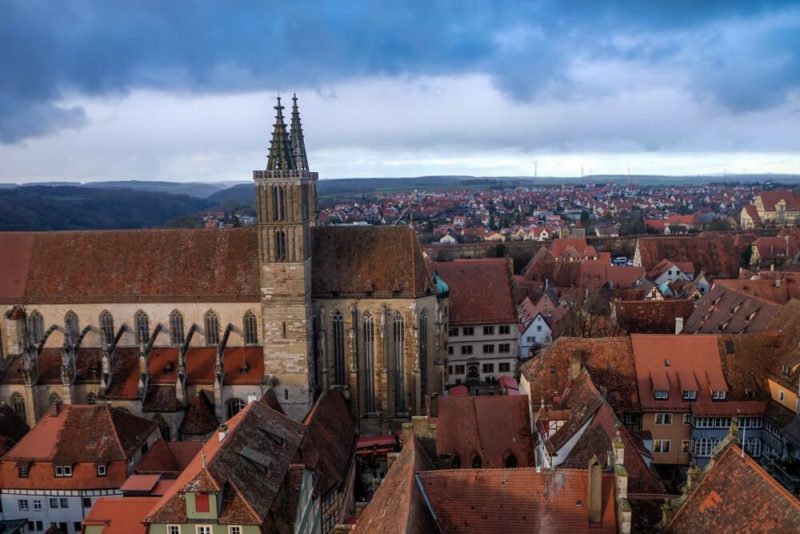 4. Night Watchman's Tour

The last thing we did that I loved was go on the Night Watchman's Tour. This tour starts daily at 8pm in the Marktplatz in front of the town Hall. There are no reservations and you pay at the end (8 euros per person).

Basically this tour is led by one guy (dressed in historical garb as a night watchman). He'll take you on a very brief tour around the city (staying within a couple of blocks) and tell you some interesting stories about the history of Rothenburg.

We learned about the city during the time of the plague, about its rise in prominence during the middle ages, and about its fall during the renaissance. And the story about how it was saved by an American soldier during World War Two (which I still remember).

One note about the tour though…it can be quite crowded. Easily over a hundred people were on my tour (yes I mean 100+).

It had rained the night before and the night watchman said he had like 8 people on the tour. So everyone else I think delayed to the night we went.

But though there were lots of people, I never couldn't hear the night watchman and I still thoroughly enjoyed the tour.

Just don't expect a small group.

---
Practical Information for Rothenburg

Before I end this, I want to just give a few tips about Rothenburg that are a bit more practical.

Rothenburg Train Station

It's really easy to get a train to Rothenburg. But once you arrive, know that the train station is about 1km from the city center. And the city center has a few hills.

If you can, get a taxi. When we arrived there were zero taxis. We waited for about 20-30 minutes before giving up and walking. It was a hard, tiring walk with suitcases. But it is doable if you are desperate.

Where to Eat in Rothenburg

There are a number of restaurants in Rothenburg. Some more authentic than others. Our favorite was Zur Holl.

But and this is a big but, you will need reservations. Even if you show up when the place opens, you may need reservations.

We lucked out in that we were there when they opened (5pm in winter) and made a reservation for about 9:30 pm that same night. And it was one of the last ones available.

If you're going in the high season, I'd definitely try to make one via their website before you get to Germany.

Where to Stay in Rothenburg

There are lots of places to stay in Rothenburg, but we really enjoyed the one we went with. This apartment was our splurge for the trip and it was right in downtown (just a few blocks from Jacob's Church).

Auf Wiedersehen