For our Christmas Market trip to Germany we planned to spend the most time in Munich. It was definitely larger than Regensburg and Rothenburg, so it made sense. But I was nervous. I'm usually not a big fan of large cities. But I loved Munich. And we easily spent 4 days in the city without getting bored. Here are my 5 things to do in Munich in December.
Now Munich is big. The crowds here were larger than the other towns. But it still felt unique, especially in the city center. It wasn't cold or generic. (Well, you know, it was cold like in brrrrrr holy crap it's cold! But it was December though.)
And with a Christmas market around like nearly every corner, it's hard to not feel the Christmas here.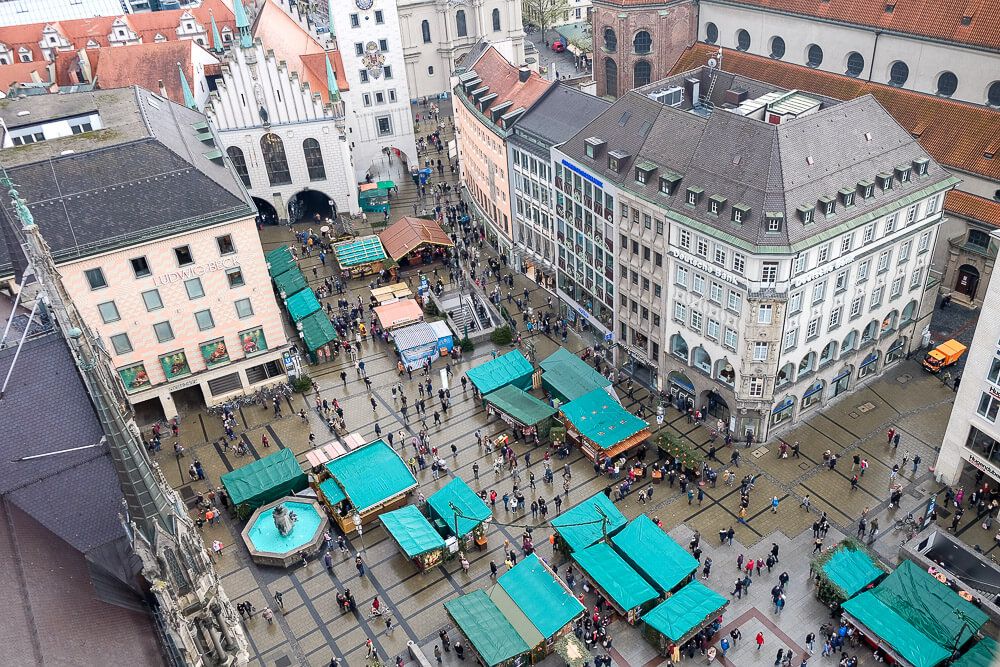 ---
5 Things to do in Munich in December
Visit the Christmas Markets (as many as you can!)
I bet this is the reason you're going to Germany in December. And if's not, oh man are you about to luck out. Because the Christmas markets are amazing in Germany, but in Munich there are like over 20 of them.
Let me repeat that. There are over 20 different Christmas markets in Munich alone.
You get a Christmas Market, and you get a Christmas Market. And you get a Christmas Market!
Now of all the 20, we only ventured to a handful that were near the city center. Here are the four we visited and enjoyed the best: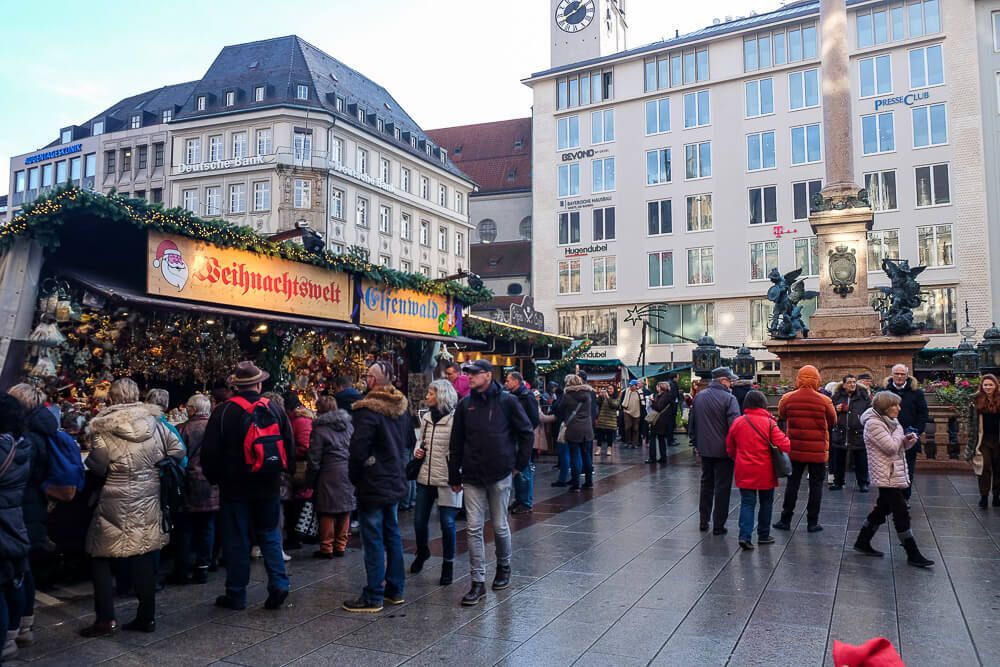 Munich Christkindlmarkt. This is the city's main Christmas Market and you can find it centered on the Marienplatz (main city square). It's got a huge Christmas tree and everyday at 5:30pm, a choir comes out and performs on the balcony of the Town Hall. In terms of gluwein, brats, and gifts, you can find almost anything here.
Medieval Christmas Market. I (think) the German name for this one is Mittelaltermarkt but that could be wrong. Either way this is the Medieval one and it is AMAZING! Like everything about it is medieval. The gluwein comes in goblets, the artisans and attendants are all in historical garb, and the gifts are all like Medieval themed – think like drinking horns. (I got my own wax seal here.)
This market is just fantastic for anyone. But for those that are history nerds like me, you have to go here. The only downside to it would be that it's kind of small and it gets super crowded (especially in the evenings). Like squeeze past people crowded.
Still worth it.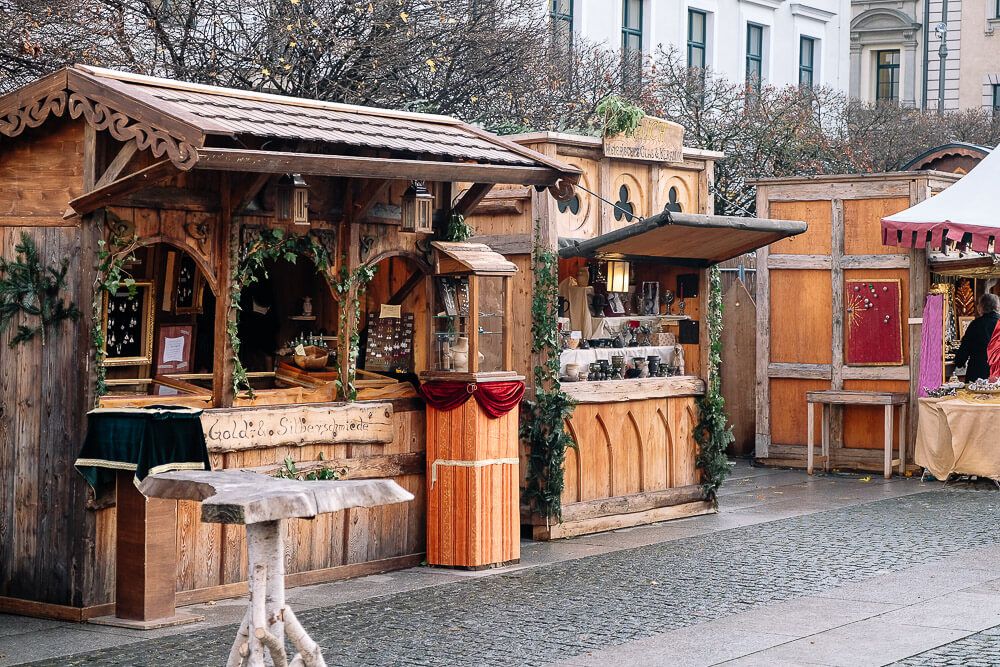 Christmas Village at the Munich Residenz. This is a smaller market mostly because it's squeezed into one of the courtyards of the Residenz. It can also get a bit crowded in there, but it definitely deserves a walkthrough. We stumbled upon a group performing some Christmas carols when we were there. And, of course, grabbed some gluhwein as well.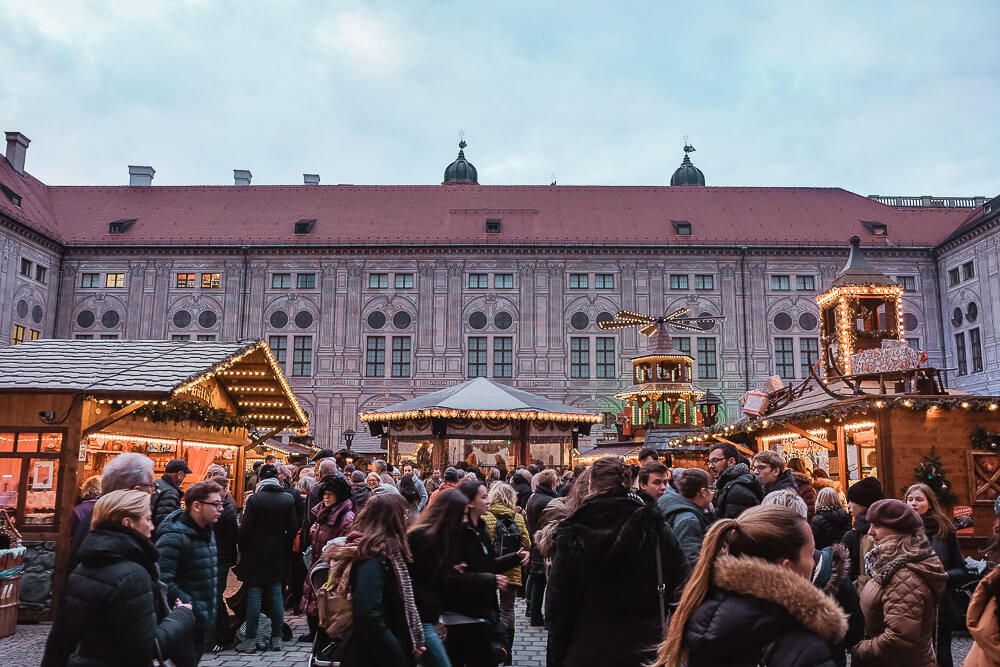 Shwabinger Weihnachtsmarkt. This Christmas Market is situated to the north of Munich and it's not walkable from the main city center. We took the subway to get there. (It's right outside the Münchner Freiheit stop.)
This market felt so much less touristy since it was out of the main city center. These were definitely locals. And it also had some amazing artisans as well. This is where I grabbed some hand-made earrings and a new wool flat cap from Ryan. If you're looking for a unique gift, this may be the one you want to visit. (Though know that with the uniqueness and handmade quality comes a higher price.)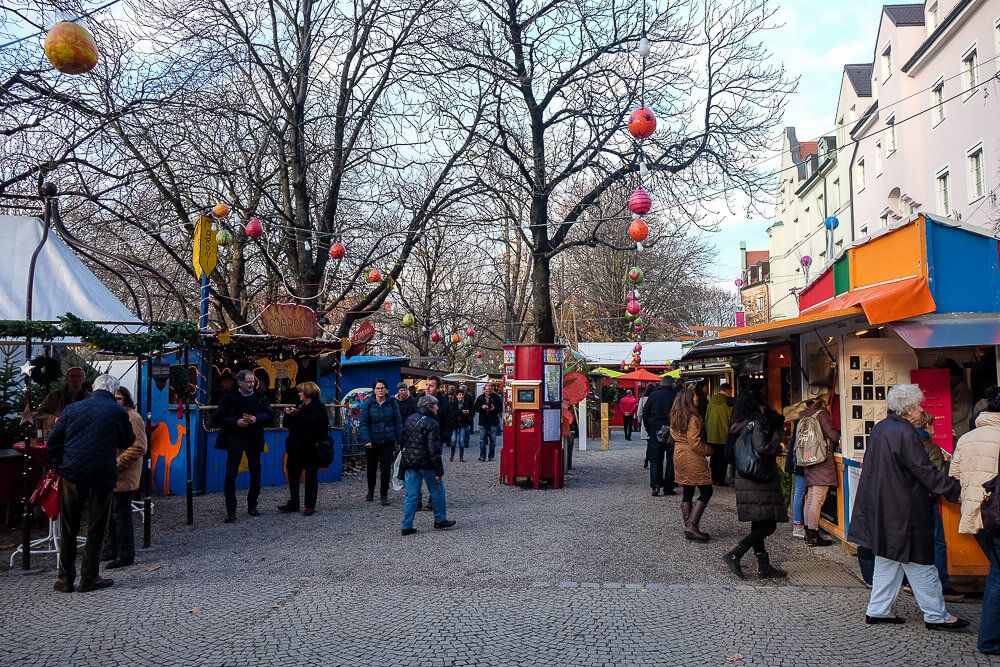 Not sure what you should do at a Christmas market? Have no fear because my very sophisticated list as you covered.
Drink all the gluhwein. This is German mulled wine. It comes in different varieties and sometimes with a shot of something extra special. You get to drink it out of a real mug (you pay a deposit with the mug but get it back when you return it). And it's just delicious. I drank several glasses a day. My post on the Regensburg Christmas Markets goes into more detail on gluwein if you need it.
Eat tons of food. Brats? Pretzels? Nuts? Big doughy flat things with toppings on top? The Christmas markets have you covered. Eat anything that catches your eye.
Do your Christmas shopping. You should seriously budget in souvenir shopping both for yourself and for your friends and family. And make sure there's room in your bag for the way home.
Gawk at all the Christmas glory. As an adult in an overly commercialized America, Christmas has started to lose some of its wonder and excitment. I'd never felt more of that Christmas spirit than when I was strolling through a German Christmas Market.
Take in the View from the Town Hall Tower
The Town Hall can be found in the Marienplatz (main town square). And you can actually go up to the top of the Observation deck (255 feet up).
The old town of Munich will be spread below you and it is one hell of a view. (I'm all about getting that view.)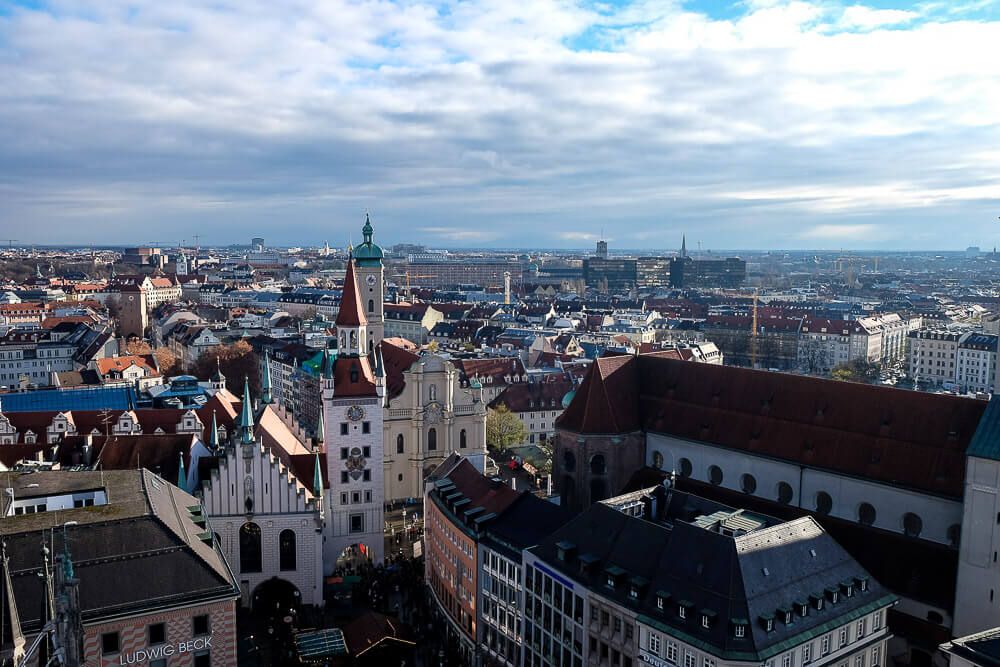 And, to make it even better, there are elevators. So, here are the steps on how to get there.
Go to the Tourist Information Office on the ground floor of the Town Hall. Ask them for tickets to the observation deck for the town hall tower. You must go here first.
It cost about 4 euros per person for us.
They'll tell you where to find the lift for the tower. It's located in the archway of the Town Hall.
Take the elevator up to the top floor of the Town Hall. Follow the signs for the observation deck.
Attendant will take your ticket and you'll ride in another elevator to the top of the tower.
Really important! The attendant by the elevators do not sell tickets. You have to buy them at the Tourist Information office. It is literally like 50 feet from the first lift. I saw like 4 groups get turned away because they hadn't bought their tickets yet.
Then just enjoy the amazing views and head on back down when you get cold. Last important note here! If you want to see it when it's light out, make sure to get there before sunset. (And the sun sets early.)
Hours: Monday to Saturday 10 am – 7 pm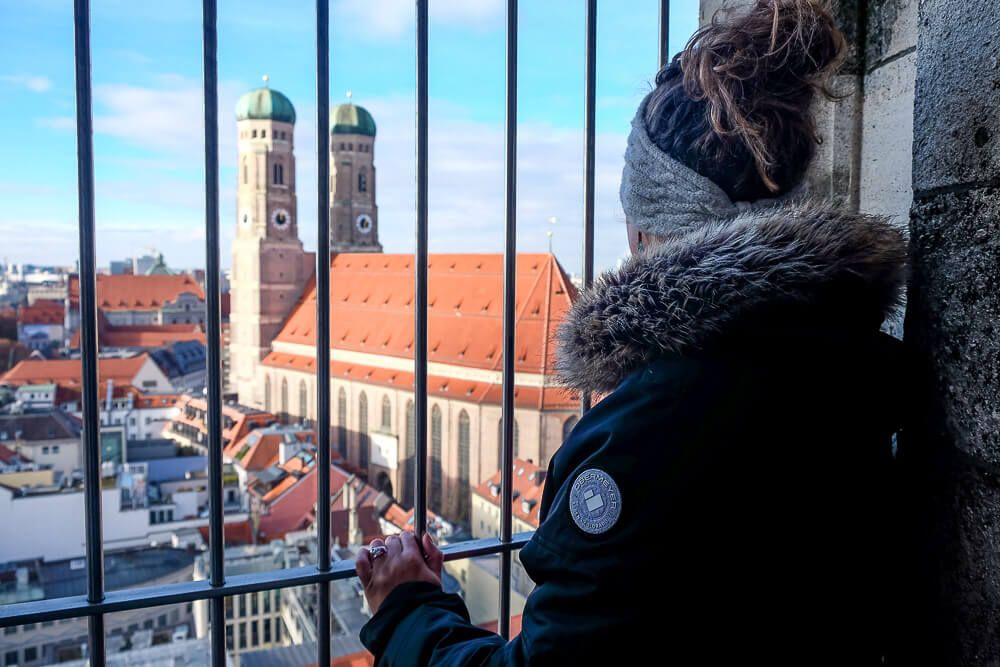 Visit the Churches and/or Palace and Get Your History On
This is Europe – land of ye old stuff. And as a history nerd, I can't not visit a castle (as well as a few churches). This is also Germany. There is soooo much history here (old and modern depending on what you want to learn about and see).
The Residenz. The main thing I wanted to visit was the Residenz. This is the main palace in Munich. It's super impressive and very large. As in we started to just walk through rooms after 3 hours of exploring (my feet were hurting). So don't just tack this on at the end of your day
You can tour the interior and learn about the people who ruled here. The rooms are done in various styles so you can see what the palace was like over its history (as it's been expanded and re-built several times in its 600 year history).
It's also very important to note that a lot of the palace was severely damaged in WWII. And much of it has been rebuilt. Instead of seeing all originals, it includes many replicas of what this room or this furniture looked like before the war.
St. Peters Church. While you can go into St. Peters because the church is quite old, the main thing people seem to do is climb it. And this one you have to climb.
After 300 steps, you'll come out onto the viewing platform. And man, the views here of the old town are killer as well. (Though the wind was especially vicious when we climbed.)
You can climb the tower anytime of the year. It'll cost around 3 euros to go up and hours are 9am-6pm.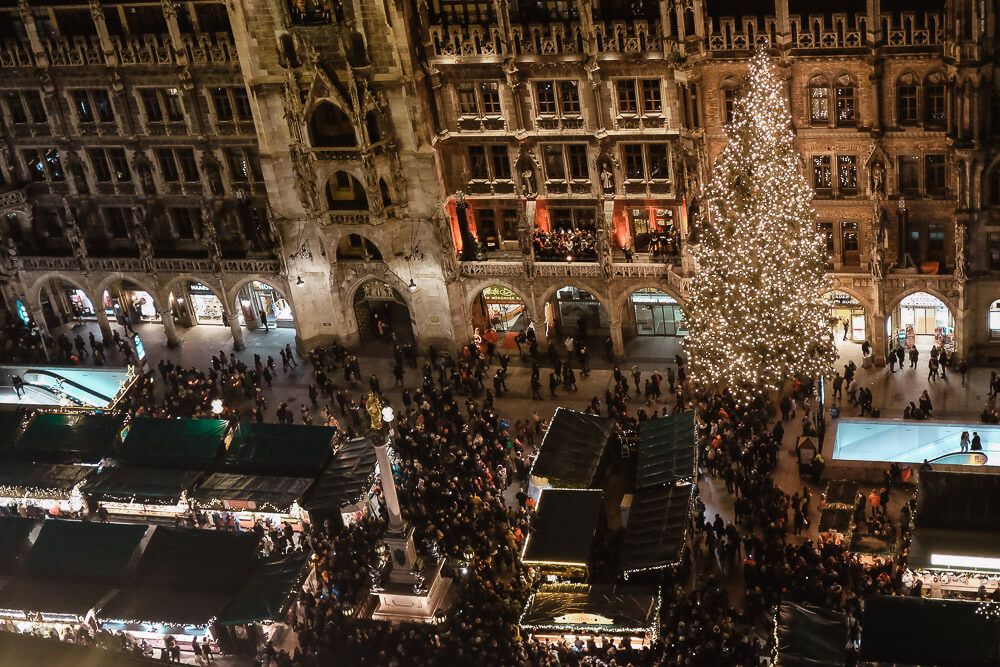 Frauenkriche. This large, brick double towered church just might be the landmark of Munich. (It certainly was my favorite to photograph apparently.)
The church dates back to the 1400s. And it's huge. Like over 100 meters long, 40 meters wide, and 37 meters high. It feels massive inside.
The towers are about 100 meters high and you can go up in the south tower. Unfortunately it seems to have been closed for some time due to some reconstruction. It was closed in 2018 and might still be closed.
Or else you know I would have climbed that thing.
Even more history. There are loads more churches to see. I wrote down Asam & St. Michael's as possible options (though we didn't make it to them). I did go inside the Theatine Church across from the Residenz because this bright yellow behemoth just called to me.
Probably one of the more serious historical sites you can visit during your trip is the Dachau Concentration Camp. I did not go to the camp but I wanted to include it on this list for those who would want to include it into their trip.
This will be like a day trip from Munich, so be prepared for that. But I don't have much more information on it since we didn't look into this.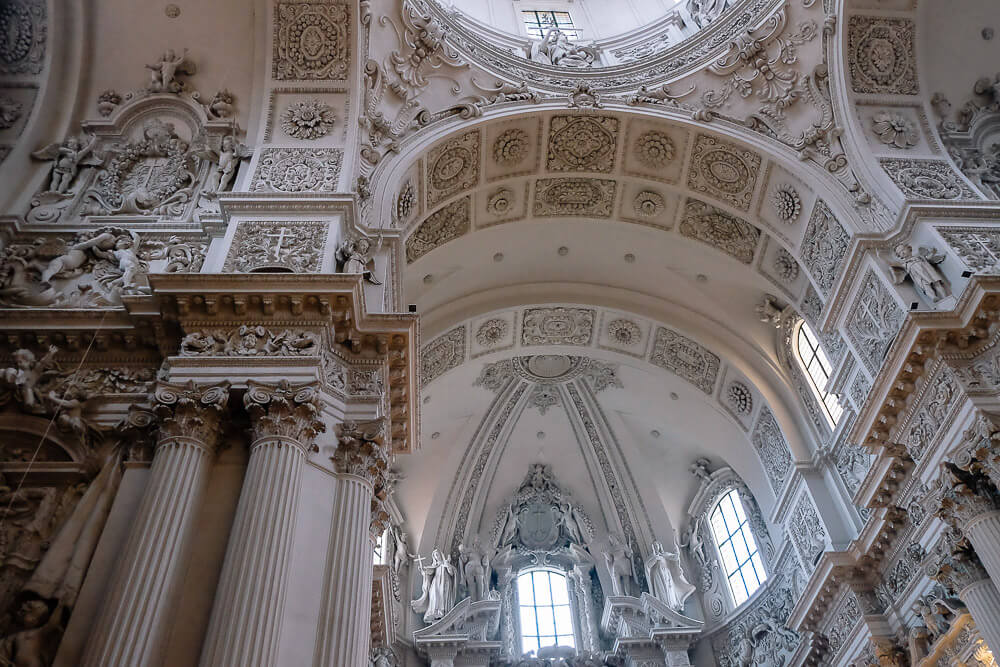 Warm Up in Some Beer Halls
This is Germany!! Now go to some beer halls and swig you some hefeweizen. In the summer, I know all the rage would be the gardens. But jeez it's cold in December. And that's where the beer halls come in.
So the main one everyone chooses is Hofbrauhaus. And though I walked through, we didn't actually stay. Mostly because it was sooooo crowded. And it's a little unclear on how to go about getting a table. (Later I found out you just go and sit down, and your waitress will come around eventually.)
Also expect to drink your beer by the liter at Hofbrauhaus. And a liter is like HUGE. Prepare yourself.
Instead of heading to Hofbrauhaus, we went across the square to Ayinger am Platzl (Wirsthaus Ayingers). This one was much more restaurant-y feel. Most people eating there had reservations, but we were able to grab seats at the bar. And though the bartenders were crazy busy, we were able to order food and drinks.
Some other good options that I wrote down that we either made it to, or we wanted to visit:
Haxnbauer (famous for pork knuckle)
Jodlerwirt (this one is more of a pub, but it was a great little find where we sat at the bar for awhile, but I've heard the upstairs is tons of fun)
Altes Hackerhaus
Andechser am Dom (good dark beer)
Der Pschorr
Augustiner Beer Garden (Braustuben)
Chinesischer Turm (oldest in the city )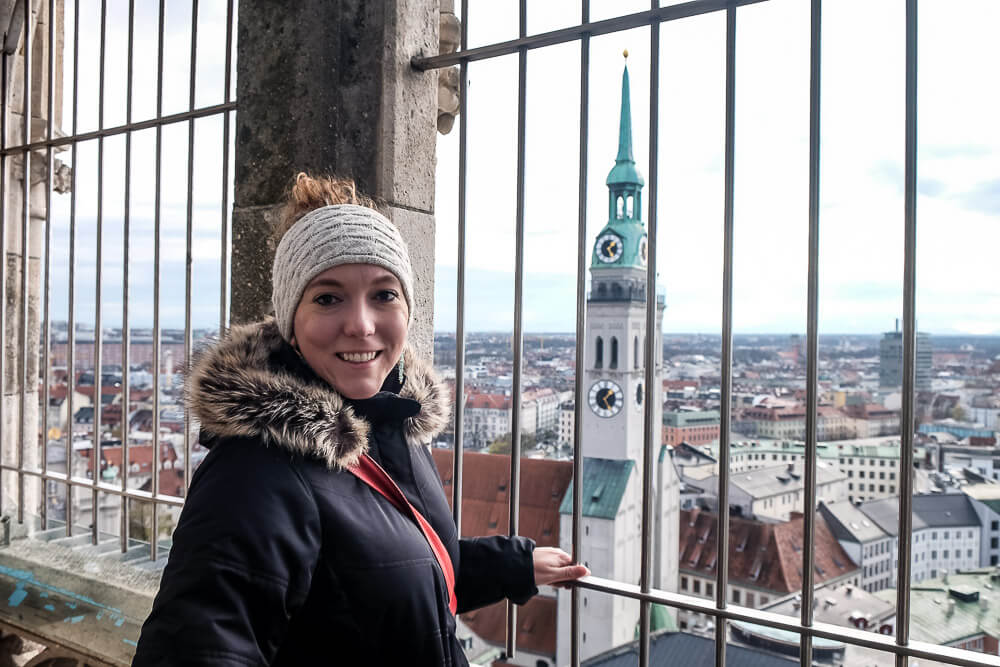 Eat (all) the German Food
To be honest I didn't know a lot about German food before we went to Germany. And I was pleasantly surprised by what I discovered. Here are the things we tried that I enjoyed. And there were a ton more that I was too tipsy on gluhwein to write down.
So if you're strolling through a Christmas Market and see something delicious, definitely go for it.
Sausages. Okay this is Germany, land of the brats. And oh man, do the Christmas Markets have brats. And there are LOTS of different kinds. I'm not like a brat connoisseur or anything. (Other than I like to eat them.) So a lot of the names escaped me a bit.
Here are some I remember. You have your traditional just bratwurst which was one of my main go tos. Then there's a currywurst that will come with a curried tomato sauce on top. There's also the weisswurst which is a white sausage you peel first. Nurmberg Rostbratwurst which are smaller and you usually get a few at a time.
I also remember two other sausages that were my favorite. The first was a meter long sausage we had in Regensburg (may also be available in Munich but I'm unsure) and a spicy brat – feuerwurst (sounds like fire-wurst kind of). So good if you like spicy food.
Pretzels. Or, as in Germany, brezels. These weren't as prevalent in the markets as I expected but we did find a few. And they were delicious. But you may see more of these on the menus in the beer halls. So definitely get a pretzel with your beer.
Käsespätzle. This is like the German version of macaroni and cheese. It was often just labeled spätzle on the food vendor stalls. It's basically soft egg noodles and are topped with cheese and onions. It was also a popular side dish when we went to restaurants.
Kartoffelpuffer. These little beauties are fried potato pancakes. They're crispy, seasoned, and delicious. With a kartoffelpuffer in one hand and your gluhwein in another, you cannot go wrong.
Schupfnudel. Or Fingernudel. This was Ryan's favorite dish. So much so that he's figured out how to make it and now makes it regularly at home. It's like dumplings (or super thick noodles) with bacon and sauerkraut. It's definitely a bit odd, but oh man so delicious. Definitely try it once if you even so-so like sauerkraut (which by the way tastes soooo much better in Germany).
Schnitzel. A schnitzel is just a thing, breaded, boneless slice of meat. You can have ones made out of pork or veal usually. It's a main dish in many beer halls (paired with cabbge or spatzle sometimes). And since this is Germany, you know they do schnitzel the best.
Apple Strudel. Or apfelstrudel. Again this is Germany. Land of the strudels. And this is a classic for a reason. It's wonderful buttery pastry wrapped around an apple filling and baked till it's warm and golden. Sooooo good.
German pastries. I know. Generic. Sorry about that. But I read about this little pastry shop in Munich and so we went. When we sat down, the waitress came over and asked what we want.
When wanted her recommendation she said she'd bring us 4 different pastries (with coffee) for us to try. I never learned the names. But oh my god were they good. The cafe was Schmalznudel Cafe Frischhut.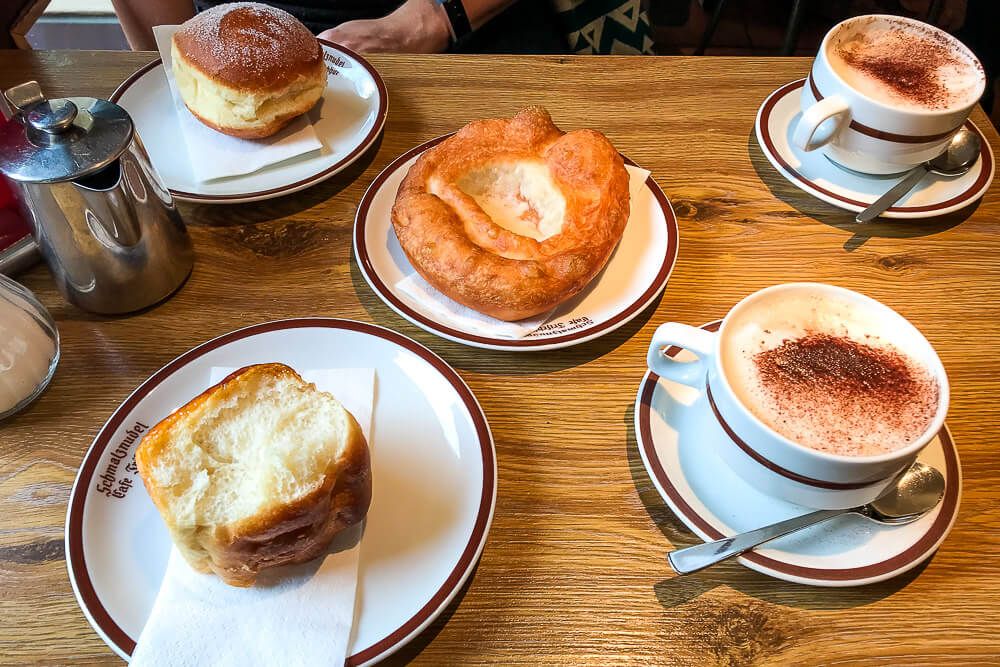 ---
Where to Stay in Munich, Germany
If you've read some of my other Germany posts, you'll know that we booked our hotels kind of close to our trip date. Which wasn't super smart. It left us with fewer options. (The worst booking situation was Regensburg by far though.)
Munich still had several options available but few affordable ones remaining within the old city. I knew that was where I wanted to be stationed since we only had a few days and I wanted to spend them mostly at the main Christmas markets.
So we decided to book a hotel right outside the old city center. Rilano 24|7 was super close to the train station and just a block or so from the old city center.
It was convenient. And at about $150 per night, it was in our price range. However, and this is a big however, I didn't love the neighborhood. From our walk to it from the train station and then to and from the city center, the whole area south of the train station made me feel a bit scared at times.
Nothing happened and it may just be me not used to big cities that much, but I wanted to mention it. We never hung around the hotel and always headed straight for the city center when we stepped outside.
If you're traveling with someone, I'm sure it'd be fine. But if I was there by myself, I would not have liked it at all.
Enjoy your trip to Munich!