Italy has been beckoning to me for a long time. It's been there, just waiting for me to come. And though our trip to this land was very much overdue, it was of course wonderful. The food, sunsets, towers, churches, and more. Italy was just…seductive. By the time we left I was already planning another trip. I believe we had the perfect introduction this country. And so that is what I want you to experience. To see and eat and do and just fall in love with Italy. And to do that you need a guide. So this is our Italy itinerary.
We started in Venice. That magical, canal-laden city. I'd heard about the city but there's something about seeing it that called to me. Something so different. So Venice. Then it was onto Florence where we spent the bulk of our trip. Food, duomos, and just so much art. We ended in Milan with just one short day before it was back to the airport.
Our trip lasted about 10 days. We actually did it in 9, but I've added an extra day in Venice since this is where I would have spent it. And I hope our Italy Itinerary helps you plan your own trip. Use it as a step-by-step guide or as your starting point. Hopefully it'll help you discover what Italy has to offer.
Hint…everything!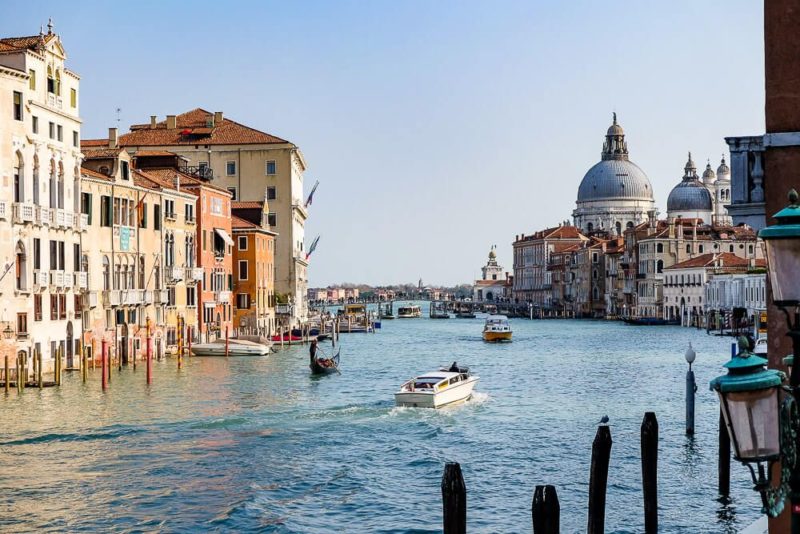 ---
Days 1-3: Venice
Day 1: Head To Venice
We flew in and out of Milan and found that to be easy for us. But this would work just as well if you flew in/out of Venice or Florence. If you do that then I would almost consider scrapping Milan from the list altogether.
Once we landed we took the express to the main Milan train station and then bought our tickets to Venice. Taking the trains was easy and we arrived in Venice by the mid-afternoon.
And there was one thing I wanted to do in Venice that day, catch the sunset from the top of the campanile. Do not miss this.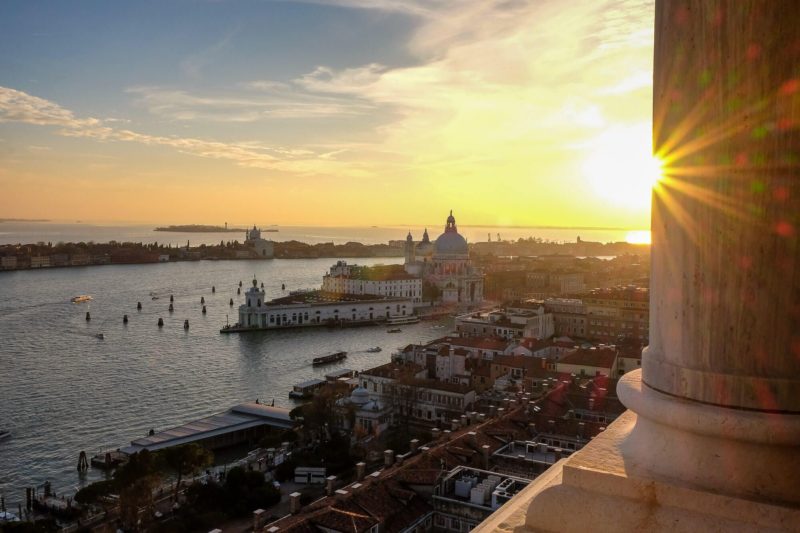 Since we traveled to Italy in November, sunset was before 5pm. So after we checked into our guesthouse, we headed straight for the bell tower.
We lucked out in that there was no line for the campanile. Probably due to the fact that it was still early in the day and the tourists coming in for the weekend hadn't arrived yet. So make sure you do this on a weekday. It's 8 euros a person to go to the top.
Seeing the sunset was one of the best things we did. And though it was a bit crowded at the top, I was able to get a spot by the railing many times. The views were incredible.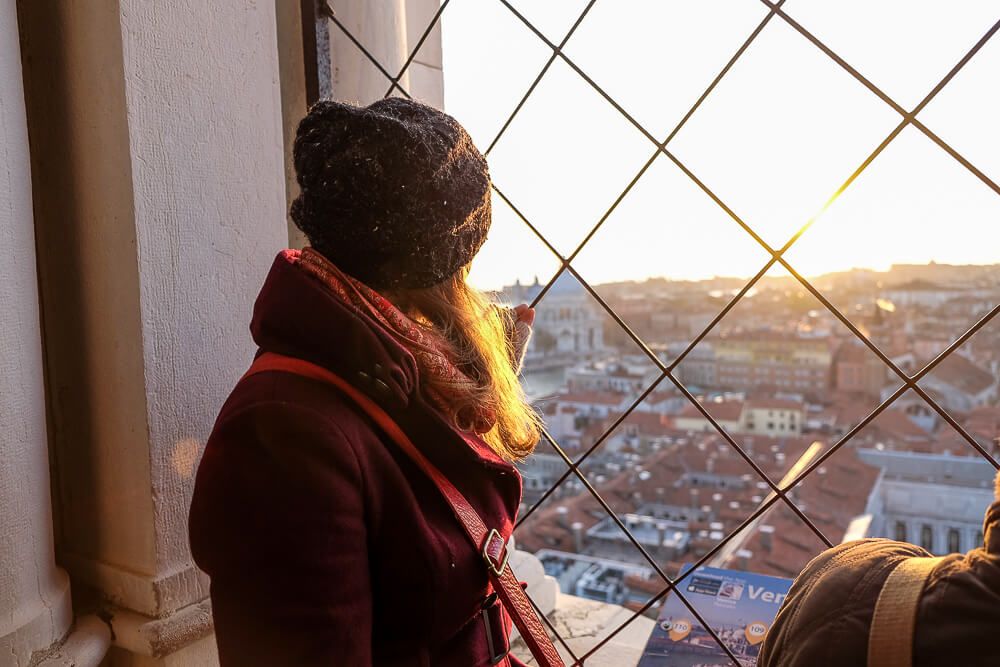 After catching the sunset, we wandered Venice for several hours. Crossing over the Accademia bridge and then back again over the Rialto. I would definitely recommend just wandering Venice in the evenings. It's so much quieter. And gives you a sense of what Venice is like without hordes of tourists everywhere.
And definitely stop in any wine bars that call out to you like we did! These cicchetti bars were heaven. Not sure what I mean? Check out this article for more information on cicchetti.
Finally after making it back to our hotel, we headed out to dinner.
Tip! If you have a particular restaurant in mind, make a reservation in advance! We didn't and it took us 3-4 stops before finally being able to find a restaurant that still had seats.
---
Day 2: Explore Venice
This was our main day in Venice. And there were 3 big things we wanted to do during the day: go to the Rialto Markets, explore the Doge's Palace, and go inside the Basilica di San Marco.
We started with the Rialto Markets.
The main ones we wanted to see were the produce and fish markets. These ones are only really busy in the morning and are closed Sunday and Sunday/Monday respectively. Located just over the Rialto bridge, it was fascinating to see how Venetians go about their shopping.
Tip! If you want to buy any produce or fish don't touch it! Get the vendors attention and he will get it for you.
You'll also see some really fat pigeons by the Rialto and, my favorite, the building with the hands!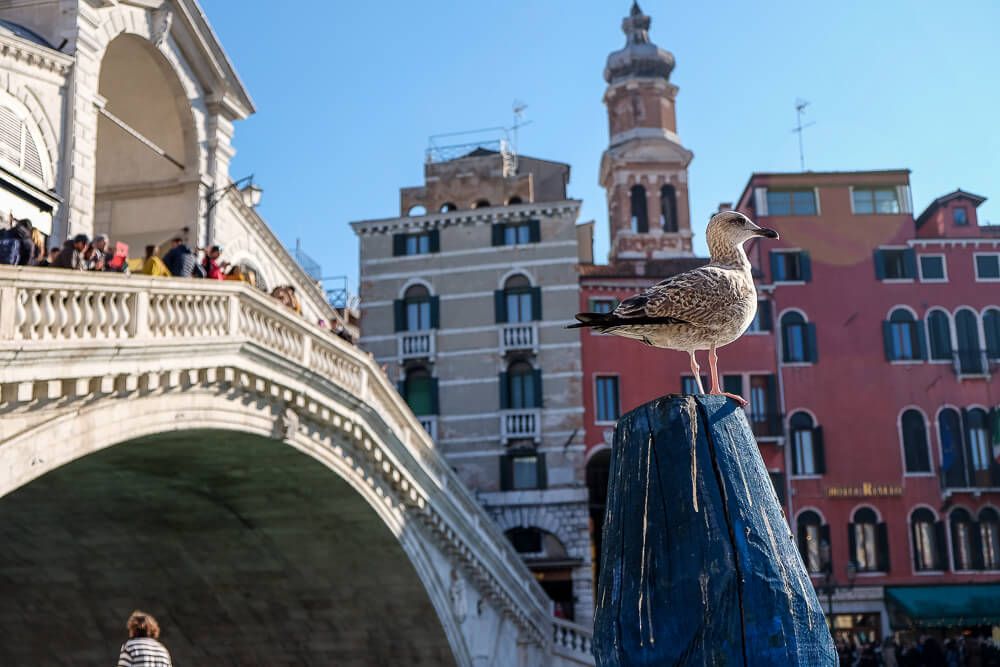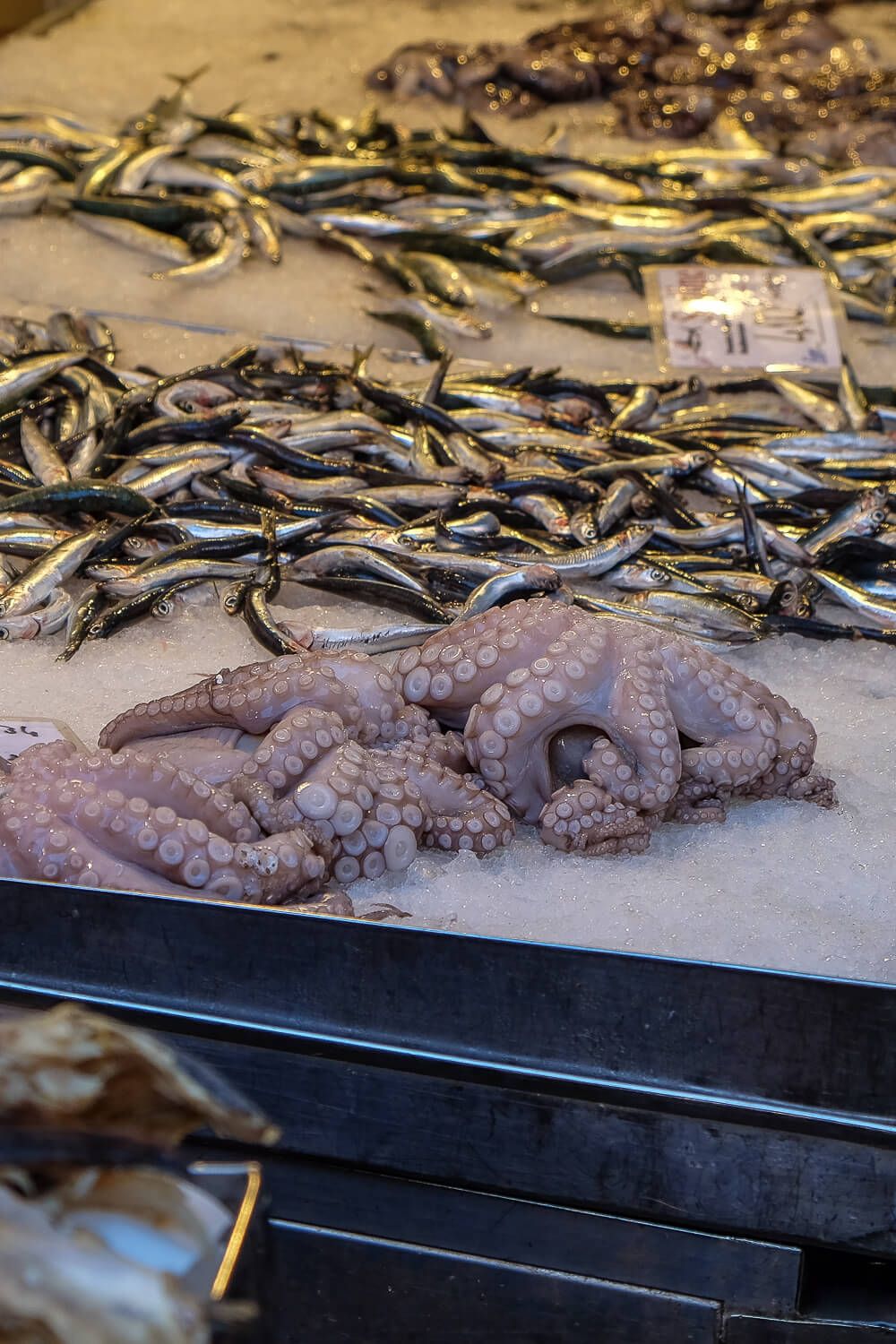 Then you'll want to cross back over the Rialto Bridge and head for San Marco's square. Our next destination was the Doge's Palace.
I have a thing for castles and palaces. They are usually my main destination in any town that has them. In one day trip to Sintra (during our Portugal trip), I visited two.
And though the price tag here was expensive, I loved learning about how the Venetian republic was governed. I was also surprised how few people there were inside. Some rooms had a good number, but I was easily able to get several photos without anyone else in them.
Plus you actually get to go over the Bridge of Sighs here, instead of just looking at it. Pretty dang cool.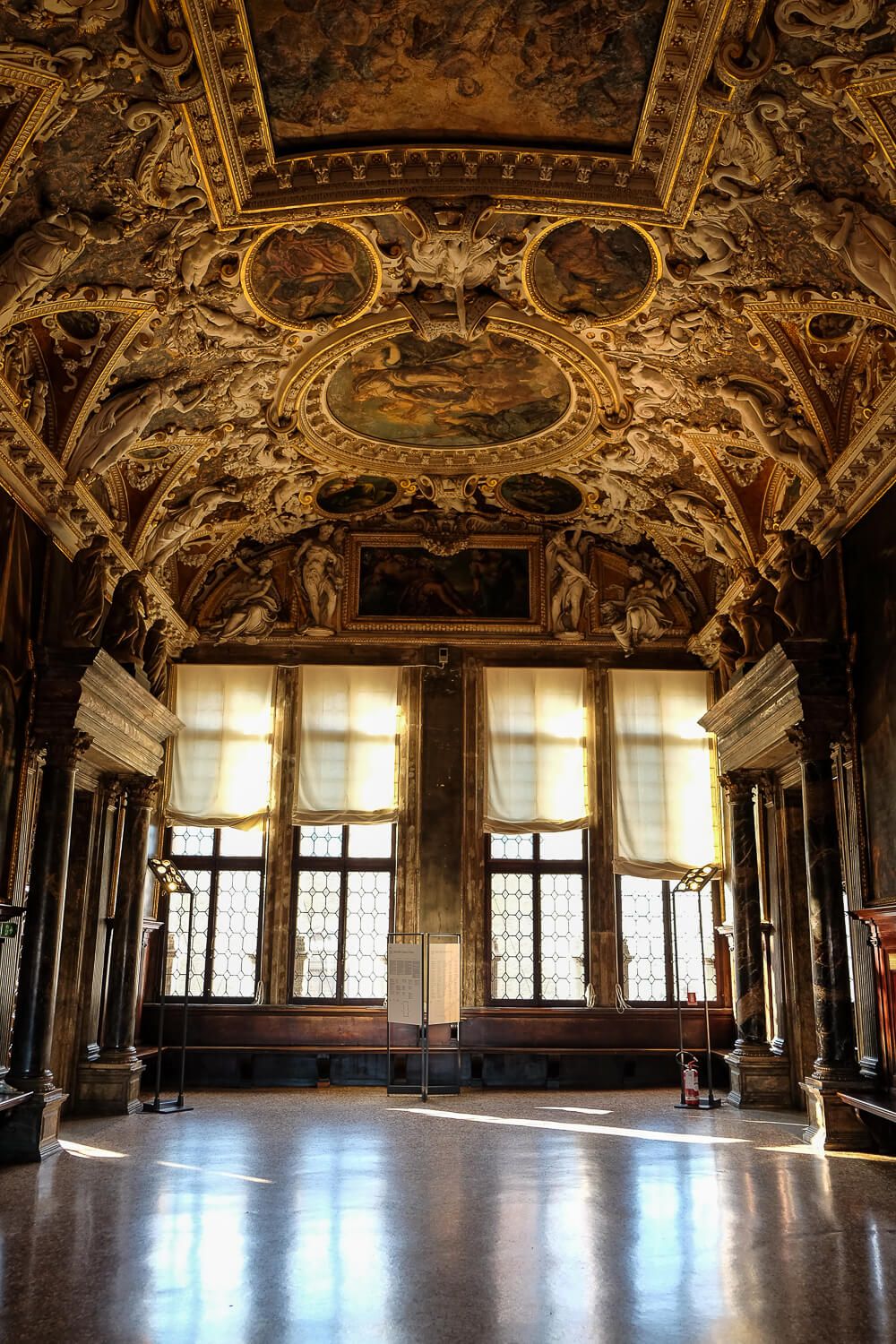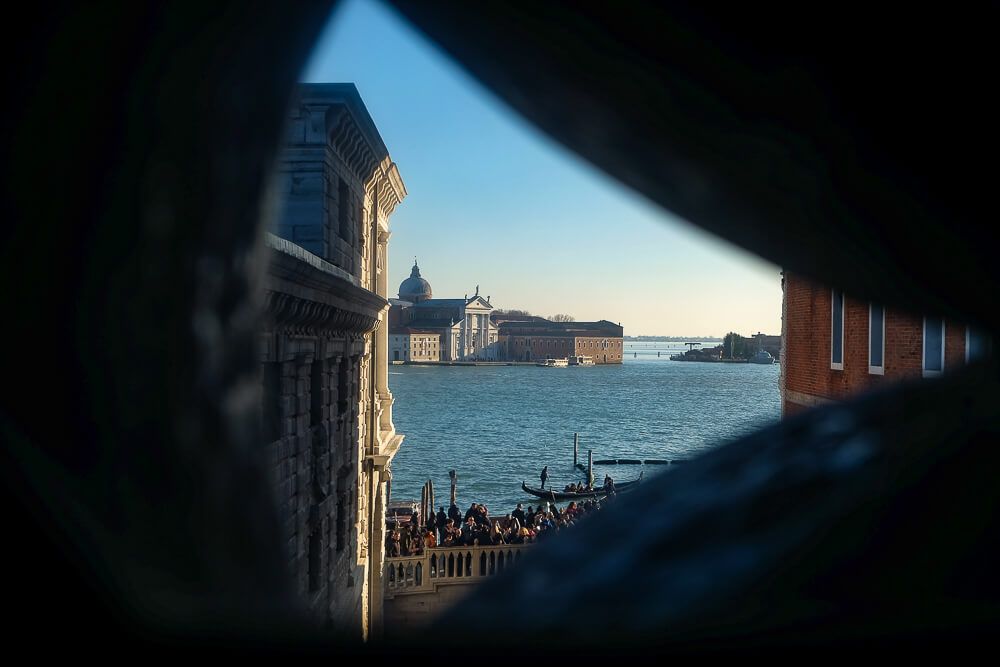 After the Doge's Palace, we swung by to see the view of the Bridge of Sighs and then headed into the Basilica di San Marco.
It's free to go in the church so a lot of people do it. We waited until the line had died down. And, fun fact, if you store your bags (for free) you can skip the line. Look for signs in front of the church explaining where this bag drop is.
The church itself was smaller than I thought it would be. But then again it is in Venice where space is tight so this actually makes sense. It was also very dark and gold and ornate. I was glad I saw it, but it wasn't my favorite.
And there are no photos allowed in the church.
If you want to go up to the church's balcony, that will cost money. Look for the entrance after you exit the actual church building but are still under the overhang.
When we left the church we headed back to the room to rest up before heading out to a few cicchetti bars that evening. My favorite was Naranzaria near the Rialto markets. Excellent Aperol Spritzes and Bellinis and decently priced cicchetti. Plus the staff here were generally friendly!
After a few drinks we headed to dinner and then called it an early night.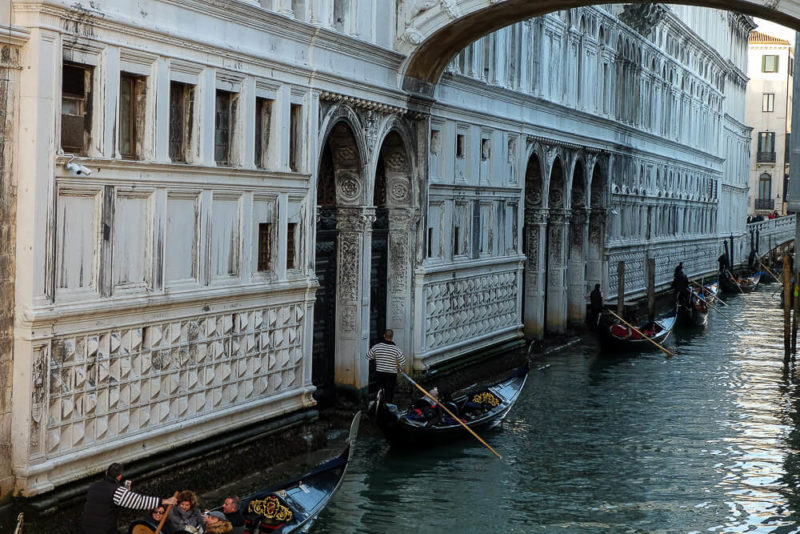 ---
Day 3: Extra Day
Confession. Ryan and I were only in Italy for 9 days. But I would have loved an extra day in Venice. Below are the things on my list that I wanted to do but didn't have the time:
Correr Museum
Ca'Rezzonico
Go inside the Santa Maria della Salute
Ride over to see the Church of San Giorgio Maggiore
Take a vaporetto out to one of the smaller islands
So if you can squeeze in an extra day, consider doing it in Venice especially if you come in the off-season. I've heard mixed opinions of Venice during the summer.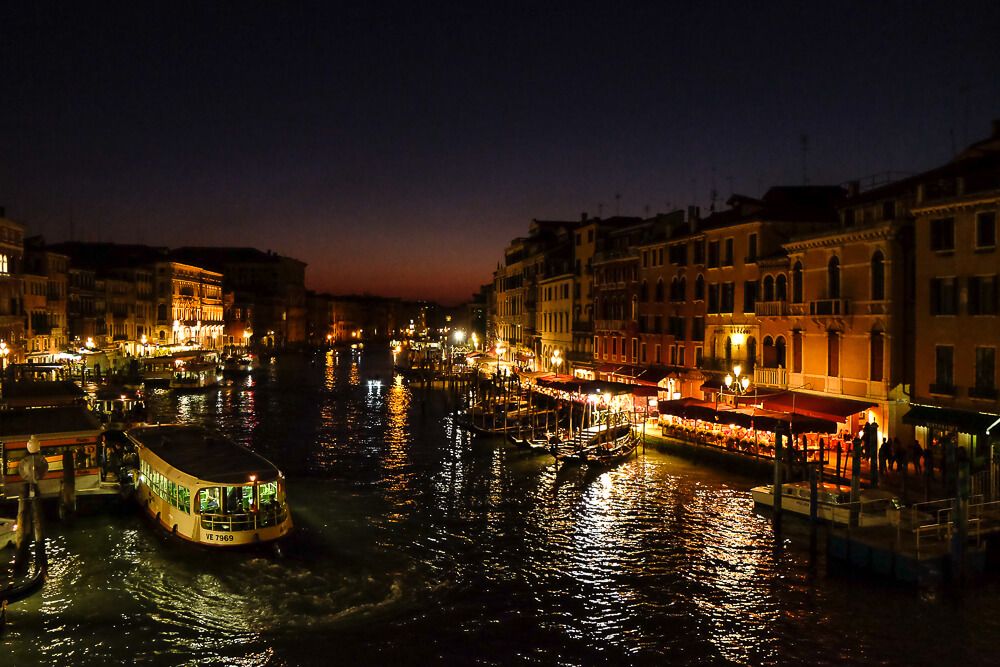 ---
How To Get Around Venice
How To Get To Venice
When we landed in Milan we followed the signs to "Trains." There we bought just a single ticket on the Malpensa Express to Milan Central. To buy this ticket we went to the actual ticket window (with a live person). There were machines but the lines were so long we decided to forego them.
I now think I could have bought our whole route (from airport to Venice) at the ticket window. But I don't think it would have been much faster.
Once we got to Milan Central we bought our tickets to Venice. There are Trenitalia ticket machines all over the station and they are really easy to figure out. You may need to exit the platform area to find the machine.
IMPORTANT! If you have an American credit card with a chip, the machine will ask you for a pin. Most American credit cards with a chip don't have a pin. If you have an old stripe card (without a chip) I've read that it works with the machine. But our "chip & sign" cards don't.
We ended up having to go to the ticket window and buy the tickets from an actual person. In the future we got around this by just using cash with the machine. Please keep this mind if you are an American!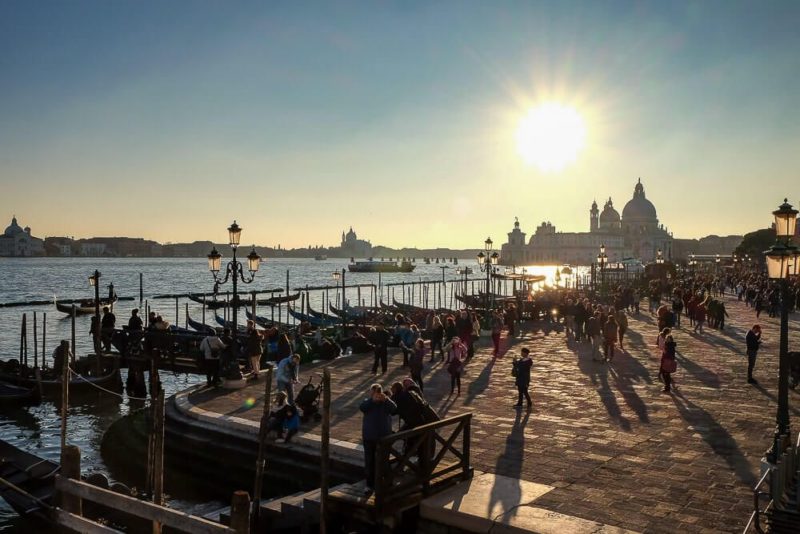 We rode the train to the Santa Lucia station in Venice (called "Venezia" on the machine).
You also don't need to worry about validating your ticket if you have a seat assignment. And you'll see the seat assignment right on the ticket. All of our main journeys had seat assignments.
On a final note – what about buying your tickets in advance? Since Ryan and I were traveling in the off-season we did not buy our tickets in advance. We literally rolled up to the station and got on the next train.
However we seemed to be the only people doing so. Our hotel staff would ask us when our train was leaving and other tourists mentioned they bought theirs in advance.
From our experience, if you are traveling in the off season, I think you could wait till you are in Italy to buy your train tickets. But if you are traveling in the high season, I would buy your initial tickets in advance and then buy the rest when you get to Italy. (The ticket machines let you buy your tickets for any day.)
How To Get Around Venice
I had read everywhere that Venice is very small and walkable. Okay it is small and walkable. But after reading this time and time again, I expected it to be tiny. Someone said you could walk across it in 30 minutes.
Holy shit they must be the fastest walker alive.
Now I did have a tendency to stroll. I looked around. I took my time. Snapped photos. And even when we were headed for a particular place, it still took time to navigate all of the tiny streets and alleys. It took us well over an hour to wander from St. Mark's Square over the Accademia bridge and then slowly make our way around that neighborhood before making our way to the Rialto and back to our hotel.
So if you are going from one part of Venice to another, plan more than just a few minutes.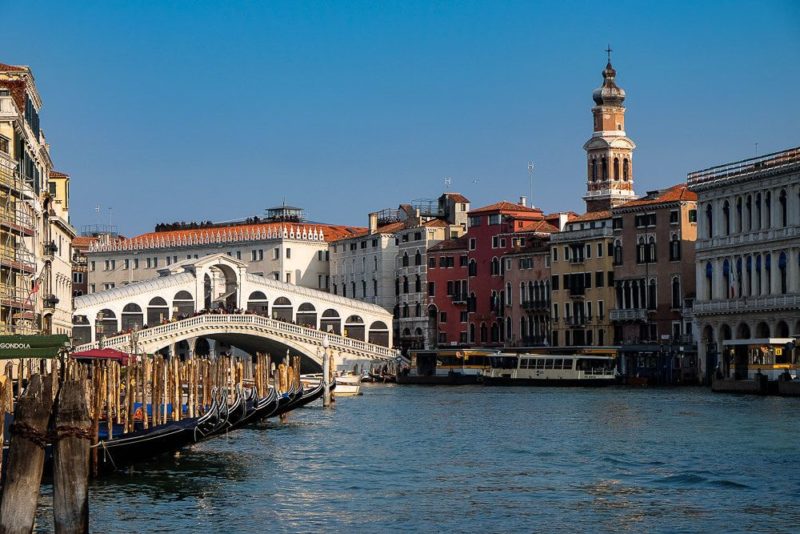 Also it should be said that there are no cars in Venice. It's all pedestrian. The only other form of transportation here is a boat. Which leads me to…
The Vaporettos!
Think of these as buses on the water. If you aren't going to any of the other islands there are only two you need to worry about. Line #1 and Line #2 are the ones that go up and down the grand canal. Line 1 is slow and stops at every stop. Line 2 is fast and stops at the big ones (like Rialto & St. Mark's).
When we arrived, we hopped on line #2 to the Rialto stop for our hotel. On our way back, we walked down to the Zaccaria stop (behind St. Mark's) and rode the #1 line back to the train station.
I jostled my way to the railing after two stops and for 45 minutes I had an obstructed view of one side of the grand canal.
You can buy a ticket (7.5 Euros each) or a pass. For us it made sense to buy them individually since we only had the 4 rides in 48 hours. But check out the passes when you're at the ticket booth to see if it would make sense for you!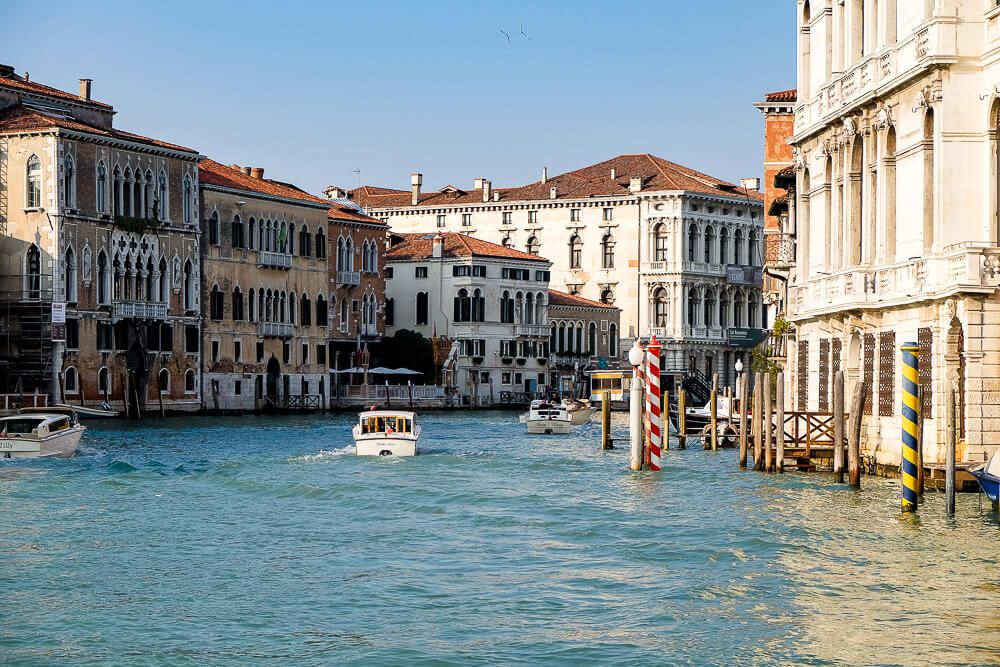 ---
Where To Eat In Venice
Dinner
Make sure to reserve for dinner! We didn't and we lucked out both nights.
Trattoria Antico Calice was the one restaurant we could find that had tables open. Especially since we went out at 9pm which is the peak dinner time in Italy. The food was good and we got to try some of Venice's famous seafood.
Birraria La Corte is known for their craft beers. Which is a rarity in wine-loving Italy. But since it was Ryan's birthday, I wanted to get him one (or three) craft beers. The pizzas were also delicious. (Definitely individual sized.) Plus then tiramisu and limoncello.
Also a fun fact about Birraria La Corte is that it was basically empty when we got there (at about 7pm), but within 45 minutes it was filled to capacity with people waiting out front to get a table. We were worried at first that it wouldn't be good (since there was no one around), but that thought was quickly put to rest!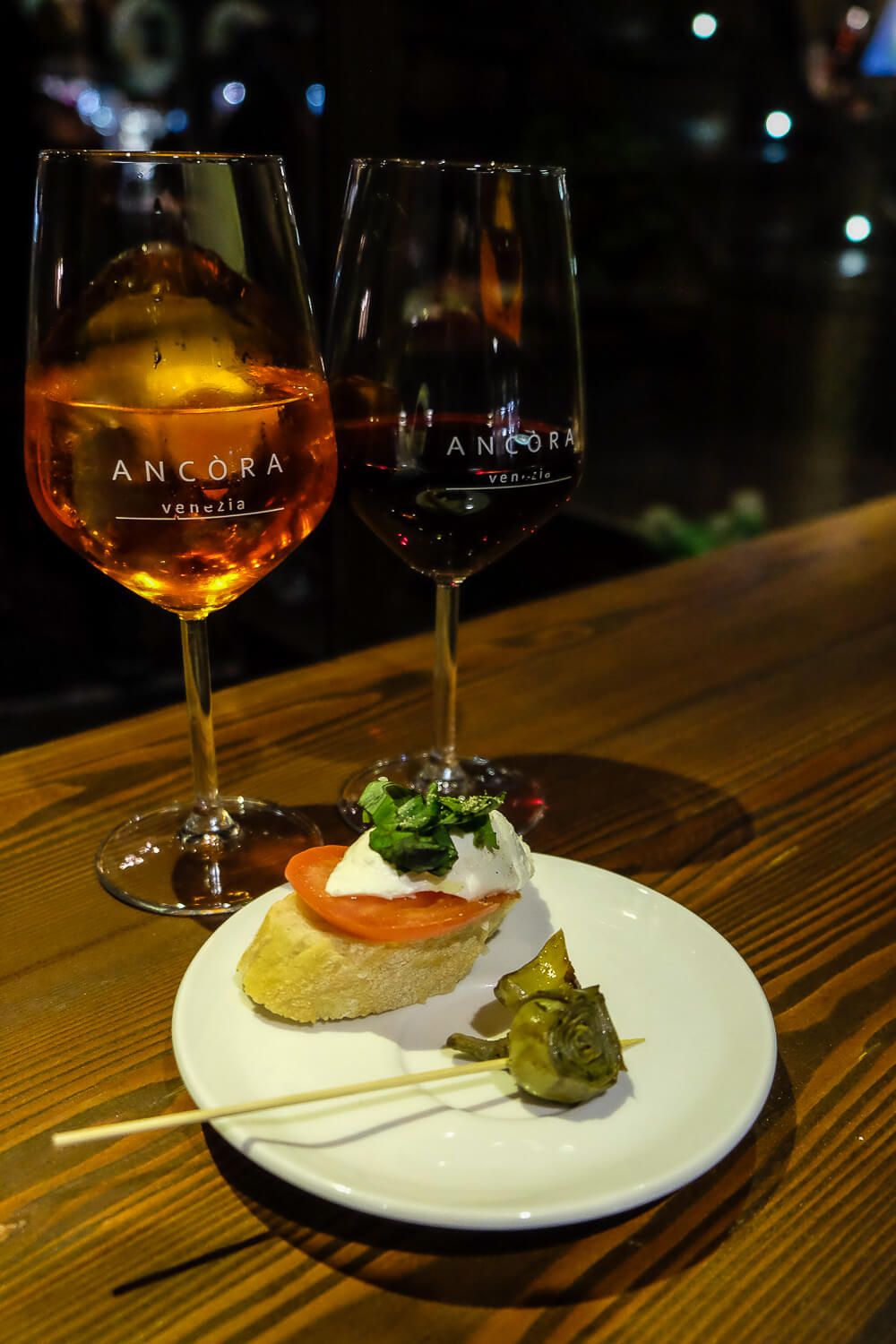 ---
Where To Stay
Since we only had two days, I wanted to stay somewhere fairly close to the central area but on a side street. I also wanted it to be nice and close to $100/night. We ended up picking Locanda Allegri and it checked all the boxes. This is not a fancy place, but I liked it a lot. Clean, large rooms in a great location.
---
Days 4-8: Florence
Day 4: Catch A Train To Florence
On our last morning in Venice we went for a long walk over to a bakery I had heard about: Tonolo Pastry. After grabbing something delicious and a cappuccino, we headed back. Even though Tonolo was on the other side of the grand canal, I liked our morning jaunt since it allowed us to walk a bit more in Venice and see the Frari church in the daylight.
Then it was time to head back to the train station. As mentioned in the above section, we took the slow #1 line on the vaporetto so we could spend just a little bit more time with Venice.
We got to Florence around dusk and checked into our hotel. That night we relaxed and took in two major sights, the duomo and the Palazzo Vecchio, before heading to dinner.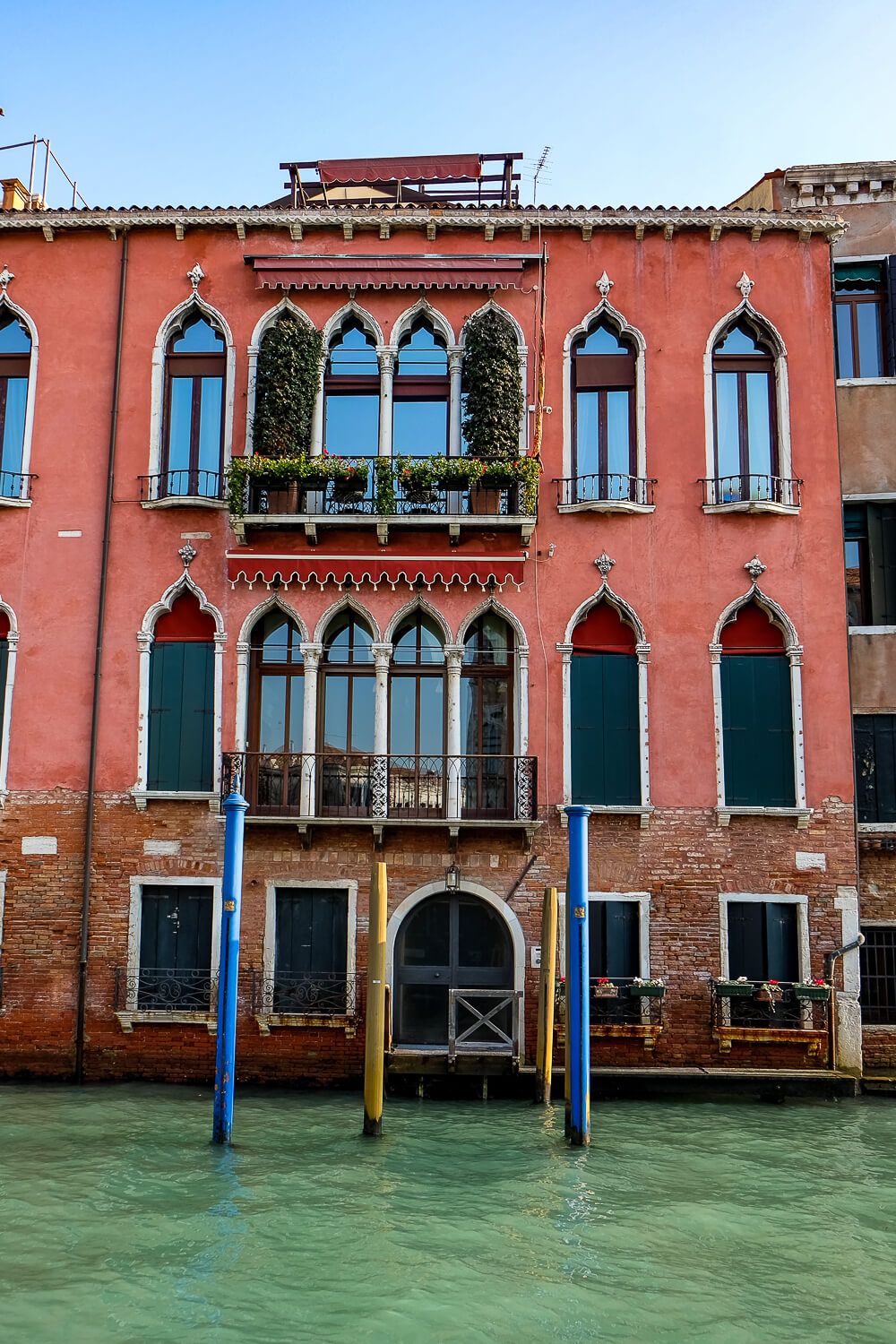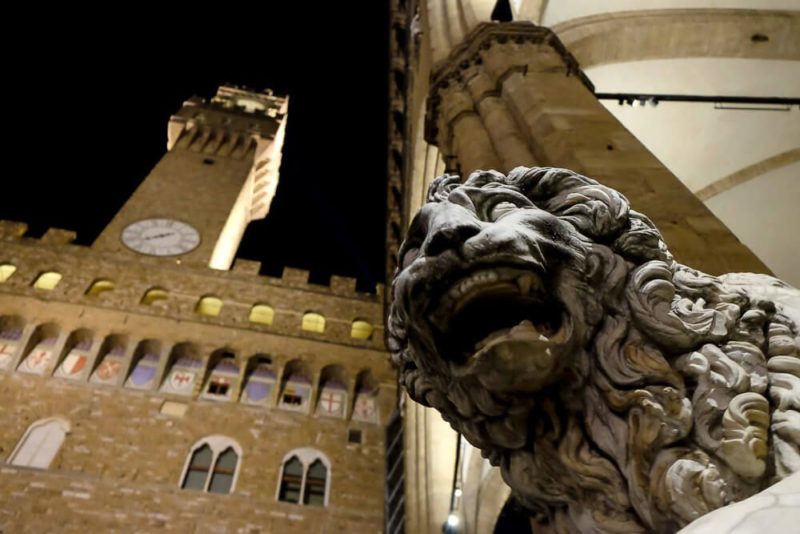 ---
Day 5: Buy Your Ticket & See the Sunset
We had two big sightseeing days in Florence, and this was the first. I wouldn't recommend any less time in Florence. But if you only have two days, you can see quite a lot.
Ryan and I are horrible at waking up early. So if we don't feel it, we don't do it. Though we were lucky in that our hotel was literally like 3 blocks from the duomo. So heading there was our first stop.
And since the line to go inside was nonexistent, we headed right in. Now this place is huge!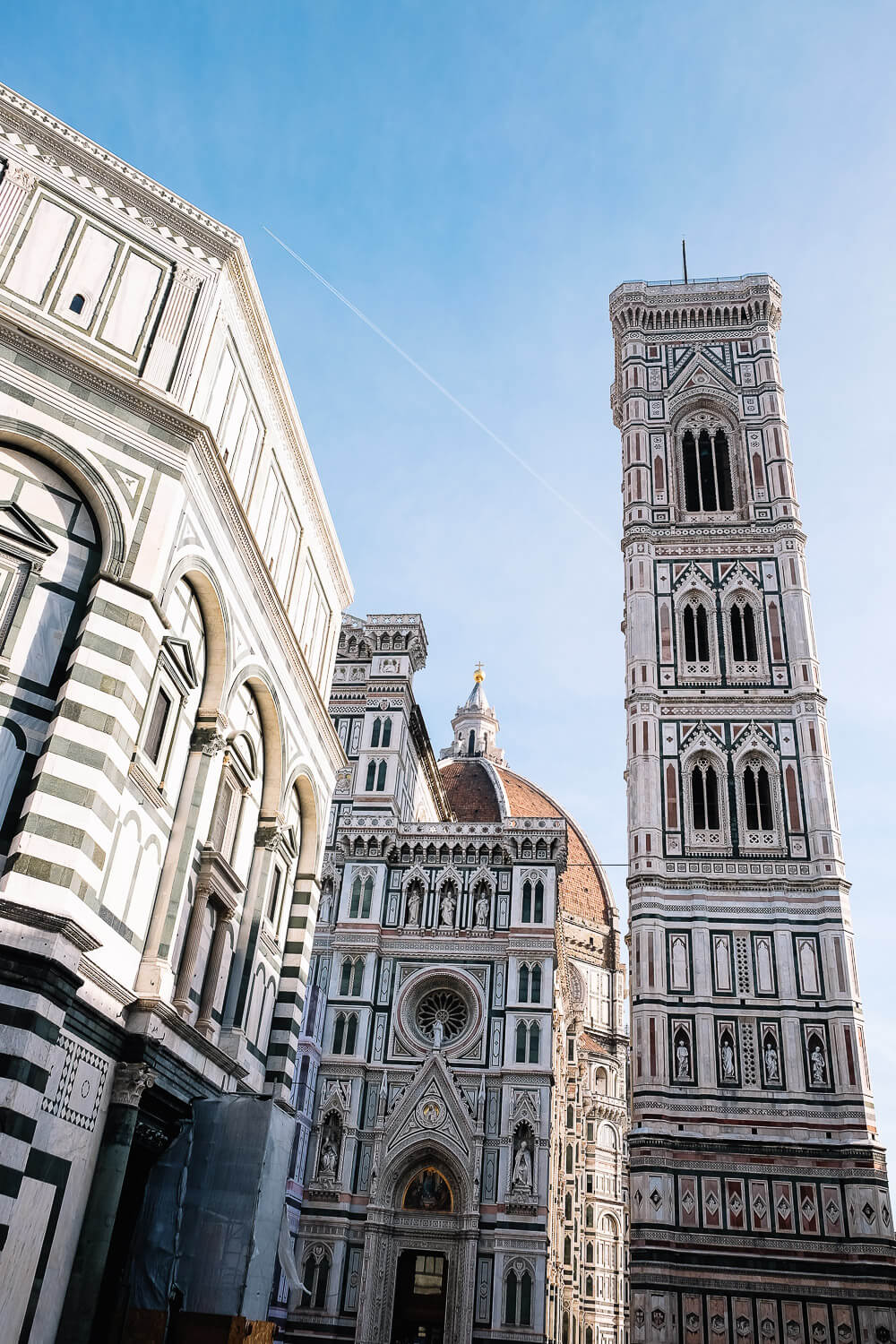 After a loop we noticed a line of people heading downstairs. Without knowing where they were going, we followed. Here you'll find the gift shop and the Crypt of Santa Reparata.
Now Santa Reparata is actually part of a single ticket to the Il Grande Museo Del Duomo. This one ticket will grant you access to the following 5 major sites within a 48 hour period: Brunelleschi's Dome, Giotto's Bell Tower, the Baptistry of San Giovanni, the Crypt of Santa Reparata, and the Museo dell'Opera del Duomo.
This combined ticket costs 15 euros a person.
This is where we bought our ticket and then checked out the Crypt. There wasn't a lot down there, but it was interesting to not only know that people have been building here for thousands of years, but to actually see parts of the church that existed before the duomo.
After leaving the church, we swung by one of the other sites on our ticket, the Baptistry.
This octagonal building stands before the duomo and is actually the oldest of the three structures (including the campanile). The ceiling here was beautiful, but after staring up at it for a few minutes, it was time to move on.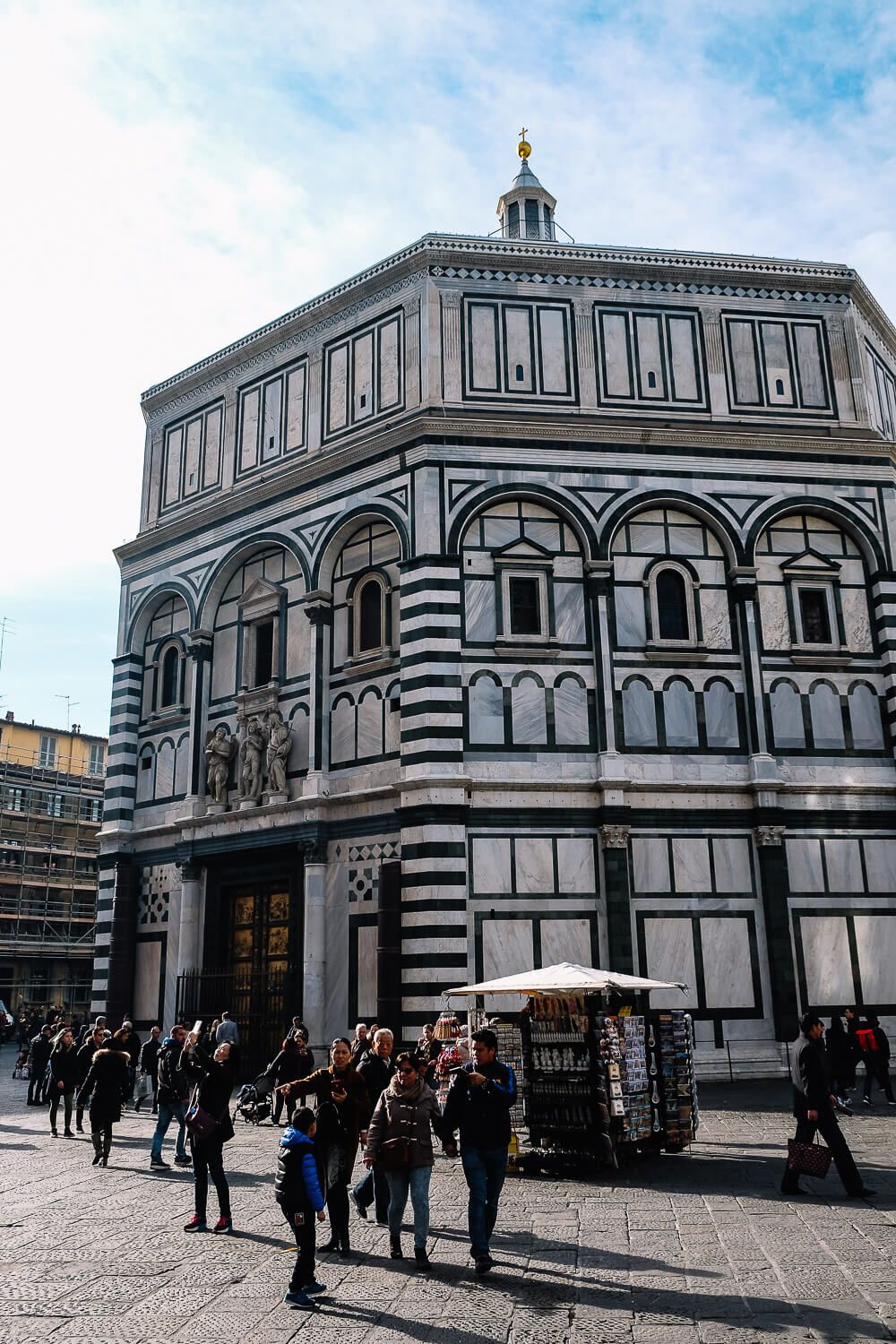 The Mercato Centrale was probably my favorite find of the trip. The first floor is a maze of shops. The second floor a cafeteria of sorts. Over the course of our time in Florence we got numerous cappuccinos, espressos, ciabattas, salami, cheese, arancini, cannolis, pasta, croissants, and more here. We came here almost every day to grab some food for breakfast or lunch and, of course, coffee.
After fueling up, it was back to the duomo. We had to reserve our time to climb the dome because you will need a reservation. Do this at the Museo dell'Opera del Duomo (right behind the duomo here – which is where we got ours), or you can do it online. If you go to the museum to get this reservation (free and included with your ticket), the kiosk to do this is to the right inside the main door (looks like a vending machine).
Since it was already late in the day, we scheduled our climb for the following morning. This gave us the afternoon to see the campanile.
The campanile is the bell tower next to the duomo. It's not as tall as the duomo and though the top is fenced in, it does give you views of Florence with the dome in it. If you buy your ticket, definitely check out the campanile.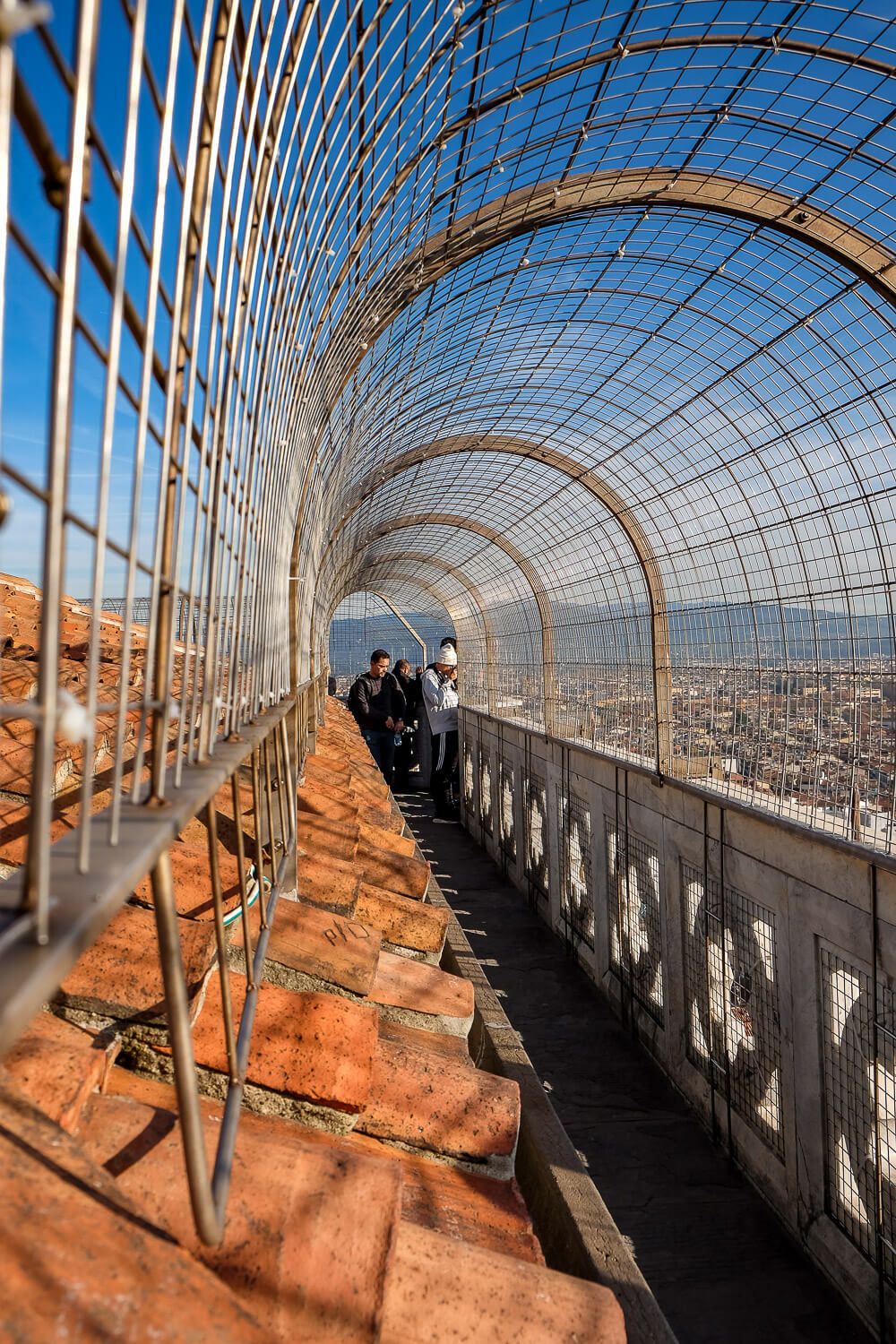 Be warned though, it is a tight climb going up. There is only one stairwell for going both up and down so be prepared. Though the closer you get to the top, there are several levels where you can step off to and catch your breath.
And then, before you know it, you are at the top. Check it out from all sides but don't forget about taking the dome photo.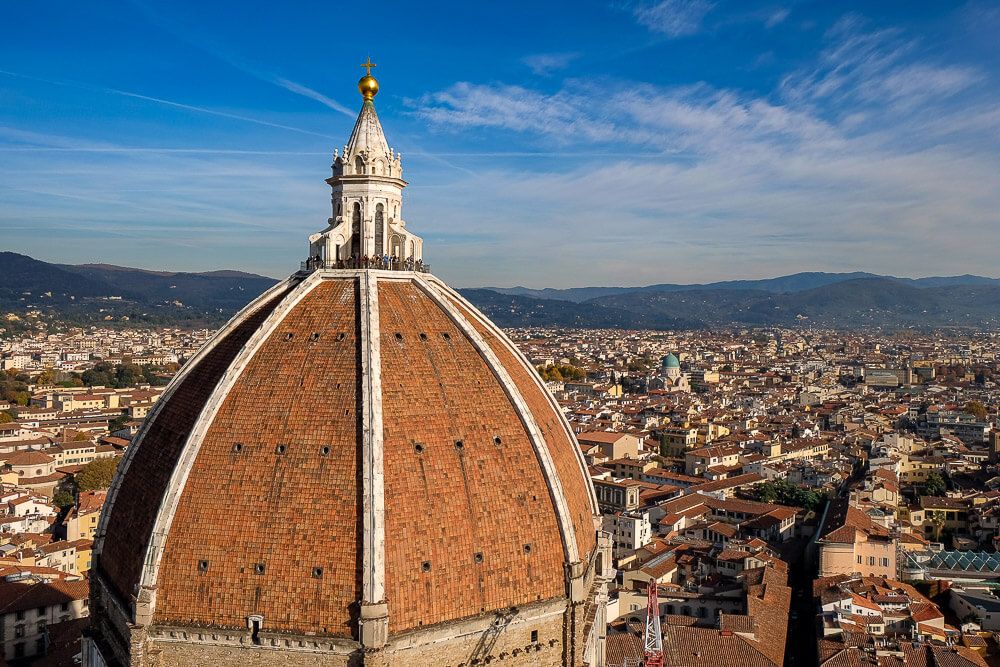 After a few minutes at the top, Ryand I decided to head across town to catch sunset at the sunset spot: Piazzale Michelangelo.
Now this is a very popular sunset spot. So be prepared to share the space with loads of others. Even in the off season in November I had to wait my turn to get a spot at the railing. And the more into sunset it got, the more the crowds at the railing got intense.
But after getting our photos, we took this time to wander around the square and then take a seat on the stairs to just enjoy the view.
Oh and this is one hell of a hill. Not an easy jaunt up. We headed straight up from the river, but there are a couple of different routes.
After sunset we stayed in the Oltrarno and grabbed a drink at a wine bar and then headed to dinner.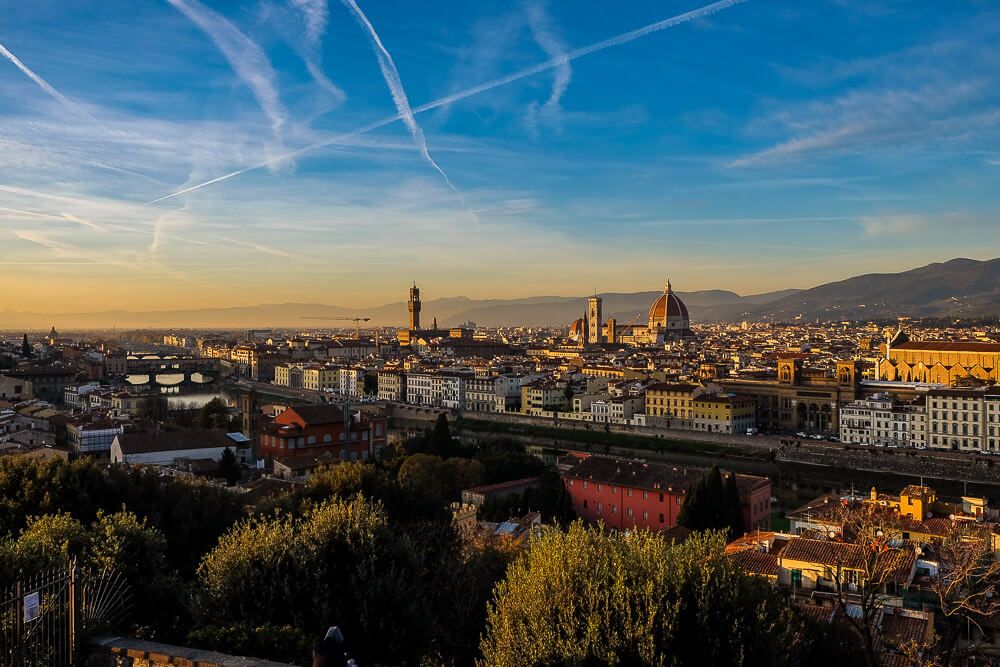 ---
Day 6: Climb The Dome & See David
If you scheduled your dome climb for the following day, then today is the day. We did ours first thing in the morning. (Which for us was at like 10:30 because we sleep in.)
Now this is a tough climb (463 steps). And since you had to reserve your climb, you can bet that a lot of people do this.
To start the climb, you'll enter from the north side of the church (on the outside, right about here). Now most of the way it's steep winding staircases. Near the top you get to walk around the inside of the dome.
(This was actually the scariest part for me even with the heavy duty plexiglass.)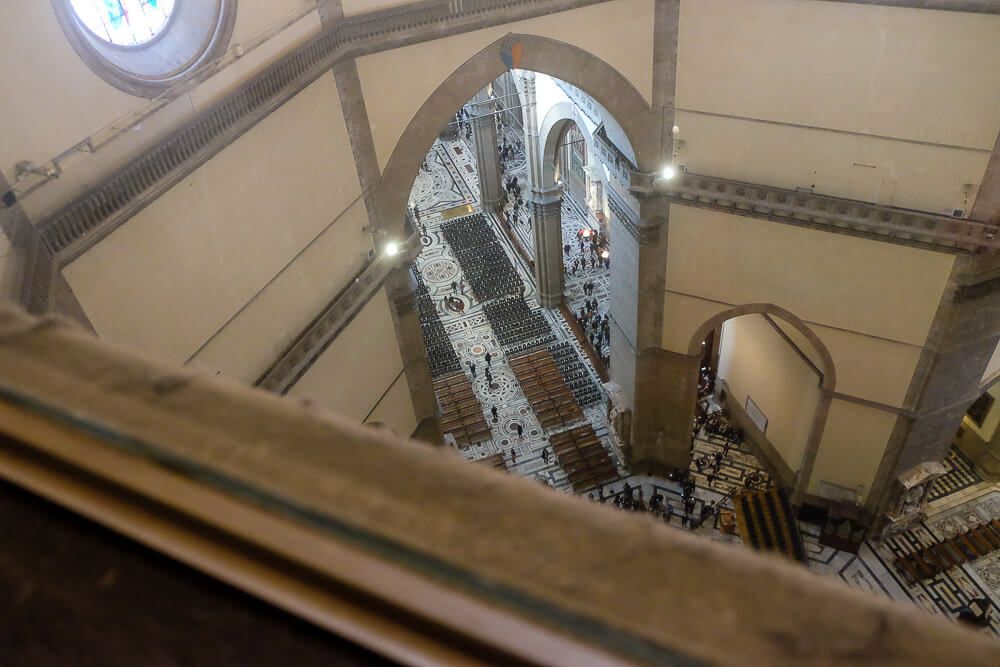 And then the final stretch up the side of the dome is super cramped. AND to make it more daunting, the last bit here is two-way traffic. Some passageways are so tight that you will have to push your way past others.
If you want more details on how to schedule your climb and the journey up and down, check out this post. The dome climb is the first one I cover.
And the views? Absolutely incredible.
The lantern is huge and you can easily get amazing shots from all sides. There's no safety glass or grate blocking your view. Just you at the top of Florence.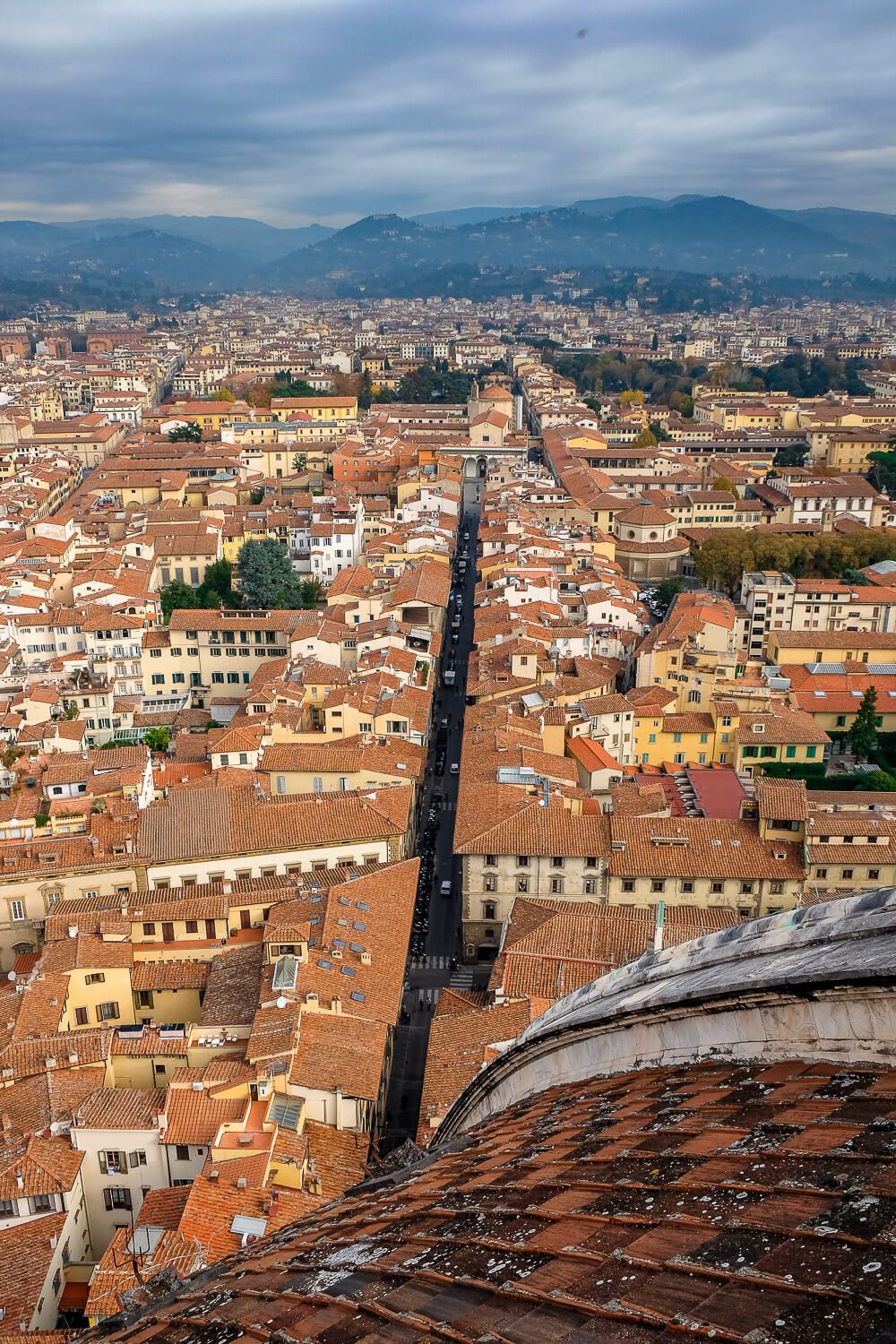 After our climb we headed back to Mercato Centrale for some breakfast/lunch. Then we stopped by the Accademia to see David.
The line was huge. Like winding all the way back towards the road. We were not waiting in that line. And there were a ton of people around asking us if we wanted to buy a reservation.
Now whether or not these guys were legit, it doesn't matter. I'm not a trusting person so I just say no and turn away and then ignore them until they give up.
So what if you are in the same place we were? Want to see David but didn't buy your ticket in advance? Come back before closing!!! Read on for more details!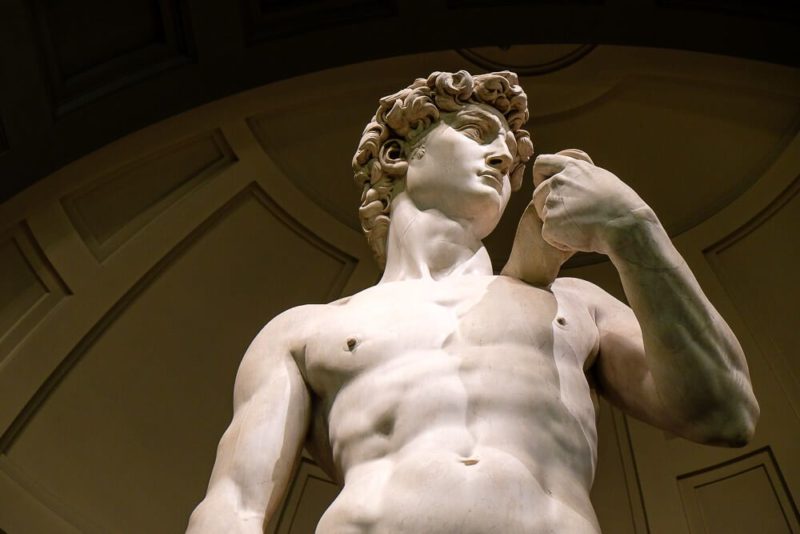 After turning away from the massive line, Ryan and I spent the afternoon at the Museo dell'Opera del Duomo. (One of the five sites you get access to with a single ticket to the Il Grande Museo Del Duomo.)
This is an underrated museum and it was not crowded. Here you'll learn all about the duomo and its history. And the most interesting thing we learned?
The facade of the duomo – the actual face of the church – was unfinished for centuries! Like the rest of the church and dome were finished in the 1400s, but the face of it wasn't completed until the late 1800s!! I was shocked when I read this.
And finding out why this happened was actually quite fascinating for me. So if you bought the ticket, then I would take a quick tour through the museum to get your money's worth.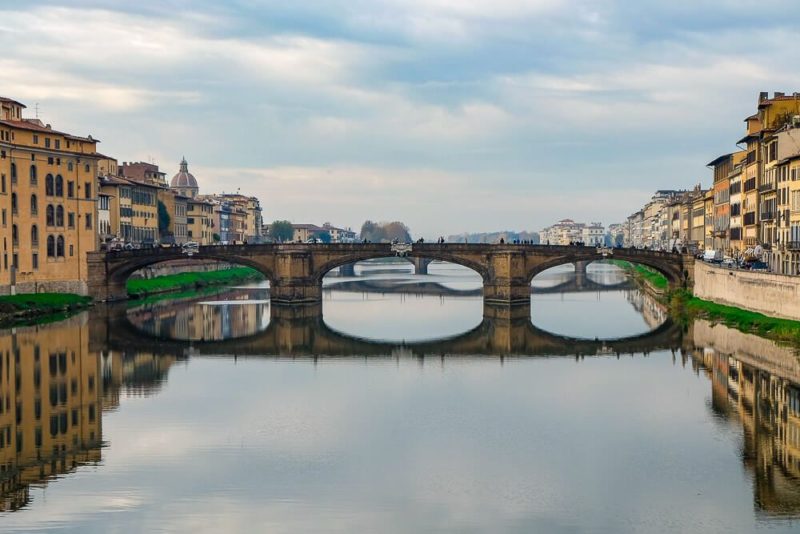 Ryan and I then wandered through Florence stopping for photos and gelato before heading back to the Galleria Dell'Accademia. The museum closes at 6:50pm. And Ryan and I got there at about 5:50pm.
No one was in line to get tickets. We literally walked right up to the ticket booth and bought our tickets.
No waiting to go through the metal detector.
And then we shared the actual space with only a few others. I've seen pictures of the hall packed. But for us, it seemed almost empty.
It was absolutely perfect.
And we didn't have to pay any exorbitant fee to buy our ticket in advance fee. (The next night another American couple told us at dinner that they paid almost twice as much as the normal ticket price to buy one in advance. No thank you.)
Price: 8 euros per person
Location: Google Map
Hours/Days: Tuesday to Sunday from 8:15am to 6:50pm (Closed Mondays)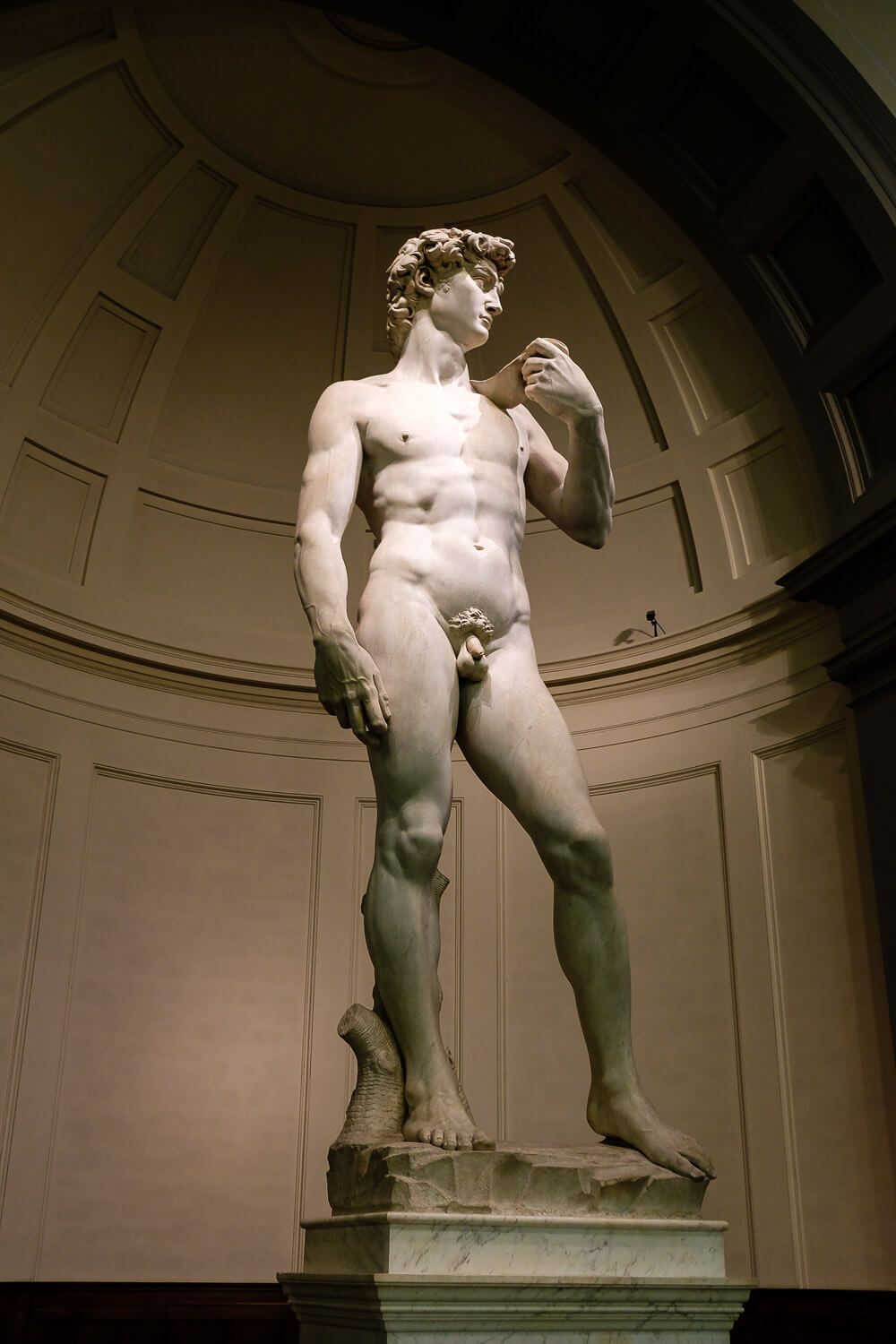 ---
Day 7: Day Trip To Pisa
If you are in Florence for as long as we were (4 full days), then you can do at least 1 day trip. We decided to base ourselves in Florence and then do day trips so we wouldn't be changing accommodation all the time and lugging our bags about.
This was perfect for us.
So our main day trip for this trip was to see the leaning tower of Pisa. Now before you even ask, yes this is a super touristy thing to do. But guess what?
I still wanted to do it. I still wanted to see the famous leaning tower. And yes, I still wanted to take that photo of me "propping" up the tower.
And guess what again? We had an amazing time going to Pisa.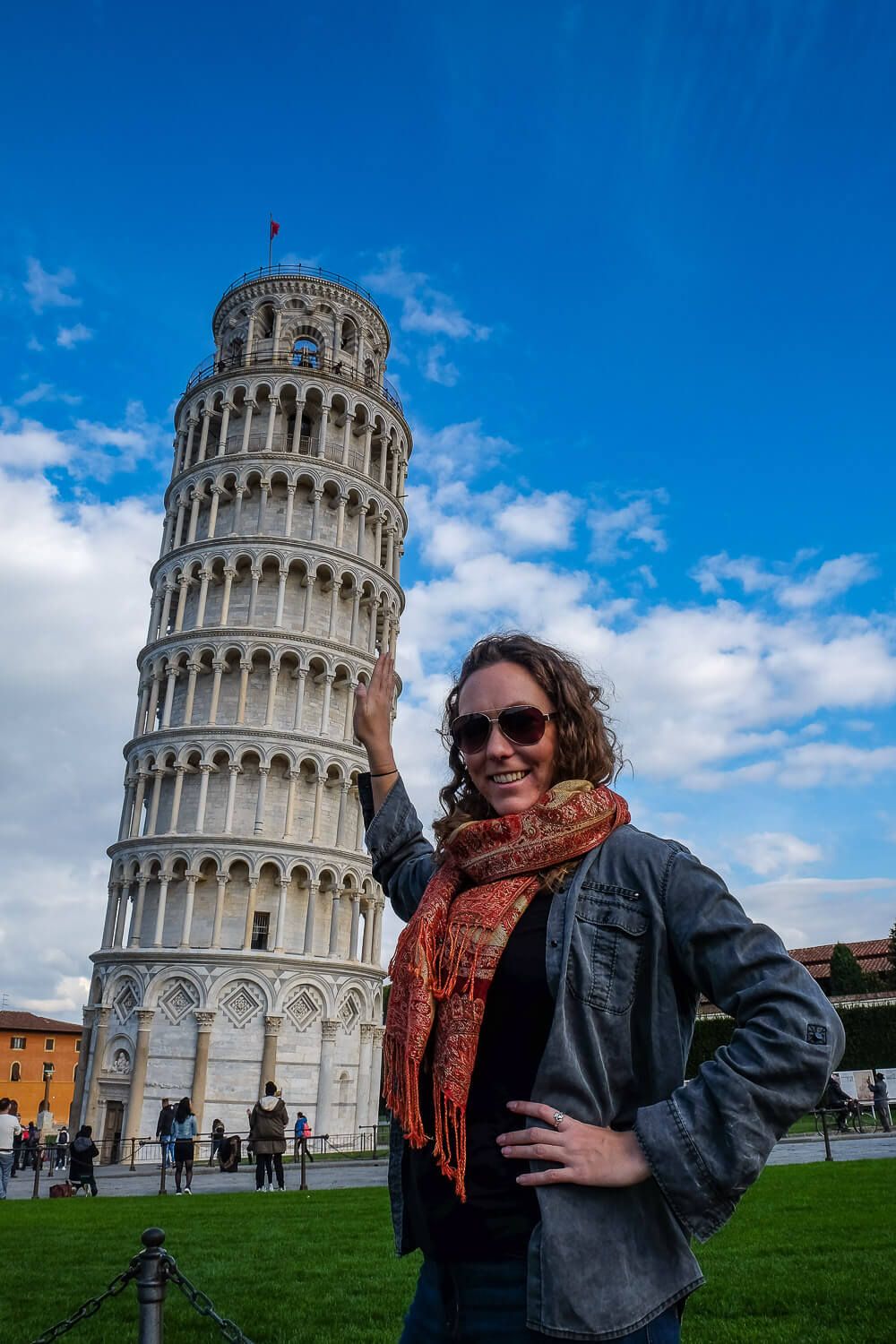 Be prepared for crowds and figure out in advance if you want to climb the tower. (18 euros per person was incredibly expensive.) And you'll have to reserve your climb. And drop off your bags at the bag drop. All the details here on how to do this.
Find out all you need to know on how to get to Pisa, how to take a regional train, how to schedule your climb, and more in my post here on our day trip!
Ryan and I got a late-ish start to the day but we still managed to be in Pisa for several hours and climb the tower and go in the church.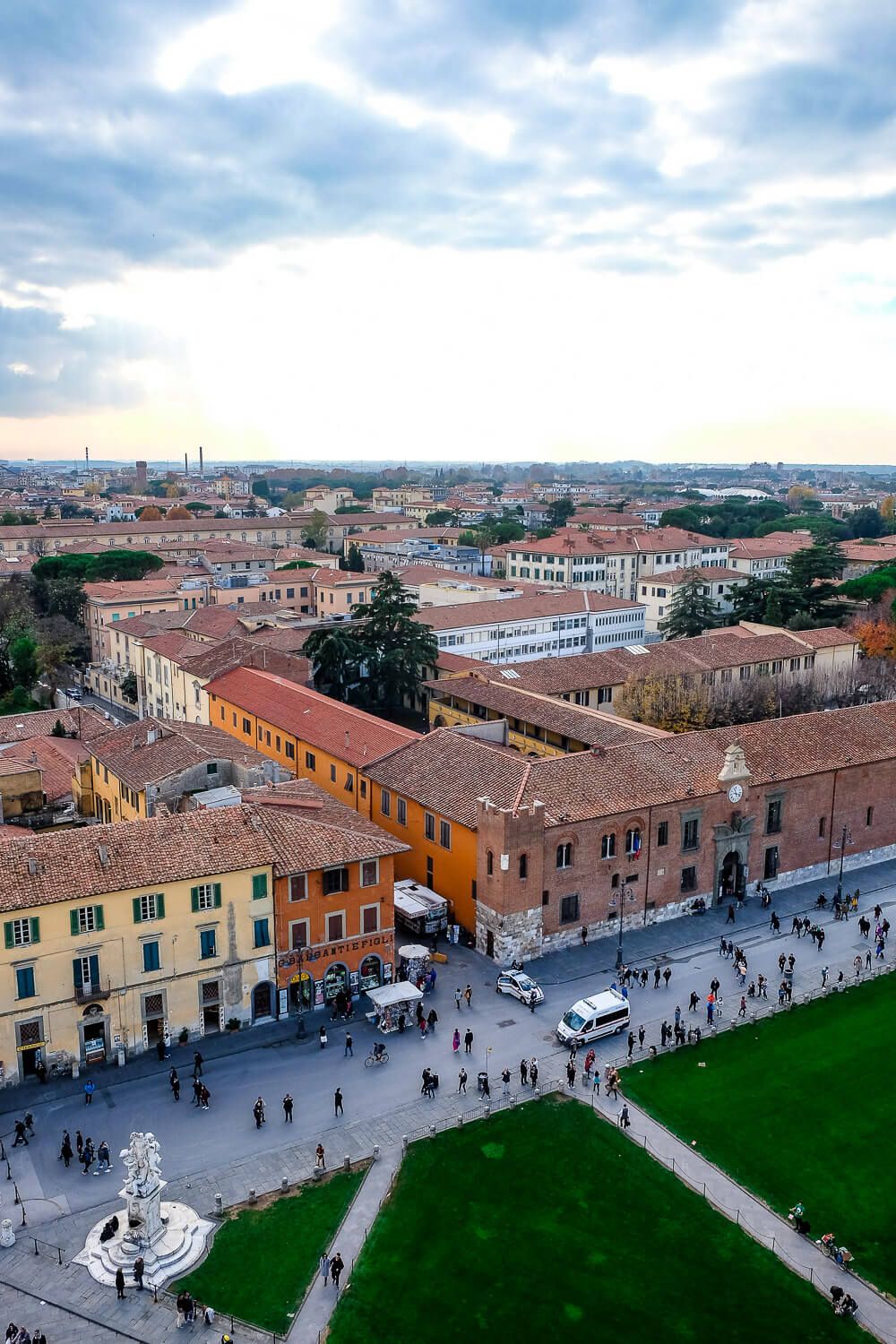 ---
Day 8: Wander & See More Museums (Or Day Trip?)
It's time to hit up all the things you haven't done yet. Here were our must-dos for the day:
Go to the Galileo Museum. Because we are science nerds and this was fascinating for us.
Eat another sandwich. Because oh my god are they good.
Take the lion eating david photo. Because I had to.
Go to the Cafe At The Rinascente Department Store for sunset. Because the view from the top of the department store is incredible. More details at the bottom of this post.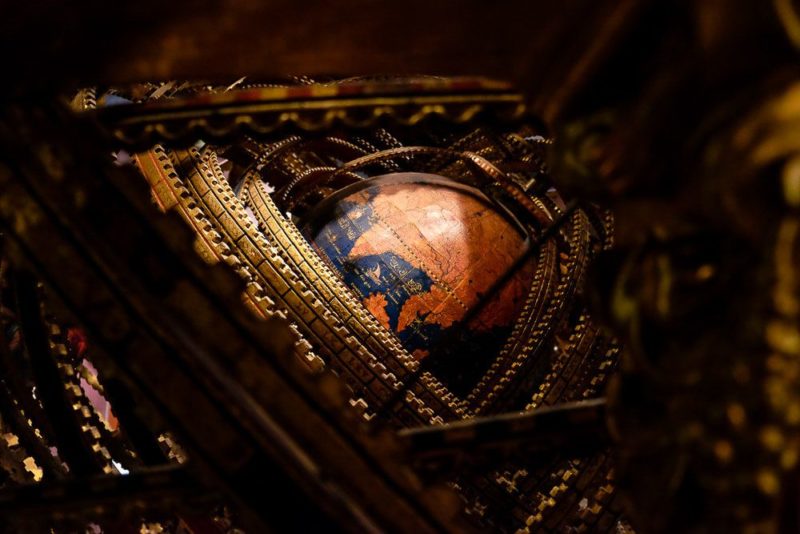 But what about you? What do you want to do? Here are two things we didn't do but I would consider for next time:
Uffizi Gallery. This is considered like the main museum in Florence (besides David). But we just weren't feeling it for our trip. I can't give you a good reason why. I just was museum-ed out. So we passed on it.
But it is considered a must-see. There is some great and impressive art here. And if you want to go…GO! Here is information on tickets. And to buy your ticket in advance, click Get The Ticket button part-way down that page. (Also note that the museum is closed on Mondays.)
Day Trip To Tuscany. This was on my list. Siena, Lucca, San Gimignano…that last one was one I really wanted to see. Something about all those towers. But as I looked into how to actually get there, I realized it was no easy feat. And it would make for one very long day if we did it on our own with all those changes.
We could have gone on a tour and we actually looked into a few. But quickly realized it would be either one of those huge day trip tours with lots of people or way out of our budget. And I just didn't have the strength to do all of that research.
So instead we vowed to come back. To one day make our way back to Tuscany and San Gimignano to see all those towers.
But I would look into your options here if you want to check out some of the smaller towns. Siena and Lucca are easy to get to via trains. San Gimignano is another story. But I would take a look and see what appeals to you.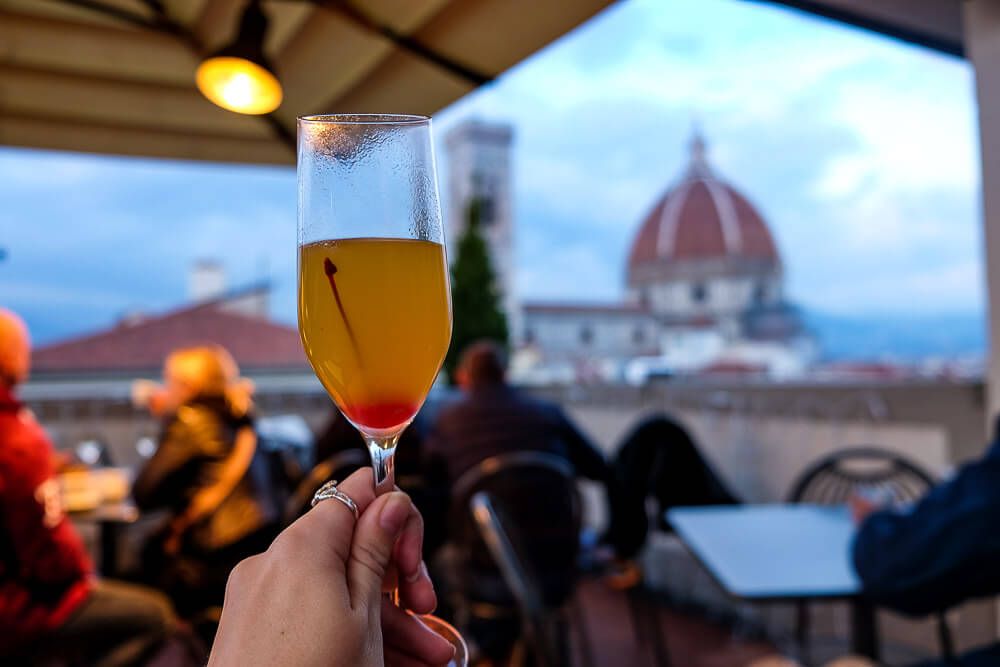 ---
How To Get To Florence
If you're coming from one of the other cities (like we were) then take the train! Florence is called Firenze on the machines (see my Venice section for all my advice about these machines). And the station you are looking for is Santa Maria Novella (also referenced by just SMN).
You can also fly into Florence and catch a bus to the city center. More information on how to get to / from the airport here.
Now once you are in Florence, I would just walk everywhere. So many streets in the tourist center are pedestrian only. From the duomo down to the Piazza della Signoria it's all pedestrian. We never took a taxi or an Uber or anything. Just used our own two legs. (And one of my knees was really hurting this trip so that's saying something that I could walk everywhere.)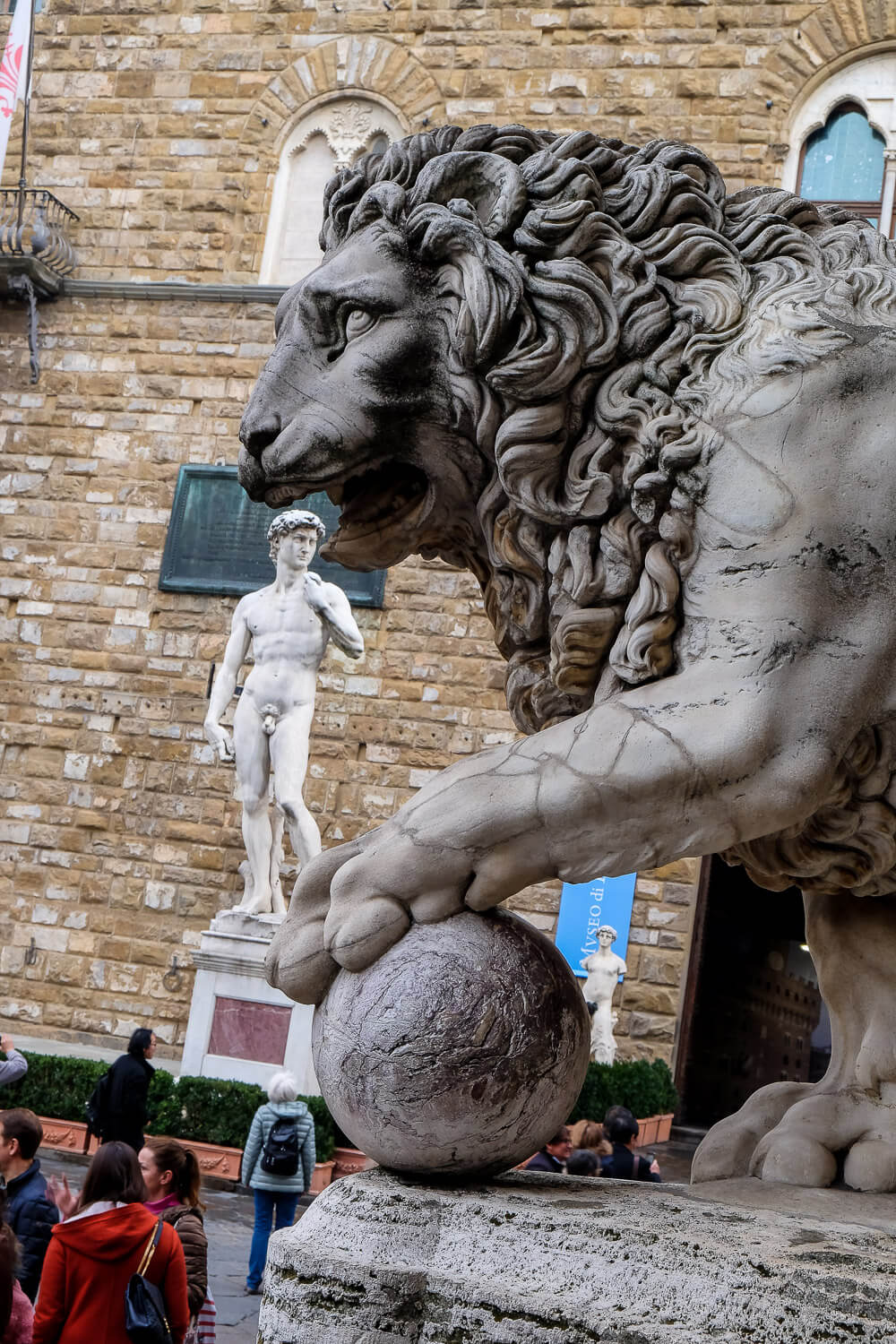 ---
Where To Eat & Drink In Florence
Breakfast / Lunch
Mercato Centrale. I think we stopped here everyday to get something. Either a cappuccino. A plate of pasta. A ciabatta with cheese (so good!). A cannoli. You get the idea. And usually (since we sleep in) we did a combined breakfast / lunch. Below are all the places we enjoyed:
On the bottom floor, we grabbed pasta from Pasta Fresca which is just a little window but still delicious.
We also got a quiche from one of the corner stores and some salami and cheese from a counter shop. For this second one, we came just after they opened so we could ask the salami/cheese guy his recommendations and not hold up all the locals up in line.
But the second floor is where it's at. We started almost everyday with a cappuccino from the Il Bar E El Caffetteria and either a baguette or a ciabatta from Il Pane E La Pasticceria.
I also got some arancini and cannolis from carts scattered around this upper floor.
All'Antico Vinaio. The best sandwiches alive. They have an establishment on either side of the road, but I would go for the sandwich counter one (not the restaurant). You have a few choices (we ended up eating 4 out of 5 of the options) and they have descriptions of each in English and Italian. The sandwiches themselves are huge and simple. But also delicious and cheap. Just 5 euros for one of these sandwiches!
Gelateria Dei Neri. Who doesn't love gelato? And it's good at all hours of the day. This ended up being our go to spot (probably because it was so close to the sandwich place above). I loved mixing the pistachio with the chocolate.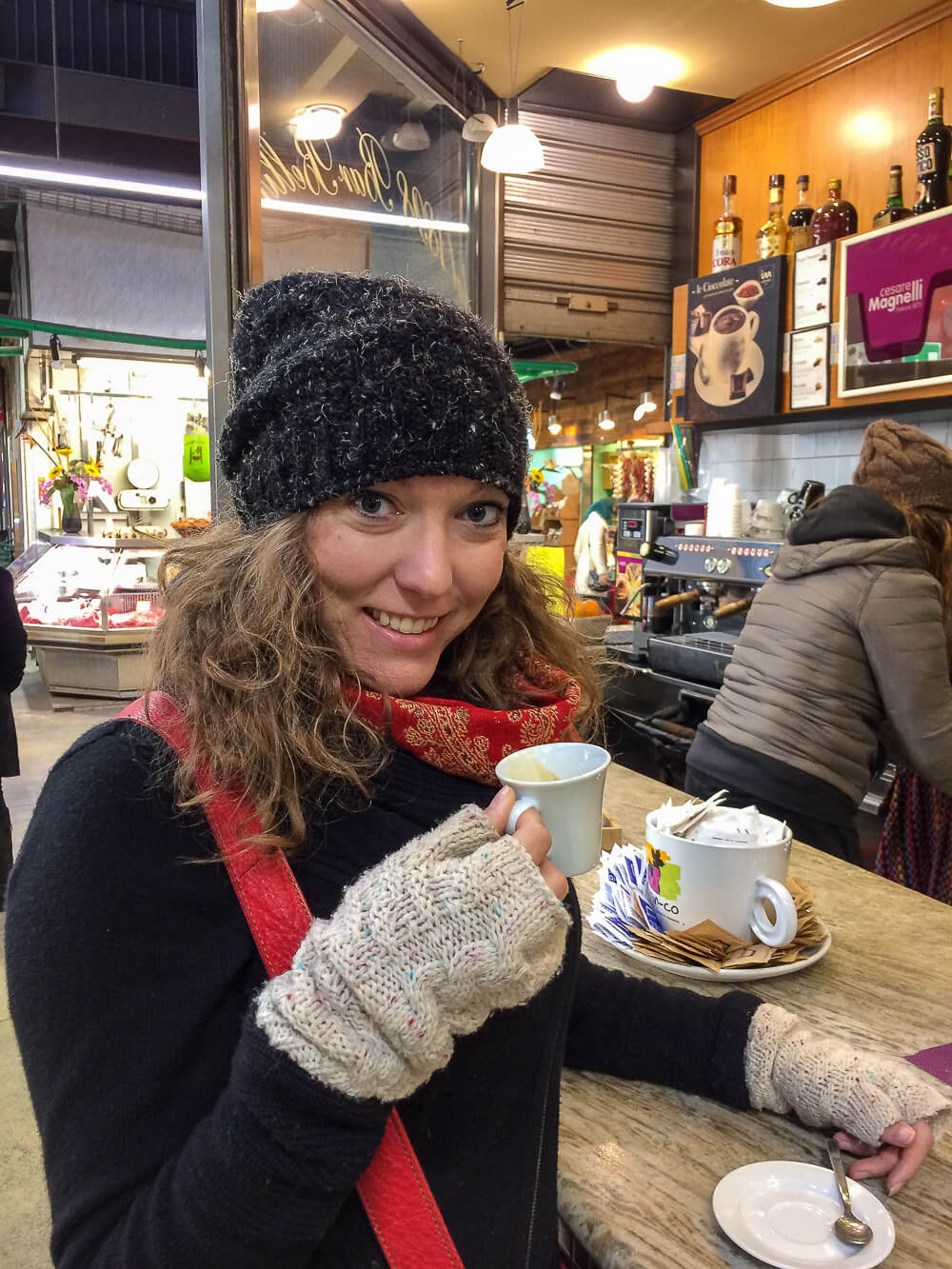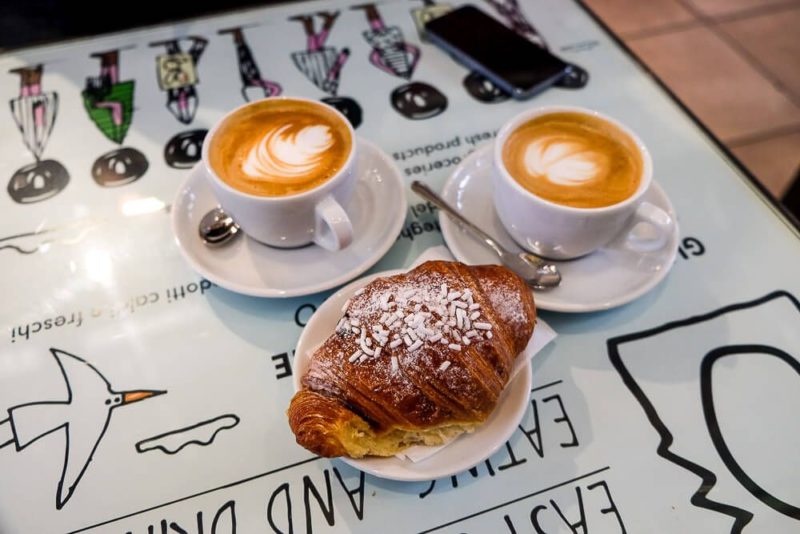 Dinner
Icche c'e c'e. I'm not even going to pretend to try to pronounce it. This is a small trattoria. We were looking for some place good and a bit authentic. Here we got great service, good food, and some awesome bonuses (like limoncello at end the meal). This place isn't fancy. But it was good.
Il Santo Bevitore. I think this was the best meal we had in Florence. And we almost didn't get to eat here. Luckily we went early and they were able to squeeze us in before a later 8pm reservation. The pasta was outstanding and the house wine was delicious. This is a buys place (lots of locals and tourists). So don't be like us and get a reservation in advance!
Gusta Pizza. Cheap & delicious pizza? With a line out the door? You know this is going to be good. We arrived 15 minutes before they opened and was like the 4th group in line. This is how it goes: you order at the counter (they also have wine by the glass or bottle) and then take a seat if there is one. You can also get pizza to go if there are no seats available. Expect to share tables with other groups. Don't sit down and expect a waiter. Order first.
Osteria Santo Spirito. Another great dinner place that you need to make a reservation for. We showed up at prime time (not a good idea) and made a reservation for 10pm that night. What I really liked about this place was that you could order half portions. This allowed us to both get appetizers, pasta, risotto, and some rabbit. Service is kind of slow here…but you're in Italy. Enjoy the food and relax.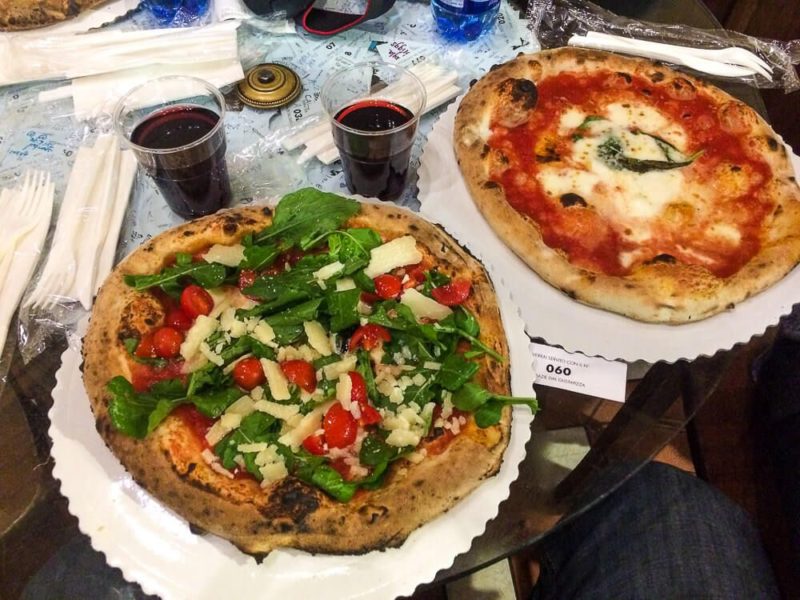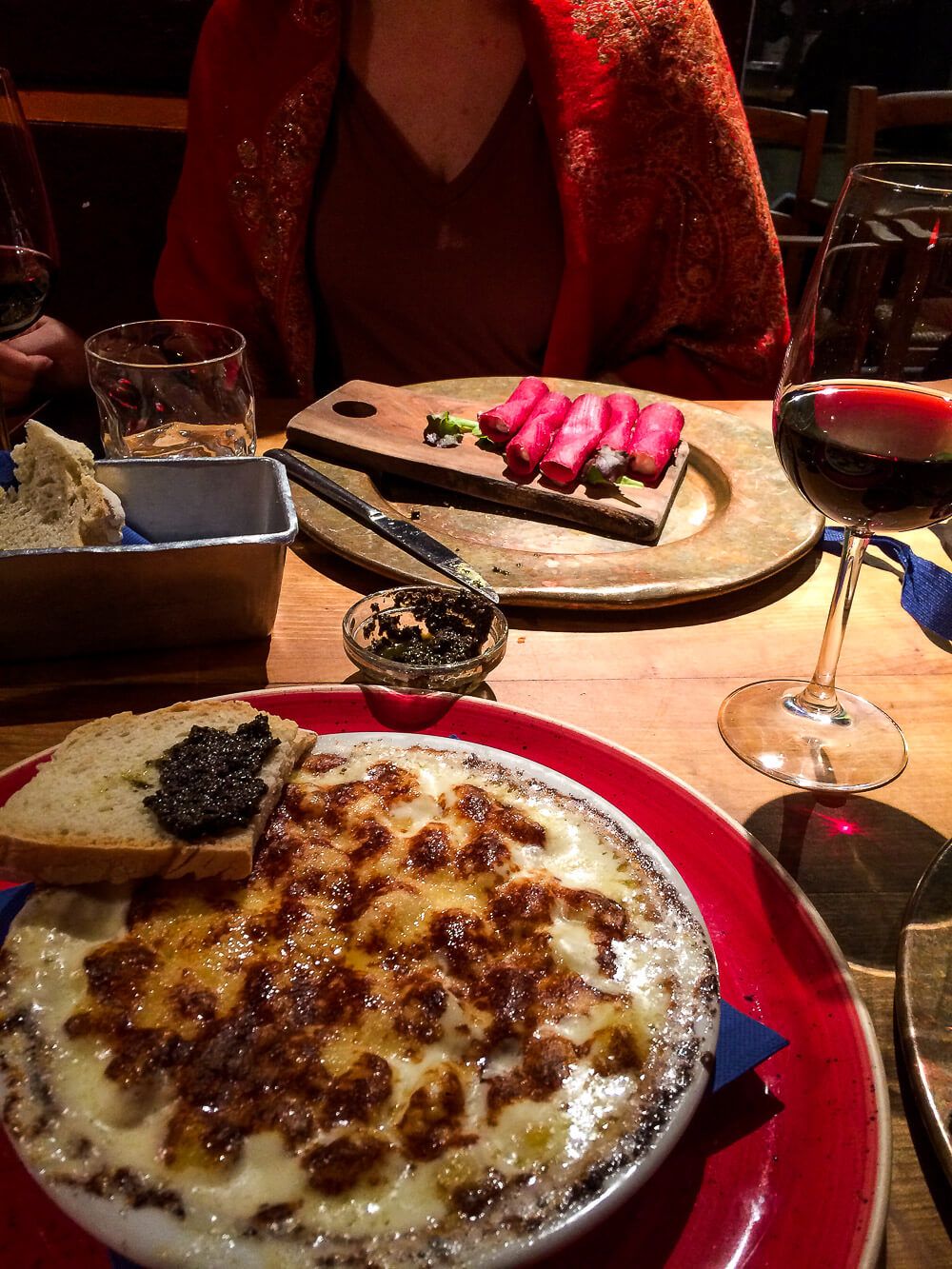 Where To Drink
Le Volpi e l'Uva. It took us awhile to warm up to this wine bar. We did not like it at first. But once we got seats at the counter and the bartender saw that we knew our wines, he warmed up to us. Though they did end up charging us twice for some things (but we decided not to complain because sometimes it's just not worth it). Expect high prices for wine here and a fair amount of Americans.
Friends Pub. Sometimes you just need a good, friendly Irish pub to grab a drink in. And that was Friends for us. This was a quieter place. But it allowed us to grab a beer or a glass of wine and just chill out in the evening.
Volume. This definitely seemed more like an Italian place. I didn't see much foreigners there when we went around 8pm or so. Though our bartender did speak some English. To get a drink here, we grabbed some menus, sat, and ordered our drinks from a waiter. When he brought them we paid. He also brought around some (free!) nibbles (apertivo maybe) but we only had to buy a drink to get it. And the food was good! To get another drink we flagged him down again. I have a feeling though this place gets much busier later on (after dinner).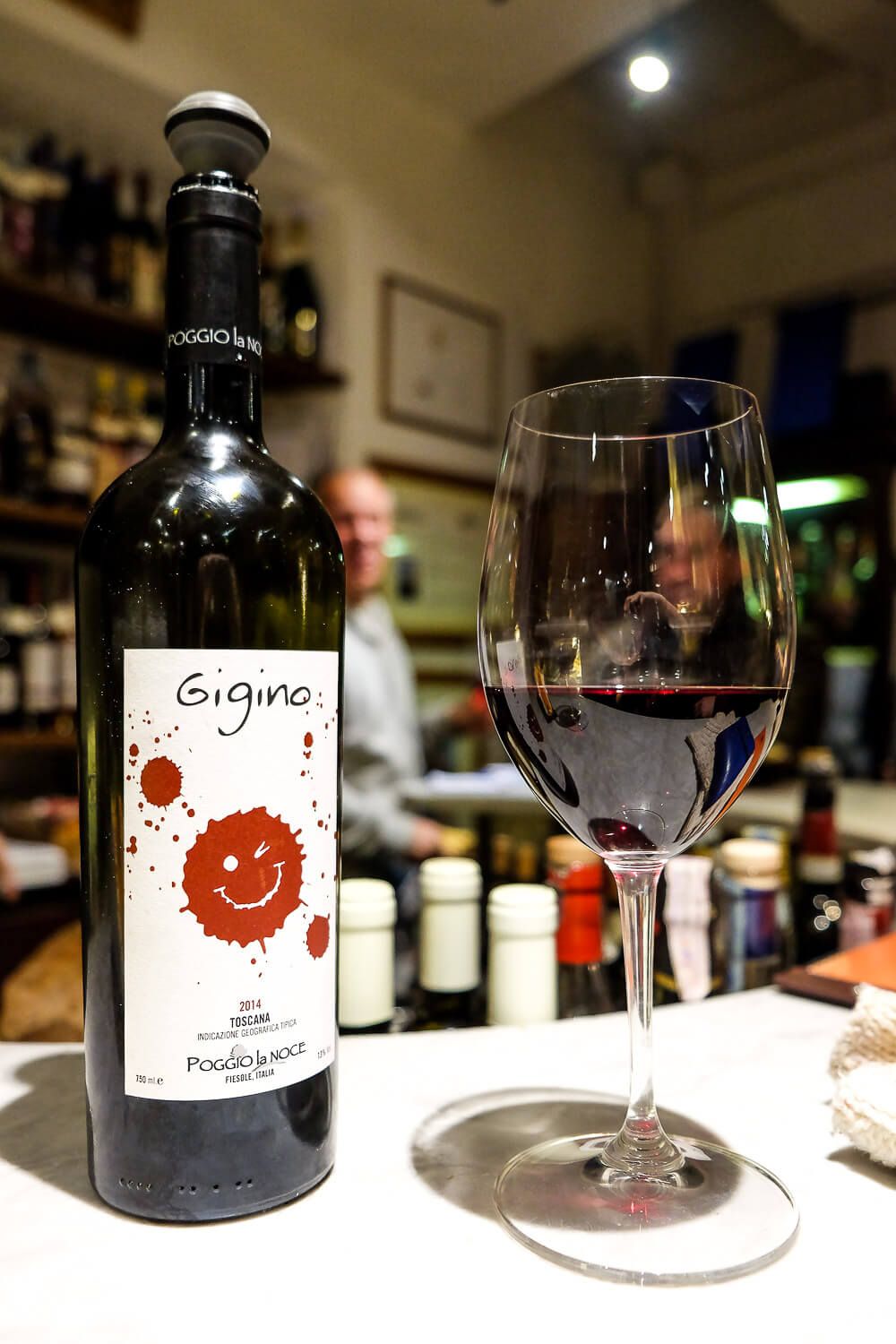 ---
Where To Stay In Florence
Mabelle Firenze Residenza Gambrinus looked like the nicest hotel in the area at its price point ($100/night). We were just a few blocks from the duomo located on Piazza della Repubblica. The hotel itself is kind of like a small suite in a much larger building. And though there is an elevator, it's like on the 5th floor so be aware. Checking in was easy (though be sure you get there when the reception is open) and the room was beautiful. We had no trouble with anything. We loved its location and I'd definitely consider it if we returned to Florence.
---
Days 9-10: Milan
Day 9: Go To Milan
After grabbing another breakfast at Mercato Centrale (I know surprise, surprise), we hopped on the train to Milan.
I had grabbed an AirBnb close to the main train station so we wouldn't have a long walk. The room was lovely and the hosts were incredibly responsive and helpful.
After getting settled we headed back to the main train station and hopped on the yellow metro line to the Duomo stop.
The duomo was okay. Very impressive and beautiful…but so many people and pigeons. We took a quick turn through the Galleria Vittorio Emanuele II before heading towards Sforzesco Castle.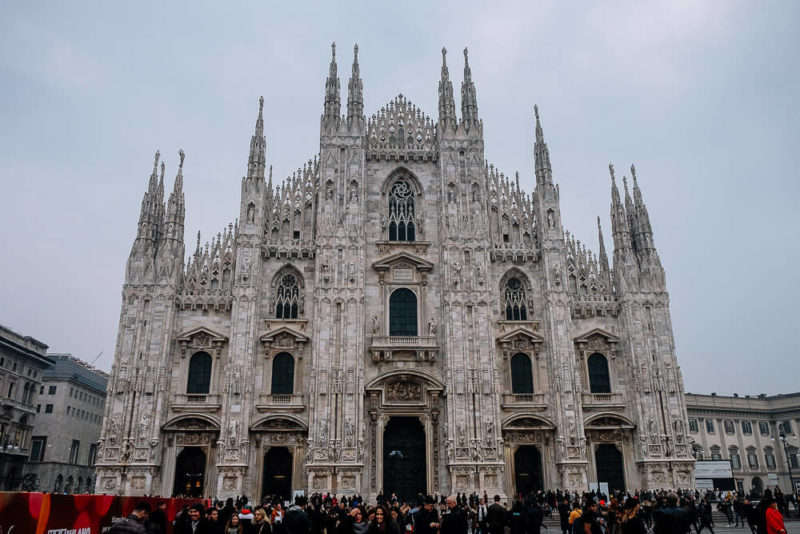 The castle and duomo are a little over 1km apart but it's relatively easy to get between the two just by walking. You'll stay on Via Dante for most of the way.
The castle itself was much more fortress-like than any of the other palaces we saw. But yet also felt uniquely Italian. We didn't have time to go inside, so we just strolled the grounds for a bit before heading back towards the duomo.
After an okay dinner, we grabbed the metro back.
Tip! There are a ton of rose guys here and jewelry guys. These "salesmen" stand in popular areas and harass you to try to get you to buy something from them. Don't ever take anything from them. They won't take it back and will demand you pay for it. If for some reason you do get it in your hands, just drop it on the ground and walk away. The jewelry guys will try to drape it on you, just keep walking and they'll pull it off.
They are trying to get you to take it and demand payment. Don't take it. And if for some reason you do (they like to shove it in peoples' faces and catch them off guard), drop it on the ground and walk away!
In our few short hours in Milan we experienced this everywhere. Here are two examples. 1) When I was trying to take a photo of the castle a rose guy literally shoved a rose at me in my face and camera. I had to tell him to back the f*ck off and quickly walked away. 2) A jewelry guy laid a bracelet on Ryan's arm as we walked by hoping to get him to touch it/grab it, we just kept walking and he pulled it away.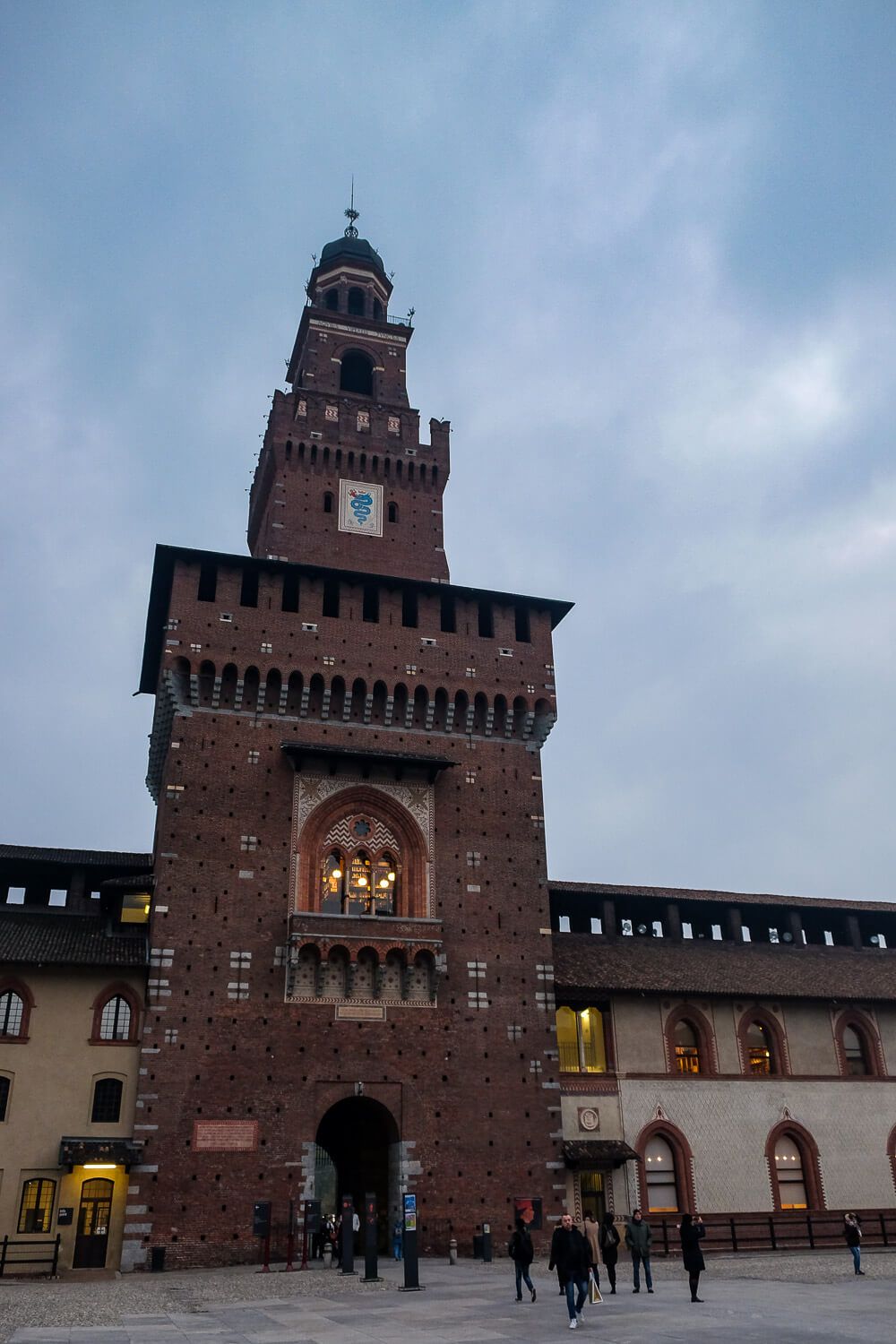 ---
Day 10: Head Home
Time to say goodbye to Italy. We woke up early to grab the train to the airport. Over an hour ride there for us so be prepared for this. Then we waited in line to check our bags for like an hour. Luckily it was smooth sailing after that.
---
How To Get Around Milan
Take the metro. Buy your ticket from one of the ticket machines. On the first screen they'll ask you for your language so it's easy to switch to English. We just bought one-way tickets each time (1.5 euros per person each way). And then hold on to your ticket. You'll need it to both enter and exit the metro.
We rode the yellow line from the central train station to the Duomo station.
How To Get To the Airport
You'll want to take the Malpensa Express back to the airport. This will be on the smaller Trenord lines. You can buy a ticket from a Malpensa Express or Trenord ticket machine. Maybe even a Trenitalia ticket machine. You'll need to validate it (via a box on the platform) then board.
Be aware that the ride can take over an hour. Here is a page with more information on the trains.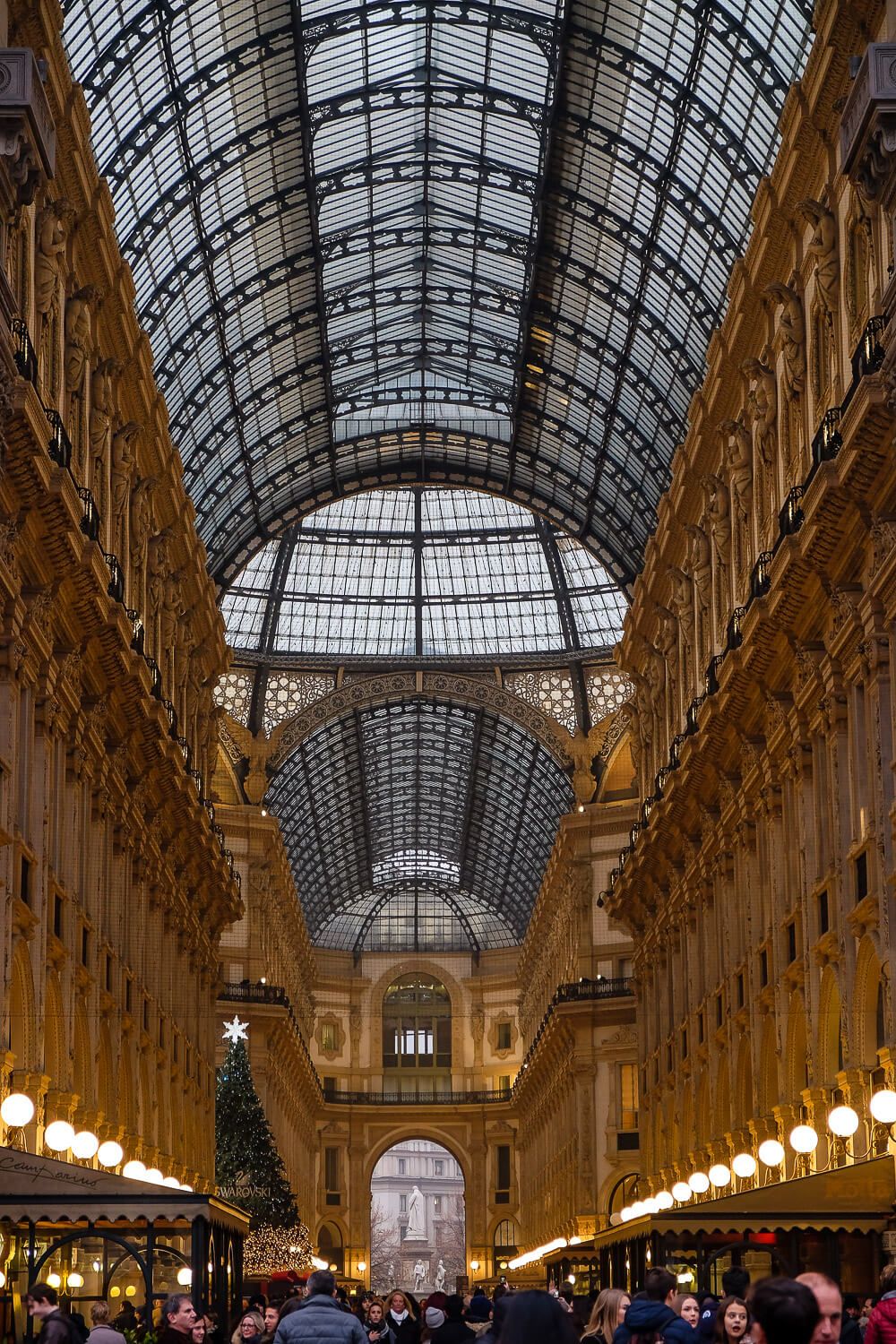 ---
Where To Eat In Milan
Granaio was okay. Located right near the duomo it was a bit overpriced and mediocre. We knew that going in though and didn't want to hunt for some place to eat. But the risotto was decent and we didn't want to go looking for anything. I just wanted to eat. Not sure I'd recommend it, but you could at least avoid it if you wanted to.
---
Where To Stay In Milan
I wanted to stay near the central train station. This would allow us to hop on the train easily in the morning we left without having to navigate the metro with our bags. This was our AirBnb apartment.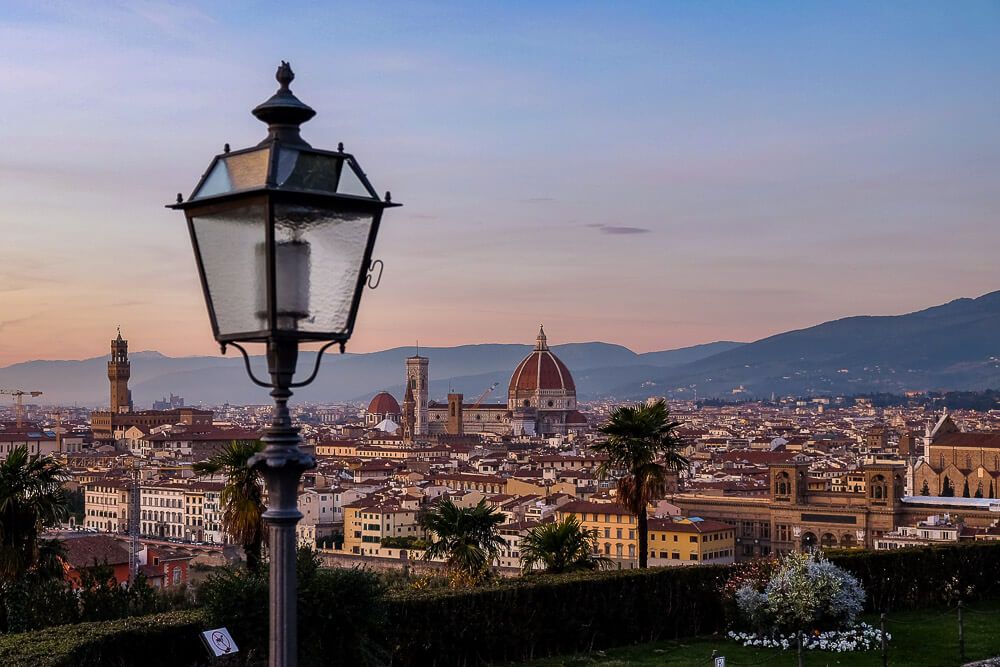 And that's it! Hopefully my Italy itinerary will help you plan your own trip!