Worried that Pisa is too touristy? This was my concern. I usually tend to avoid popular places (or if I can't, popular times). But something just pulled at me. I kind of really wanted to see the leaning tower of Pisa. And guess what? I loved it.
And I don't think you should avoid it if you also want to see this famed landmark. You just got to know what to expect. So here are my tips for your day trip to the leaning tower of Pisa.
---
1. Decide Whether Or Not To Climb The Tower
I didn't even know you could climb the tower until we got to Pisa. My first desire was to just see it. But once I knew this was a possibility, I had to.
But be warned. This is expensive. It costs 18 euros per person to climb to the top of the leaning tower of Pisa.
18 euros per person!
That is a lot of money. And I quickly decided we wouldn't be buying anything else. Because that ticket only lets you enter the tower (and the church – see tip #4), but nothing else. The museums and the baptistry cost extra. (See all prices here.)
But not only do you have to buy a ticket, but you also need to schedule your time. You'll do this when you purchase your ticket.
And that's not all. You also can't take up any bags. Like purses. But there is a free bag drop right in the square.
So here are the steps to climb the tower.
Buy your ticket. You can do it online or once you get to the square. Ticket offices can be found around here and here. Look for the yellow ticket signs to be sure.
Schedule your time. In November we were able to grab the next available time, but if you're going during the summer, I would buy online or get there early to schedule your climb.
Drop off your bags at the bag check. It's free but you'll need to show your ticket to drop them off. And they'll only let you drop off if your time is close. The bag drop can be found near the fallen angel.
Queue up in front of the tower about 15 minutes before your scheduled climb time. Do NOT miss it. They won't let you join a later time.
Climb! 273 steps await you.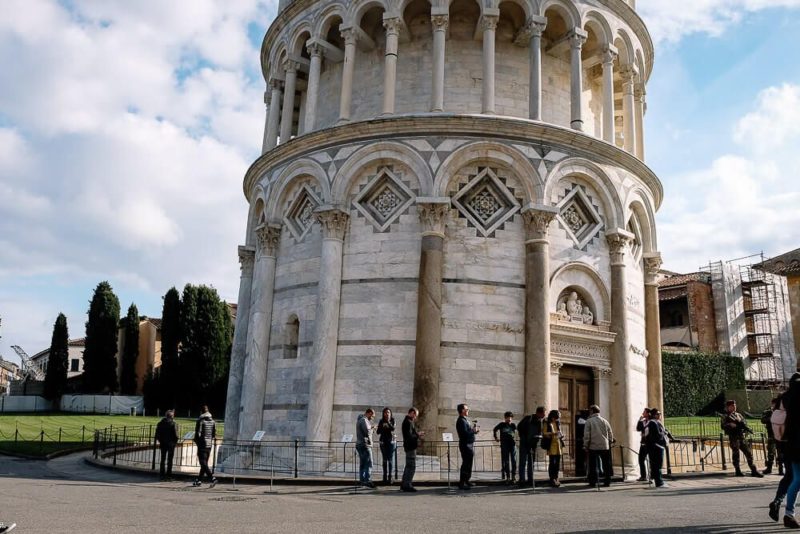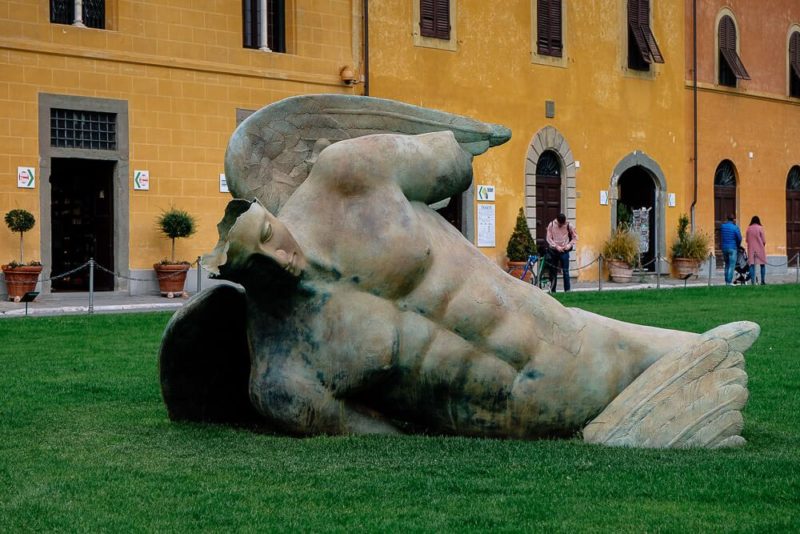 But I know what you're thinking…
Was it worth 18 euros?
Yes! I love climbing things. I love being able to see cities from above. And it was especially awesome to be able to climb the leaning tower of Pisa.
Because you see, you can feel the lean as you climb. As the staircase spirals upward, you can feel the change. And then once you're at the top, it was crazy. The floor is literally sloping below you. I would suggest doing a lap around the top to get the full experience and then taking a seat to enjoy the view.
I thought the square was beautiful from above. The church (even with its renovation scaffolding) and baptistry were breathtaking. The white contrasted against the green lawn was just stunning.
And then in the other directions, the rest of Pisa and mountains in the distance.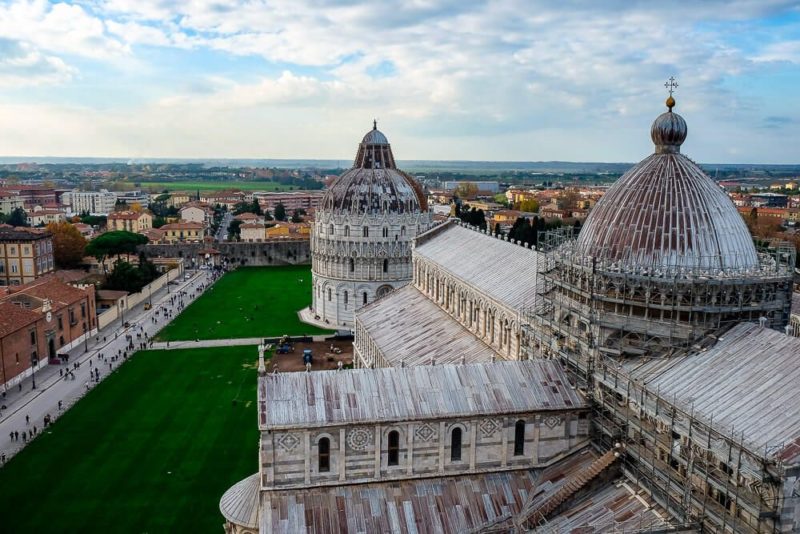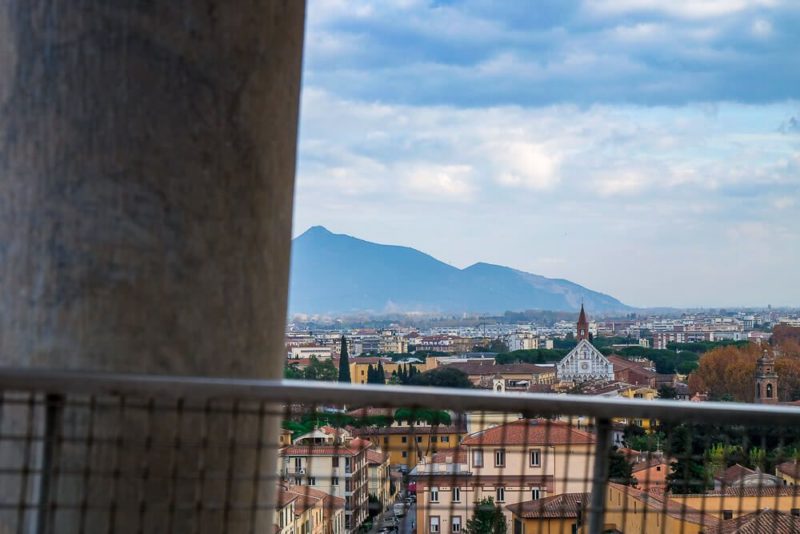 There are two levels to the top so make sure you keep heading up! The first one is walking only, but the very top one has steps where you can sit back and relax. I definitely needed a breather after all those steps.
If you're afraid of heights just be careful and stay away from the edge. Though there is a protective fence, it was still a little nerve wracking walking so close to the edge…especially on the leaning side!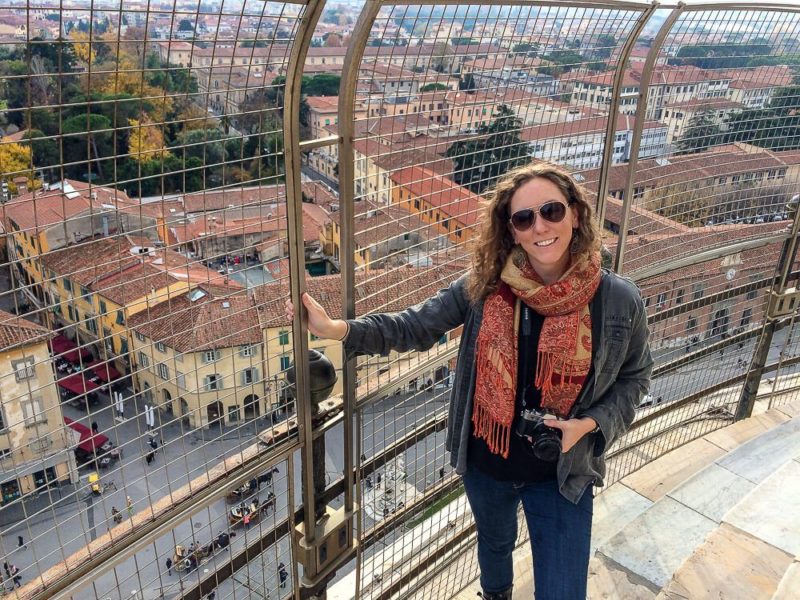 2. Visit At The Right Time
My main suggestion here would be to visit in the off season. The main reason we almost missed seeing the leaning tower is because Ryan had visited years before (during the summer) and was overwhelmed by the crowds.
We visited in late November. And though there were crowds, it wasn't as bad as I was expecting. We never had to wait long in any lines. And I got some great photos of the tower without too many people in them.
Plus we visited smack dab in the middle of the afternoon. The time when there are probably the most people. And it was still okay in my opinion.
But what if you're not visiting in the winter? I would then go as early as you can. You can explore the grounds even before the tower opens. But if you want to climb (like we did), then check the opening time and then be there.
I would also consider buying your ticket to climb the tower in advance if going during the summer. During the winter we had no problem getting a time just 20 minutes away. But if there are crowds, I would consider doing this. Buy your ticket here!
3. Be Prepared
And by this I mean look up train times the day before and download the Pisa Google Map to your phone.
The train ride itself is pretty easy. We were in Florence and so our train took about an hour. It's also a regional train, so you'll need to validate your ticket.
Not sure what I mean? The fast trains like those between Venice and Florence have seat assignments. When you buy your ticket and it has the seat assignment on it, all you have to do is board. But for regional trains you may not have a seat assignment. On the train platform, attached to the wall (or column or freestanding), is a small green box. Stick your ticket in and it will stamp your ticket with a time. This is how you validate these regional train tickets.
We were kind of bad and didn't plan this day trip very well. We just woke up, ate breakfast, and then made our way to the train station to find a time to Pisa. Again we went in November and thus had no trouble with this plan.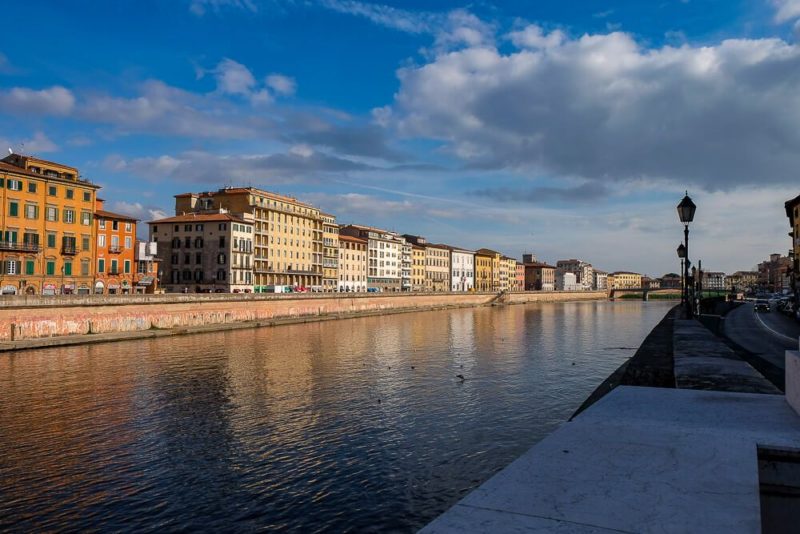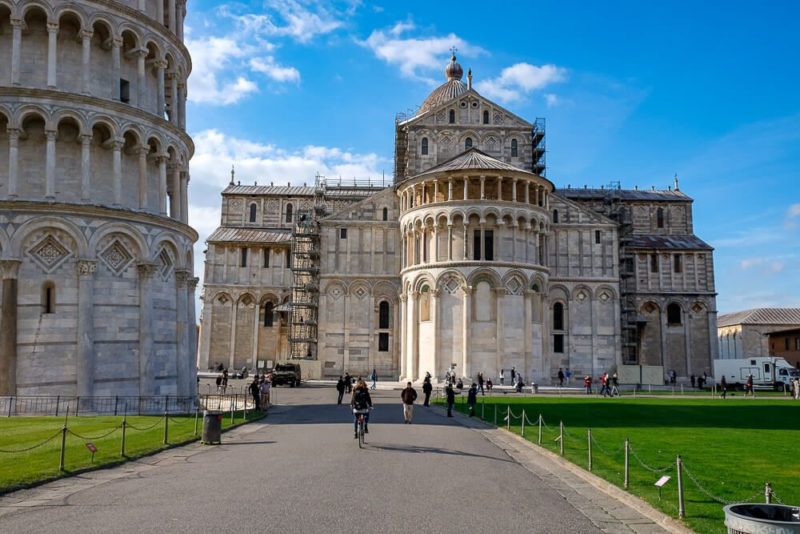 But I would look up train times at least the day before so you know when to get to the train station.
It would also be good to download the walking route from the train station to the leaning tower. It's a 2km walk between the two and the signs around town aren't great.
Here is the tower. We walked straight north from the train station and then headed towards the tower from the east along Via Cardinale Pietro Maffi. This allowed us to stay on mostly pedestrian only streets which I liked.
4. Go Inside the Church
It's free to enter the church. If you buy a ticket to the tower (or any of the other sites), your ticket is also good for the church. And even if you don't buy a ticket for the other monuments, you can still go to the ticket office and get a free ticket for just the church.
The church was beautiful on the inside. It was Ryan's favorite from all the ones we saw. The details were exquisite. And it didn't feel like there were a lot of other people there. We were able to wander about and take it all in.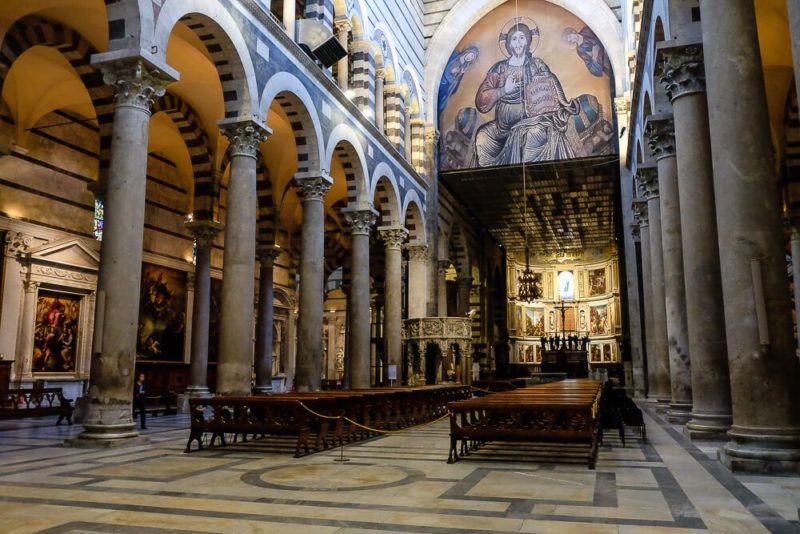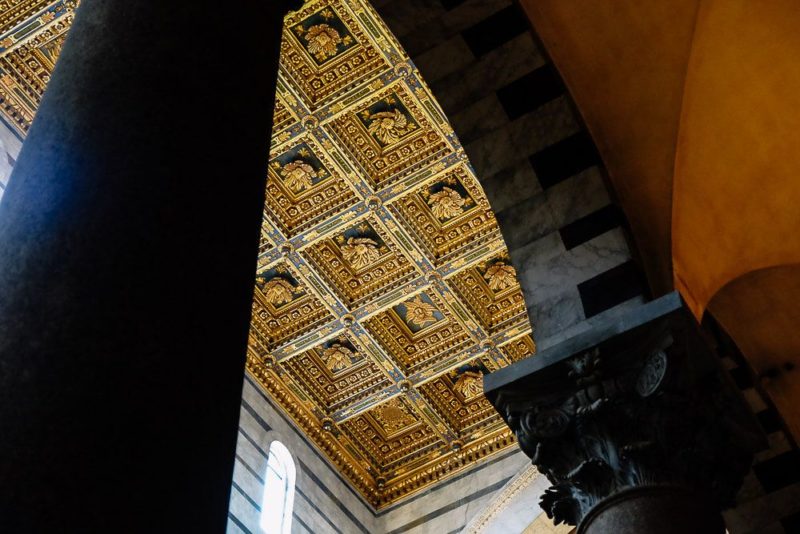 5. Don't Be Afraid To Take The Picture
You know the one I mean.
Everyone else around you will be doing it. So do it! You know you want to. You know you might regret it. So don't be afraid you'll look touristy. Embrace it!
I took several. And I almost wish I would have taken more.
So pick your spot (or 5) and let's see your strength!
Also! If you want to get a few pictures without people in them, I would walk around to the back side (to the east) and be patient. I loved the two pictures at the bottom of this post because there are hardly anyone in them!
I hope you enjoy your day trip to the leaning tower of Pisa!