Are you worried that 2 days in Venice isn't enough? I only had about 48 hours in this magical city and by the time I left, I had fallen just a little bit in love with it. In fact I wasn't actually expecting to like Venice as much as I did. I'd heard numerous reports from others that it was too crowded. Too touristy. But I wanted to see Venice for myself. And guess what? I loved it. I was blown away by its beauty. And even though we were in Venice for just 2 days, we had an amazing time exploring it. So here are our best discoveries, the 7 things to do in Venice that we loved.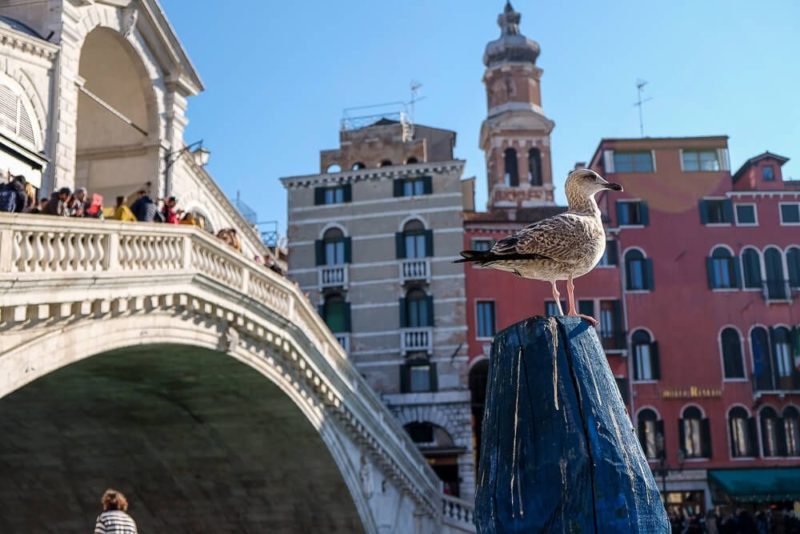 ---
1. Go To The Campanile For Sunset
We got to our guesthouse in Venice at around 3pm on our first day. And I knew there was just one thing I wanted to do that day, go to the top of the Campanile for sunset.
Now I was in Venice in November, so sunset was like at 4:45pm. So after getting into our room, we headed straight for the bell tower.
Now "Campanile" is just Italian for bell tower. Most of the main churches we saw in Italy had a main church building (in this case the Basilica di San Marco) and a separate bell tower (the Campanile).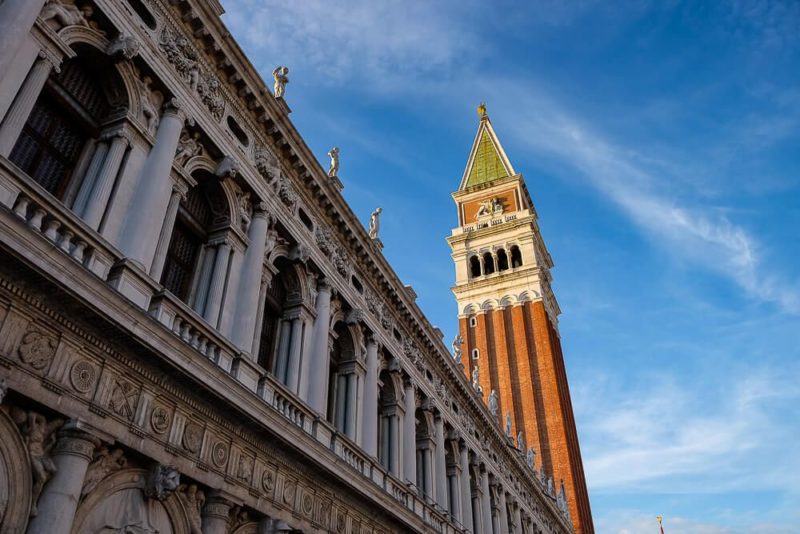 Luckily there was no line for the Campanile. I think this was due to the fact that we arrived early on a Friday before many weekend travelers arrived in the city. When we passed by the bell tower on Saturday evening, there was a line snaking around the building.
After buying our tickets, it was just a quick elevator ride to the top, and then there was Venice. The Campanile has views from all sides, but be aware that there is a protective fence at each window.
And do be prepared to share the space with lots of others. Though I was able to find a space on each side several times, when the sun started to dip below the horizon, everyone wanted to see it. Just be patient and you'll get your chance to witness one of the best sunsets in Venice.
(This is number one because I think it was my favorite thing to do in Venice, and I'd definitely do it again on another trip.)
Cost: 8 euros per person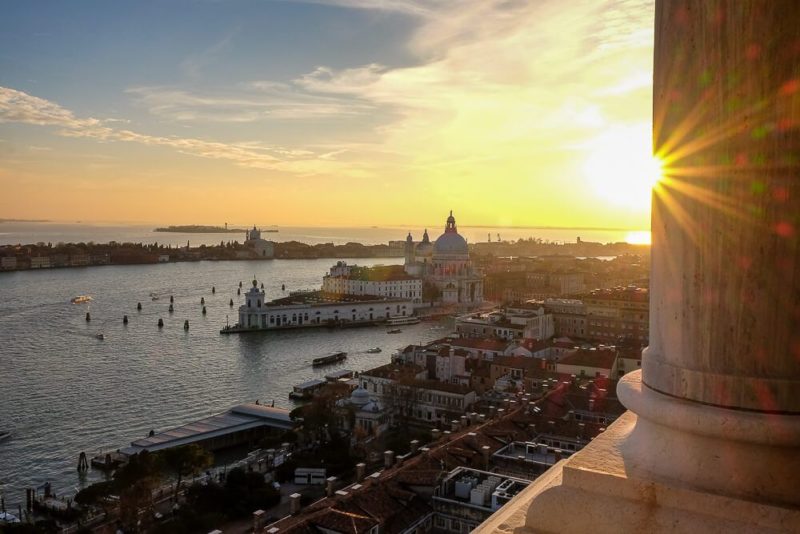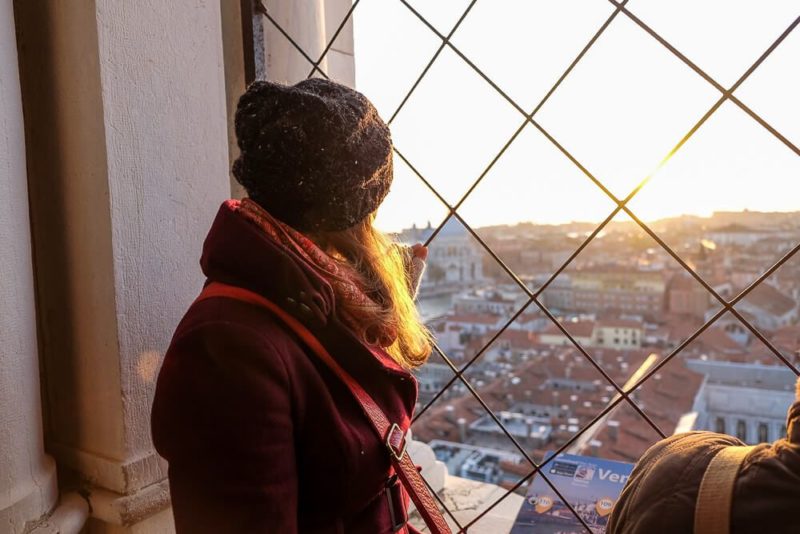 ---
2. See The Big Three: San Marco's Square, Rialto Bridge, & the Bridge of Sighs
There will be a ton of people at each of these places. But I'm glad I braved the crowds and saw them. They are busy for a reason. Simply spectacular.
Piazza San Marco is the main square in Venice. It's where everyone flocks to. It's in the core of the touristy area. And there will be a ton of people.
But it's also a chance to see the site in Venice. To gape at the architecture and the ornate, shimmering Basilica di San Marco. It's a chance to go inside the cathedral and see one of the most elaborate (and dark) churches I've ever seen.
So. Much. Gold.
My advice would be to head to the square around sunset on a weekday (in the off season – we were there in November). You'll have more space plus you'll get to see the way the light dances off San Marco.
Cost: Free to enter the church (but costs money to go up to the balcony)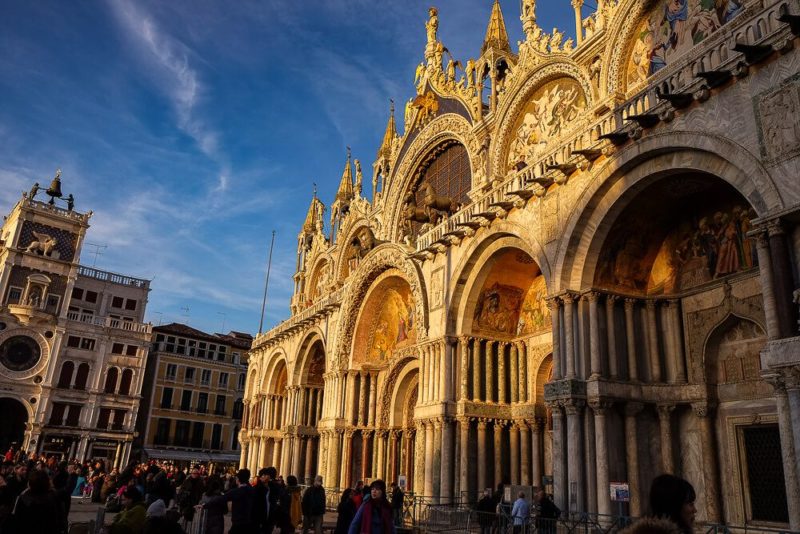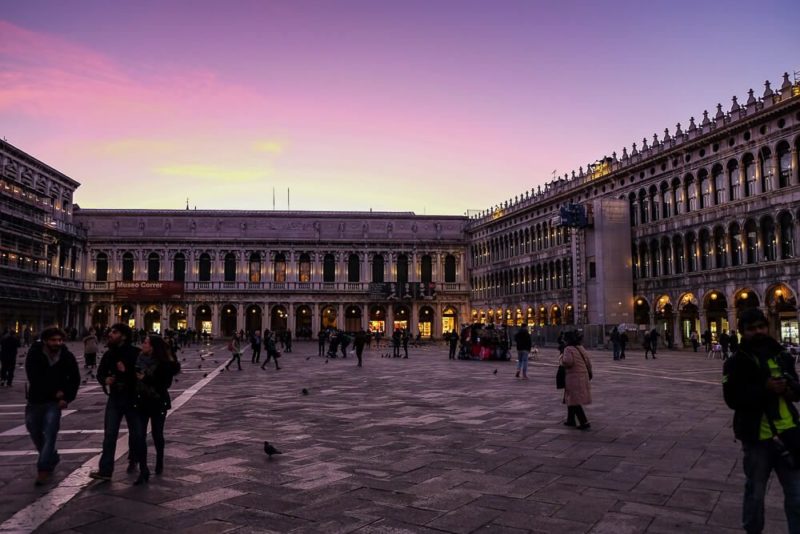 Rialto Bridge is probably the most famous bridge that spans the grand canal. And though it's beautiful, I don't think the bridge itself is why you should go.
It's the view from the bridge that is one of the classic Venice postcards.
(Just be prepared to push your way past guys trying to sell you a rose.)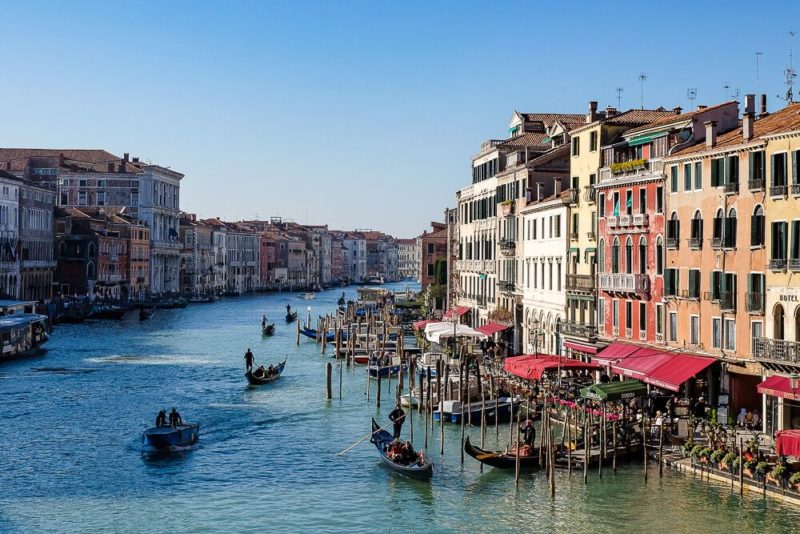 The Bridge of Sighs is just a very small covered bridge at the back of the Doge's Palace. It connects to the prison behind the palace since back in the day all of the courts were located in the palace. So once you were convicted, they walked you over the bridge and into the prison.
You can see the Bridge from two viewpoints (north of the bridge and south of it), but when we went, the best view was from the south side (with the canal at your back).
But if you want to actually walk over the bridge, then you'll have to buy a ticket to the Doge's Palace.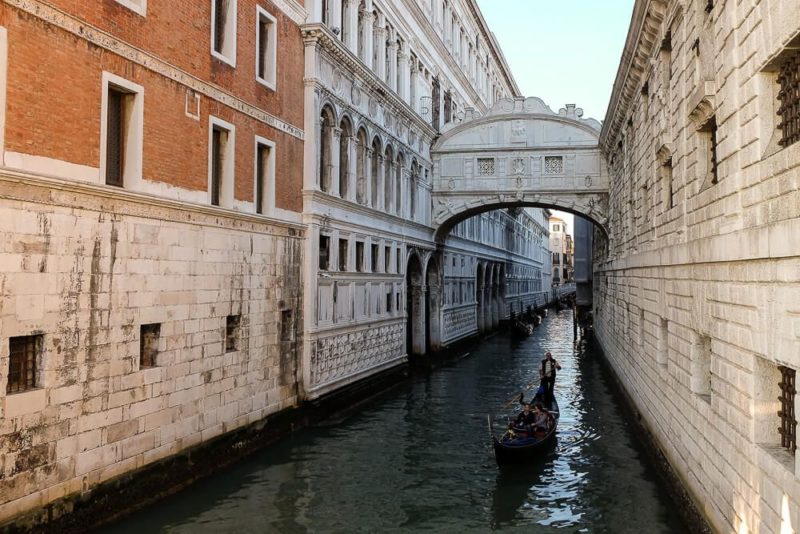 ---
3. Explore The Doge's Palace
I have a thing for castles. And to me, a palace is just a different kind of castle. So I wanted to see how the Venetians get their castle on. The answer? In just a few words: elaborate, ornate, gold, arches, marble, rich, exquisite, and warm.
It was unlike any other castle I've ever seen.
But besides just gaping at all the magnificence, I also learned a lot more about the Venetian Republic. You see the palace was the residence of the Doge, but it also contained all of the grand meeting rooms for the councils and it also housed the prison (until they built a separate building behind the palace).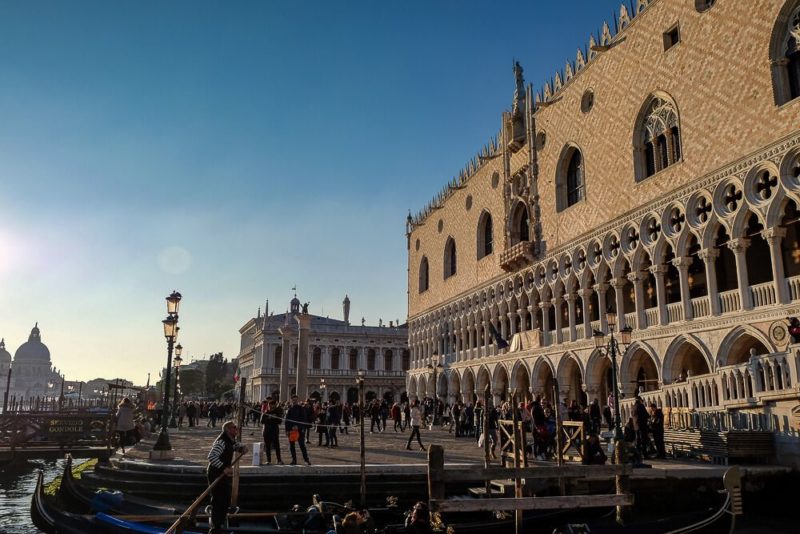 The Venetian Republic was ruled by a Doge which was elected by the Great Council. And you could only be on the Great Council if you came from one of the noble families. So basically the Venetian Republic was ruled by the nobility, and there was no way to become a part of the nobility unless you were born into it.
So don't get too fooled by that word "republic."
But as a history buff, I learned a lot and I loved it. Also fun fact? The Great Council meeting room is one of the biggest in all of Europe.
As part of the tour, you'll also have a chance to explore the prisons connected to the palace by the Bridge of Sighs. The prisons were only okay, but I loved being able to actually walk over this landmark bridge.
Visiting the palace is expensive. If you don't love palaces and castles, and if learning about history doesn't thrill you, you could think about skipping this one. With just 2 days in Venice, you'll need to make some cuts.
Cost: 20 euros per person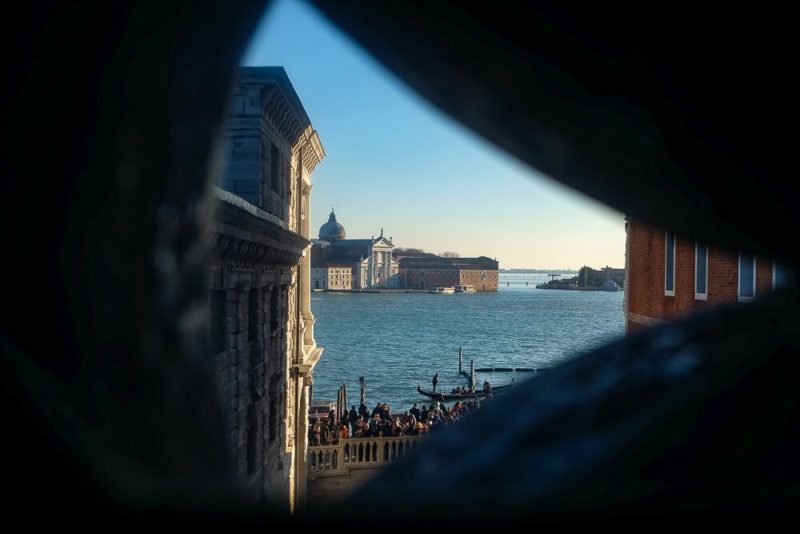 ---
4. Ride The Vaporetto
So I know the gondola is like city's thing. And on most every other list out there, it's one of the top things to do in Venice. But I didn't ride in one. There were just two of us (if you have more people, you can split the cost better), and you'll be paying like 80 to 100 euros for like 30-40 minutes.
That was just too much money for us so I never even approached a gondola to negotiate. If the cost was anything even close to that, then unfortunately it was too high.
A cheaper alternative? The vaporetto.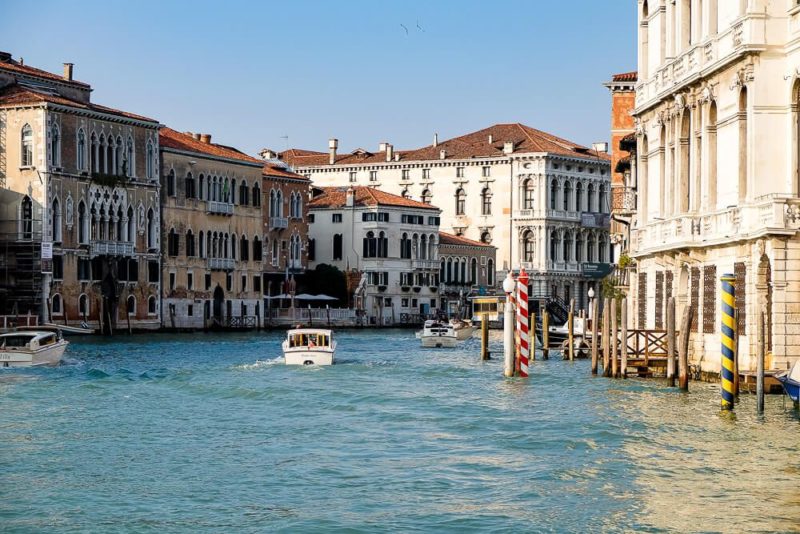 So what is a vaporetto? Think of it as a water bus. They go all over the area (like to the various islands), but there are two (#1 & #2) that go up and down the grand canal. Vaporetto #2 is the fast one and it only stops at the major sites. #1 is the slow one and it stops at all of them.
On our way to our hotel, we grabbed #2 from the train station to the Rialto Bridge stop. It went straight there. But on our way out, we decided to walk down to the Zaccaria stop (near San Marco's Square) and take the slow #1 all the way back to the train station.
This ride easily took 45 minutes, but it allowed us to simply enjoy the view. Plus after just two stops, we scored some pretty sweet spots right by the railing.
Cost: 12.5 euros per one way ticket, but there are passes available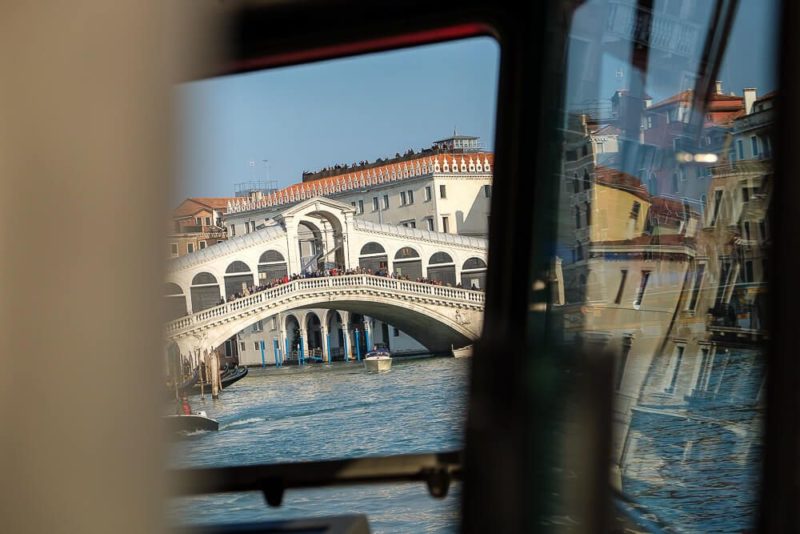 ---
5. Get Lost In Venice
This may have actually been my favorite thing about Venice. Simply wandering the narrow alleys and passageways, and getting thoroughly lost. Our first night in town we headed west from Piazza San Marco and crossed the Accademia bridge. Then we got thoroughly lost in the Dorsoduro and San Polo neighborhoods.
That night was kind of perfect (until the jet lag set in and I needed a nap). We just walked and wandered. I didn't pull out my phone to navigate, and simply just followed the signs back towards the Rialto Bridge.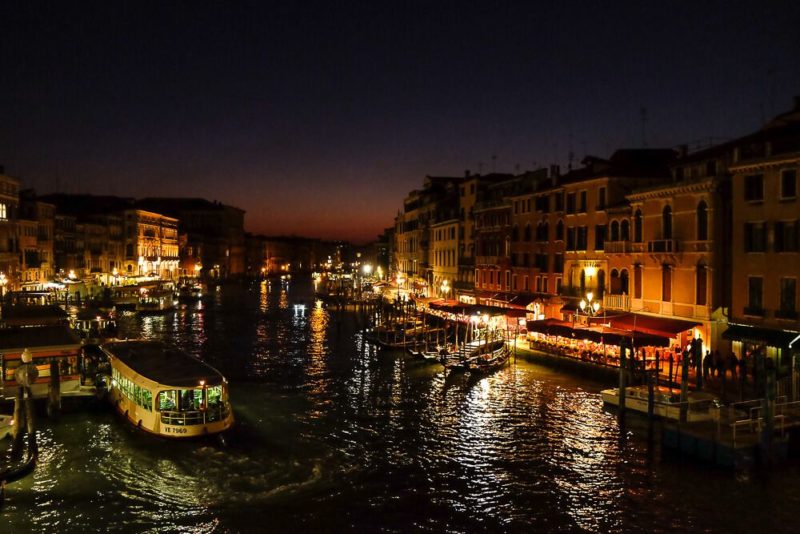 On our last morning we had a similar strategy. We crossed back over to the San Polo neighborhood to see the Basilica dei Frari before winding our way back over Accademia and to the guesthouse.
Even with just 2 days in Venice, definitely take some time to just wander Venice. The smaller squares, paths, and canals show you a Venice that is very different from the one at Piazza San Marco.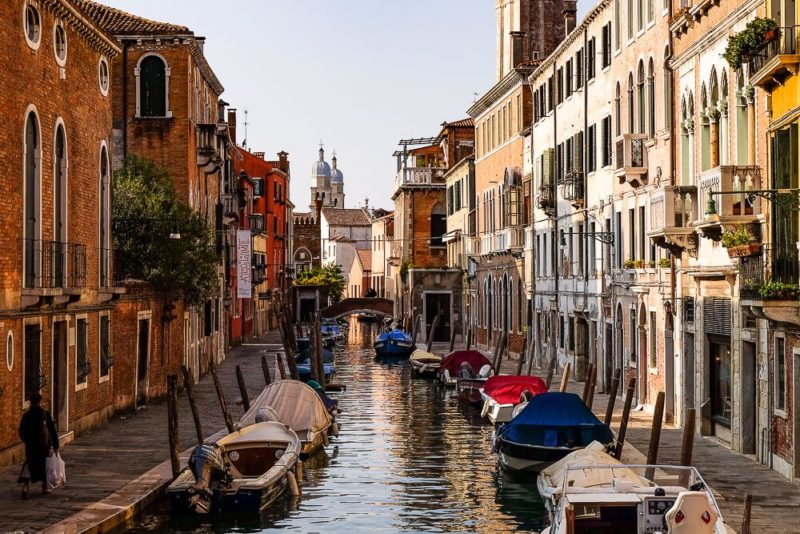 ---
6. Try Some Cicchetti
Oh cicchetti. I wish I would have had more time to try more of you. But wait, I probably need to backup and explain just what cicchetti is.
Well I understood it as little finger food, small nibbles, pieces of bread spread with deliciousness. You can eat it at lunch time, but the prime cicchetti time that I saw was at about 6pm. Since Italians eat later, their version of happy hour involves eating some cicchetti while drinking. My beverage of choice? Either a glass of house wine or an Aperol Spritz – though I also found a Bellini to be particularly delicious.
To order cicchetti you'll need to make your way to the front of the bar, make eye contact with the bartender, let them know what cicchetti you want and then order your drinks. Some places will be super busy and crowded. And you will be standing while you eat your cicchetti.
Our two favorite places were Cantine dei Vino già Schiavi and Naranzaria. We tried to go to a couple of others but they were either closed or way too busy by the time we got there.
For more information on Cicchetti, check out this article.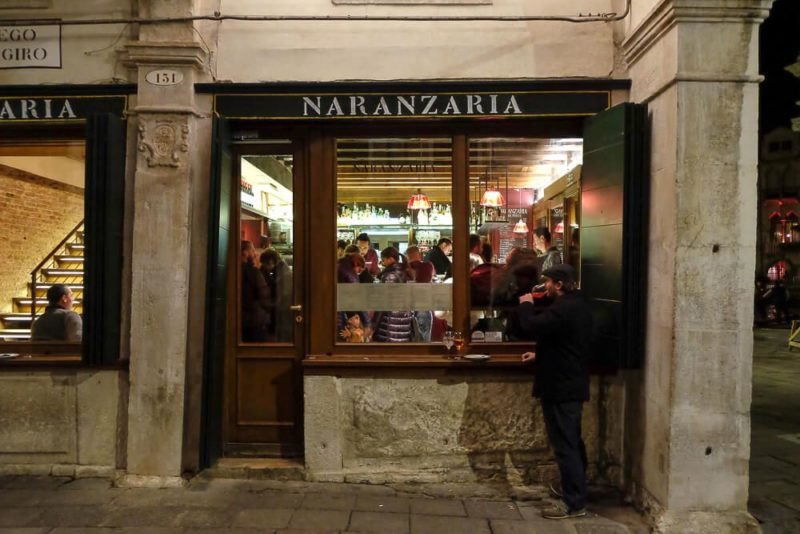 ---
7. Explore The Fish & Produce Markets
This will probably not appeal to everyone. Hence why I included it last. Near the Rialto Bridge, there are three markets: Souvenir, Produce, & Fish.
I was definitely more intrigued by the Produce & Fish than the souvenir since it showed me how some local Venetians shop for food. I loved seeing all of the different stalls and various items. But if you are going to buy something, don't touch it! Pick out what you want and then have the vendor come over to package it for you.
I'd come to the markets early in the morning. Most of the vendors open early and are closed by the afternoon. For more tips on visiting the markets, see this article.
Produce Market: Closed Sundays
Fish Market: Closed Sundays & Mondays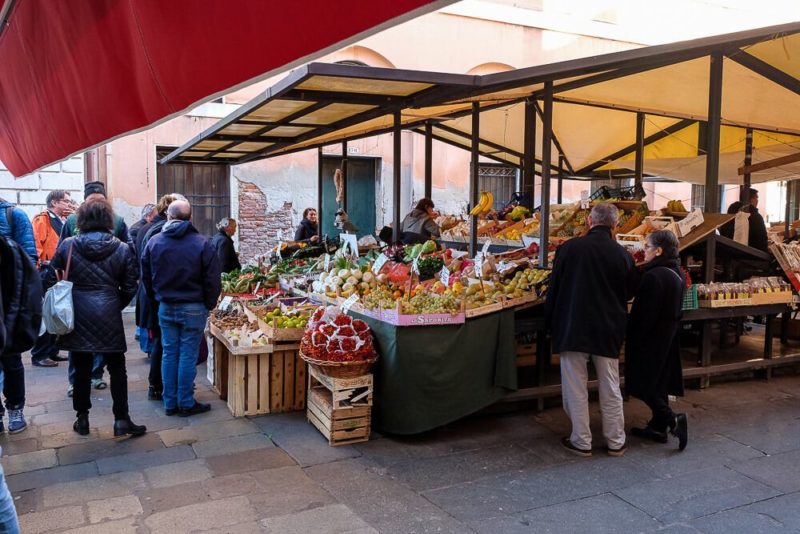 I hope your 2 days in Venice are just as wonderful as mine!