Having grown up in West Virginia, I hear a lot of smack talked about my home state. But oh you naysayers, if that's all you think this state is, then you couldn't be more wrong. There's a reason the state's slogan is Wild & Wonderful. So let me show you what hiking in New River Gorge National Park & Preserve is all about.
Now, even though I recommend visiting the New River Gorge National Park from spring through fall, I often find myself visiting in the winter. Hence the no leaves on trees.
If you want the most bang for your buck (like the chance to go whitewater rafting), come when it's warmer out. However if all you want to do is hike, then I don't think the winter's that bad. It's cheaper and less crowded. Just be sure to bundle up.
Please note that I've been visiting the New River Gorge area for many years before it was a National Park. So some of these photos are older. Please forgive my previous cameras.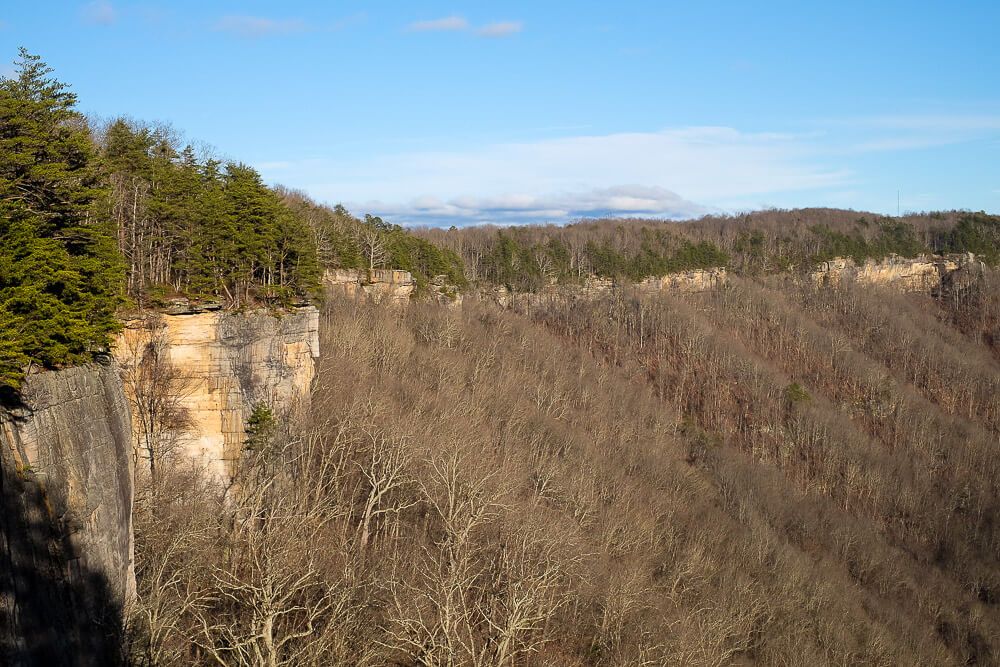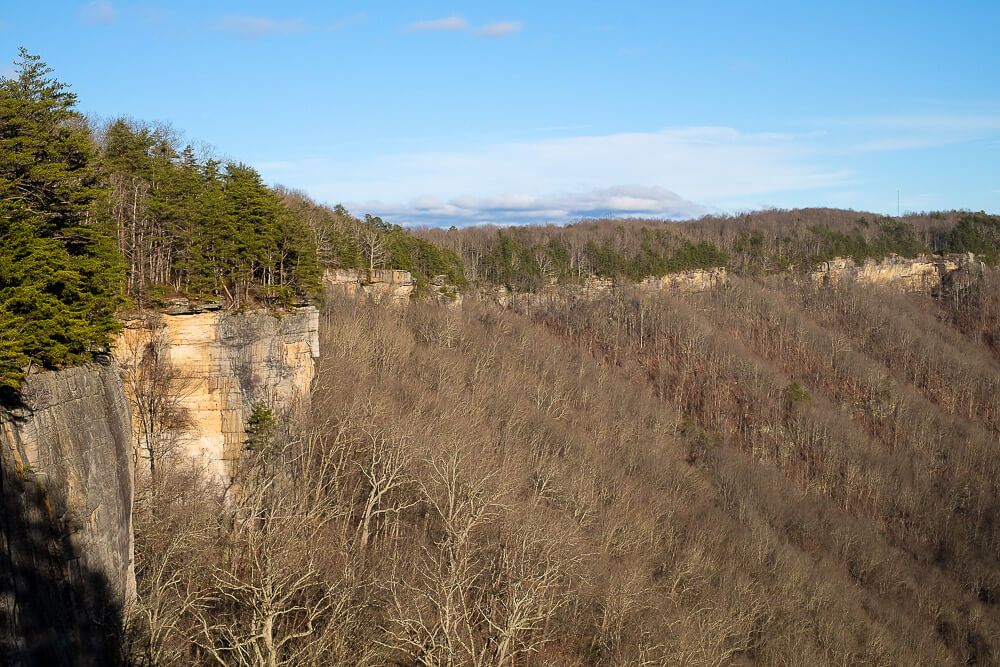 ---
Long Point Trail
I've hiked this popular trail several times. It's a pretty easy trail to follow. The excitement (both in terms of elevation and the view) come at the end.
The trailhead is located right outside of Fayetteville in the Canyon Rim area of the park. It's got a nice sized parking lot nestled into a neighborhood. But this is a popular trail. Expect crowds if you come at peak times.
If you come at non-peak times, you may have the view to yourself (if for a little while). I've hiked this trail, I believe, 3 times. Twice on New Years Eve (before the New River Gorge was a National Park), and once more recently in February.
It's one of my favorites.
The trail starts off pretty flat heading away from the parking lot. You'll go through (and over) some muddy fields via a boardwalk before entering the forest proper.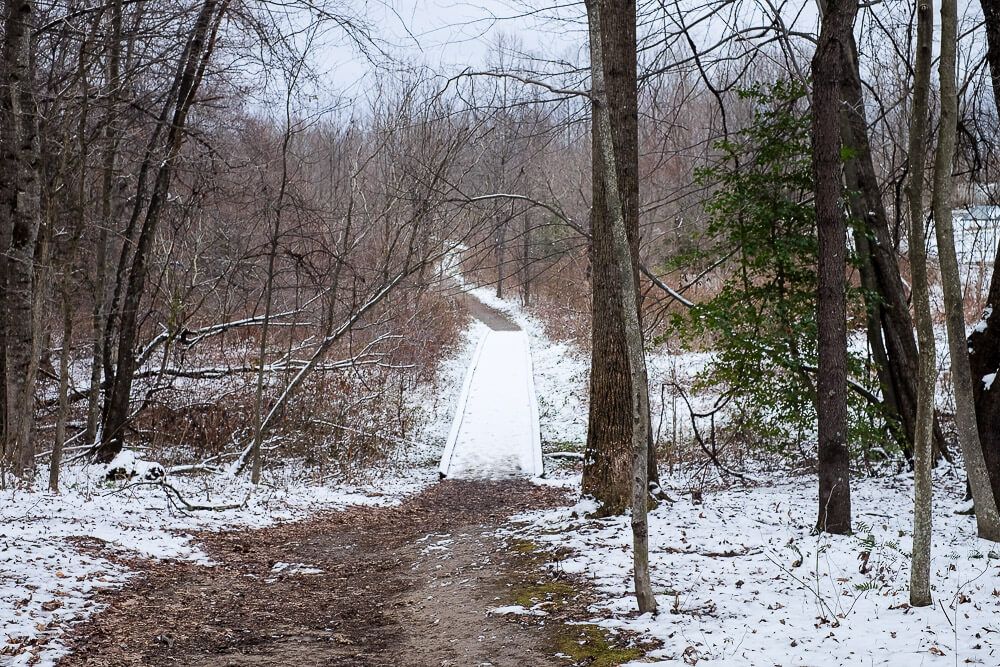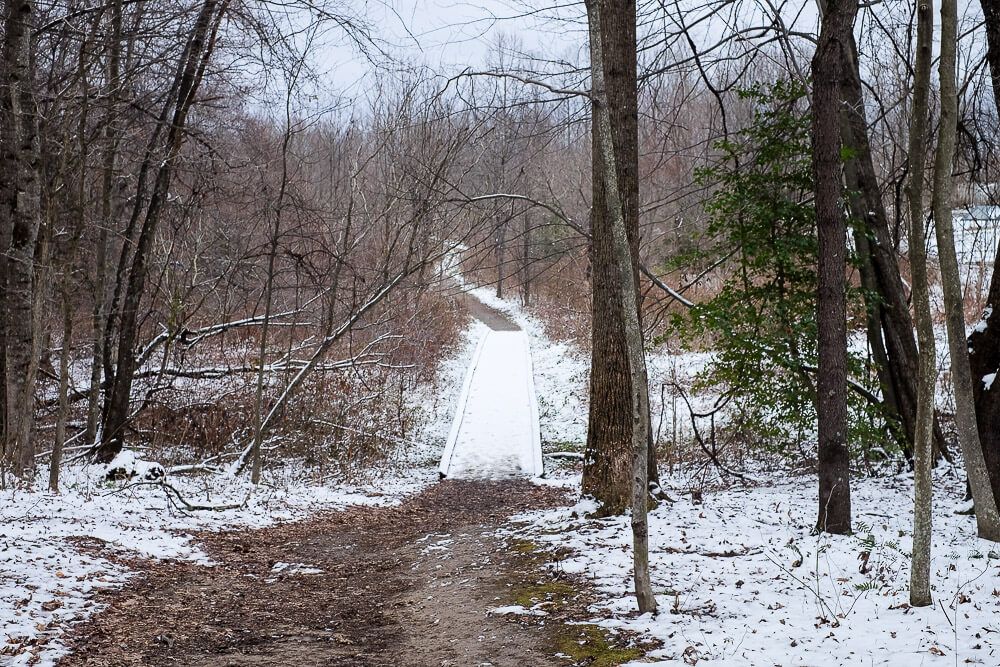 One nice thing about the trail? It's relatively level and wide. You'll be able to hike next to your hiking companions pretty easily.
One downside of visiting in the winter? Snow and very cold temperatures…try to stay warm and don't hike this trail if it's icy!
Stick to the Long Point Trail as you hit the two intersections (the Fayetteville Trail crosses through this area), but the signs are very clear.
Near the end of the trail, you'll start to head down through some rhododendron and out towards the point itself. And I do mean down. Watch your footing and know that what you go down, you'll have to climb back up.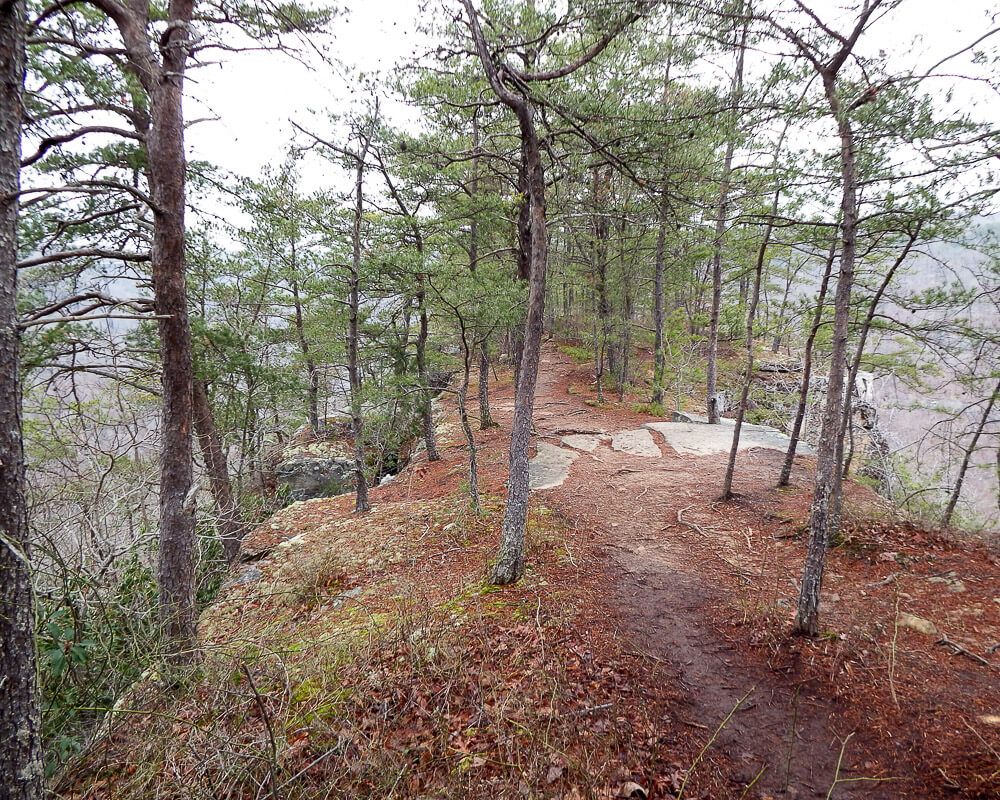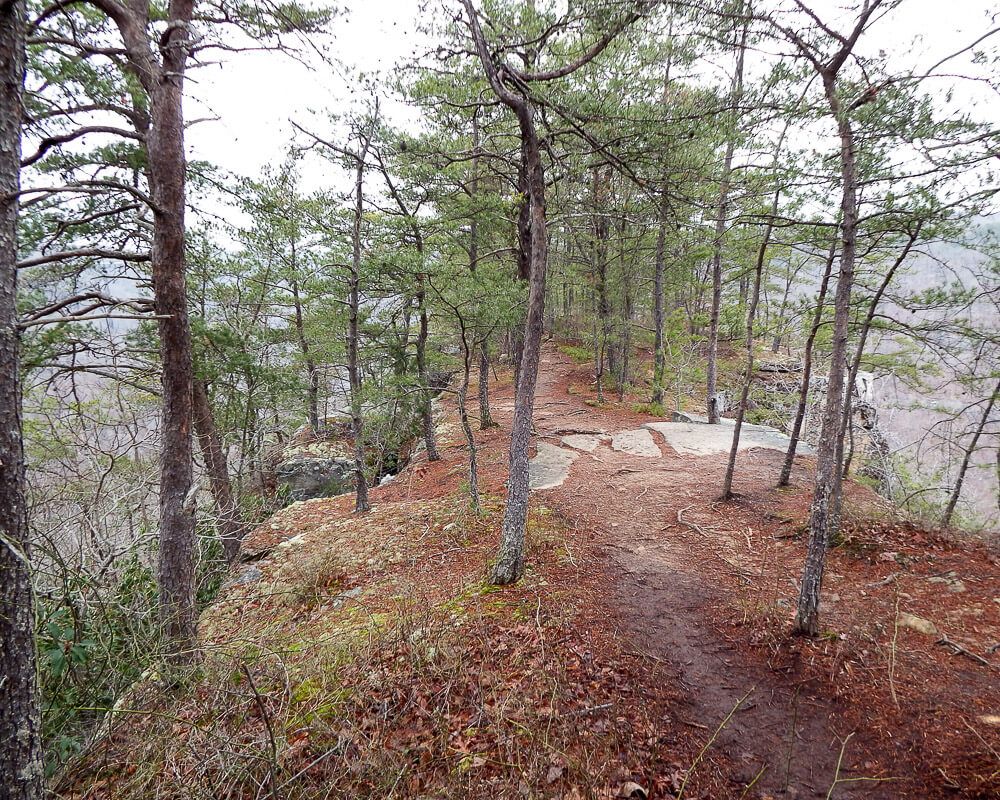 As you near the overlook, the land will start to drop away on both sides.
BE CAREFUL! There are no railings along the trail and these are cliffs. Watch your dogs and your kids.
Finally the trail will spit you out at the Long Point Viewpoint. And you'll see the pride of the New River Gorge National Park: the New River Gorge Bridge.
Like seriously this is the best view of the bridge in my opinion.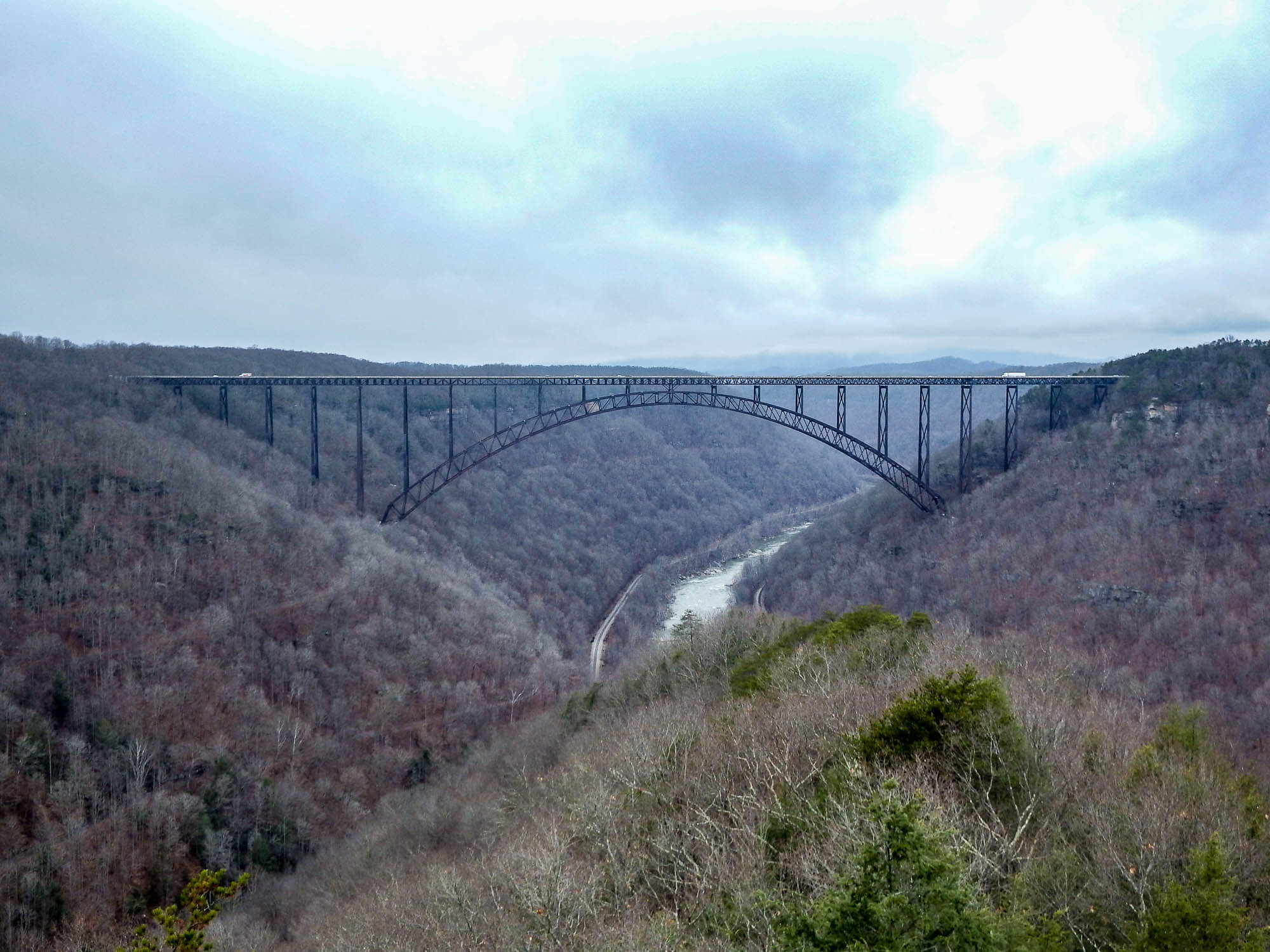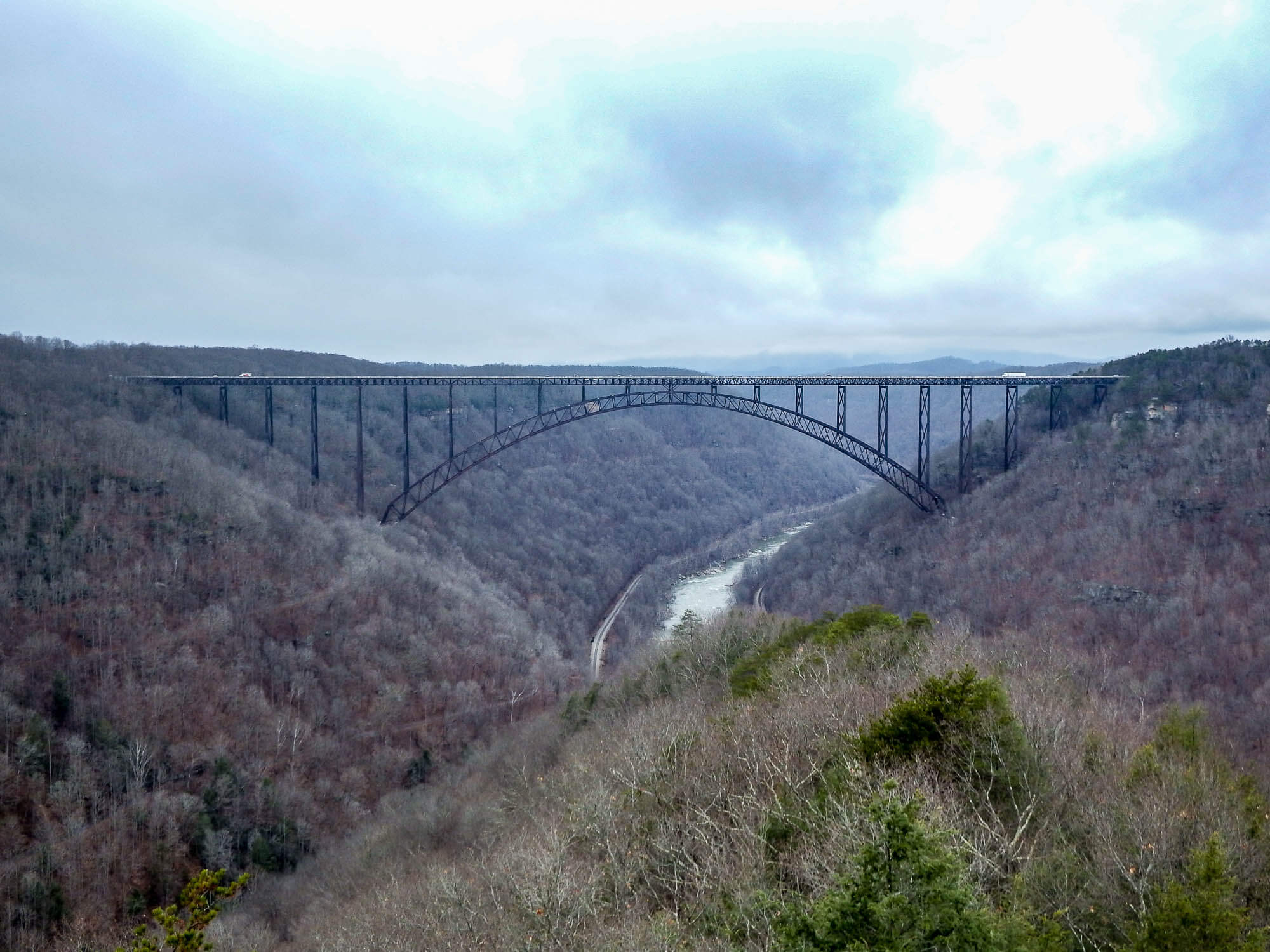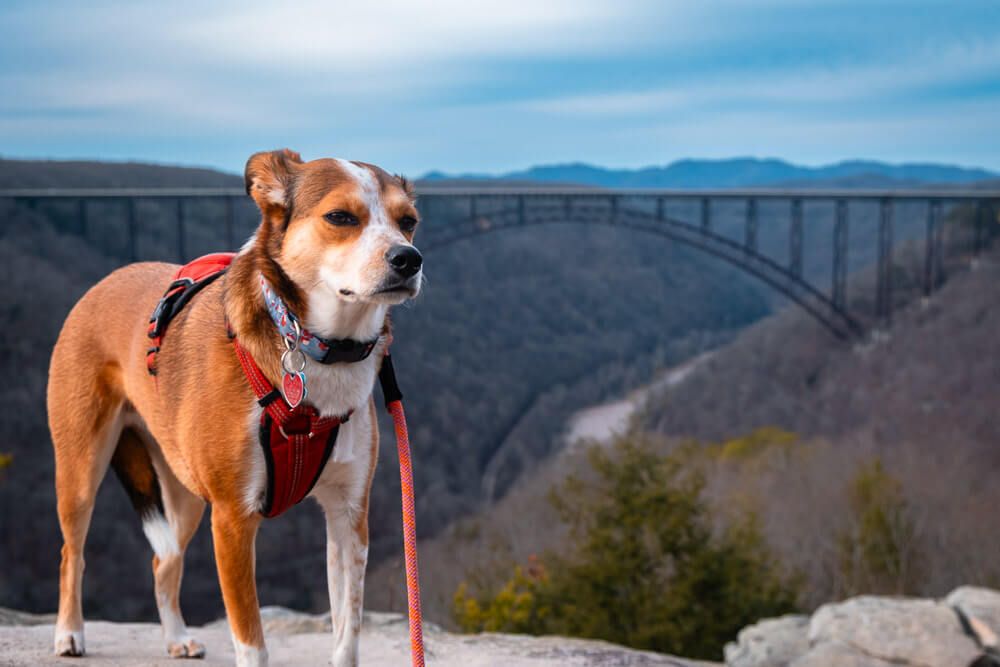 Now sit back and relax. And be sure to take lots of photos.
When you've had your fill, head back the way you came.
Long Point Trail Map
Click the image or the buttons to view the map in more detail.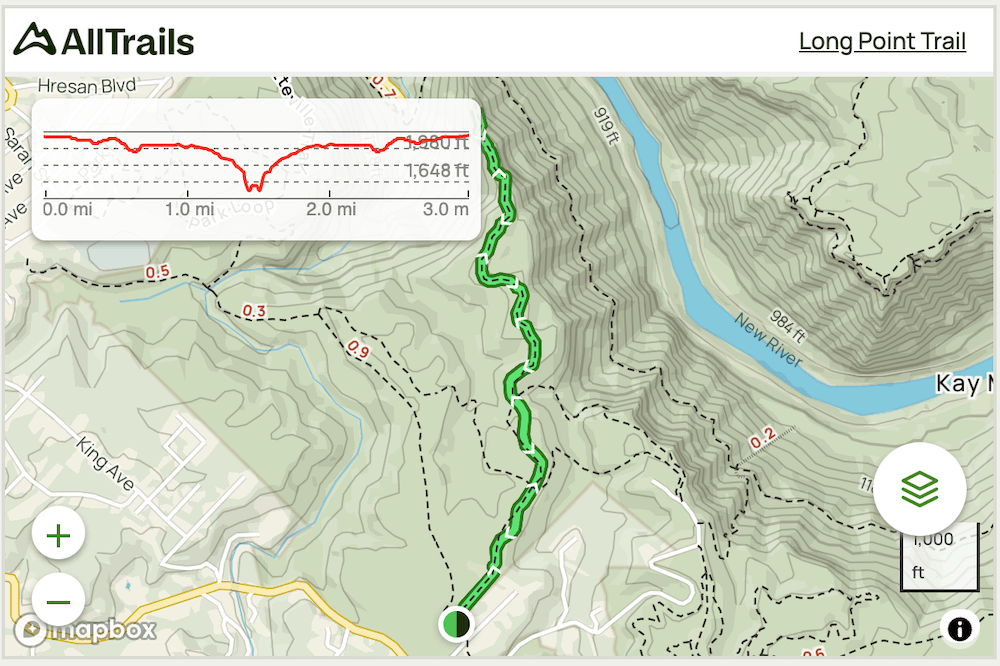 ---
Endless Wall Trail
This is my second favorite trail in the area. And if you were only going to hike one, I would probably suggest to hike the Endless Wall (though it is a slightly longer trail than Long Point).
There are a couple of ways to hike this trail. You can hike it as a loop or as it out-and-back. I actually suggest hiking it as an out and back. I've done both, and there's no real benefit to doing the loop.
Plus if you hike the loop, you'll have to walk along the road for part of it.
There are two parking lots that access the trail. The first Endless Wall parking lot is larger and then just past it is the smaller Nuttall Parking Lot.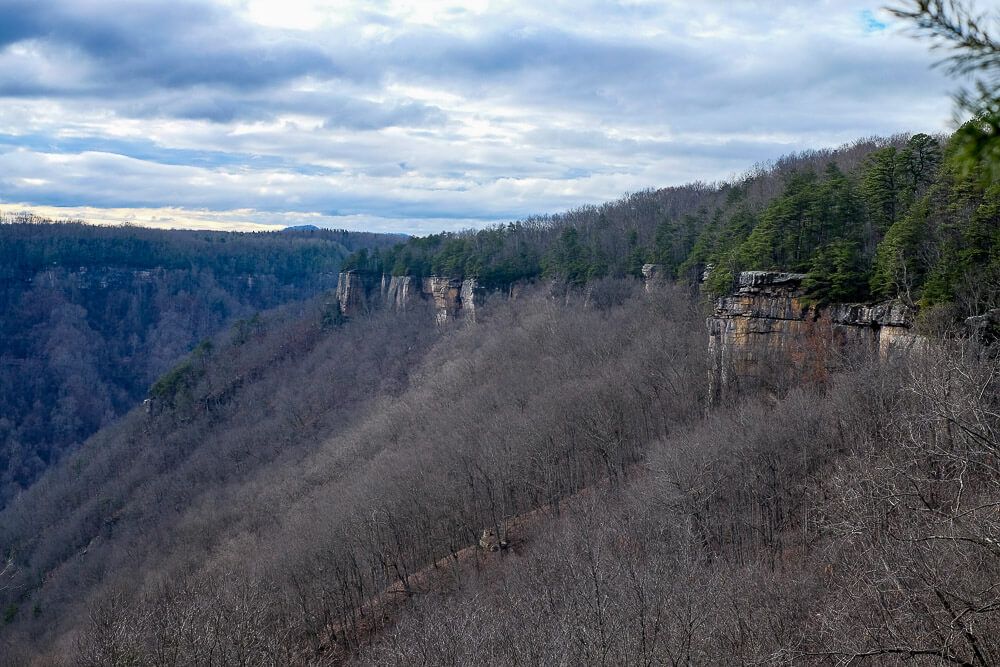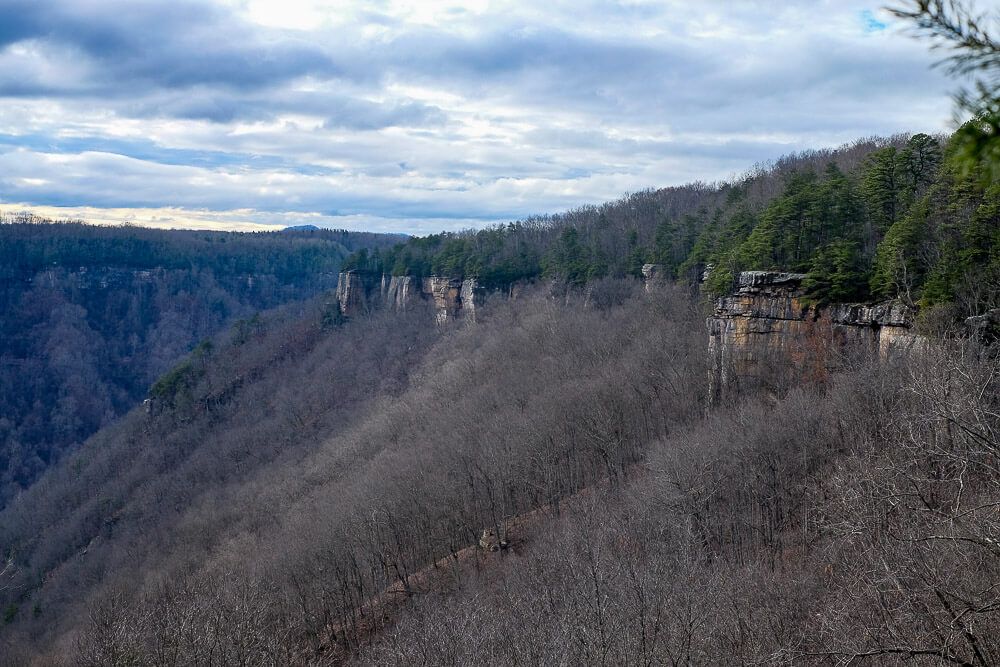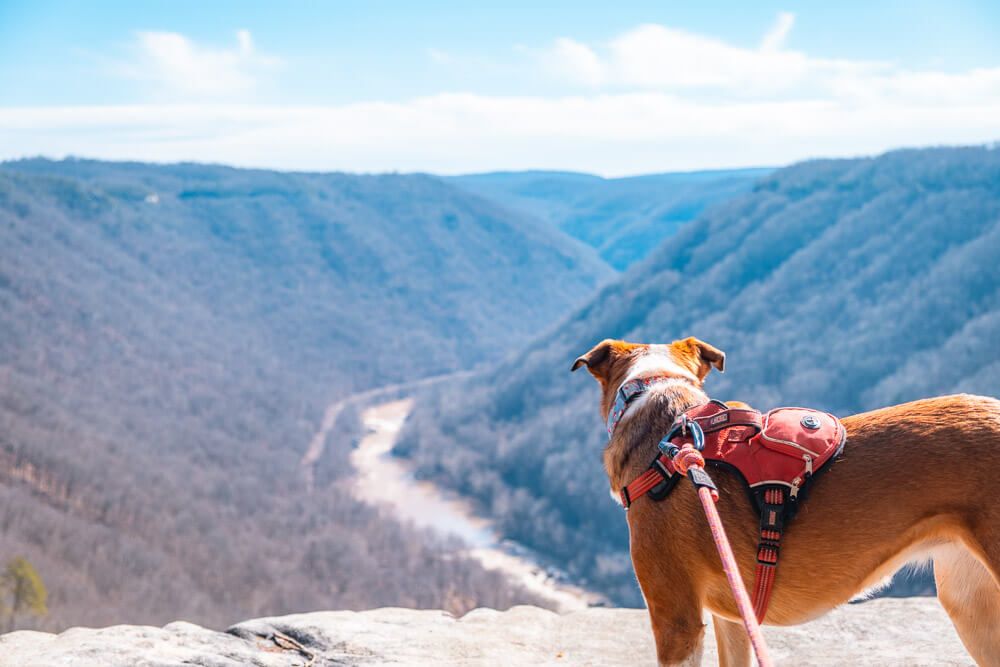 If you want to hike this as a loop, park at the Endless Wall.
If you want to hike this as an out-and-back, park at Nuttall.
And if it's busy, park at whichever one you can. (Note parking along the road here is illegal.)
You can also park at the Endless Wall parking lot, and then hike out to Diamond Point and then just head back the way you came. This would shave a little bit of distance off. But you'd miss a lot of the smaller viewpoints.
I like to hike this as an out-and-back because once you leave the Nuttall parking lot, the trail zig zags for just a 1/3 of a mile before you reach the cliff edge. Then the trail follows the edge until you reach Diamond Point (the standout view).
Starting at Nuttall means you'll have lots of smaller overlooks and viewpoints along the way.
And if you can hike this around sunset or sunrise, seeing the golden light dance across the hillsides and cliff faces is miraculous.
This is one of the reasons I love West Virginia.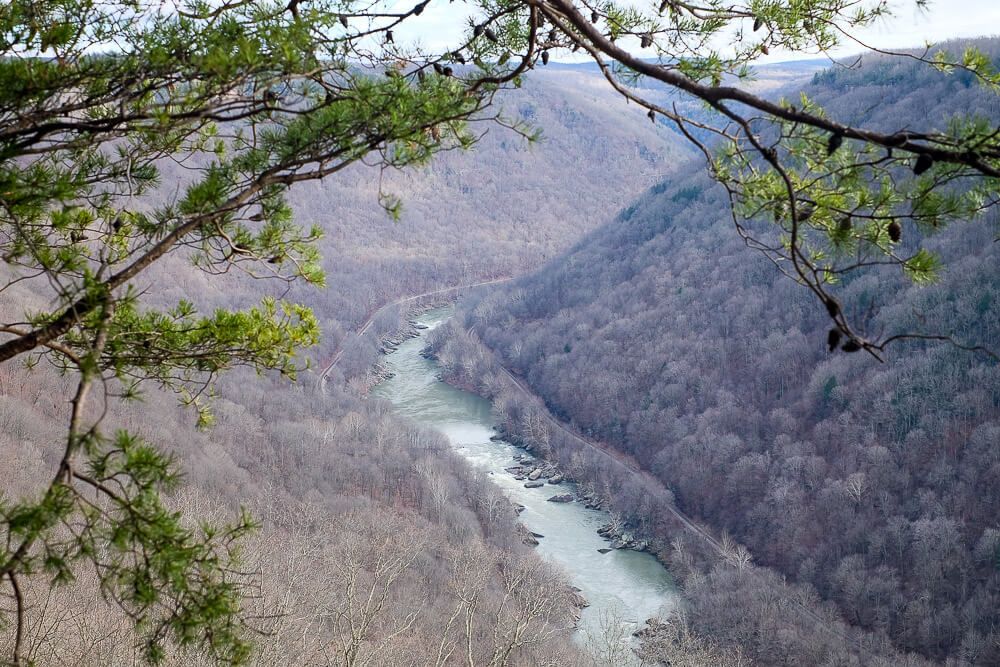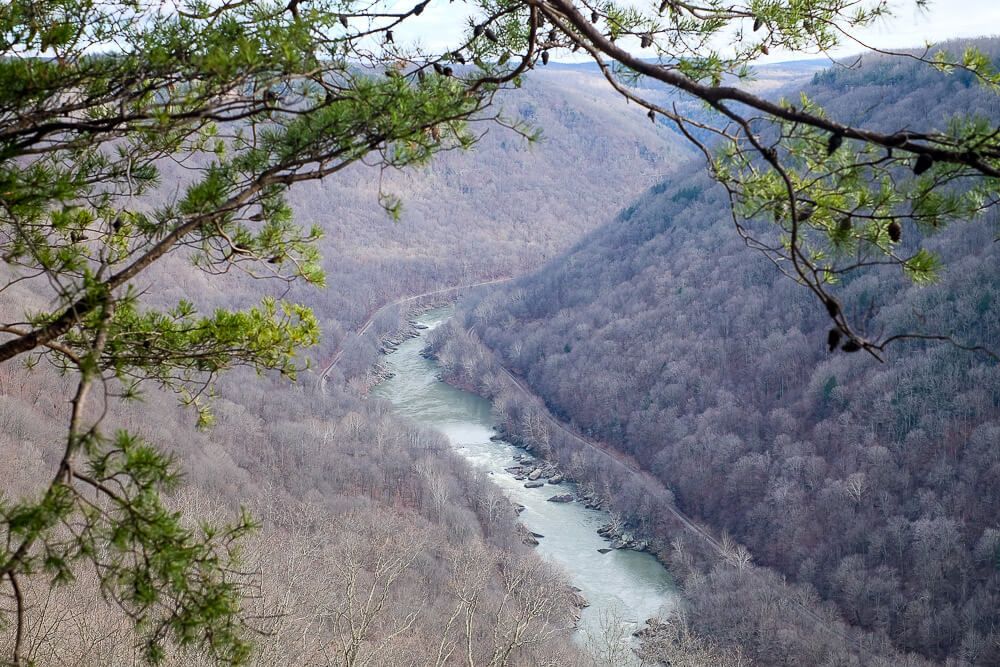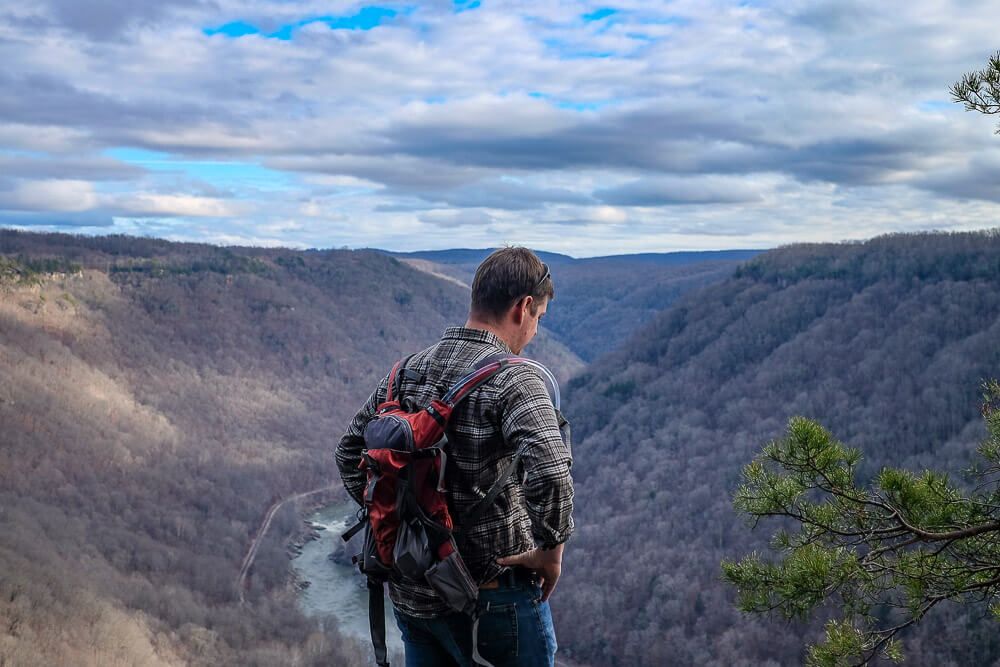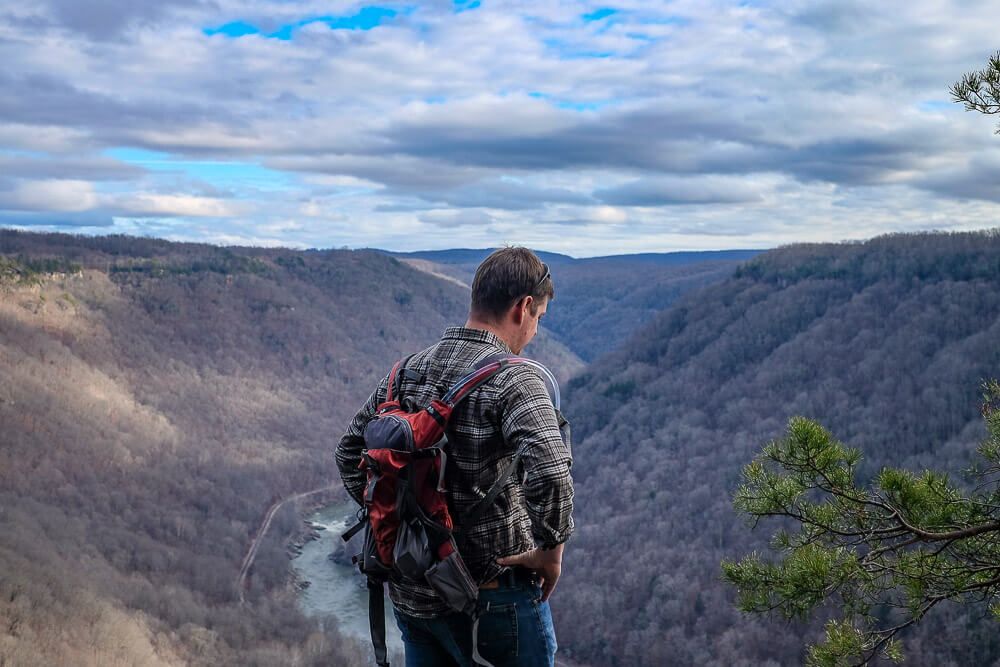 Now you may also see a few signs along the trail that mention "climbing access" and if you follow them you'll see ladders attached to edge of the cliff wall.
Ladder?
Yes, ladder. At two different spots along the trail there are ladders that take you down the cliffside. These are used by rock climbers to access the various climbing spots along the Endless Wall.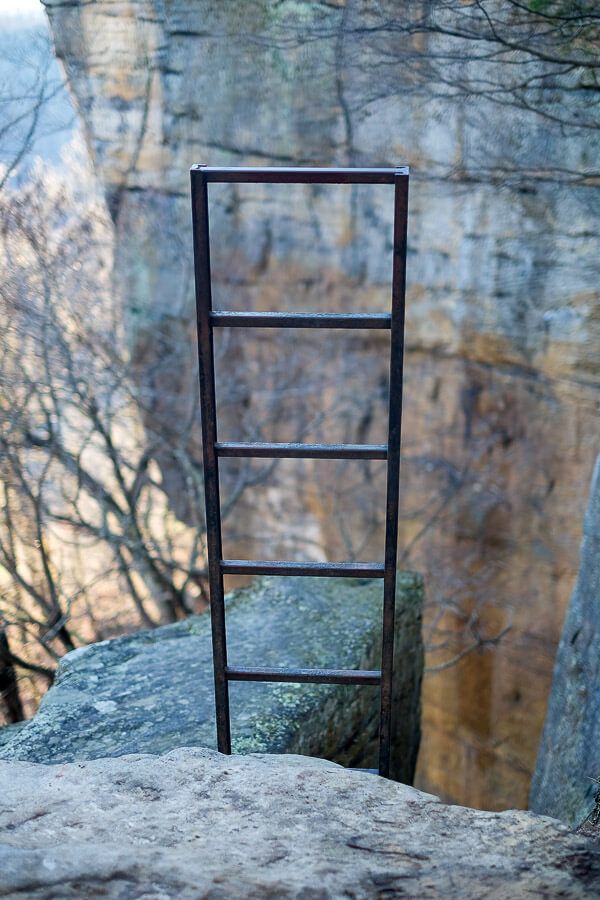 I wouldn't suggest heading down the ladders unless you are rock climbing. They are quite tall (some well over 2 stories) and there are no safety barriers. It's just like a skinny ladder leaning against a cliff wall.
Plus even if you manage to climb down the ladder…you have to climb back up. There is no other way to get back to the trail. This is a cliff face. There are no stairs.
So leave the ladders to the rock climbers.
After you've had your fill of smaller viewpoints, it's time for the big one – Diamond Point (#1 on the map below).
Diamond point has a 270 degree view of the valley. To one side, you could see up the east side of the valley, glimpsing the rapids below. To the other, the New River Gorge Bridge was just peeking through the trees.
You'll also probably encounter the most people here. It is the main viewpoint on the trail.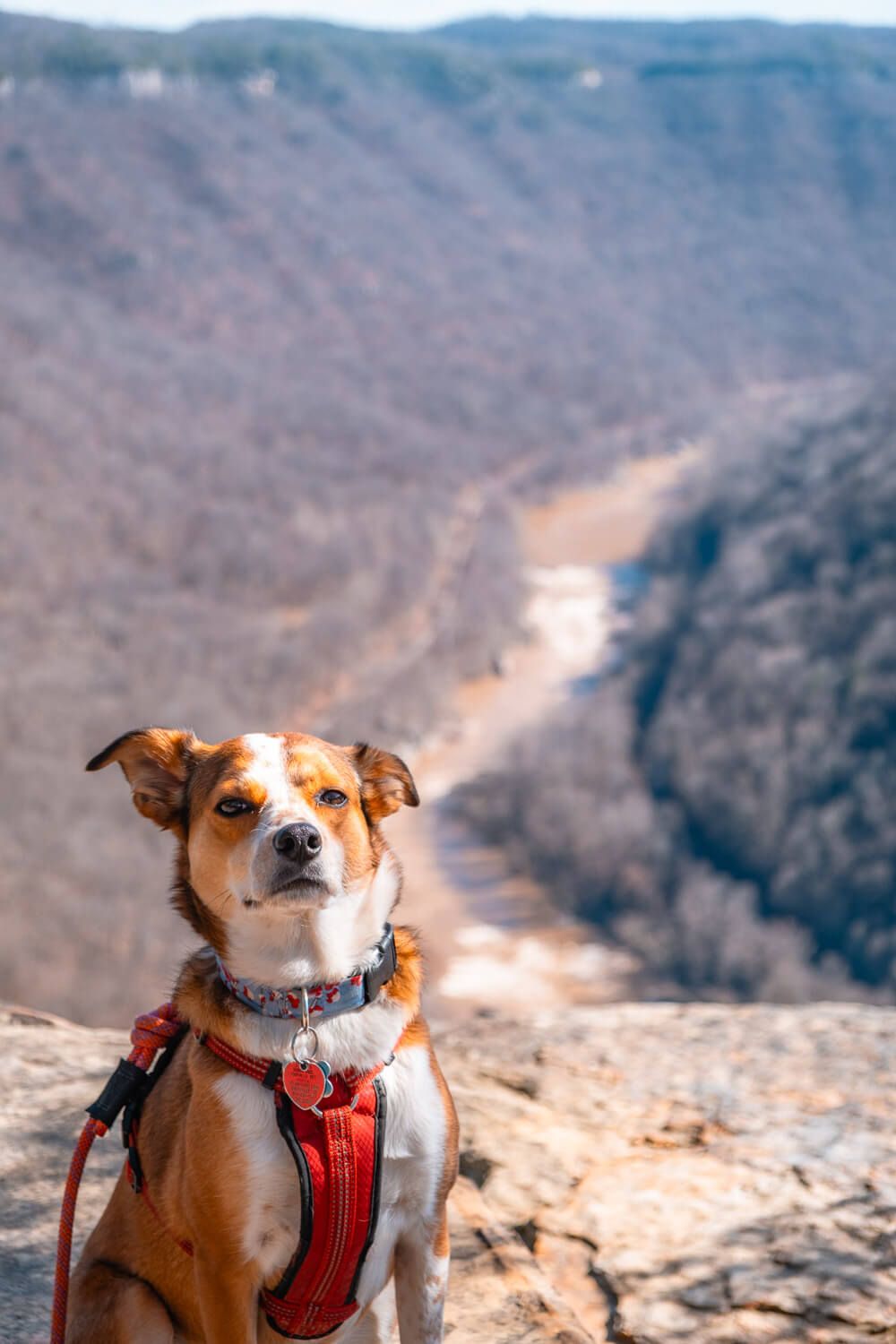 Be very careful around any of the viewpoints. You are on a cliff edge. Watch your dogs and your kids!
Now if you are hiking this as an out-and-back, I actually suggest you hike just a bit further (about .2 miles) to one more smaller viewpoint (#9 on map below).
The last time I hiked this trail we missed it (and went too far), but there's a small side trail leading out to the point just west of Diamond Point (it's before Diamond Point if you're coming from the Endless Wall Parking lot).
This one has a clear view of the bridge. (Yep, I love that bridge.)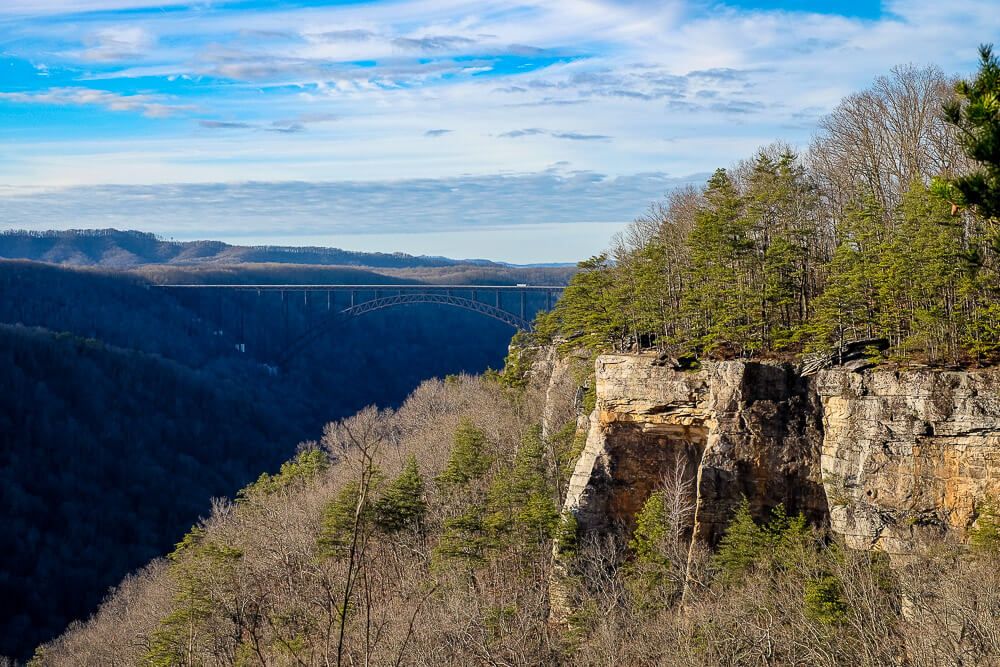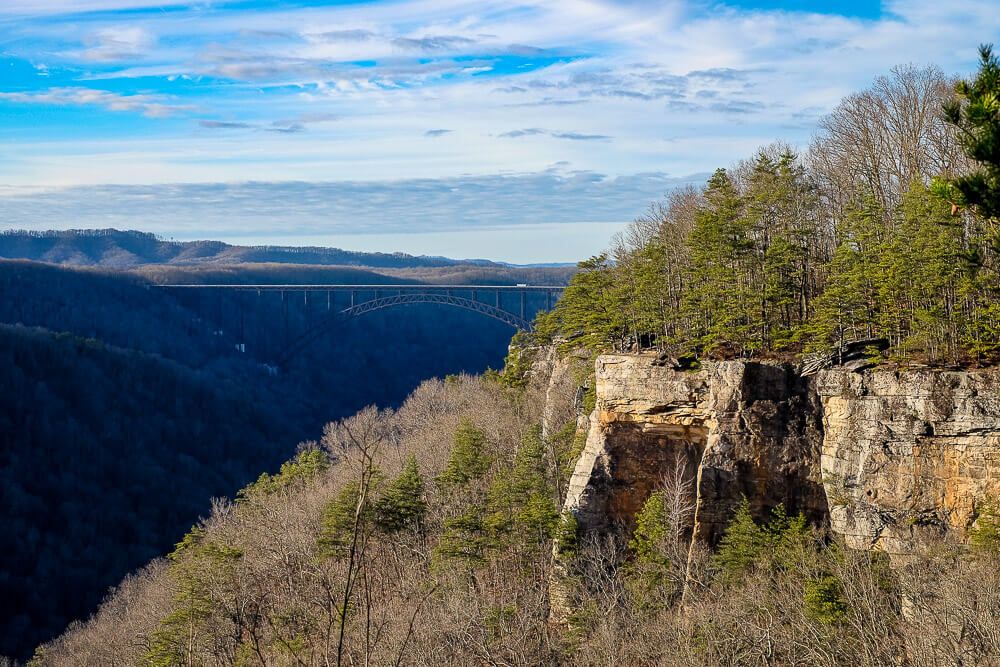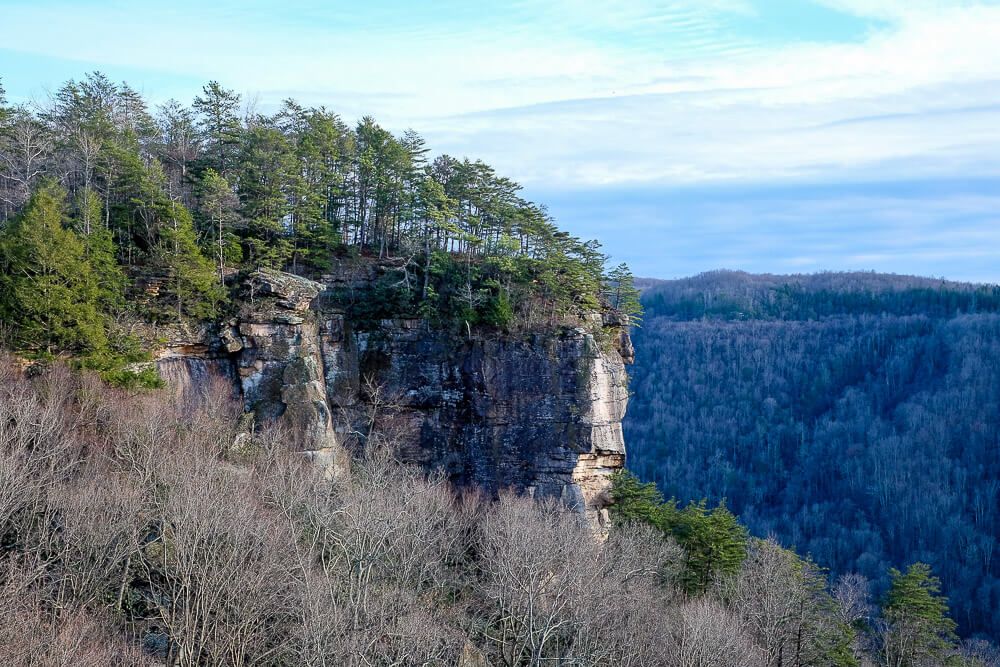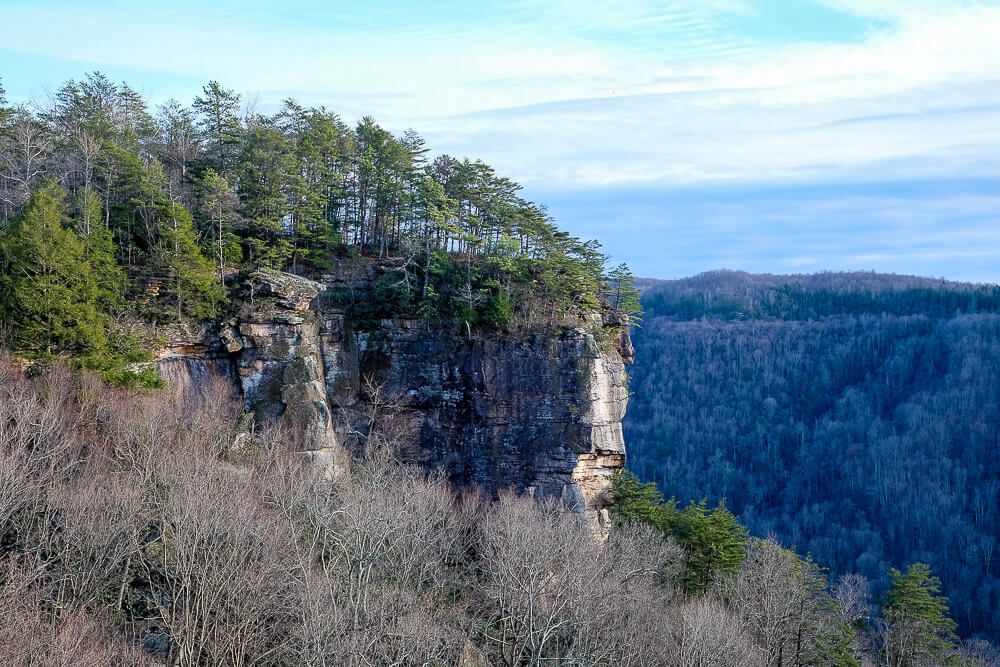 After taking in the New River Gorge Bridge, it's time to head back to the Nuttall Parking lot.
And if you are hiking this as a loop, keep following the trail. You'll now be passing by a lot of those smaller overlooks and viewpoints as you make your way towards the Nuttall parking lot.
Once you reach the lot, you'll then want to hike along the road back towards the Endless Wall lot. The reason you should hike the loop in a counter clockwise direction is due to this road. It's uphill between the Endless Wall and Nuttall lot, a pretty steep uphill.
So if you hike this in a counter clockwise direction, you'll be heading downhill back towards the Endless Wall lot.
Endless Wall Trail Map
Click the image or the button to view the map in more detail.
---
Castle Rock Loop Trail
This short loop hike in Grandview District was one of the best hikes we did all week. You get a bonus overlook (the North Overlook) as well as some super interesting rock features.
You can hike this trail in either direction, though it may be easier to hike this in a counter clockwise direction and start on the Castle Rock Trail. But basically you hike about a 1/2 mile on the Grandview Rim Trail at either the start or the end.
We hiked this trail in a clockwise direction and started on the Grandview Rim Trail. This trail is fairly level as it weaves next to the road and through some rhododendron.
Stay on this trail, until you see a sign for the North overlook. This short spur will take you to a smaller (but still impressive overlook).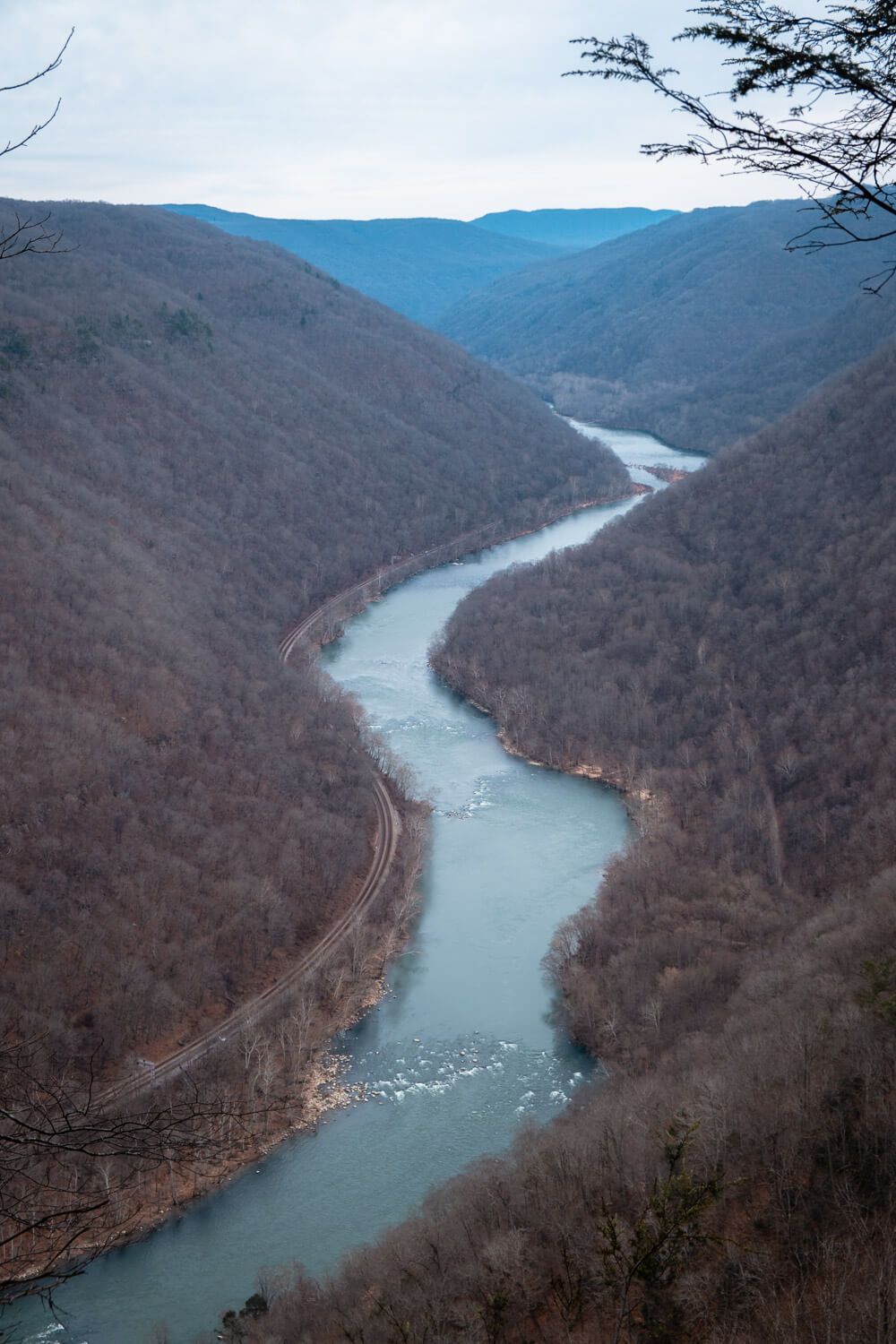 Then you'll continue on the Grandview Rim Trail for about .1 miles before you reach the intersection with the Castle Rock Trail.
The Castle Rock Trail is narrow, and winds along the base of cliffs. You'll get an up close view of the sandstone cliffs and, not to sound like a geology nerd, but the rock formations are beautiful!
I struggled to get good photos of the side of the cliffs, but trust me this short trail is worth it.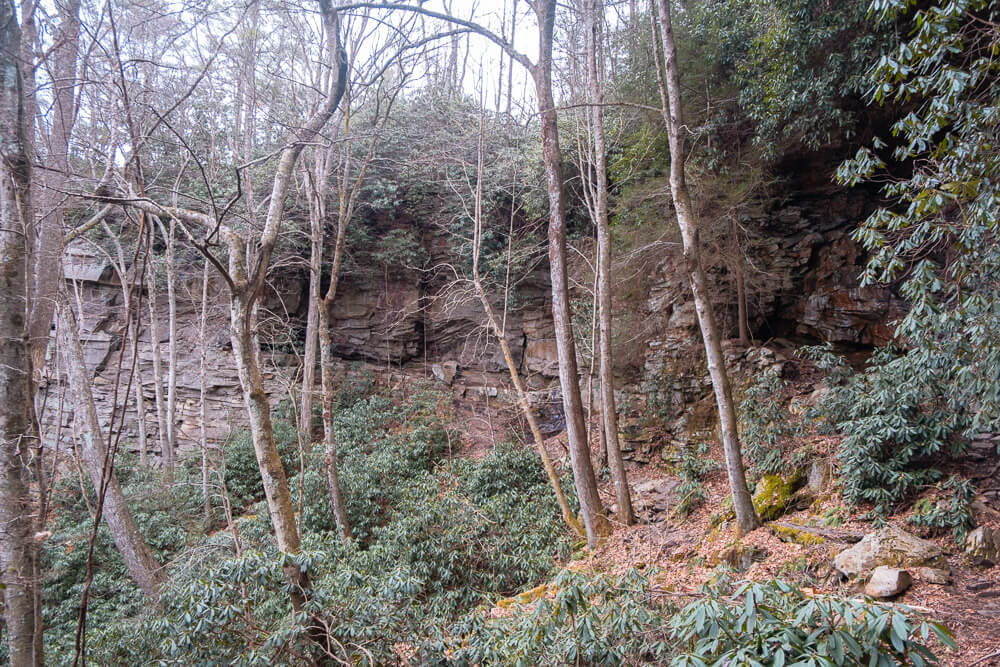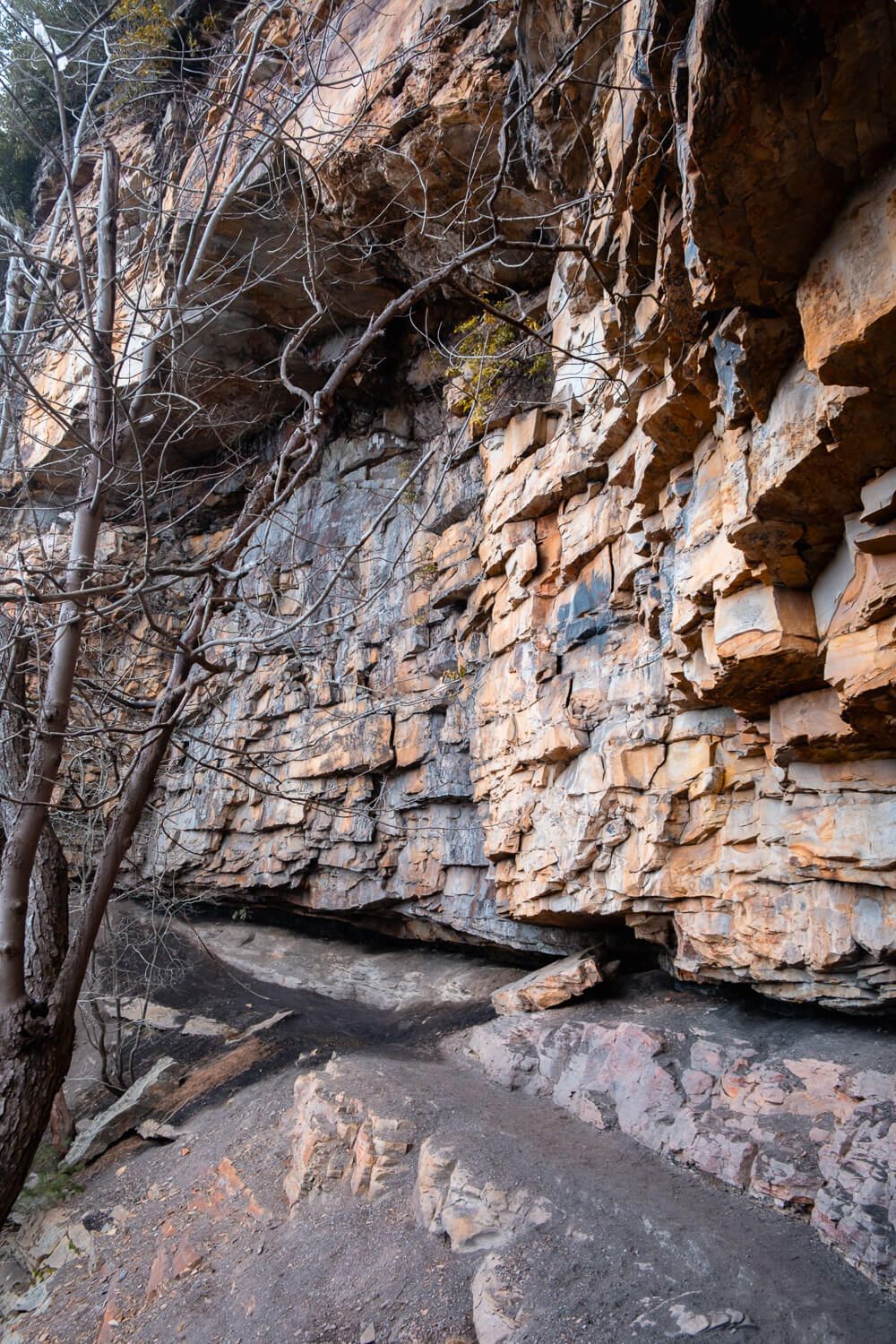 Just be careful making your way along the trail. It is snuggled up next to the bottom of the cliffs on one side and a very steep hillside on the other. Watch your dogs and kids!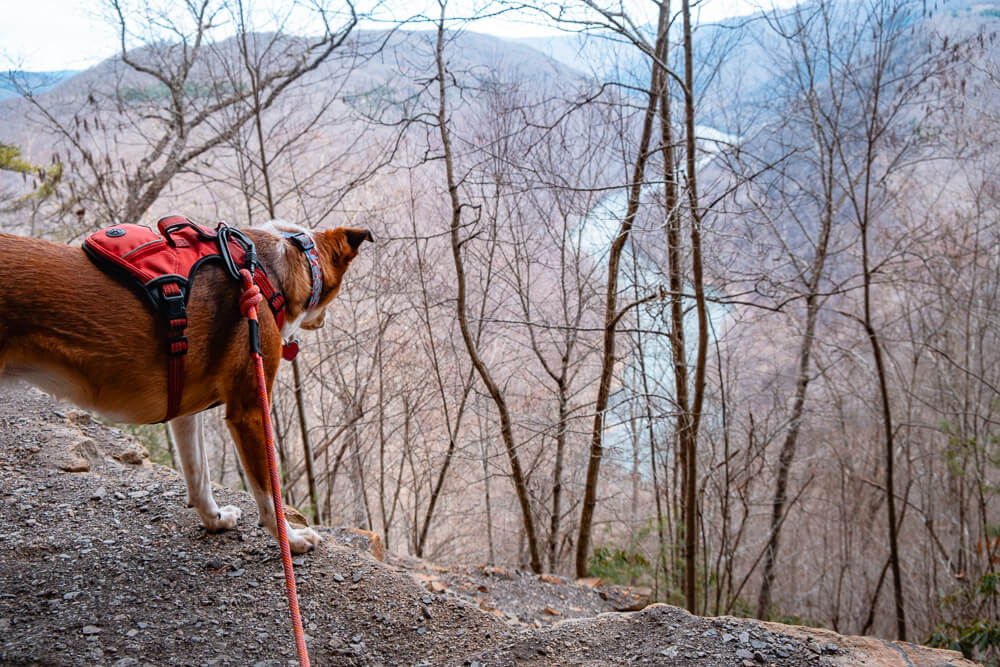 The Castle Rock Trail is only about 1/2 mile long so it'll be over before you know it. And it'll pop you out right near the Main Overlook.
If you hike this in counter clockwise direction, head towards the main overlook and you'll see the sign for the trail to your left.
Castle Rock Trail Loop Map
Click the image or the button to view the map in more detail.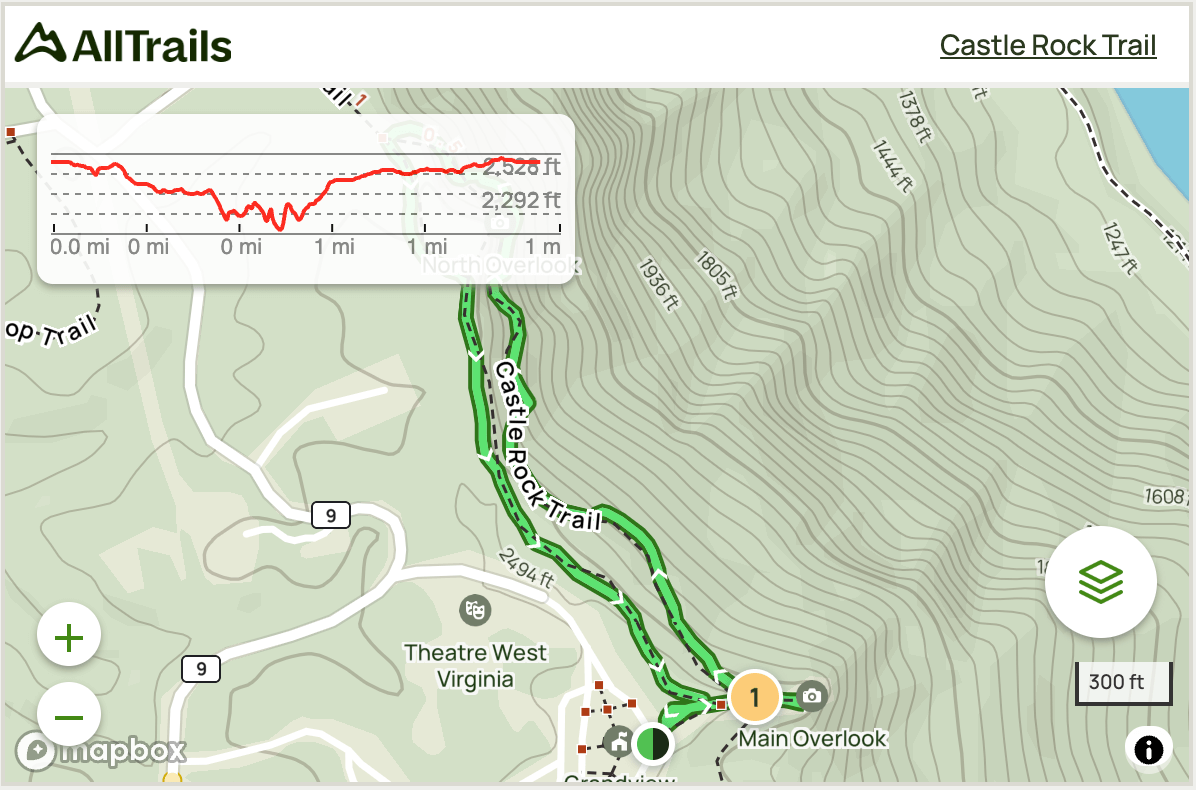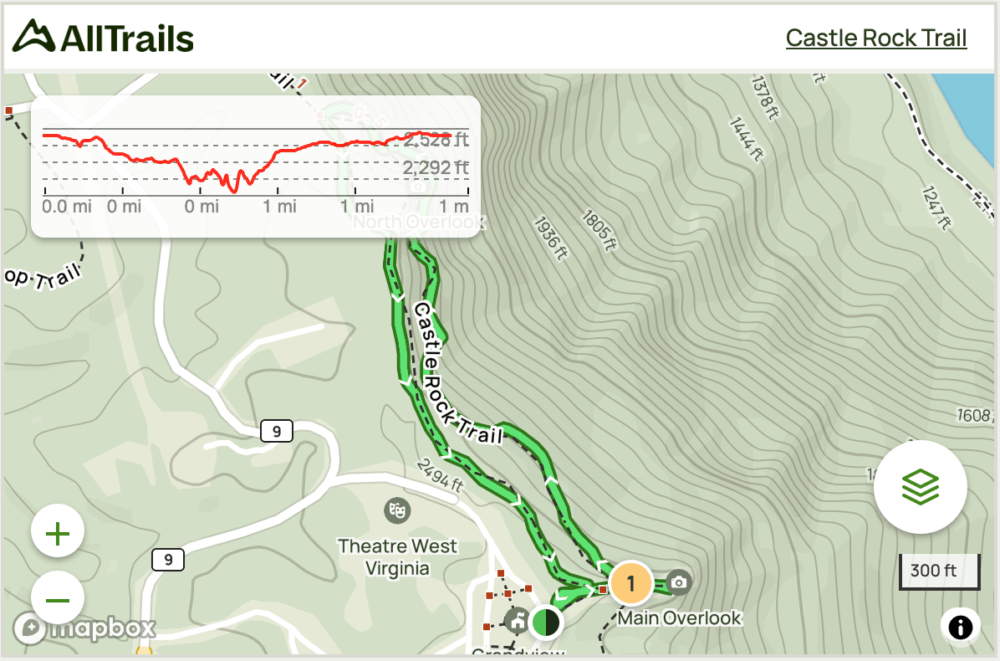 ---
Planning Your Visit to the New River Gorge
Is There a Fee to Enter New River Gorge National Park?
There is no fee to enter the New River Gorge National Park!
Are Dogs Allowed?
Yes!! The New River Gorge National Park is one of the few national parks in the country where you can explore the park and its trails with your dog.
But there are a few rules you'll need to follow:
Pets are not allowed in any park buildings ore visitor centers.
Pets must be on a 6ft or less leash.
Pick up your pet's poop and throw it away. Seriously do this. If you don't want to bag your dog's poop, don't bring them.
Bring lots of water of pet to drink when hiking. Streams in the park may contain harmful bacteria or parasites.
Pets are not allowed at ranger led programs.
When Is the Best Time to Visit the New River Gorge?
I would suggest April through mid-November. Visitor Centers should be open, tours are being offered, and the weather is warm.
Trees will be getting their leaves in April (so if you want green, wait for May). And if you want fall color, head to the New River Gorge in late October or early November.
Expect crowds in the summer months (like you would at any National Park). And expect the most people during Bridge Day (the third Saturday in October).
For my whitewater enthusiasts, tours on the New River are offered April through October.

But for those wanting to paddle the Gauley River – one of the best whitewater rivers in the country – you'll need to plan to come during Gauley Season. Gauley Season begins the first weekend after Labor Day, and continues for six weekends (five 4-day weekends, and one 2-day weekend).
In terms of the best time of year, this is definitely a case of do as I say not as I do as I have a tendency to visit in the winter.
Now don't get me wrong. I have lots of memories of visiting during the summer as a child and teenager (but just with blurry, out of focus photos).
In the winter, there aren't as many tours offered, some visitor centers are closed, and the same thing for restaurants. But it's also much less crowded. This past year we spent a handful of days in the park during the week (in February) and I often only saw a couple of people at each of the sites.
Where to Stay
I would suggest staying in Fayetteville, WV. You'll be right by the Canyon Rim Visitor Center and in perfect position to take full advantage of what the park has to offer.
There aren't a ton of hotels in Fayetteville, but you do have a Quality Inn. You can also go for a house rental if you have lots of people staying with you.
Another nearby town is Beckley (~30 minutes away) which has lots more hotel options. I like the Hilton here since it has good reviews.
Lodges and cabins are another good option! Check out Adventures on the Gorge, Hawks Nest State Park, and Babcock State Park. The Hawks Nest Lodge even has a pool!
Where to Eat
Since I'm usually in Fayetteville, this is where all of my recommendations are. MANY places are closed on Sundays, Monday, Tuesdays, etc. This is a small mountain town.
Tudor's Biscuit World. Yes this is a regional chain. But if you are not from West Virginia, then you have to try it. Tudor's is a West Virginia staple. As someone who's eaten it lots of times, I got it twice in a 5 day visit. I miss it now that I live in South Carolina.
Pies and Pints. This is the original location of this pizza restaurant. It can get crazy busy here and parking can be a pain. But I love it.
Cathedral Cafe & Book Store. Former church converted into an artsy and delicious restaurant.
Wood Iron Eatery. Great food plus a nice outdoor porch (which was rare in town). One of the only places we could actually sit down to eat with Ellie (our dog).
Southernside Junction Taphouse. Great little craft beer taproom right in downtown.
The Handle Bar + Kitchen. Part bike rental shop, part restaurant and taproom. Great outdoor seating (closed in the winters – or at least when I was there).
Freefolk Brewery. THIS PLACE WAS THE BEST! Great beer, great food, wonderful people, and they even let us bring Ellie inside! And when it's warmer, they have a bit covered patio and live music.