I love the city of Asheville. In some ways, I feel like I belong there more than I do in Greenville. Asheville is more edgy. It's a land of hipsters. It's quirky and unique. It's Beer City USA.
I can walk down the streets wearing a dress, a pair of jean cutoff shorts, and my knee high brown leather boots in July and easily fit in with the masses. (Please note that it was a very cool July day – otherwise my legs would start to sweat.)
Every time I go to Asheville I'm sad to leave it. The hills. The beer. The colorful, weird shops. The food. Oh. My. God. The food. And at only an hour away from Greenville, I find myself booking a weekend trip to Asheville every couple of months.
And while I hope to further detail everything Asheville as to offer, I want to start off slowly with this first introduction to the city – a snapshot.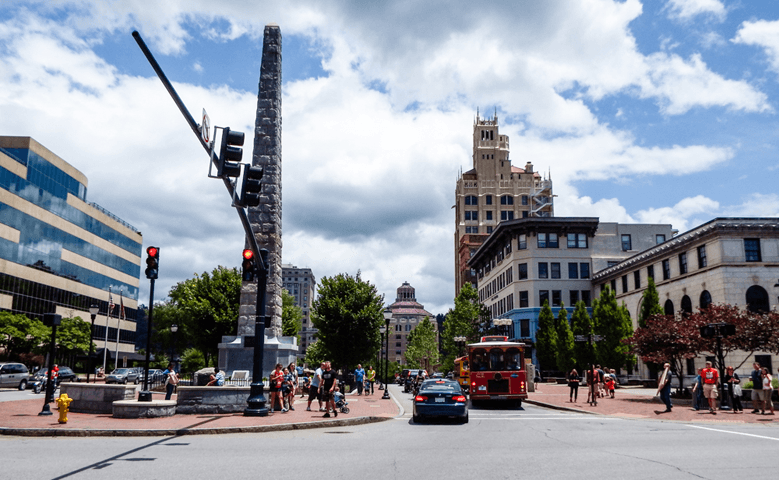 ---
Citylife
It's hard to describe it unless you've been there. And to me, the closest thing it reminded me of was a small European city (Galway perhaps?). The downtown is small and easily walkable in an afternoon. Breweries – the local watering holes – dot a couple of the major throughways. Musicians and performers post up on popular street corners to entertain those passing by. You'll see and hear everything from those with only a guitar and their voice, to complete bands with banjos and washboards.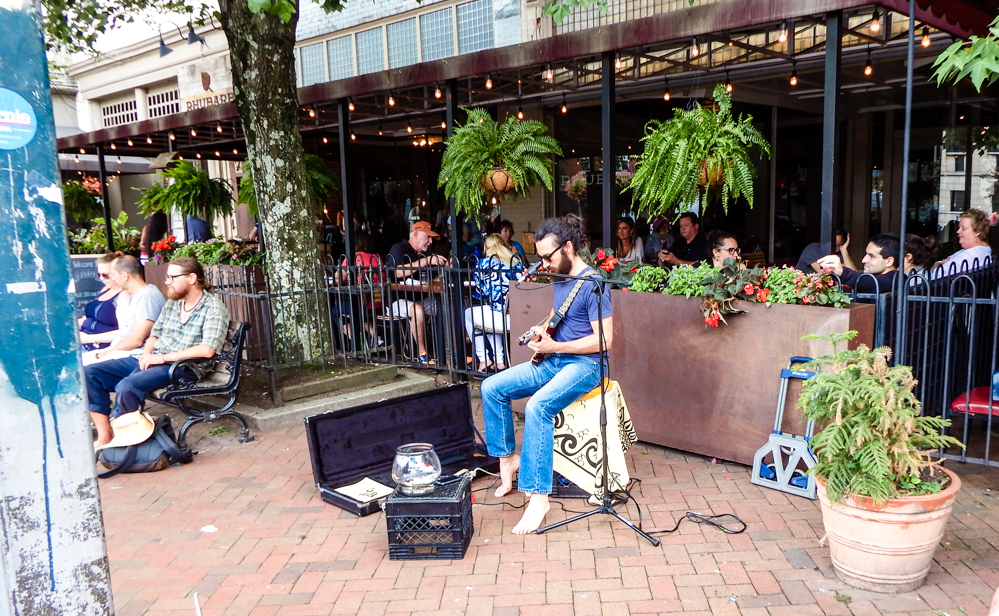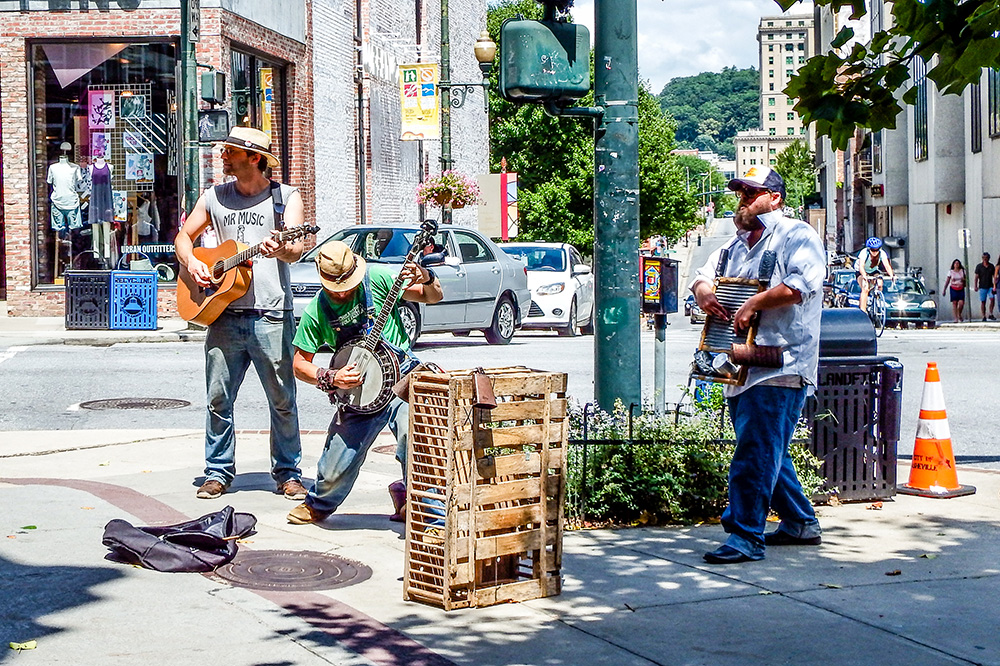 And then there are the shops. Asheville has everything from clothing boutiques to jewelry studios to high-end pet stores. But I have my favorites. One is a small, used bookstore and the other is a shop like no other. I love bookstores, especially local ones, and I often find myself in them when visiting new places. At Asheville's the books are spread over three separate rooms on two split levels. Genres range from science fiction to southern authors to comic books. You can sit in what appears to be a row of movie theater seats and peruse at your leisure. The woman behind the counter had a small dog who scrambled up to see me as I passed by. And as I left, with my new books under my arm, I noticed the first Harry Potter novel in hardback sitting below the glass counter. It had been signed by JK Rowling.
My second favorite store is definitely the L.O.F.T. (Lost Objects, Found Treasures). Walking up to the building, an array of wind chimes and signs mark your arrival. It was here I found a weird little garden statue of two frogs on a seesaw that moves in the wind. Seeing it I knew my parents would love it. Inside the door you'll find the weird, the cute, and the outlandish. You can buy jewelry, candles, tshirts, soaps, furniture and more. I've bought greeting cards, blank journals, the seesaw frogs, and a mold that shapes two breakfast eggs into a skull (yes, the yolks are the eyes). I love weird things.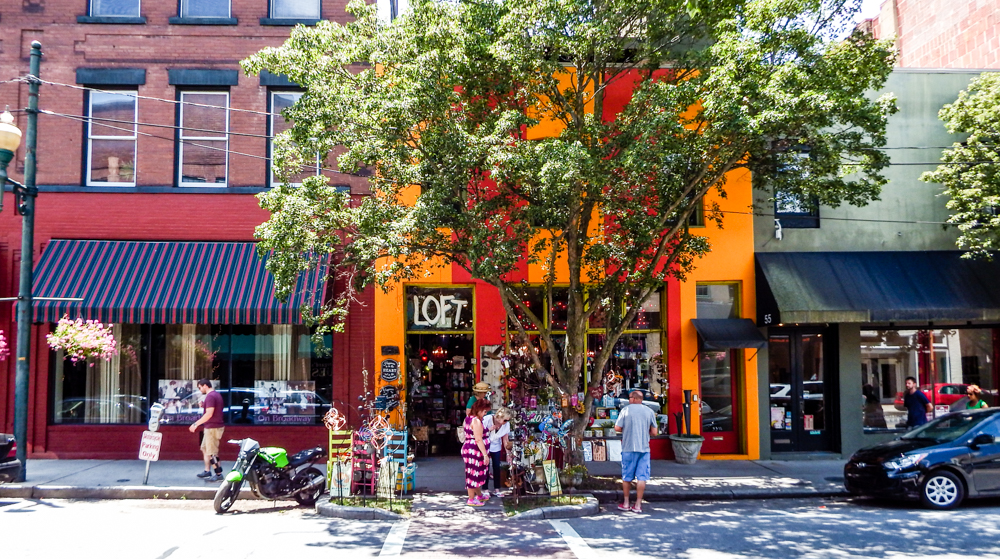 A short walk south down Lexington Avenue will bring you to the Lexington Glassworks studio. Here you can not only peruse their handmade glassware, but you can actually watch live demonstrations. The first half of the large studio is dedicated to selling the hand-blown glass while the back half is where the glassblowing occurs.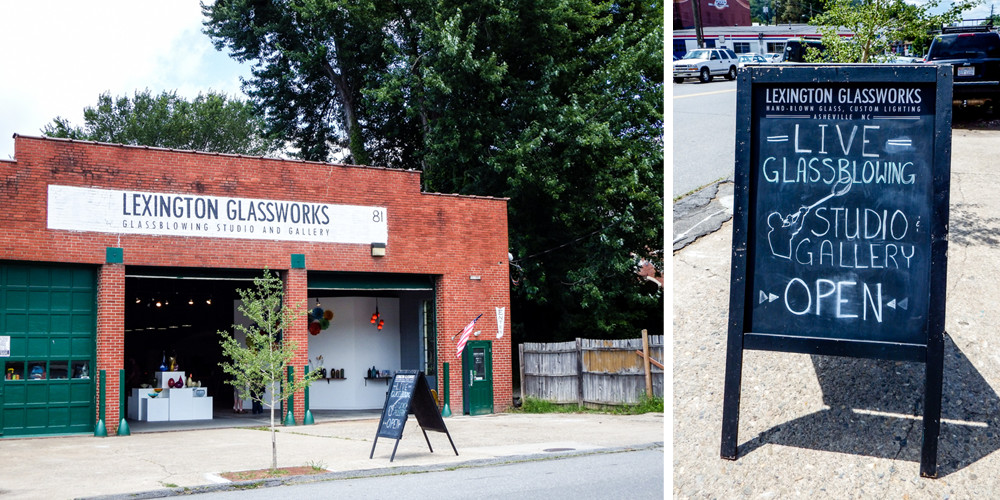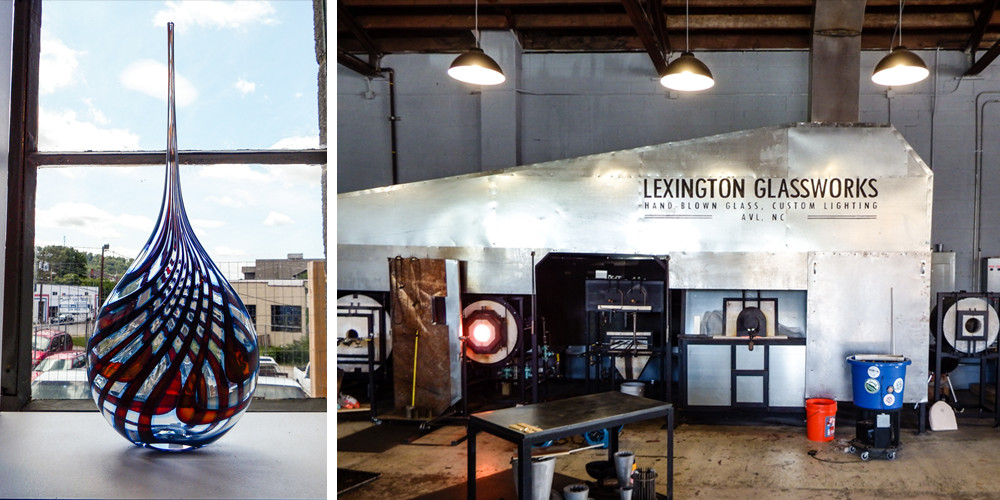 I could feel the heat start to push at me as I made my way to the viewing area. Two men, who later compared the process to dancing, were creating a simple bespeckled glass. They would take turns collecting the salt and firing it. They would pass the metal rod back and forth. Their hands, their movements almost instinctual. These were obviously two men who had worked and created together for a long time. Words weren't needed between the two, they simply knew.
While they danced, I mean worked, they explained that it took years to perfect a shape, even a simple glass. And that even once they perfected a shape, they were never finished with it. They constantly were finding ways to innovate it. To make it more colorful, interesting, and unique.
There were only five of us collected in the demonstration area and the glass blowers happily answered our questions and (when they could) brought the glass closer to use to see the various stages.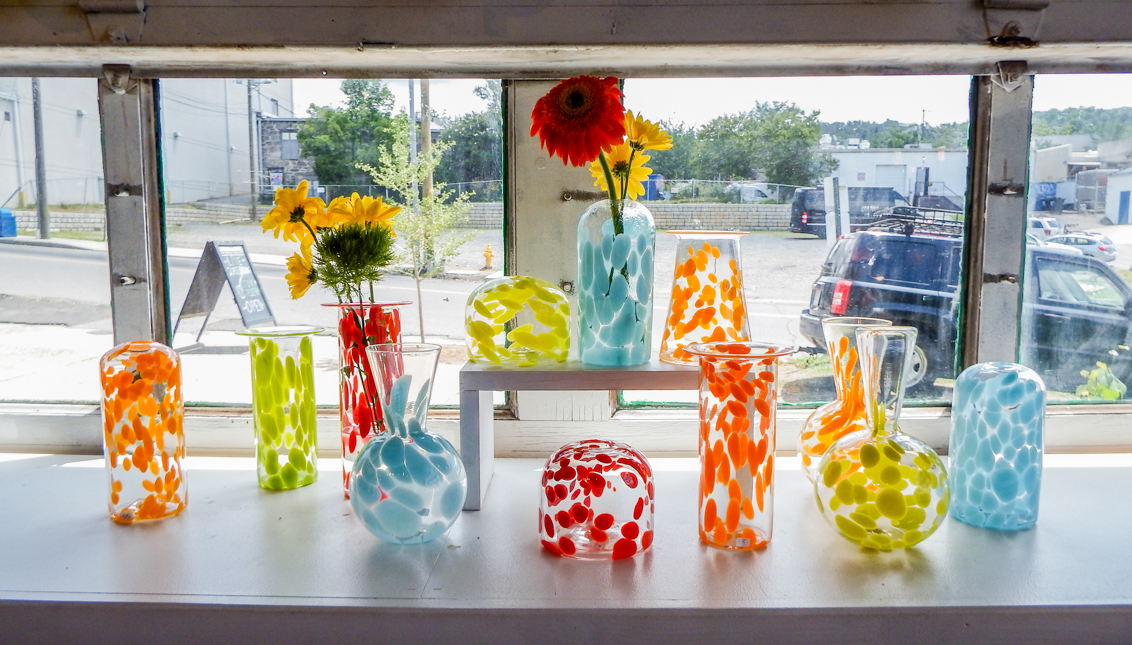 I found myself standing there transfixed for quite some time before I finally pulled my feet away.
---
The Food
The food scene in Asheville is fantastic. And they have something to suit everybody. What do you want? Tacos? Look no further than the White Duck Taco Shop. Thai food your fix? Check out Suwana's Thai Orchid. Need to get your brunch on? Early Girl Eatery is where it's at. Craving a cup of the richest hot chocolate you've ever had? The Chocolate Lounge will blow your mind.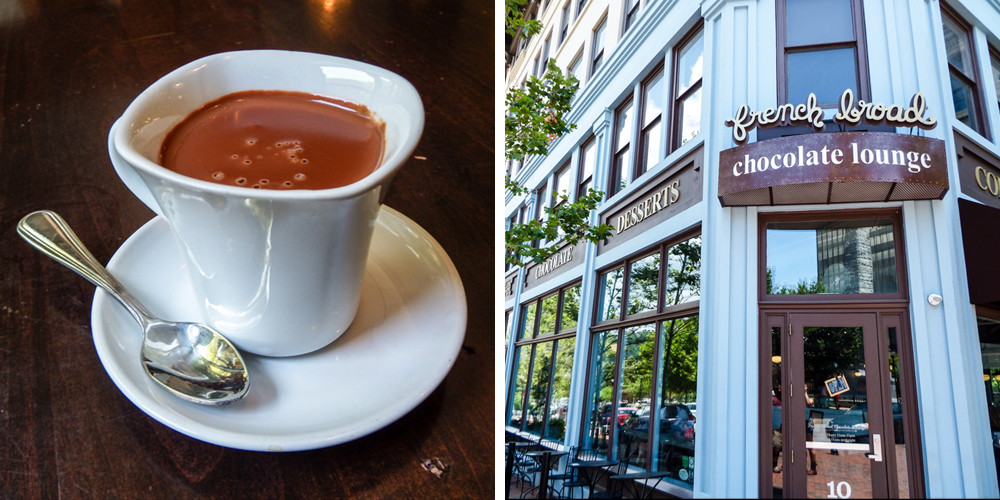 But a girl's got her favorites. For dinner I'm always drawn to tapas restaurants. Yes I know they're expensive but something about being able to try a little bit of everything draws me in. And Asheville has several tapas places to keep me busy.
The first tapas place we tried was Curate. The food itself was amazing but not overly inventive. We ran the gambit with salads, cheese and meat plates (the cheese and meat are sold separately – what's up with that?), meat skewers, and the best pistachio sponge cake I've ever had. So good and classic.
Nightbell on the other hand is a very funky tapas place. After consuming several cocktails, I decided the theme was absinthe with a touch of a brothel. I don't know what that means now but at the moment, it made perfect sense. But the food – oh the food. We got two eggs (seriously get this), clam chowder spoons, asparagus shaved salad, duck & waffles (my favorite), flank steak, and cheesecake (the BEST cheesecake of my life). Not a cheap place but if you like tapas you got to give it a shot.

But by far one of my favorite restaurants in all of Asheville has to be Salsa – a Mexican Caribbean joint. The food is cheap(ish), comes in large portions, and is set in a casual atmosphere. If you're lucky, you can even grab a table outside. The flavors in the food are rocking and did I mention the portions are gigantic? Cause they are. Seriously two people can share one dish. You have to try this place. Someone at our B&B recommended Salsa to us and later, after lunch, when I saw them on the streets, I ran over them and profusely thanked them for suggesting it. It's that good.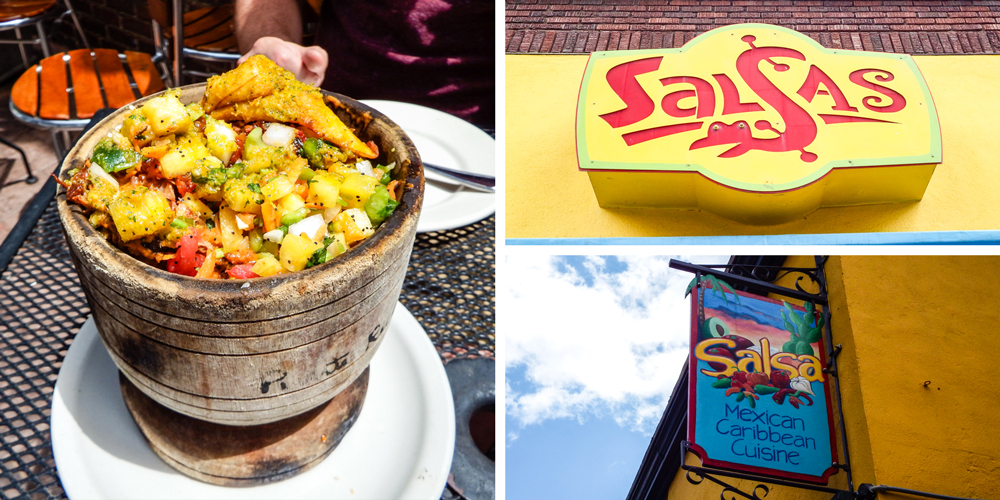 ---
Beer
It's Beer City USA. Breweries can be found downtown and scattered around the outskirts of the city. If you are a fan of beer, hell even if you only kind of like it, you got to go to Asheville to check out the scene. IPAs, wheats, porters, stouts, saisons, ales, sours, blondes, belgians, bitters, kolsches, ciders, and more. If you like it, you'll find it in Asheville.
For now, I'll just point out a couple of the breweries you may stumble upon on your visit to Asheville. There are many, many more but if you are only there for a day or so, these ones are located downtown and are easy to find.
LAB or Lexington Avenue Brewery is, you guessed it, on Lexington Avenue. They have an outside patio and a large restaurant. They usually have less than 10 beers on tap but they cover a wide variety. Can a belgian beer lover and a hop fanatic drink together here? Yep – LAB has them covered. They also serve food – nothing too amazing but when I'm throwing back a sampler, it's nice to have a delicious burger to munch on.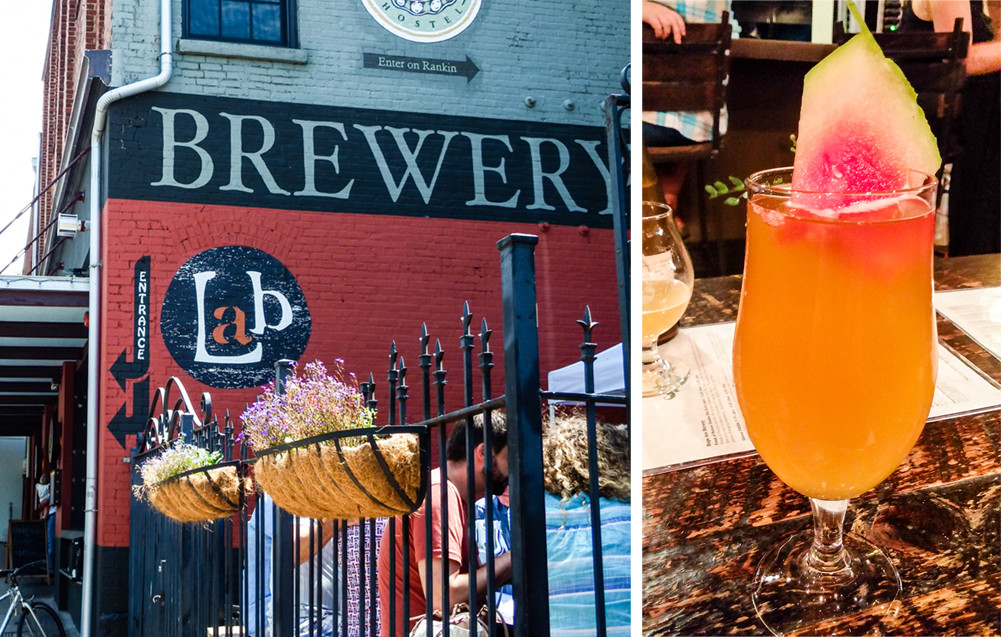 Wicked Weed Brewery is on the southside of town on Biltmore Avenue. It's got a large restaurant, a super nice patio going on, and a downstairs area where you can grab even more beers. The food is great and the beer list is long. Plus the place is slightly themed towards Henry VIII and my Tudor obsession totally digs that. Why Henry VIII? Because he was the one who said, "Hops are a wicked and pernicious weed." Hence the Wicked Weed Brewery.
The last brewery downtown that I'll mention is One World Brewery. They don't serve food. The entrance is crammed down an alleyway next to Salsa and Farm Burger. And the bar is located in the basement of another building. The atmosphere may be considered dive-ish but I loved it. Here they brew what they want, when they want it. While they may have a variety of beer, when I went, they were on an IPA kick. All of their beers were some version of an IPA. This is a place for the real beer connoisseurs.
So that's Asheville. It's different. Unique. Funky. Amazing. And I love it. Hopefully you will too.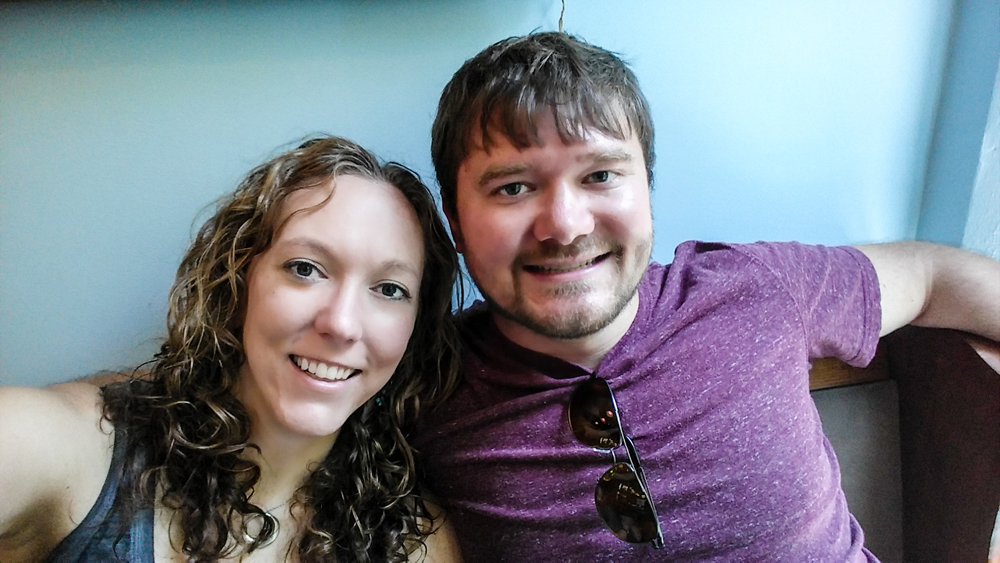 [title type=special-h3 color=#555555 class=lauraquestion]So what do you think? Willing to give Asheville a visit?[/title]