Our time in Uvita, Costa Rica was fantastic. We walked to the whale's tail and played in some waterfalls, but my time in Uvita, was centered around one place – the Flutterby House. This hostel was incredible. We ate all but one meal there, made several friends, hung out at the bar, and just relaxed. And I soon realized one thing…the Flutterby House is the Uvita hostel.
Okay so it's been awhile since I stayed in hostel. This was the first lengthy stay (more than one night) in years. I was a little anxious about it, but their website looked awesome. Plus who wouldn't want to stay in a treehouse 2 blocks away from the beach? How could I resist that?
Long story short, I couldn't.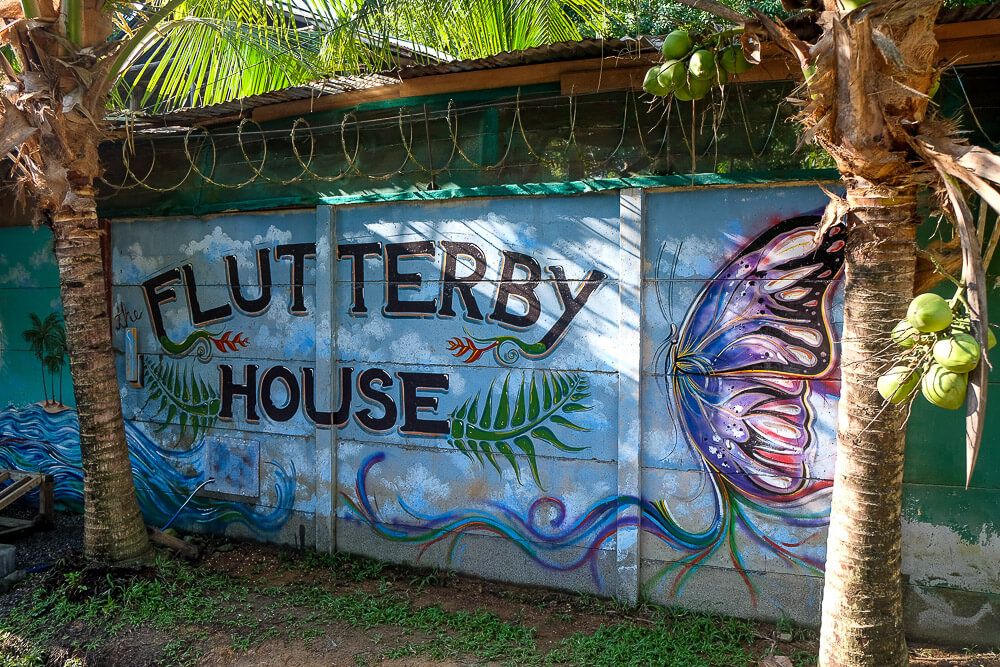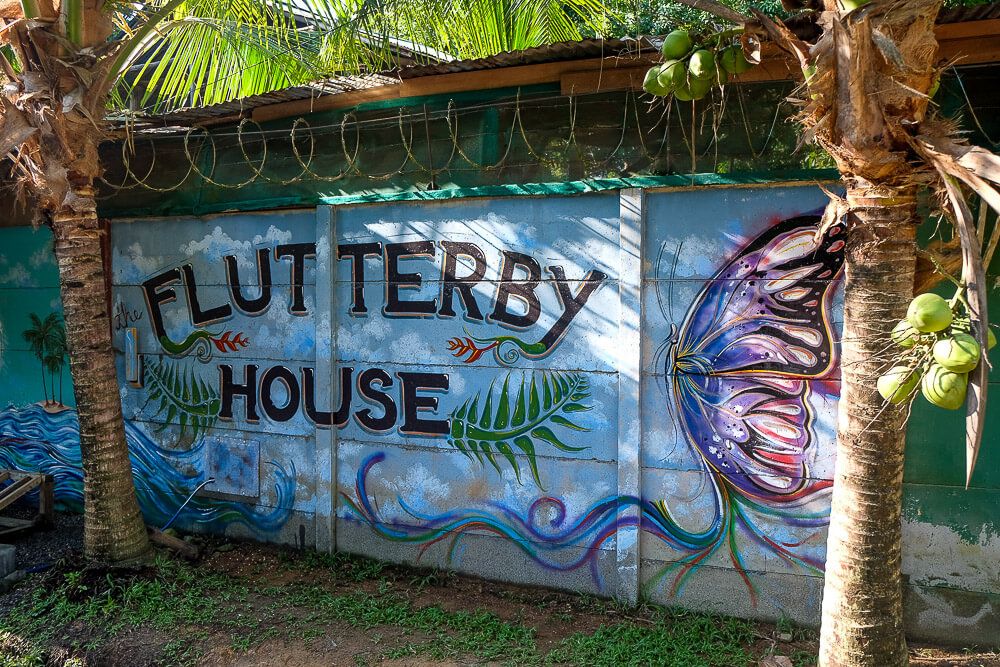 We pulled in one late afternoon and Flutterby turned out to be everything I thought it was. A little collection of buildings and treehouses, hand painted signs, and very backpacky looking folks.
The guy who checked us in was friendly and amazing. He showed us around and gave us the lowdown on where to find things and the rules of the place. He also let us grab a beer first before starting the tour. Though let is a bit of grasp. It was more like he strongly suggested we get a beer, relax, and enjoy being here before getting to the boring part.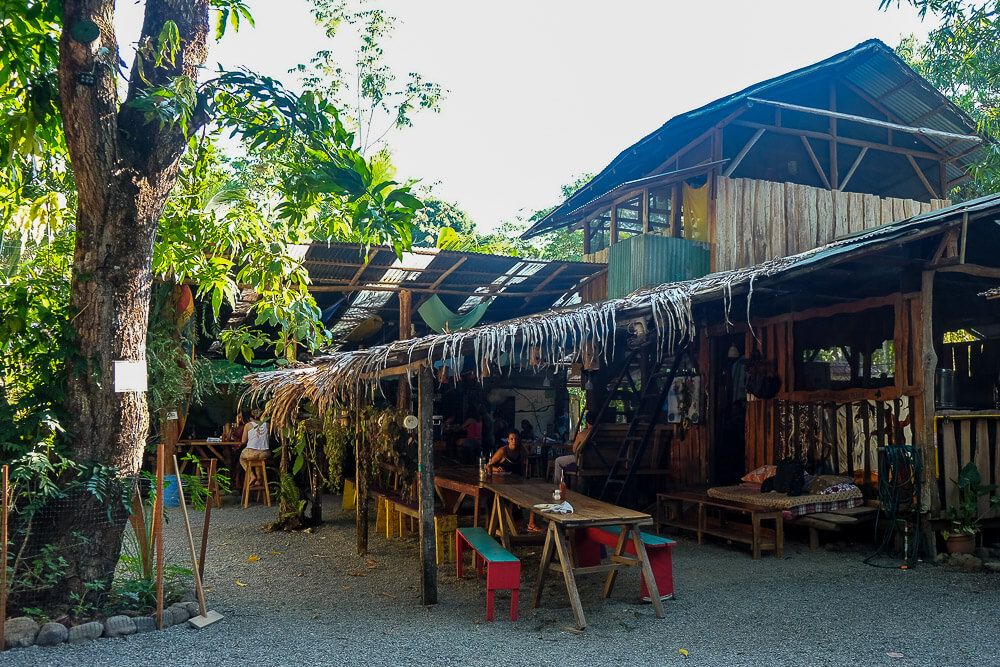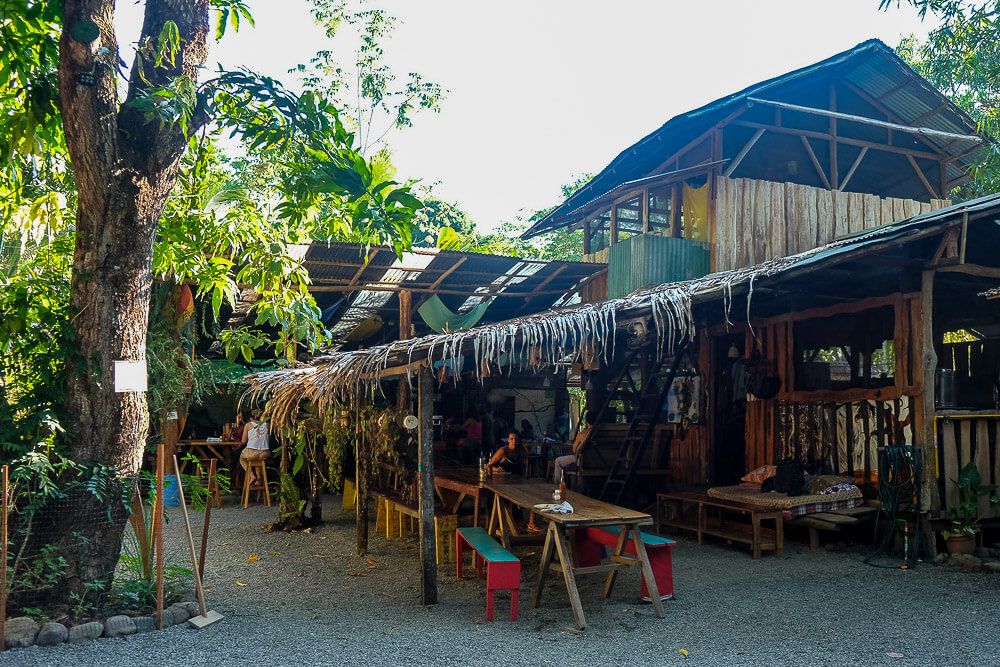 For the first two nights of our stay in Uvita we were in Tom's Cabin. This cabin is located at the back of the property and is private (with a private bathroom). The downstairs has a bunkbed and a futon, plus a full kitchen. The upstairs has a full sized bed that faces out to the back of the property (complete privacy).
We definitely enjoyed having our own bathroom, but my heart was set on the Mariposa Escondida. This treehouse was to be ours for our last two nights in Uvita (and the switch between the two was flawless). And it was by far my favorite.
Though the spiral staircase up to the room was a bit treacherous with our luggage, I loved staying in the treehouse. We had our own little room, but the best part was the porch (complete with hammock). Any time we weren't running around, you could find me there.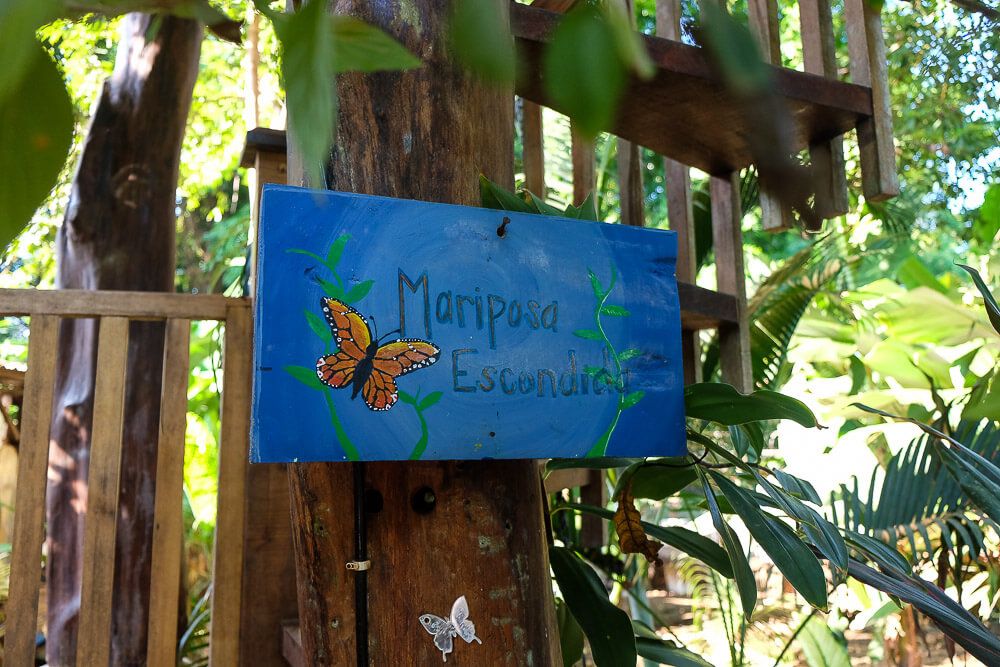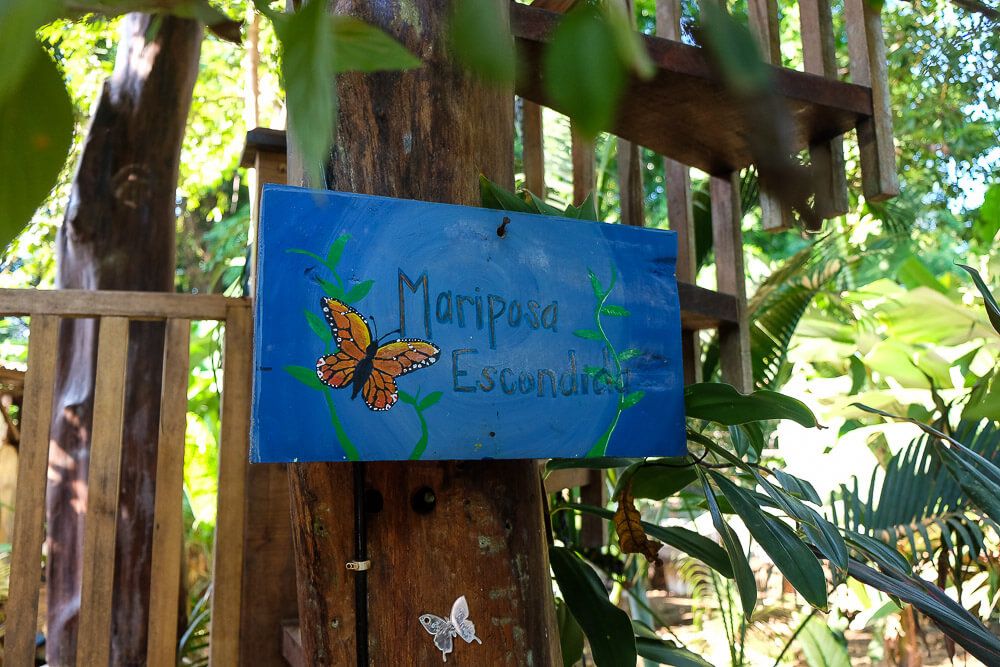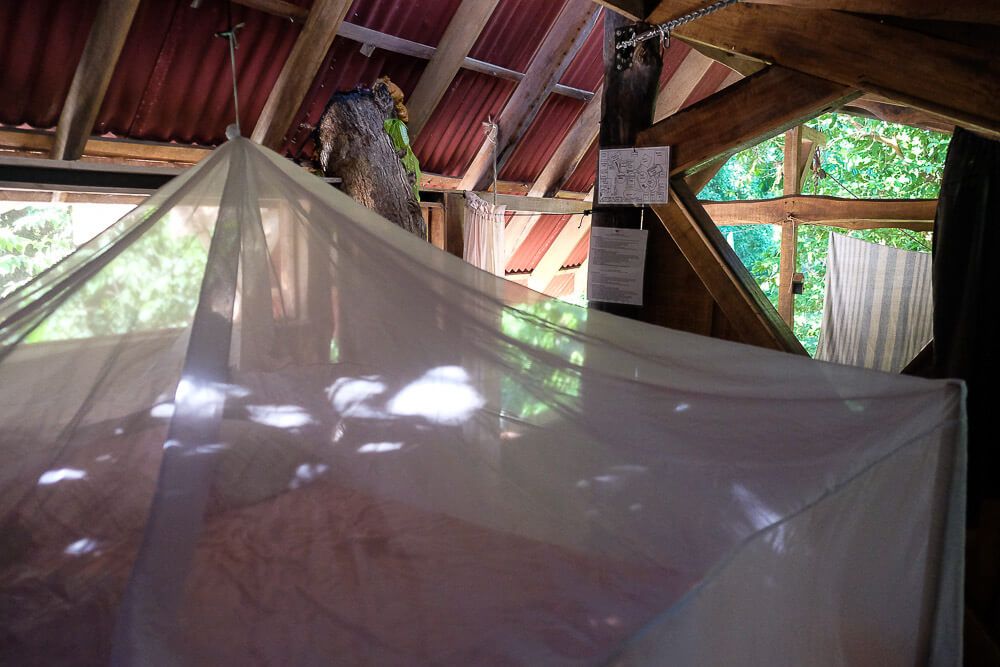 But this is a hostel – a gathering place. And gather people do in the common areas. Ryan and I grabbed all but one meal at Flutterby and we were usually up at the bar every morning (for breakfast) and every evening (for dinner and drinks).
My favorites? I still remember the breakfast burrito. The pico de gallo was heavenly and I ordered it twice more just for that. The smoothies were also incredible and we usually grabbed one for breakfast as well.
For dinner my selection changed. I loved the ceviche as a snack, and Taco Tuesday was definitely my favorite dinner special. But from the main menu, the Queso Tomato Sandwich stole my heart.
For drinks I either went with the happy hour cocktail special (sometimes it packed a punch and sometimes not) or the standard Pilsen (the local, light Costa Rican beer).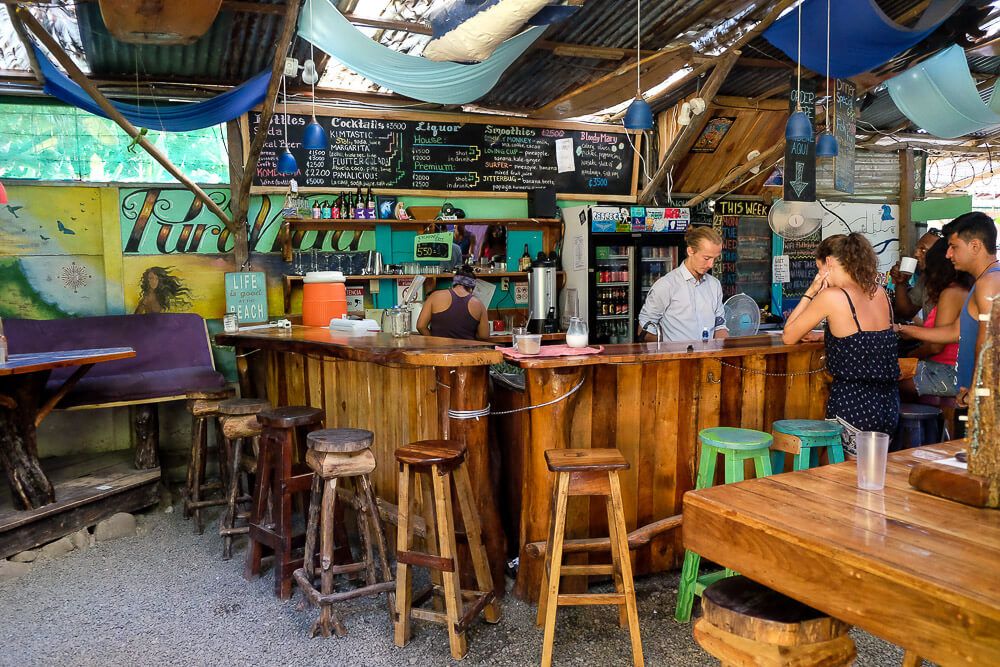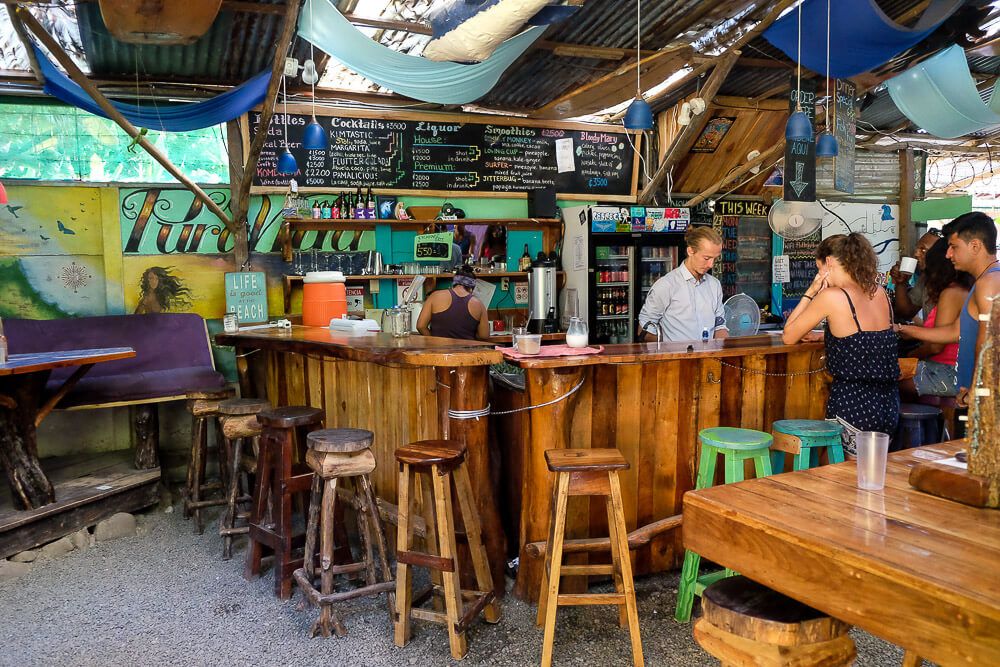 But I'll also remember the people. The staff who told us how they arrived in Costa Rica and ended up in Uvita. And the three separate groups of Canadians we ended up befriending and hanging out with in the evenings.
Though we didn't schedule many activities through the hostel, they were more than happy to help us. The owner gave us suggestions on where we could go to see a sloth and one of the guys called an animal sanctuary for us to see if they had any sloths there. (I may have had a strong desire to see a sloth before we left.)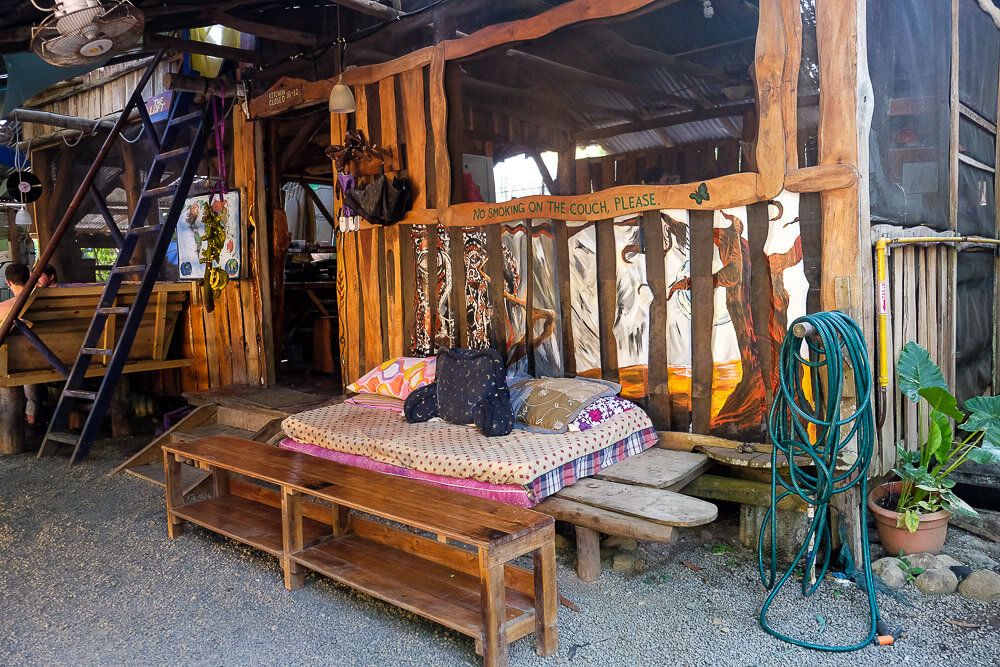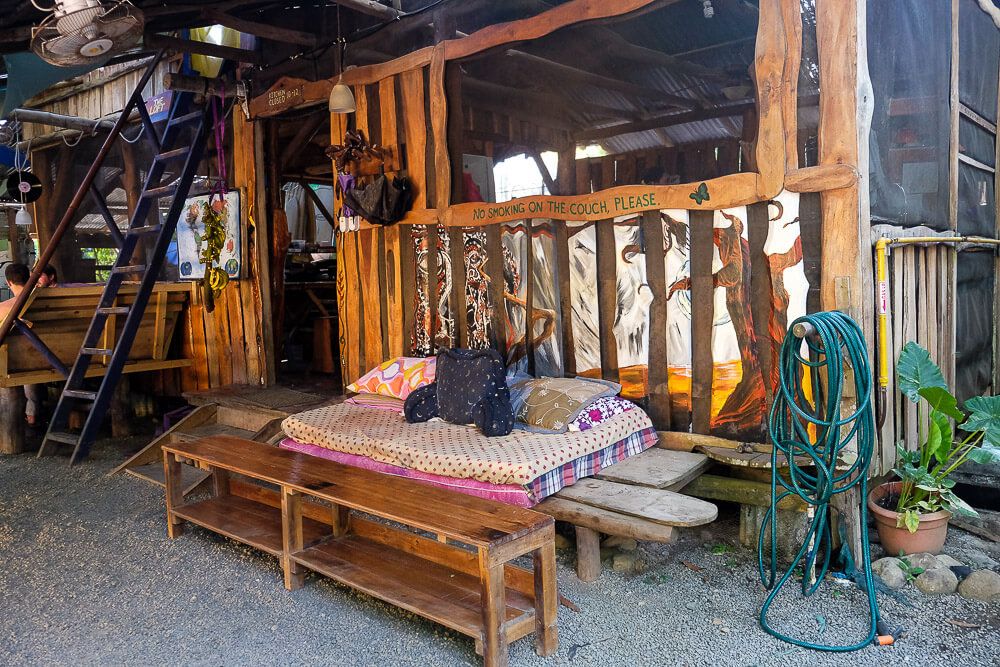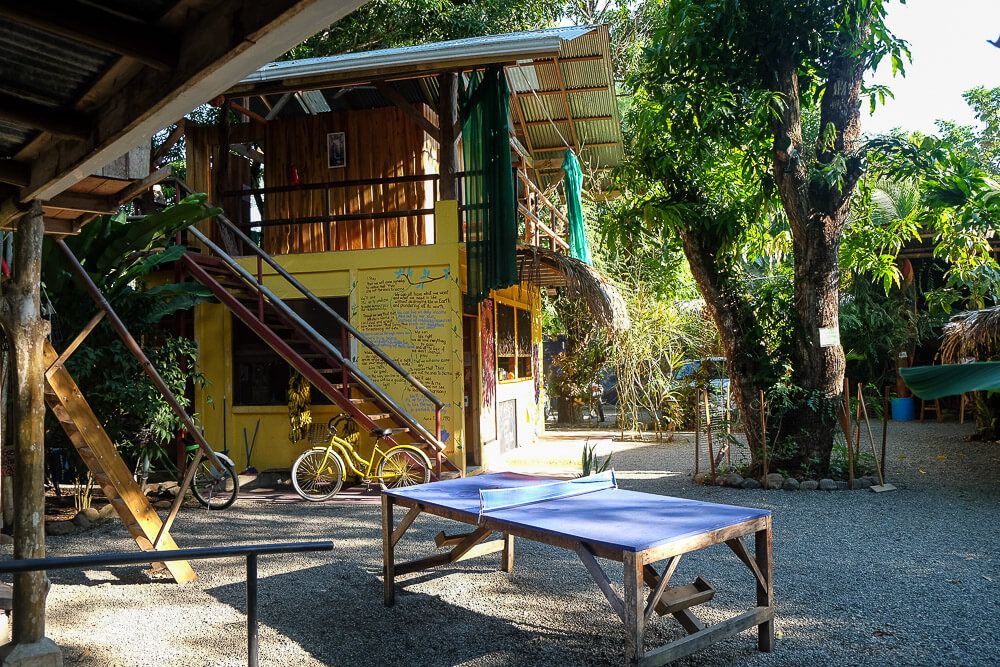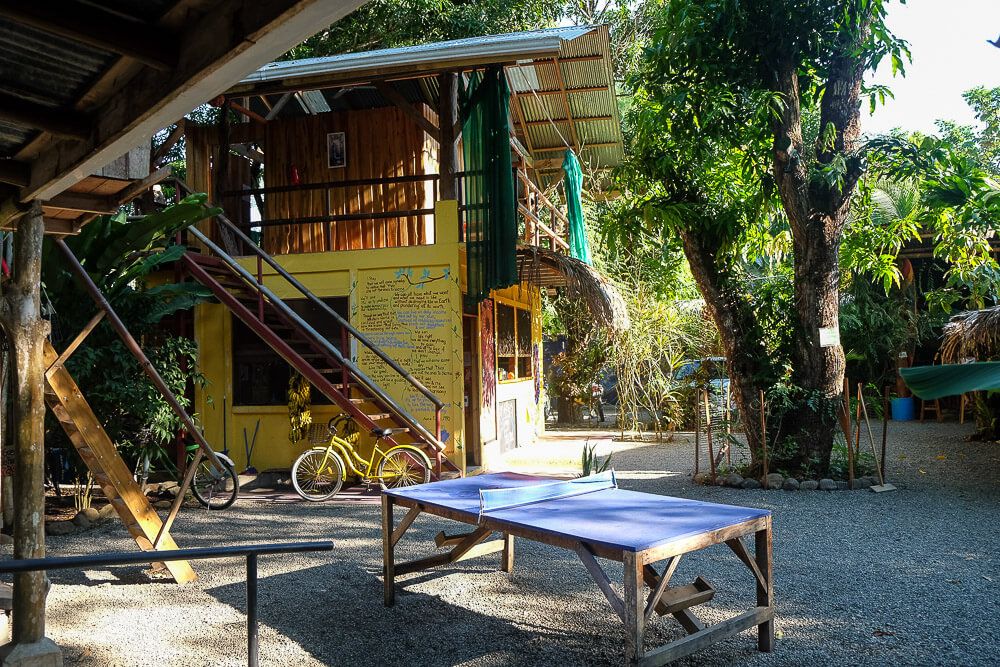 But the main activity we did with the Flutterby House was surfing. Everyday you can schedule a surf lesson through the hostel. It's definitely not cheap. But it is convenient.
I'm not sure another Uvita hostel has their own setup with a local surf company to offer lessons (on-demand basically) for their guests.
This also meant the lesson had only a few surfers – there were just 3 of us: me, Ryan, and a German girl.
Our lesson was with a guide named Jonah. He met us at the hostel, picked out boards for us, and then met us at the beach. (He drove the boards there while we walked – it's only about 2 blocks or so).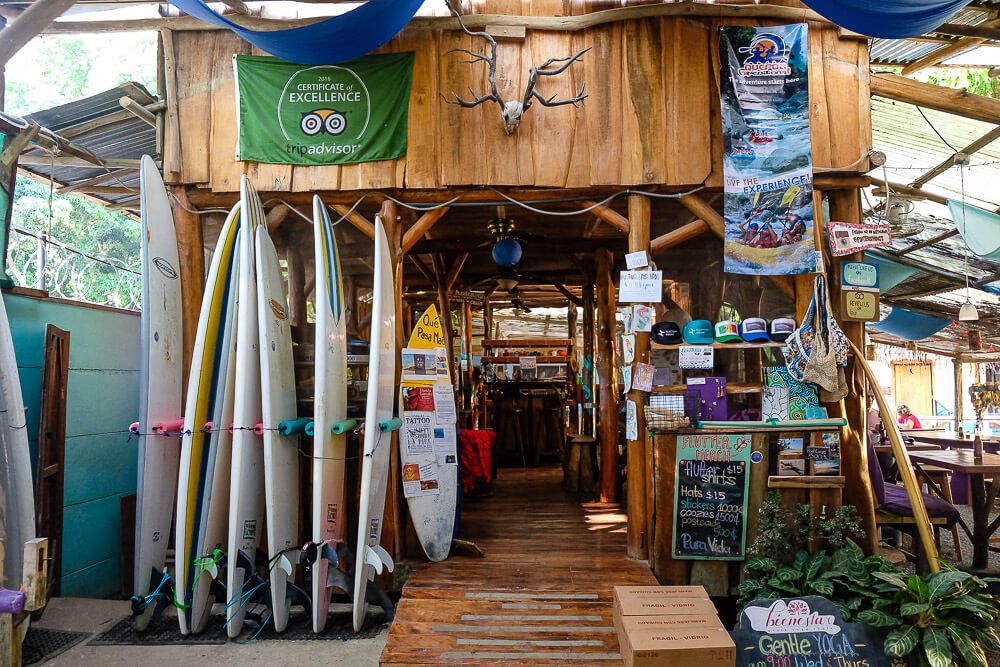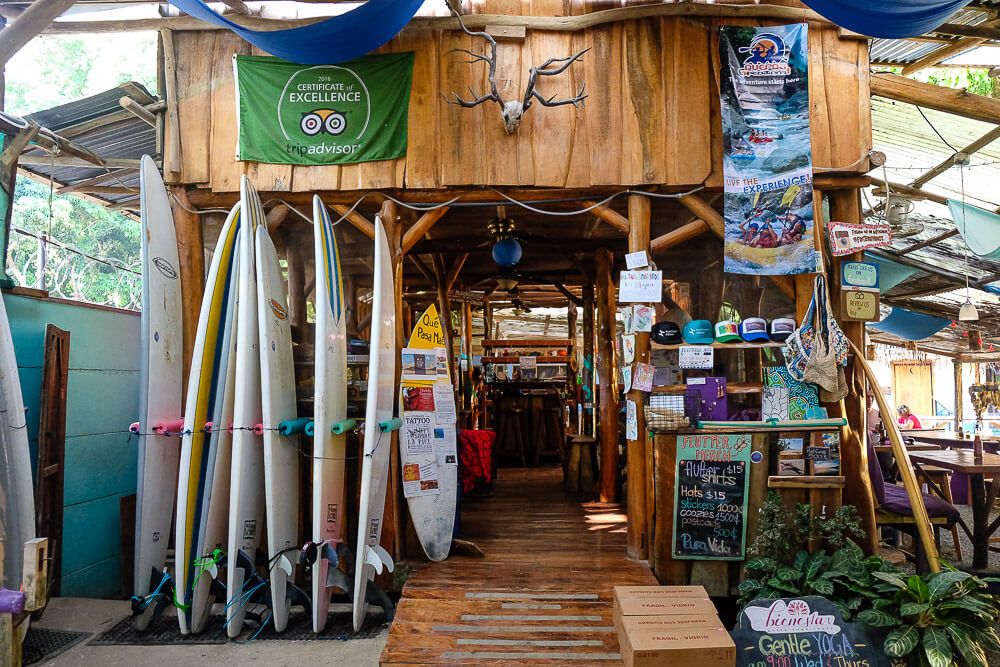 Luckily I've done a lesson before so I wasn't a total newbie. But we still did the whole lesson-on-land part first.
Then we were out in the whitewater. Due to the height of the waves, we were going to catch them after they broke and then try to ride the whitewater in.
Jonah placed us each about 10 yards apart, and then let us go at it while he drifted among us. I really liked this approach. He was there to help and give tips (and pushes) when we needed them. But if I didn't want to wait for him to come back to me, then I could try to catch one on my own.
Long story short, I tried to catch as many as I could. And after the first half of our lesson was complete, I was starting to tire. My shoulders were shot and my eyes were sore from all the salt water. But after a quick rest, I was headed right back out there.
For the second half, Jonah gave us instructions on how to turn. And though I could only successfully turn right, I loved learning this new tip.
By the end I was beat. Jonah helped me carry my board back in for me due to the pain in my shoulders (we surfed at low-tide and this is a very long beach).
Then we headed back to the hostel (after grabbing an ice-cold coconut by the side of the road to cool off).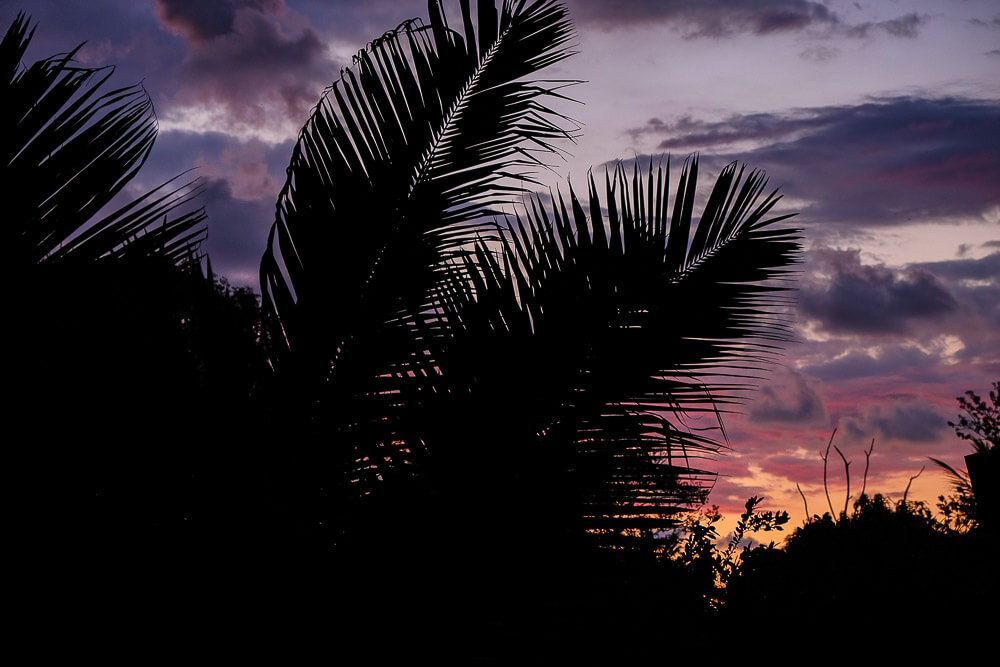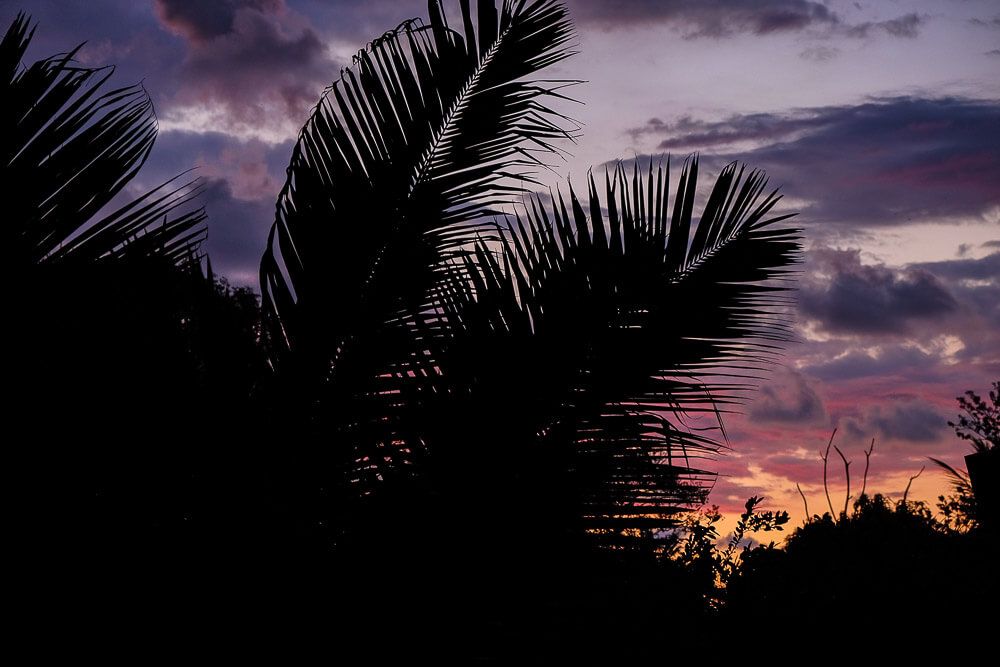 So, as you can see, I'm a big fan. Flutterby put hostels back on the map for me. I'm definitely not too old for them (often my fear), I just need to find the right ones. And Flutterby was definitely the right one.
It defined so much of our time in Uvita. Our days revolved around that place. And it was just what I needed. A treehouse by the beach in Costa Rica. I wish I could have stayed longer.
Because now when I think of Uvita, I also think of the Flutterby House.
Have you ever fallen in love with a hostel?
---
Nitty Gritty
Cost. The Flutterby has a wide range of rooms at different costs. Our first two nights were more expensive since the room had it's own bathroom (and could technically house a lot more than 2 people). But both of our rooms were private (and therefore more expensive than the dorms). We paid $280 total for 4 nights.
Surfing Cost. With tip we paid about $54 per person. Tip is not required, but we decided to thrown in something for Jonah. Overall this was not cheap, but I really wanted to do it and with very little effort.
Also we had to pay with cash, but we could do so after we got back to the hostel. Which meant we didn't have to worry about bringing that much money to and from the beach.
Surfing Tips. Definitely wear a long sleeve shirt or a rash guard and don't forget the sunscreen. The sun is brutal. Plus you will get tired and be thirsty, so bring a water bottle with you to the beach.
Some of the links in this post are affiliate links. If you buy something through these thinks, I may earn a commission from the sale (at no extra cost to you!). As an Amazon Associate I earn from qualifying purchases. Thank you for reading along!