The Cloud Forest. This was the reason we came to Monteverde. We wanted to see this primary, virginal forest cloaked in clouds. And one of the best places to see it is in the Monteverde Cloud Forest Biological Reserve. The namesake reserve for the whole area. But we decided not to sign up for its pricey, crowded tours. Instead we decided to do our own self-guided hike in the Monteverde Cloud Forest.
And we saw plenty without a guide.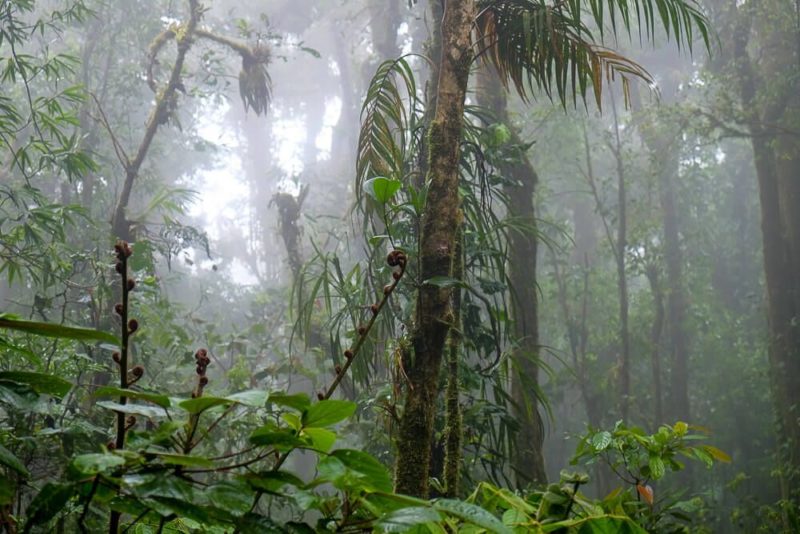 (Now caveat – we did do guided tours for our time in Monteverde, we just didn't do them at the main Monteverde Reserve. More is coming on our tours with Oscar at the Monteverde Refuge (different form the main Reserve) and Curi Cancha. We personally decided not to do one at the main Monteverde Cloud Forest. So you don't have to do a tour during your time in the Monteverde area. You can definitely get by on your own.)
For our hike in the Monteverde Cloud Forest, we did a loop in the center of the reserve and hit all of the major stops: Sendero Nuboso, La Ventana (and the Continental Divide), the suspension bridge, and the waterfall.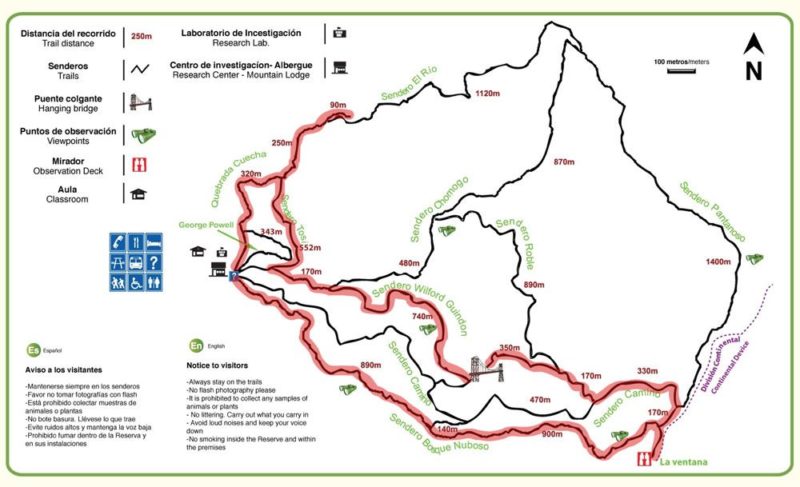 ---
Sendero Nuboso
We arrived at the Monteverde Cloud Forest around noon. We definitely did not wake up early on our first day. But we also avoided some of the morning rush since several vans were leaving as we were arriving.
Our hike started off on the Sendero Nuboso trail. I'd read this was a pretty popular trail but for about half of it, we didn't run into a single person. It was also one of the more beautiful sections of the entire hike.
The entire forest around us was literally draped in clouds.
Everywhere you looked it was green…unless it wasn't. Vibrants flowers sprung from the foliage, their petals literally dripping from the mist that hung around us.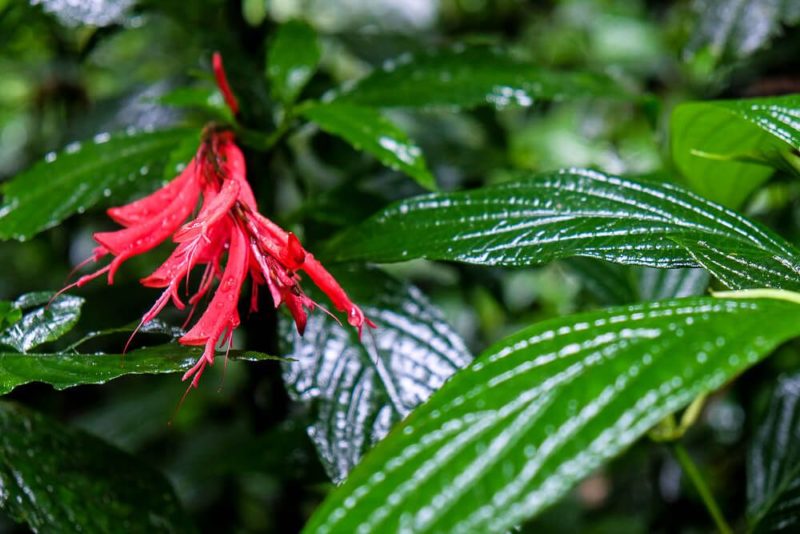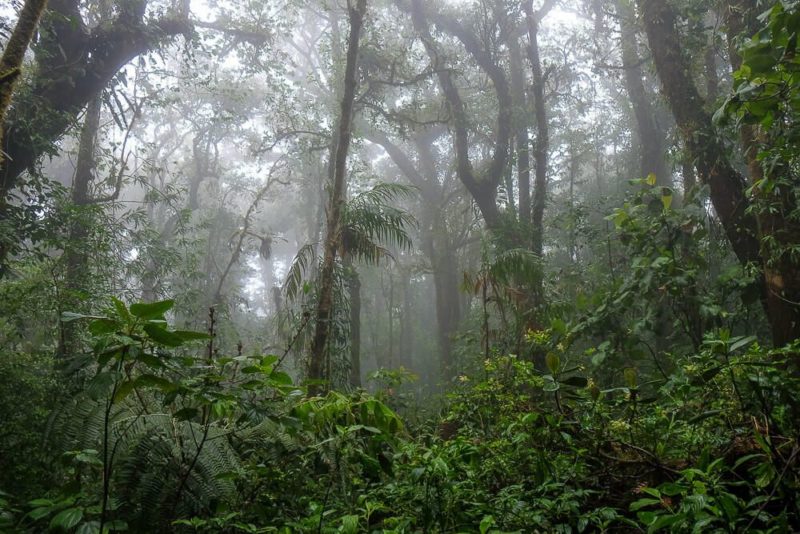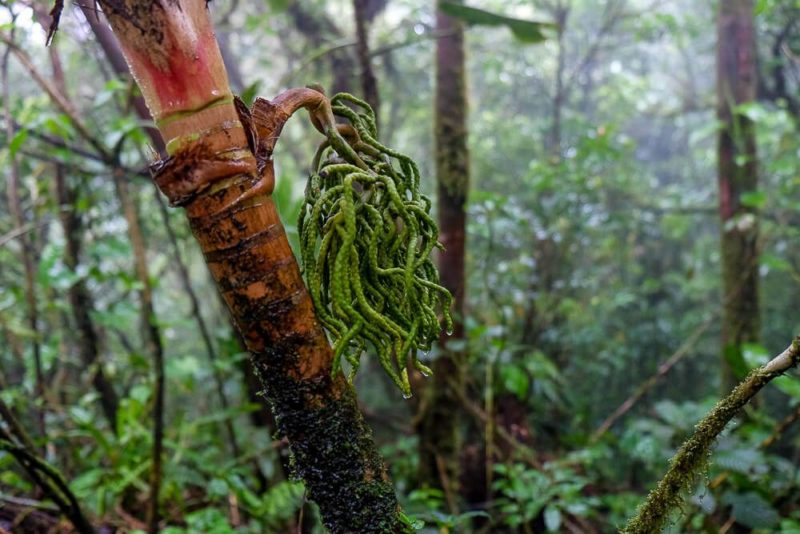 We even spotted a coati just hanging out on the trail. I rounded a corner and BAM there he was. My feet ground to a halt as I quickly rose my camera to catch a few shots of him before he disappeared into the greenery on the side of the trail. And he did disappear. I quickly ran over to the spot but it was so dense with leaves and plants, I couldn't see anything.
Unfortunately, our good experience on the trail quickly came to an end. About halfway along the Sendero Nuboso, a group caught up with us. There were about 5 of them and we could hear them a good 100 meters away. They were so incredibly loud. The forest instantly quieted as they approached.
And for the next hour we couldn't shake them. If we slowed down, they slowed down. If we sped up, they walked faster. They were always within earshot. Which meant they were also within earshot of the animals around us.
Their presence ruined the next part of our trip, but I tried my best to ignore them.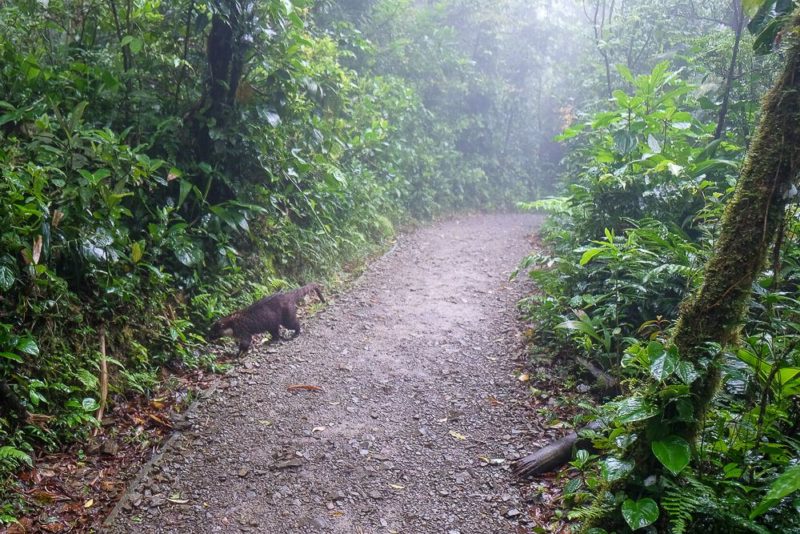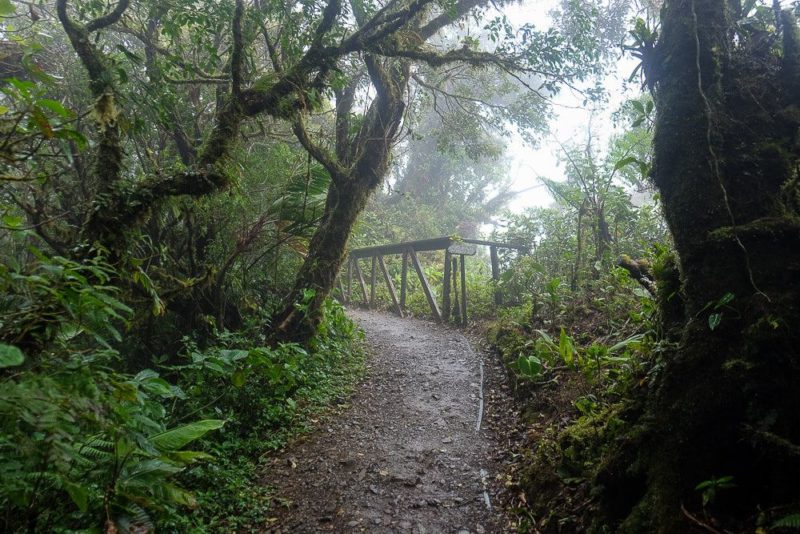 ---
La Ventana and the Continental Divide
Sendero Nuboso ends at the small trail Sendero La Ventana which connects to this viewpoint. On a clear day you can see far to the east and west (even to the Nicoya Peninsula).
But not for us. The tops of the mountains were covered in clouds. The winds were rising, fast, up the eastern side and then descending down to the west. Everything was shrouded in mist and cloud. My hair quickly plastered itself to my face.
And though we couldn't see anything, it did feel very surreal. Standing there in the middle of a cloud. On the top of the continental divide.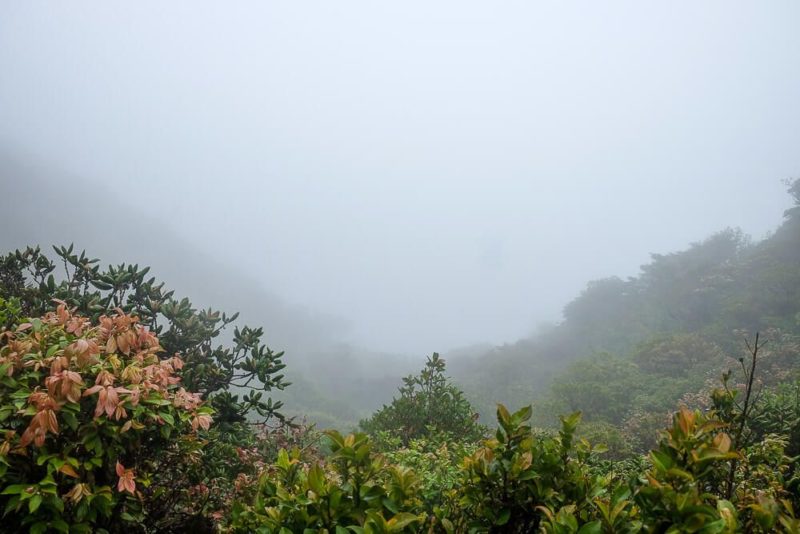 ---
Suspension Bridge
After we left the viewpoint, we turned for the bridge. The Sendero Camino trail was boring and very wide (almost like a road), but was mostly flat. When we turned for Sendero Roble though things quickly changed.
The first part of this trail is just steps. I felt like every turn we made just led to more steps leading up. This was one tiring climb. I literally felt like I was on the stair-master at the gym. But I powered through and passed the noisy group. I wanted to make sure we hit the bridge first.
And we did!
Coming down off a small rise, I saw the red through the mist in the trees and squealed. We weren't planning on going to any other park that had the bridges, so this one would be our only one.
The bridge spans a valley and it was quite high. Smaller trees lingered below us while larger ones, closer to the either end, reached up past the bridge. And then all around us were the canopies of others.
If you want to see the tops of the trees and be in the canopy itself, this is the place to do it.
We spent a lot of time on the bridge spotting birds and just enjoying the gentle sway in the breeze. The mist here was still thick, but every once in awhile, the clouds would part for a moment and sunlight would pierce through to us.
The fact that I have no pictures of said sunlight shows how fleeting these moments were.
Another great part about the bridge? Because we spent so much time there, we finally lost the obnoxious group.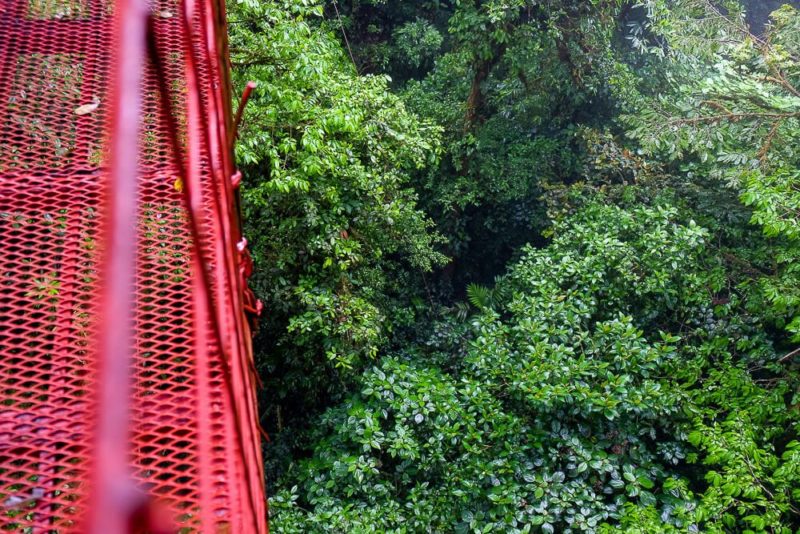 ---
The Waterfall
After leaving the bridge, we headed towards the waterfall. This isn't on the map online, but the printed map we received at the entrance had the waterfall marked.
We went on Sendero Wilford Guindon and it was here we quickly realized how lucky we were to lose the loud group. On a quick stop to rest our feet, a family of large brown birds crossed the path not 20 feet in front of us and lazily took their time wandering by.
As we turned on Sendero Tosi, the weather around us began to change. The temperature warmed and the mist disappeared. Sunlight streamed down through the canopy above us. The difference between this side of the park and the Sendero Nuboso was incredible.
The waterfall in Monteverde Cloud Forest is pretty but also small. If you don't have the time to hike out this way, I wouldn't worry too much about it.
But the great part of this hike was that it was mostly deserted at this time of day. And we spotted several birds in the trees around us.
On our way back to the entrance, we also spotted an agouti on the way and a birdwatching tour let us peek in their scope to see a female quetzal.
By the time we made it back to the entrance, it was a little after 3pm. And though we didn't go on a guided tour, we both felt like our self-guided hike in the Monteverde Cloud Forest was perfect.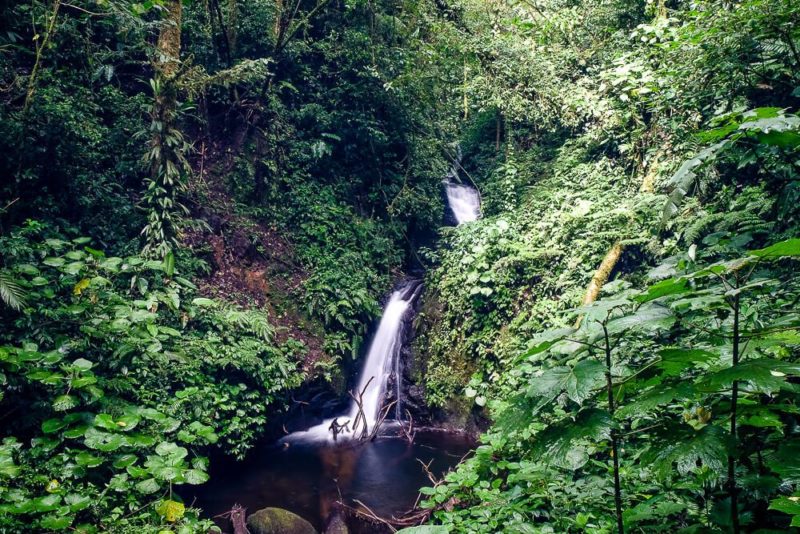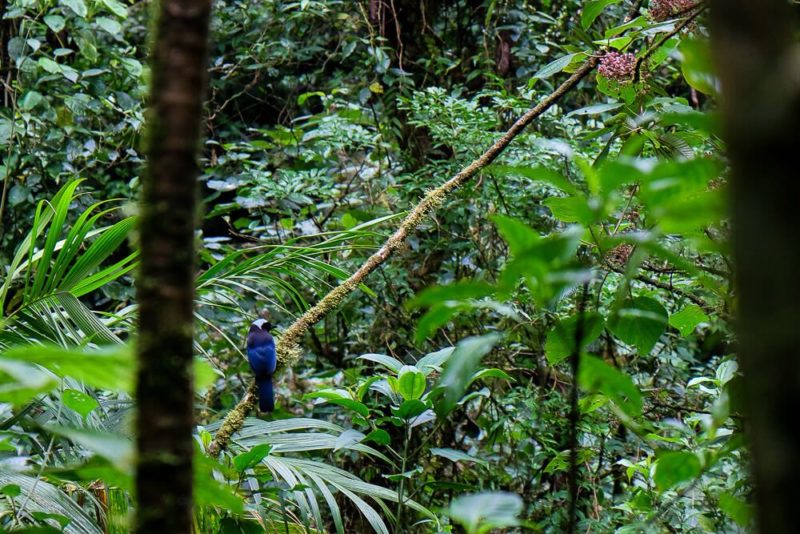 ---
Tips for Visiting the Monteverde Cloud Forest
How to Avoid the Crowds
This can be hard. Very hard. The Monteverde Cloud Forest is awesome, so a lot of people want to come and see it. It's obviously more crowded in the dry season than the rainy season (and even more so during holidays like New Years). We visited in late March and it wasn't too bad. Yes there were people (including that loud, obnoxious group), but we maybe only saw 10 other groups total.
Some people would also recommend coming in the morning to avoid the larger tour groups, but we visited in the late afternoon and didn't come across any large bus-loads of people.
You could also hike some of the other trails that are less frequented. There are less people on these (Sendero Pantanoso & the northern parts of Sendero Chomogo and Sendero El Rio). But the map we received at the entrance didn't have these trails on it, so we weren't sure if they were closed or not. If you want to hike these, make sure to inquire about them when you buy your tickets.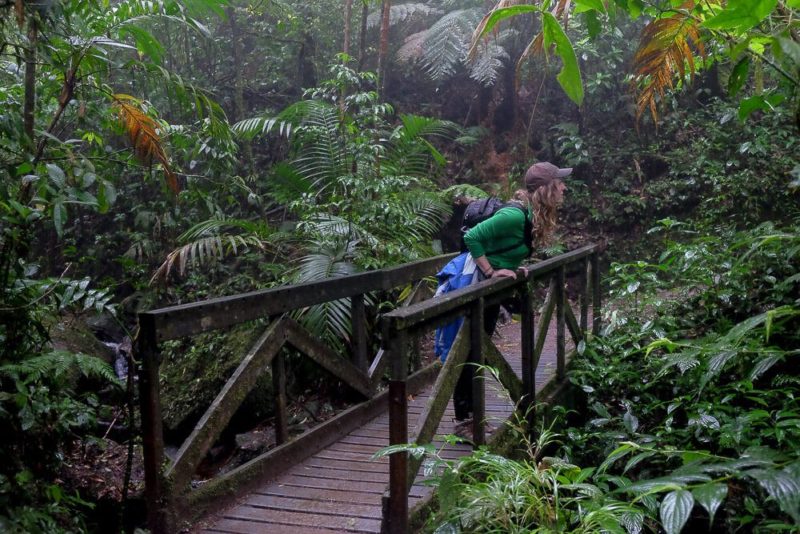 How to See Wildlife
Okay for starters, see the above. Avoiding other groups and being quiet is going to be your number one friend in this regard.
If the Monteverde Cloud Forest is also going to be your only hike in the area, I would consider then hiring a guide if you absolutely want to see wildlife. Like I mentioned above, we didn't and we still saw plenty. But that's not always a guarantee (hell, it isn't a guarantee even with a guide). So if this is make or break for you, consider their tours.
You can find information on their tours here. They offer birdwatching tours, natural history walks, and night tours.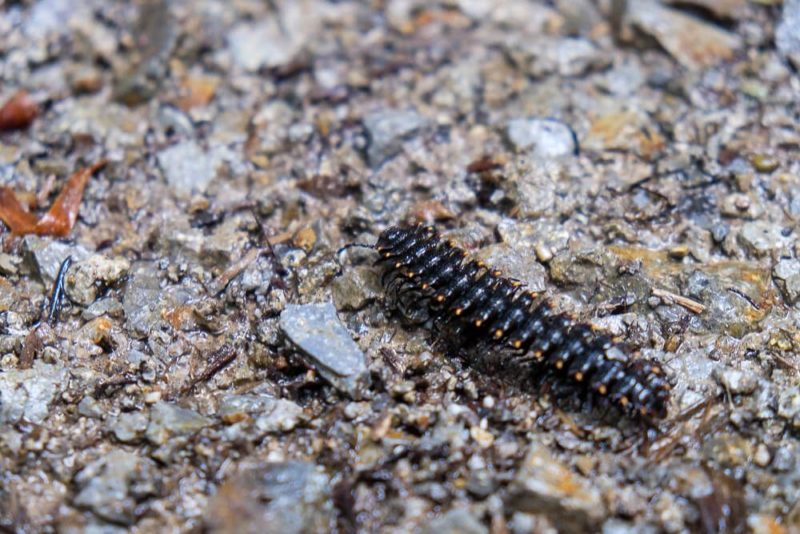 Be Prepared for the Weather
So it's a cloud forest. And you need to be prepared for walking around in a cloud. It's a little drier from December to April, but there's a good chance you'll still get wet. We did on the first half of our hike. It's also slightly cooler here (even during the day). I wore long pants and a long sleeve shirt (plus my rain jacket).
I would recommend a pair of hiking boots or a pair of sneakers that can get dirty and muddy. Because they will.
You may also want a rain jacket. Mine was helpful not only here, but also as an extra layer in town at night since it was much cooler in Santa Elena than I thought it would be.
Lastly, if you have some nice photography equipment, consider a bag with it's own rain cover. My PacSafe bag has one built in. This allowed me to easily snap it on when the mist got a bit too much.
---
Nitty Gritty
Price. Basically you'll pay about $20 per person. There are discounts for students, children, and if you are a Costa Rican resident. But everyone else pays $20. Details on the fees here.
Map of Trails. There are 13km of trails you can explore (and so much more of the park is off limits to visitors). The map we received at the entrance is slightly different than the one in the post above, but it should give you an idea of the trails. (Unfortunately I cannot find the map above on their site anymore, or else I'd link to it.)
Hours. The Monteverde Cloud Forest is open from 7 a.m. to 4 p.m.
Location. If you have your own car, you can easily google map your way there. Note that at least half the road between Santa Elena and the Reserve is unpaved. And it's really, really rough gravel/dirt.