So you want to go to Kelingking Beach (aka the T-Rex Beach) on Nusa Penida? That's amazing! Because, seriously, it was one of the best things I did during my 3 month trip to Southeast Asia. It was also one of the toughest things I did. That hike is killer. Make sure you're prepared.
---
How To Get to Kelingking Beach
Nusa Penida is fairly large island off the coast of Bali. It's much bigger than you might expect. (P.S. Driving times on Nusa Penida are high.) I'm a bit of a slow driver on a scooter so it took me about an hour to go from one site to the next.
Now if you're just going to Kelingking Beach, the roads are pretty nice on the way there (from Toyapakeh Harbour). In that they are mostly paved and there are signs to follow.
(Mostly is a keyword here. Many of the roads around Penida are dirt and rocky. And if you're coming to Kelingking from another site, expect to drive on bad roads.)
I came to Penida on a self-guided day trip. I was staying on Nusa Lemongan, caught the boat over in the morning, went to Broken Beach, Kelingking Beach, and Peguyangan Waterfall, and then caught one of the last boats back to Lembongan.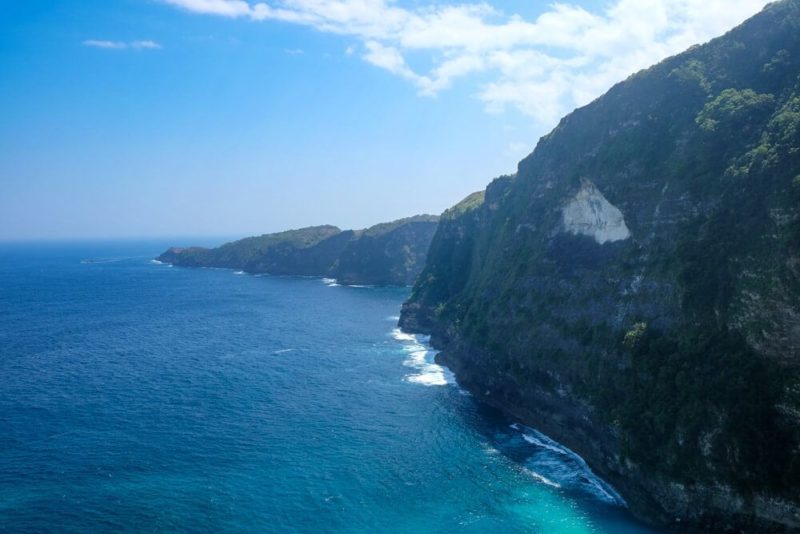 If you're coming from Lembongan, the stand to buy your ticket is by the yellow bridge (left hand side if you're looking at the bridge).
Then once I arrived on Penida, I rented a motorbike for the day and took off. Now I mostly used Google Maps to guide me (my phone had a sim card). Here's the location on Google Maps.
But there are signs to Kelingking as well and I mostly followed these. I also got a very small map with my motorbike rental as well.
It'll take you about an hour to get there. Maybe a little less if you're an experienced motorbike driver. But maybe a little more if you're not.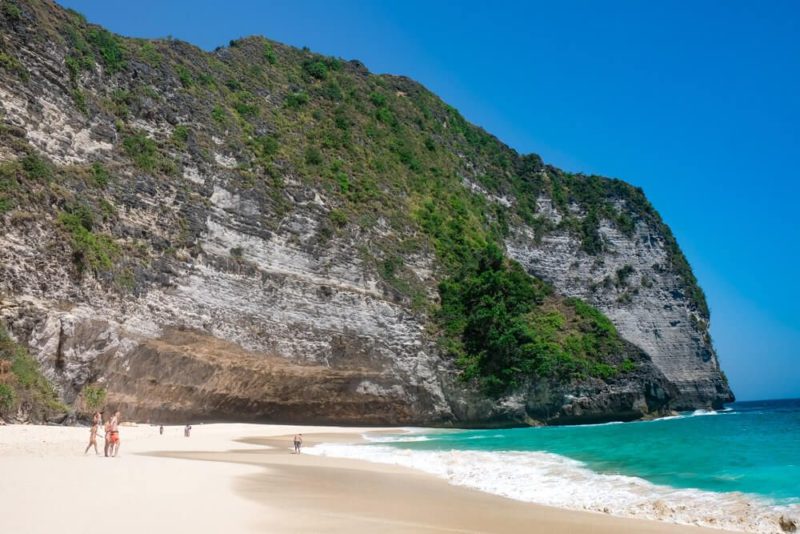 It'll cost you a little bit to get into Kelingking once you get there. But all of my entry fees for the day equaled just about $1.
If you don't want to drive yourself, you can arrange a guided tour of Nusa Penida. Or hire a driver. You can arrange a tour from where you're staying (either on the other Nusas or Bali). There are lots of tours to Nusa Penida.
Though if you want to hike down to the beach, make sure the tour gives you enough time to do that.
---
Hiking Down to Kelingking Beach
Once you get to Kelingking Beach, you'll make your way down the stairs to the first viewpoint.
Now…you won't be alone at the main viewpoint. In fact let's just address the amount of people and crowds right now.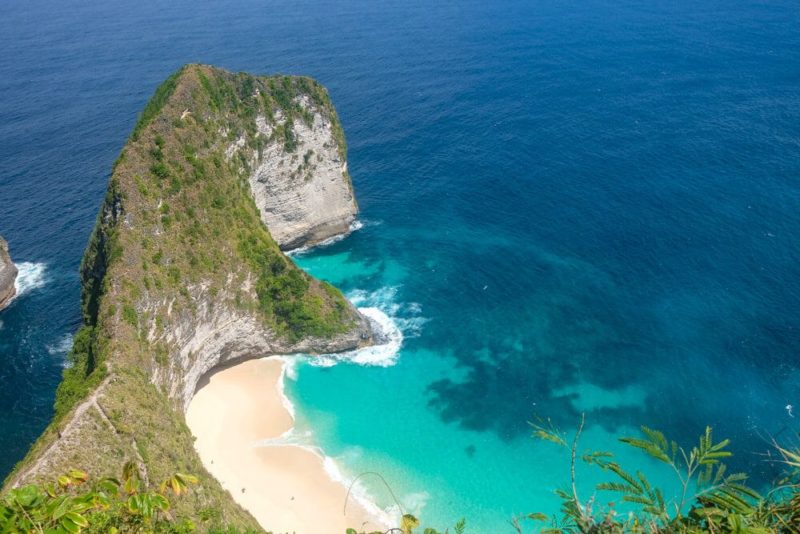 It was quite crowded when I went in mid-May. I've seen pictures that make it seem like people are at Kelingking by themselves. There will be people at the viewpoints, on the trail, and on the beach. This is a famous beach in Bali (even though it's not technically on Bali), and words gotten out.
Lots of people are coming to Nusa Penida to visit the famous tyrannosaurus rex beach. Hopefully my pictures reflect what it's really like.
You will not have this place to yourself.
I kind of had to fight my way to the railing of the main viewpoint. But this is where you'll see that iconic T-rex shape. (Jaws open on the left with the tail swooping around to the right.)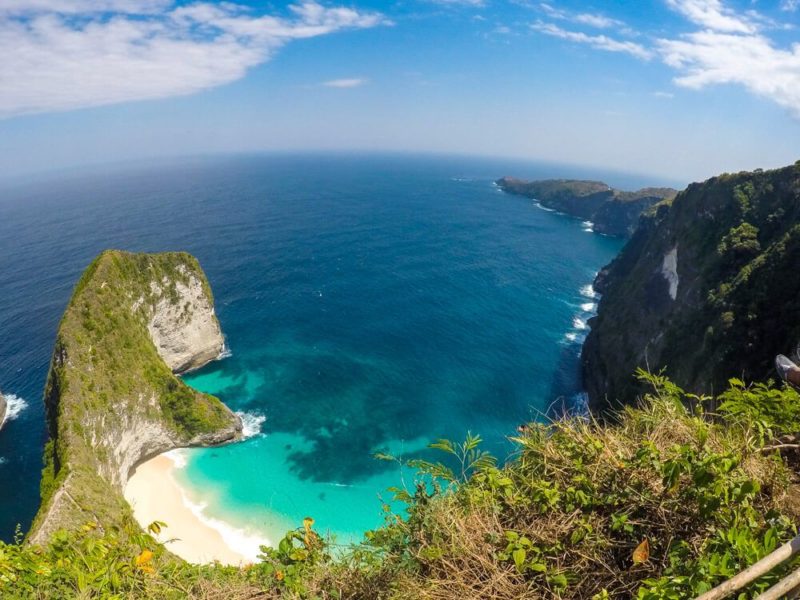 Once you're ready to descend, keeping following the steps down and they'll quickly turn rugged. I kind of still had to push past people for a bit before making it far enough away from the crowds.
Not everyone makes the hike down. It's super rigorous and you'll notice that within the first 100 ft or so. So the amount of people starts to drop off right away.
Quick word here…this is a very steep, very rugged, very hard hike. You are going down a basically sheer cliff face most of the way. If you are afraid of heights or are unsure of foot, please reconsider doing this hike.
The steps are huge here. You'll have to hold on to the ground or the shaky railing to help you step down with each step.
But this part of the hike wasn't so bad. It was tough, but the descent still looked somewhat gradual.
In the pictures below, you can see this first part of the hike. It looks like it's almost going down the t-rex's spine towards its head.
About a 1/3rd of the way down, there's a relative flat-ish part where you can step aside and rest. You know, take some pictures and prepare yourself for what lies ahead. This was another great viewpoint. (And resting point.)
Hiking wise, it's right here where things get really interesting because the trail makes a sharp right (see it in the picture _) and starts to weave, switchback style, down the very sheer cliff.
I don't have like any pictures of this part because it was so rugged, and I was so focused on not slipping and dying. (No joke.)
The trail is tiny because it's weaving down the cliff-side. You are literally stepping down a huge step on rocks, roots, and sand with every step. There are no flat parts.
The railing is not trustworthy, and I wouldn't rely on it too much. Some parts were stable, but others were not. Test its strength first before using it to pull your weight up or down.
For example, in the picture below on the right the trail is basically below me on that cliffside. It slopes just enough that they can put a trail in. But if you were to fall through the railing and slip? No good.
It's also so narrow here that passing people is almost impossible. Whoever is in front of you going down will stay in front of you the whole time (most likely). And passing people going the other way has to happen on corners and they'll still literally have to push past you.
I'm pretty good on trails like this going down. I feel really sure of my legs and I thought the climb down would take 30 minutes. But during this part of the trail, I (and about 30 other people behind me) got stuck behind a couple that were super nervous.
They should not have done the hike in my opinion. They literally went down the trail backwards, so they could step down and back and use their hands, and basically crawled their way to the beach. Crawled very slowly.
They also never stepped aside to let people pass and it took me almost an hour to reach the beach.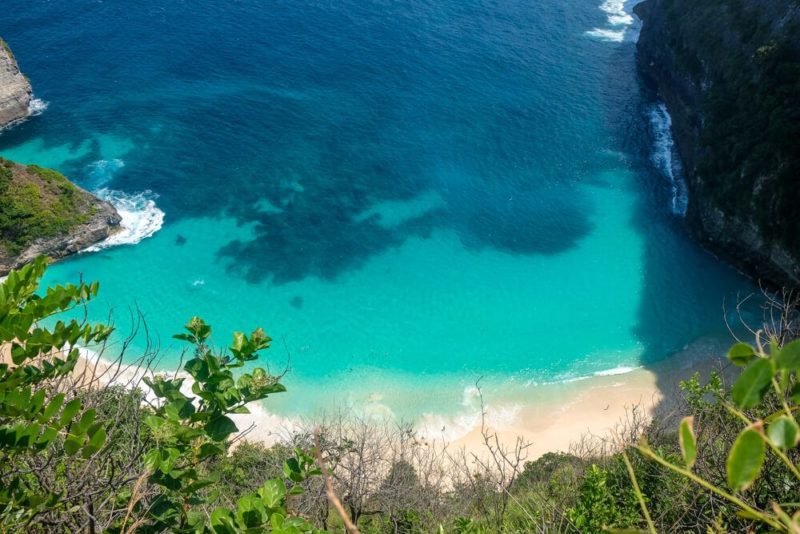 Kelingking beach itself? One of the best ever. The sand was white and soft. There are trees and cliff overhangs that you can go to try to cool off. And the water? So blue and cool. Strong waves would come and go, so be prepared going in, but I loved diving under the waves.
It really felt like paradise.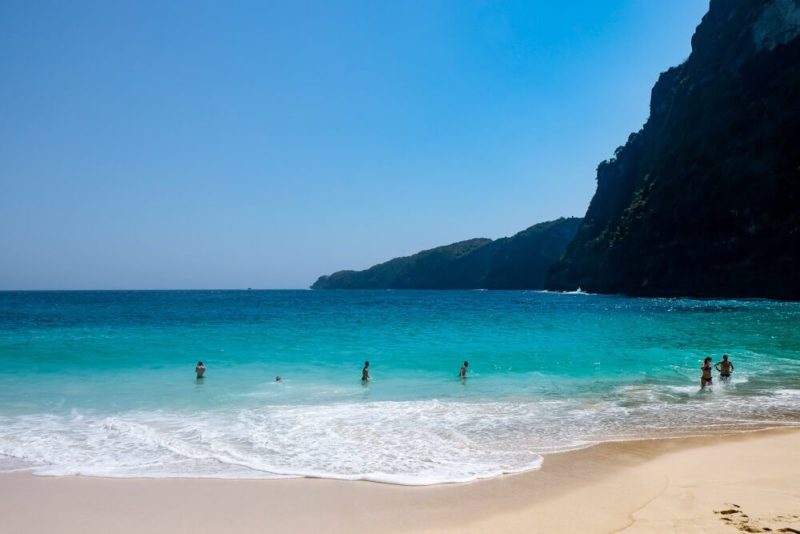 However because I spent so much time coming down due to getting stuck behind people, I only spent maybe 45 minutes on the beach.
Also make sure to bring enough water for the hike. I thought I did but quickly ran out just hiking down. Luckily there was a woman selling water on the beach. (Marked up 300%, but still, I would have paid $20 for that water.)
Because I really wanted to go to one more site during my daytrip, I had to start my hike up sooner than I wanted.
These two pictures below show the cliff face from the beach. Literally the trail is mostly in the photos below. But it's so high and steep, it's hard to make out.
There's not much to say about that hike back up except for it was maybe one of the hardest climbs of my life. I sweated profusely. It was hot as fuck. My face got beet red. I'm almost sure I got heat exhaustion.
I did step aside to let people push past me where I could when I needed to take breaks. And when I reached the spine I rested for 10 minutes before pushing on for the last part. I literally collapsed at the top. In victory I like to think.
But it was so worth it.
Special Note: Sunsets here are also supposed to be killer. I met people who stayed on Nusa Penida and came here for sunset. Though don't try to climb the trail in the dark so make sure you're at the top when sunset's over.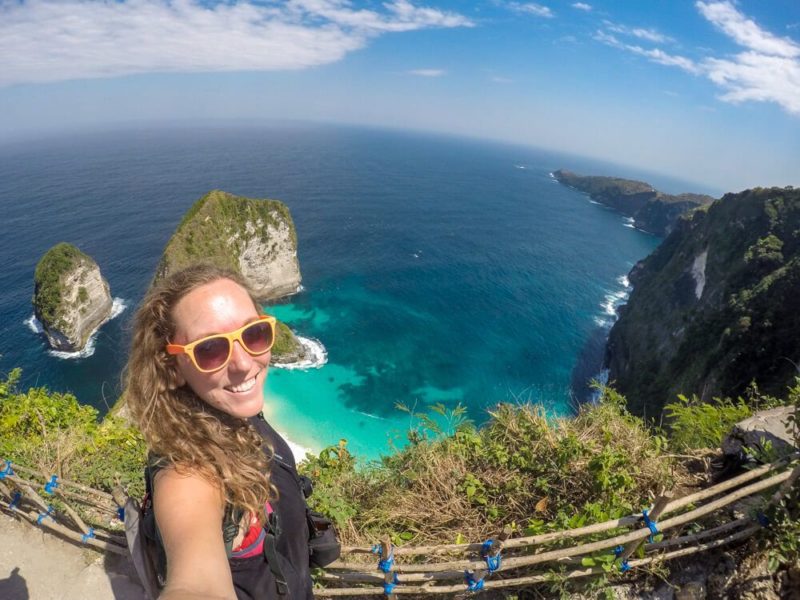 ---
How Much Time Do You Need?
I'd budget at least an hour each for the hike down and up. You can do it in less time if you're really fit. Or if you don't get stuck behind people. But you never know about the second one.
Then I'd like at least 1-2 hours on the beach. So that's 3+ hours not counting the time it'll take you to get to Kelingking (about another hour).
---
Where to Stay
Due to day trips offered, you can stay on surrounding islands (even Bali) and come to Nusa Penida with a tour company. However if you want to do this yourself, kind of like I did, I have two recommendations.
First is to stay on Nusa Lembongan. It's a smaller island (so easier to get around) and has a lot more hotels and restaurants. I really enjoyed my time here. I was able to explore all three of the Nusas in like 3 days and have time to relax.
If you want to go over to Nusa Penida yourself, I'd recommend staying somewhere near the yellow bridge (which connects Nusa Lembongan with Nusa Ceningan). The boat I caught was on the Lembongan side of the yellow bridge.
I stayed at Bong Hostel and it was literally one of the nicest hostels of my entire trip. I wanted to stay longer I loved it so much. It had a great view, a pool, wonderful staff, and beautiful rooms. And hot showers.
(For the previous month leading up to Bong Hostel, none of my accommodations had a hot shower. And no that is not an exaggeration.)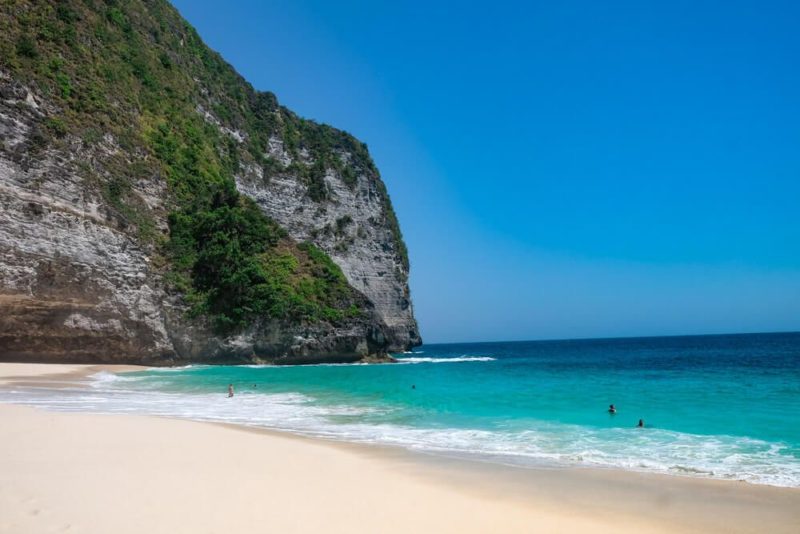 You can also stay on Nusa Penida. I think if I was to go back for a longer trip, I'd do this option. I didn't have enough time to stay there (and ended up falling love with my hostel on Lembongan), but if I had a full week, I'd definitely spend several days on Nusa Penida itself.
Some good options I've seen are:
And then there's always that iconic treehouse house from instagram: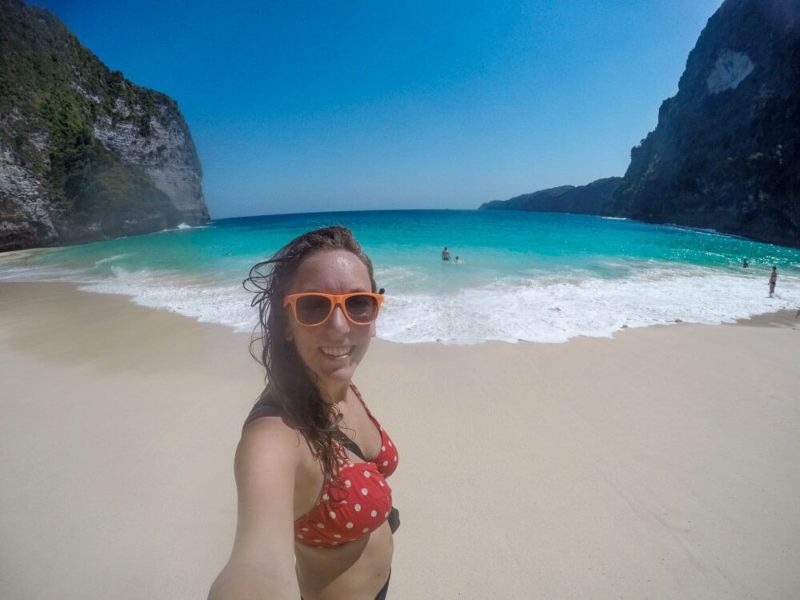 Is the T-Rex Beach on your bucket list?