Looking for a Similan Islands liveaboard for your trip to Thailand? Want to go out to the Similan Islands and Surin Islands, but don't want to do it on a very rushed day trip? A liveaboard trip is your best option and there are affordable options (that are still fun and safe). Enter Sea Dragon Dive Center. After looking around at couple of options, we decided on Sea Dragon's 4 Day Liveaboard option for our Similan Islands diving trip, and we couldn't have been happier.
Sea Dragon was phenomenal. The islands we visited were beautiful and had some of the best dive sites. And we saw so many amazing things. Including the elusive whale shark. I would consider going back and doing the same trip again, it was that good.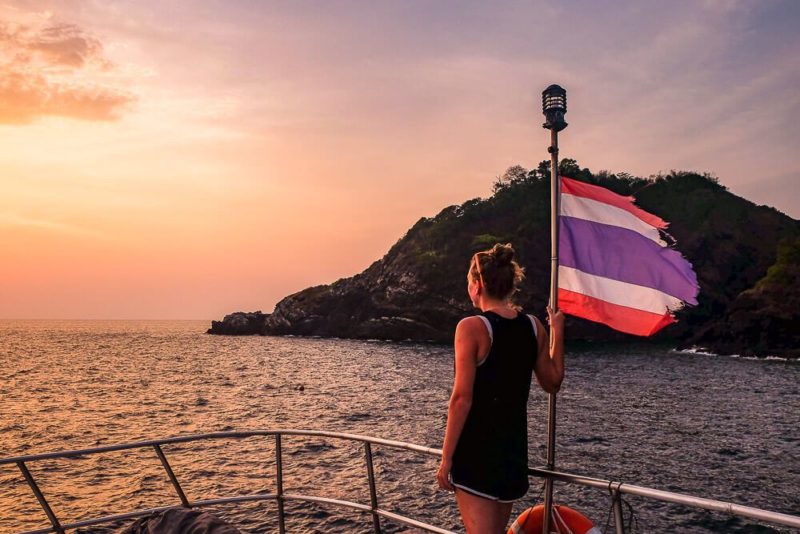 ---
why choose a liveaboard at all
If you want to do a Similan Islands diving trip, I would go for a liveaboard instead of a day trip. For several reasons. One the islands are quite a bit out there. Several hours by boat. This was easy for us as we did the drive the first night. But if you are coming for a day trip, you'll need to be picked up ridiculously early from your hotel and do the boat ride that morning.
Some day trip outfits were picking their guests up from Phuket at 4-5am. And then only giving them up to 2 hours in the water. That is a very long, rushed day.
The second main reason to do a liveaboard is simply that you'll see so much more. If 2 hours of snorkeling sounds just fine, I wouldn't go out to the Similan Islands. Do a day trip somewhere else that's closer and easier.
But if you want to go to the Similans because it has some of the clearest waters in Thailand packed with wildlife, 2 hours in the water is just going to give you small a glimpse of what the islands have to offer.
On the Sea Dragon liveaboard you'll dive at several islands (including Richelieu Rock – one of the best dive sites in Thailand) where you'll be able to see so much more.
And lastly, you'll be able to enjoy the Similan Islands themselves (like the beaches) with very few people before the day trippers arrive.
So if you actually want to see (and enjoy) what makes these islands special, then definitely go for the liveaboard.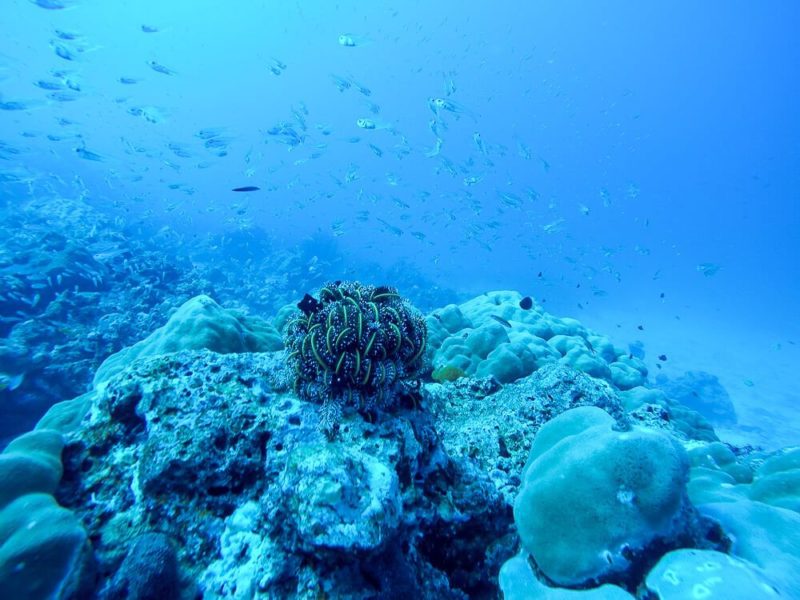 ---
why choose Sea Dragon's liveaboard for your Similan Islands diving trip
Okay now that you know why you should go for the liveaboard, here are the 5 reasons I loved Sea Dragon.
And as a quick note…I injured myself about a week before this trip so I couldn't scuba dive. I snorkeled the whole time, but Ryan scuba dived. This is post will show both of our perspectives. Most of the photos though are from his dives. With only one Go-Pro this was what we decided…but I saw sooooo much and was not disappointed in the least.
1. the itinerary and the dive sites
The itinerary? Sounds boring right? Wrong. This is so important to your liveaboard trip. The dive sites determine where'll you go and what you have a chance at seeing. Below I'll break down each day so you can see (roughly) what the schedule is like.
Oh and we did the 4 day trip (13 dives total). I would go for this one as it allows you to see the southern and northern islands.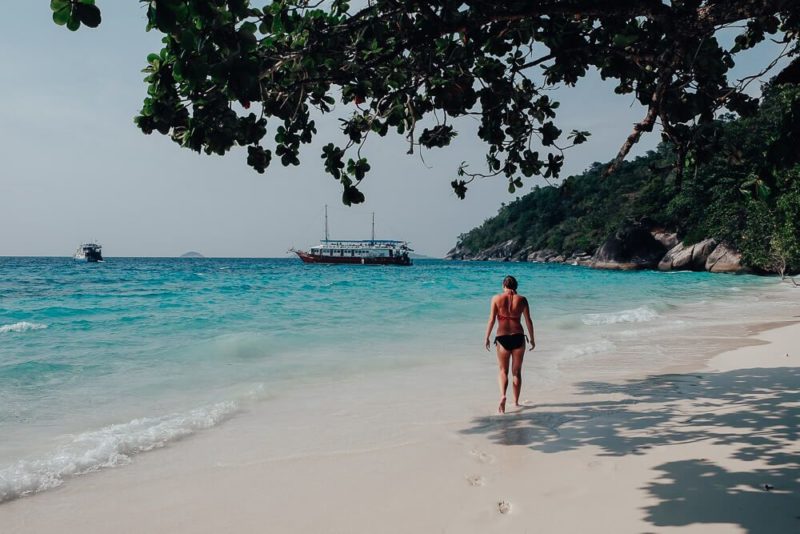 arrival day
You'll need to get to the dive center in Khao Lak by 3pm the day your trip leaves. Though you won't head out till around 8pm or later (from the dive center), they need to check everyone in, get your equipment sorted, and take you to the boat. To be safe, I would give yourselves a couple days in Thailand before starting your liveaboard in case there are delays. Because if you miss the boat, well you miss the boat.
day 1
I remember that this day started incredibly early. Like 6:30am early. The first dive before breakfast was at the Similan Islands – Shark Fin Reef. And when I put my head under I was immediately blown away by how clear everything was. I could see down almost 30 meters and Ryan's visibility scuba diving was extremely good as well.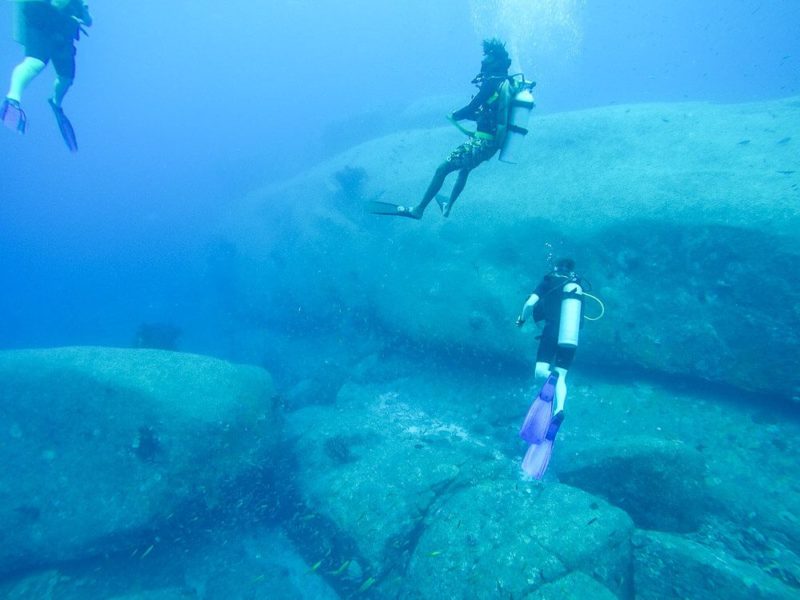 Our second dive was at the Similan Islands – Among The Rocks. This dive was closer to shore instead of around a pinnacle further out. So there was much more coral and room to wander. The highlights from this dive were the peacock mantis shrimp, octopus, and giant moray eel (I even saw this last one from at least 10 meters up)!
The third dive of the day was at Similan Islands – Three Trees. This dive site was also close to shore. Ryan saw a golden eel, a pufferfish, and others. While I saw a family of Humpheads! These fish are basically giant parrotfishes. And I do mean giant! I squealed into my mask when I saw them (but unfortunately Ryan had the Go-Pro so I don't have any pictures of them).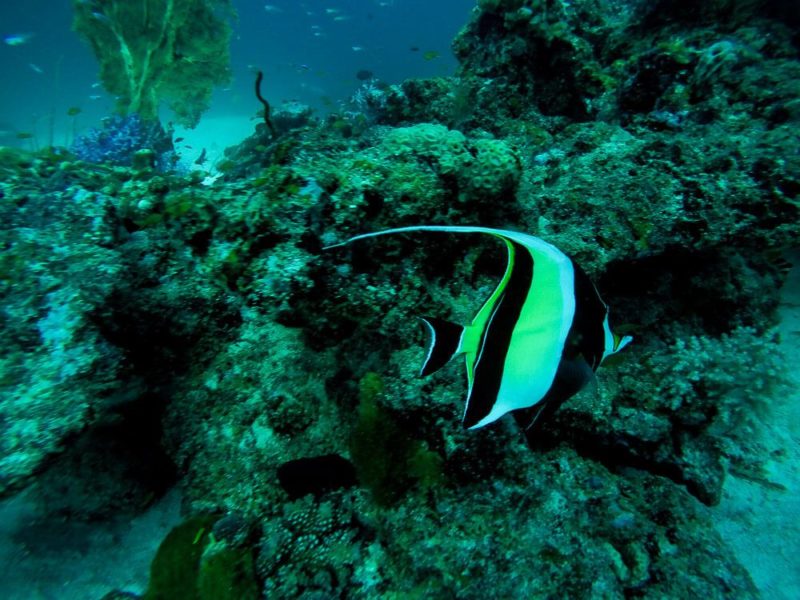 The last dive was a night dive at Similan Islands – Koh Bon. Obviously I couldn't snorkel, but this was Ryan's first night dive. He saw eels, starfishes, and more. I should also mention here that if you don't want to do night dives, you don't have to. Several of the other divers didn't like night dives so they easily passed on this one.
day 2
This was another early start, though it was a little bit better since we weren't planning on going ashore (see my last reason below about the beach trips). Our first dive was at Similan Islands – Koh Bon. There's a chance to see big stuff at this site (think manta rays and whale sharks). We weren't that lucky, but the coral is beautiful and there are so many schools of fish near the surface (with trevallies hunting them – so amazing to watch). And Ryan saw giant groupers, pufferfish, giant moray eels, lobsters, and more.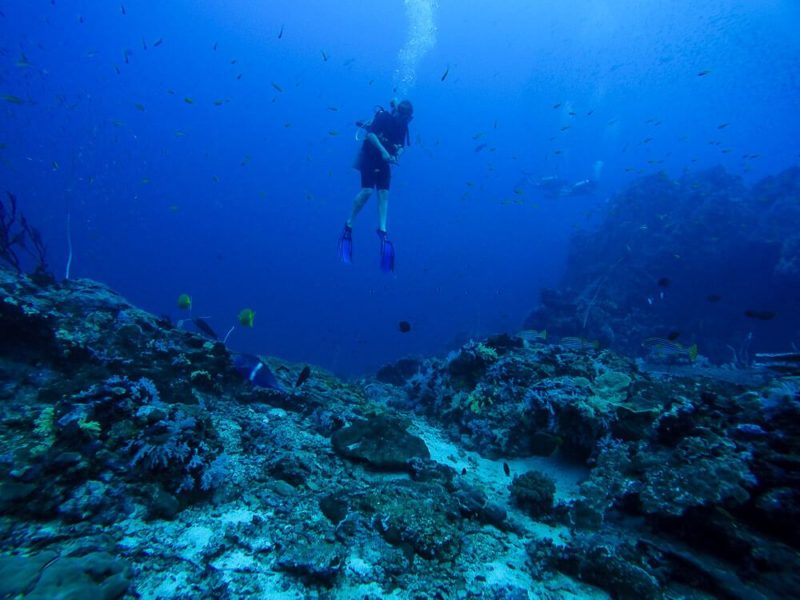 During our break, one of the other ships told us they saw a whale shark around. Because of this we decided to do one more dive at Similan Islands – Koh Bon. We weren't that lucky unfortunately, but I still saw plenty. In fact one of the girls snorkeled with me on this one and she said she saw so many more fish snorkeling than she did scuba diving.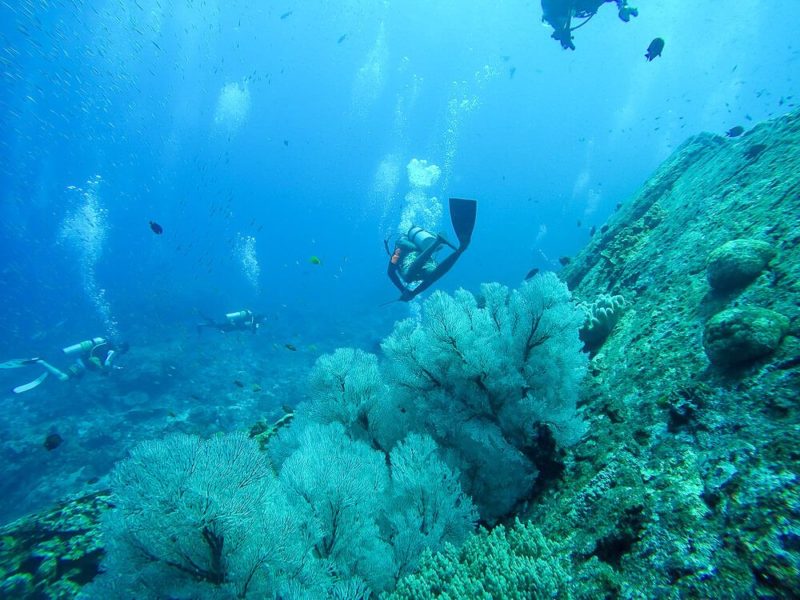 Then it was a short boat ride to the next island and dive spot at Similan Islands – Koh Tachai, Batfish Rock. This was a very deep site with a strong current. Other than spotting some batfish (which I kind of really love) and I think a barracuda, I called it a day snorkeling. Ryan encountered strong currents as well and but was able to spot the batfish as well as a few others.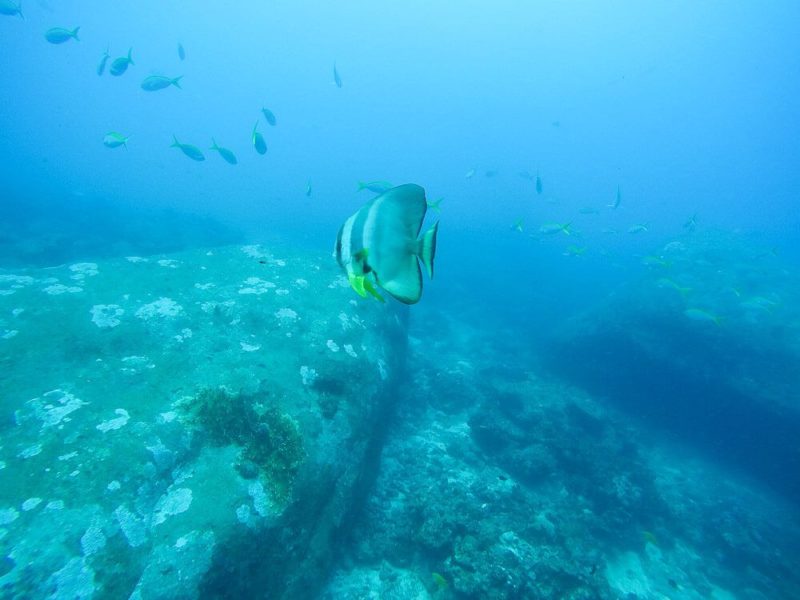 Our last dive for the day was a sunset dive also at Similan Islands – Koh Tachai. I was dropped off closer to shore and the snorkeling here was incredible! I saw so many fish, groupers, a horde of feeding fish (feeding on what I wasn't sure), and maybe a shark. Ryan saw lobsters, eels, an octopus, sweet lips, and tons of others.
day 3
Overnight we made the journey north with our first dive at Surin Islands – Southeast Rocks. More lobsters, moray eels, crabs, box fish, and more awaited Ryan. But I was able to spot a black tip shark clearly as he swam slowly in front of me. It was thrilling to spot this guy after he had eluded me the night before.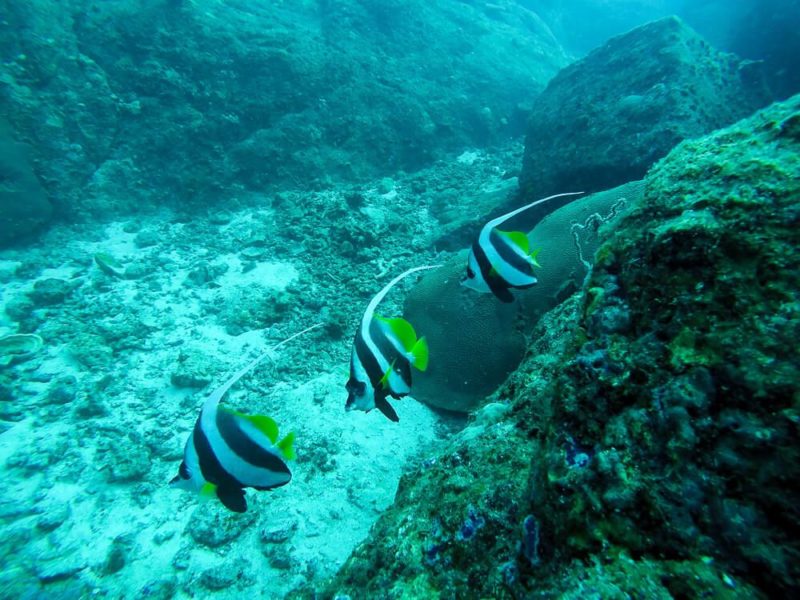 I was excited for our second dive of the day at Surin Islands – Turtle Ledge. But sadly the mammal the site was known for was elusive that morning. Turtles are my favorite, but I was able to spot an octopus that slowly moved across the coral, trying to camouflage as he went. I watched him do his thing for easily 10 minutes. Ryan's stand outs were an angel fish and a peacock mantis shrimp.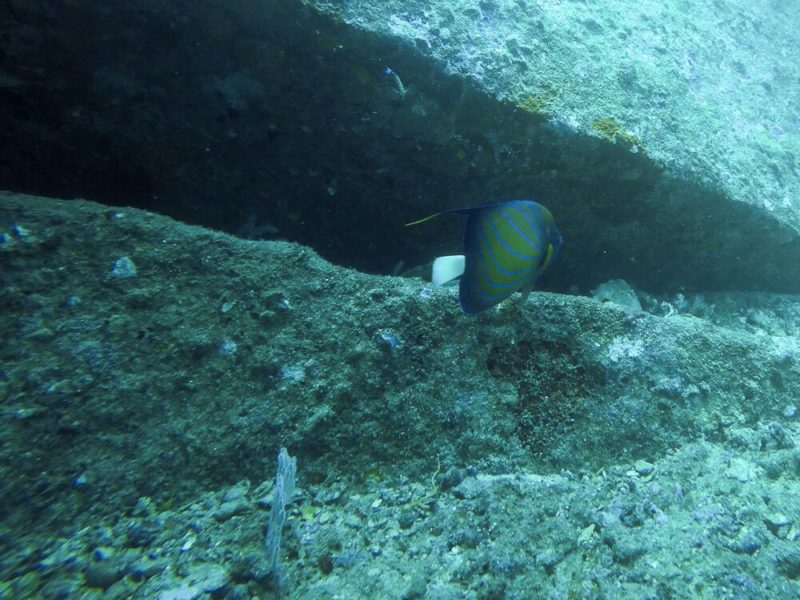 But I was much more lucky at the third site for that day, Surin Islands – Black Tip Rock. Though there weren't any turtles, I did spot two more black tip sharks that swam by. And though the divers didn't spy any sharks, Ryan did see a giant moray, some sweet lips, groupers, a unicorn fish, and the chocolate sundae fish (at least that's what I call them).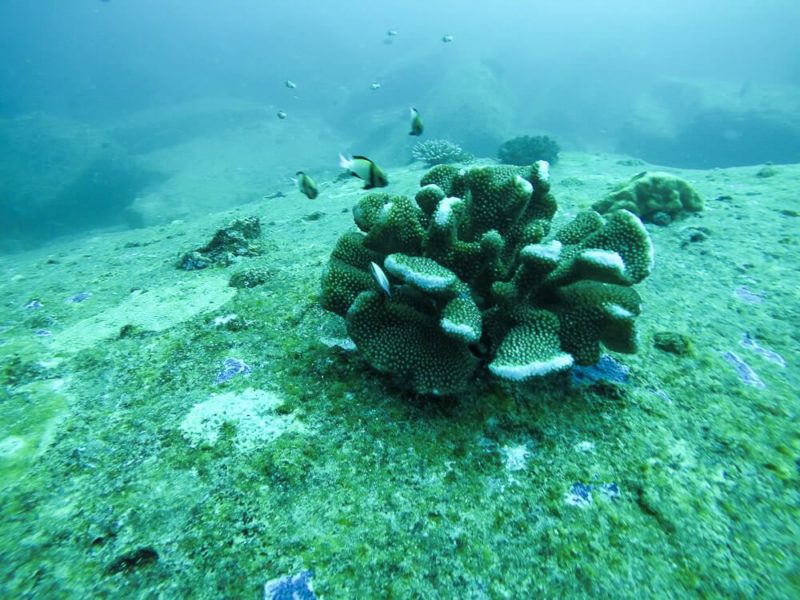 day 4
Our last two dives were both at Surin Islands – Richelieu Rock. This is one of the best dive sites in Thailand. And where you may just have a chance at seeing something big. That first dive though the current was super strong, both under the water and at the surface. I had to stay in one spot behind a rock in order to not drift away from the dive site. This gave me a chance to hang out with a bat fish and spot an eel in the coral near me. Ryan had a strong current as well, but he was able to spot a seahorse, a school of yellow snappers, some box fish, and more.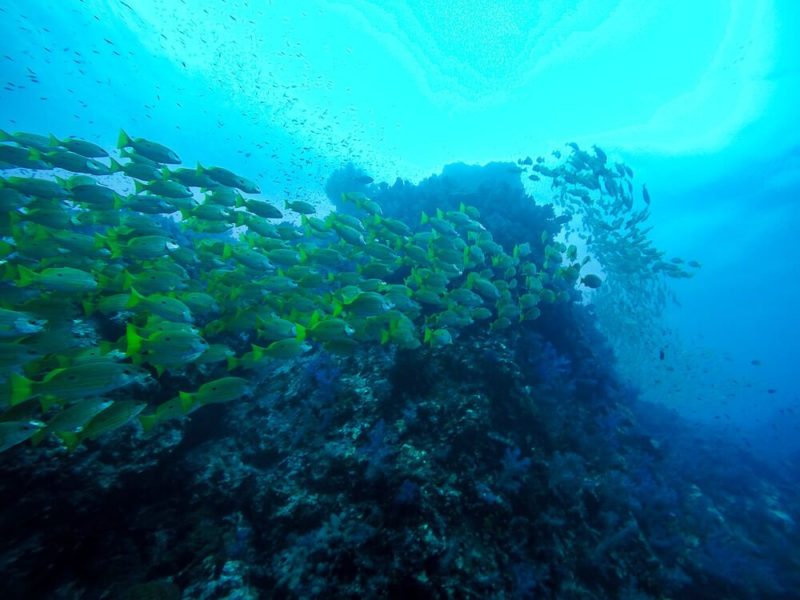 The last dive though was by far the best at Surin Islands – Richelieu Rock. Resting on the top deck between the dives, I looked over towards the dive site and noticed a bunch of people from another boat jumping into the water with snorkeling gear. Intrigued, I went down to the dining area to find the three crew members. After a bit discussion, they decided it could be a whale shark. Then they asked if I wanted to.
Of course I wanted to go! I pulled my gear on, jumped into the dinghy, and headed out. The rest of the scuba divers started to pull themselves together about 10 minutes later. But after we reached the spot, I fell back into the water and then BAM! There he was. Whale Shark!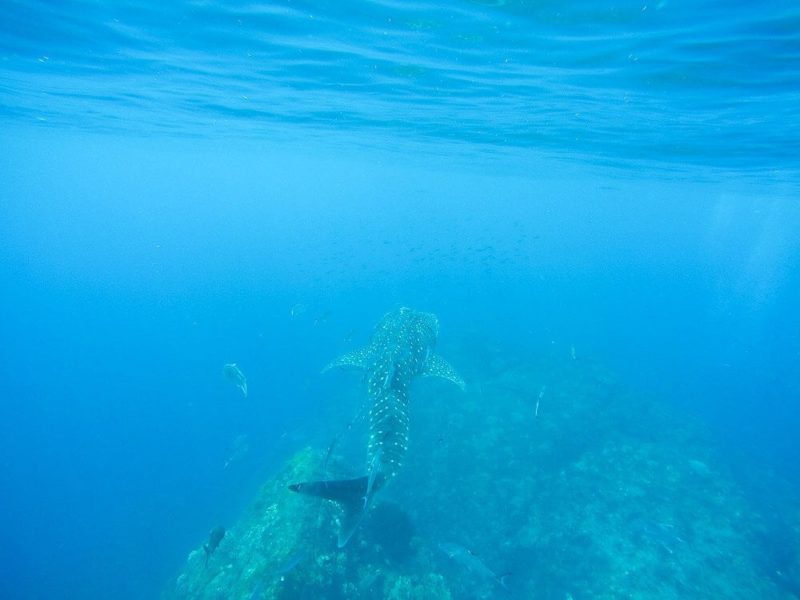 For the next almost 30+ minutes I swam with the whale shark. In the beginning there were a ton of other snorkelers around, but they eventually drifted back to their boats. The whale shark did several figure eights through the dive site. And luckily he stayed near the surface. At one point he swam right by me. And this time I had the Go-Pro.
To say that seeing that whale shark was magical doesn't even do it justice. Easily I think one of the best moments of my life.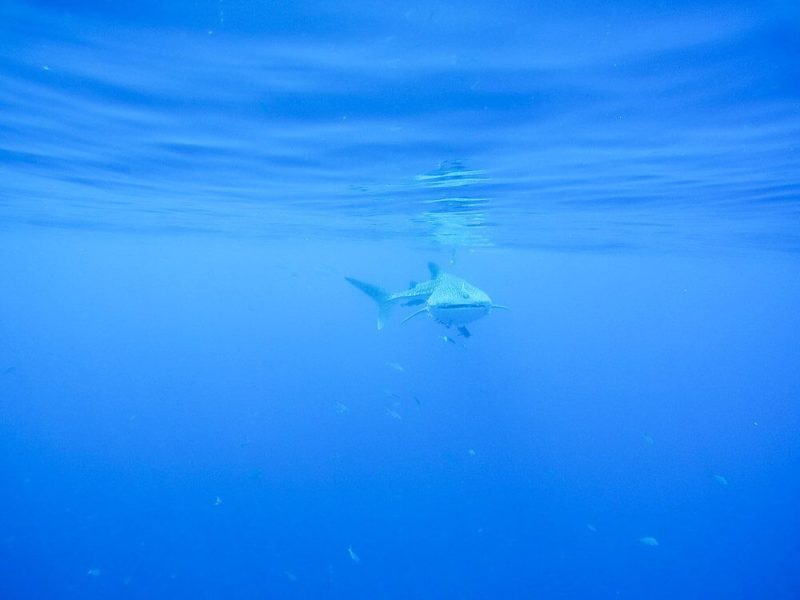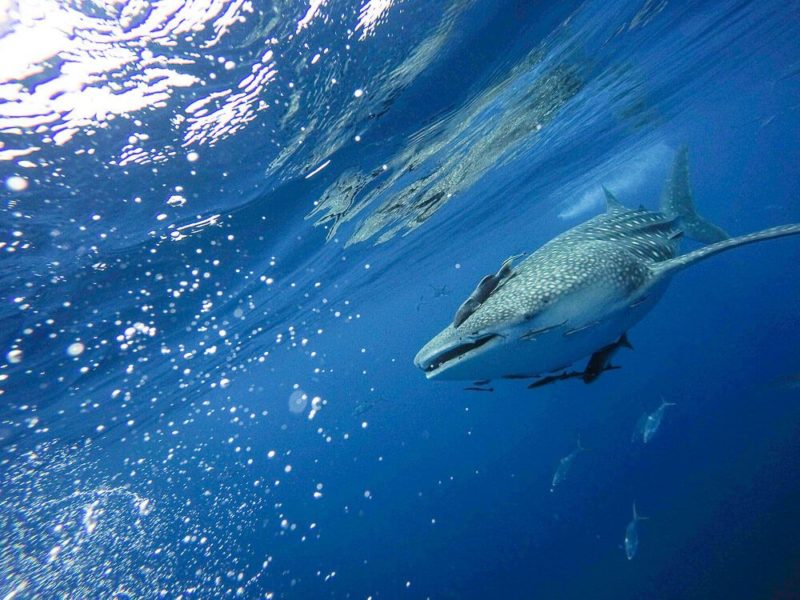 ---
2. affordability
In terms of other Similan Islands Diving trips, Sea Dragon offers you a lot for your money. I follow quite a few other bloggers who seem to focus on doing luxury liveaboards. Sea Dragon is definitely not luxury, and this worked out perfect for us as we wanted to do a liveaboard but not break the bank.
In terms of accommodation, we had 3 options when we booked: a shared 6 bed bunk cabin (for solo travelers or those on more of a budget), a private double bed cabin, and a private ensuite double cabin with prices in baht of 19,600, 21,600, and 22,600 respectively. (This is about $600-$700.)
At first glance this seems like a lot of money. But when you realize what this includes, I think it makes it seem a bit more reasonable. That price includes accommodation in your cabin, 3 incredible meals a day. Like really the food was amazing and plentiful. Plus coffee, soda, tea, and water for free. Only beer was extra.
And of course all of your dive equipment is included in the price, including a dive computer. Though if you do have your own equipment, Sea Dragon offers a discount as well.
My favorite thing though about this had to be the boat itself (besides the food – like so good). There are a maximum of 20 customers aboard at a time and our group ended up only being about 10. And even though we were only at 50% capacity, there was so much room on the boat!
This seems like a small thing, but looking at the other boats, with their limited common space, I was so happy we picked Sea Dragon. The lower deck was where the dive platform was located and all of the cabins and bathrooms. The middle deck was the large dining area and the crew quarters, kitchen, and captain area. But the top deck was incredible.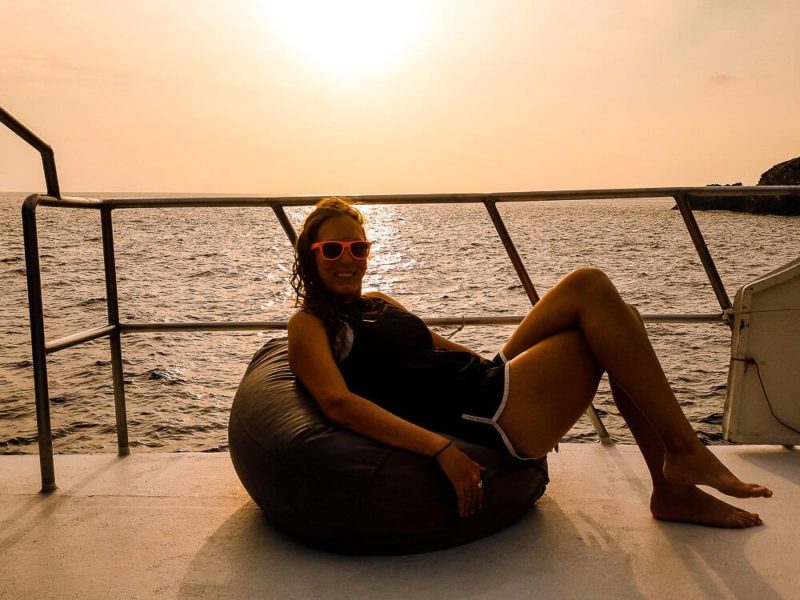 The entire top floor was split into 3 main areas. The ones at the bow and stern were uncovered with bean bags for relaxing and hanging out. And the two in the middle were covered. One with a picnic table, the other raised higher with mats and hammocks.
I took plenty of naps in those bean bags and hammocks. And it was so nice to be able to have this much common space to relax, to hang out in, and to chat with the other divers.
Please note that all of the cabins, even the private cabins, are still basic. Think a bed in a room. Nothing fancy. That's how they keep the price down and keep so much space in the boat. Also you have to walk through the bunk cabin to reach the private double. Something to keep in mind.
---
3. don't want to dive? no problem!
Okay so as I mentioned above, I hurt myself (my ears in particular) about 10 days before we boarded our liveaboard. And so we emailed Sea Dragon and let them know what happened. I was afraid we'd have to cancel our Similan Islands diving trip. But they were accommodating and allowed us to change my reservation from a diver to a non-diver (which also nicely brought my price down by about 25%).
I was then worried I would be treated as a kind of second tier guest. But that was not the case! They made sure that I was incorporated into the plan before each dive. I was either allowed to snorkel at each site or (if the site was too deep or not good for snorkeling) they would take me individually to another.
One of the crew members would wait for me in a dinghy while I snorkeled. If I finished before the divers, I would wave him over to pick me up. If I didn't, he'd come close to get my attention and then we'd head back.
After we returned the dive masters always asked me how my snorkel went and what I saw. They also helped me identify anything that I saw if I had questions.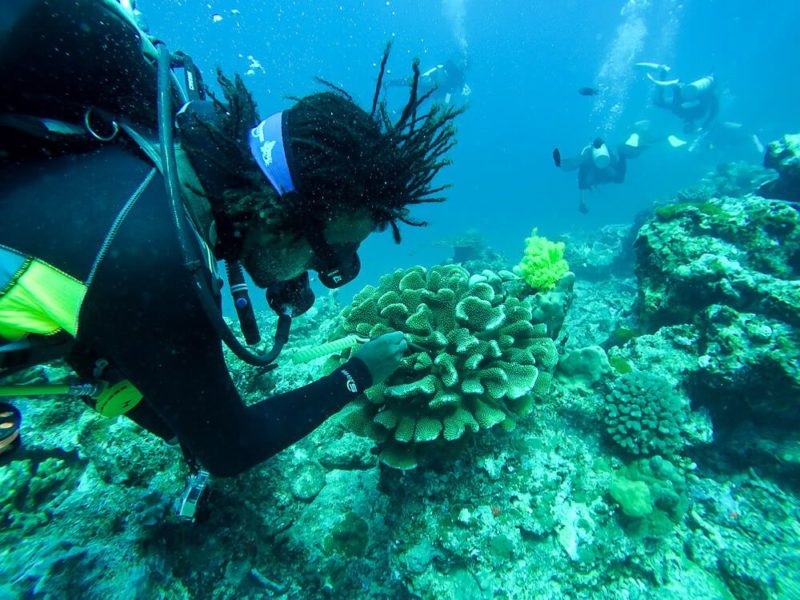 A few times I had to wear a life jacket (due to other boats being around like at Richelieu Rock), but mostly I was allowed to do my own thing. (I hate life jackets so I prefer to go without.) Most of the times in the briefing, they'd give me direction on where to snorkel and then let me do my thing. This may bother others, but I loved it.
And when a few of the divers had trouble with their ears, they joined me snorkeling without any issues. One of the divers in particular ended up snorkeling about half the time with me – including the last whale shark encounter – and she loved have the flexibility to do what she felt comfortable doing.
This made my trip just as good in my opinion as Ryan's. Snorkeling didn't ruin the experience for me.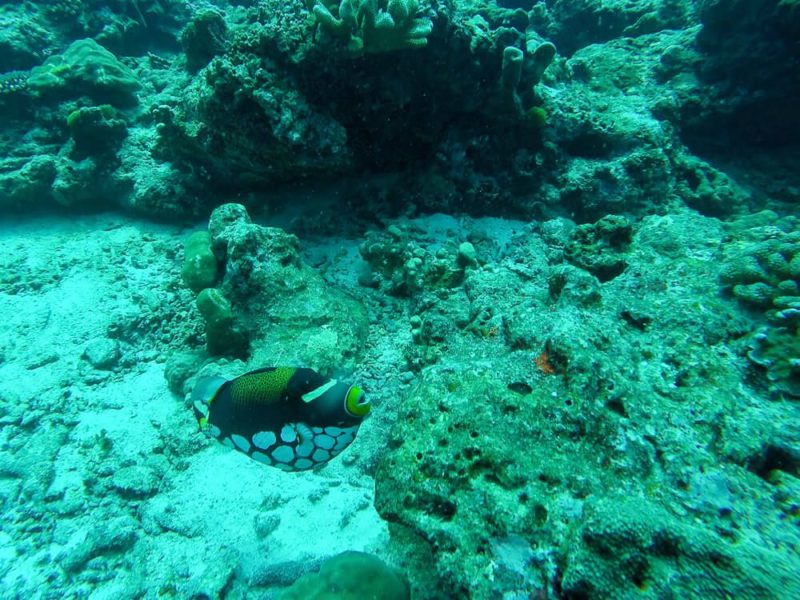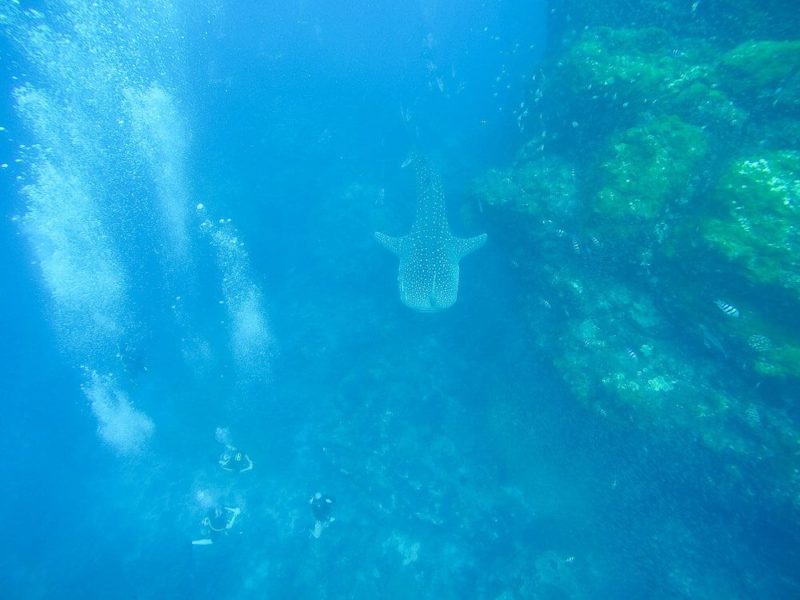 ---
4. the people
What can I say? The people were freaking fantastic. First the staff and crew went above and beyond. Besides making me feel welcome and accommodating, the divemasters were excellent at what they did.
There were a range of diving abilities on the boat, and the masters handled it flawlessly. Keeping the newbies calm and offering the experienced folks a chance to explore more. This was helped by the fact that diving groups were kept small. Only 4 divers per divemaster.
These small groups allowed the more experienced divers to go in one and the newer divers in another.
The masters were also there to help the newbies increase their learning. Ryan got his Adventure Deep Dive during the liveaboard (so he could dive to 30 meters). The divemasters also worked with him during the trip to give him pointers when they encountered tougher conditions (like currents).
The crew was also fantastic as well. For example one of the girls on our trip was a vegan. The crew made sure then there were vegan options for every meal and clearly let her know when something was or was not vegan.
Then there were the other divers on our trip. Ages ranged from about 20 to 35. I'm not sure of the average age of liveaboards, but this meant that everyone on our boat got along splendidly. We drank, chatted, and became friends over the 4 days we spent together.
Basically those 4 days were some of the best from my entire 3 month trip, and it's definitely because of the people on the boat.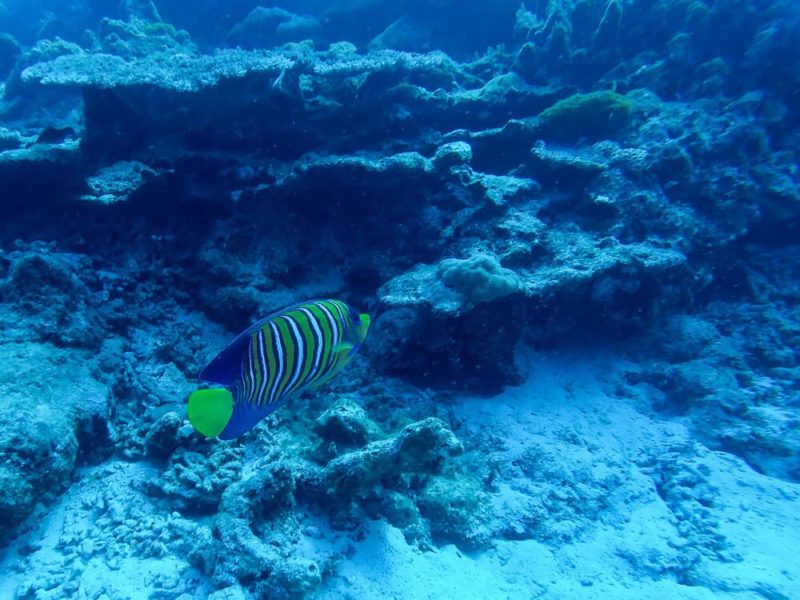 ---
5. the extras
These were the three things that made me love Sea Dragon even more. The beach visit to the Similan Islands, the beach visit to the Surin Islands, and the BBQ on the last night.
Okay so first the beach visits. Specifically the Similan one. We were dropped off in the morning (after a dive) on the first full day. Except for a few campers on the island, there was no one else. We got about 1.5 hours to enjoy the beach with no one else around. And guess what?
The Similan Islands have the most beautiful beach I've ever seen in the world.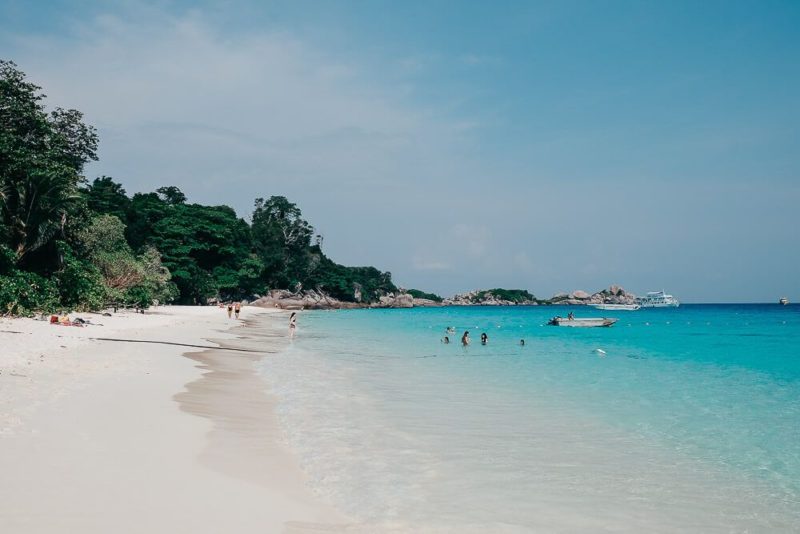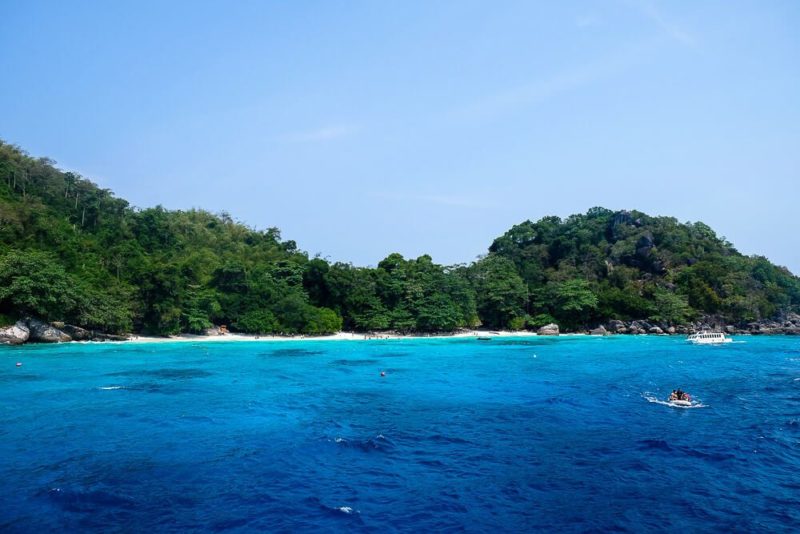 And also guess what? By late morning it's swamped with day trippers and speed boats crowding the beach.
To be able to enjoy such a beautiful place with so few other people was a real treasure.
Then the Surin Island beach visit. Here the water was more crystal green than blue. But still beautiful and clear. The Surin Islands have a bit more people there (it's a park and you can stay in rough little cabins there), but it is still relatively isolated.
And with no day trippers headed to the Surin Islands, we got to experience the islands for a couple of hours during the late morning without fear that a speedboat would drop off dozens of tourists.
Lastly there was the BBQ on the last night. Instead of a second night dive on the last night of the trip, the crew cooks a wonderful fresh fish BBQ dinner. Complete with included cocktails. To say this food was also incredible doesn't do it justice.
It was a special touch that allowed all of us one last night to drink, chat, and have fun before the trip ended the next day.
---
that's it
I traveled in Southeast Asia for 3 months, and my 4 day liveaboard trip was probably the best four days of my entire trip. I had that much fun. And at around $150 per day, I think it's definitely affordable as a part of your vacation. I know when I factor in accommodation, food, and activities for my other holidays, I often spend the same if not more.
Now for backpackers I know this is a lot of money. My daily backpacking budget for most of my trip was much, much, much lower. But I think even when you're backpacking you deserve a splurge (if you want to that is). And a once-in-a-lifetime liveaboard out to the Similan Islands might be just the thing to splurge on.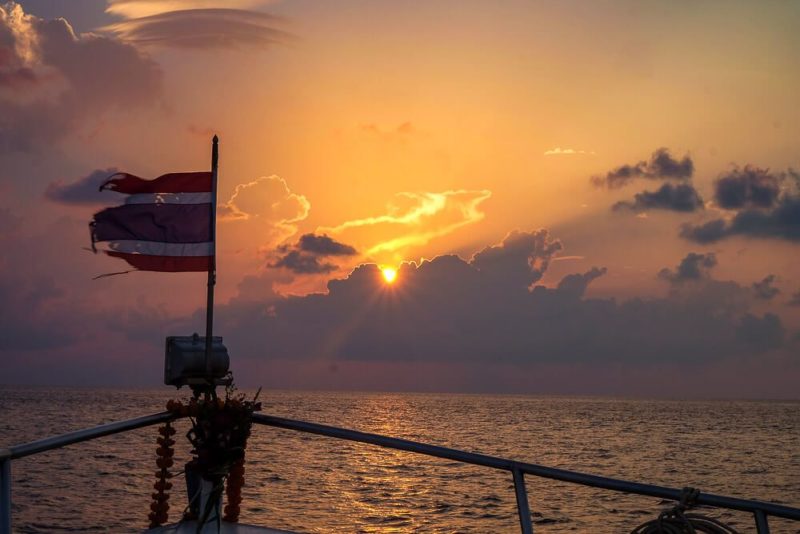 ---
Nitty Gritty
What to bring onboard the boat? The accommodations onboard are fairly small – even if you go for the private doubles. Some guests did bring their huge luggage. Others like us left it at the Khao Lak dive center and just packed a smaller bag (for me that meant my daypack). I was also able to leave my laptop and passport in the safe at the Sea Dragon center so that it would be safe. Don't forget a towel though! You'll need that onboard.
How much does it cost? For divers, the liveaboard cost is about $600-$700. For non-divers (like me), the liveaboard cost was about $450-$550. You do also have to pay the national park fees (collected in cash at the dive center) which is about $55 (divers) or $30 (non-divers). This money though goes right to the park though. Be sure though to check Sea Dragon's site for any updated pricing.
Do I need to bring cash on the boat? Yes. If you want to offer a tip for the crew or divemasters on the last day, you'll definitely want to bring cash. How much is up to you, but I would drop something in for the Thai crew if you can. Also you'll have to pay for any beer on the boat (all other drinks are free). Beers were 60 baht (less than $2) and we drank easily around 10 or so.
When can I go? We did our 4 day liveaboard trip at the very end of March. This is also when you have a chance of seeing whale sharks at Richelieu Rock like we did (they can be there in March & April). If those months don't work for your trip, Sea Dragon operates from mid-October to mid-May.
What certifications do I need? If you are diving, all divers must be certified to dive to a depth of 30 meters. If you just have your Open Water (15 meters), you have to take the Adventure Deep Dive (PADI) on the first dive of the trip. This has an extra cost (~$55). You can also upgrade your certification to an Adventure Diver or an Advanced Open Water Diver if you want to (though it does require an extra day in Khao Lak before the trip).
What if I haven't dived recently? Sea Dragon requires to not only see your certification before you leave, but requires that all divers have dived in the past 12 months. If you haven't they can arrange for a trip to a local dive site or a scuba refresher course at their Khao Lak center before the trip. You do need to arrive in Khao Lak one day early to do this and there are extra costs (1,200-2,000 baht depending on what you do).
What should I do on the last day? The day that you return to Khao Lak, I would suggest staying an extra night in Khao Lak to recover and relax. That way you don't have to worry about transportation once you return to the Sea Dragon dive center. We did this and stayed at the Baan Khaolak Resort. It was so nice to just be dropped off at the resort and relax for two days. Please note you do have to wait a full 24 hours though to catch a flight!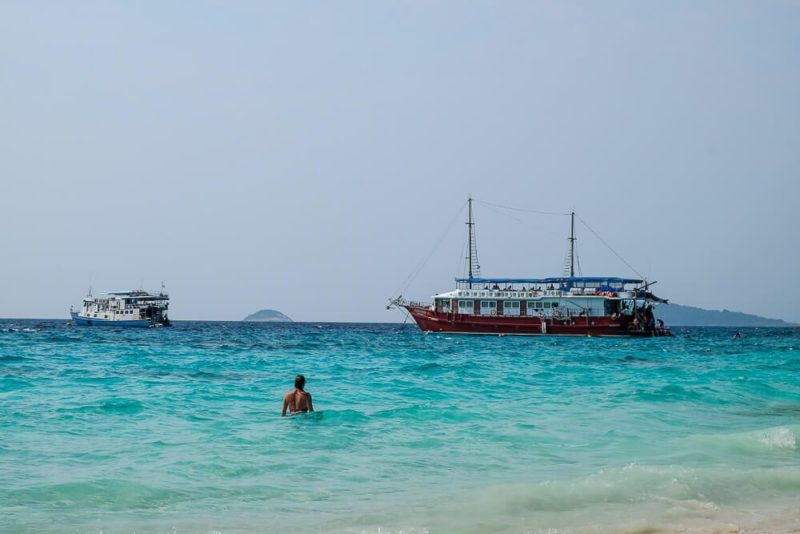 So, will you go for Sea Dragon's Liveaboard for your Similan Islands diving trip?