So you're considering renting a motorbike during your stay on Koh Lanta? Great! I think it's one of the best things to do in Koh Lanta. Because, you see, the island is much larger than you might expect. And the easiest way to see it (and beach hop around it) is by motorbike. But with it being so big, you'll need to plan your day correctly and know where you want to go. Which is why I've listed my favorite beaches and stops here.
But before we get ahead of ourselves, you might be wondering, what is a motorbike? Well it's what I would call a scooter. But there are different levels of motorbikes/scooters though. My hostel, Non La Mer, rented out scooters to its guests. These scooters didn't have a ton of power, but I found it worked just fine for the relatively flat Koh Lanta.
If you want a higher powered motorbike, there are places that rent them, but I was perfectly happy with my scooter. And since this was my first time on a motorbike, I was glad I didn't have to worry about it shooting out from underneath of me.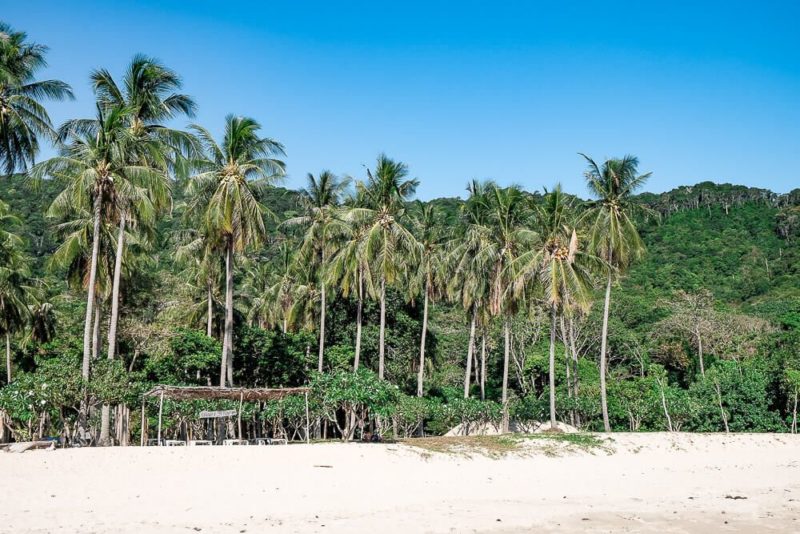 ---
tips for driving a motorbike on Koh Lanta
Do you need an international driver's license? Hmmmm. This is a tricky question. Technically the answer is yes. But during my stay on Koh Lanta no one asked to see it. Including my hostel who rented me the bike. And I didn't run into any police checkpoints.
What might happen though if you do get caught without one? The police will fine you and make you purchase a temporary one (that lasts for like 3 days). Expect to pay between $20-30. This is what happened to my friend in Pai, so I'm guessing it might be the same on Koh Lanta.
BUT, and here's the big but, if you get hurt on your motorbike and you don't have an international driver's license, your travel insurance will not cover your medical expenses.
So if you haven't left your home country yet, think about getting an international driver's license.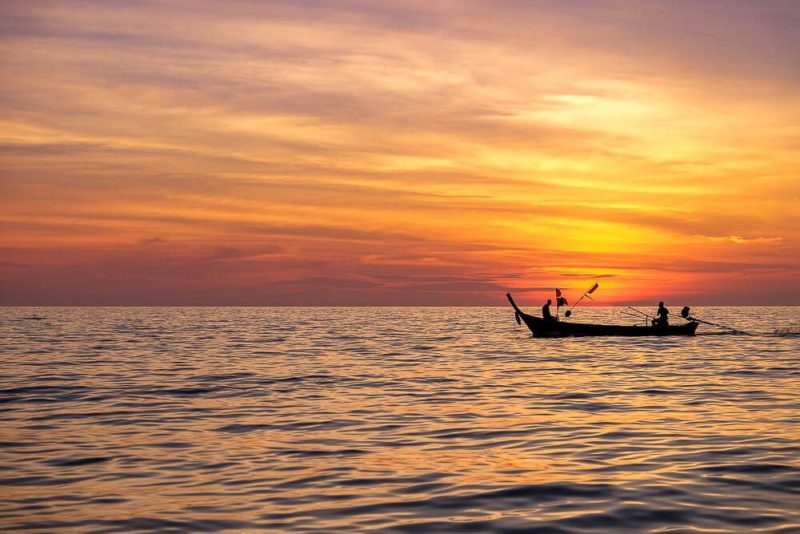 Will you crash? I saw people everywhere who were banged up and injured because they wrecked their motorbike. So. many. people.
Driving a motorbike/scooter isn't super easy. Especially on Thai roads. Now I think Koh Lanta is a great place to learn because it is relatively flat and there aren't too many cars on the road. But this doesn't mean you should be stupid.
Drive slow. This is my biggest tip. I saw a tourist girl crash her motorbike because she was headed down a steep dirt path going fast. Her bike fell over onto her and her leg looked real messed up. So drive slow. Especially when going downhill. Almost every single person I talked to who got hurt did so because they were headed downhill. Going fast. Sometimes in the rain.
Don't brake in gravel. Your bike will slide instead of stopping and it will most likely crash. Gravel usually sits at the bottom of hills. The ones tourists fly down and then have to hit the brakes because they realize they are going too fast. So if you see gravel up ahead, go ahead and slow down now.
Don't double up. Driving a scooter by yourself is so much easier than driving one with someone sitting behind you. The first time I did it, it was like night and day. By myself I felt confident on the bike. But as soon as someone got behind me, the weight and balance changed and I felt so nervous again. I kept thinking we would crash. I got to the point that I told people I couldn't drive with someone behind me.
And guess what? People usually respected that. Often I'd let someone else drive, someone more experienced, and then sit behind them.
So if you feel confident, great! But if you don't, don't. I saw bad injuries from couples who crashed with both of them on the bike.
Gas pumps are easy to use. There are tons of gas pumps along the road. After talking to several people, they all recommended the pumps (and not the bottles) to fill up your bike. The pumps will light up and talk to you to tell you what to do. Some even played a little jingle as it pumped. This part is super easy.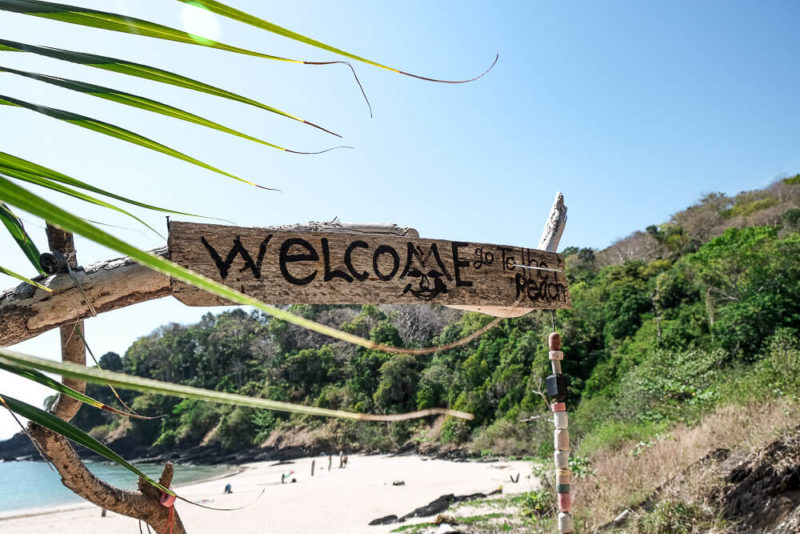 ---
where to go on Koh Lanta
I stayed in the Long Beach area of Koh Lanta. Non La Mer, my hostel, was perfectly situated near everything and the beach itself was quite beautiful.
But it doesn't beat the beaches to the south. However, as there are some steep hills as you head that way, I would actually ring the top of the island first (if this is your first time on a scooter) to get used to driving it before heading south.
Of course if you are an experienced driver, I would just go ahead and go south along the main west coast road.
And if you want a google map of any of the beaches, I've linked the title of each section to its location.
---
northern stops
I went north first to get some practice under my belt before tackling the hills. My hostel had suggested this when they heard I was newbie and I think it worked perfectly.
I had read that this beach is beautiful. And though it was, I don't think it deserves its own stop unless you are staying near it.
I walked here and grabbed lunch one day before heading back. It was pretty but it didn't blow me away.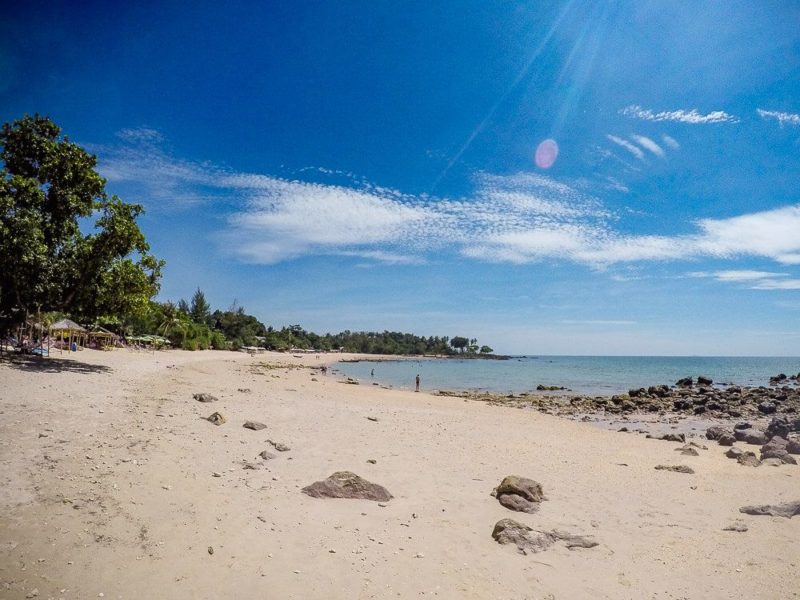 This was the beach literally across the road from my hostel. The beach was beautiful. It had some amazing sunsets. And, as the name would suggest, it was quite long. There's plenty of space to stretch out here. Though not a lot of shade so be careful.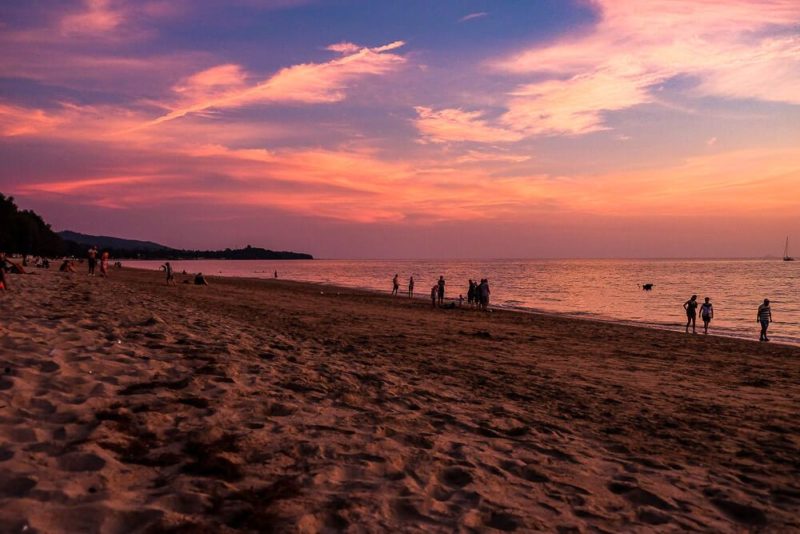 After you leave Long Beach, keep heading north. You'll ring the top of the island. (Don't go across the bridge.) The road will get smaller after you pass the bridge, but just keep heading south.
Eventually the road (4245) will come in from your right. This is the road you want to take to get back over to the west coast. But if you want to see the old town, keep heading south.
To be honest, I wasn't impressed by Old Town. I found it kind of touristy. But I did get some cheap aloe and sunscreen there that I desperately needed so that was a plus. (The sunscreen in the market next to my hostel was triple the price.)
But other than just walking around the shops, Old Town didn't strike me as something you need to see. And the pier is just a stone pier. If you do a snorkeling tour you'll come this way anyway and see it then.
So once you're finished, head back to the west coast via road 4245.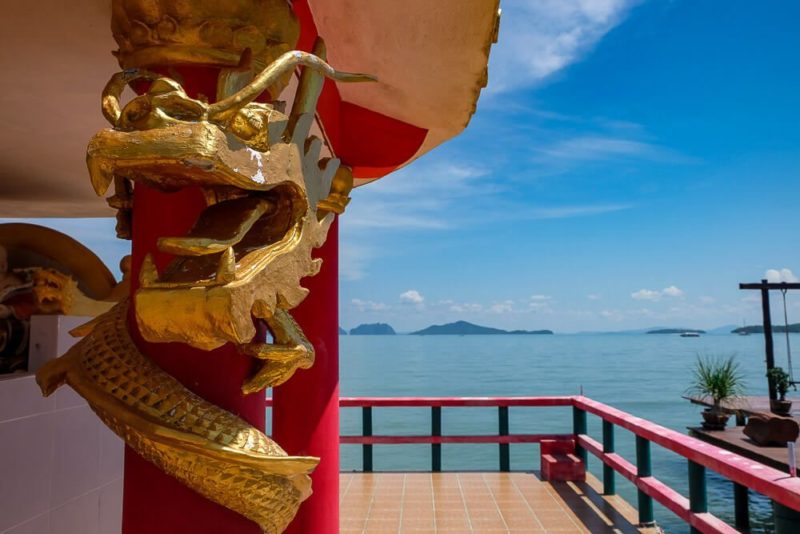 This restaurant isn't cheap. And it's right at the top of the steepest part of the road, so it can be kind of gnarly to pull off to park. But I think if you want some shade and a cool drink, this spot is worth it.
Please note though that this part of the road is seriously steep. Riding up it was no problem, but I would not drive down it. The day before I drove up it, I actually came this way from the other direction and turned around because I didn't trust myself going down it. Please be careful.
But anyway the restaurant. There's only one real reason to stop here. And that's this view.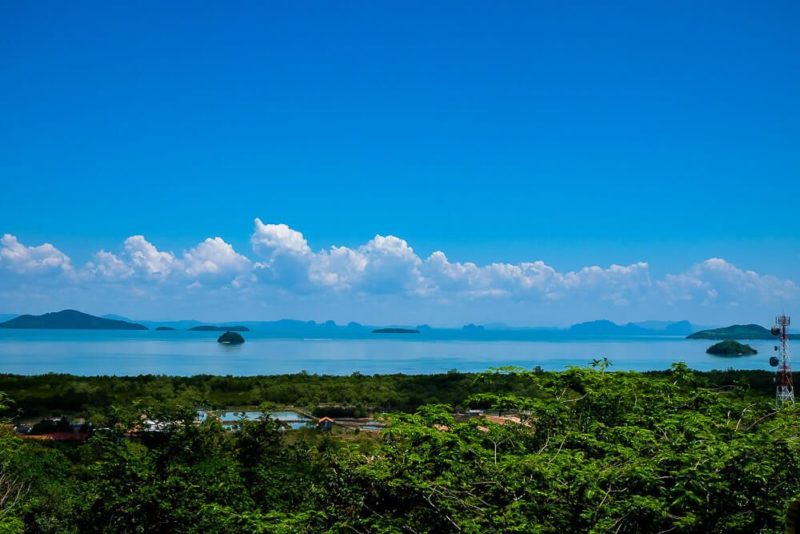 ---
southern stops
Okay so you're back on the west coast and heading south. There are lots of little stops along this stretch.
My hostel recommended Klong Nin but I found it underwhelming. I did follow a wooden sign to a "Beautiful Beach" and I did find a beautiful beach to watch the sunset later that day. So just play this part by ear if you want.
Note: Make sure you make the left turn off of 4245 when you hit the coast. The road going south is a lot smaller. Remember that you'll want the beach on your right side after you go through the center of the island.
Most of these southern beaches have a couple of names. The map my hostel gave me had different names than Google. So I've listed both.
Kantlang Bay was the first in this final stretch of beaches. You have to drive down a small road off the main one to get there, so keep a look out as you enter the small town. We parked at a bar and then enjoyed the beach and water for several minutes.
And though this was one wasn't my absolute favorite, it was beautiful. And if we had gotten an earlier start, I would have sat back at the bar and gotten a beer.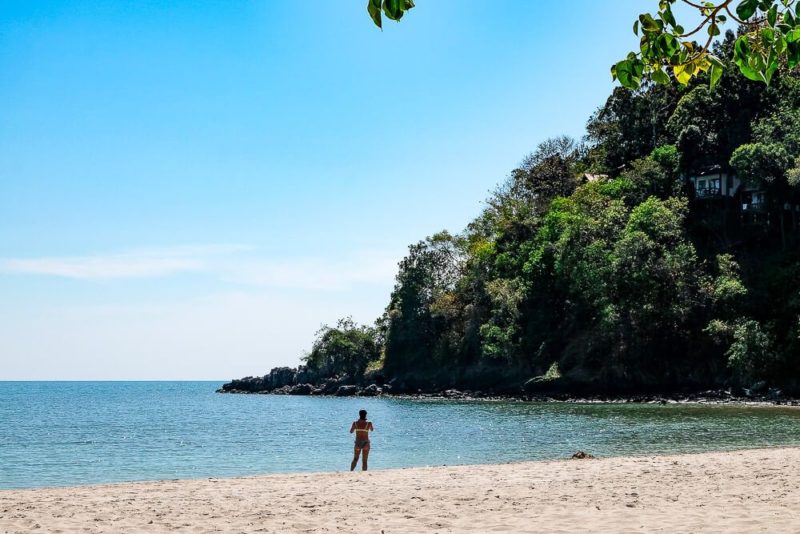 This was my favorite beach and perhaps the best beach on Koh Lanta (in my opinion obviously).
Getting here is simple, it's right off the main road. But the parking here is tight. You'll be coming around a turn and then see a bunch of bikes on either side of the road. On the ocean side there are steps descending down the forested hill to the beach below.
There were more steps than I expected, but when I reached the bottom, it was beautiful.
One lone beach bar sat on the sand, and though there were people around, it felt so much more deserted. I remembered floating in the ocean and just loving it. The water was clear and warm. And the sand was firm (and not squishy) under my feet.
I remember thinking that this would be my beach if I lived on Koh Lanta.
(Around the corner is also Khlong Jak Bay / Khlong Chak Beach. We didn't go here but my hostel recommended it. I bet it would be a lot like Nui Bay. And there are a couple small resorts here too if you really want to get away.)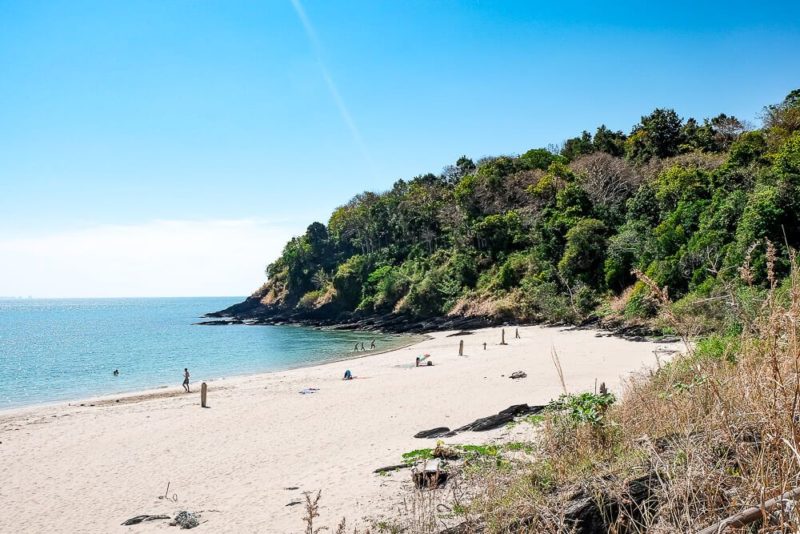 This beach was huge! A long beautiful, golden stretch of sand. The only problem with it is getting to it. The main beach access is on the northern side. Unfortunately that's also where the road is much, much higher than the beach. Two super steep dirt paths lead down to the water.
I took the second. I went super slow. I basically skidded my feet along the road and kept both brakes firmly squeezed at all times. And I made it fine.
But this is also where I saw the girl crash on her bike coming down the hill (when I was going back up). So if you do this, please please please be careful.
After you reach the bottom of the hill, keep following the dirt path (which isn't flat and has many ruts so keep being careful). You'll eventually hit the bar where you can park and then wander out onto the beach.
I loved this beach and I wish we would have had more time here. It was just as perfect as Nui Bay. Only be careful of the monkeys here…they will take your stuff. Don't place anything near the trees because of this.
There may also be a second path to the beach along the southern stretch of it. I saw lots of motorbikes pulled off to the side of the road here and then a flat walk to the beach. I didn't see a spot to squeeze my motorbike into which is why I didn't stop. But if the road I took down to this beach intimidates you, maybe keep going south to see if you can spot this path.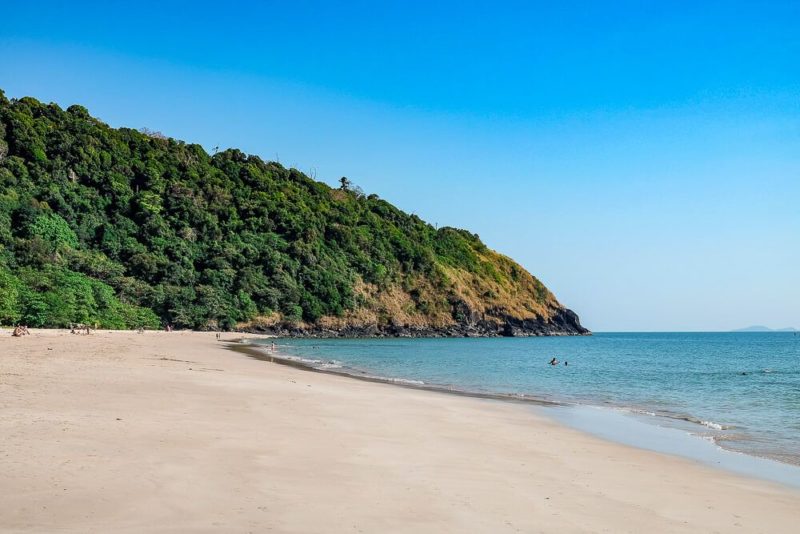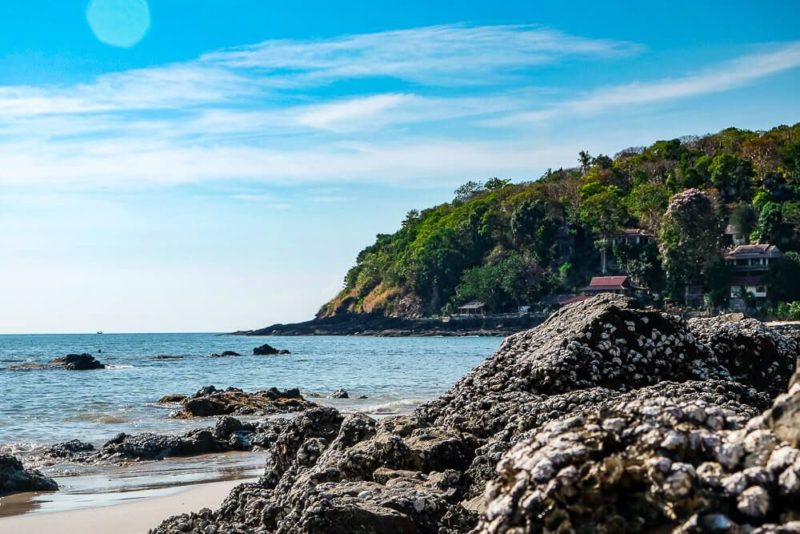 I didn't go into the national park. It wasn't exactly cheap for tourists, it was getting late, and we had just seen several amazing beautiful beaches. Plus some expats we talked to told us they only came here for their son who loved to see the monkeys. Other than that, it wasn't any better than the beaches we had seen.
I have no way of knowing if that was right. But at like 300 baht a person, it was more than I wanted to spend to just see it and turnaround. (We were seriously running out of daylight.) So we skipped this. But I do know it is one of the top places to visit on Koh Lanta so if you have the time and money, maybe give it a go.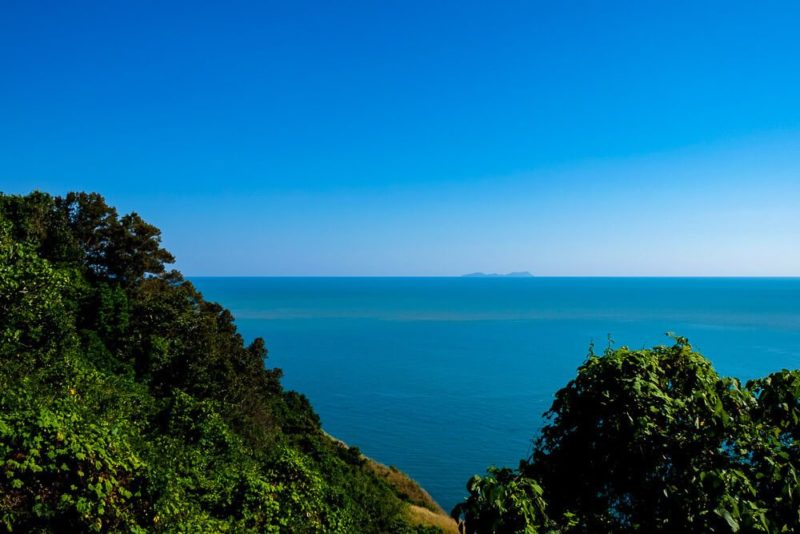 So what do you think? Is motorbiking one of the best things to do in Koh Lanta?