Researching my trip to Costa Rica, I knew there was one thing I did not want to do – go to Manuel Antonio National Park. Too crowded and too touristy, most people I talked to who lived in Costa Rica told me to skip it. We had zero plans to go. But as the last day of our trip loomed, and I still hadn't seen a sloth, I started to get desperate. I needed to see a sloth. So we planned for an afternoon at Manuel Antonio.
Okay so I want to preface this post by saying that I wouldn't recommend Manuel Antonio. Everything about getting to and away from the park was awful. The park itself was crowded and stupid tourists were everywhere. And if I had seen a sloth earlier on the trip, we wouldn't have gone.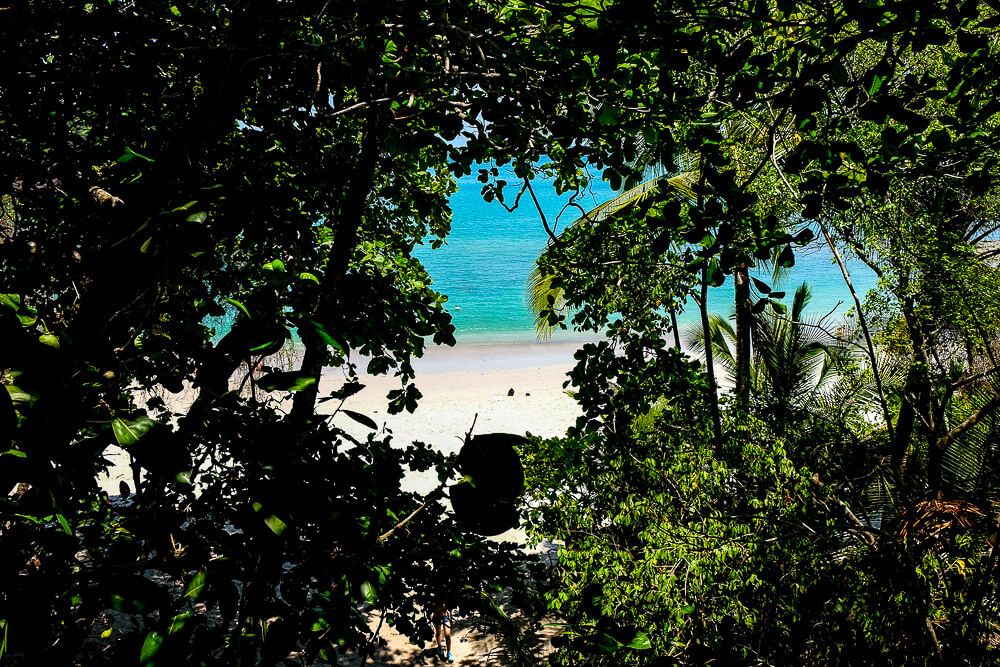 But we hadn't seen any sloths. To the surprise of our guide in Monteverde and the staff at our hostel, they remained elusive to us. And even the hostel staff tried to point out a place where a local sloth sometimes hangs out (but apparently not for the three days we were there).
The owner of the Flutterby even recommended a local animal sanctuary we should try out. I really wanted to go but by the time we got the info, we were leaving Uvita the next day. And we wanted to be at our B&B near the San Jose airport before it got dark.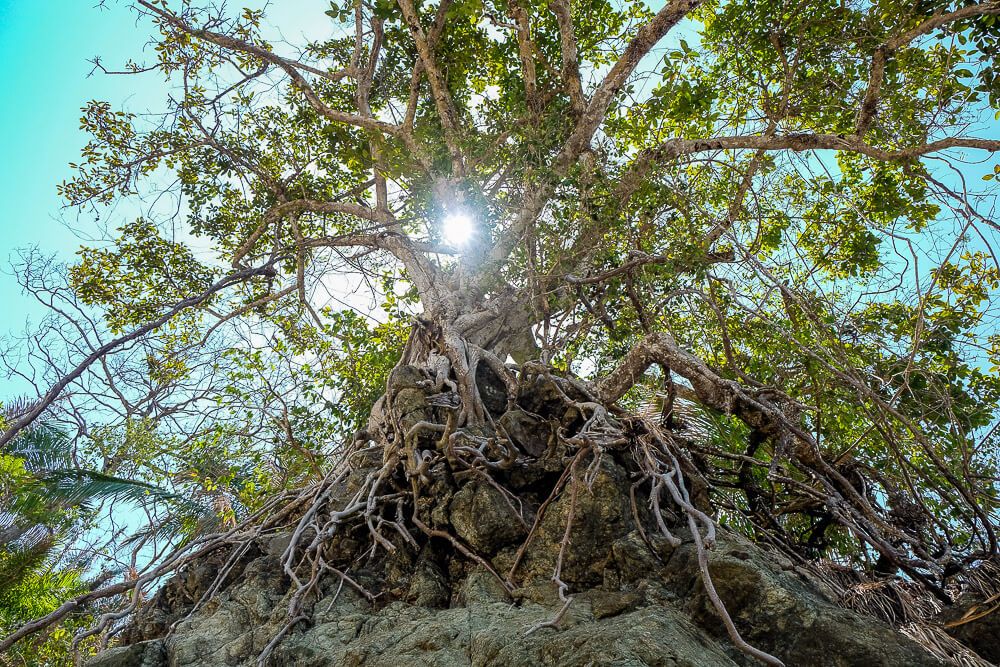 The only reason I even considered Manuel Antonio National Park was that another couple at the hostel told us about it after hearing about my search for sloths (and my lack of success so far). They immediately told us to go to Manuel Antonio. That they had seen so many sloths in the park that by the time they were leaving, they weren't even stopping to look anymore. I remember them saying that it was thick with sloths.
Thick with sloths.
My heart pounded at that. Thick with sloths? Could it be? And at that we planned a new route to take us from Uvita to San Jose, one that diverted through Manuel Antonio. We would have about 2-3 hours in the park. I wondered if it would be enough.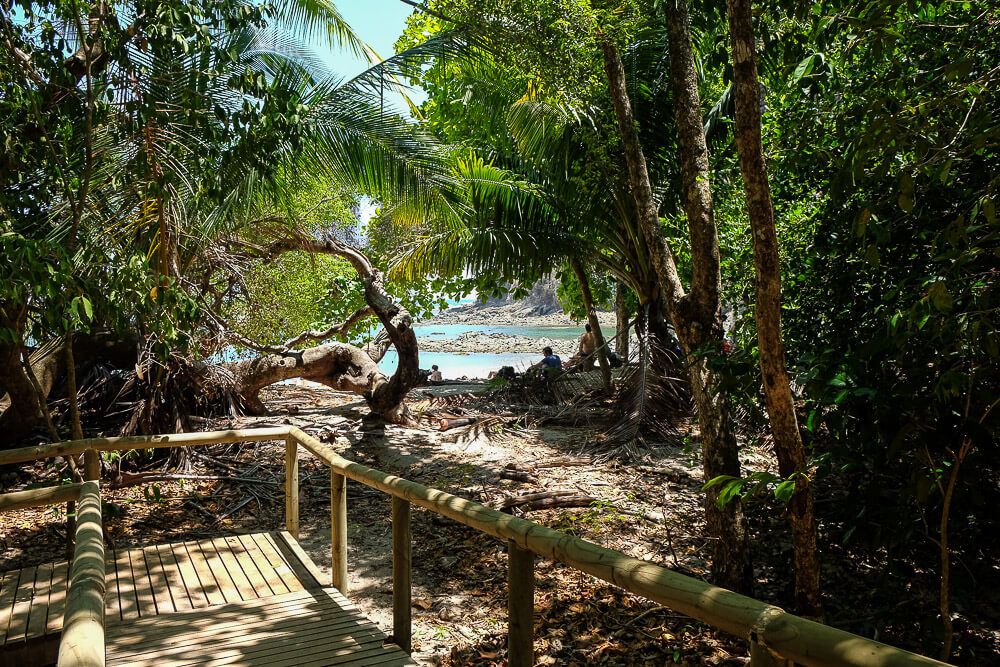 Okay so I'm just going to say it. Manuel Antonio National Park is a shit show.
There's no nice way to put it. Heading towards the National Park, there is just people everywhere. Most of whom will try to convince you that their tour is legit and that they are with the park. 100% of the time they are not.
We almost got dupped when people in fake uniforms waved us over to park on the side of the road and pay for it. But instead we got back in the car and kept going. We kept heading down 618 till we reached the loop at the end. We parked in a big shaded field next to Hotel Manuel Antonio for less than $5. Which was the cheapest we could find.
Then we took the path next to the hotel (big sign can't miss it) to the entrance. But you'll need to buy your tickets. And they don't sell them at the entrance. Nope, they sell them at the blue building about a block away (see picture below).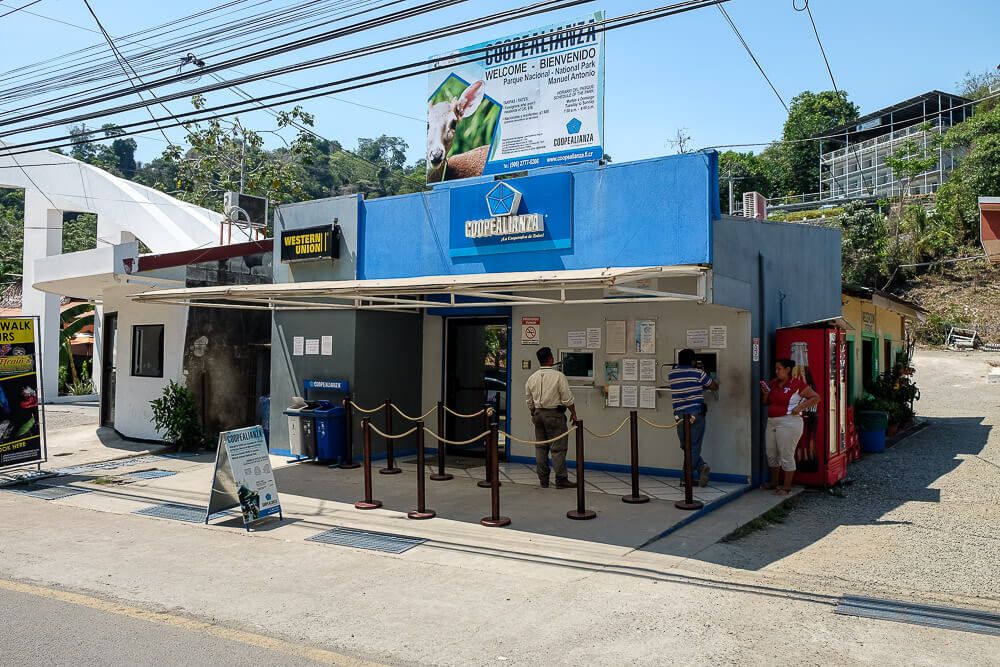 Once we had our ticket we were rolling. We stepped into the park and took the main path (towards Playa Manuel Antonio) to the right. I was starting to worry that all the fuss to get here would be for nothing but then not 200 ft from the entrance, a large group had stopped right in the middle of the wide path.
All eyes and fingers pointed upward. And as we looked, there he was. A sloth was situated high in the trees over the path.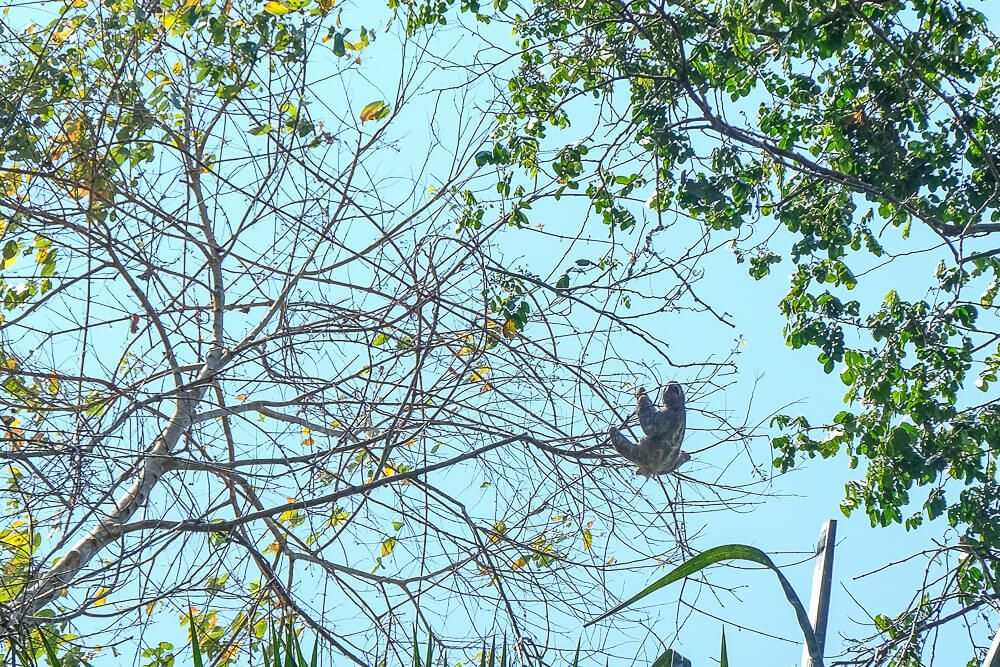 He was silhouetted perfectly against the sky. He took his time up there, reaching for leaves and moving slowly through the branches. I gasped audibly, grabbing for my camera. My mission was now complete.
I immediately snapped a few pictures. He was far away and very much backlit against the sky, but I didn't care. Here was my sloth.
And he was perfect.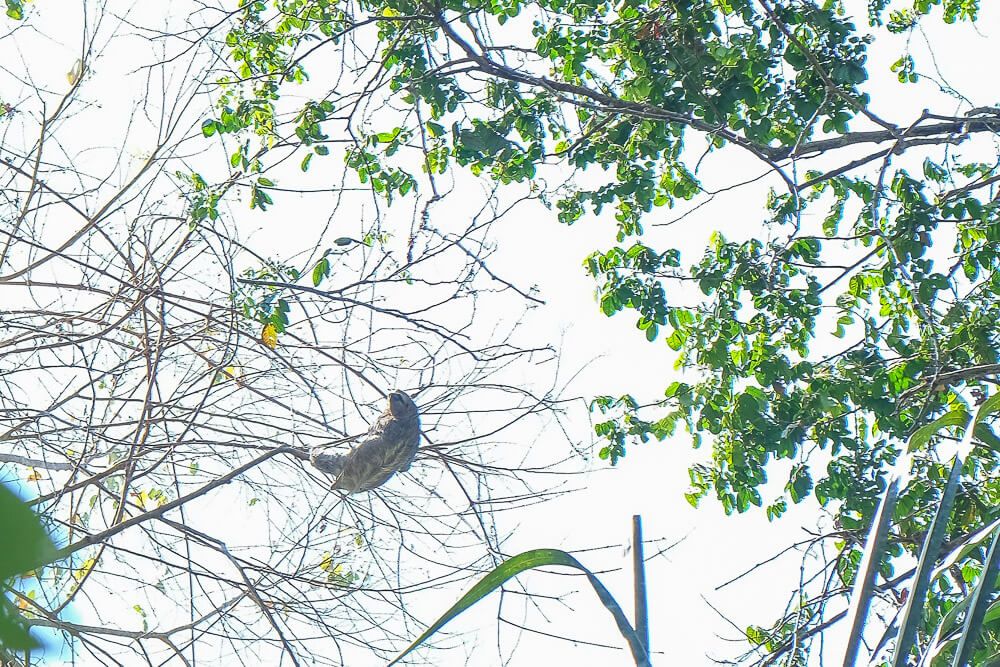 We watched him for awhile, chilling up there. It was amazing to see him. And he moves so slowly. Yes I new he was a sloth, but I didn't really get it till just then.
Finally, after several minutes, Ryan ushered me along. Then, before we reached the turn off for the beach, we saw 2 more sloths! One was hard to see through the foliage, but the other was clearly visible from the main path.
Three sloths so far!!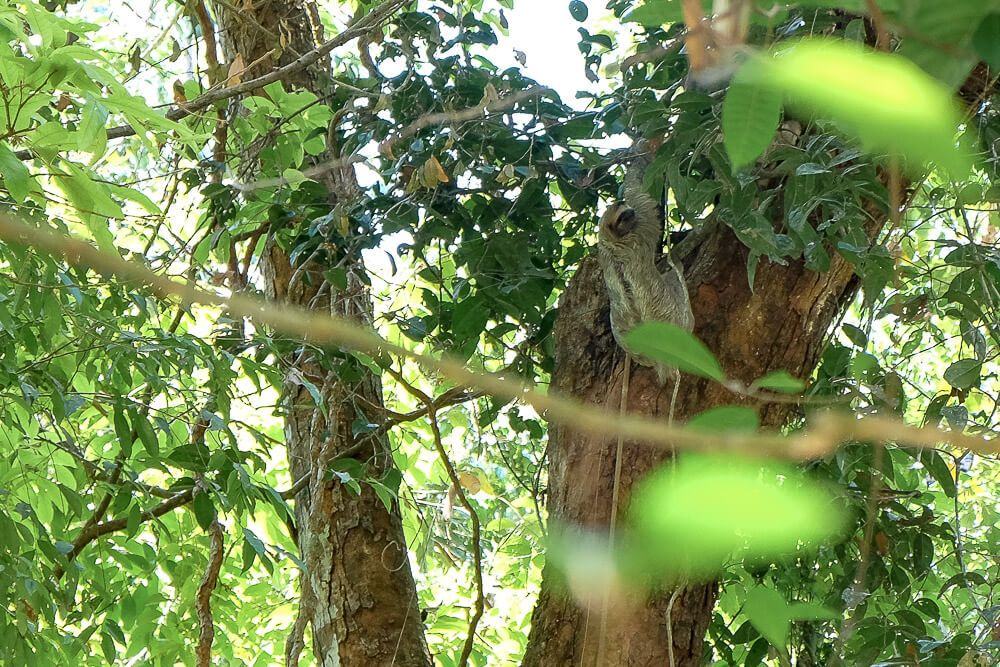 I couldn't believe my luck. I had just wanted to see one, but three! Not in my wildest dreams. And again I stayed and watched them until Ryan ushered me along.
After that it was beach time and celebration. The main beach, Playa Manuel Antonio, is crowded at the closest end. Head to the far end or continue down the path and over to Playa Espadilla Sur which is hardly ever crowded. We took up a spot at the far end of Playa Manuel Antonio and sat back to take in some sun.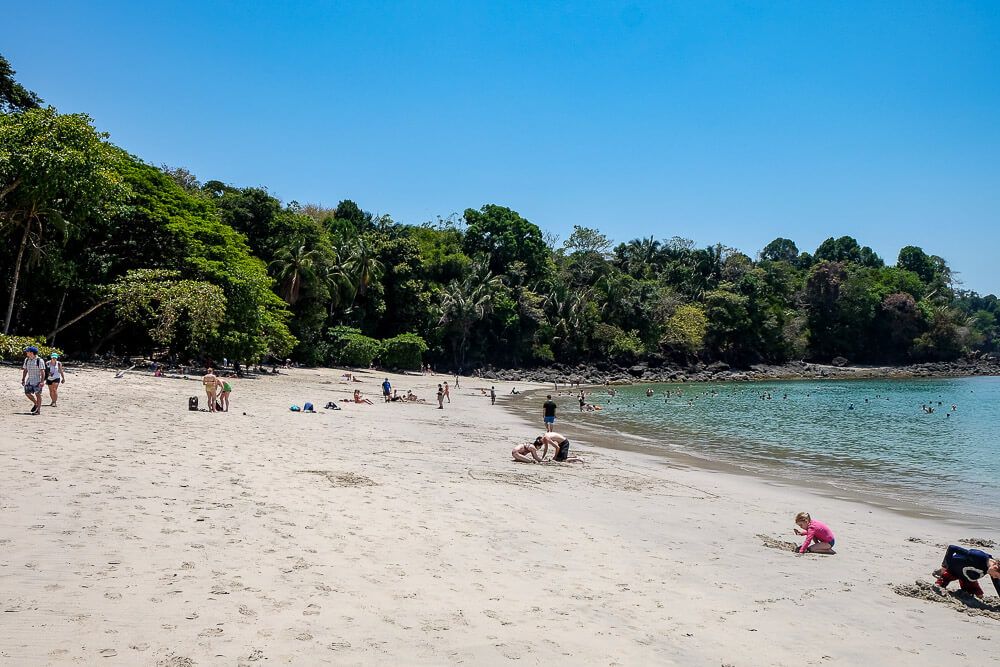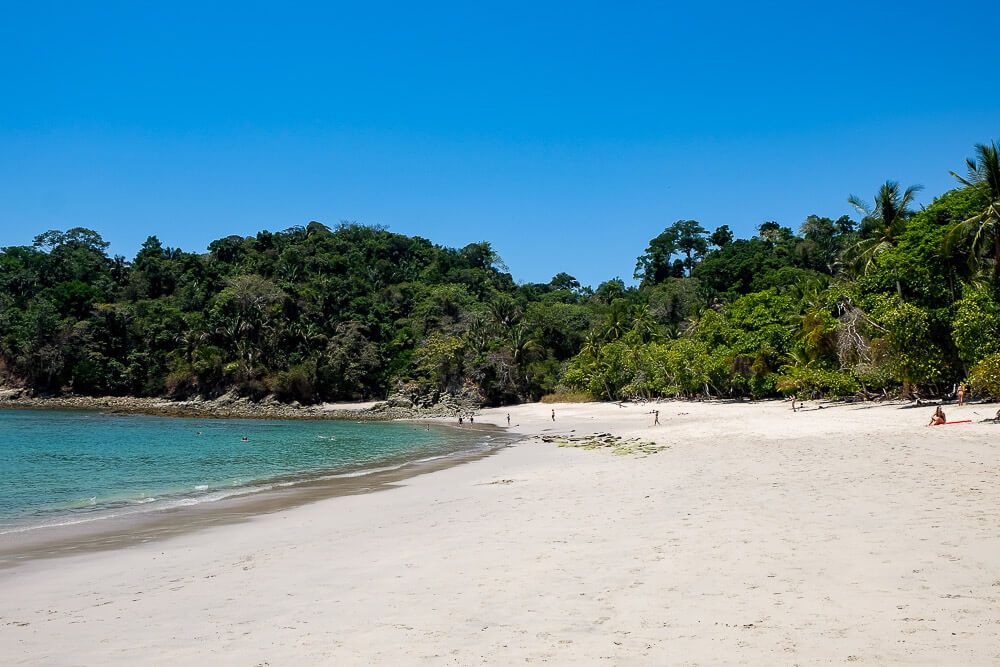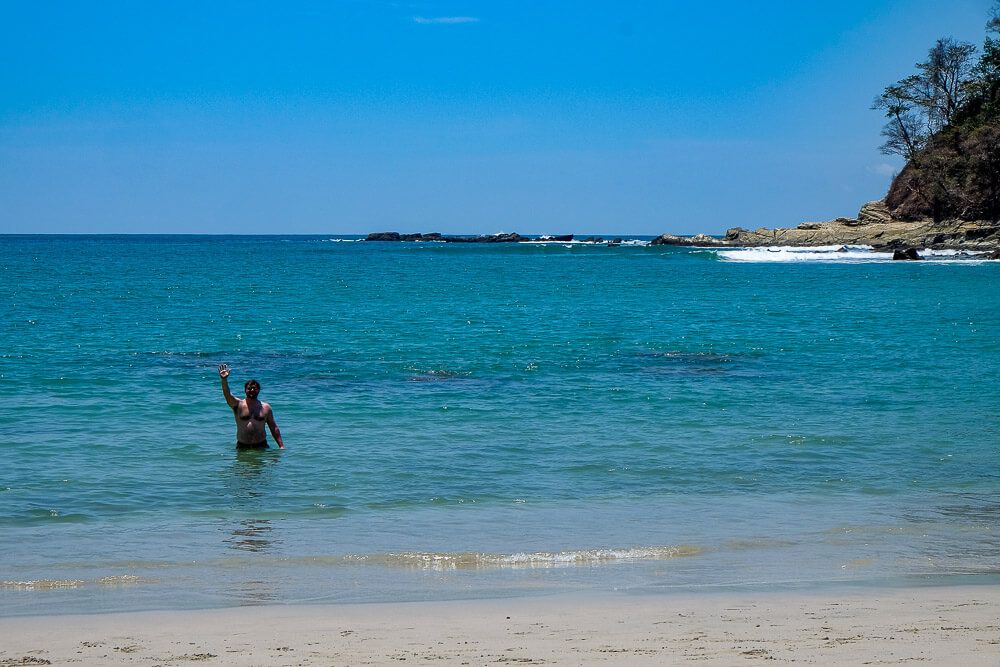 After a bit, we ventured up the point at the far end of the beach for a little bit before turning back. We had only planned for a couple of hours at Manuel Antonio and needed to get back on the road.
On our way away from the beach though, we first saw a Capuchin Monkey and then 3 Squirrel Monkeys! The latter of which is pretty rare in the park (or at least that's what the signs say). As we watched, a group of them approached the trail and then journeyed over it via the treetops before continuing on their way.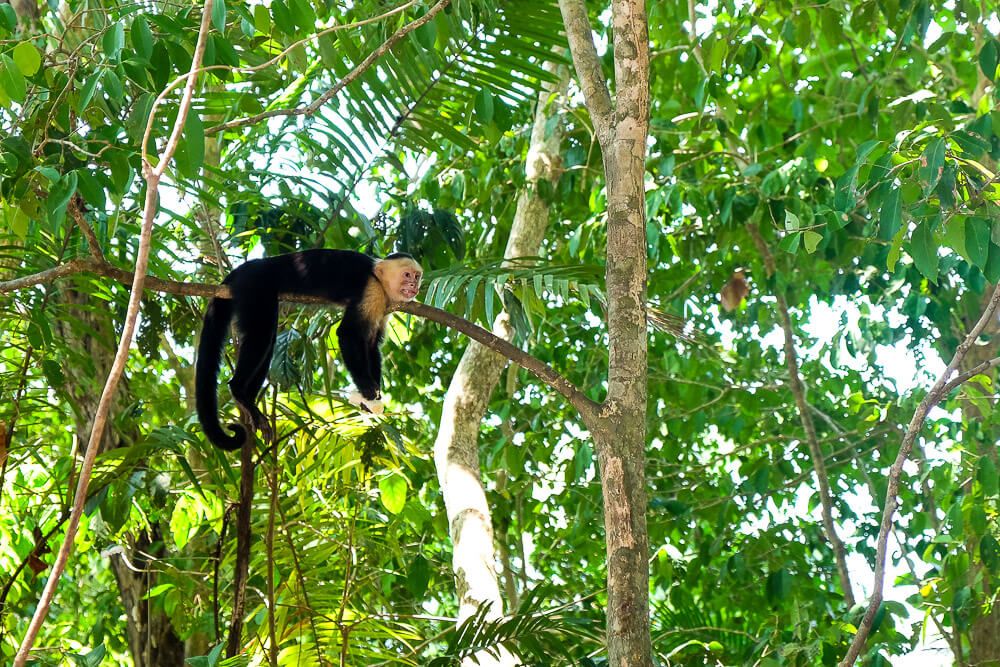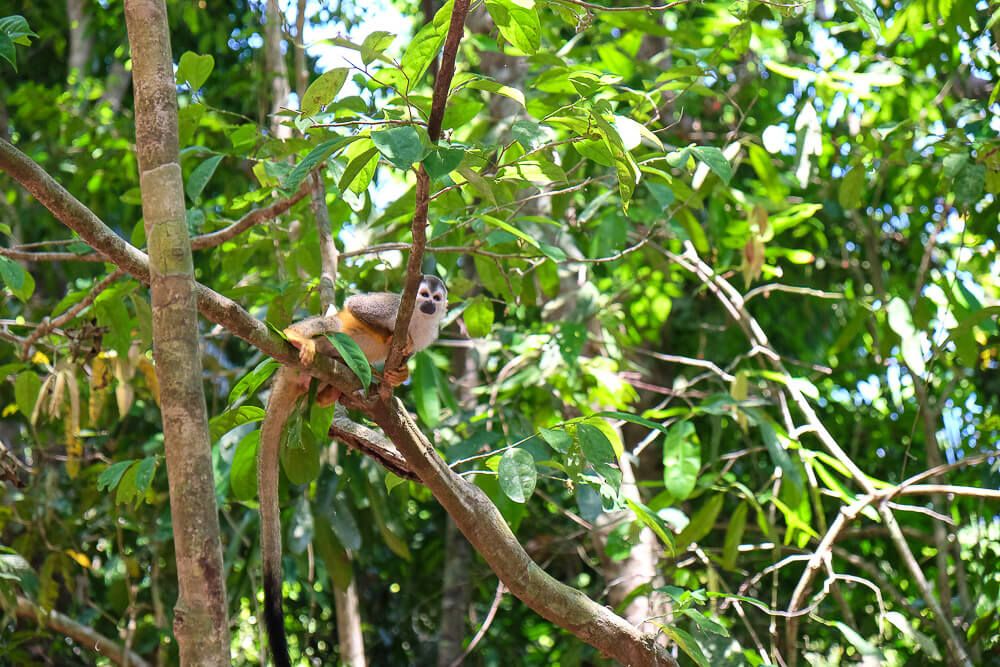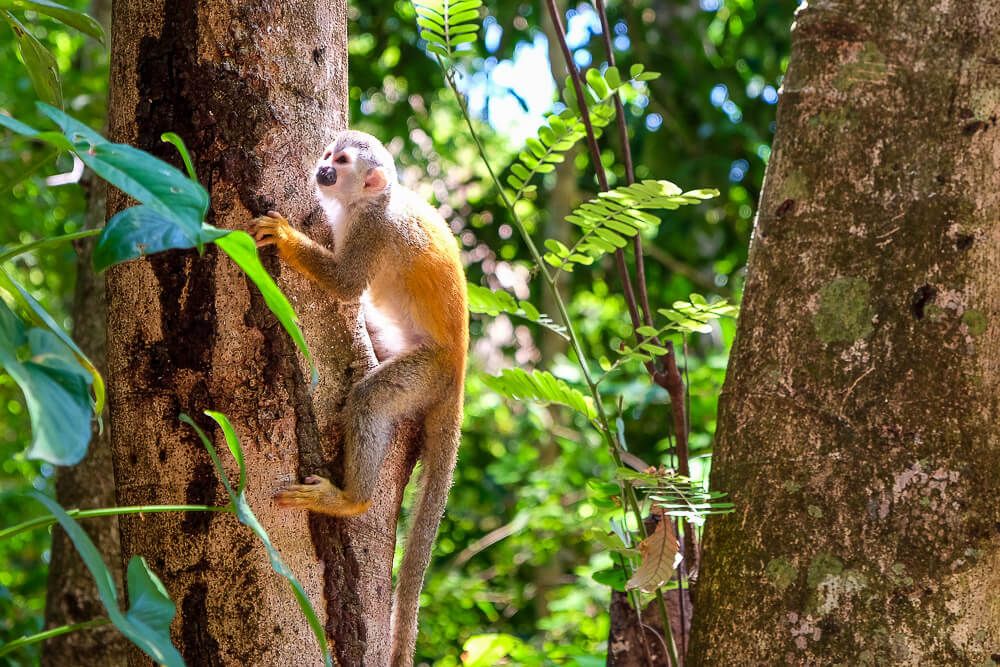 I was so excited to see these little monkeys. They were so small. So fast. So jumpy. (Yep I'm great at describing their leaping abilities.) I'm still planning to do a video of our whole trip to Costa Rica and it'll contain clips of these little guys. Stay tuned!
On our way back to the entrance, we ended up seeing 2 more sloths on the way, bringing our count up to 5! But these sloths were sleeping. It was past noon now and the sloths are only active in the morning and in the early evening. During the hottest part of the day they are all asleep.
As we got back to the car and headed towards San Jose, I was glad I got to see my sloth. Yes it was at Manuel Antonio. And though I wish it had been elsewhere, I'm still glad we went and I got to see one.
Because sometimes you got to do what you got to do.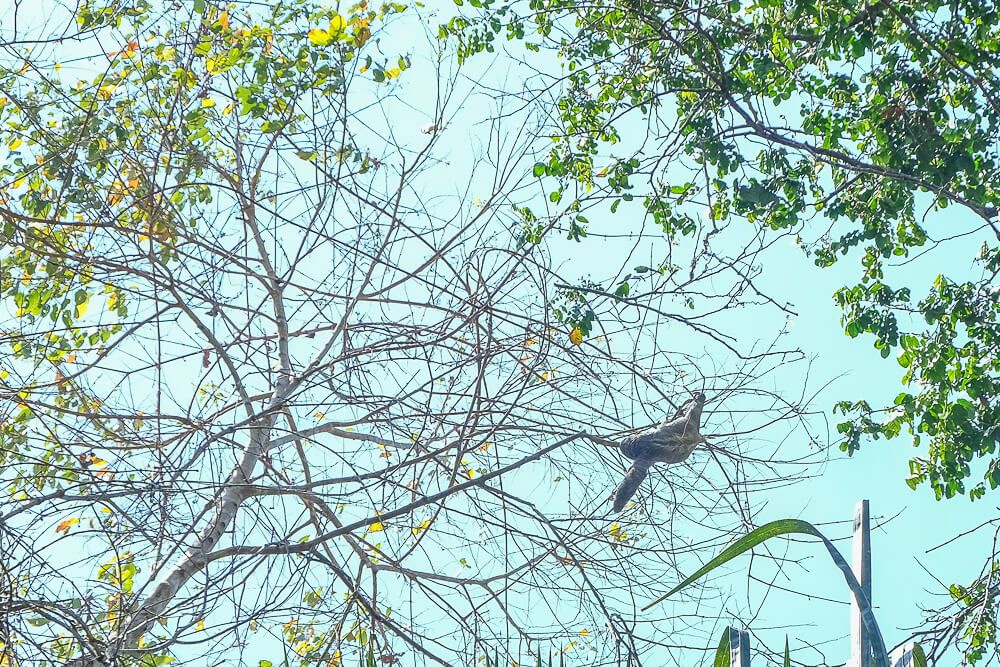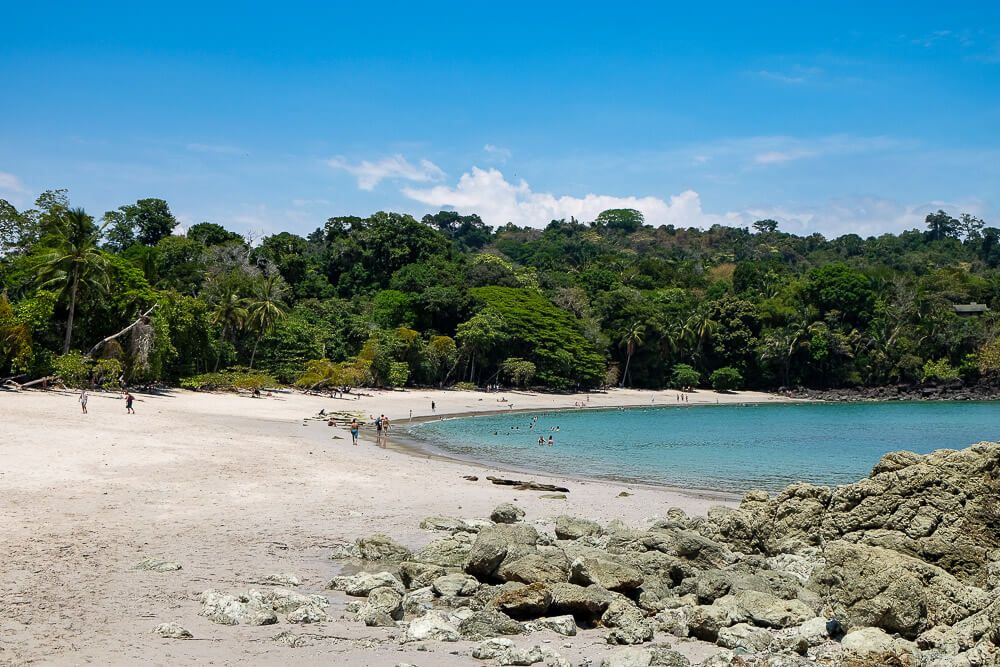 ---
Tips For Visiting Manuel Antonio National Park
Parking. There really is no parking at the park. So instead park where we did, next to Hotel Manuel Antonio. Google map here!  You'll pay a little bit and then just take the path next to the hotel to the entrance.
Buying tickets. Once you reach the entrance, look back about a block. There's a small blue building where you can buy your tickets. Ignore all tour guides trying to sell you a tour and focus on buying the tickets and then heading in.
Don't book a tour. The main advice we got from the couple at the hostel? Don't book a tour. But instead use them to find the sloths. See a group of people stopped on the path pointing up. Go to where they are and look up. I saw all of my sloths this way. And also stick on the main path (not the one that goes through the trees, deceptively called the sloth path since I didn't see any when I was on it) in order to leech off of the tours this way.
Maps aren't well labeled. Hence my slightly unclear language in this post. Instead use the signs posted at intersections
Get there before noon. Most of the animals are most active (and therefore easier to see) in the morning.
Don't feed the monkeys. Just please don't. I saw a tourist feeding a Capuchin a banana, and I wanted to say something. There are signs everywhere warning against this. Not only are the monkeys in Costa Rica not digestively able to handle the bananas (bananas are not actually originally from Costa Rica and give them bad problems), but it teaches the animals to steal things from humans. So just don't.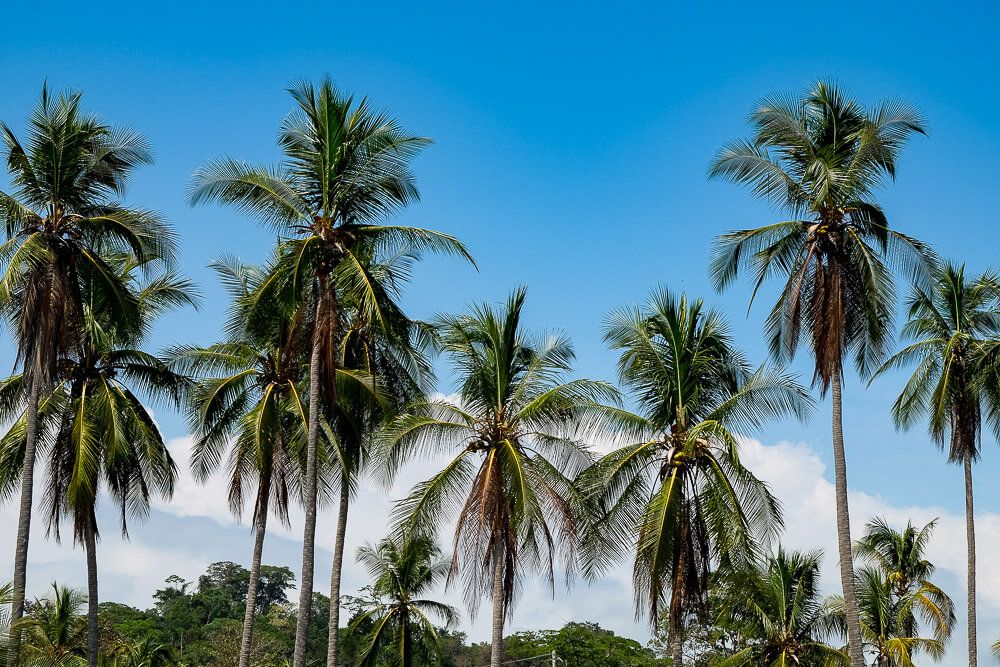 ---
Nitty Gritty
Location
Here is the park. 
Here is the entrance.
Here is where we parked.
Hours
Hours are from 7am to 4pm.
The park is closed on Mondays.
Cost
$16 per person and expect to pay something for parking.
Some of the links in this post are affiliate links. If you buy something through these thinks, I may earn a commission from the sale (at no extra cost to you!). As an Amazon Associate I earn from qualifying purchases. Thank you for reading along!