There were several things on my list for Lagos but then there was the one that I didn't plan for. Checking into our B&B, we were asked about our plans for Lagos. We rattled off the beach I wanted to see and the hiking we were planning on doing and she nodded – pleased with our selections. But then she suggested a walk down to Ponta da Piedade as well. Simply saying that it was beautiful.
Beautiful was an understatement.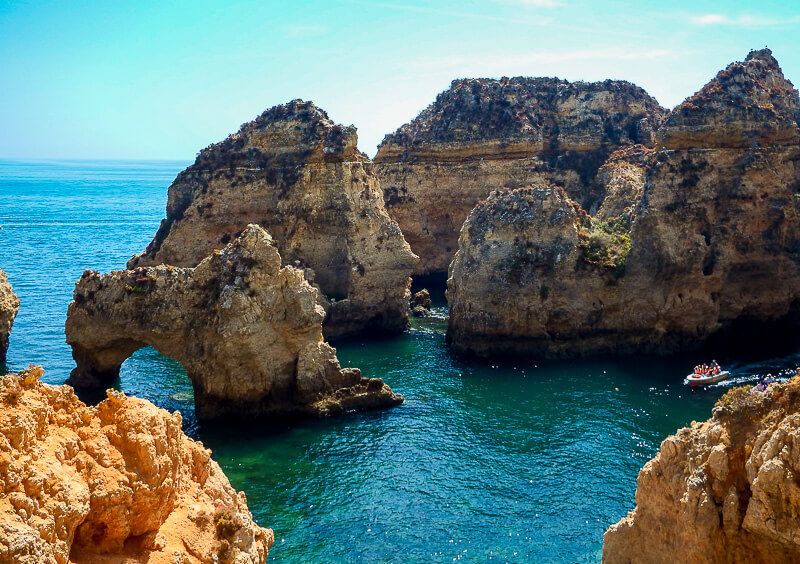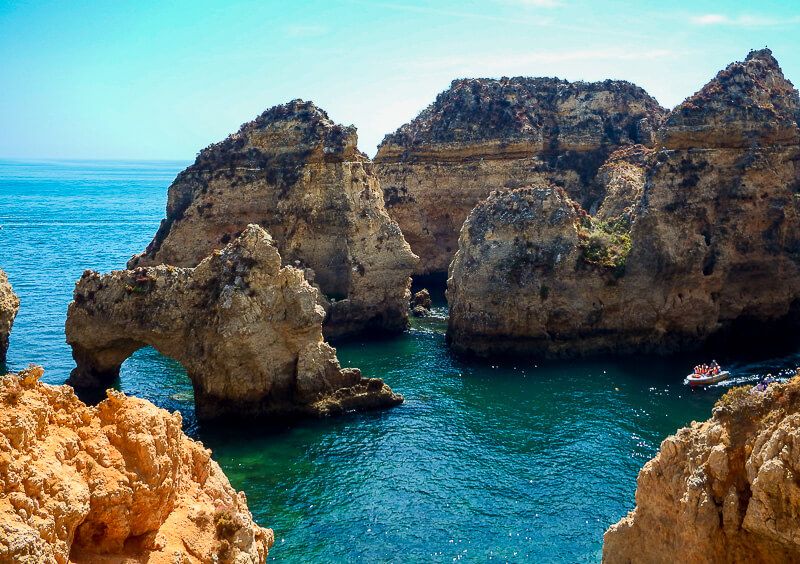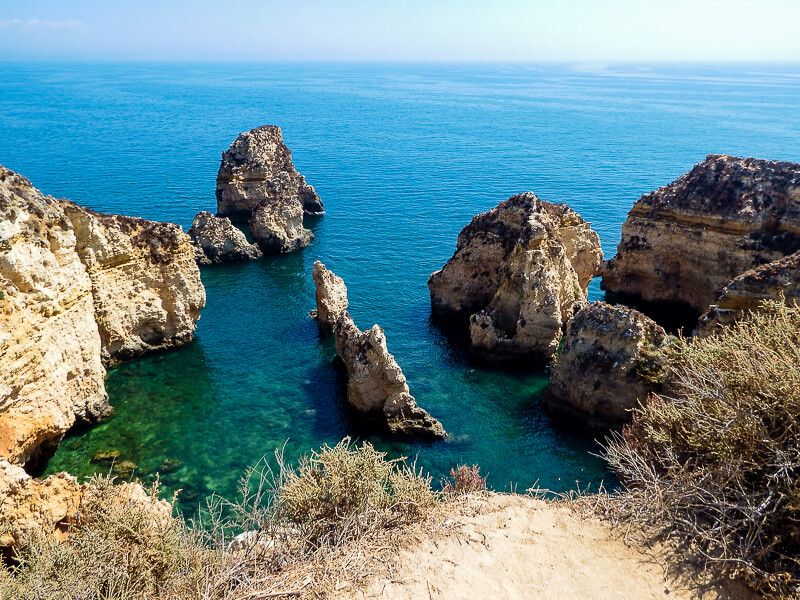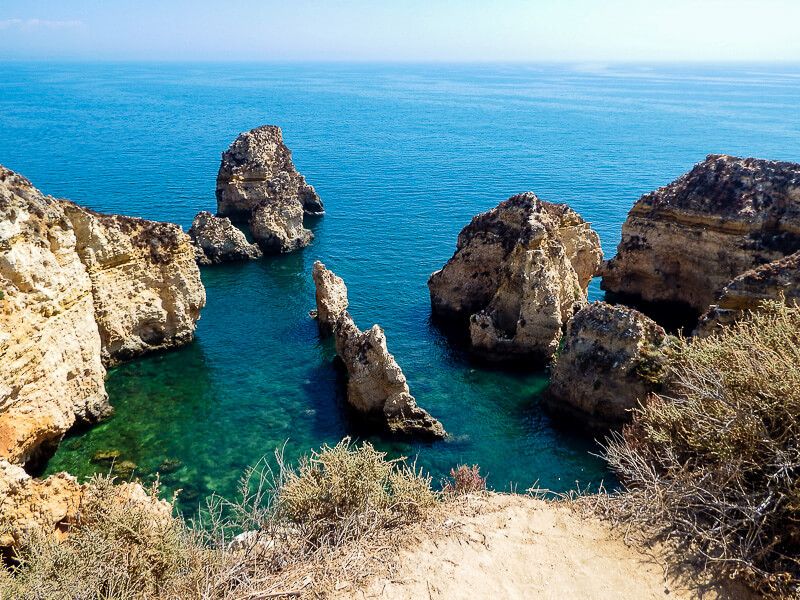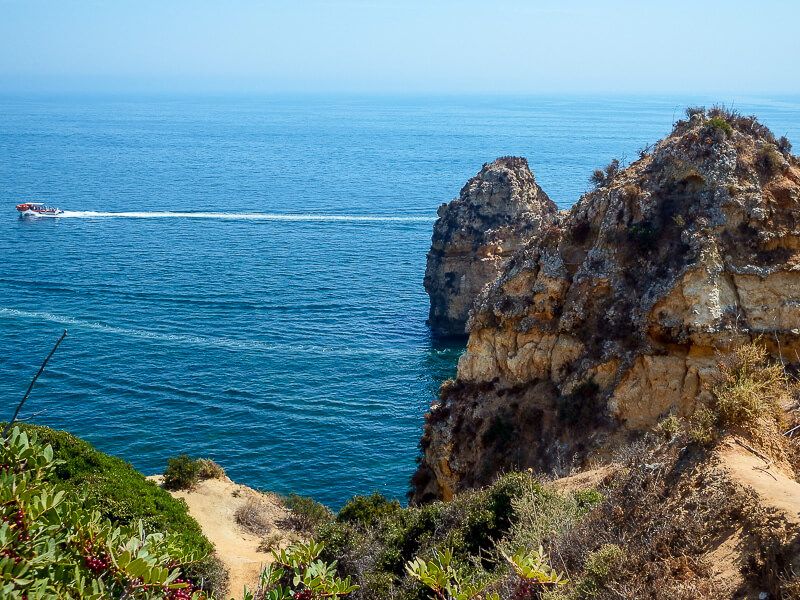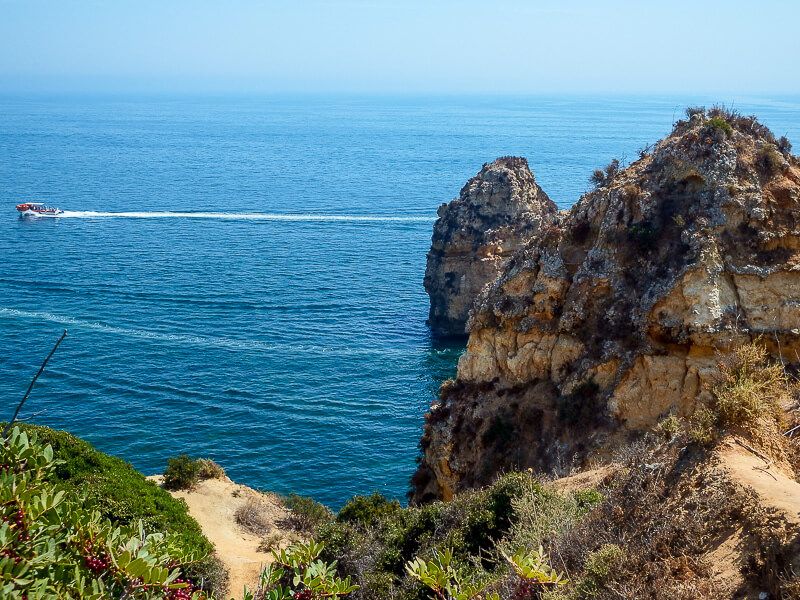 Ponta da Piedade is the point located about 2km south of Lagos. It's a straight shot down Estrada da Ponta da Piedade and the road dead ends at the lighthouse. For us, the walk was easy since our B&B was located on the south end of town.
Considering our tight schedule already, we decided to walk out to the point the morning before our hiking adventure. That would give us about 2 hours to walk to Ponta da Piedade, explore it a little, and head on back. I thought that was plenty of time but now I wish we could have dedicated a whole afternoon to it. But alas 2 hours it was.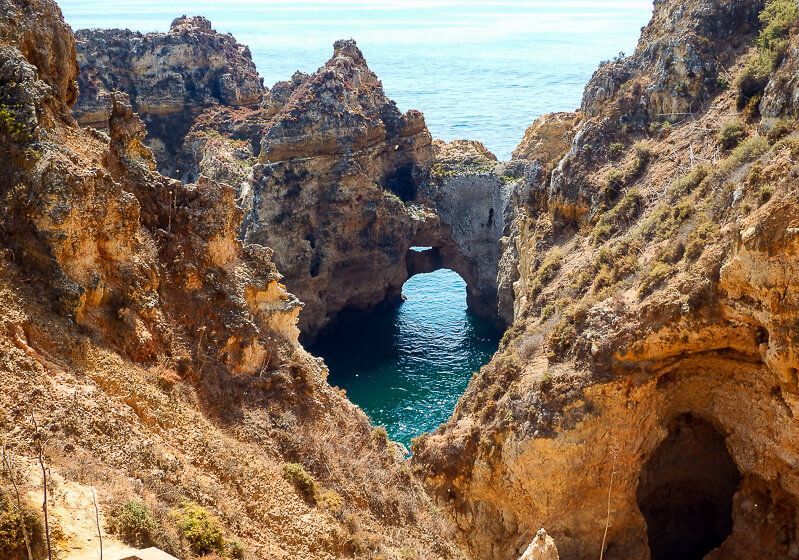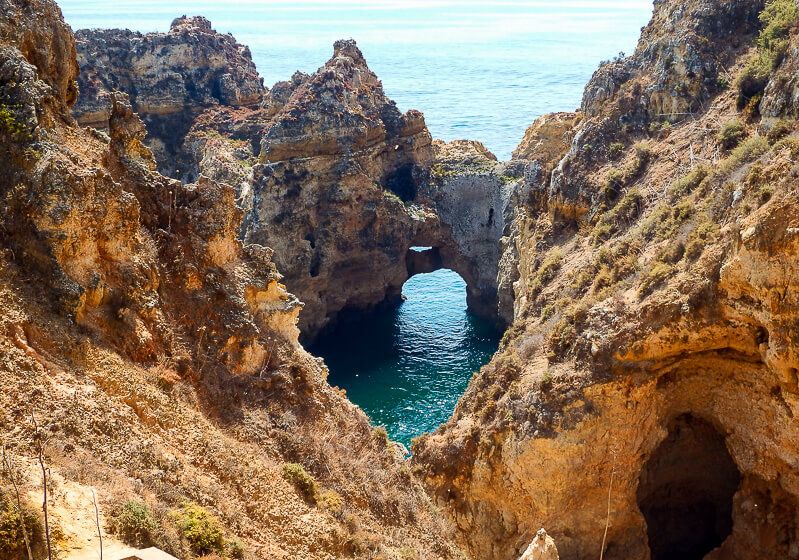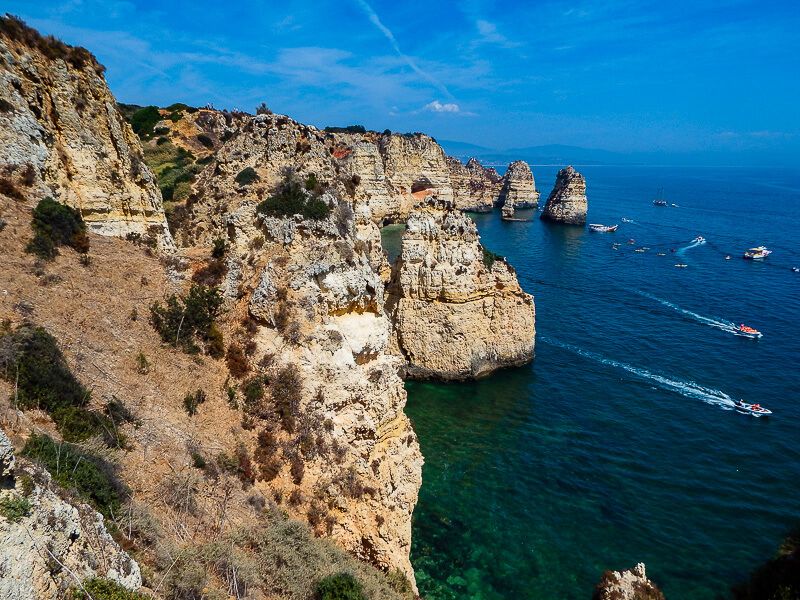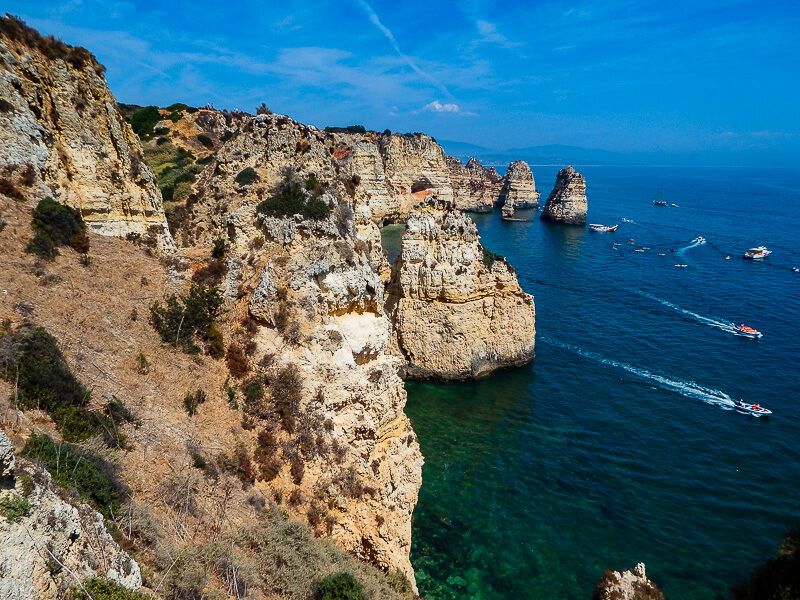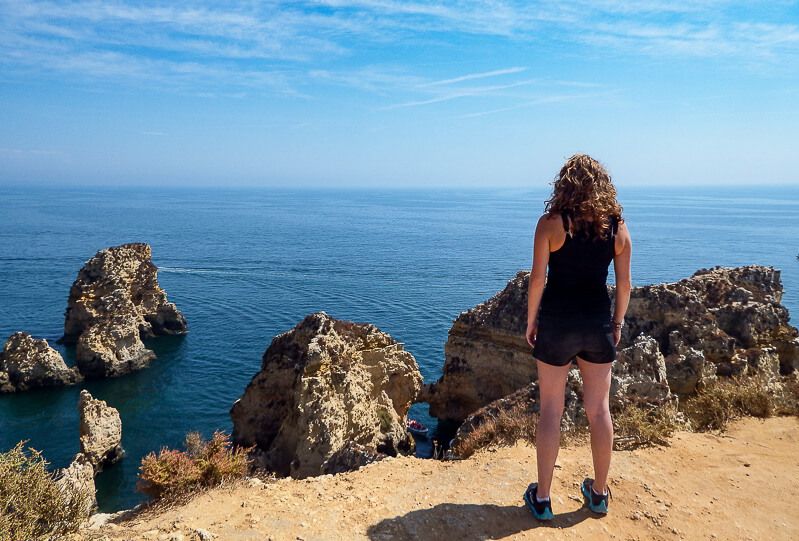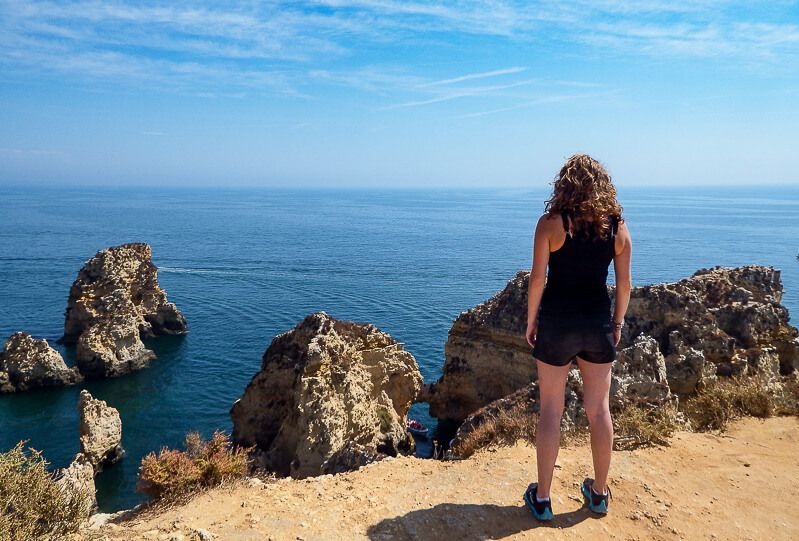 If you are walking, simply head south out of town. There is a tourist train in the summer that will take you from the marina in Lagos to Ponta da Piedade (€2.50) but the walk might be worth it – especially if you haven't seen the beaches south of town. You'll leave Lagos and pass the entrance to Camilo Beach. Then the road becomes dusty but in the distance you can see the lighthouse.
You know all those grottos and coves bathed in the bright turquoise and royal blue waters you see plastered all over Lagos postcards? Those were taken at the Ponta da Piedade. It's a haven of arches, narrow tunnels, secret caves, seastacks, and steep cliffs. I simply wandered around the cliffs from above, gasping and pointing as I came across another "hidden" gem.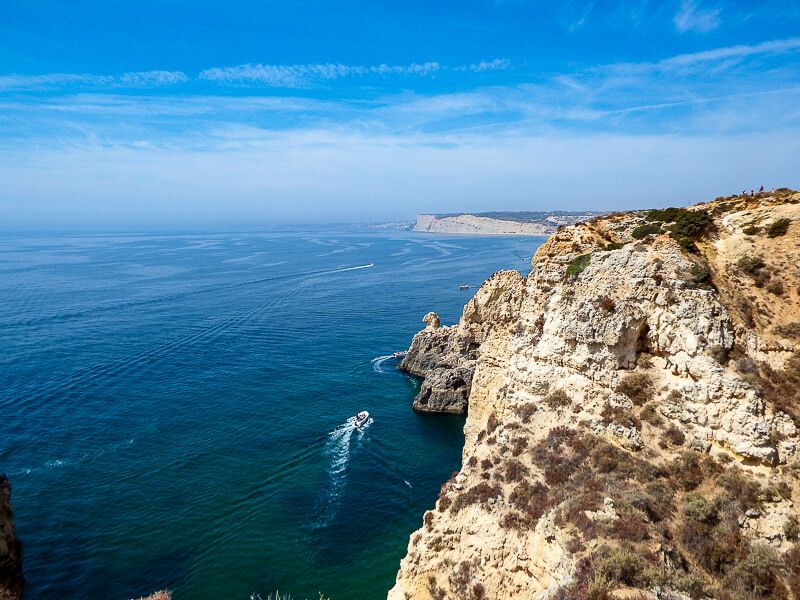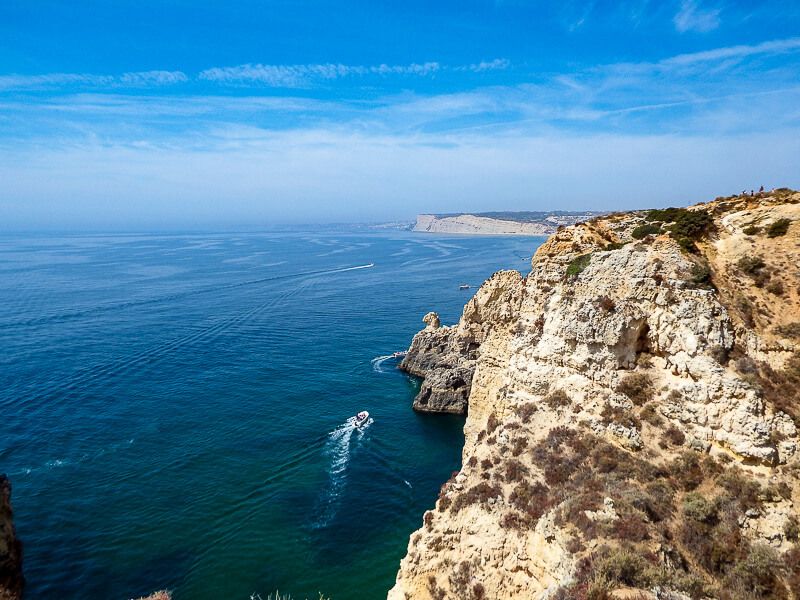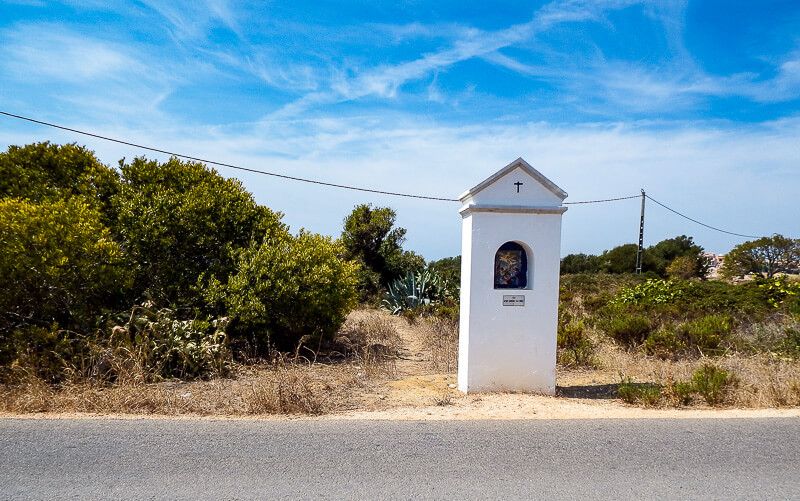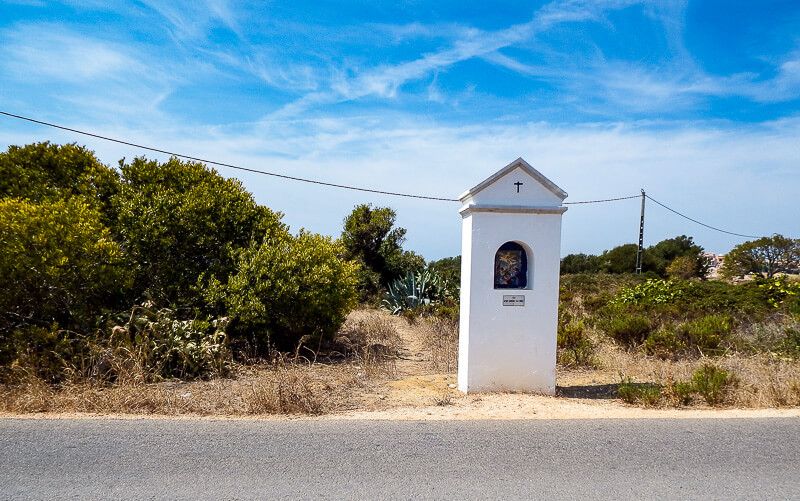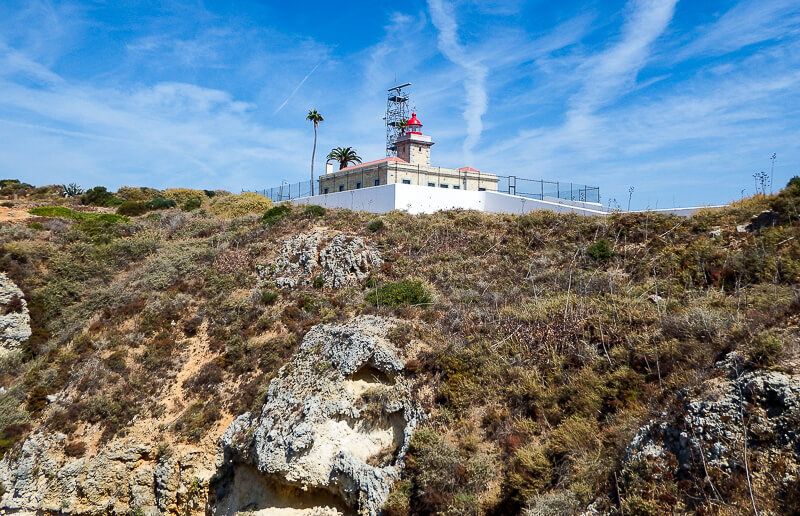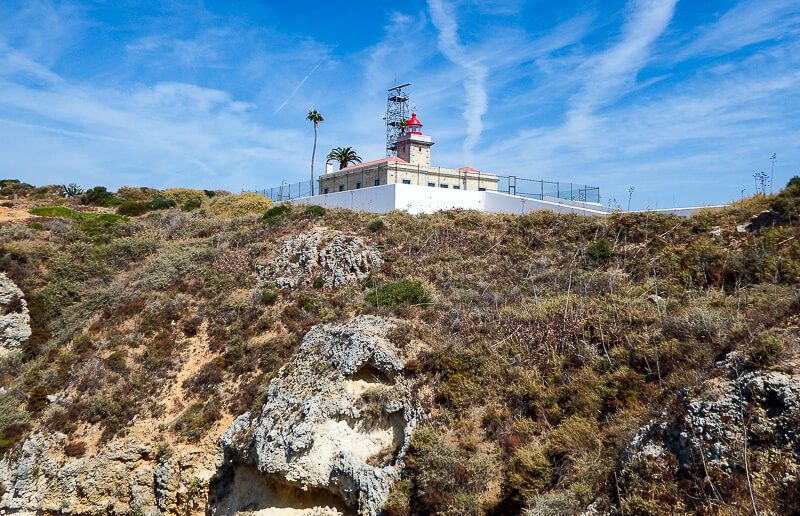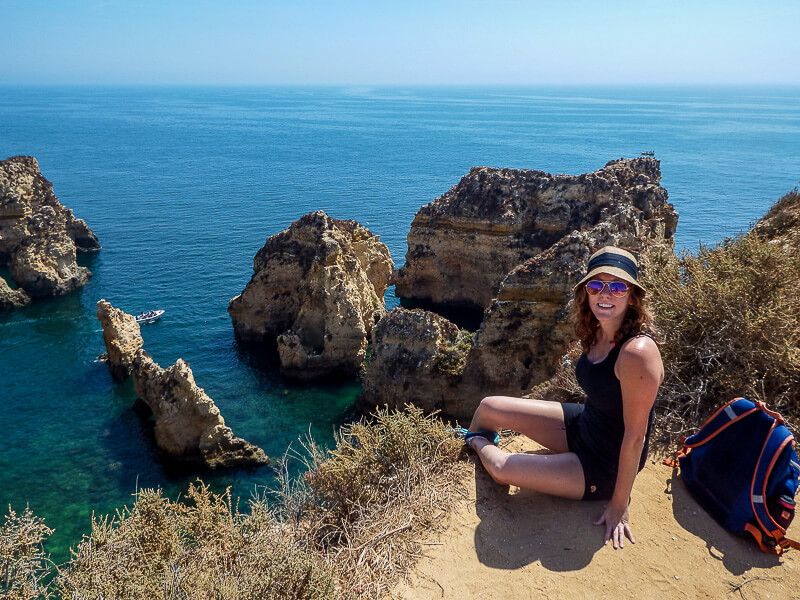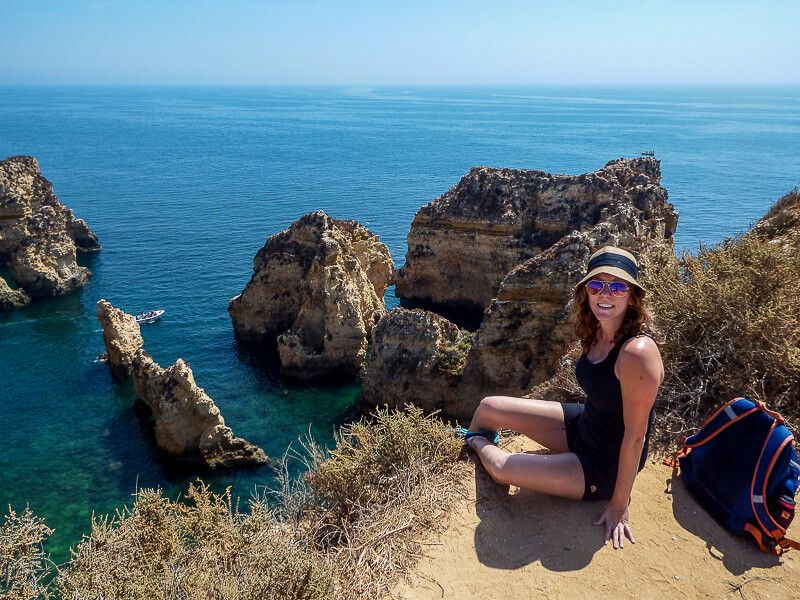 If you have time, you can wander down the steps (182 of them) from above and take a boat ride that will weave you in and out  and around all of the rocks. Since we were short on time, we passed on a boat ride but I'm now a little sad we didn't take one. Just to see what it looked like from below.
Once our time was up, we began the journey back towards our B&B. But since I was now regretting our time constraints, we decided to avoid the road and instead take the path along the cliffs instead. I scrambled to each viewpoint, discovering more secret coves and small, hidden beaches. I  yearned to try to make my way down to them but alas our hiking trip was calling to us and once we reached Camilo Beach, we turned for the road and our B&B.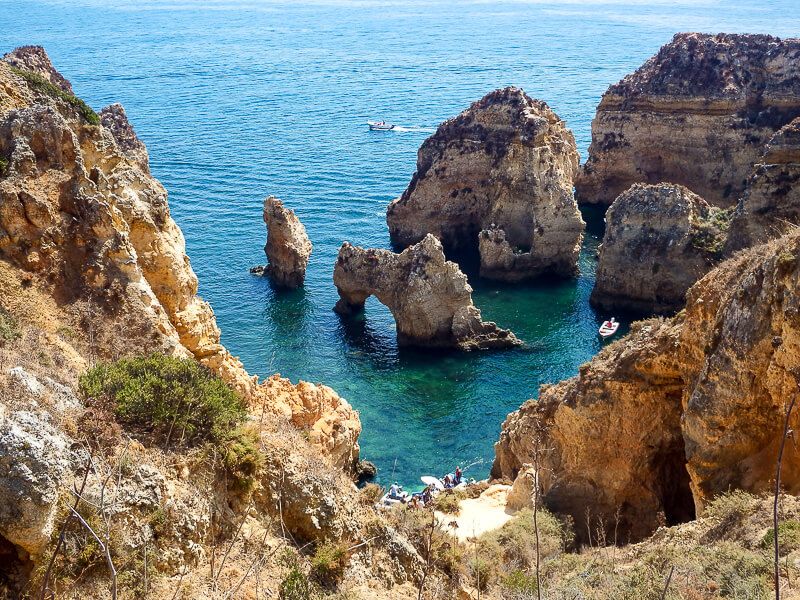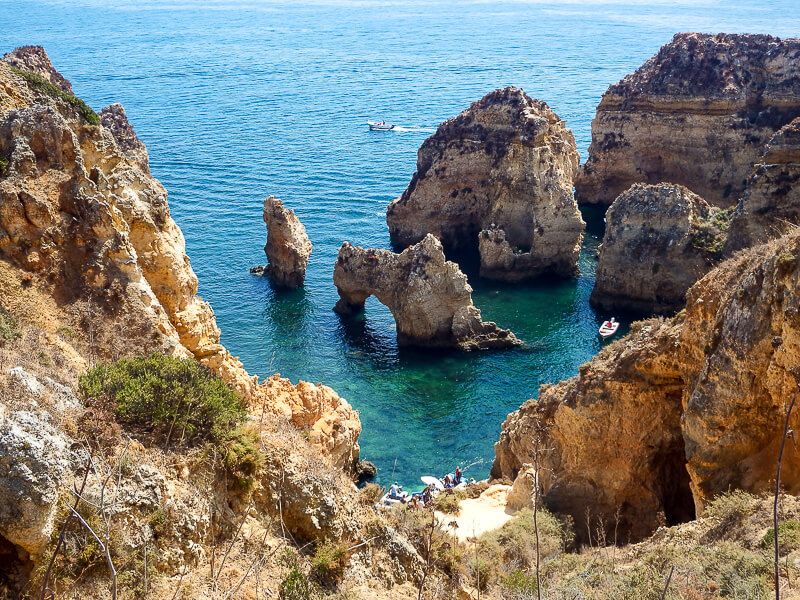 BUT! as a send-off, we spotted a donkey perched high on top of the cliffs. I can only guess he was taking in the view as well. (Yes he is real, he moved several times. And yes, I was not the only taking pictures of the donkey.)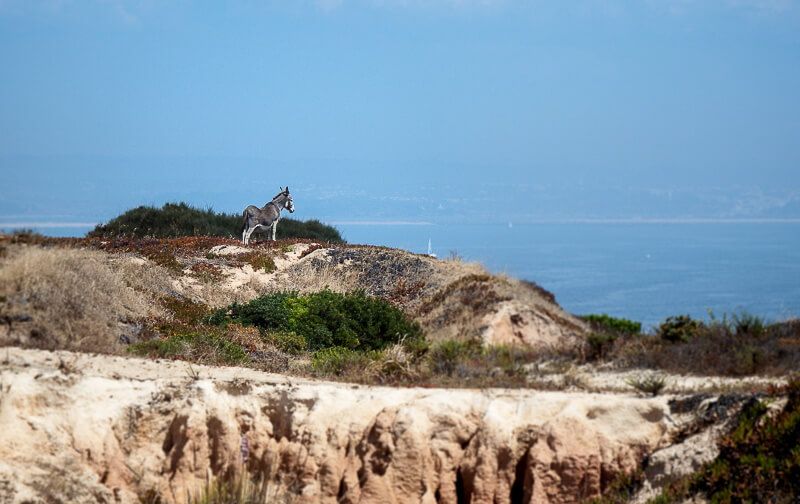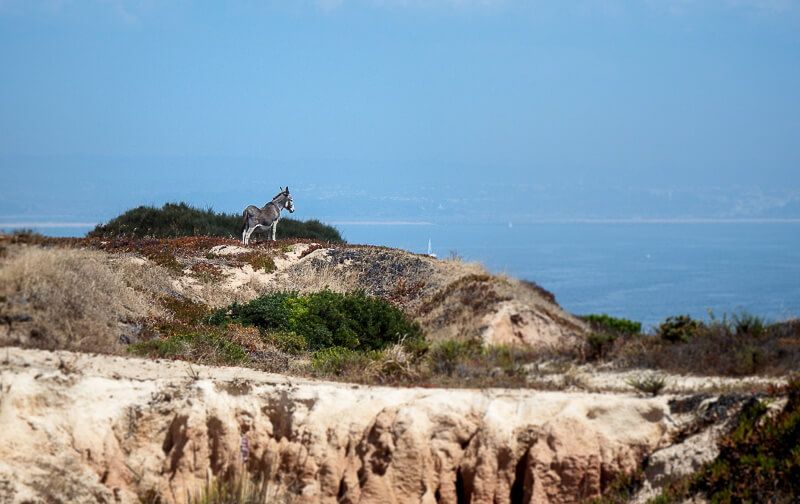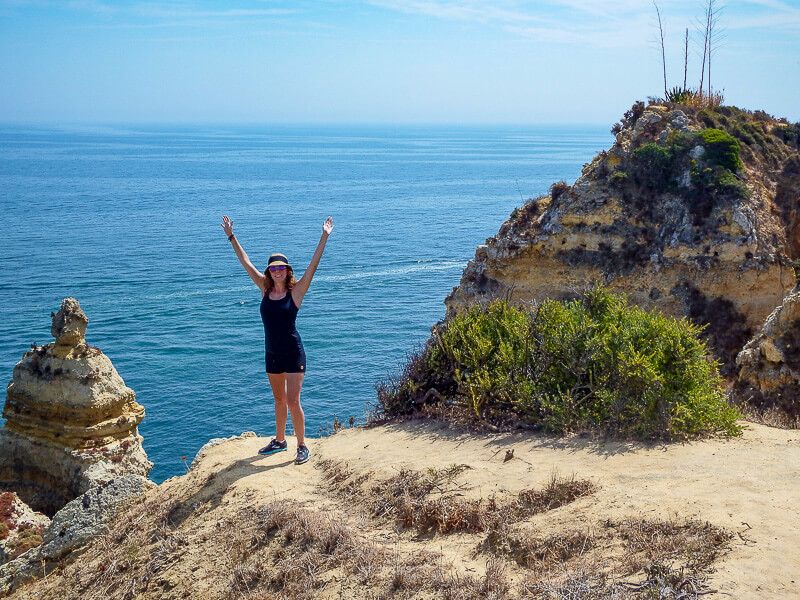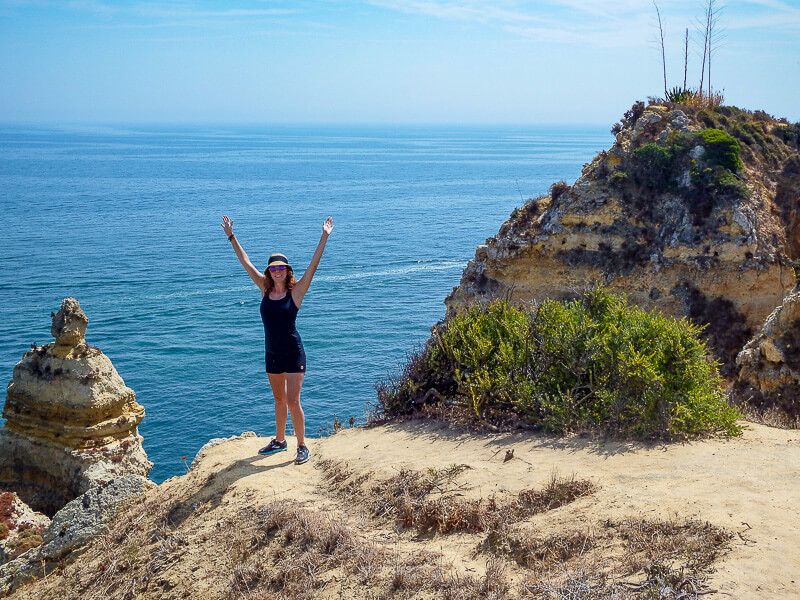 – Is there somewhere you've regretted not having enough time to explore? –