There was one item that was big on my bucket list for Costa Rica. I wanted to go snorkeling. I'm not sure why exactly. Costa Rica isn't really known for snorkeling (think surfing instead). Most of the "snorkeling" spots along the coast are hit or miss depending on the conditions. But I really wanted to go. So when I heard Cano Island was one of the best places to go snorkeling in Costa Rica, I knew I had to sign up.
Check out our video below to see how the trip went!
Now the facts. Cano Island is near Uvita (about 32 miles out – 1.5 hour boat trip). Several tour companies do excursions out to the island for snorkeling and diving. We ended up booking a tour with Mad About Diving who does both. In fact 4 people in our group snorkeled while 3 went scuba diving.
The island is a designated biological reserve so there are regulations in place to protect it. Because of this status and its location away from the shore the clarity can be awesome. And marine life plentiful. Think dolphins, turtles, reef sharks, puffer fish, barracudas, bigeye jacks, angel fish, stingrays, parrotfish, and more. So much more that I'm not even sure of everything we saw that day.
But let's back up. Our day started out early. We had to get to Mad About Diving by 7am. But luckily we were able to park our car there and then walk into Marina Ballena to catch the boat. The boat ride out to the island can take up to 1.5 hours. And due to our weather conditions that morning…it took the full 1.5 hours. The waves weren't rough, but they were sizable enough that we had to go slow.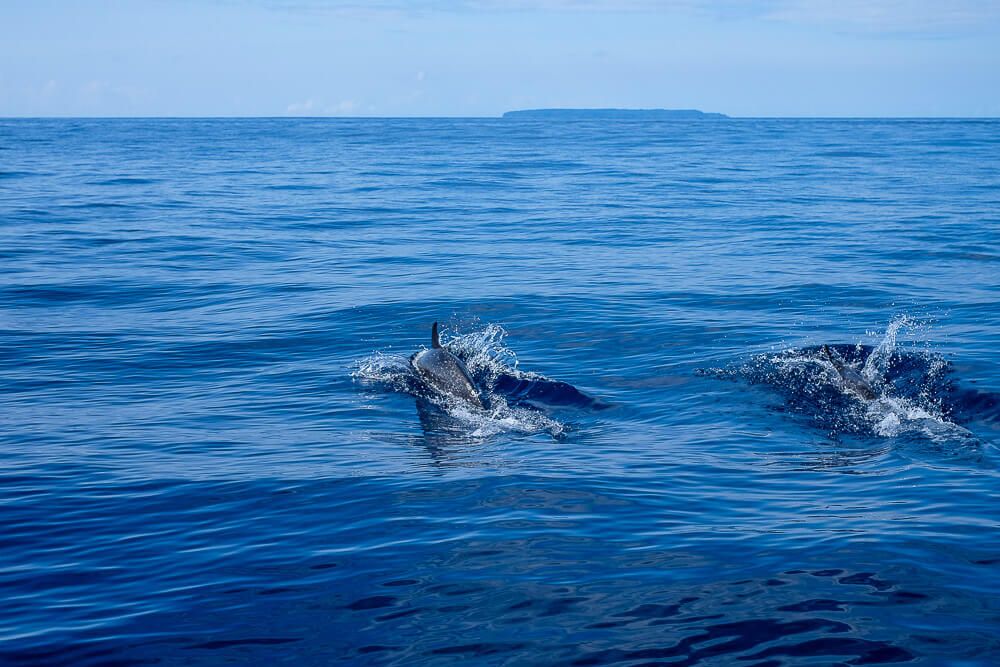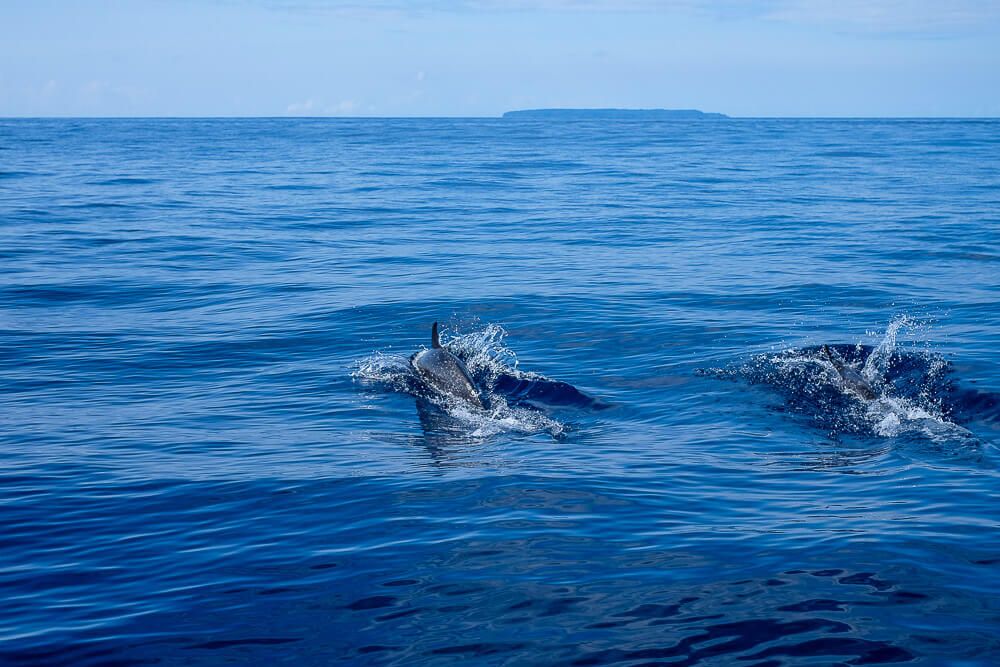 Plus on our way out to the island, a group of dolphins swam by. And before I could grab my camera, one of the dolphins jumped clear out of the water. I felt myself gasp as the dolphin leaped 5 feet into the air. It was extraordinary. Something you don't really imagine dolphins doing in the wild. But here he was, showing off for us. And it only happened that one time. We saw lots more dolphins both there and on the way back. But only that one leaped.
The dolphins though were definitely the highlight of the boat ride. I spent the whole time worrying that with the waves and the overcast sky in Uvita we would have terrible weather. But by the time we reached the island, everything had cleared up and the sun was beating down.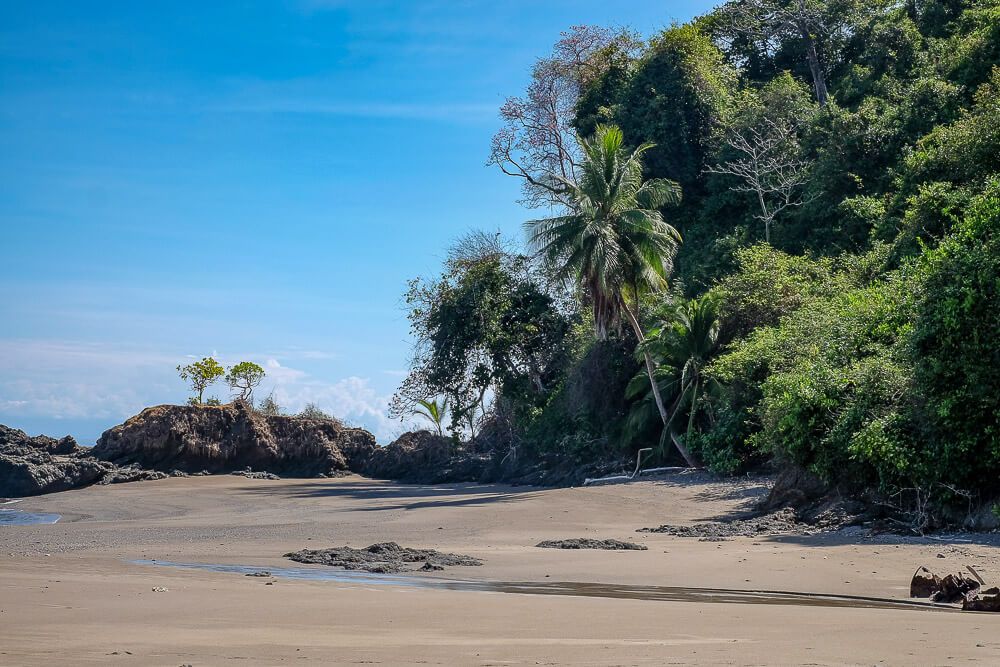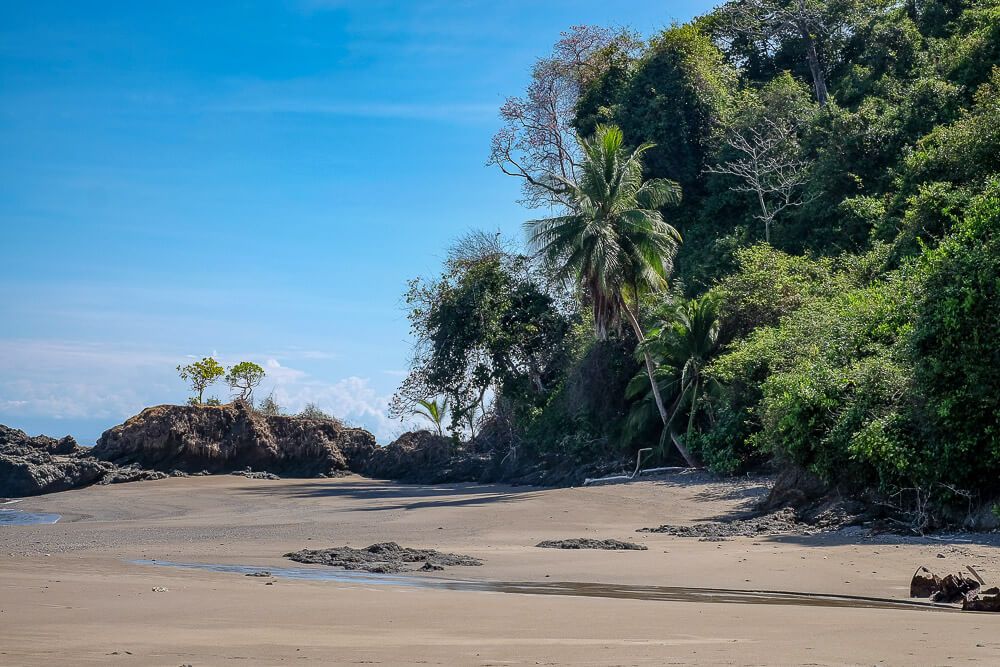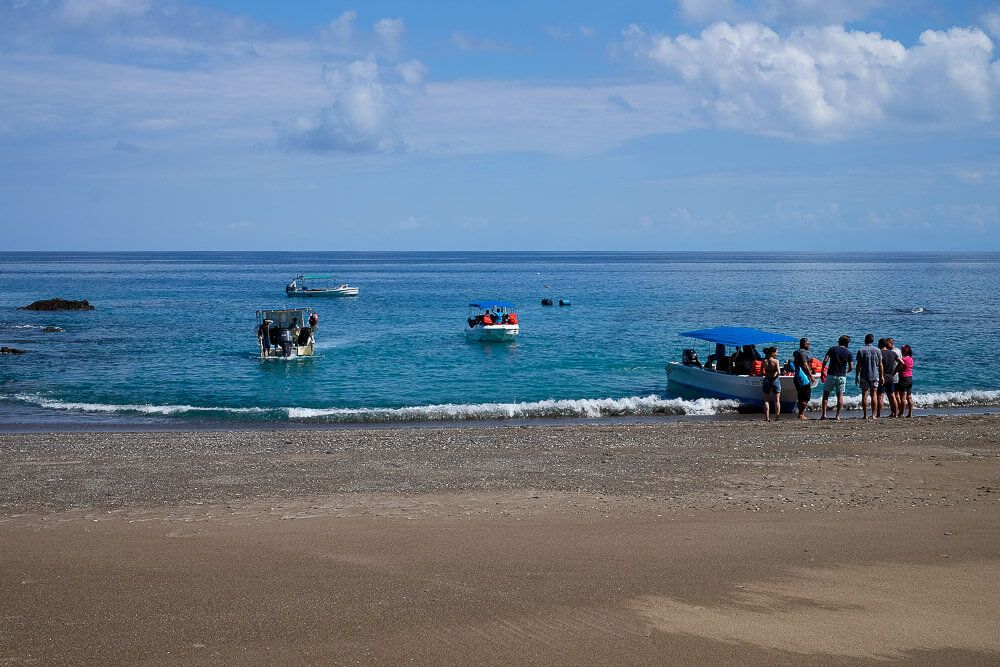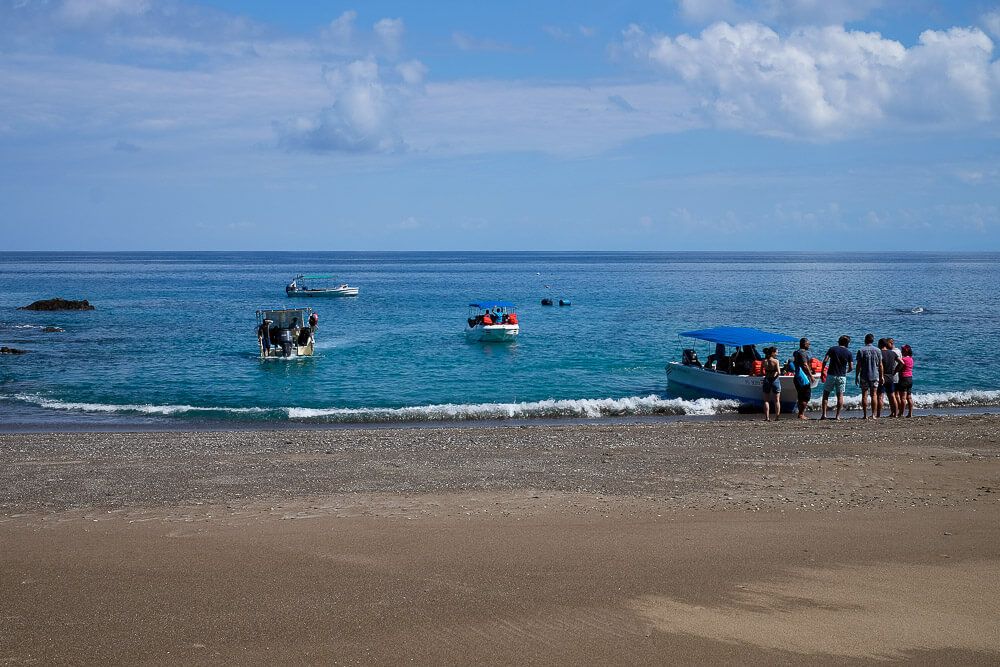 When we reached the island, we were first dropped off at the beach for about 5 minutes. I'm not 100% sure why. Maybe to scout positions? Maybe to wait until a group in the spot they wanted continued on? I wasn't really sure. But it only lasted 5 minutes. And it allowed me to get a few shots of the island.
Then we were back on the boat and strapping on our gear. The scuba divers in our group disappeared first and then I was tipping myself backwards out of the boat and into the water.
Now I want to say that I think I'm spoiled when it comes to snorkeling. Our time in Maui was incredible, especially at 'Ahihi-Kina'u. That was like an aquarium. And the best snorkeling I have ever experienced.
But Cano Island was a pretty freaking close second.
I was shocked by the clarity. We could see fish and coral all around us. There was no murkiness or cloudiness.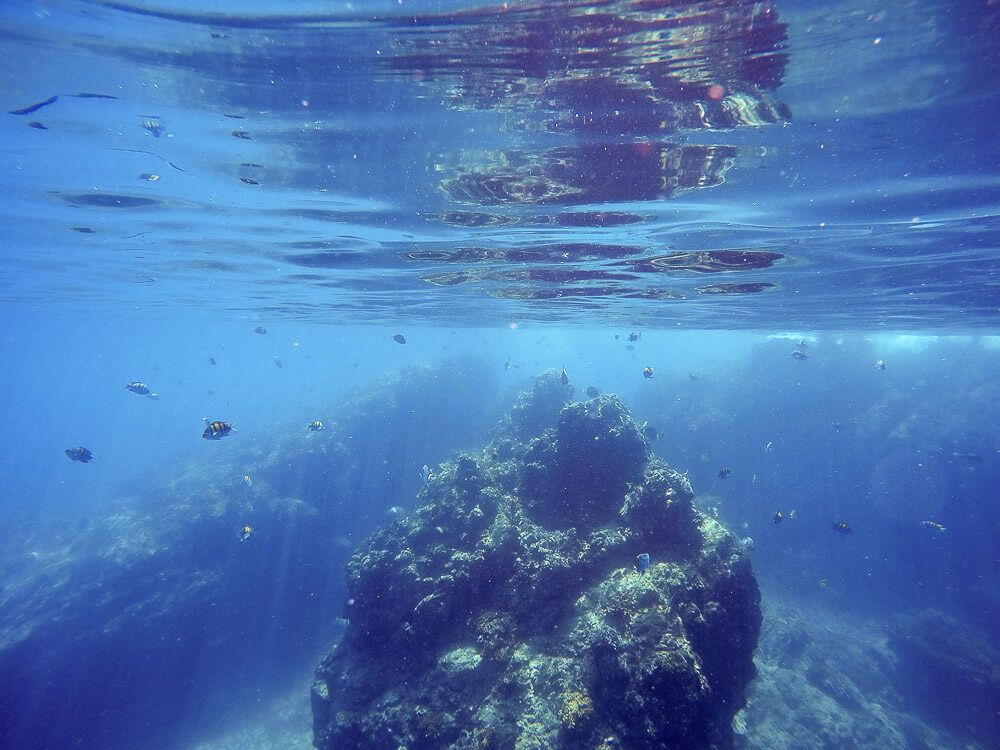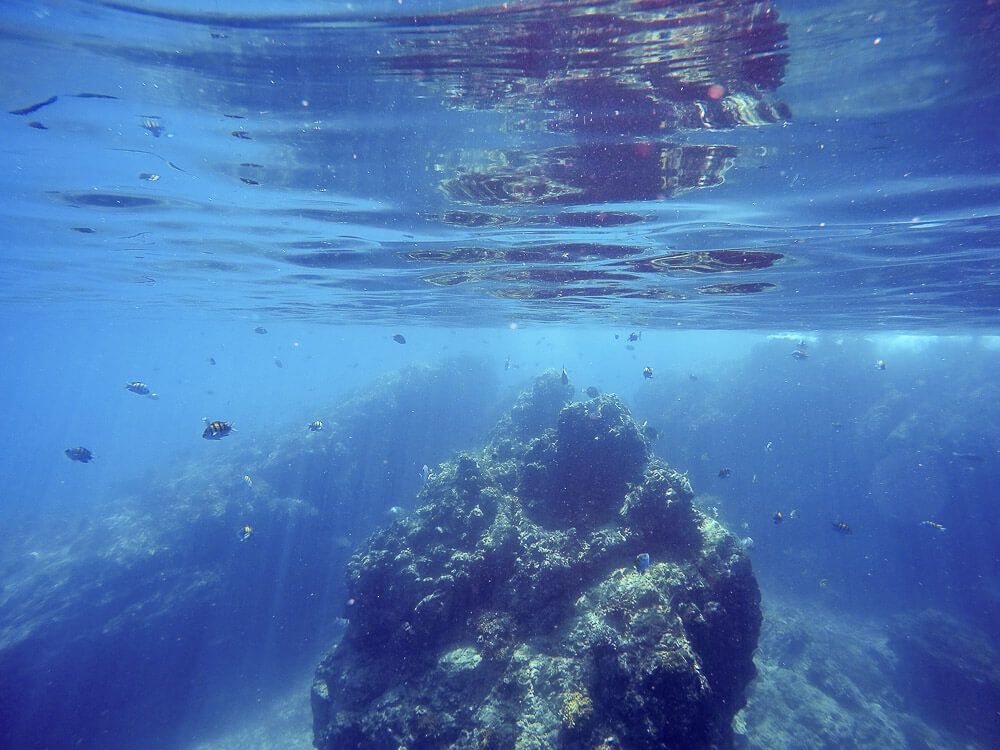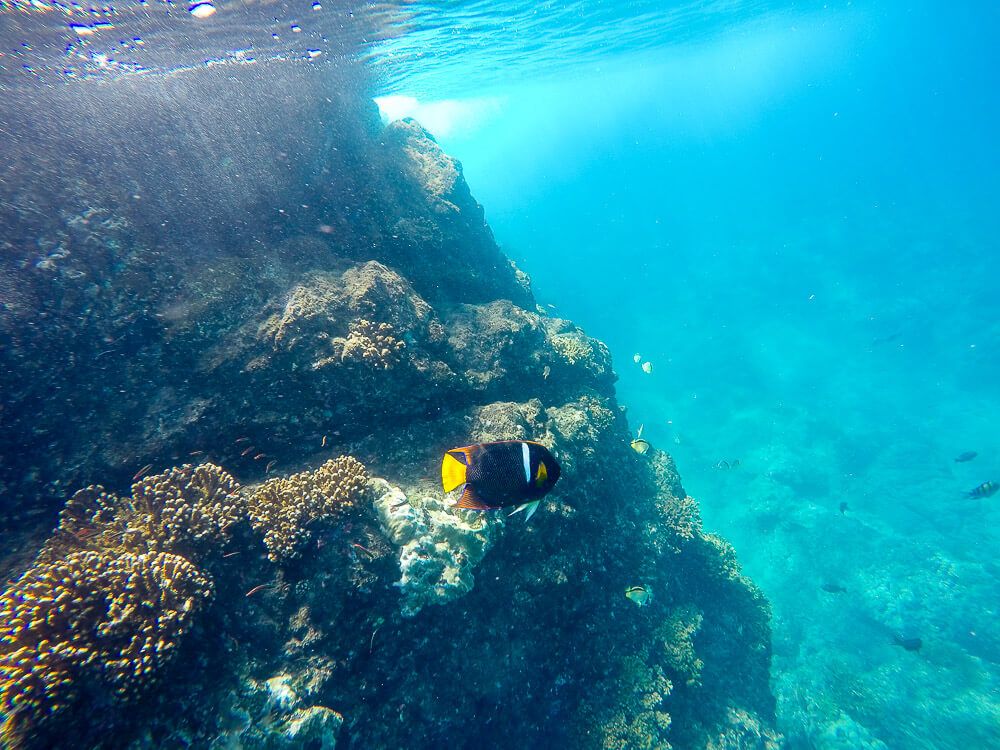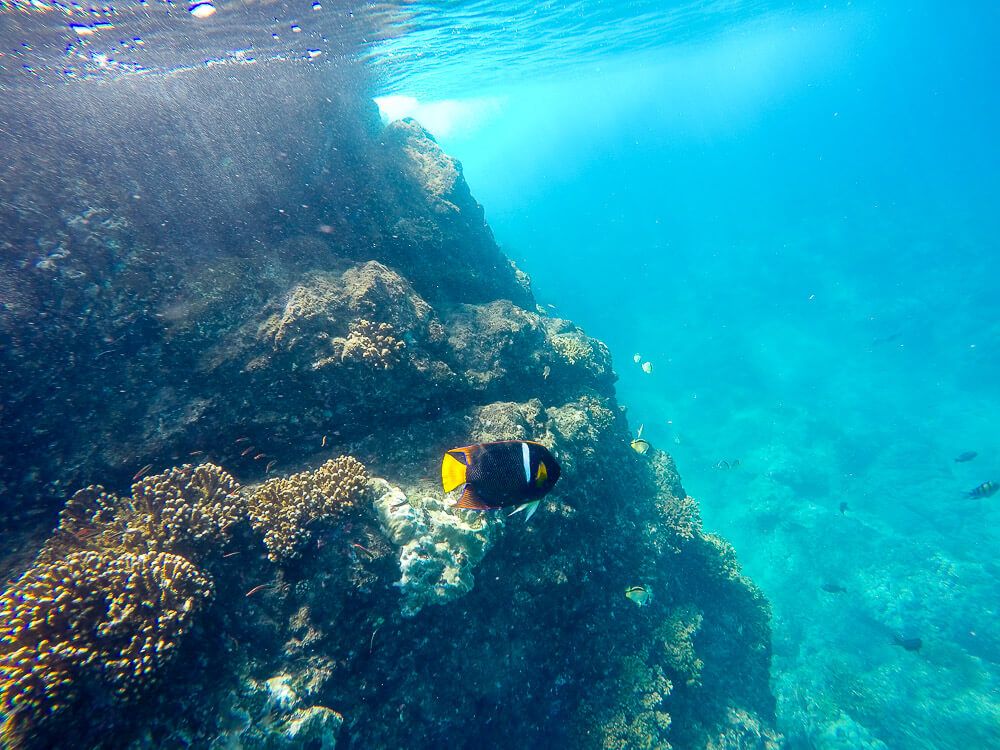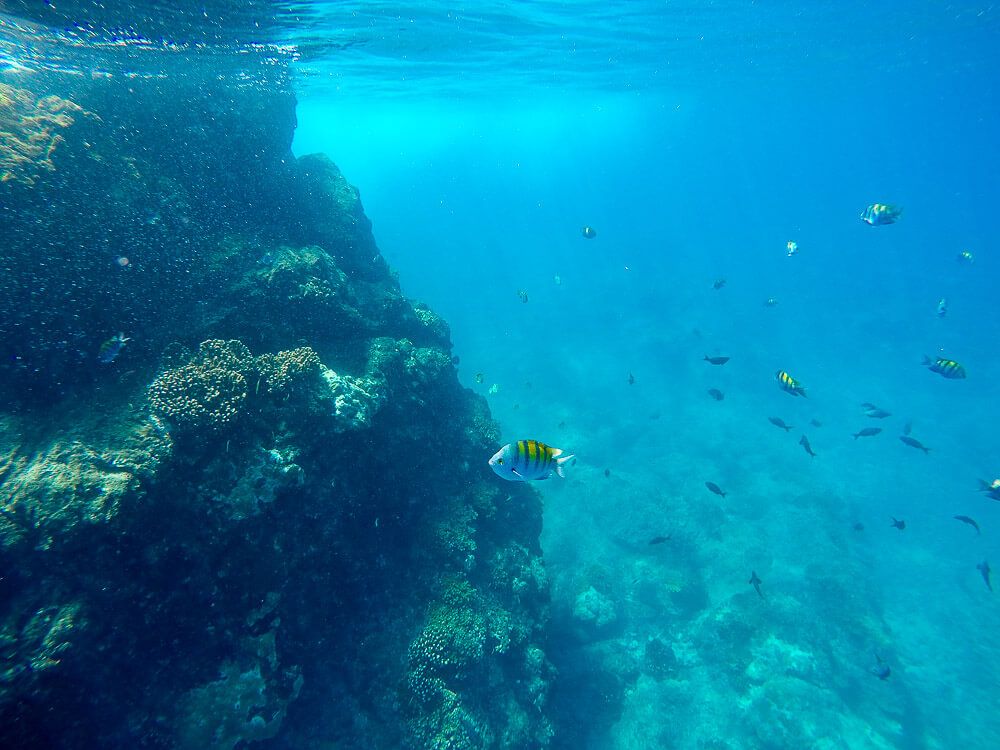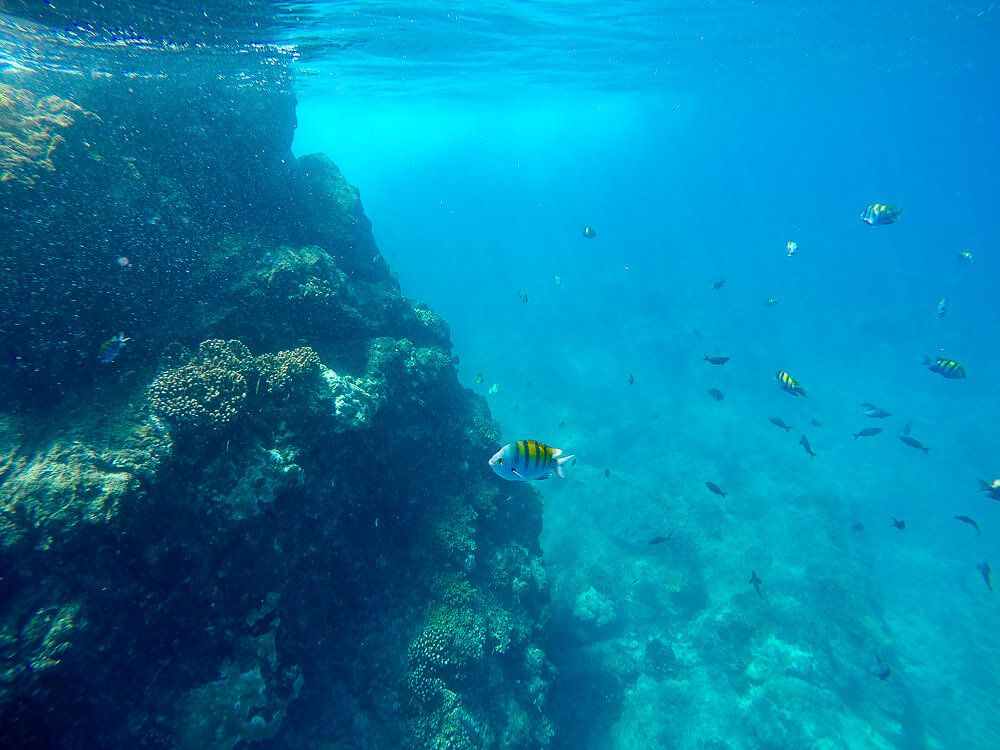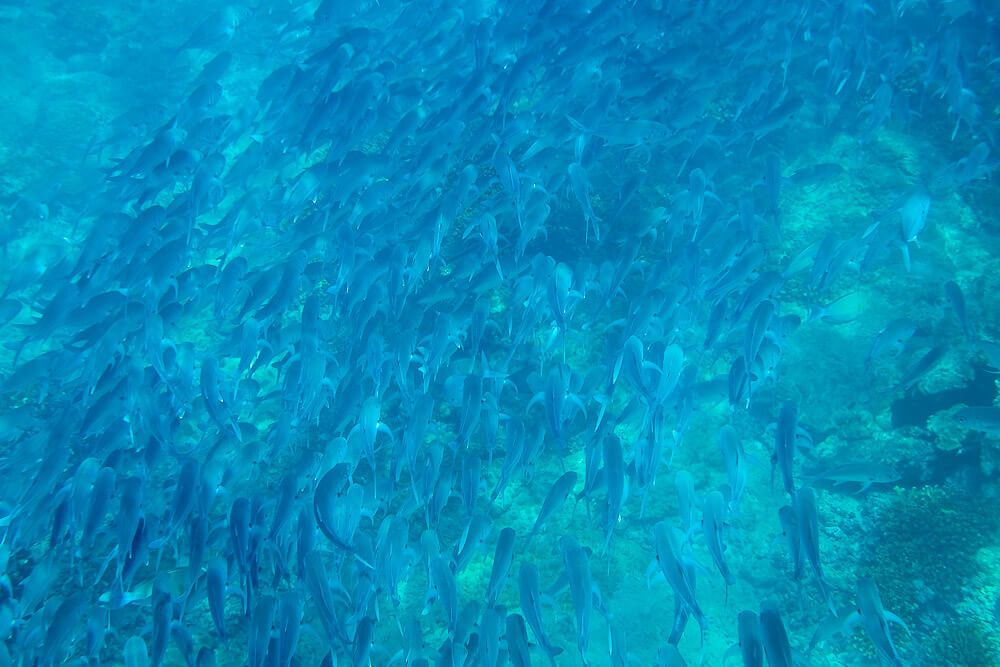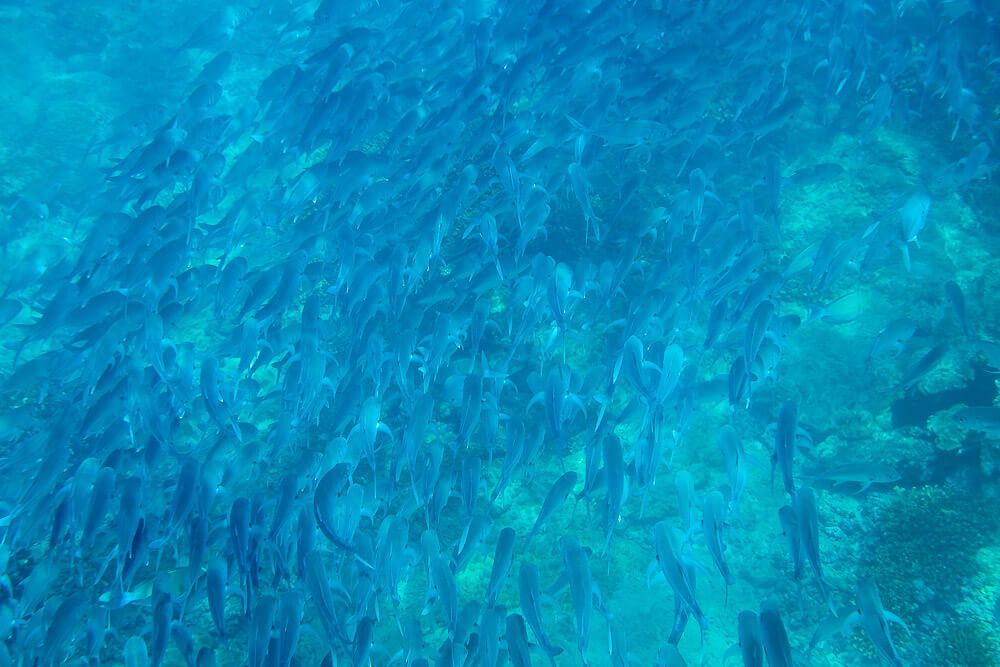 Swimming to the first mountain of coral in front of me, I spotted a stingray just making his way along the sea floor…maybe 30 feet down? And I could clearly make out his tan shape against the bottom.
And as we approached the coral, I almost couldn't believe how clear it was. And the fish were hardly afraid of me. Some swam towards me and then moved away at the last second to avoid bumping into me. And when I'd dive down towards a school of fish or a particular colorful one, it would change its course slightly just so that I was barely out of reach.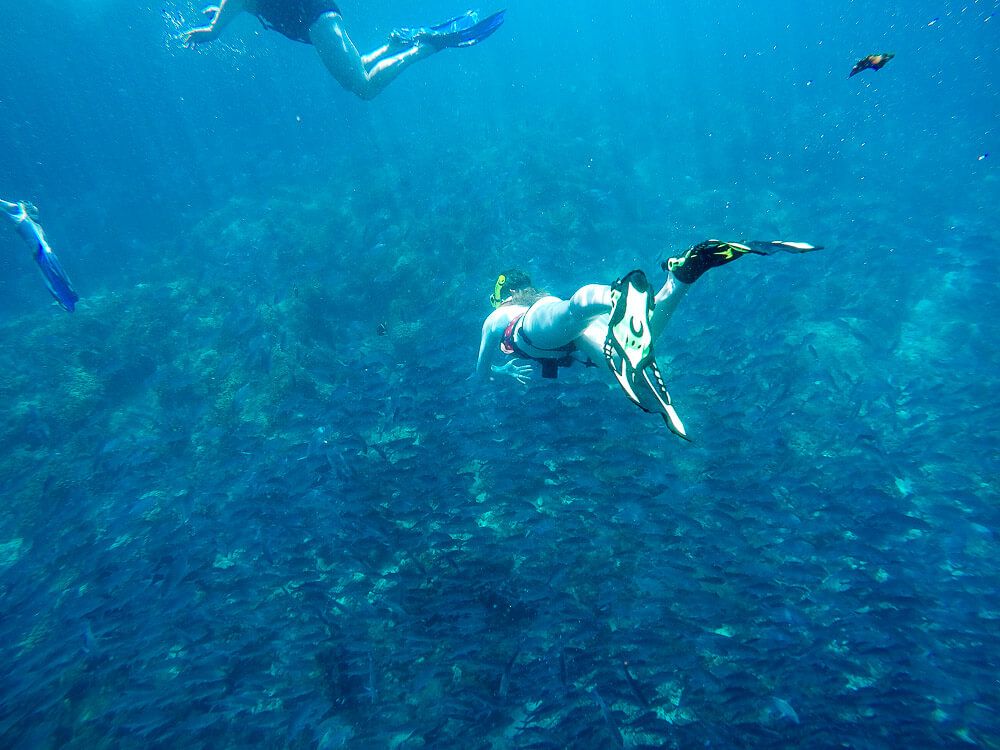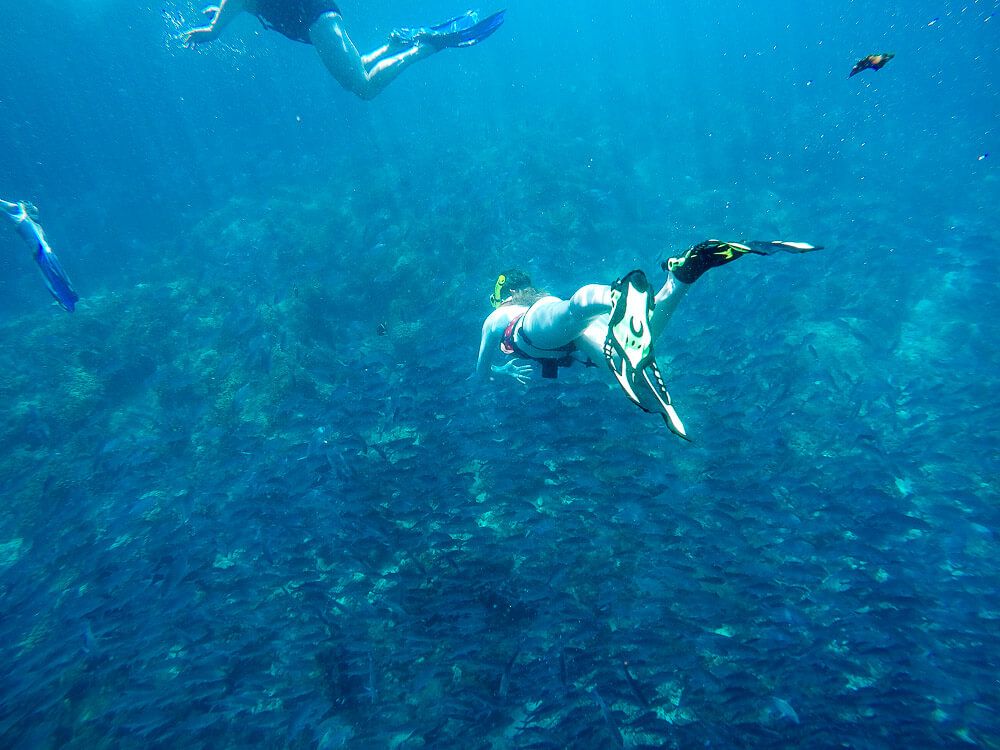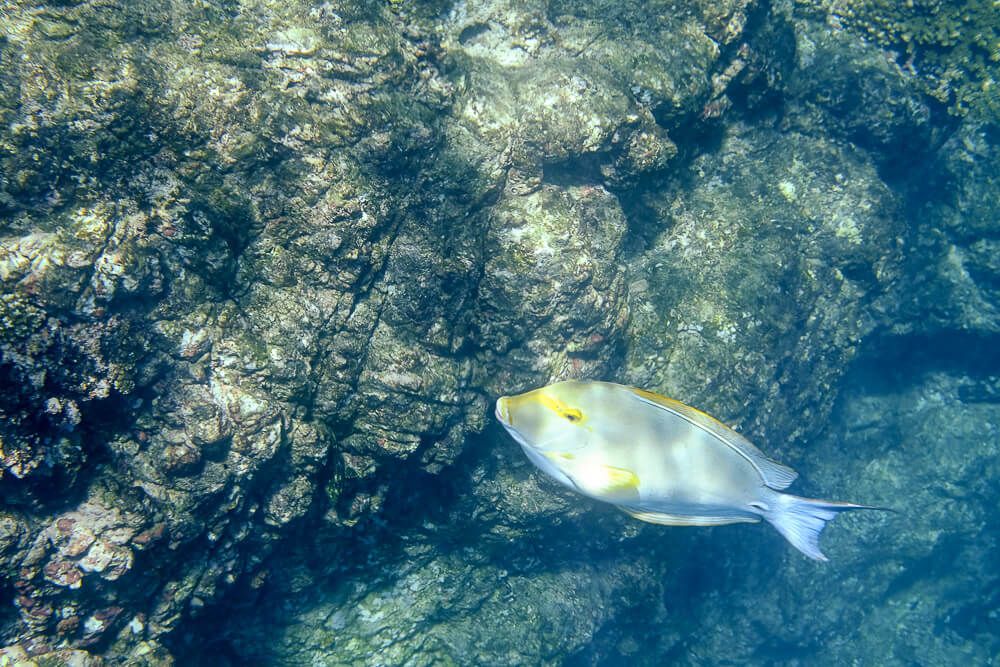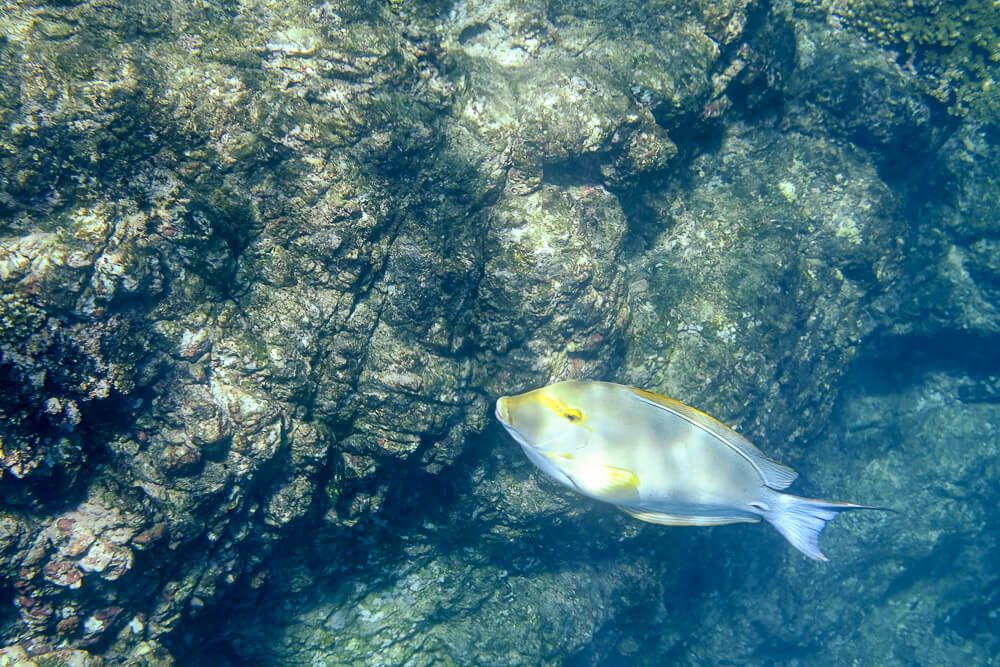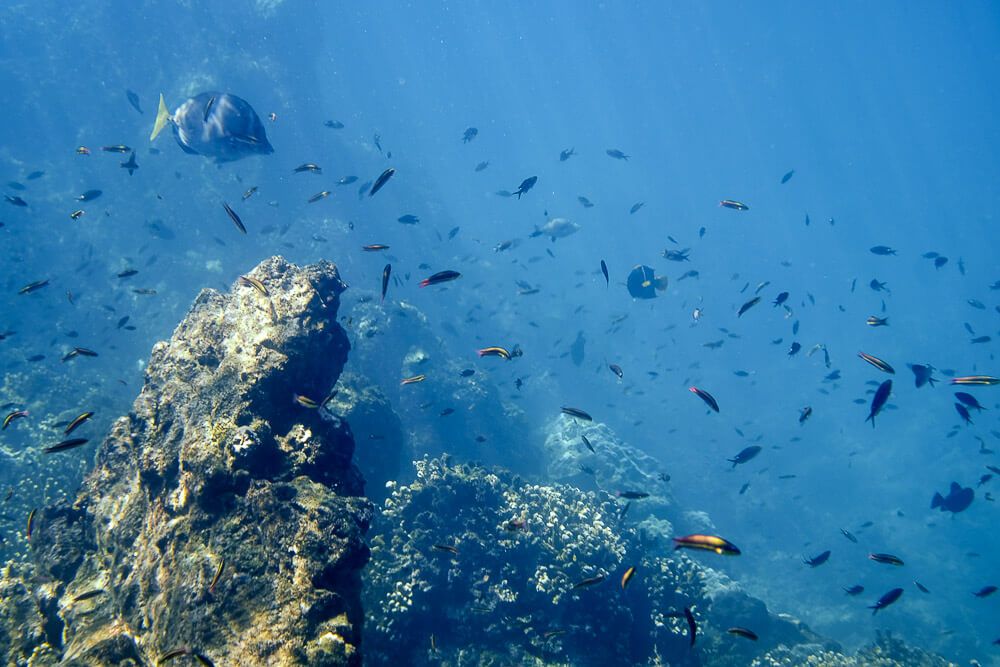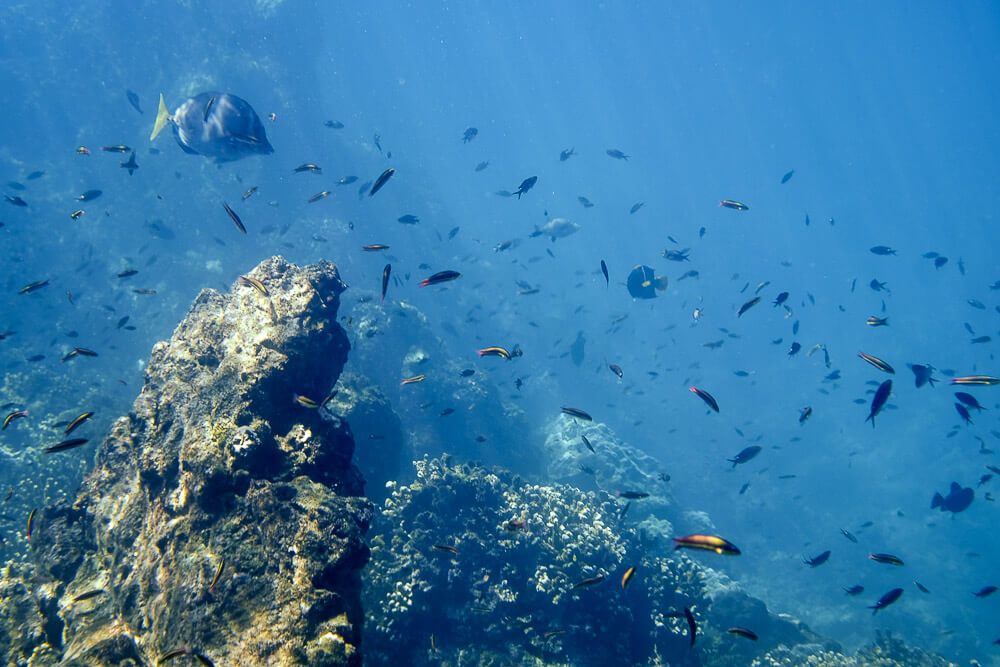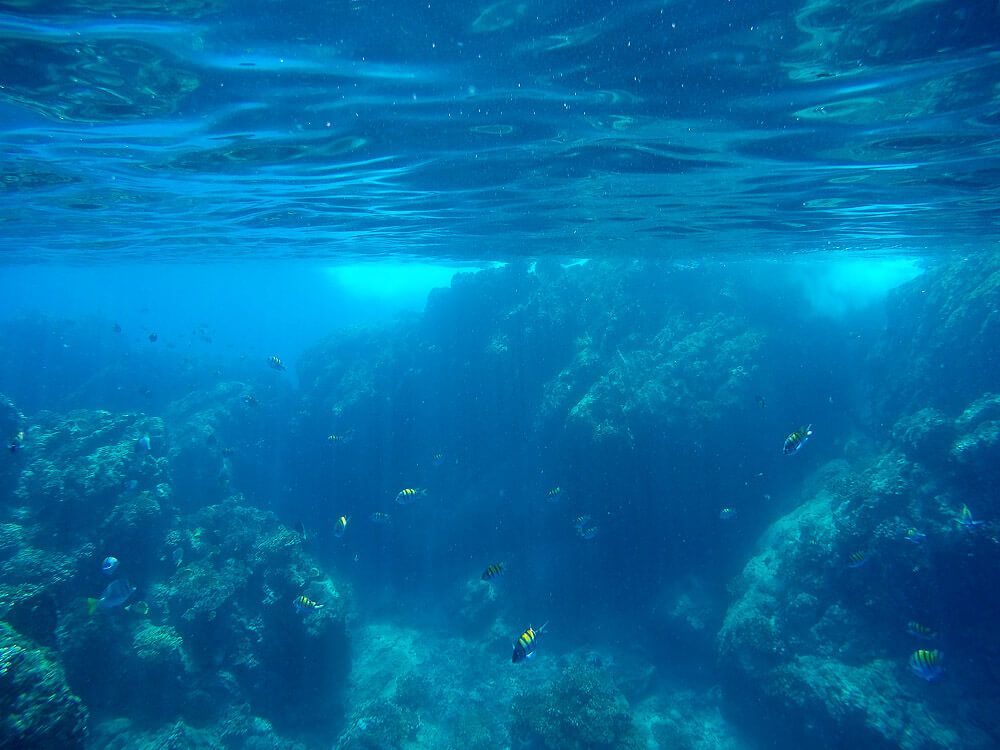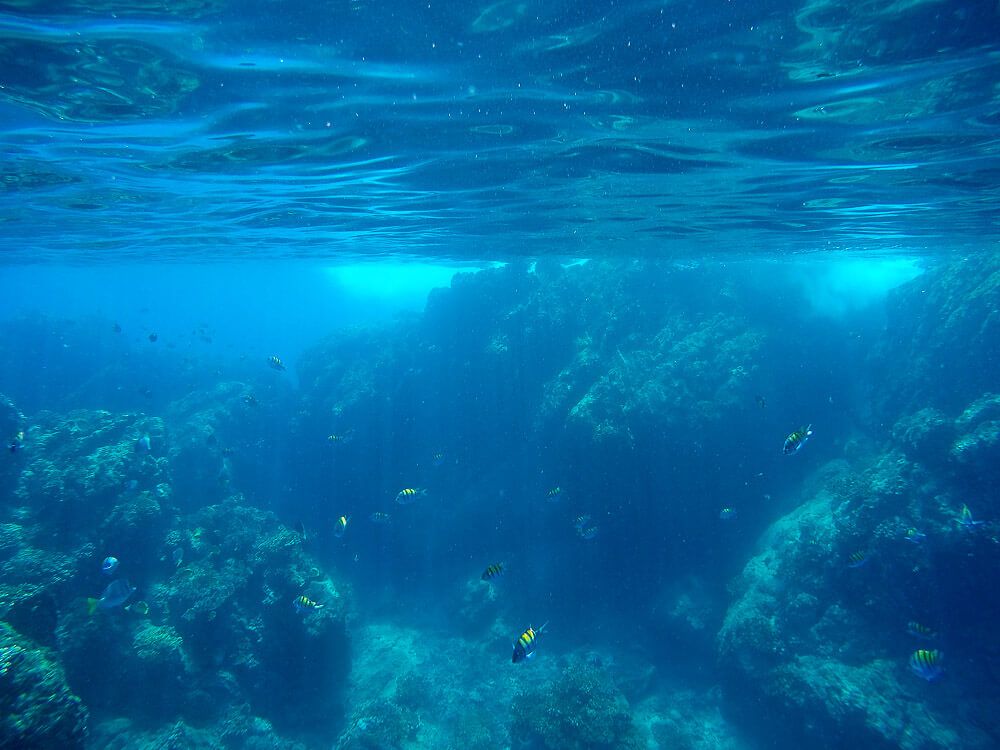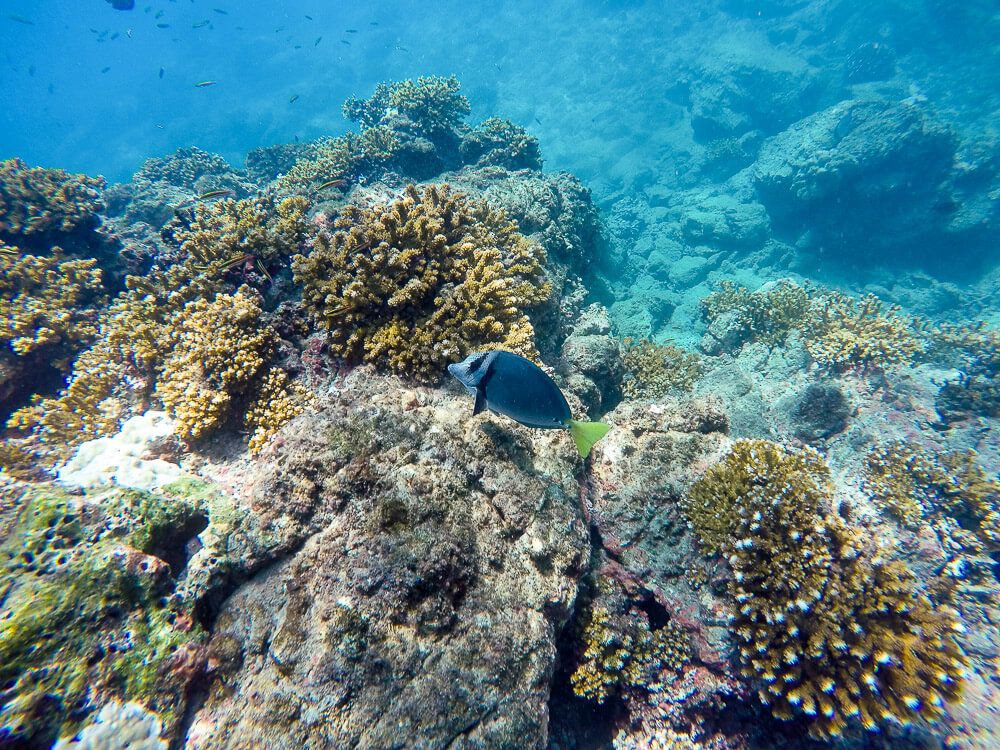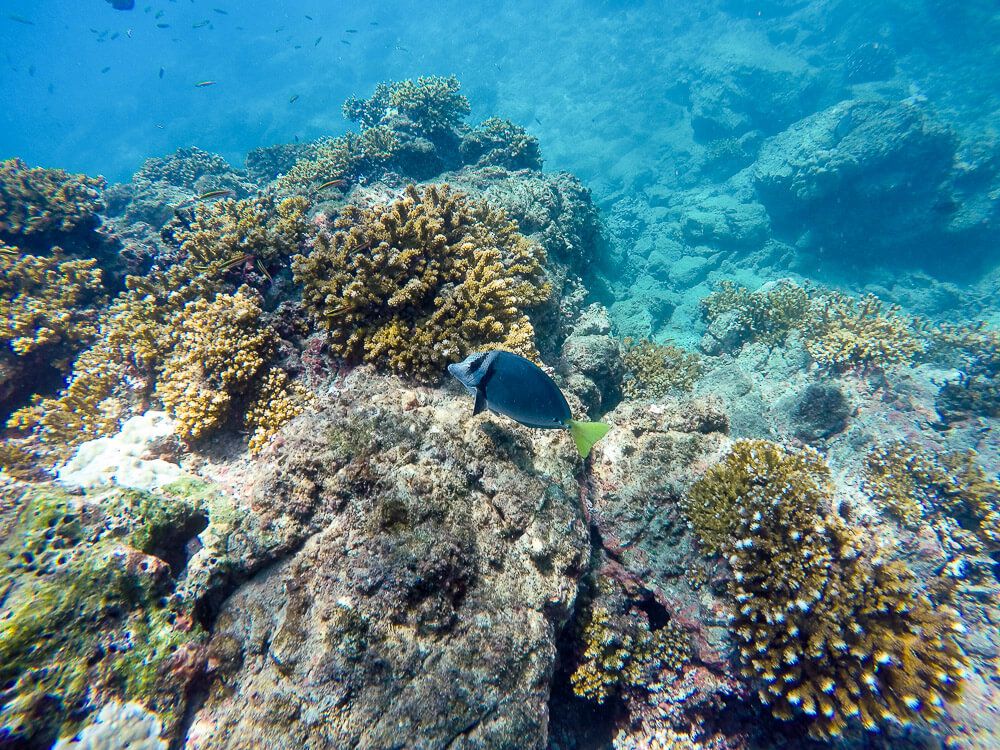 But the best part of the whole trip came suddenly. Following my guide, eyes glued downwards I barely noticed the Hawksbill turtle until he was only 20 feet away. And this one was at the surface.
He had come up for air and to chill for a bit it looked like. We approached him slowly, but as we got closer he swam towards us. All four of us then began trying to back up as the turtle swam between and around us. Just taking a look and investigating.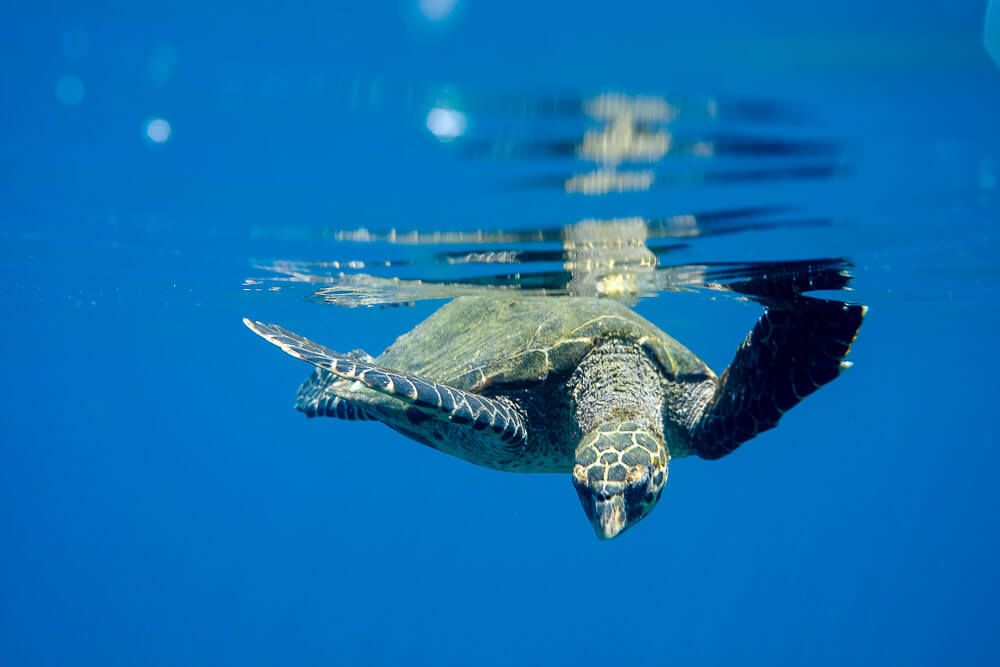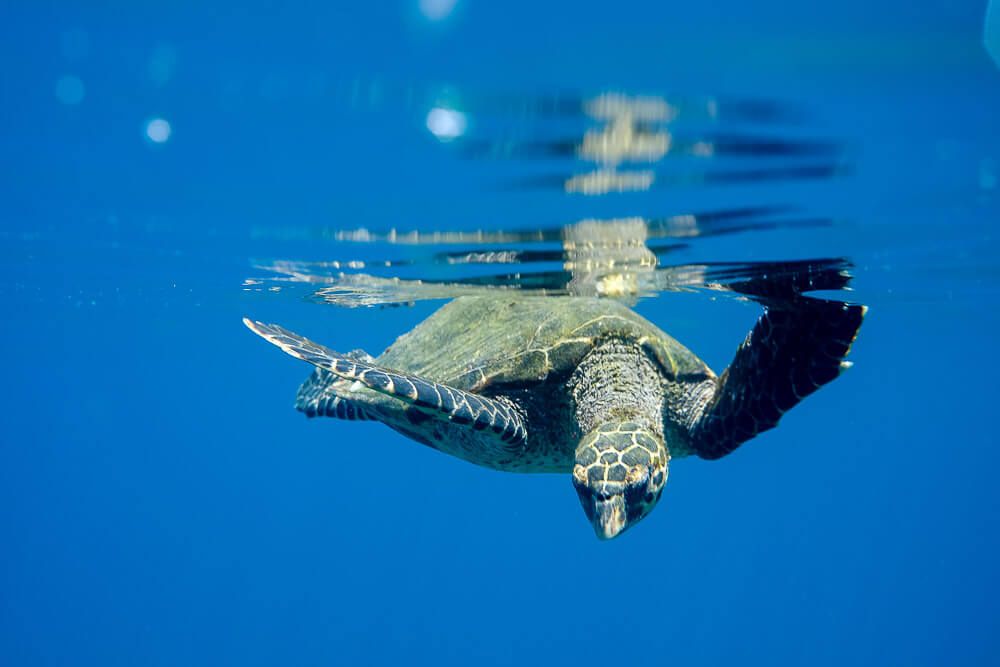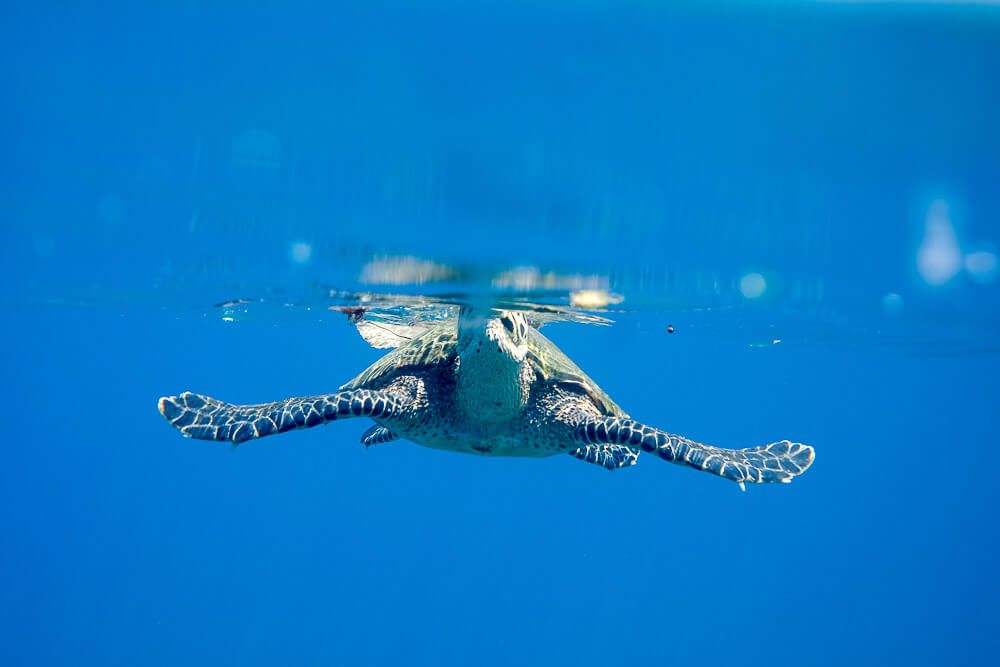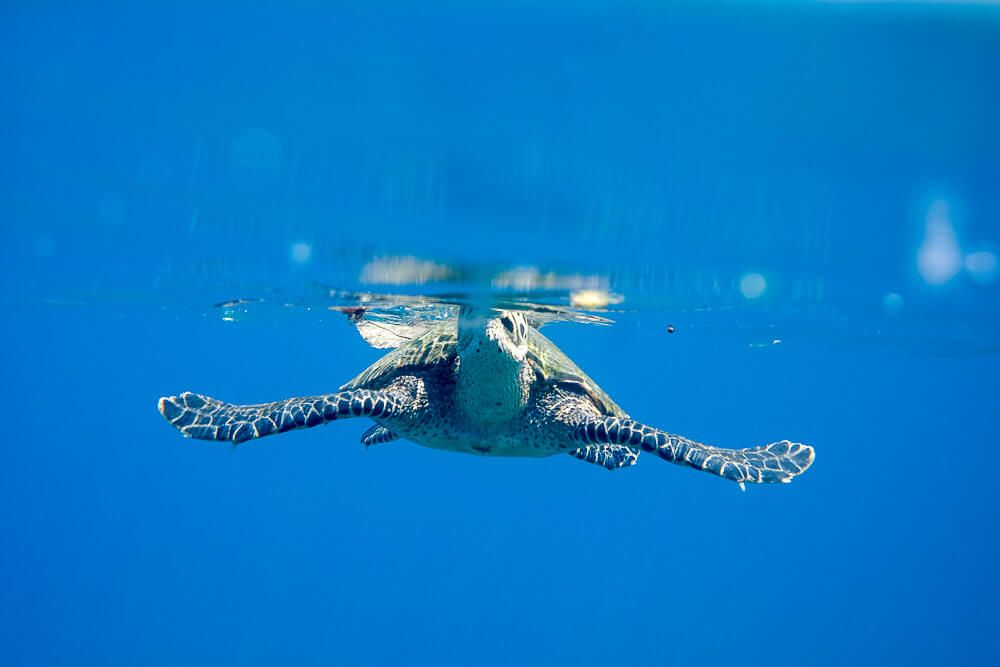 Our guide would later tell us that the turtles here are very curious and would often swim near them. And this one sure fit the bill.
In fact as we were trying to backup out of its way, he approached Ryan curiously. His head bent and peering at the yellow wrist tie of our Go-Pro handle. We all joked later that it looked like he was about to snatch it and eat it.
Because he came within a foot of it before pulling back and swimming away.
After that, we watched him graze along the coral below us for several minutes before heading back towards the boat.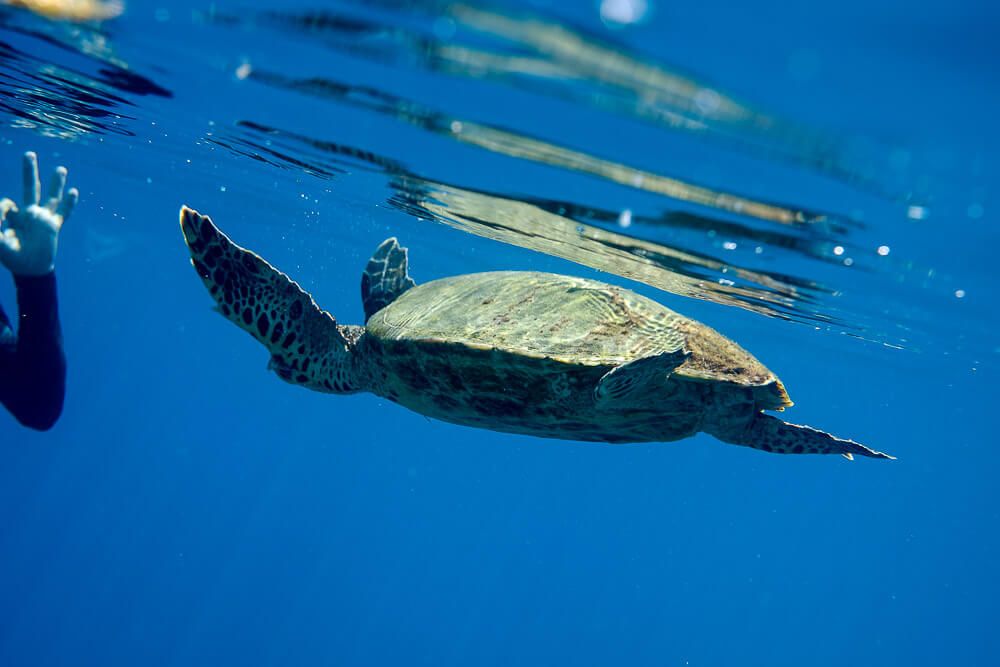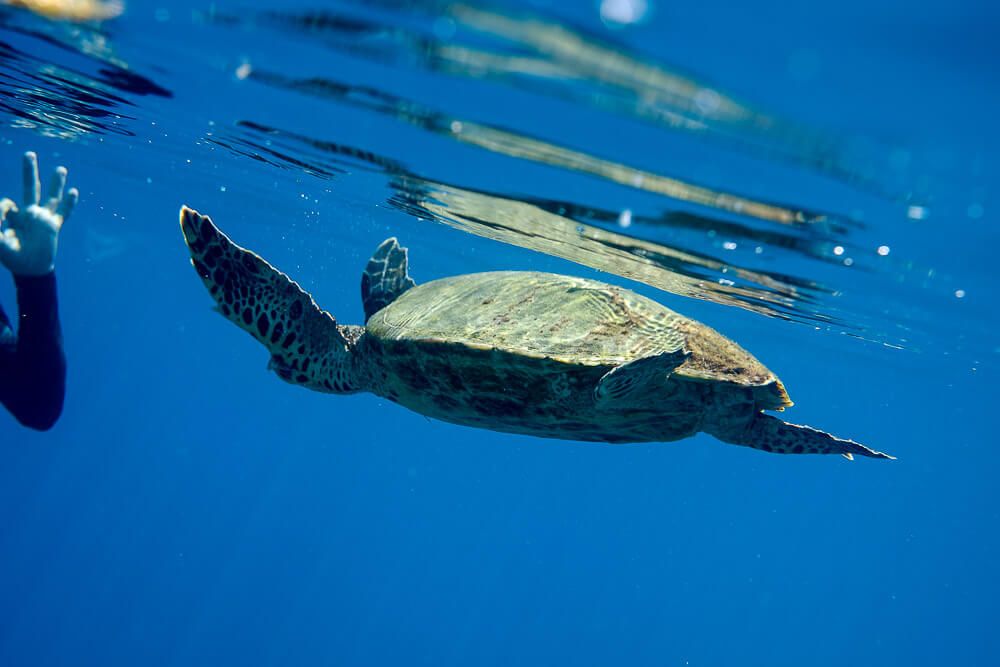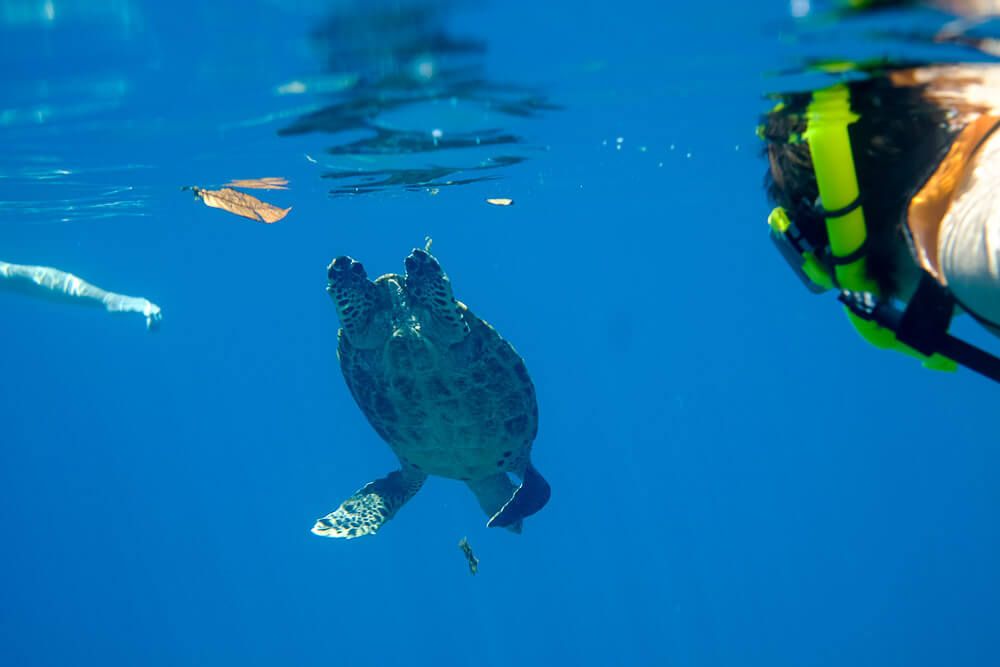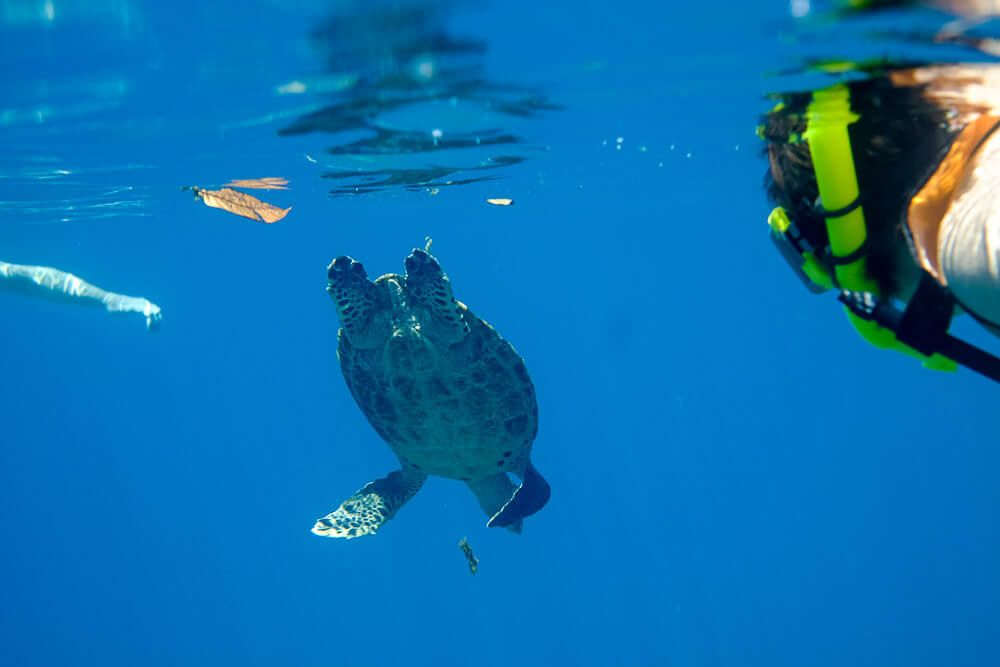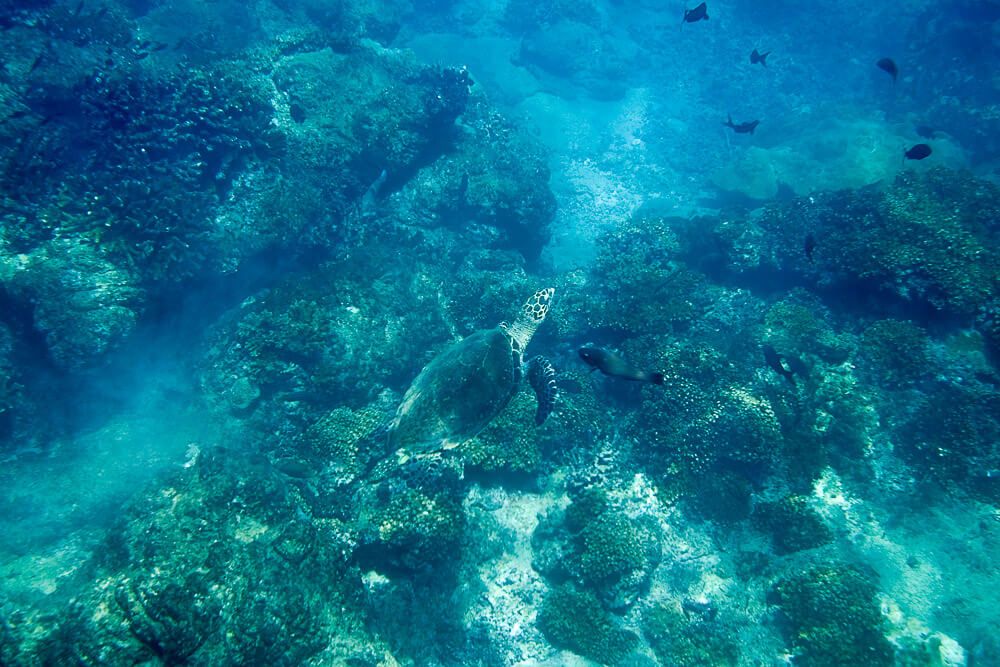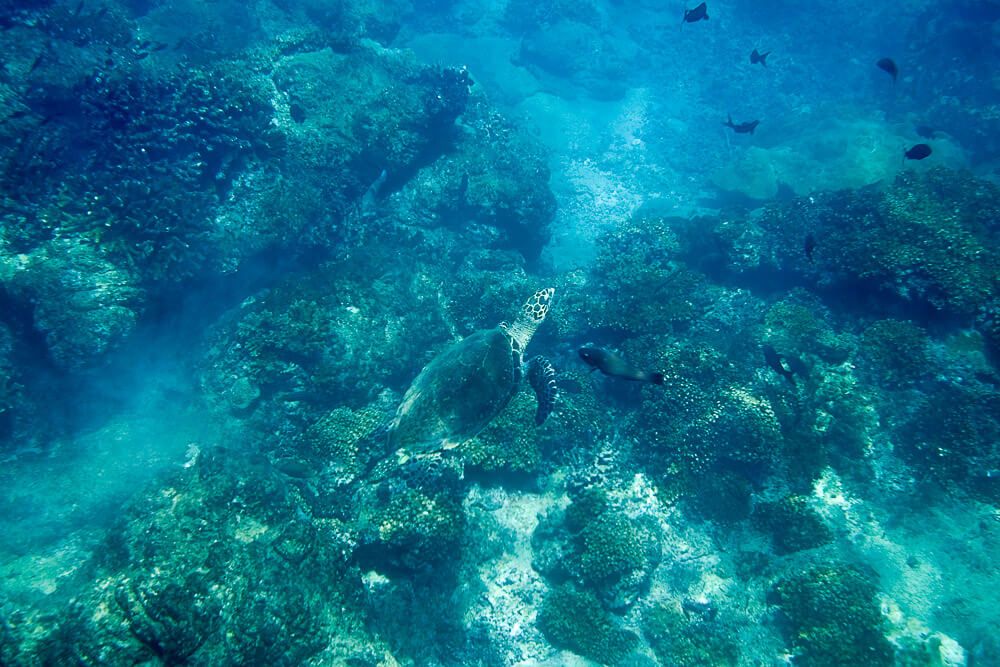 That first swim was magical. 100% because of the turtle. But even without him, it was still amazingly impressive.
In between our two trips, we went back to the beach to rest for a bit. I ate some snacks, drank some water, and re-applied sunscreen. I also had a fun time chasing tiny hermit crabs all over the beach. These things were so small and there were sooooo many of them. I had to start watching where I was stepping because I was afraid I would accidentally crush one beneath my toes.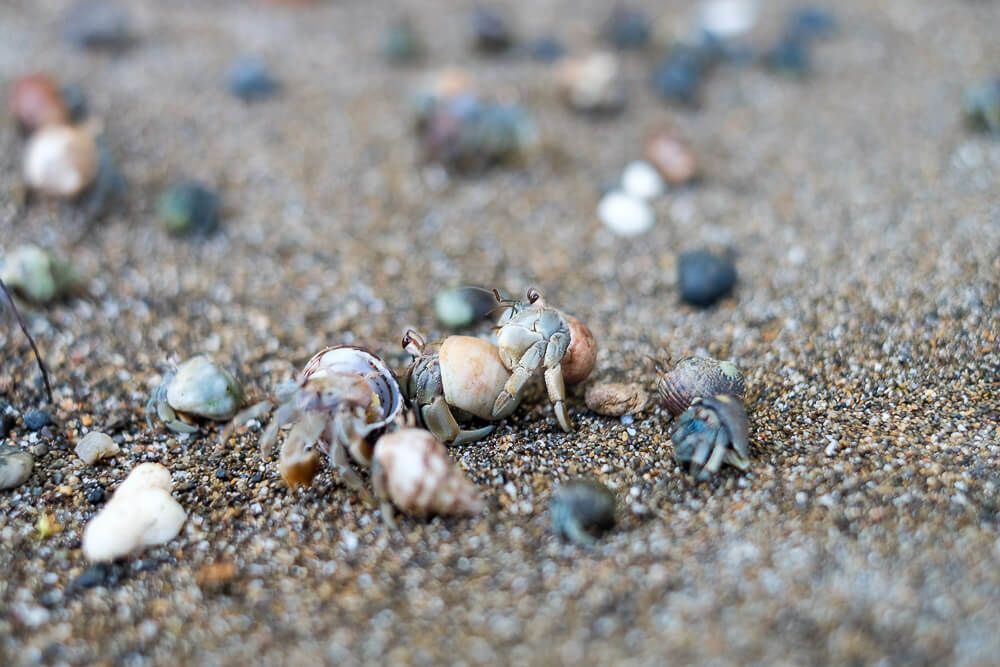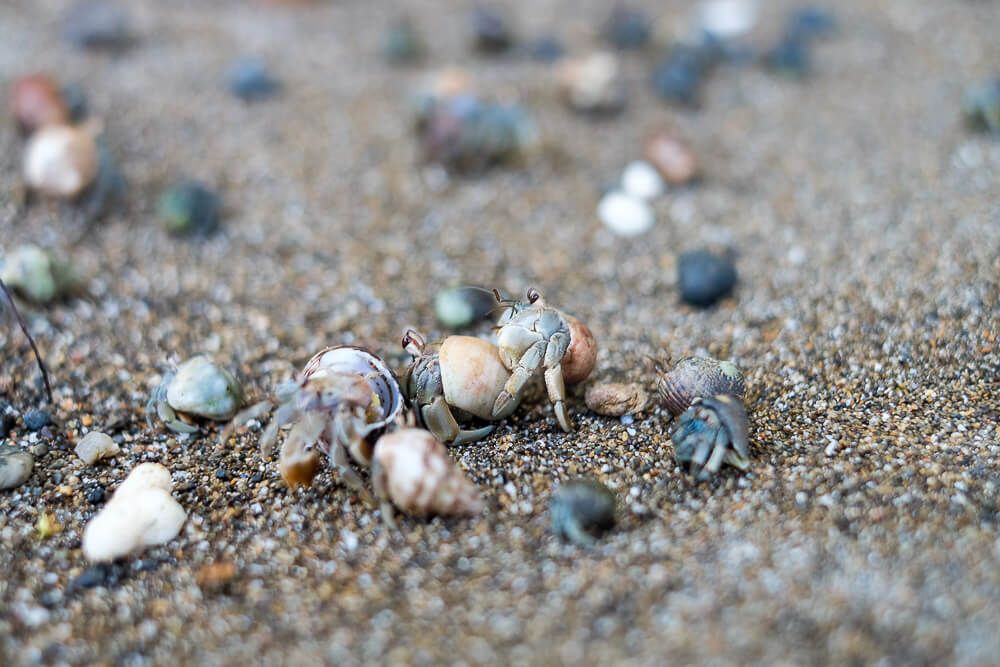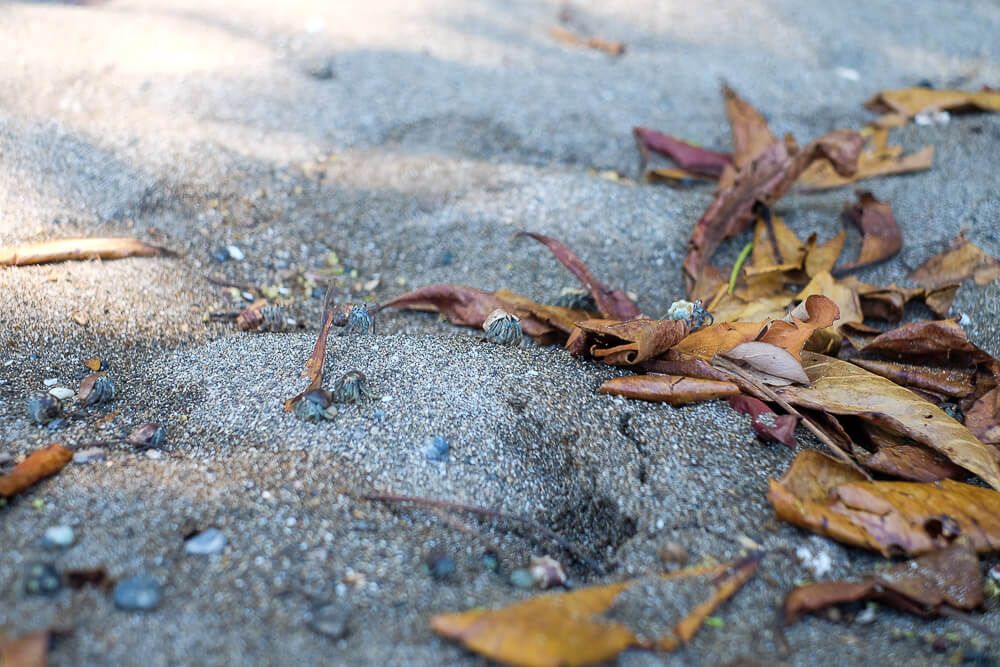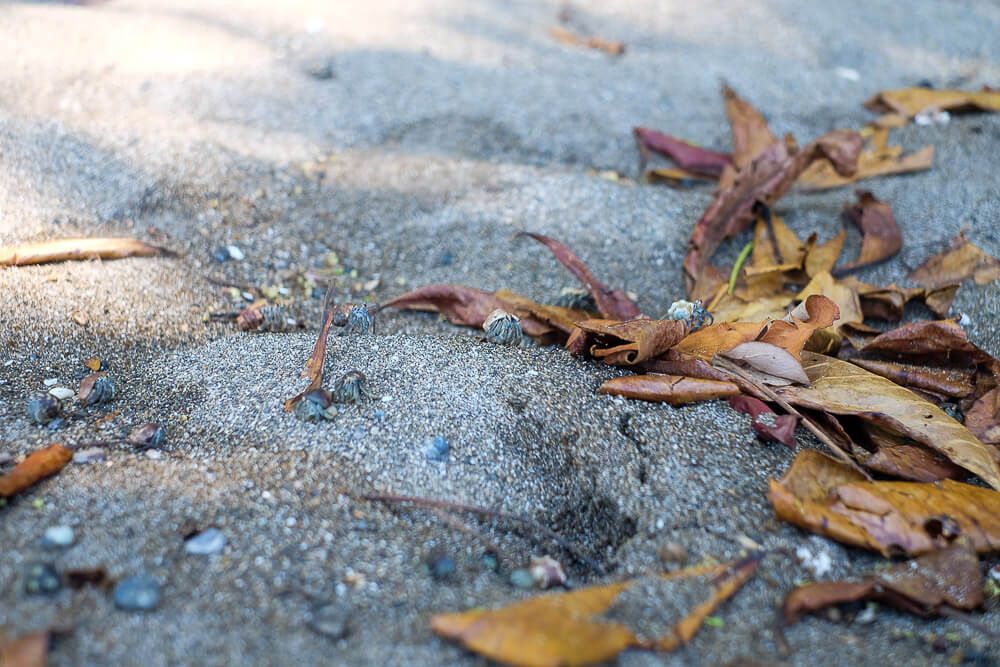 But after the other groups start to disappear off the island, we went back to the boat and headed out towards our second snorkeling spot.
This one was far offshore – a couple hundred yards at least. The guides explained that there was a big rock out here not far beneath the surface. And that this was a good spot to see lots of larger sea life.
He mentioned schools of fish, reef sharks, manta rays, and whale sharks. Though sadly we only saw the first two.
I remember jumping down into the water, pointing my head down, and just staring into the blue. I couldn't see the bottom. I felt my heart begin to beat faster but I forced myself to calm down. And every time the sea floor dropped away or we drifted away from the rock and coral, I would have to have the same talk with myself.
Because for a lot of this snorkel I couldn't see the bottom. Not because it was cloudy or murky. But simply because it was too far away.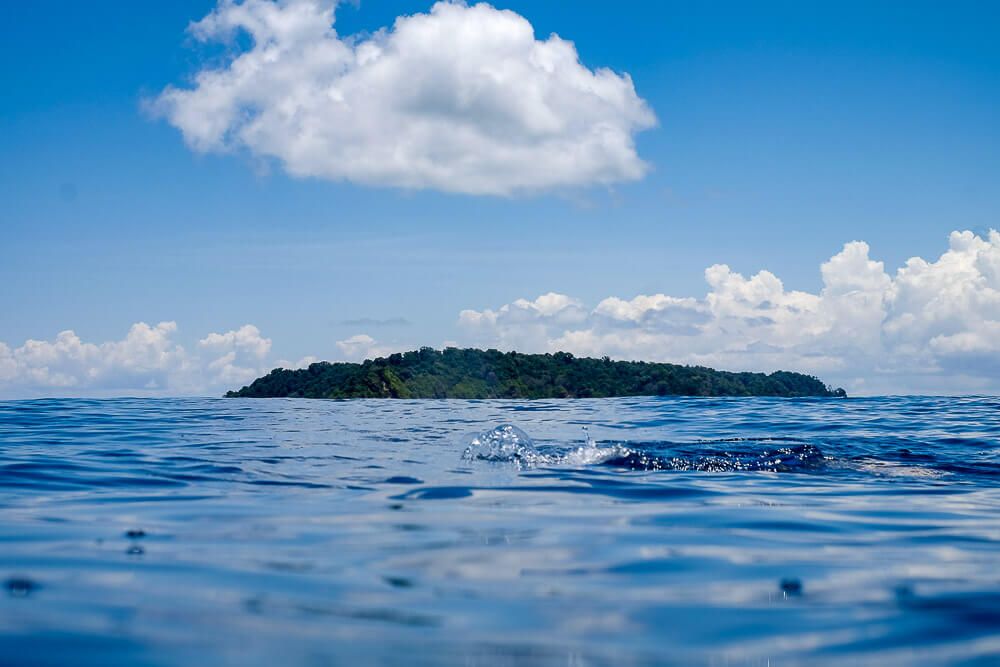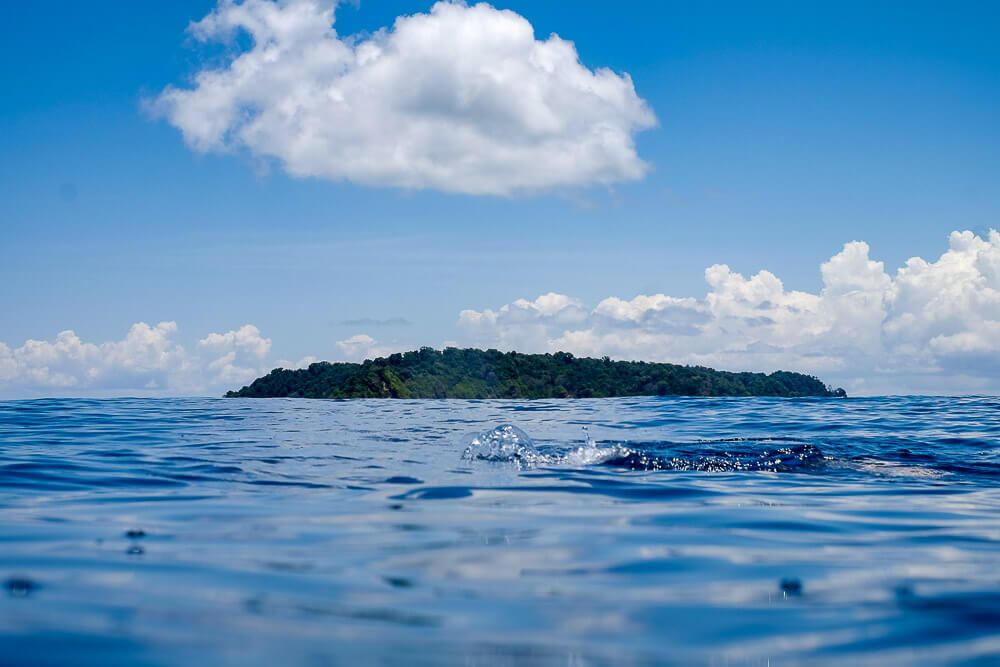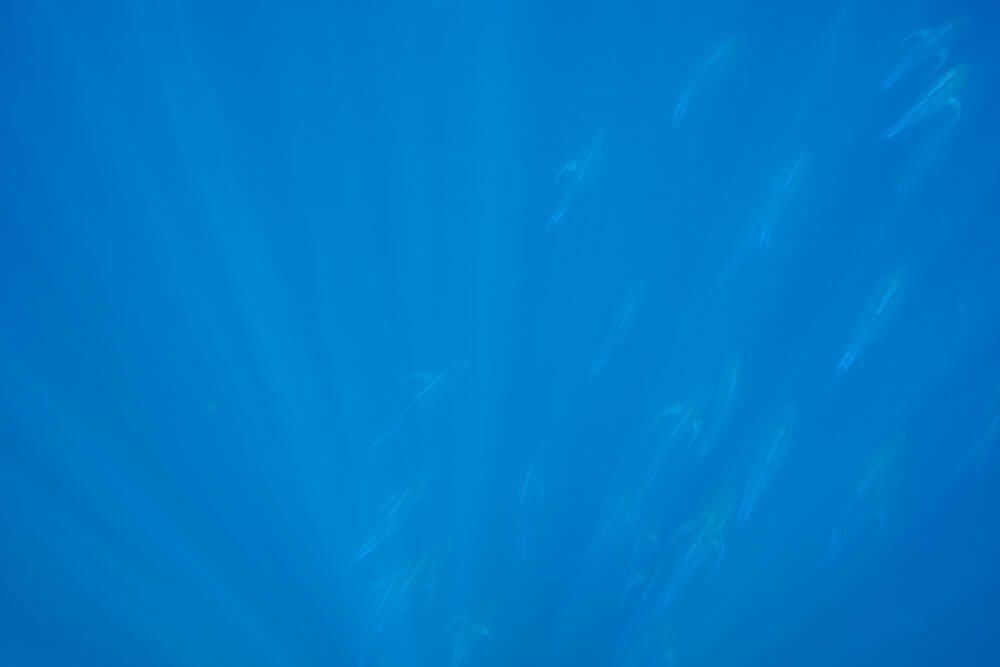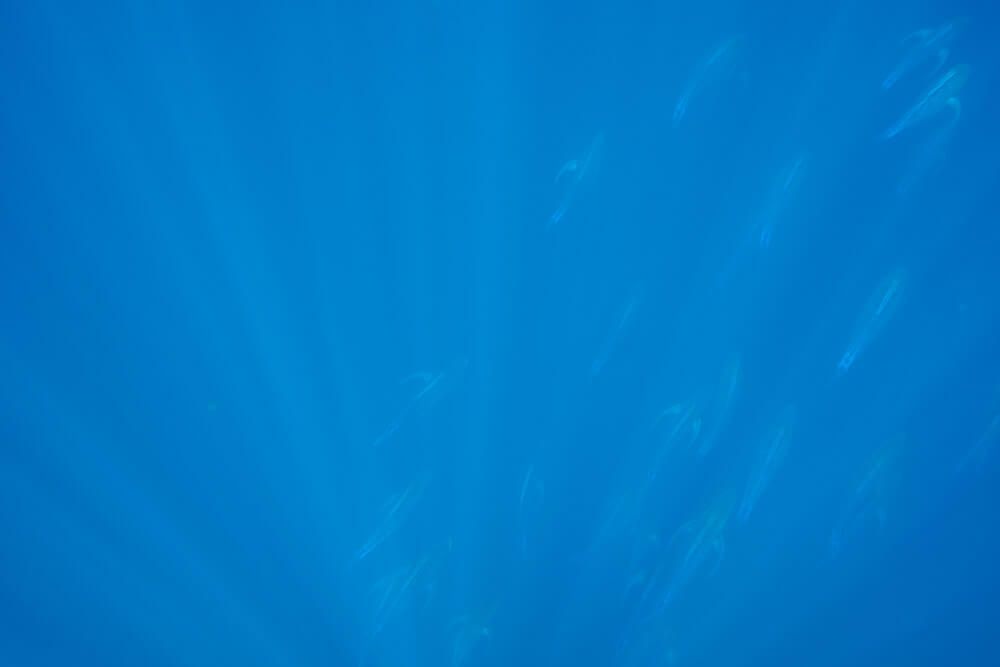 The fish here though were huge! Easily two to three times the size of the ones by the shore. And there were large schools of them drifting around. I loved to catch sight of the long skinny fish (barracudas?) as they darted by us quickly. (You can catch a glimpse of them in the video above!)
At certain points we could also spot reef sharks way down below (60 feet one of the guides guessed). Their black shapes barely visible through the blue.
The hardest part of this part of the trip though was the current. We seemed to be swimming against it no matter which way we turned. And I had to constantly kick my feet to keep up with the others. (I'm not a good snorkeler.)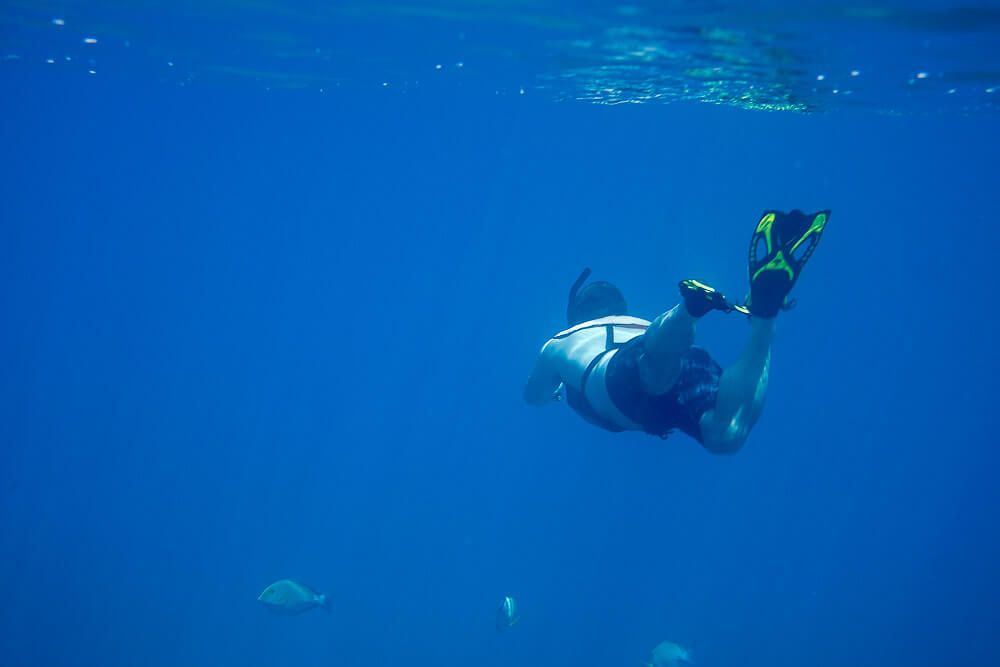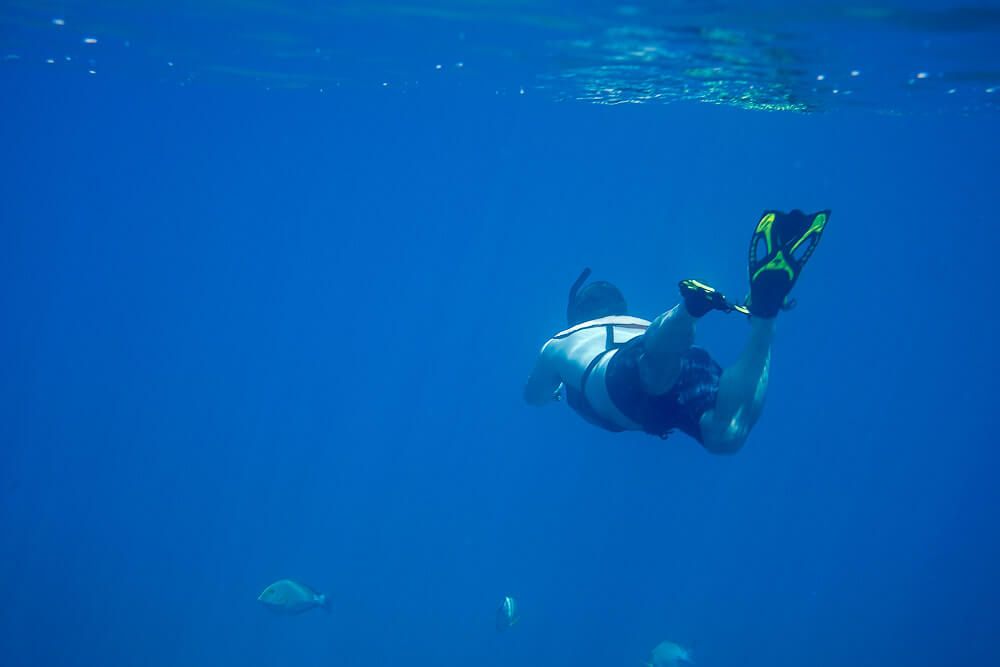 By the time we finished, I was exhausted. I devoured the fruit and sandwiches they passed around (I think I had 3?) and the candy bars.
On the way back, we could spot sea turtles sunning themselves at the ocean surface and dolphins joined us again for easily 10 minutes. Just casually swimming along with the front of the boat, breaching slightly before going back under.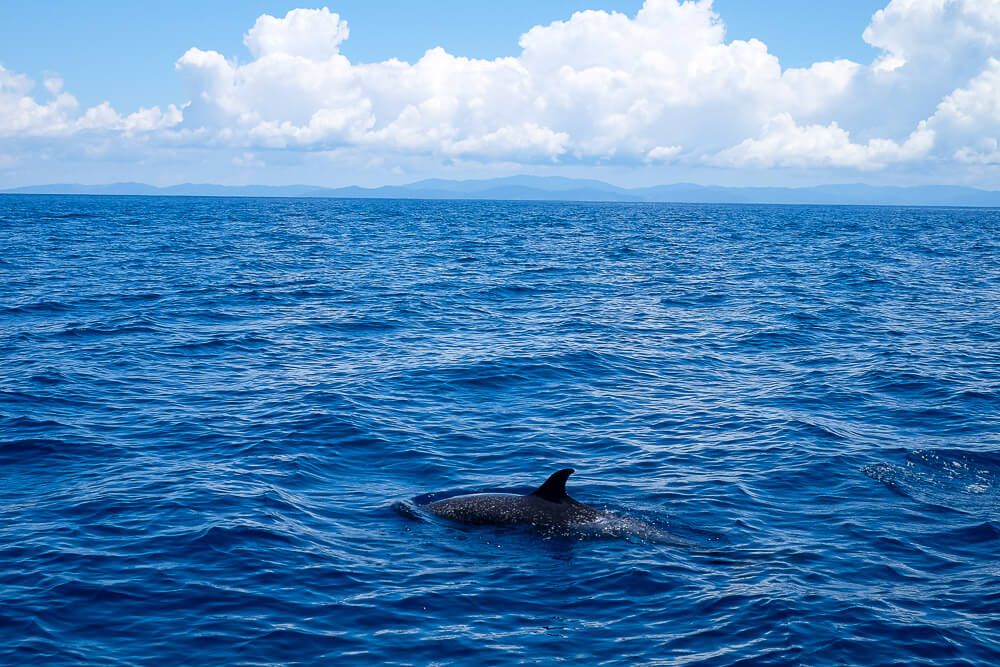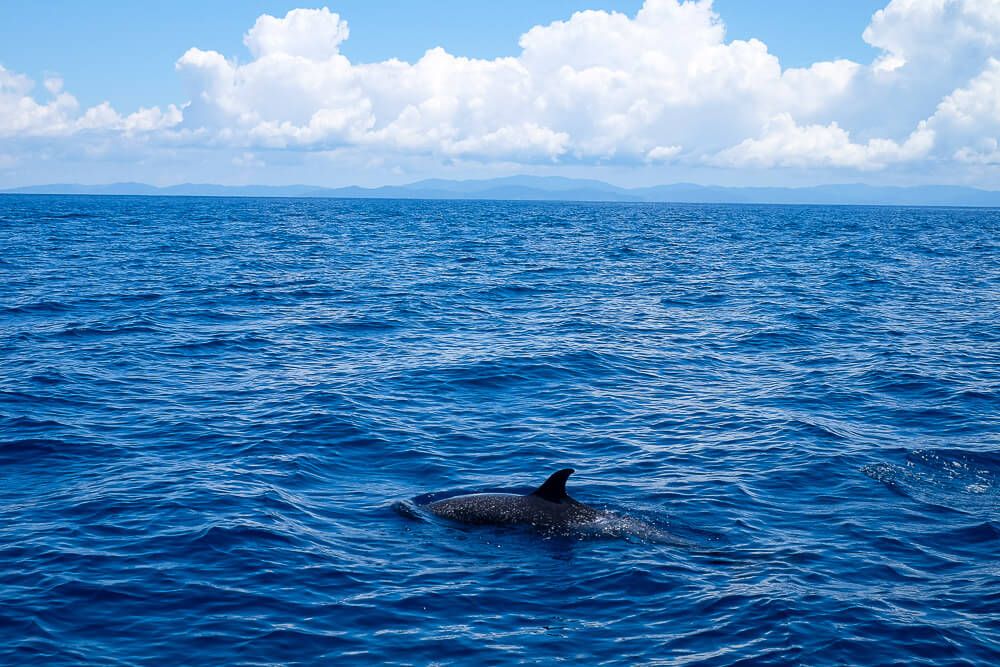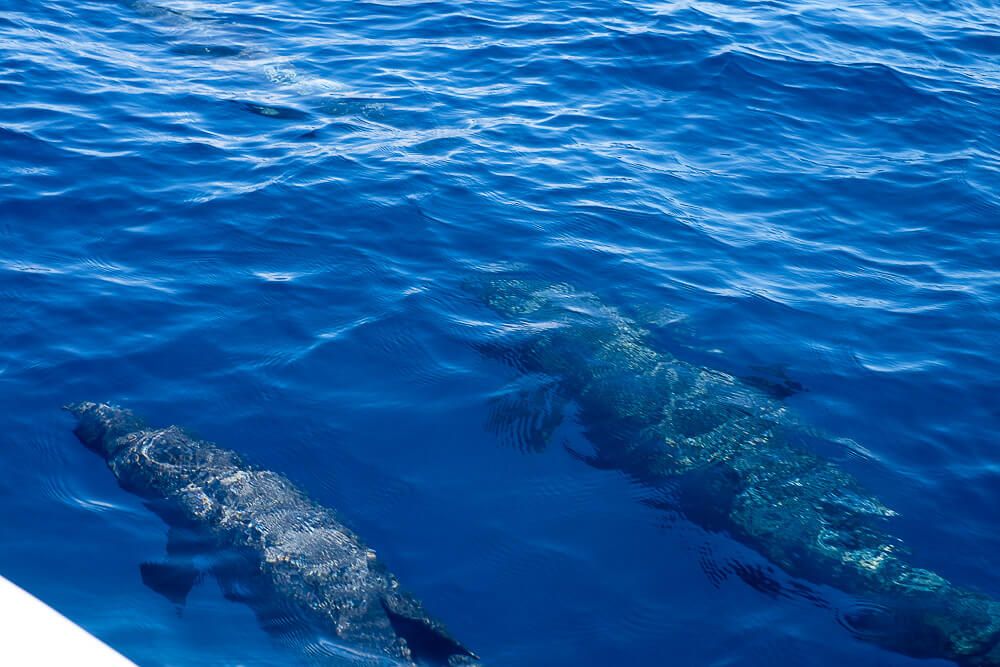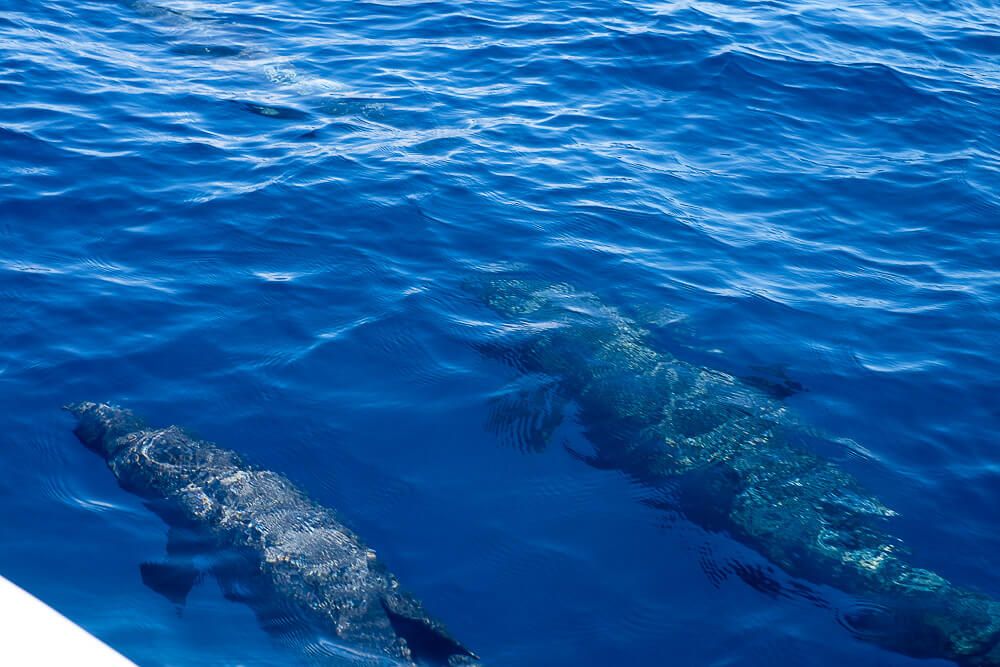 Our trip out to Cano Island was incredible. The water was clear that day and the fish were plentiful. I saw small, colorful fish as well as large ones. I swam with another sea turtle and saw dolphins play with the boat.
This trip was definitely a large splurge for our time in Uvita. It was not cheap but I'm so happy we went. However, as a note, someone at our hostel said that another couple went a few days earlier and encountered cloudy and murky conditions. Maybe it had just rained for them?
But for us it was perfect.
---
Things to Bring to Cano Island
You don't need to bring a lot of things with you. Most trip operators will supply everything that you'll need to actually snorkel – fins, masks, etc. But there are a few things you shouldn't forget.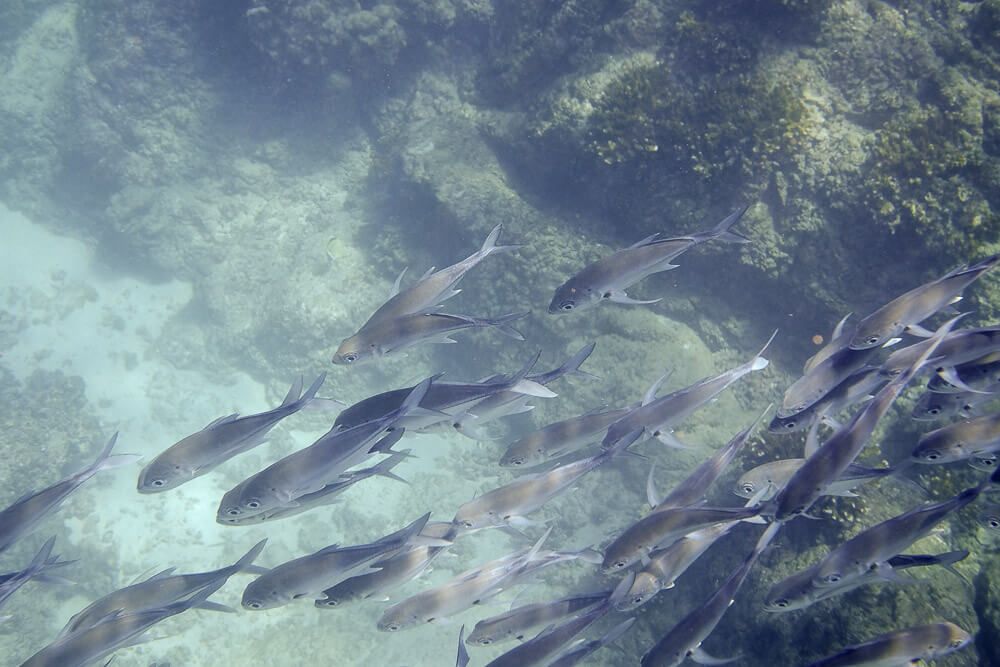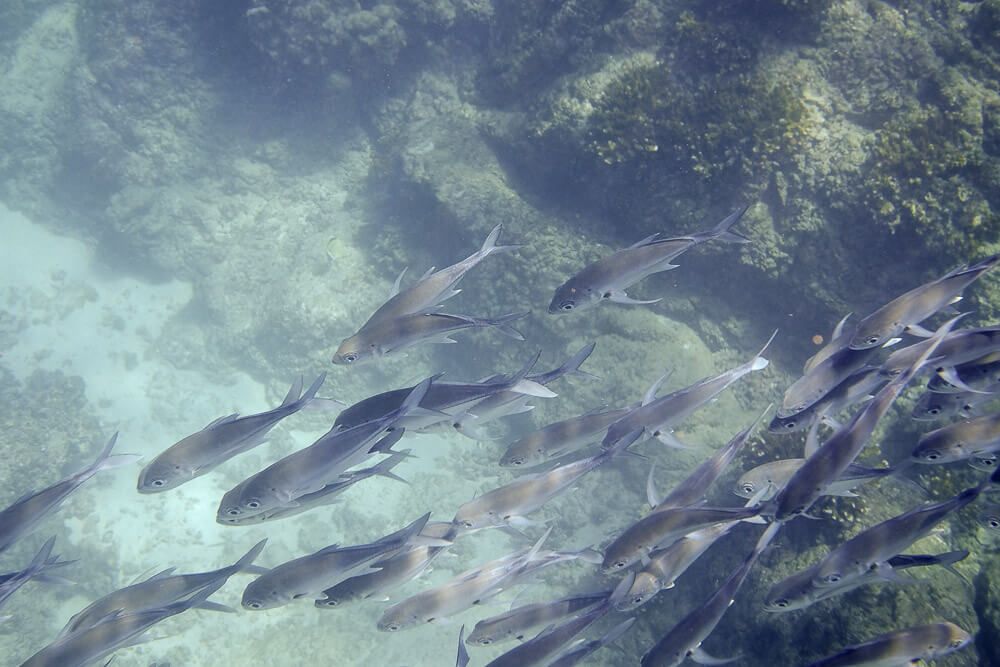 ---
Nitty Gritty
Prices. This is not a cheap excursion. We decided to go with Mad About Diving (there were 7 people total on our trip that day), and I couldn't have been happier with the number or the experience. But both Mad About Diving and Bahia Aventuras had similar prices. Mad was $120 per person. We also paid when we got there in the morning. So make sure to bring a credit card.
Dates. After we decided we wanted to go with Mad About Diving, we just had to figure out a date to go. We would be in Uvita for 3 full days and so I kept in touch with Mad for about a week or 2 while they waited for other signups. Since we were only 2 people, they had to have a certain number of people interested before they could schedule the tour. Luckily about a week out, Mad let us know that another group had signed up for one of our days and we were good to go.
Gear. Mad About Diving supplied all of the snorkeling gear we would need to do the actual snorkeling – masks and fins. Plus goop to help de-fog the masks.
Some of the links in this post are affiliate links. If you buy something through these thinks, I may earn a commission from the sale (at no extra cost to you!). As an Amazon Associate I earn from qualifying purchases. Thank you for reading along!
---